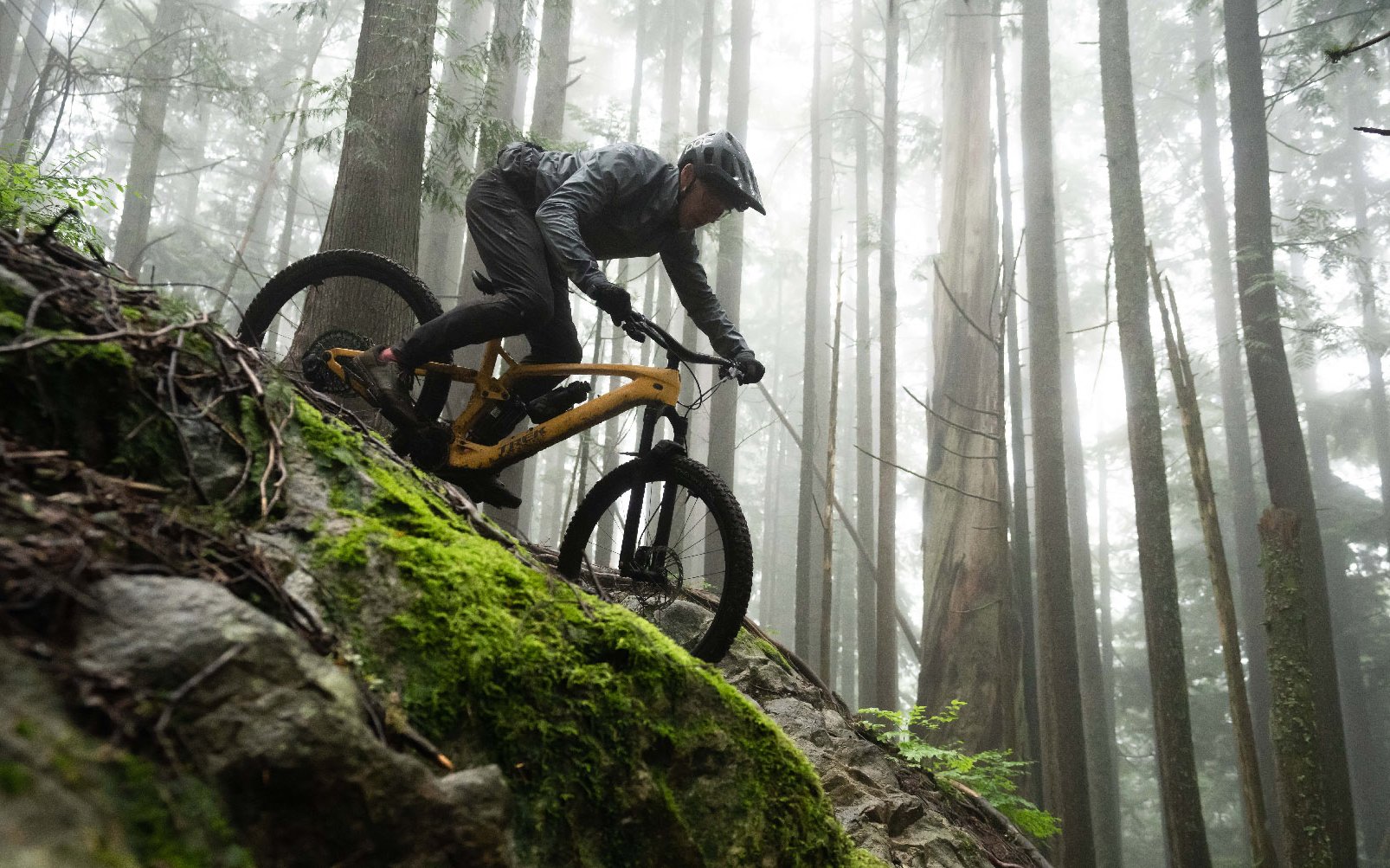 eMTB First Impressions
Introducing the 2023 Trek Fuel EXe 9.9 XX1 AXS
When word of the Specialized Levo SL reached me, I wasn't particularly interested. I didn't want an eMTB to mimic a regular mountain bike, and I wasn't interested in less range or power. Now that I've learned how to work with the extra weight of the Norco Sight VLT, for example, that extra mass is generally a positive. The suspension moves more easily into it's travel, defeating stiction and improving traction, and around here I can ride the same trails as well as or better than I can on regular bikes, with the possible exception of bunny hopping (Danny MacAskill might be an alien considering what he does on an eMTB). Now that more time has passed, I've become a little curious about the popularity of these bikes and how they feel on the trail and I was indeed interested to see how Trek would respond. Unsurprisingly, their reaction was not timid; the result, which I intend to describe in some detail, is the 2023 Trek Fuel EXe. I might even go as far as to call it an engineering marvel.
As an aging and jaded MTB "journalist," it's getting tougher to surprise me. The gap between what the marketers of mountain bikes hope will shock and delight those of us in the media, and our actual reaction, grows progressively wider. This relates at least partially to the proliferation of electronics and gadgets on today's bikes, but probably more to my bad attitude. As modern technology infiltrates our sport at an increasing rate, I regularly wonder if we are losing as much as we are gaining by monitoring, motorizing, illuminating, and wiring our bicycles and bodies.*
*Don't get me wrong though: I'm a total hypocrite. I like the ease, speed and simplicity of AXS shifting and dropping and the accuracy of digital gauges for tires and suspension. I now enjoy riding eMTBs as part of my regular mountain biking regime, and I'm having as much fun as I ever have in 38 years of riding mountain bikes.
And yet there are times when I am left amazed by something new and shiny, and that is the case with the Trek Fuel EXe; a light eMTB in the style of the Specialized Levo SL and the Orbea Rise. It has less power and energy storage than higher-powered models, allowing both the battery and motor to be smaller and lighter, in an effort to make the experience more similar to an un-assisted bike. The motor, designed and built by TQ, in the town of Inning am Ammersee in Southern Bavaria, has an almost entirely concentric design similar to a hub motor, rather than the elongated shape of systems by Bosch, Shimano, or Brose, which separate the bottom bracket axle from the power generation. This means some sort of transmission is required to get that power to the pedals, involving a chain, belt, or gears and cogs. This is often what causes the whine most eMTBs generate. Instead, TQ has developed a "harmonic pinring transmission," which eliminates the need to separate the motor from the bottom bracket. This makes the TQ motor smaller but, more importantly, I'm told it's responsible for keeping the volume down. By my estimation, it was worth the effort.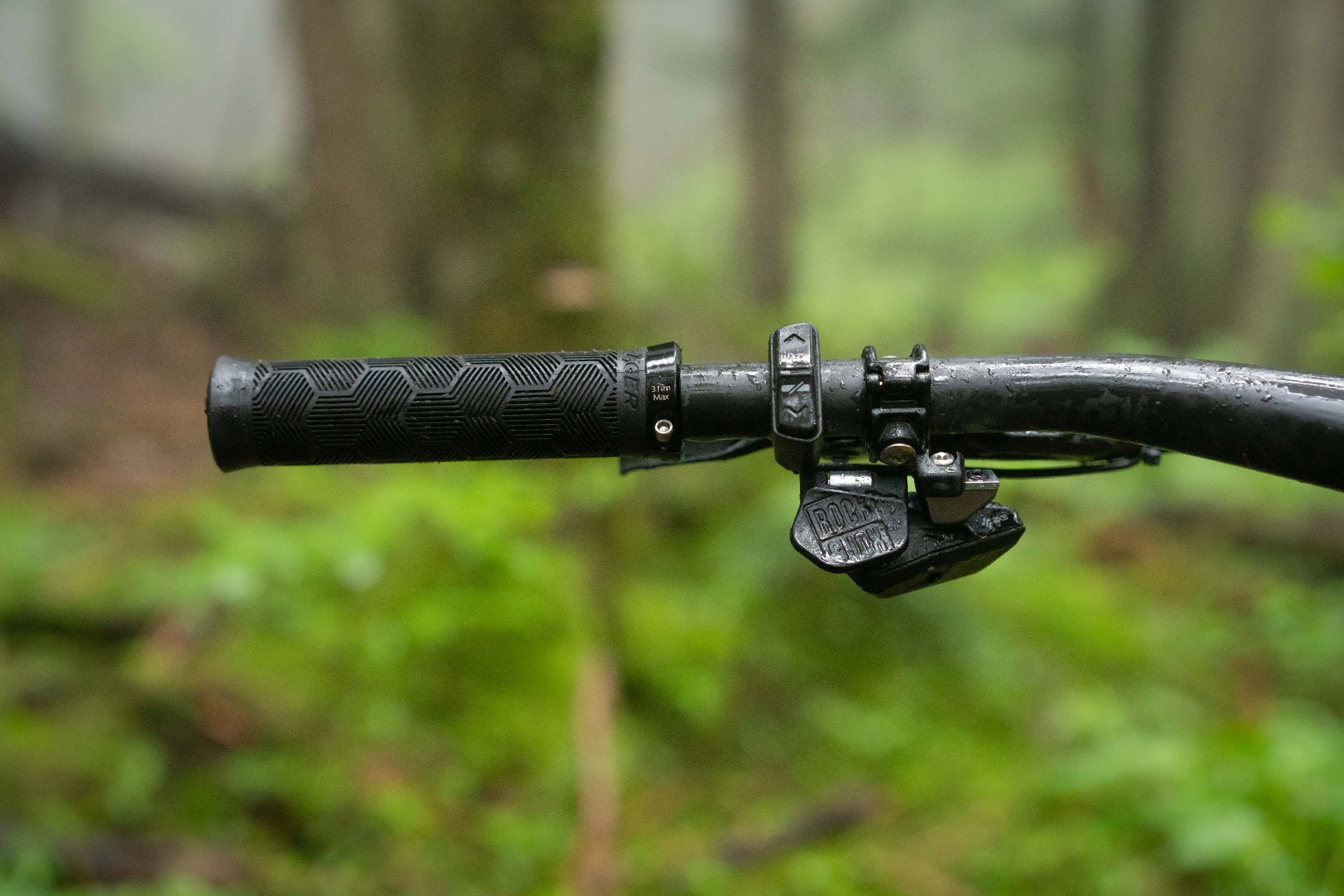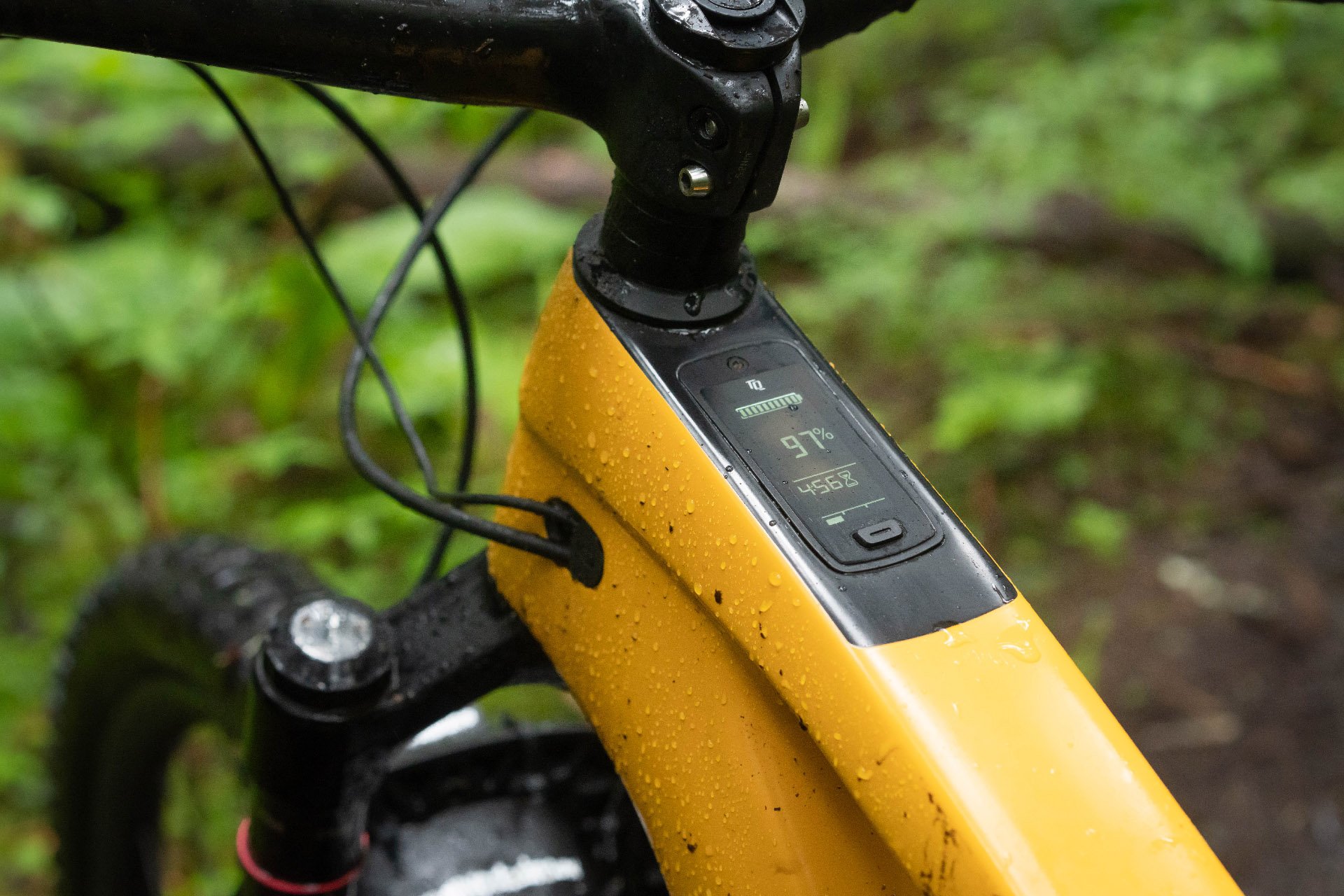 Trek Fuel EXe 9.9 XX1 AXS Highlights
40.6 lb/18.4 kg ready to ride (but without pedals)
TQ HPR50 360 Wh battery for 2.5 hr range (1835 g/4.04 lbs)
Optional Range extender adds 160 wh and fits into included water bottle cage
Concentric motor with 50 nm of torque, 300 watts peak power, "whisper quiet" operation and 135 mm Q factor
Travel - 150mm front 140mm rear
RockShox AirWiz and TyreWiz (available on 9.9 models) transmit tire and suspension pressures to AXS or upcoming Trek Central App (scheduled to be released July 12th)
AXS rear derailleur powered by main battery (AXS battery can be added for operation without main battery or when it has drained)
Hush
How quiet is the Fuel EXe? The best testimonial I can give is that over several group rides of three or more riders, with climbs on singletrack, and both paved and gravel roads, nobody but me has noticed any sound aside from tires on dirt, even when I've used high mode. On a couple of those rides I was the only rider on an eMTB as well. On one ride my buddy was riding the EXe and I couldn't hear it. From the saddle, the sound of the motor is often indistinguishable by me, even in very quiet environments. At times I can hear it when the effort or cadence increases. Otherwise, it's tires on dirt.
Neither Trek nor TQ claim the motor is silent; instead they refer to the TQ HPR50 motor as "whisper quiet," a rare case when the reality outstrips the marketing hyperbole. In use, the absence of whining or whirring makes the experience much more pleasurable and calming, allowing me to enjoy the sounds of forest and the crunch of tires.
The HPR-50 distinguishes itself with power application as well, by progressively adding torque to match the energy generated by your own pistons. When you pedal lightly, it doesn't add much, but then matches your inputs well as you increase force for a more natural feel. The Fuel compares favourably with the Rocky Mountain Powerplay's Dyname 4.0 in this regard, but with much less peak power, torque, and volume.
The small form-factor allows the motor to be almost invisible. In fact there are no visual queues from the drive side, unless you look carefully between the arms of the crank spider, and on the other side all you see is a modest finned ring which is only slightly larger than the top of the oversized e*thirteen cranks
Trail Manners
I learned most of the particulars noted about the bike above, later. I had missed the video conference for the bike so I watched it after several rides, content to discover things slowly. One of my first discoveries was that this is a Trek that punches above its weight in terms of downhill performance. The numbers are there to be sure, but I haven't known Trek to err on the side of downhill capability for bikes on the upper end of the trail classification, and yet this one surely does. Aside from solid-but-not-surprising geo numbers, the Fuel EXe rolls out on newly released RockShox suspension products; a Lyrik Ultimate with Buttercups up front and a Super Deluxe Ultimate in the rear, and both perform remarkably well. The ride has an almost muted quality that doesn't disconnect you from the trail surface or reduce liveliness. This is certainly partially because of the Buttercups but the solid feel of the platform helps as well.
My first ride on the Fuel EXe was on a wet day, which is all we had this spring and early summer, and I passed one particularly daunting rock move but rode a bunch of scary moves later on without hesitation. I also learned that the Bontrager SE5 Team Issue tires are only for teams who ride where it's dry. They were positively scary compared to the rubber I usually use, on both wet wood and rock. They contributed to a mishap which I'll recount below, although rider error carries most of the blame. Despite the dry0weather rubber, I had a blast on the bike and was all smiles when we got to the bottom. The next time through, on a drier day, I rode the nasty long rock slab, with lots of exposure and a harsh rock finish at the bottom, without breaking a sweat. The next time I was there, again in the wet, I did the same but with more pace and lived to tell the tale. This is a very competent and well-mannered descender and while it doesn't have any truly remarkable traits, it has no obvious weaknesses either and seems to do everything well. This is also the first eMTB I wouldn't hesitate to take to a bike park.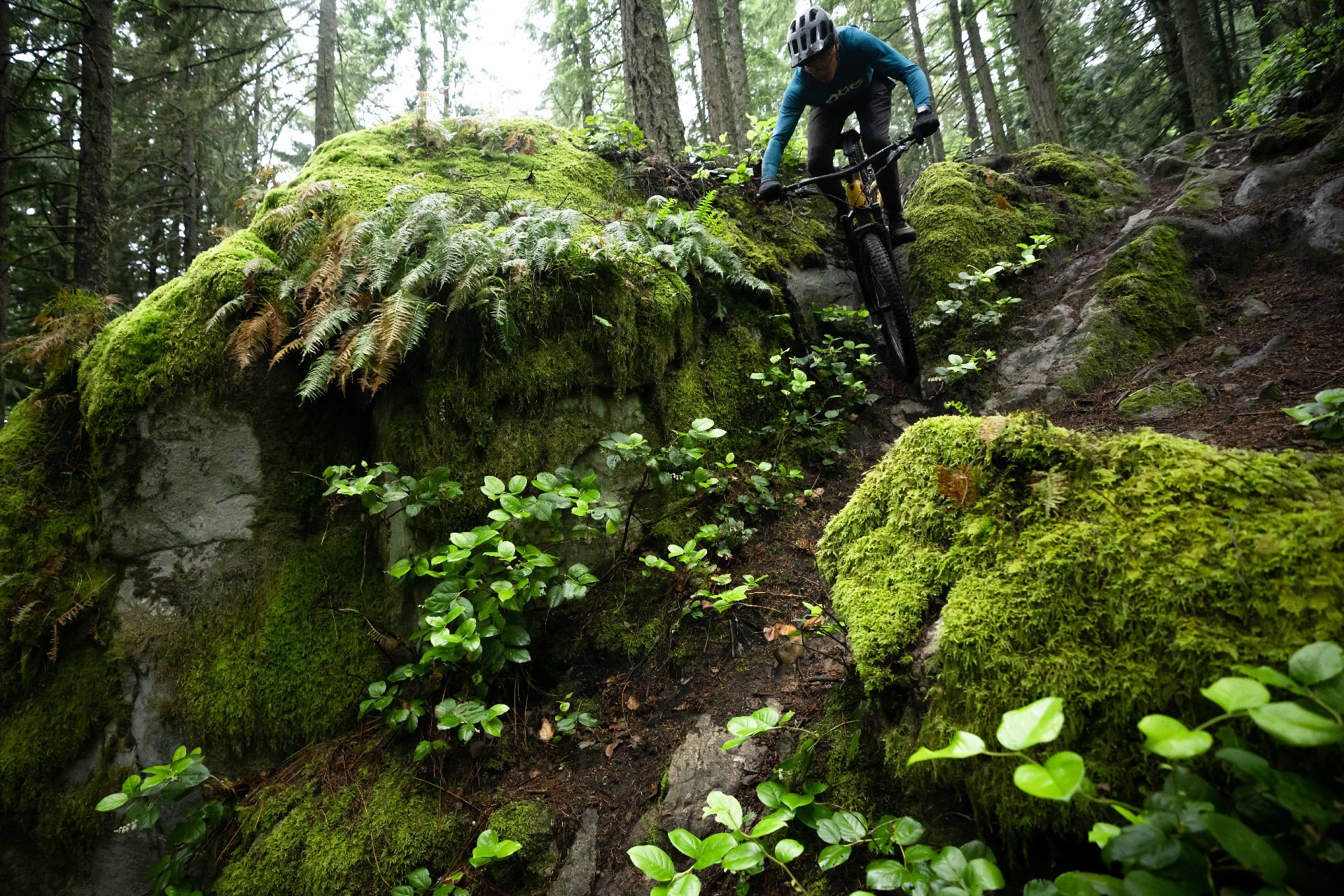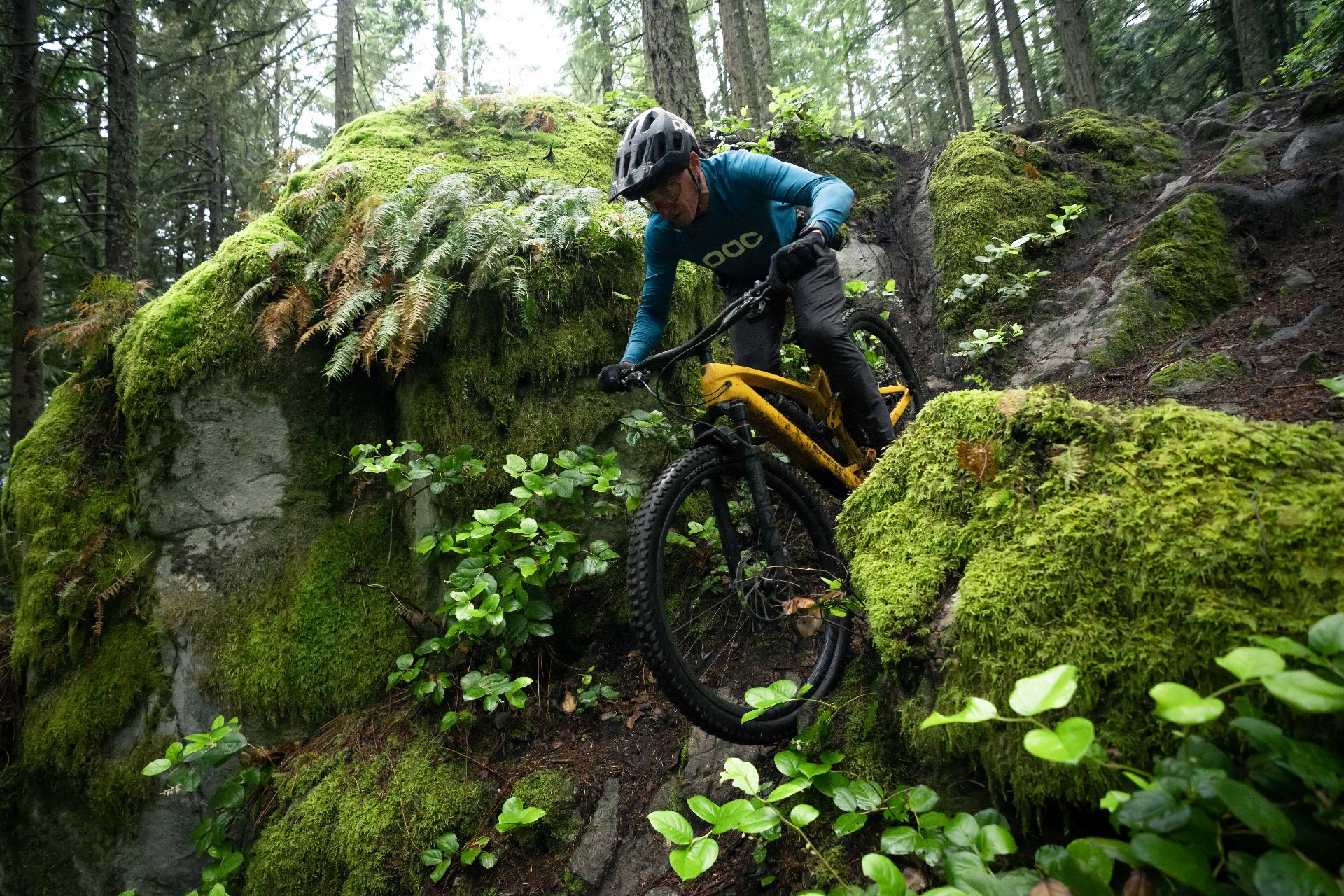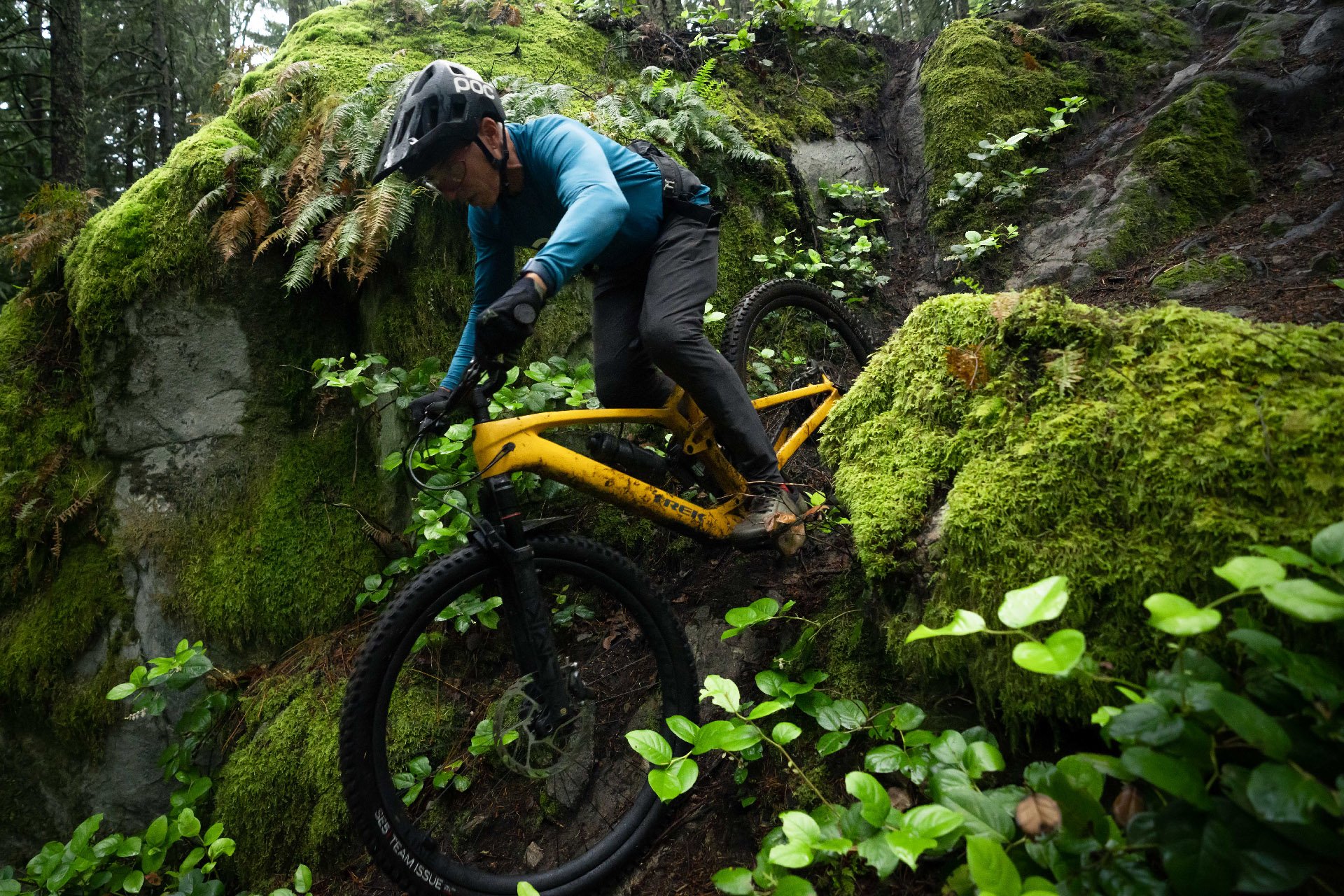 Rides Like an eMTB - but Without the e
The most important ride characteristic is probably this: Riding this bike down a trail of any description, it is indistinguishable from a bike with no motor or battery. It doesn't feel like an eMTB at all, not even when you aren't putting the power down, and when you are, the application is so natural, with no jolt when you first stomp, that it feels like you are Floyd Landis on stage 17 of the 2006 Tour. As the cliché goes, it's you, only better. And without three times the allowable testosterone ratio in your system. On flatter trails, steep descents, flow sections; the EXe always feels like a regular mountain bike. And mostly looks like one too unless you get close.
The Build
The spec. level of this bike is called XX1 AXS, but it could just as easily be called bonkers. The bars are a beautiful one piece Bontrager RSL carbon unit with an effective 45 mm stem, there's an AXS 17 mm post and XX1 rear shifter, Bontrager Line Carbon 30 wheels, a Bontrager saddle with Austenite rails (the 9.9 XTR - which weighs 2 lbs less - build has carbon rails). There are TyreWiz sensors on the wheels and ShockWiz on the Lyric Ultimate fork and the Super Deluxe Ultimate rear shock. The cranks are beefy looking carbon arms from e*thirteen. Aside from the wet weather performance of the tires, which is a location-dependent gripe, this is a very nice combination of bike parts. All of this comes at a price of course. When the bike arrived I wondered if this could possibly be the first 20K Canadian bike I've tested. I haven't been on anything close to that thus far but the mental math was scaring me. It turns out this ultra-bling, high-tech two-wheeler lists at 18,300 CAD/14,000 USD. Never fear though, the 'low-end' model lists for a full 9.9K CAD less at 8400 CAD/6500 USD with the identical frame, Shimano 6100 components and RockShox suspension. For the full line-up head over to trekbikes.com
By my count there are 8 batteries on this bike, and the main battery covers three bases by also servicing the rear derailleur and the display. There are four cells for the pressure monitors, ShockWiz for the fork and rear shock and TyreWiz front and rear, one coin cell each for the AXS controllers, a battery for the AXS post, and the main battery that powers the motor.
Who to Ride With
When everyone is on an eMTB, it tends to be a great leveller in terms of climbing ability... as long as everyone is on a similarly powerful bike. The tricky part with a bike like this, with 50 nm peak torque, is that a full-powered eMTB would crush it, even when ridden by a rider who isn't nearly as strong. If you buy one of these and you like to ride in a group, you should be prepared to talk your buddies in to buying one. My solution to this dilemma was to ride big laps with un-powerted riders who would normally tear my legs off. I don't like doing this on a regular eMTB because of how obtrusive and comparatively noisy they are. In this case, the Fuel EXe was an excellent leveller and I could ride in the lowest power mode and keep up just fine, or even be a rabbit if anyone wanted one. And nobody seemed to mind.
When I was going for a ride with Trevor Hansen, and the much younger and fitter (and better looking) Graham Driedger wanted to come along, we rode our Norco VLTs and made Graham sweat on the Fuel EXe. He kept up, but only because we were soft pedalling, and he was working his ass off. All this means you need to ask yourself what you are looking for in a bike, how strong you are, who you want to ride with, and how much money they have to invest in an electric bicycle.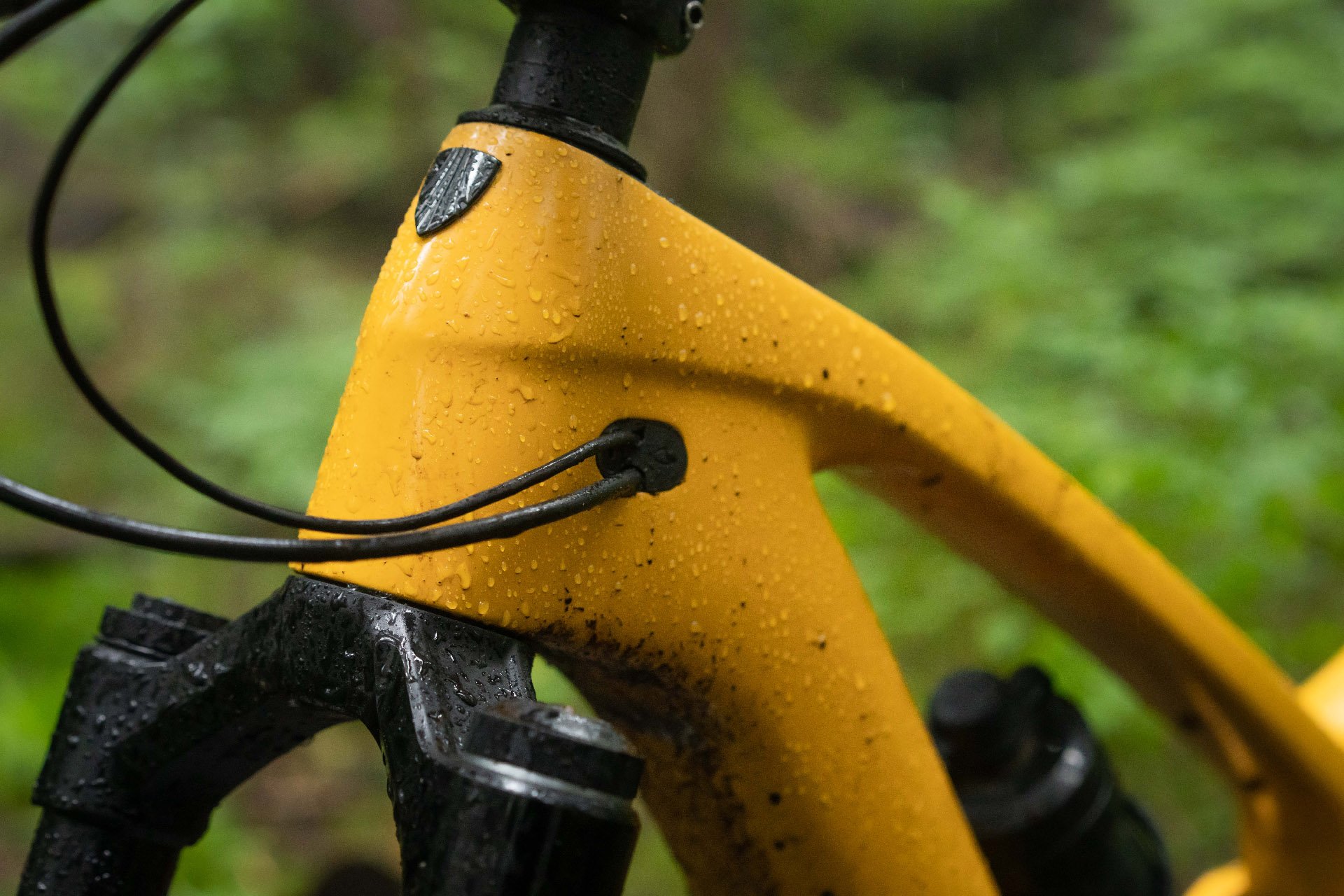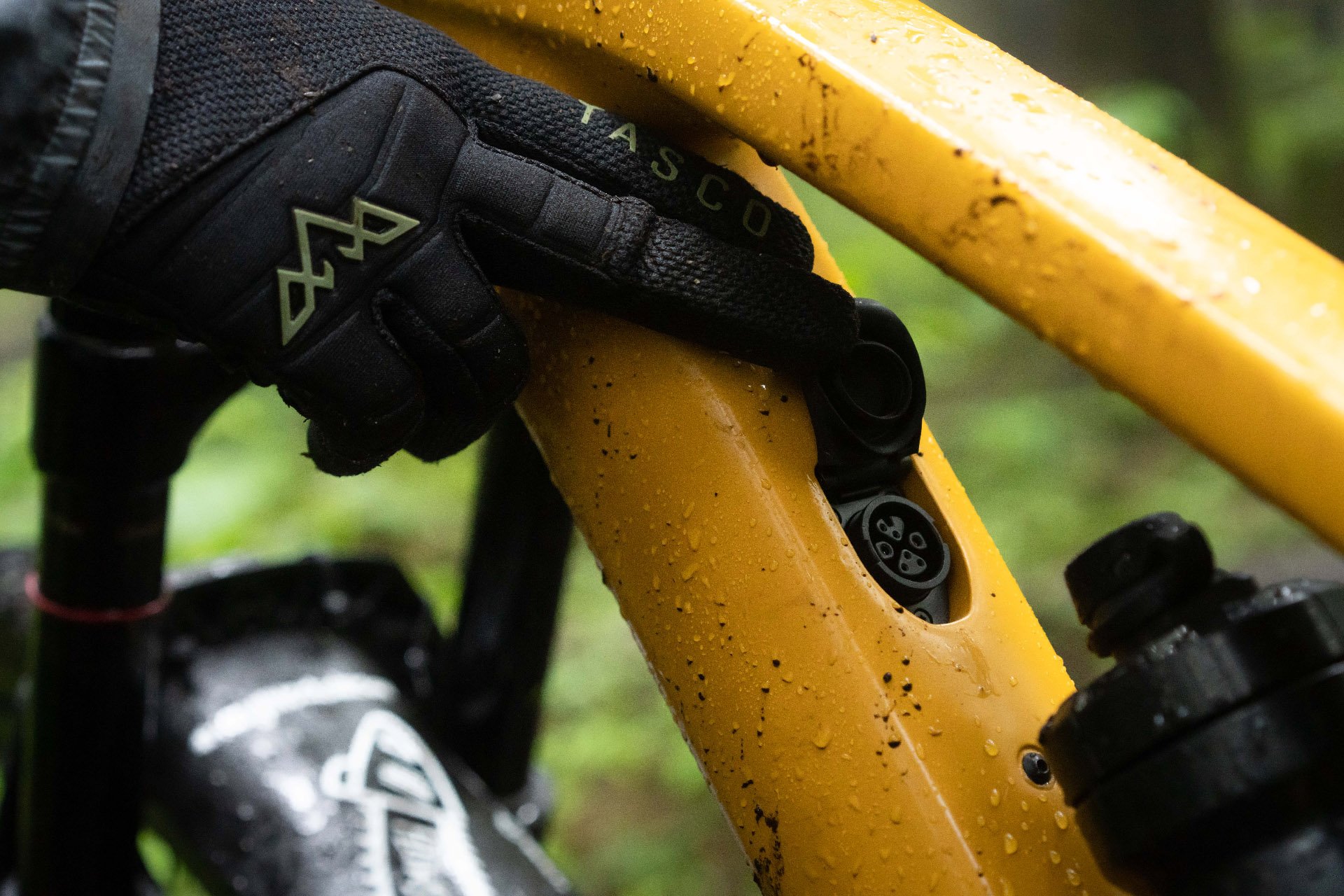 Is that a Pachyderm?
I've now been working down this shallow, cosy, and well-ventilated coal mine for 22 years. I'm generally not much of a bike or component smasher, but I broke a few frames in my younger years doing 7-footers to flat. As a tester it hadn't happened, until I got to the most expensive bike I've tested – by at least 5 grand. In fact, I did it while Dane Perras was taking these photos. As I've mentioned, it was a cool and snotty day and I may have been a little non-chalant about a move I've done probably 50 times with the worst outcome being a foot down once or twice.
I try to ride the outside of the line because it has a spine that makes it interesting and because it sets you up better for the next move. It's exposed to the left and as I came in, I lost the front wheel off the edge, dropping the bike away from my direction of travel. I was down before I knew I was falling but I was more concerned about the sickening crunch of carbon emitted as the bike hit the rock below. Unfortunately Dane stopped shooting when he saw me eject, thwarting my TikTok debut. The paint was removed and the carbon a little scuffed on the downtube in two spots, but it didn't look too bad.
I was a little battered and bleeding but nothing seemed serious, so I went back, got the shot and kept riding and shooting until the bottom, despite being a little shaken. When I got home I cleaned the bike and found a more serious wound on the drive-side seat stay. I decided to take it to Rob at Roberts Composites for diagnosis. He told me the downtube blemishes were only cosmetic, but the stay would break if I kept riding it.
The good news about carbon fibre bicycles, is that they can be repaired. It's just fancy fibreglass after all, and a skilled and experienced technician can make it better than new. Locally, I've seen many examples of the work of the aforementioned Rob Mulder of Roberts Composites, and it's remarkably good. The fastest way forward for me to get back on this bike is going to be to engage Rob. This sort of repair, including paint matching, costs 600 CAD.
This isn't a warranty issue in any way, but if I did this to a bike I'd purchased two weeks prior, I'd want to know if Trek would help me out at all. It turns out Trek has a crash replacement policy, which is outlined below.
If you suspect your carbon frame or part has been damaged in any way due to a mishap out on the trail, follow these simple steps:
Stop riding the bike.
Take the bicycle to an authorized Trek retailer. Fortunately, there are lots of them. Don't know who your closest retailer is? Click here to find out.
If damaged, you can replace the damaged frame or part at a significant discount through Trek Carbon Care.
This was rider error, pure and simple. The tires aren't great in the wet, but by this point in the day I knew that and failed to adequately adapt and weight the front wheel. The mortal wound the bike suffered was entirely predictable. The impact was directed down onto the top of the seat stay, just below the bridge, which wouldn't seem to be a common mechanism of injury to prepare for in a mountain bike lay up (but this is only supposition). I have no information that suggests other carbon eMTBs would do a better job of resisting this damage, but I have no information that suggests they wouldn't either. The only real conclusion I can arrive it is that all bikes can break and this one broke as a result of an unlikely strike in an unlikely spot, after an unanticipated wipeout and rider error.
---
In Conclusion
The Trek Fuel EXe is nothing less than a great leap forward for eMTBs. It looks like a regular bike, is virtually silent most of the time, and weighs just 40.6 lb/18.4 kg, and you could ride it anywhere in the world. The TQ motor feels very natural and it's easy to forget you are are on an eMTB, and even easier once you get flowing downhill. There will be riders who aren't happy with this development because it's going to reduce the stigma of riding an electric mountain bike with riders who are entirely under their own power but I think that's great.
There is a lot of technology on this bike and I'm just scratching the surface so far. I'll be back with more thoughts on the subtleties of the bike and the components in a couple of months. By then I hope to be able to be able to publicly declare if this is the sort of bike I'd like access to all the time, or if it feels like one bike too many. It's far too early for me to predict that answer.
To see the full model line, spec details, and more info on the TQ motor, head over to Trek Bikes.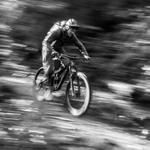 Cam McRae
Height - 6'/183cm (mostly legs)
Weight - 170lbs/77kg
Inseam - 34"/86cm
Ape Index - 0.986
Age - 56
Trail I've been stoked on lately - Boogieman
Bar Width - 760mm
Preferred Reach - 485-500mm (longer with 27.5 wheels than 29)