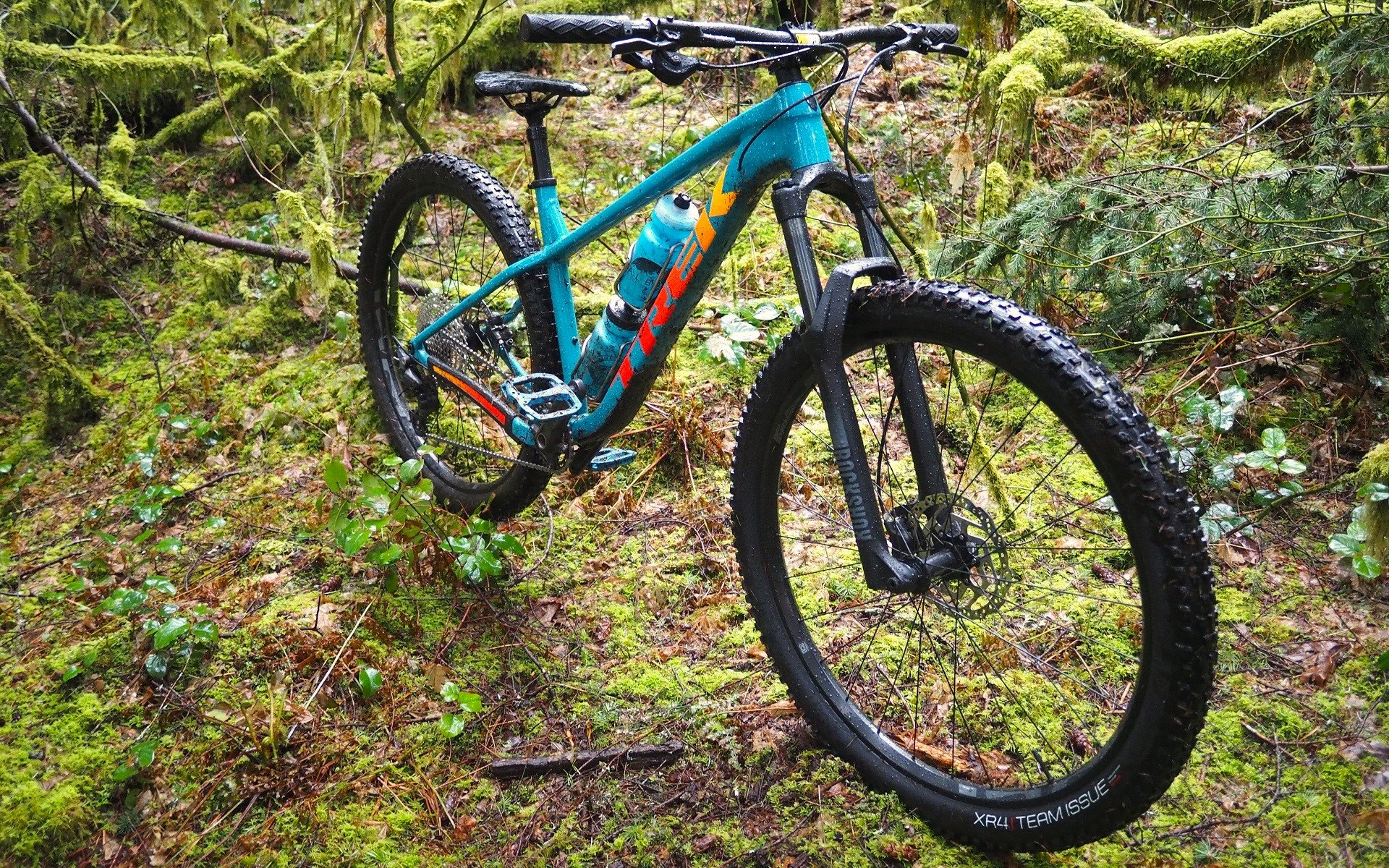 REVIEW
Ruminating On Trek's $1650 Roscoe 7
Truth, Lies, and Superior Brakes
Straight up, I don't love the Trek Roscoe 7. There, I said it. When I'm kitted up and ready to ride, it requires a boost of willpower to take this bike. However, by the bottom of this piece I'm going to present my case that it's currently among the best values in mountain biking.
My apathy probably should not come as a surprise. The wheels on my other mountain bikes would run two thirds of Roscoe's price tag, and they're on aluminum rims. The SR Suntour Durolux 36 RC2 isn't fancy, but it's a fantastic fork for around half the total cost of the Trek. My first gen Magura MT7 brakes are ancient at this point but they still stop like brakes that cost a third the price of this Roscoe.
It's all about perspective. The other day I was playing with a beautiful Öhlins RXF 38 M.2 Air fork that sells for a hundred dollars more than the complete Roscoe 7. Just for the fork. In a box. The price of the Roscoe includes having it assembled and set up for you at your local dealer, and most likely comes with some kind of service package.
I'd be telling a bald-faced lie if I said I could be happy riding the Roscoe, out of the box, as my daily driver. I love riding hardtails, but, as fun as the Roscoe is on blue and faded-black trails there are some upgrades, particularly brakes, that I'd consider mandatory if it was going to be my only rig. On the flip side, I can envision riding an upgraded Roscoe 7 as my main steed, and I think that's awesome.
From the frame up, the Roscoe has great potential and that should be a huge consideration for someone buying a bike at this price and planning to own it for ages.
Roscoe 7 Revisted
For me, all discussions of the Roscoe 7's value actually start with Shimano's excellent Deore M6100 12-speed drivetrain, including Shimano cranks. Next year I could argue that it should come equipped with the new LinkGlide M5130 Deore 10-speed, but when this bike was built, M6120 was arguably the only drivetrain that mattered.
The almost all-SRAM NX drivetrain of the Roscoe 8 is a downgrade for an extra 620 CAD. The mostly Shimano SLX drivetrain of the Roscoe 9 is not an upgrade for an extra 1620 CAD. Those bikes also get better forks and wheels, but I'll talk about that more in a bit.
Let's look at the drivetrain of the Roscoe 9 for a moment. The SLX cassette has an aluminum low-gear that will wear out significantly faster than the steel option on the Deore cassette, and the e*thirteen Helix 24mm cranks tie the owner to a proprietary chainring mounting system that is much rarer than the 4-bolt setup on the basic Shimano MT511. Both bikes have the same Deore M6100 chain.
Apart from the drivetrain, which I'd happily ride on any mountain bike, the Roscoe frame is the star of the show. It sports great geometry, and obviously quality construction. It's available in three attractive colour combos, and it's nice to have that much choice at any price, never mind a hardtail that's a heck of a package for 1650 USD | 1880 CAD.
In my my first look piece, I talk about the acceptable wheels, brakes, and the dropper post on the Roscoe 7, along with the tires that vary from awesome to ok, depending on the terrain. The tires are better than many that come on bikes twice this expensive, though for my local terrain I'd prefer to use them as rear only with a CushCore insert, and add a more aggressive, sticky tire up front.
It's possible to spend less money and still get a trail-worthy rig with okay geometry. My issue is that the hits to performance will be immediately noticeable and expensive to make up in the future. Take Trek's Roscoe 6 as an example.
The basic coil-sprung fork, square taper cranks, and hot-garbage Kenda Havoc wire bead tires are all significant downgrades for just 400 CAD in savings, but it also doesn't share the same frame. I'm not bothered by the 141mm quick-release rear wheel, but the significantly shorter reach and steeper head tube angle limit the bike's trail potential compared to the frame that is the heart of the Roscoe 7.
The Roscoe 7 was actually a nice value at its previous pandemic-bike-rush price of 2200 CAD, but for 1880 CAD it delivers significant value for folks who can stretch that extra four hundred bucks from the tier of bikes below.
Geometry, Geometry, Geometry
Neutral is the name of the game here. The Roscoe has a slack enough seat tube angle (STA) for a comfortable balanced bike fit and good power creation on less-steep climbs, but it's also steep enough that all but the most dedicated pedal-and-plunge riders will likely be happy within the range of fore-aft adjustment from the saddle rails. Especially because the STA does get a bit steeper with sag.
Some folks have commented off the geo chart that a 65° static head tube angle (HTA) is slack for an all-rounder mountain bike but remember that this is a hardtail, so I quickly find myself halfway through the travel rolling into anything steep. I think a good general rule is that a hardtail's HTA should be 2° slacker than a full suspension bike for the equivalent application. If anything, the HTA on the Roscoe is steep compared to its full-suspension siblings: I'd place it between the Top Fuel and Fuel EX in terms of application.
The Roscoe geometry puts me in a comfortable climbing position and I'm overwhelming the brakes and fork long before the descending position is an issue. And that's in fairly steep terrain.
Trek could still increase its future upgrade potential, and room for rider progression, without hurting its climbing chops, by going a bit slacker with the head tube angle. I could see them bumping up the bike to a 150mm fork as well for the extra descending prowess, especially in steeper terrain when it sags much more.
I think about the Roscoe as the hardtail version of Trek's "Do Anything" Trek Fuel EX, which just rolled over to Gen 6.
Min-Max Upgrades
Let's say the Roscoe 7 buyer was prepared to pay the initial 2200 CAD price of entry and now at $1880 they have a few hundred bucks available for upgrades. Or they're just stretching up the 430 CAD from the Roscoe 6 but they're planning to really progress on the bike over the next year; where is money best spent on upgrades?
Once I've picked up a pair of pedals, the first place I want to spend some money is on a decent dropper post remote. Then, it's on to boosting the brakes. The stock calipers slow me down just fine on North Shore blue trails, but for the confidence to progress beyond that, more powerful braking is key. I'd do this before I left the shop in the form of a Shimano MT420 front caliper and any decent brake rotor compatible with sintered brake pads. If budget allowed I'd do calipers and rotors front and rear. The beauty of the MT420 brake calipers is they're plug-and-play with the lines, fittings, and levers that come stock with the Roscoe 7, and they work fantastically with the Shimano MT200 master cylinders. They sell for 50 USD | 70 CAD.
The 2.6" Bontrager XR4 tires should really be SE4 tires. The same rubber compound, and the same tread, but better sidewall support and durability for the hardtail rider trying to balance control, comfort, and cost. But these are a bit lighter if you're counting grams. I'm installing inserts right away to prolong the life of the e13 rims, which have a reputation for being quite soft, and tires while improving traction.
Good inserts aren't inexpensive but add up the price of a rim, spokes, nipples, and a wheel build or the cost of a couple of tires, and it doesn't take long to pay for itself, especially on a hardtail. With 2.6" rubber I'd typically go CushCore Pro front and rear but the new Trail inserts they're releasing that will sit between Pro and XC are an intriguing option, at least for the front.
Once I've sorted the remote, brakes, and tire inserts I'm thinking about the North Shore winter months where I'm going to want a stickier front tire for our rock-armoured all-weather trails. I'll save the SE4 tires for the rear and grab something mean for the front. I'd like to stay 2.6" to match the rear volume, so I'd be tempted by a Specialized Butcher T9 or a Schwalbe Magic Mary Super Trail in the Addix Soft compound.
Next up is saving some up cash for a fork upgrade and maybe a rear wheel, since I'd like a faster-engaging rear hub. On the fork front, I've had friends recently pick up take-off SR Suntour Auron 35 PCS-RC2 forks and RockShox Yari RC forks for prices almost too good to be legit. I'd be happy with either in a 150mm travel setup.
The Recon Silver RL SoloAir fork did an okay job once I dialed in the rebound damping. Dialed is the wrong word because every click feels like opening the pull-tab on a canned beverage and needs to be accompanied by a quiet prayer that it's moving rather than breaking. It's smooth enough and supportive enough for any local blue trail. I just know that, after the brakes, it's the part that would most noticeably dictate where I would and wouldn't ride the Roscoe.
With the wheels, Trek is big enough to handle the logistics of a wheel upgrade program and their Line Comp 30 wheels which come on the Roscoe 8 would be perfect for this bike. The 108-point, 3.3° engagement 6-pawl hubs aren't faultless compared to more boutique options but they're still a min-max favourite of mine.
Proposing 7a, 7b, 7c
Moving forward from talking about upgrades to the Roscoe 7, I'd propose to Trek that they have a platform worthy of a revolution in budget bike thinking. Instead of building the Roscoe 8 and Roscoe 9 which dump a lot of money into drivetrain upgrades that aren't actually improvements, why not adopt a min-max mentality that sees the Roscoe 7 more strategically upgraded?
If the Roscoe 8 at 2500 CAD shared the same Deore M6100 drivetrain, in addition to the Bontrager Line Comp 30 wheel upgrade, the fork, and MT420 brakes, we could be talking about a significant fork upgrade, like the Yari or even a Lyrik.
If the Roscoe 9 at 3500 CAD shared the same Deore M6100 drivetrain, in addition to the M6120 brakes and RT-66 rotors, we could be talking about some pretty nice upgrades hung on that same, high-quality 'Trek Alpha Gold Aluminum' frame.
First Prize
Where does it end? How worthy of upgrades is the Roscoe 7 frame? At the end of the day the hardtails I prefer to ride, every day, have head angles around 2° slacker for the same fork travel, but actually a 9Point8 Slack-R headset and a 150mm fork would get me there. Actually, if Trek had just stuck with the ZS44/ZS56 headtubes they popularized there'd be abundant angleset options.
A couple of weeks into this review I'm very much enjoying the bike but at the same time still preferring to ride my own hardtails, I considered pitching Trek on just sending a Roscoe frame after I wrapped this piece. I'd commit to riding it exclusively for six months. After all, framesets are available separately for 950 CAD although only in boring black.
I'd throw in my Trickstuff bottom bracket, beg 9Point8 for a compatible headset to localize the geometry a bit more for our terrain, get an air spring to lower my Durolux to 150mm travel and otherwise port over wheels, brakes, and such from my personal rigs that I ride on the janky old-style black trails I prefer.
The logistics don't really make sense. I'm still grinding out LinkGlide miles on my Marinster Truck, my single-speed parts are on a Banshee Enigma review frame, and hopefully I'll be restarting my We Are One Arrival review shortly with a travel bump up to 170mm.
Despite this, a Roscoe could be my one bike, and I have both hands up to review the next-generation, assuming it follows the Fuel EX's evolution.
This review is big on ideas but light on riding feedback. That's the thing about reviewing hardtails. It climbs like a hardtail with good all-around geometry. It descends like a hardtail with good all-around geometry.
I've spent a decent amount of time scrolling, and I'd be keen to hear any pitches for a better package under 2K CAD. Especially when you factor in Trek's customer service reputation, generous after-sale support, and massive dealer network. Upgrade those brake calipers and rotors, throw in some CushCore inserts, and until a rider's progression curve in terms of trails and technique has them thinking that the Recon fork is really holding them back, the Roscoe 7 is going to be great.
It's adaptable, worthy of upgrades, it's a great riding bike, comes in six sizes, three good colour options, and at 1650 USD || 1880 CAD it sells for around the same investment as the average set of wheels we review at NSMB.com.
That's the Trek Roscoe 7, check it out.