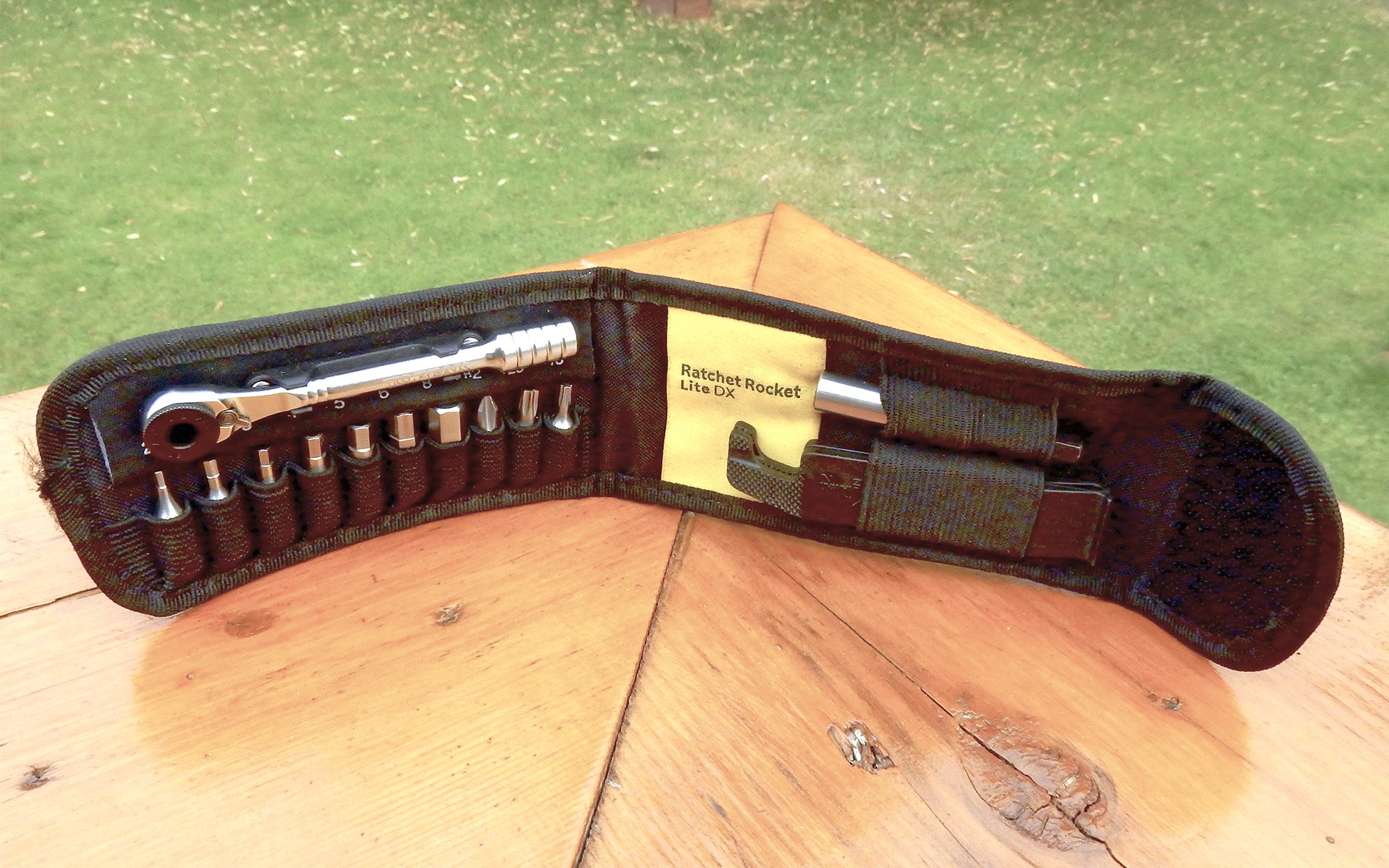 Review
Topeak's Ratchet Rocket Lite DX Tool
Multi tools are awesome. Without thinking much you can toss one in your bag or your pocket or maybe even your headtube and have everything you need for most of the repairs and issues you are likely to encounter on your average hectic, unpredictable mountain bike ride. Light, compact and convenient, they often do the job.
Multi tools suck. If you are trying to get into any tight space good luck with that. If you need ample leverage you'd best look elsewhere. If your tool doesn't happen to reach the spot you are reaching into you would have done as well bringing a 135 gram rock. Useful and compact are great but patching up your ride so you can limp home after a 40 km/h ragdoll into the rhubarb is rarely a predictable endeavour. 
Versatility is valuable when things have gone haywire and the Ratchet Rocket is an adaptable tool. You can use the extended head in hard to reach spots, remove it when the quarters are tight or pop the bits into the magnetic end of the handle to get into particularly inaccessible spots or when a deft touch is called for. 
The first time I saw a tool like this was in the Kona bike shop in Bellingham. One of the staff had this on his belt to aid customers or tweak bikes on the floor. The compact size, multiple bits and ratcheting capability made it perfect for the sort of tasks he needed to perform. And who doesn't look like a bad ass with a tiny socket set hanging from your hip?
I have sometimes stooped to using a multi tool off the trail but it's rarely ideal. This tool, on the other hand, is so handy and adaptable that it's ideal for most tasks in the home shop as well. The ability to ratchet is like a super power when you are swapping stems or installing rotors, (in the absence of a drill that is) and the ability to slip it into your pocket is a bonus. The tool is small which is usually perfect for the sort of torque required to fasten bike parts to each other but even though there is an 8mm head the Ratchet Rocket wouldn't be much use for installing or removing cranks or for removing pedals that have been on more than a few weeks. 
I actually thought the Ratchet Rocket was going to be most useful at home but the case is so compact and well-organized I began using it on trail as well. The case closes with Velcro and it's nice and compact. In fact I would happily walk around with it in my jeans pocket because it's as thin as my wallet. 
Because it's so well housed you could carry the Ratchet Rocket Lite DX just about anywhere. It could strap to your frame, slide in a jersey pocket or be tossed into your pack or bum bag. I have been using the last two options in that list to keep the tool handy.
When I set about hunting down the price for this tool I found it on both Amazon for $27 and Chain Reaction for $45 Canadian which was a pleasant surprise. In fact, CRC has the non DX version (no extender or tire levers but even more compact and only 113 grams) on sale for Canadians right now pushing it down to CDN $33.99. For some reason American customers must pay $34.95 US for the same product. You can, of course, ask for it at your LBS - always a worthy endeavour. 
I really like the Ratchet Rocket DX. For some the TorqBits version will make more sense but my experience wrenching in shops in my youth made me too arrogant to realize I need a torque wrench, although the proliferation of carbon has me rethinking that. I will happily say goodbye to the awkwardness of muti-tools for the speed, versatility, and convenience of this tool.
For more hit up Topeak.com