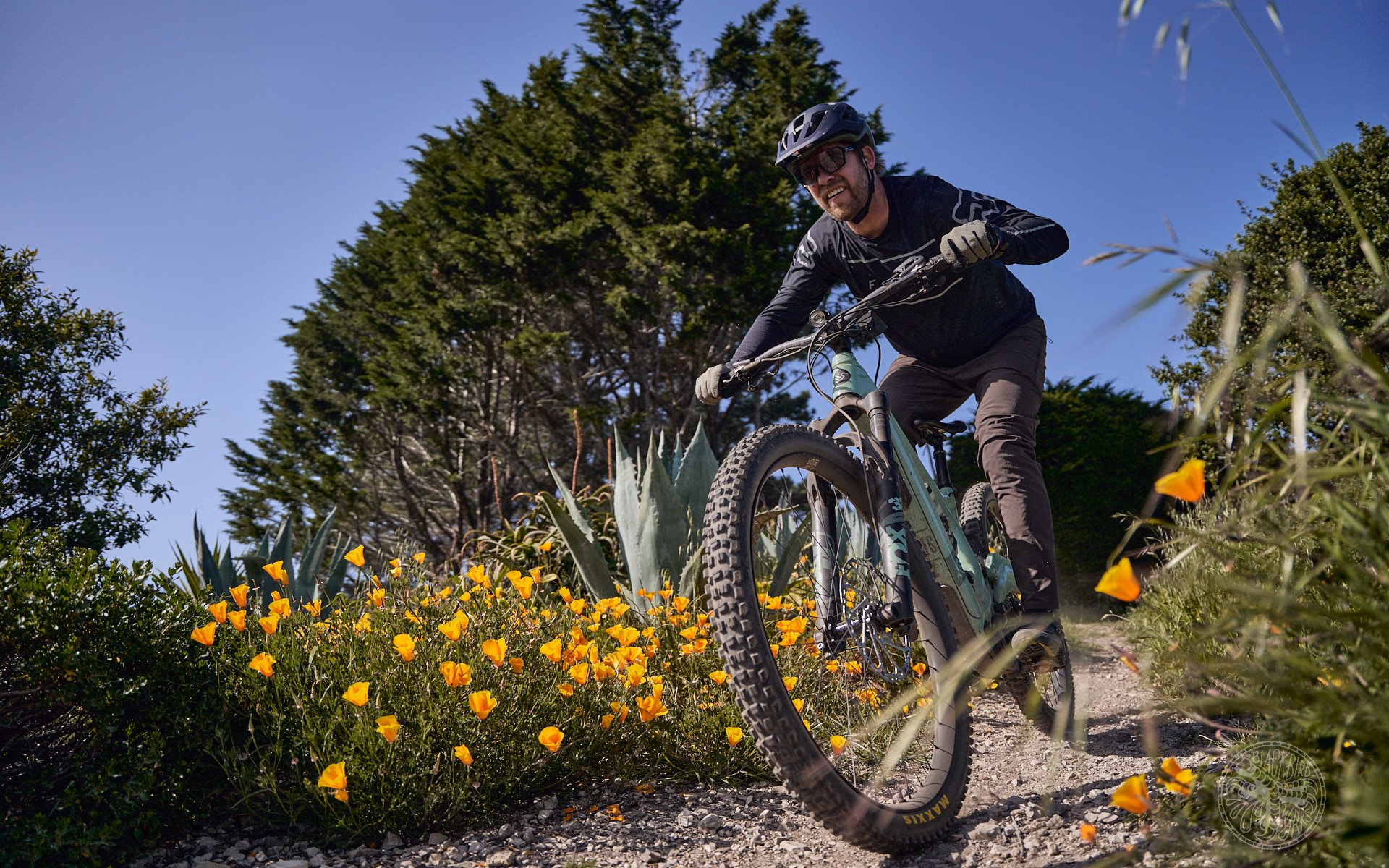 A Day on the Oso
Riding the Ibis Oso eMTB in Santa Cruz
Misguided Preconceptions
We all have feelings about most everything we are made aware of, but haven't been in contact with, before that contact occurs. These feelings can be rational or irrational but often they simply operate in the background. As a species, we constantly evaluate and assess whatever we encounter as positive or negative or of no consequence, and the primitive observational tools we use, often mislead us.
What I'm getting at is, my preconceptions about the Ibis Oso were shallow and uninformed, and ultimately unhelpful and inaccurate. At first glance, based on my ideas of what a bicycle (E or otherwise) should look like, I dismissed the Oso as something of a freak. Because of this I assumed it wouldn't perform well.
I didn't articulate these views to myself, and I don't think to anyone else. They were so ingrained and primal that they existed only as a feeling. Despite this, I saw an opportunity to ride an eMTB we hadn't ridden and decided we should to seize the day.
Cam McRae on the Large Ibis Oso
We did a fairly quick suspension set up and then Pete and Deniz and I, each on an Oso, set about climbing up the trails and side streets on Santa Cruz's west side, to the UCSC campus. The climb was comfortable and uneventful with the Bosch motors humming along smoothly and adding power progressively as needed.
We had ridden the same trails a week earlier and we were keen to revisit some of the steeper lines. Forget what you think you may know about California riding; some of the campus trails are very challenging and consequential. They may not be as technical as the North Shore but the chutes are often longer and more intimidating. And very fun indeed.
It didn't take long before we all started to feel comfortable. When we'd stop for a break one or more of us would say things like, "this bike feels pretty good" or simply, "wow!" For my part, I began to notice a duality. The bike had a really nice soft trail feel and was composed, even when breaking traction. In situations where it seemed like the rear wheel was skipping along, the bike kept a stable attitude and allowed me to brake or maneuver deftly and with subtle inputs.
When sustained impacts occurred, or after a gap or a drop, the suspension ramped up and cushioned the blows calmly. This duality carried over to getting off the ground, and the Oso was eager to loft off hits and roots large and small, landing with satisfying composure.
The heart of the Oso is a new manifestation of the proven DW link suspension system designed by Dave Weagle. It's being referred to as Ibis' "first-ever upper-link suspension dw-link platform." What that translates to is a progressive leverage rate that, despite being incredibly sensitive off the top, ramps up to provide plenty of support and pop when needed.
There are several other things to appreciate about the Oso as well. It comes with Lupine lights pre-installed and connected to the main battery, it can handle a 190 mm fork and even a dual crown, you can over-shock the rear suspenion to bump the rear travel up to 170 mm, and there are several size specific features like dropper posts, chain stays and even wheel sizes. In short, this is quite a machine.
- Cam McRae
Ibis Oso Details
170mm front travel
155mm dw-link rear travel
Carbon front triangle and rear swingarm
Available in four sizes S-XL
Size specific chainstays (S/M 439mm, L/XL 444mm)
S/M: Mixed 29/27.5 | L/XL: 29/29
Size specific seat tube angles (S/M/L/XL = 77/77/78/79) • Complete weight for a size large is 53 lbs / 24 kg
2.5" tire clearanceComplete builds retail for 10,999 USD
Electronics
Bosch Smart System (motor, battery, display, controller)
750 Wh battery
85Nm of torque, eMTB and Tour+ modes, navigation, optional security and ABS systems
Small: Bosch Gen4 Motor & 625 Wh battery
Deniz Merdano on the Medium Ibis Oso
Ask an outdoors person about the general fitness and agility of black bears of the Pacific North America and you'll hear stories of chubby, awkward looking fuzzy creatures climbing up massive trees like they are playground structures.
I had less than zero information about the Oso (bear in Spanish) when I was told I would be riding one in Santa Cruz, CA. I knew what the frame looked like and that it was unique compared to most other bikes on the market.
Showing up at IBIS headquarters on the west side of Santa Cruz, I was already impressed with the design and decor of the place. Big wide open spaces and magical use of salvaged redwood desks set the mood for the last minute demo request we sprung upon the fine folks at Ibis. Thank you Saris Mercanti for accommodating us, and everyone else who helped us out!
I threaded my pedals into the size Medium Oso in Forest Service Green colour. I Immediately noticed the Bosch Performance CX motor peeking at me behind the SRAM cranks. I like Bosch E-MTB motors and seeing one promised some good times ahead.
Significantly higher than body weight pressures were recommended for the rear shock to begin with. High leverage curves were to blame for this, so up to 195 psi I went for a 32%-ish sag on the Fox Float X2. I weigh 160ish pounds. The Fox 38 was pumped upto 80-ish psi for a balanced feel and rebound set to the quicker side of medium. I like the way a faster rebound can make a heavier eMTB feel lighter. XT brakes were also a fine sight for my index fingers and off we went up the streets to the forest for a quick spin.
There was a lot going on with the electrified Ibis' cockpit. The Bosch Kiox system is highly informative and you can extract a ton of information from it. Light, assist, gear and brake controls add up to a busy view. Everything was within reach and intuitive. There was no getting-used-to period for this user. The size medium with 460mm reach and 440 rear center felt really balanced. The majority of the climb was done at turbo as I was also tasked with towing a self assist pedaler within our group. An old inner tube, which, by the way, was almost impossible to find in the town of Santa Cruz, tied to my saddle and to the stem of the towee.
The Oso did not skip a beat going up the somewhat technical climb for our ride. There was no lift on the front wheel and the bike felt lively no matter the load or obstacle. Size small and medium Osos have mixed wheels on their chassis where the large and XL are 29ers front and rear. I like a smaller rear wheel on my e-bikes and was right at home with this setup. Tires are DD casing Assegai on the front and DD casing Dissector out back. With great timing on our side, the trails we were on had been saturated with months of relentless rain on the California Coast but were just started to dry and firm up. The conditions were of a Chocolate cake flavour. Which means maximum traction and fun. There were crowds out enjoying the perfect conditions that don't seem to last long down south.
ADDITIONAL DETAILS
Stock rear travel is 155mm with 205x60mm Trunnion shock
Optional 170mm rear travel with 205x65mm Trunnion shock
Compatible with Fox DHX2 coil shock
Max fork travel is 190mm
Dual crown approved
Ultra trick in-frame molded cable tunnels
Fully integrated lighting system with internal wire routing
Fits a 26oz bottle with side loading cage inside front triangle (M/L/XL)
Fits a 22oz bottle with side loading case inside front triangle on size small
Post mount 200mm rear brake
220 max rear rotor
Boost 148 Dropout Spacing
SRAM UDH
Polycarbonate downtube and motor protectors, molded rubber swing arm protectors
Adjustable chainguide
44mm fork offset
WARRANTY
Seven year frame warranty, lifetime replacement on bushings
Two year electronics warranty through Bosch
To Sum Up
The playfulness of the Oso was exhilarating on the descents. Set up with a fast rebound, the bike felt 10 pounds lighter than it actually was. Changing directions, whipping and pushing the bike to do certain shapes was intuitive. That high leverage ratio also meant that the initial part of the travel was buttery smooth and soft. The pressures built up rapidly around sag to provide a ton of support to push off of. Jumping this thing was absolutely fantastic. With similar rear travel numbers as my long term tester Canyon Spectral:ON I was really stoked to see a 170mm fork on the Oso; a proper fork for a proper good time. The nature of the bike was well suited to really steep but mostly flowy trails we were putzing around on and I imagine the Oso would do quite well on the Shore as well.
Apart from the unfortunate side effects of the interrupted seat tube, the bike surprised me in all the positive ways. Looking forward to the opportunity for a long term tester on the Shore.
- Deniz Merdano