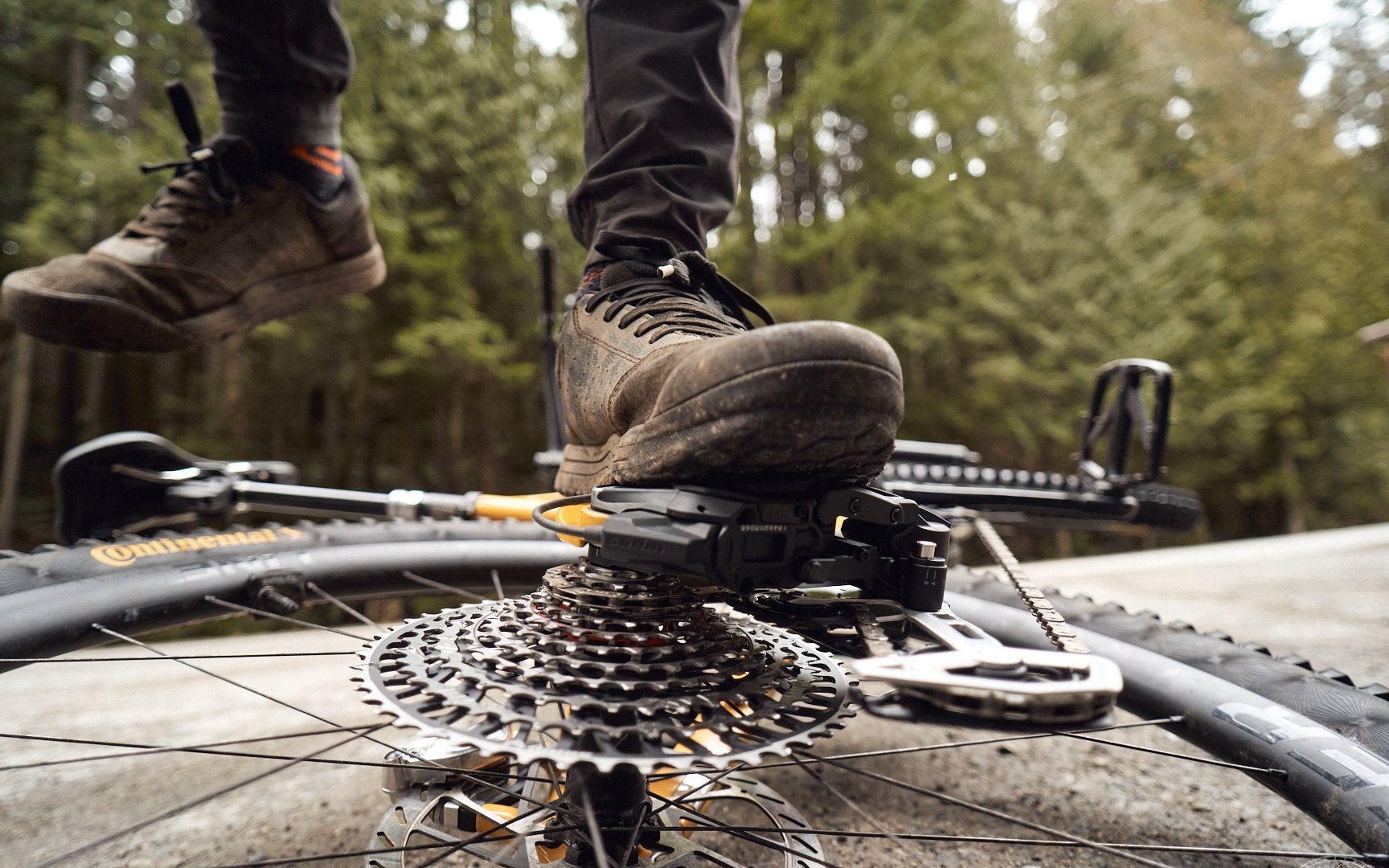 Review/Product Release
SRAM Eagle Transmission drivetrain and Code Stealth Brakes
Normally after a new product's presentation, and maybe a first ride, I take some time to formulate my thoughts, to let the Kool-Aid ooze out of my system. Occasionally, as in this case, something comes along that moves the needle a little more than say, the new iPhone and my frothing can't be contained.
While this new system includes AXS wireless shifting, that feature is not what makes it newsworthy. If you glance again at the image above, that is my foot being held up by the mounting support on what replaces the hanger bolt area of a traditional derailleur. It held my weight entirely* and afterwards, without any intervention at all, it shifted perfectly. I was told this is child's play for this device and that it has been tested to withstand approximately 3 times my 170-odd lbs (77 kg).
*In the image it may appear that part of my weight was being supported by the seat stay but when zoomed in, a clear gap between my heel and the frame is visible
That part of the mechanism is where all the electronics and servos live, shielded from harm the way the survival shell protects F1 drivers during a crash. Obviously, this doesn't mean a T-Type derailleur can't be broken, but it appears to be vastly burlier than any derailleur that has come before, thanks largely to the absence of the tiny replaceable hanger but also because of its triangulated mount on the rear axle.
Eagle T-Type Coles/Cliffs Notes
Beyond the strength of the system, further bolstered by SRAM's overload clutch (which almost instantaneously disengages the motor in the event of an impact, allowing it to move away from the blow freely, thus protecting the servos), there are several other noteworthy features of T-type which is currently available in three trims: XX SL, XX, and XO.
No limit or b-tension screws - because of the accuracy of the "Full Mount" interface, the derailleur knows exactly where the cassette is and generally shifts perfectly as soon as it is installed - although some micro-adjustments may be required.
"Full X-Sync" - T-Type can shift under full power going up or down the cassette. In fact, it shifts better under power (and not so great on the repair stand). This is accomplished with a complex system of ramps, cutouts, and periodic application of narrow-wide teeth, particularly on the largest cogs.
Built for the long haul - components that are subject to impacts and wear are easily replaceable and disassembly requires only two hex keys. The cage is actually removable without tools and is also available as a replacement part.
T-type cassettes have more balanced steps between cogs. 10-12–14-16-18-21-24-28-32-38-44-52 (Non T-type ratios are 10-12-14-16-18-21-24-28-32-36-42-52).
The Weakest Link
Some of you may be surprised to learn there was a time before replaceable derailleur hangers; the hanger was part of your rear dropout that was welded or brazed to your frame. At first, they worked reasonably well. If the hanger on your steel frame became bent, it could be bent back into its original alignment with a tool. With steel, this could even be done multiple times before the hanger broke. If it broke, a new one could be welded or brazed in its place. Heat-treated aluminum frames changed all that and if your hanger survived the original impact, the brittle material usually broke during any alignment attempt, and your frame was either a single speed or garbage. And the replaceable hanger was born, which was an inevitable solution for carbon frames as well.
The earliest patent for replaceable hangers was filed by Cannondale in 1989 but they began appearing earlier in the 1980s, and they were usually made of cheese. For many years it made sense to pack one along with you for every ride. Despite becoming much stronger in recent years, this just meant your much-more-expensive derailleur would break and bend more often, so the hanger remained the weakest link, even after it got stronger.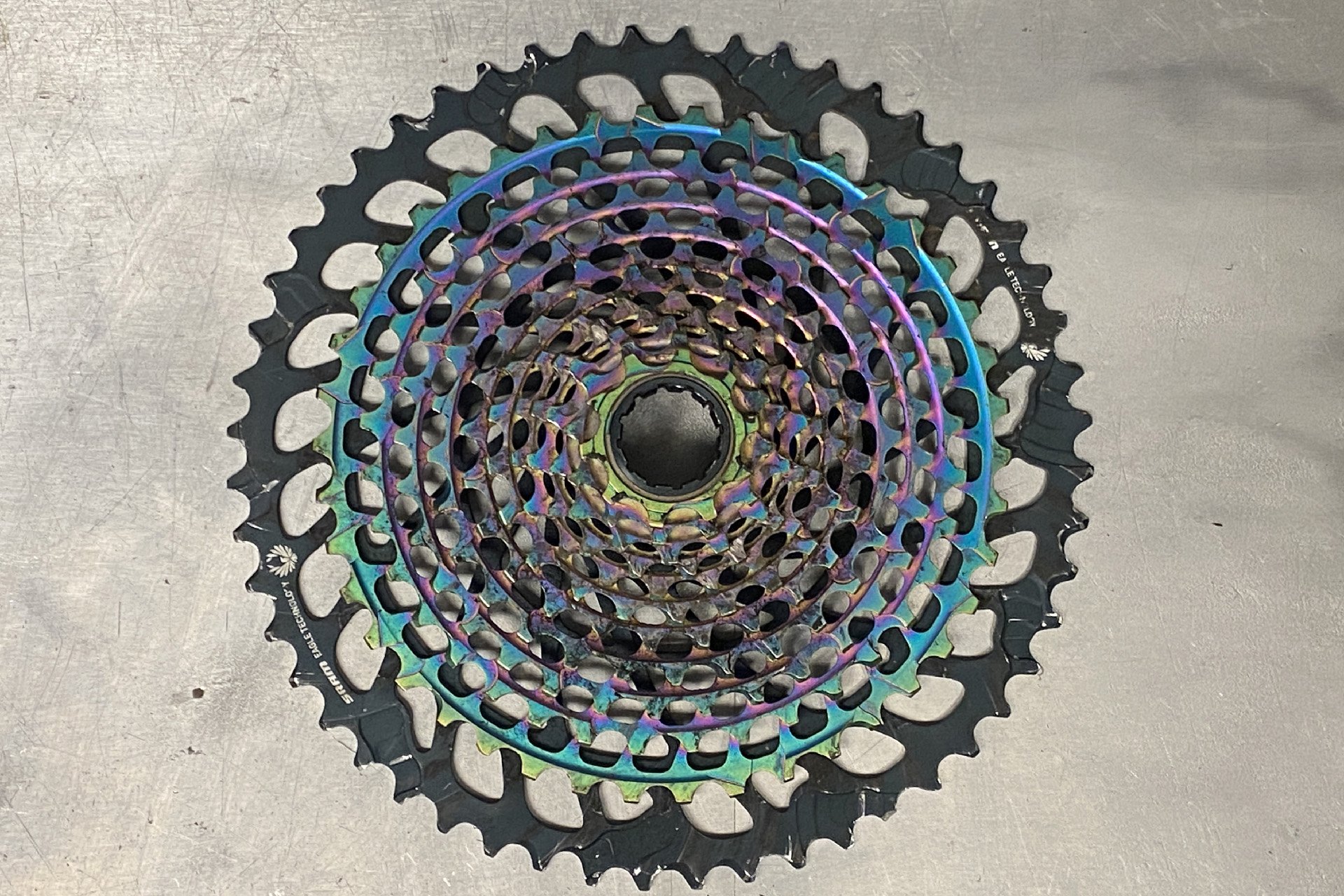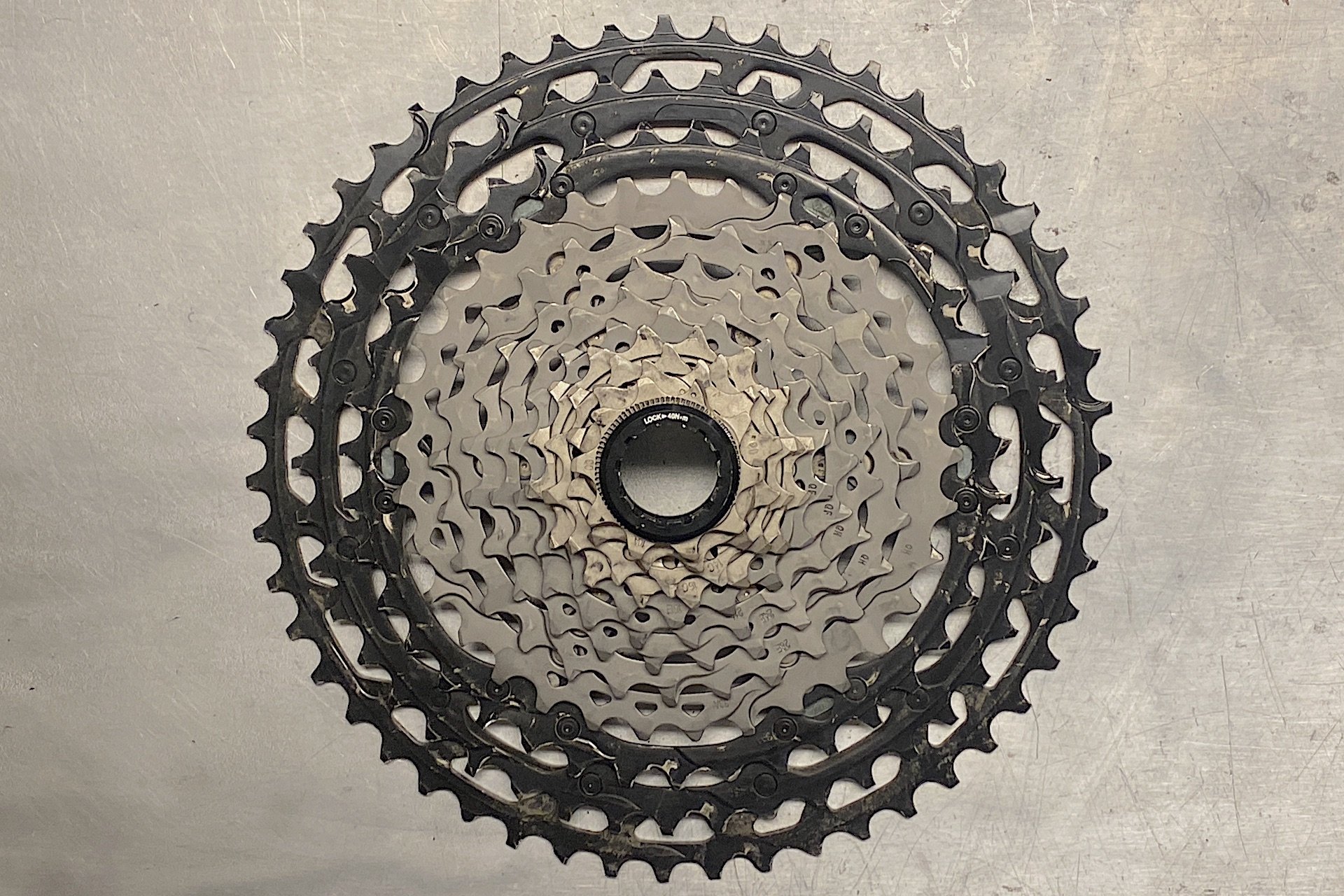 Inspiration
Given the spindly parallelogram architecture we inherited from Tulio Campagnolo*, (who also invented the two-handle corkscrew we are all familiar with and the quick release) a new approach was needed to make the system burly enough to handle the demands of mountain biking. The first step, by SRAM's estimation, was to eliminate the hanger altogether.
This wasn't how the whole story began, however. Apparently, SRAM's German engineers were frustrated by the real world performance of their Eagle drivetrains, particularly when ridden by your average consumer. Alignment and adjustment issues meant riders were not experiencing the dreamy, trouble-free performance they envisioned; cable tension was inconsistent in non-AXS systems, limit screws and the finicky b-tension adjustment were often neglected, and even if the frame happened to precisely suspend the hanger, it was likely that either the mech or the hanger (or both) was bent enough to screw up performance. Apparently, German engineers like control, and these factors were beyond theirs.
*While not credited as the first person to invent a system to move the chain between cogs, Campagnolo's 1949 Gran Sport, a twin cable affair, is often acknowledged as the first modern derailleur
Clearly a lightbulb went off with one member of the team who realized a system that could eliminate user error and neglect could be designed, and make the derailleur as immune as possible to the injuries these dangling pulley holders regularly sustain. Rather than mounting the derailleur to the frame, or worse, to the hanger which is then mounted to the frame, what if the derailleur was mounted to the rear axle, on both sides of the dropout of course, with no hanger at all?
The T-type system mounts the derailleur directly to the rear axle with a yoke that cradles the rear dropout, adding strength through triangulation, so the system is no longer dependent on the strength of a hanger or your frame. This also ensures your derailleur is perfectly in line with your cassette since both revolve around the 12 mm aluminum rear axle.
The Most Noble Bait and Switch?
SRAM's "UDH" program can, in retrospect, be seen as benevolent corporate subterfuge. In order for the T-type system to get the serious foothold it would require, as soon as it was released, the company's universal derailleur hanger would need solid market saturation beforehand. This means product managers at companies like Trek, Specialized and even Forbidden, would have to be sold on the project years before, so UDH design integration could precede the arrival of the T-type system.
What that means is, all of those UD hangers were simply placeholders for a system that completely does away with the derailleur hanger. It's a brilliant strategy that would be seen as devious, were it not for the goal of making derailleurs robust and virtually impervious to the degradation in performance every hanger-based derailleur with three set screws is prone to. Even AXS.
Eagle AXS: So Last Week
At first, it seemed insane that SRAM would be revolutionizing the derailleur so soon after, well, revolutionizing the derailleur. Before I saw the system or knew anything about it, but after I became aware it was drivetrain-related, I wondered if this was something else entirely; a system to capitalize on the largesse of an increasingly well-heeled mountain biking clientele.
When SRAM introduced XX1, which by their own reckoning sat higher than a Shimano XTR-equivalent, it was expected to be a niche product with a limited market. Instead, It blew their forecasts away and became unexpectedly successful. This knowledge had me worried that this was simply going to be a fancier and more expensive AXS system with more carbon, aluminum, and titanium added; more bells and more whistles, and perhaps personalized engraving on each component. Or each chain link. It's likely something that, situated above the original XX1 AXS 'luxury group,' would have produced high margins and lots of sales, like most luxury goods, but without adding much utility, value, or performance for any rider from average to elite.
Thanks for not doing that, SRAM.
While this is certainly an expensive system, with even pricier options like power meter cranks, the emphasis on longevity, strength, easily replaceable wear elements, accuracy, and repeatable performance for any user, makes this horse pill a little easier to swallow. Unless of course you recently laid down your hard-earned shekels for the existing AXS system, which will feel like choking down a porcupine.
When I first wrote this I hadn't yet seen any retail prices and when I asked Chris Mandell about the gap between this group and the already very expensive AXS group, he said simply; "I think you'll be pleasantly surprised."
Currently, the XX1 AXS rear derailleur, listed on SRAM.com, sells for 753 USD. The T-type AXS XX rear derailleur, as listed in my press materials, costs 650 USD, both without a battery.
A factor that makes me cautiously optimistic about the opportunity this system could present for average riders, is the possibility of other companies figuring out how to use this tech to offer their own hanger-less solutions. SRAM could have made it difficult for other companies to make components for their XD driver, but that didn't happen to my knowledge. I was even told there were no objections to Shimano using it.* They have been more prickly about others using their narrow-wide chain and chainring standard, at least when the SRAM tooth shapes were mimicked, and there are likely legal battles being waged behind the scenes about other intellectual property as we speak since lawyers gotta lawyer, but let's lean into the signs of generosity. For the benefits of T-Type to be spread more widely, keeping that patent open (or open enough) could be a huge benefit for average Joe and Josée riders everywhere and a sign that SRAM is that rare multi-national that considers more than simply the bottom line.
*SRAM would of course be aware that Shimano avoids piggybacking on their tech at all costs
A counterpoint to this could be that SRAM is planning a cable-actuated trickle-down themselves, serving many of the benefits of the hanger-less system, at a much more modest price. Chris Mandell gave me no indication one way or another about this when I asked him directly. For such a jovial fellow, his poker face is surprisingly impenetrable.
My guess is that it would take an engineer with derailleur experience to determine the viability of operating this system with springs and a cable, rather than servos and wireless transmitters while producing many of the same benefits.
Shifting Under Full Power
The T-Type cassette is an engineering marvel. Spaced at carefully determined intervals, the largest three cogs consisted of narrow-wide elements to keep the chain from dropping down or shifting up from those locations. What is remarkable about this is that the chain must find the correct spacing or it won't sit down at all. While I did have a skipping issue at one point when the micro adjustment wasn't bang on, I never had the chain misfire and fail to mate with the cogs once it was properly set up. Even smaller cogs have a few narrow-wide elements and the entire cassette performs a delicate dance of catch and release so that it feels like the chain never loses purchase, even in situations where you'd normally never dream of shifting. And, as I mentioned earlier, the system thrives under weight and it actually shifts better when more power is applied.
The feel is slightly different when shifting under load compared to Shimano's current drivetrains, which have a slightly lighter-feeling action, at least when things go well, but T-Type seems more tolerant of pedal mashing and works just as well shifting up or down. It generally feels like rather than derailing and having to mesh again, your chain simply glides up or down the cogs.
Reservations
To be entirely clear, I'm glad we have SRAM trying to wade through the sticky muck of mountain bikers' inheritance. We've been trying to shake our roadie pedigree from the beginning, and in retrospect, the industry has been far too slow to make that break. The traditional rear derailleur is a perfectly adequate solution for an environment without rocks, roots, slabs, jumps, berms and dirt. Unfortunately, until this point, it hasn't been adequately up to the task of mountain biking, and it's taken until 2023 for one of the major players to address these inadequacies with anything more than incremental improvements applied to a flawed system.
T-Type seems to be a Great Leap Forward for the sorts of mountain biking that could involve your bicycle cartwheeling off a cliff, catapulting into a large rock, getting snarled in overgrown salal, or countless other unpredictable mishaps that will render the traditional rear derailleur as useful and valuable as a crushed beer can. The ability to have faith in your derailleur is no small improvement. One that also shifts in virtually any situation is massive as well.
And yet there is a little access issue to this AXS system, and it involves cranks and chain and cassette, and to be fair, the crank issue is likely a rare case since frames with UDH are yet to be common, but... With the previous AXS system, everything was compatible with any Eagle component, which allowed SRAM to sell an AXS upgrade system with a controller, derailleur, battery and charger only. It wasn't cheap, but you can currently find the GX version, which works identically to the more expensive variants, for under 650 USD (905 USD msrp). This inter-compatibility does not apply to T-Type unfortunately, even in one area where it could.
One question I had was whether you could mate a T-Type chain and cassette with an existing Eagle rear derailleur and shifter. Because the cassette mounts 2.5mm outboard of a conventional Eagle cassette, I was told they could not mate. In particular, even if your frame was UDH compatible, there won't even be clearance for the cassette apparently, and the derailleur likely won't be able to adjust outboard enough to hit every cog. It's possible this could be done with a UDH frame using a conventional Eagle derailleur, or maybe even (drum roll please) Shimano, but I haven't tried anything yet. I'm happy to say this doesn't seem to be a case of planned or forced obsolescence.
In terms of crank compatibility, I haven't actually seen the new 8-bolt direct mount interface in person but I'm aware that current chainrings won't fit the new cranks and vice versa. And yet chainrings are chainrings and it seems SRAM could have made some for T-Type that fit existing 3-bolt SRAM DUB cranks. And actually, existing SRAM X-Sync 2 rings will work relatively well. I know this because I have been using one since the T-Type version wasn't available for the eMTB application on the Trek Fuel EX-E I've been testing (which was the only UDH bike I had at my disposal to test the T-Type system). Apparently the long-term durability of the chain and cassette won't be as impressive without the new chain ring, and chain retention may be compromised as well, but for me thus far, it has been flawless.
SRAM doesn't seem to have any plans to make T-Type chainrings available for current 3-bolt SRAM Dub cranks, which means upgrading will have to include the extra 300 to 550 USD for T-Type cranks, instead of 128 USD for a new chainring The least expensive upgrade kit, the XO version, is 1600 USD, which doesn't sound bad compared to the previous GX-level upgrade kit for 905 USD or the XO1 version for 1205 USD, which lack chain, cassette, cranks, and chainring.
There is a hack to the new cranks requirement, however, and it involves eMTB cranks and the available 104 BCD chainring T-Type chainring. Finding a current 104 BCD crank may not be easy, but it's not impossible either. And you might even have one in a parts drawer.
As I said, this is not likely to be a frequent scenario. If your new bike has T-Type, it will come with the whole system. If you are buying a frame-only and already have most parts for the build, you may have to shell out for cranks. The same goes if you are upgrading your current bike to T-Type unless you want to take your chances with an existing Eagle chainring, which SRAM does not recommend, but I remain optimistic about.*
*Follow my lead at your peril #notanengineer.
SRAM Code RSC Ultimate Stealth Brakes
While these brakes look dramatically different from the cockpit, their performance thus far has been indistinguishable from the current run of Code RSC brakes, which isn't bad news. These brakes hold a bleed well, resist overheating, and have very good power and modulation. In fact, the only difference between these and previous SRAM brakes is the levers.
It seems the entire design brief for these brakes involved angling the hoses towards the handlebar as they exit the levers to virtually conceal them from the rider's gaze. They do this effectively and the view is indeed very clean.
A nice feature for the Ultimate versions is the return of carbon levers. I care little about the few grams saved, but carbon has much lower thermal conductivity than aluminum, which means your braking fingers will be less chilly if you ever ride in frigid conditions. The only other difference I have noticed thus far is a more effectively manipulated contact adjustment dial.
Stealth brakes come in two different models: Code and Level. There are two trim levels for both, called Ultimate and Silver. A quick way to tell the Silver from the Ultimate is to look at the caliper. The Silver caliper is black while the Ultimate caliper is, obviously, silver, with a polished aluminum finish. Both versions are forged aluminum. The names and finishes are identical for the Level models, but there are two- and four-piston versions of each for Levels while Codes are four-piston exclusively.
Aside from the carbon levers, and the finish, the two Codes seem identical. The Ultimate versions of both Level and Code come with titanium hardware. Code is aimed at Trail to DH while Level is prescribed for XC, although the four-piston version's copy describes, "Trail ready power in a modern XC package, for tomorrow's races."
Code Ultimate Stealth Brakes MSRP per end: 300 USD / 360 EUR / 320 GBP
Code Silver Stealth Brakes MSRP per end: 265 USD / 320 EUR / 285 GBP
More info about Eagle T-Type and Stealth Brakes at SRAM.com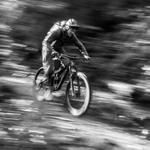 Cam McRae
Height - 6'/183cm (mostly legs)
Weight - 170lbs/77kg
Inseam - 34"/86cm
Ape Index - 0.986
Age - 56
Trail I've been stoked on lately - Boogieman
Bar Width - 760mm
Preferred Reach - 485-500mm (longer with 27.5 wheels than 29)