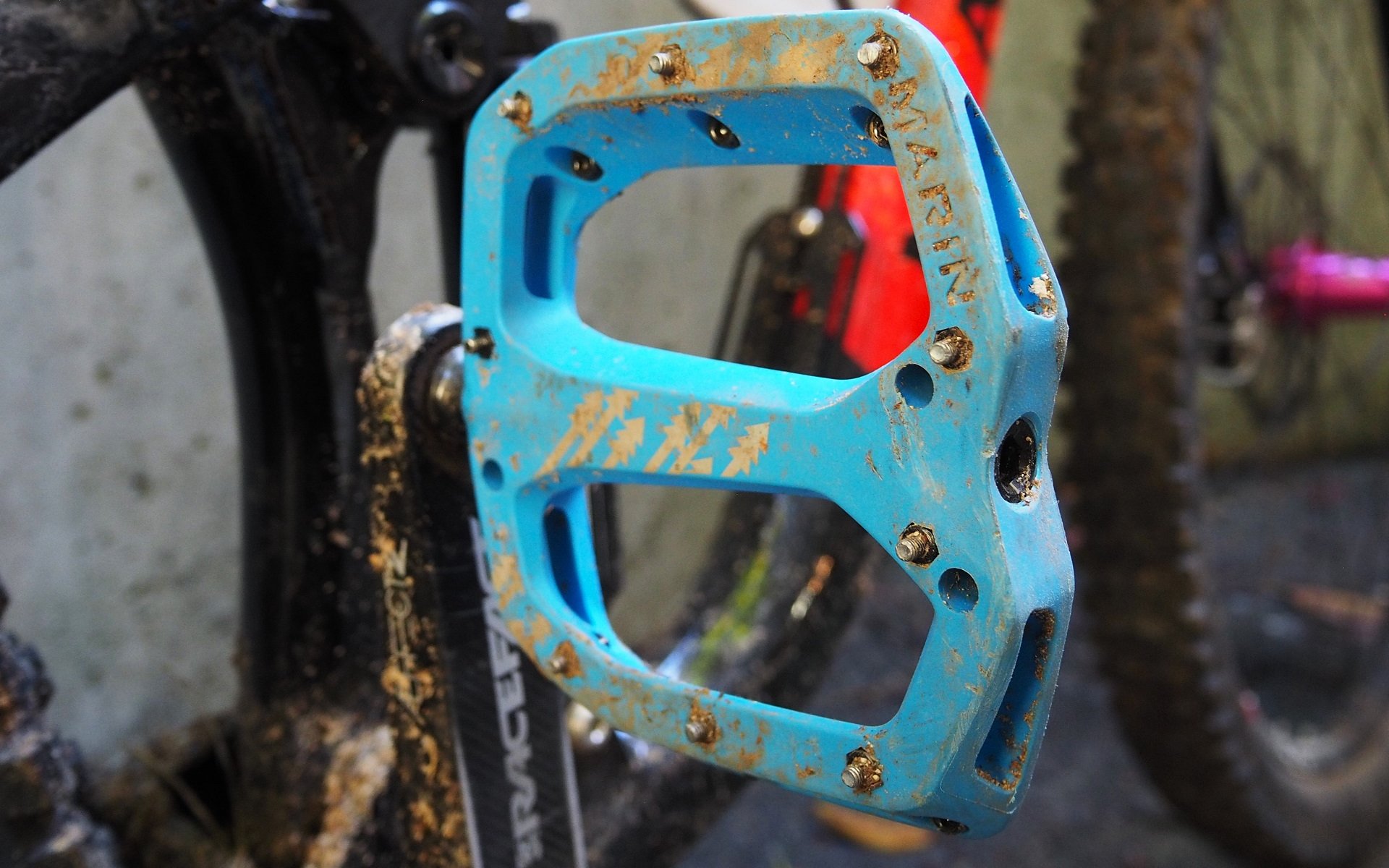 REVIEW
Marin Oso Composite Flat Pedals
Oso osO
Marin Bikes has been quietly filling out a component line that features budget-friendlier parts, including these nylon-composite Oso flat pedals. The 110 mm wide x 120 long x 18 tall dimensions qualifies them for the medium-large category. The body has an ever-so-slightly shaped body that Marin calls concave and I call neutral. They sell for 55 USD | 65 CAD, which is a rare example of us Canuck's winning on the exchange rate, likely thanks to Marin Canada's order timing. They come in two colours, the blue units I'm riding or black, both with grey graphics.
I hope Marin will add another size 2023 with a platform in the 75mm wide x 95mm long range that would be perfect for groms. Build in some bias for the fact I bought one, but I do think Marin's San Quentin 24" (SQ24") sports the best kids' hardtail geometry, in one of the best value builds on the market. In the same vein as I'd love to see Chromag add a 24" kids' hardtail, that would pair with their market-leading Radar kids' pedal, I think I'm justified in thinking Marin could do well selling a kids' Oso pedal that pairs well with the SQ20" and SQ24".
The pedals I've been riding most back-to-back with the Oso have been Wolf Tooth's Waveform in a size large. They're a similar neutral shape and the Wolf Tooth has a 112mm wide by 116mm long platform that feels the same size underfoot. The Waveform is a significantly more expensive, in-house, USA-made, flat pedal that's hopefully a very long-term investment at 200 USD | 280 CAD for a pair. To really bang that home, a single Minnesota-made Waveform pedal body will cost more than a pair of Oso pedals. The Wolf Tooth has a greater mechanical grip in my first-choice footwear, the Crankbrothers Stamp, especially on my hardtail, but the Oso is no slouch. I had no issue swapping the Marin pedals with other regular favourites including the NSBillet Daemon, OneUp Composite, and Kona Wah Wah 2 during testing.
The Oso pedal body is 18 mm thick, compared to the Waveform's 14mm leading edge, and it's taller than any of the other pedals I'm riding. The race for the thinnest has always been a bit like the race for the lightest bike of any travel category. It's a talking point, but whether you're riding these 18mm tall Oso pedals or the 6mm leading edge on some Canfield Crampons matters about as much as the difference between a 29.99lb and 34lb Enduro bike when you're actually out on the trail. I didn't notice any more trail contact with my pedals running the Oso versus my Wah Wah 2s and the bottom bracket height on my full suspension rig is low.
The Marin pedals are a very flat, neutral shape, and they work well for me with my more mid-foot pedaling position. They'd be an excellent choice for any rider who's still working out where they like their feet, or those riders I've talked to who have adapted their flat pedal riding to climb more on the ball of their foot and descend in a more arch-over position. I'm sticking to one position, but I know an increasing number of flat pedal riders experimenting with a fore-aft range who are loving the results. While they're advertised as being concave, the amount of concavity probably won't speak to the true ball-of-foot flat pedal rider to the same extent as the classic Chromag Scarab or DMR Vault.
The Oso could be the perfect pedal if Marin can build a pair into the retail price of all their 'real' mountain bikes. Or even increase their bike prices just enough to roll in some proper pedals. Or even have a coordinated dealer program where purchasers of Marin bikes can pick up a pair for a screaming deal. I could say the same thing about other companies, like Trek or Kona, that have good or great composite flat pedals with metal pins. In the meantime, they have another good choice with a shape and size that will work for most riders in the market for a composite flat pedal at a fair price.
For more information on the 55 USD | 65 CAD Oso Flat pedals check out your local Marin dealer or Marin's webstore where available.