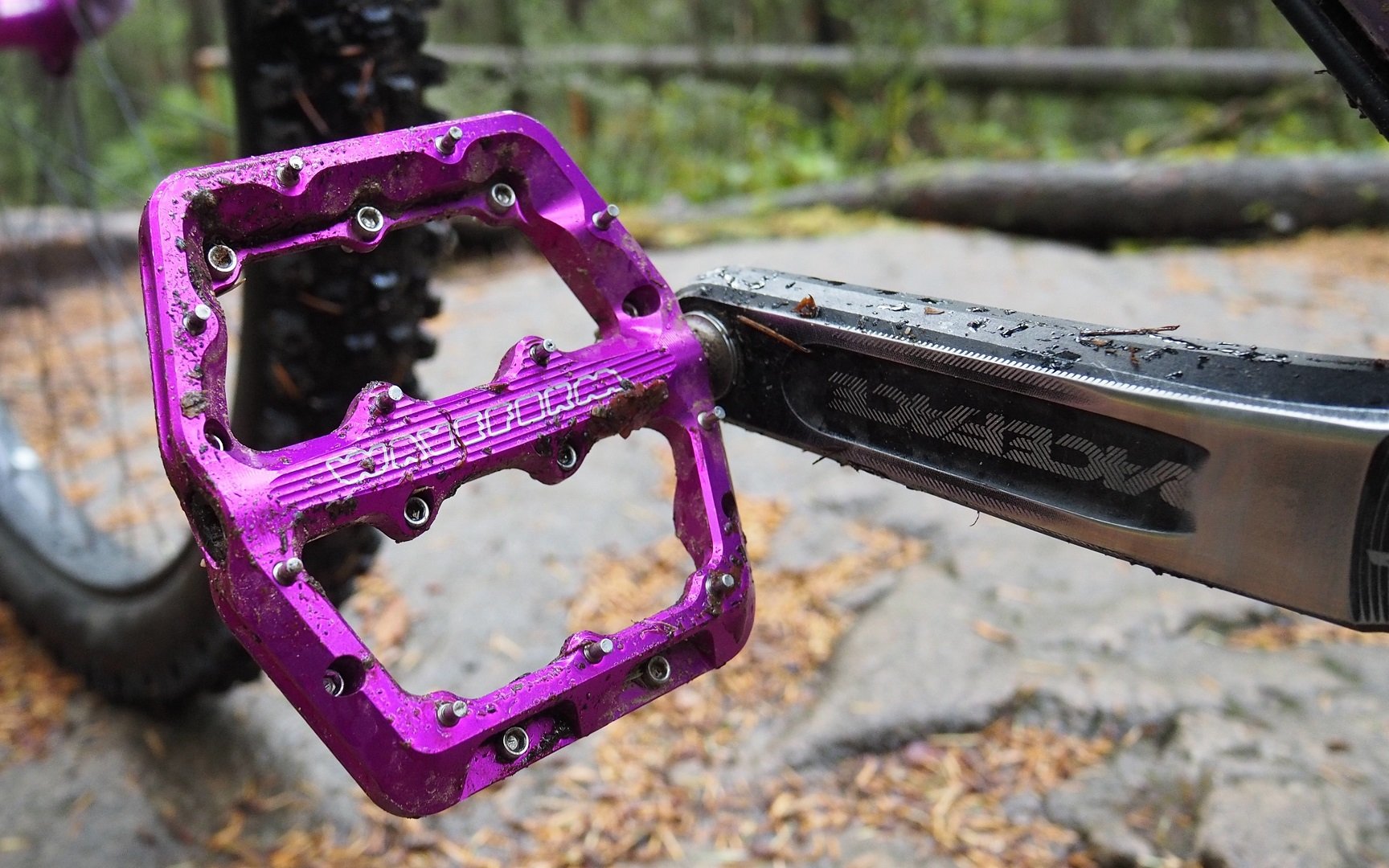 REVIEW | EDITORIAL
Wolf Tooth Waveform Pedals Are Made In House
The Daemon's In The Details
North Shore Billet (NSB) claims to have the most "made in house" flat pedal on the market. The axles, bodies, and pins of their excellent Daemon platform are all machined at their digs in Whistler, BC. I know it's a bit strange to open a review of Wolf Tooth's new platform pedals by talking about some from another company, but it's impossible to discuss these pedals without discussing their prices, and the folks at North Shore Billet have done a better job of starting that conversation with their breakdown of where the components of their pedals come from. What qualifies as 'Made In Country' varies from one place to another but here in Canuckistan, if you're in the business of manufacturing bits and bobs, your Made In Canada stamp requires that you meet three conditions:
The last substantial transformation of the good occurred in Canada.
At least 51% of the total direct costs of producing or manufacturing the good have been incurred in Canada.
The 'Made in Canada' representation is accompanied by an appropriate qualifying statement, such as 'Made in Canada with domestic and imported parts'.
Your Canadian flat pedal could be mostly made here, as with the North Shore Billet Daemon. It could have a body that's machined here and then assembled with an axle and guts from a big player like HT or Wellgo. Or it could have an imported pedal body that's then post-machined, anodized, and assembled in the Great White North.
I'd argue that in the former case one might as well buy an excellent HT or Wellgo pedal, one of my long time favourites is the NRG Taster's Choice, which is an unapologetically rebadged HT product. They're rebuildable and sell for a buck twenty Canadian (120 CAD). I'm not claiming that one method of pedal production makes for a better product, just noting that there's a different between something being 'expensive' and 'too expensive' based on the cost of production.
Clearly an NSB Daemon is costing considerably more to make in-house at North Shore Billet than it would cost to bring in Taster's Choice pedal parts, round the edges on them, anodize and laser etch them, and put them together despite the fact that both are 'Canadian Made' products.
Enter the Wolf Tooth Waveform. Beautiful looking pedals with stainless steel axles that are machined and assembled in house at Wolf Tooth in Minnesota. As with the Daemon, which rings in at 210 USD | 250 CAD, the Waveform is a premium-priced flat pedal, and in the same vein that comes down to the amount and quality of in-house manufacturing.
Waveform
I admit I love the Tao of Small Companies making stuff in their own shops. That could be local to me, Made in the USA, or it could be the folks at Lazarus in Ukraine or Tune in Germany. I often can't justify the price of this stuff, but amortizing a pair of pedals I really like over the long term makes sense as long as they're straightforward to rebuild and fully supported. One of the neatest features of the Waveform pedals is the availability of the separate components. That includes left or right pedal bodies in any of the colours they sell. The whole breakdown is in their pedal service area.
On the service note, my other favourite feature is that the Waveform flats use a 3mm hex head screw instead of an 8mm nut to hold the axle in place. I would love to see every pedal from budget to bourgeois ditch the axle nuts in favour of a hex or Torx head bolt. I have tools coming out of my ears, including a couple of long thin-wall 8mm sockets, but it's more convenient to not have to dig out a socket set whether I'm doing a quick re-grease or a full rebuild and the only negative is a slightly more complex manufacturing operation. I know plenty of folks living in tight spaces who have a multi-tool and an 8mm hex for installing pedals and that's all they'd need to open the Waveform.
Wolf Tooth makes two sizes of the pedal body:the large measures 112mm x 106mm and the small is 105mm x 99mm. In both cases, the shape of the pedal is meant to maximize contact with your shoe and minimize contact with the trail. Both versions have eleven pins per side. The most unique feature here is that Wolf Tooth has a printable template so you can compare how your own shoe will interface with both the large and small sizes.
In addition to being easy to service, the Waveform is a very easy pedal to ride. The stainless steel T-Pins and Wolf Tooth's layout and shape combine for reliable traction and it's the best combination I've used to date with my Crankbrothers Stamp shoes. The bite is consistent, while still allowing for my preference of being able to move my feet around some. With my Leatt DBX 2 and Giro Latch shoes, I find the stainless steel T-pins to be on par with the custom stainless steel pins on the Daemon and I suspect that would be the general feedback from most riders trying both options.
As good as they are, performance alone would not get me to drop the money for the difference between the Waveform or Daemon and my new budget favourite, the 110mm x 120mm Oso (65 CAD) but I can get enthusiastic about the concept of forever pedals, in combination with my not so secret lust for nice things, to amortize the difference.
It's hard to say if the tapered edges and pedal shape of the Waveform do prevent unwanted trail contact. I can say the stunning anodized purple finish is surprisingly intact given the number of rides I've been on, but my only disappointment with the Waveforms is they're not available in silver. Like the Daemons, these pedals are a significant investment that I'd expect to have for many years, and from a meter away it's amazing how sweet a fully throttled pair of polished silver pedals still look.
Wolf Tooth's pedals are being concave with the outer edges measuring 14mm and the center being 12.5mm in height. This is 1.5mm of pedal body concavity and with my Stamp shoes, I find it nicely unnoticeable compared to pedals I have that are perfectly flat. Remarkably the Daemon only has an additional 0.5mm of body concavity but feels more shaped. I've ridden the Waveform exclusively with a more mid-foot position and traction and landmarking are both excellent, which should be a given at this price, along with the stunning finish. What is remarkable about the Waveform is the consistency of landmarking. For those whose dislike of flat pedals comes down to an inconsistent foot position, I've yet to use a pair of pedals where my feet so naturally ended up in the same position every time. It's not something I can easily explain and maybe it's not consistent between riders, but it's noteworthy for me.
I would love to see every high-end pedal brand selling every small part of their pedals separately. I think there's a business case for it. Let's face it, no one is paying shipping on a set of T-Pins or some pedal seals, but as an order builder with a chainring, some grips, and a bottle of lube there's a case to be made. Also on the replacement parts note, the stainless pins will fit other pedals using rear-entry T-Pins as well if you're sick of sh*tty looking rusty pins you could swap them out for Wolf Tooth's for 20 USD | 28 CAD for a 50 pack.
In the meantime, the Waveform is an excellent flat pedal option for those looking for maximum grip in a neutral shape and willing to commit the extra treasure for a made in Minnesota product. The pedals have a five-year warranty against defects in manufacturing or materials. They are currently sold in Purple, Orange, Black, and Blue and I'd expect to see other colours in the future - including, I hope, silver. They sell for 200 USD | 280 CAD and there's significantly more information at Wolf Tooth Components.