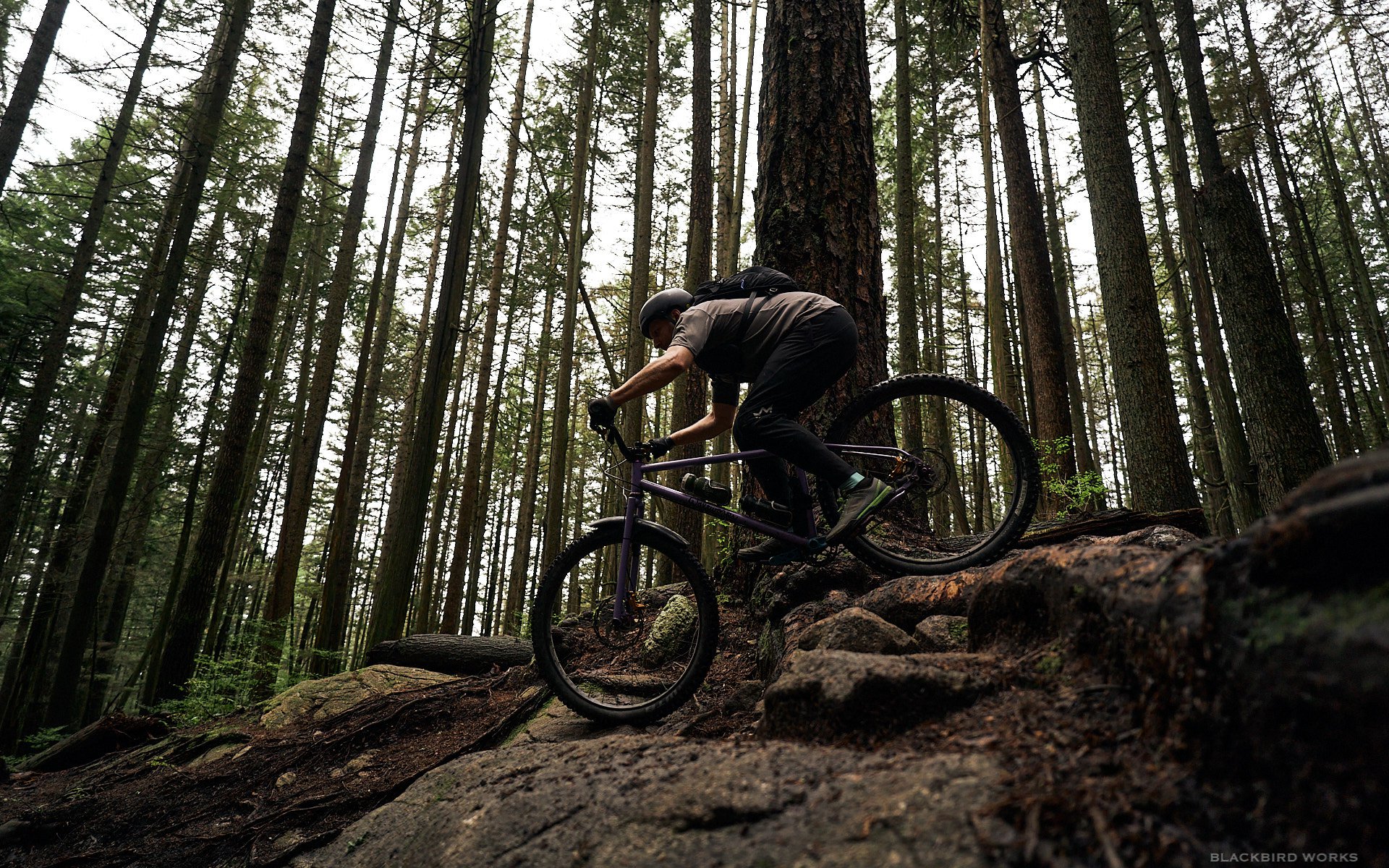 EDITORIAL
The 365 Day Flat Pedal Challenge
Ryan Leech(ing)
I've seen him perform on many occasions, but I've also had the privilege to experience Ryan Leech a couple of times in real life mountain biking situations. One time I *GASP* heard him use blue language at a trail day, on IMBY in Port Moody to be exact. To be fair, our mutual friend Stephen Seagull did offer everyone there a beer except him. It turns out trials riding surfer yogis like beer too. Another time, I watched him do amazing Ryan Leech things all the way up the steep pitches to another Seagull project, the Full Pull, where he technical-climbed the pants off of every clipped in rider there and then grinned the whole way back down.
Even when he's not challenging everyone to try riding flat pedals for 30 days, or now "twelve targeted trail rides," he's doing it every time he rides, with a big smile and endless style. It's like the way a picture of some 300 year old yoga master folding themselves into a human pretzel always gives me the urge to go home and stretch my way-too-stiff back.
Back then, and for a couple of decades before, I rode clip-in aka clipless pedals and that was it. When Ryan suggested I give flat pedals a try for thirty days, I agreed right away as long as he would try the same with clipping in. I wasn't trying to be a total dick. My brief dabbling with flats in the early 00s proved that I was quite useless at them compared to all the nifty things I could do with my pedals attached to my shoes. I've long loved the thrill of conquering a technical uphill section, and clipping in made a huge difference.
Cover Photo: Deniz Merdano
I certainly never set out to ditch my clip-in pedals, or even to get semi decent at riding flats. My full time flat pedal journey started with an injury sustained while trail building in 2018: I slipped, sat on my own foot, and then slid down a muddy slope while holding a big log. The sound was almost as gross as the feeling and the swelling was very aggressive.
Within a couple of days, I could put all my weight on my foot without any issue and pedal a bike around just like before, but the twisting motion needed to disengage a clipped in foot from the pedal was impossible, even with the light action of my Mallet DH pedals. I spent the bulk of that summer riding flats, even on my single speed.
It really wasn't long before I was back to riding clipped in most of the time. I missed the boost on climbs more than anything but by then I was having enough fun on flat pedals that I kept spending a decent amount of time on them. Not really enough to continue to grow my skills, or to train out my bad habits from years of riding clipless, but in some situations they were inarguably more fun.
EGO
I regularly consider going back to clipping in, for example every time I walk a two-step of severe switchbacks before the uphill log ride on the R&R Climb or when I get dropped by someone I used to be able to pace up a single track climb. I was getting near close to cleaning R&R 50% of the time on my single speed with cleats but on flats, I'm batting a big fat zero.
I've also had to switch to lower gearing in order to handle some of the climbs that I want to consistently get to the top of. It makes me a bit slower in other situations, and especially on gravel or pavement. I shouldn't really care, as I've been having more fun riding since I switched to flats full time, but I'm just as flawed as the next person and apparently can't help comparing myself to past-me and long-time riding friends.
It's a challenge I face in the mirror every time I have a sub-par ride or get my socks blown off. One, don't blame the bike. Two, make time to get fitter. Three, are you still having more fun overall on flat pedals? Absolutely. I'm riding looser, more confidently, trying new features, and hiking back up to hit stuff a second time. Not being in a hurry, even on days when I'm shredding (for me anyway) is awesome.
The only legitimate reasons I would go back to clipping in are injury management (what coaxed me to try flats initially) or some sort of race situation when a few seconds of time really matter, and I'm hoping to avoid either situation in the infinite future.
An Entire Year
I know now that at least for me, doing 12 rides or 30 days on flat pedals would have never been enough to truly convert me. And while I didn't set out to do a 365-day flat pedal challenge, the mix of fun and convenience just kept me on the path. On top of having more fun on all but the jankiest downhill sections, I really feel like my riding skills are constantly improving.
Another big factor has been riding with my tiny mountain biker because there is a lot of track stand practice involved in the experience. I'm getting pretty damn good at stopping, standing, and restarting at various points on the trail (various points usually meaning right in the middle of steep inclines or descents). There are times when I need to run to decouple her from a rabid mountain bike attack or to provide that psychological or physical cushion when she is trying a new technical section, and the cleat-less shoes are great for that too.
I've been asked if I'll be switching to clip-in pedals as part of myCanyon Lux review and the truth is I doubt it. I still have a lovely pair of 'enhanced stance' Eggbeaters that would be a perfect partner for the future-of-XC-racing chassis but the bike is actually proving to be very fun on terrain it obviously wasn't intended for, with flat pedals, and it already climbs more efficiently than all but a few full suspension bikes I've ridden, so really what's the point?
I guess if I did the Strava thing I could clip in, swap on some 2.4" Aspens, and then use it to set some personal bests on climbs. But just like I choose to run inserts and a bit beefier tires on my personal rig to avoid flats (something I'm really playing around with at the moment) I don't have any interest in making the Lux less fun or resilient on the way back down. So for now, it's flat pedals.
It's not that I have any fundamental dislike for clip-in pedals, or that I think they're a racing only product, and I'm not telling anyone to make the switch. I know some riders who are very happy to switch between clipless and cleat-less pedals on a regular basis, others who have multiple bikes set up one way or another, and more who just choose to ride clipped in. Some of those clipped in riders may be trying to win their group ride and some may simply want to avoid really sucking, which I certainly had to contend with while learning to ride flats. I'm still working on getting my front wheel euro-turns half as good as they were with my feet attached to my bike.
But if you are looking to inject a little fun into your favourite activity, or chasing a new challenge, or managing an injury, or even looking to simplify mountain biking, with or without a kid, then flats may be for you. Just be aware that, if you're anything like me, 12 rides or 30 days probably isn't even scratching the surface on adapting how you ride to our challenging local trails.
It's mountain biking, do whatever makes you happy.