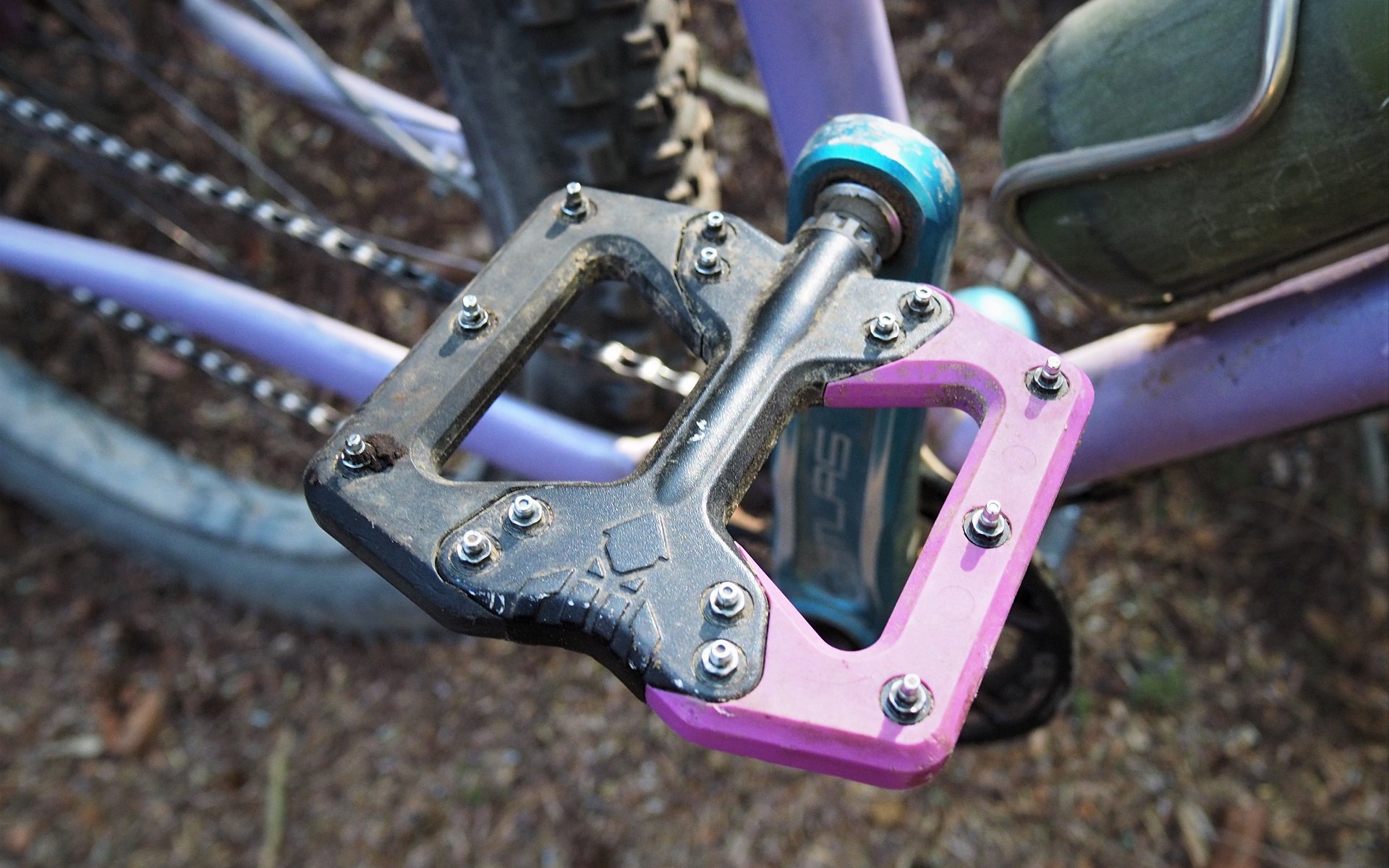 REVIEW | EDITORIAL
Squidworx Modular Flat Pedals
Squidworx
I had a couple of things to overcome before I could put together a review of Squidworx's many-piece pedals, the first of which was the brand name. I know it's a very shallow thing to get caught up on it's just, well, it's hard to imagine anyone with any experience in the bike world wanting to boldly associate their product designers with Squids. Maybe it's too many years in the bike industry but to me, it's the equivalent of calling your company Joeyworx, or Fredworx, or Gumbyworx. It's like saying that these pedals were designed by the stoked, well-meaning, mountain bicycle enthusiast who just recommended you try a pair of Maxxis Ardents mounted backward for your next rubber purchase. Maybe it's meant to be ironic?
Then there's overcoming the turducken factor of their pedals. I love resin, plastic, composite, glass-nylon, whatever you want to call them, pedals. As different as they are, I'll take a OneUp or a WahWah2 composite pedal in a heartbeat. They're relatively inexpensive, they have sealed cartridge bearings, they ride well, and they hold up great. I also love nicely made machined aluminum pedals. Take a pair of silver Chromag Scarabs, maybe thread in some Dagga pins, rebuild them periodically, and ride them for life. I've never really been into the 'best of both worlds' bullshit when it comes to any product or manufacturing. Think, carbon-wrapped aluminum handlebars. Ugh.
But, and this is a mix-a-lot-level big-but, whether it's magnetic clip-in pedals or saddle tilt adjusters, or suspension grips, or whatever, I do think it's really amazing when someone has an interesting idea and then the combination of guts and gumption to see it through to saleable product. I romanticize overcoming that fear of failure and investing in one of my own ideas, someday. So here I am, happily riding a product I never would have considered if it came from a big company. I'm also thankful that Team Squid didn't go to the Troy Lee school of branding.
Who is Squidworx? A squad of riders from Pemberton doing the "by riders for riders" Cha Cha. Maybe I'm getting old and grumpy, maybe it's the 'rona blues, but I feel like that dance started getting annoying at least a decade ago. Anyone who thinks that all the big brands in bicycling aren't chocked full of riders designing the stuff they want to ride hasn't been paying attention.
Furthermore, it's a small design company committed to only offering products that they "think are substantially better than what's currently available." Oh, in case anyone is wondering, they also "think outside the box." And no, I'm not done being an asshole. I'm only going to mention their five-year limited warranty this one time because pumping your limited warranty against defects in manufacturing and materials for a mountain bike pedal is like celebrating the extended warranty on the paint job for a demolition derby car.
Now that I've got that out of my system... Here's an interesting modular pedal that's sold in three sizes, is easily rebuildable, and where the high-wear, high-contact, outer portions are available for replacement, in twelve different colours, for 5 CAD each. And they actually sell every small part individually, so the pedals better be damn good because there's really no excuse not to have them forever otherwise.
Modularity
The Squidworx pedals consist of an aluminum center body section, plastic outer cages, a bearing and axle assembly, and pin assemblies. Every single individual piece is available on their website for way less money than I expected. When I started thinking about how many pedals I've trashed over the last decade the whole thing started to make a bunch of sense.
I like the feel of resin pedals when I smack them on rocks. I don't love that the bodies are maybe good for one set of replacement guts. Squidworx gives me the fastest and easiest bearing/bushing replacement I've ever done on a pedal, with an included tool, and an aluminum body to house them. I don't love my resin or machined aluminum pedals once I can't get new pins into key spaces, Squidworx will sell me the cages for 5 CAD a pop, the alloy pin inserts for a buck, and pins in three different lengths for 75 cents apiece. For 20 CAD I can get a bearing and bushing rebuild kit that maybe constitutes a one beer job to swap if I'm doing both pedals and for 35 CAD I can get that kit and fresh axles.
The stainless steel pins thread into an aluminum sleeve which is also what binds the resin cages to the aluminum center. The cages are a bit time-consuming to swap and require a pair of 5mm wrenches or sockets to properly loosen and tighten. The pins come in 4mm and 5.5mm lengths and stacked onto the 12mm flat body, that's still a reasonable pedal width with either setup.
I'm currently riding a full set of 4mm pins except for my leading edges which are 5.5mm to create some concavity. Squidworx sells the pedals with a few different options for configurations - flat 4mm, flat 5.5mm, concave, or convex - and I instinctively went with a concave setup as, aside from my convex OneUp pedals, has always been my preference.
My medium pedals measure 108mm x 97mm which is, it turns out, quite a bit smaller than my baseline pedal, the OneUp Composite, at 115mm x 105mm. Maybe due to the convex v. concave shapes but underfoot they don't feel that much smaller to me. So, I had a couple of my friends with flipper feet who also ride the OneUp pedals rip around and they remarked that the medium Squidworx' felt on the small side to them. It's interesting because I know folks with feet ranging from a size 36 to a size 46 that love the OneUps but find other pedals too big or too small.
Unfortunately, at this time, Squidworx is not offering the larger size pedal bodies in colours. I can change the colour of these mediums to match any bike for a $10-$20 investment but my large footed friends are stuck with black. The small size, also only available in black, is also a bit strange to me. It's significantly larger than a true kids' pedal like the Chromag Radar but not smaller enough than the medium body that I think I would have even bothered manufacturing it.
Colour aside, I would really like to try the large Squidworx arrangement with the pins setup convex if only to investigate a more apples-to-apples comparison with the OneUp. And I easily can; since they share bodies it would only cost me a twenty and some pin-swapping time to do it. I'm not saying with my size 43 shoe that I should be on a large, because I've gotten along well with the medium, it's just something I'd like to try.
If I was buying a pair of Squidworx pedals tomorrow, I'd go with the silver centerpiece option rather than the black. I know the black looks better out of the box but a couple of years down the road when it comes time for a full refresh that black center section is going to look punched compared to some pristine cages. A silver body, like choosing silver for high-end machined pedals, will look best in the long run.
These pedal guts load in from one side, just like a Shimano clip-in pedal, but I think the design is excellent both in concept and execution. I mean, you could certainly do a lot worse for an axle design than R&D'ing from SPD. They could have gone a step further and made the system compatible with Shimano's TL-PD40 tool so any shop would be ready to rock after the pedal purchaser loses their little included service wrench and wants help swapping bearings. But hey, they include the little wrench which is slick. The Squidworx tool is oh, so, close to being the same interface as the Shimano tool.
The thread-in bushing has a massive insertion depth relative to most flat pedals so there's both more support for the axle and it's harder for crap to get inside during our wet and grainy winter riding months. As much as they are an investment at 160 CAD a pair I'd suggest these have the potential to be the ultimate year-round commuter bike pedal.
Seasons
Coming back to the idea of testing the larger body option with a convex setup, the one place my baseline pedals dominate Squidworx is on wet greasy rides where I'm testing smooth-bottomed shoes. Even with the 5.5mm pins installed they aren't as sharp as the vicious little units on my OneUps. I have it on good authority that they do great in the wet with the full-on Five Ten Stealth S1 rubber but I don't have anything that sticky on my shoe rack. I had my best results with Shimano's GR7 and the Leatt 2.0 shoes where the landscape of the tread could best lock in the pins. In drier conditions, it wasn't even an afterthought, but I like to be able to move my feet around on my pedals and adjust my position a bit while I'm riding.
Certainly, even in the worst conditions the pedals never felt scary the way some combinations of shoes and pedals can become the most challenging aspect of a ride. They just required a bit more thought, and downforce, than other pedals I use. To be completely fair as well, my only truly angsty traction moments were going uphill, on my single speed, where it's not always possible to properly load my feet into the pedals and execute whatever body English is required at the moment. While I'll never understand why more people don't ride #1FG, I understand it won't be an issue for the infinite majority of readers.
If Squidworx was my brand I'd ditch the small platform size, introduce colours in the large platform size, and add a fourth pin option with smaller diameter 'sharper' teeth. It would be worth it to have to replace the odd pin more often in exchange for a grip upgrade. I have yet to truly damage a 4mm or 5.5mm pin and that's actually quite weird for me on a pair of pedals at this point in our relationship.
Climbing or descending, support is as I'd expect from any flat pedal. While I usually ride larger bodies, I think the ample surface of the Squidworx, may help in this regard. The set of pedals includes one extra, black cage along with some extra inserts and pins but to date, they're just lost in a drawer, or maybe on my tool bench and I don't suspect I'll need them.
The bearings, and bushings, still spin perfectly without play and I suspect that Squidworx will rival any pedal on the market in this regard. I checked the axles after my first trio of rides and both sides were tight. Actually, aside from brands chasing every nanometer of thickness, I don't understand why this Shimano-esque axle design isn't in mass use. I can't see any negatives other than product cost, and at 165 CAD | 130 USD the Squidworx pedals come in well under many high-end flat pedals.
And that's the upfront cost. There are two types of riders and folks always seeking the new-new won't necessarily be served by excellent small parts available and support or the long-term serviceability and updateability of the Squidworx platform. Mountain bikers or commuters, who love to brag about how long they've been running the same part will be hard-pressed to come up with a better option for their pedal needs.
Back to value. Any one could easily change the bearings in the Squidworx pedals with no special tools beyond the little wrench that's provided, so the added cost of replacing the bearing-bushing kit is just bit of grease. The pedals are proving so well-sealed thus far I actually wonder how long they'll go before they need anything beyond a periodical clean & grease job which is never going to take more than a beer to complete.
Swapping pins is a bit time consuming but they're so well supported that when I do eventually sheer a couple off, I doubt I'll need to do anything beyond replace them. Even if I do damage the cage, or if I decide I don't like purple anymore, it's significantly less of an investment to replace all four cages than even the cheapest rideable composite pedals I've used. They have an expanding dealer network as well which is nice. I always like to handle contact points before purchasing products.
It turns out that, between the potential for longevity and awesome axle system, it was pretty damn easy for me to overcome the turducken factor. I still wince a bit at the name. All the same, for 165 CAD | 130 USD, I think they're absolutely worth checking out at Squidworx or a stocking dealer.