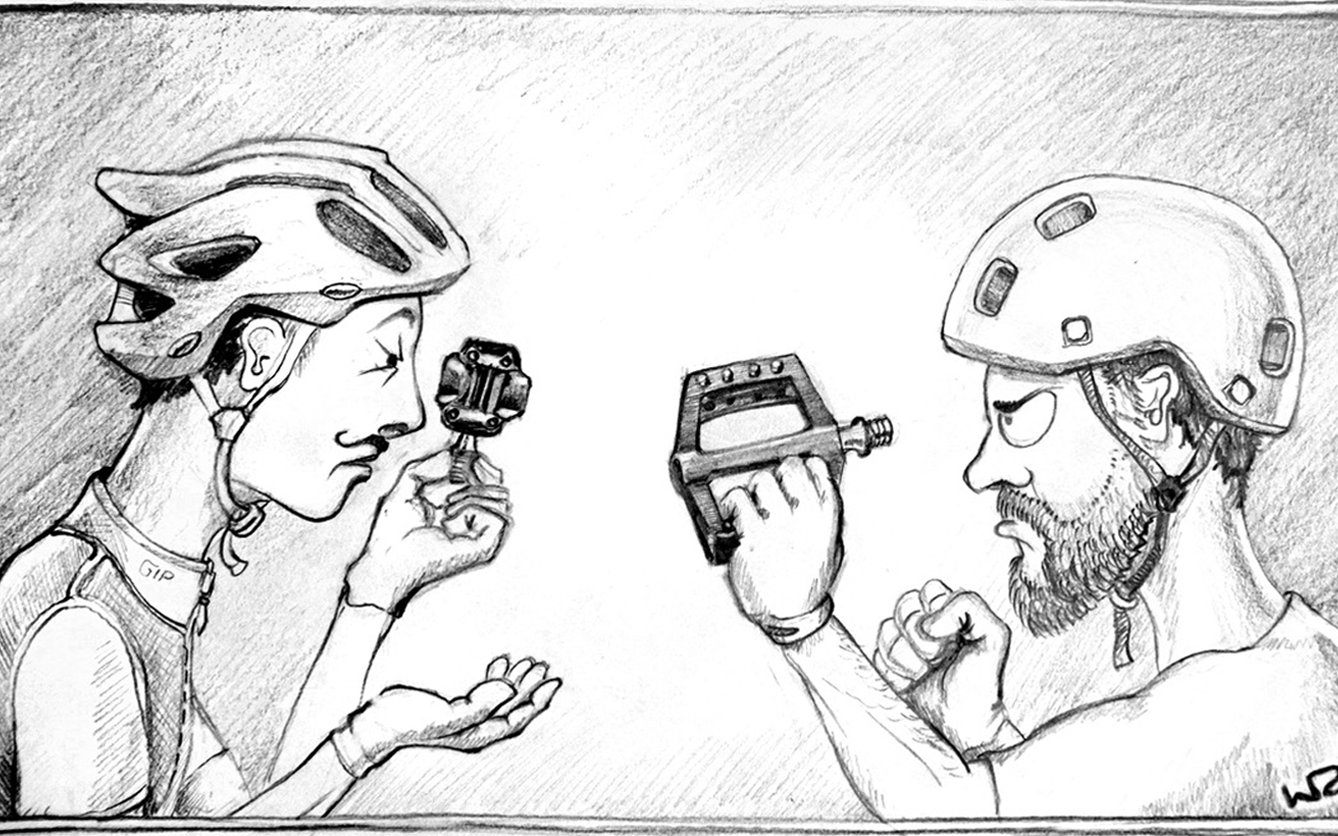 EDITORIAL
Flat Pedal Facts
Tired Tropes
Another year has been kicked to the curb and I'm charging hard into 2018. Time to get out in front of all the other test writing hacks and hit a fresh year running with original takes on all the tired tropes. Wheel size, handlebar width, hardtails for beginners, geometry and of course the good old flat pedals vs. clip-in pedal debate... 
...joking, I'm joking. Whatever pedals you like to spin, clip-in, flats, toe-clips or bare axles - I say 'you do you'. 
I've been mainly riding clip-in pedals since I started mountain biking. That's certainly my preference in most cases. But, this fall and winter I've spent more time on flats than the last five years combined and I've come across a handful of unanticipated Flat Pedal Facts.

Header Image: Waki Designs
The Reason Matters
It turns out giant anodized pedaling platforms with fresh rock scars-a-shimmering will draw the attention of your riding pals. Whether a long time clip-in rider or a fresh convert they're going to ask what's up with the switch. My reason for switching pedal-shoe interfaces is overly complicated to explain and in hindsight fairly flaky so here's a quick list of pre-approved 'good' reasons I've sourced for running flat pedals. 
Sam Hill

Improving riding skills
Winter is coming
Taking the Ryan Leech 12 Ride challenge
Re-discovering lost riding skills
More options for pretty anodized colors
Danny MacAskill 
The shoes are way cooler
Experimenting with self-flagellation
Have big feet and want to try new larger platforms
Lost a bet
Tattoos are expensive, scars are free
Sam Hill
The fact is your friends will ask and a nice packaged response will allow for a quick transition to other more important topics like which post ride beers are best for snow rides. 
Oval Ring Revolution
My previous experiences with non-round rings on geared bikes were entirely neutral. On my single speed an oval has been my slight preference but if round is the only option I'm not perturbed. That's clipping in.
Oval rings weren't on my radar when last I regularly rode flat pedals and I'm blown away by the difference that going egg shaped makes when climbing with flats - especially out of the saddle. An oval ring reduces the amount of force needed to turn the crankset during the least efficient phase of my pedal stroke. That translates to my flat pedals more quickly returning to a point where I'm applying power again. 
I notice the difference between a round and oval ring immediately on a geared bike with flat pedals. On my single speed I find the oval is a world of difference any time climbs get technical. Round rings are comparatively unrideable. 

I'd recommend that anyone who rides flat pedals on technical trails with climbs give an oval a shot for their next replacement ring. Keep the tooth count the same and don't look back as you clean sections you haven't been able to make previously. Single speeding with flat pedals? Swap the ring now no matter what condition it's in. 
More Dropper Post
On a technical trail ride I find I use my dropper post at least twice as much with flat pedals as I do clipped in. It's a complete rethink as my default position on Shore XC rides goes from 'up' when clipped in to 'down' with flats. 
In my pre-dropper years of yore I would regularly pedal my hardtail across technical transitions and up techy climbs, even long ones, with the seat at my preferred descending height. Now, even with a dropper, I often just straight-leg short downs without bothering to hit the remote. I would have previously chalked this up to having more riding experience but now I'm sure it actually comes down to pedal choice. Straight-legging anything technical with my seat up and flat pedals sucks whereas clipped in it isn't so bad.  
I am not just riding with my seat down a lot more with flat pedals but when I'm riding down North Shore trails I also want it lower. I'm that guy, who didn't see the need for more than 125mm of travel from a dropper post. I know taller riders who want more travel because "they have long legs" and shorter rides who want more travel because "they have short legs" and it seemed to me that those positions cancel each other out. That was before flat pedals. 
Clipped in I'm still perfectly happy with a 125mm dropper but with my flat pedals installed I'll take the option of 150mm+ of drop on any bike I'm riding thanks. 
Smack That
Aside from the re-learning curve and even comparing similar body sizes, say a Crankbrothers Mallet vs. Stamp 3, I smoke my flat pedals more frequently and harder when riding. It's not generally an issue descending but pedaling through technical terrain I seem to smoke rocks harder and more often.
I definitely see the value in programs like Blackspire's lifetime free* bearing replacement program or the ease of service, relative cheapness, and excellent parts availability of Crankbrothers. 
*Does not include shipping
Return Of The Quick Release
I've been enjoying flat pedals on my hardtail as long as the climbs aren't too steep and sustained. I plan to keep running them all winter with a few exceptions. On full suspension bikes, I've been going back and forth between flats and my Crankbrothers Mallet DH pedals. 
I've been swapping back and forth so often that I find myself lamenting the slow death of the quick release. Swapping between clipping in and flats requires a seat height adjustment every time and even with a measurement to go off of I never seem to get it perfect the first time I tighten the seat clamp. 
I have a couple of crappy take-off quick releases kicking around the shop. Ironically they're left over from swaps to bolt-on seat collars that were then sold on with bikes. They enrage me even more than having to fish out my hex key to make minute adjustments. I've always hated how that stupid little plastic or beer-can shim between the clamp and lever disintegrates at the worst possible moment on the trail. 
I'd swear I had a couple of Chromag QRs kicking around in a tool bin but low and behold just my purple one has reared its head. Anyways, I think regularly jumping back and forth between clipping in and flats is a lot friendlier exercise with a quick release seat clamp installed. 
I'm not telling you what to buy but if it isn't a Chromag, or possibly a Hope, I can't promise a lifetime of seat clamp serenity. 
Flat Pedal Facts
Easy to learn and a life time to master, flat pedals remind me of playing the guitar. Sure, I could be sitting around the fire playing Margaritaville tomorrow but that sure as sh*t doesn't make me Jimmy Hendrix. 
At first I found riding flats again exhausting. Climbing uses more core muscles and there are fewer opportunities to zone out than when clipped in. But, I'm riding way more actively these days whether clipped in or riding flats and I'm motivated to keep riding them regularly since it's increased my clipped in downhill speed as well. 
I'll still take my clip-in pedals on any given day of the week but I'll be regularly riding flats from now on. The fact is the best decision is probably to choose both. Whoops, did I just make this about flats vs. clips?! 
What flat pedal facts did I miss?