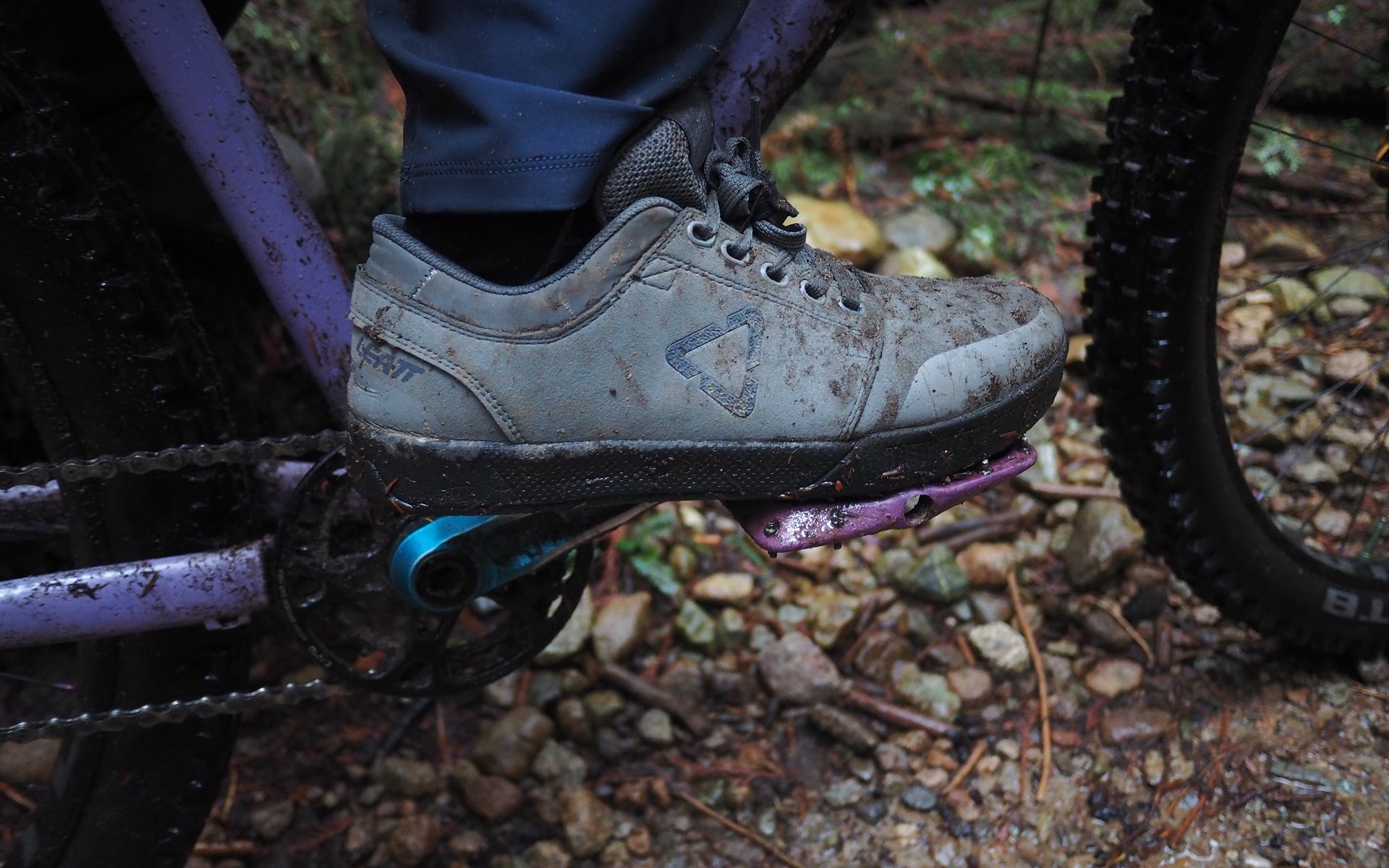 REVIEW
Leatt 2.0 Flat Pedal Shoes
The Roller Coaster: Act 1 - Locking Laces
Everything about reviewing Leatt's 2.0 shoes started off wrong. First off, why did they send the 2.0 instead of the 3.0 which adds toe protection, weather resistance, and sole stiffness for a only ten bucks? Either shoe has the potential to offer excellent value with the 3.0 at 100 USD and the 2.0 at 90 USD. Then there's the geometric waffle pattern of the sole that makes sense visually but felt weird on my first spin around the neighbourhood. Finally, the pain. The flaming f***ing pain in the damned dorsal muscles on my left foot after some twenty minutes on my first real ride in them. The pain is so intense that I bend over, untie my shoe, pull it off my foot, and set up to loft it into the woods. Yep, I'm standing in a puddle, in my NSMB socks, in the pissing rain, holding my shoe behind me head, in a rage, or maybe just a temper tantrum. And then I exhale.
Deep sigh.
Sans discomfort, rational me returns and I relax into the realization that I'm actually the victim of user error. Specifically, I always overtighten my shoes just a touch to account for the laces settling in during the first five minutes of a ride. The wide laces on these shoes are highly textured and, like running wax laces on a pair of hockey skates, they don't budge a millimeter. This is actually a great feature - the 2.0 is the first lace-up shoe I've never had to retie on a ride. Once I clued in that is.
I loosen off my right shoe as well and the Leatt kicks are immediately twice as awesome as they were a couple minutes earlier. Lovely even. Actually, they're one of the better fitting flat pedal shoes I've worn and I think they look great, although a little less so after the weather they've been put through recently. Now that I know to go easy on the initial tighten, things are looking up!
Act 2 - OneUp Composite Pedals
Well, my feet don't hurt at least but then there's the soles and their weird waffle pattern. At least it starts off weird, meshed with my Wah Wah 2 pedals. The Leatt RideGrip rubber compound is easily sticky enough for the Kona pedal's widely spaced spikes, but compared to any shoe I've ridden recently it just seems like my foot won't easily self-locate to an optimum grip position.
I did eventually come around to riding the Leatt + Wah Wah combo without thinking about it at all - the true goal of pedal/shoe interfaces I think - but that was long after discovering the Leatt 2.0 shoe's natural partner in the OneUp Composite pedal. The OneUp pedal shape makes no sense to me and the pins are vicious but I ended up buying a pair out of necessity; I needed pedals ASAP and it's what the shop had. On my first real ride, pairing them with the Leatt shoes, you could have easily convinced me the products were made to work together. Whether it's the convex shape, the sharp little pins, the platform size, or some combination of the three, the OneUp + Waffle combo is amazing.
A rider wanting maximum traction with any given pedal will be better served by Crankbrothers' stickier Stamp flat pedal shoes. For my own spend tomorrow, as long as I'm combining them with the OneUp Composite pedals, I'll go Leatt 2.0 every time.
Why not Leatt 3.0? Leatt notes that the 3.0 shoes use a stiffer sole ('medium-stiff' v. the 'medium-soft' of the 2.0) and after hours and hours on the lower-priced 2.0 I'm assuming I wouldn't be as much of a fan. Big body flat pedals provide a tonne of support already and I think sole flex combined with the rubber compound and pattern is what gives the 2.0 shoe its charm.
Act 3 - Insole Action
The soles aren't particularly firm, but I'm happy to argue that's part of what makes the interface with a big pedal body so great. With stiffer shoes the large body can sometimes feel quite vague. Whether it's my OneUps, my Wah Wah 2s, or the Crankbrothers Stamp 3 large, any pedal I'm riding provides enough support, that shoe feel and grip win over rigidity every day.
And then, after happily learning to love the Leatt 2.0s, I had two negative experiences in the same week. First, at the point of exhaustion on a particularly long ride my left knee started to hurt on both the outside and the inside, perhaps indicating I needed a more supportive shoe after all. Then, on a decently long and rugged hike-a-bike with my brother, I found that both of my feet were hurting and my toes were going numb.
On the roller coaster I've been on with these shoes, this was the low point because there was no simple fix of loosening off the laces. I'd never had discomfort from hiking in flat pedal shoes. In fact I love being in flats for hike-a-bike sections - but the knee pain was familiar from the days before I stated riding a more supportive clip-in pedal, in my case the Mallet DH.
Using clip-in shoes, usually ones with ultra stiff soles, I would run Specialized BG Blue++ insoles and SQLab 215 mid-level insoles to better support my feet and, combined with my foam roller, they resolved all my issues. I popped them into the Leatt 2.0 shoes and the results were phenomenal and instantaneous - no more knee pain & no more discomfort or numbness on rugged hikes.
Now an SQLab insole is 40 USD, which can really play havoc with determining the value of one shoe over another since, for example, I don't need an insole with Shimano's GR7 (140 USD) or Crankbrothers' Stamp Lace (130 USD) but both shoes have enough of an initial premium over the 90 USD Leatt that balances out. Especially as the Leatt doesn't give up anything in terms of construction quality.
Maybe Leatt's 3.0 model would improve both hike-a-bike comfort and pedaling support enough to ditch the inserts. And maybe that would preserve the magical interface of the 2.0, but my gut feeling is that Leatt sent the 2.0 shoes because they are better – and I can't imagine liking the 3.0 shoe as much.
Act 4 - A New Baseline
Usually with flat pedal shoes my first ride impressions align with the rest of the experience. That obviously has not been the case with the Leatt 2.0. After my first impressions with the WahWahs, my feet figured out where to go and the interface with the shoes turned out to be very good. They weren't as instantly intuitive as the Stamp combined with the WahWah mind you. but with the OneUps it was love at first turn of my cranks. At this point, I feel like if I never try another pedal/shoe combo I'll be okay with this combo.
I have just started trying the Stamp shoes and some Giant Shuttle flat pedal shoes as well and I may have to put the 2.0s in a box. Unless I'm careful they end up on my feet by default whenever I leave the house.
It took plenty of patience to get here, but the Leatt 2.0 shoes with their medium soft, geometric-patterned RideGrip rubber soles, casual looks, and tenacious textured laces, have become my go-to flat pedal shoes, particularly with my OneUp Composite pedals. While there are bound to be some combos that work better than others, I've only tried these with four different pedals.
Unlike some much-less-sticky shoes with lower price tags, the Leatt 2.0 is a legitimate year-round all-weather option and at 90 USD that makes it the best priced example I can come up with. Once I add in a set of high-end insoles that value is more comparable to higher-end footwear but even then the 2.0 has remained my go-to. Available in four colour options, this is a shoe worth checking out if you're looking for a new flat pedal shoe experience.