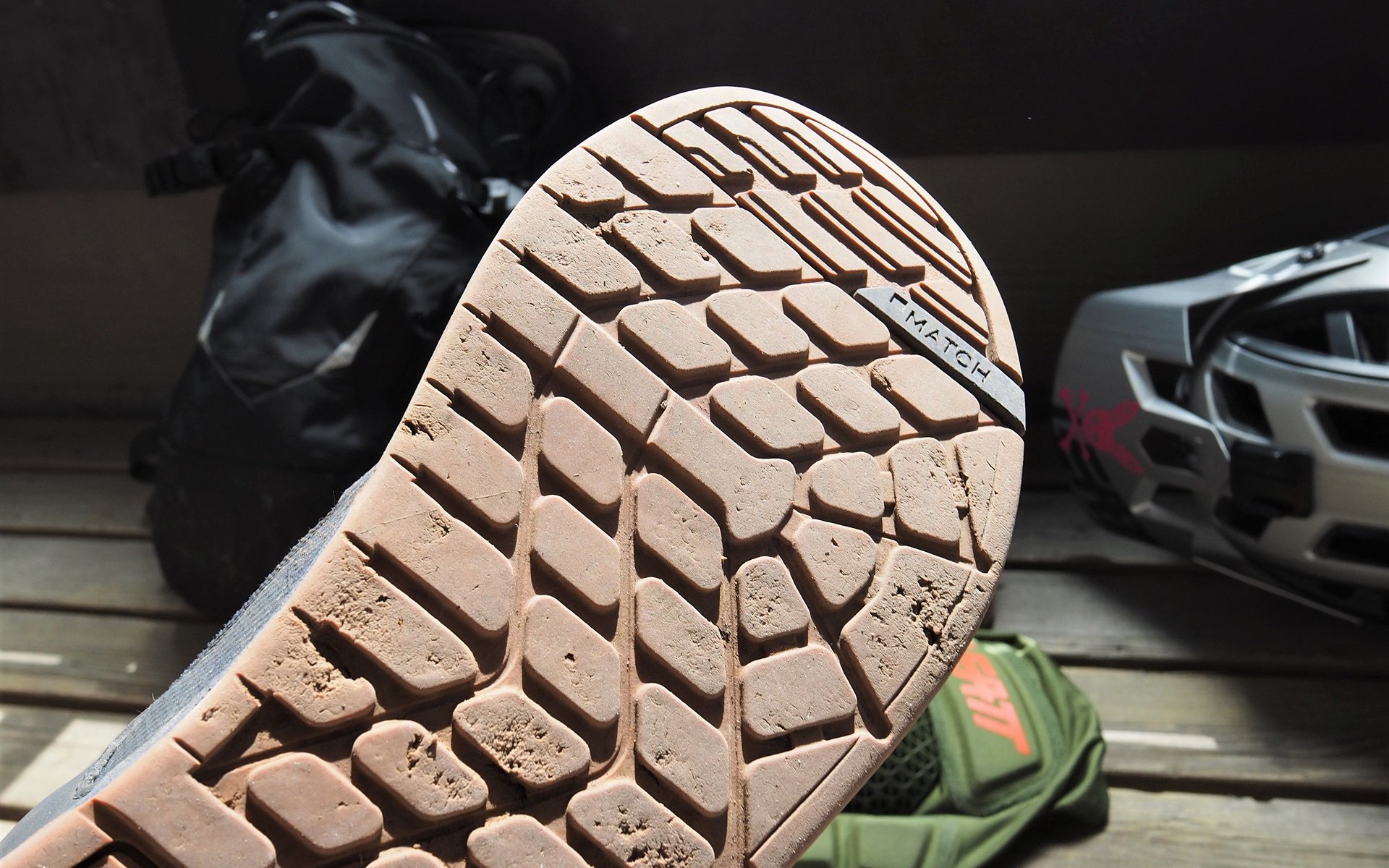 REVIEW
Crankbrothers Stamp Shoes
MATCH-ing Stealth
It's been a while since I rode in FiveTen shoes. Maybe even back to before Adidas purchased them. And while they are the number one choice of the vast majority of flat pedal riders I know, there are certainly other soles that I prefer. What does this have to do with the Crankbrothers Stamp shoe? Simply put, their MATCH rubber sole is the only thing I've tried that holds a glue stick to Five Ten's Stealth rubber. Take the excellent quality of sister brand, Fizik's shoe manufacturing, and an ultra-sticky sole and I'm confident that this footwear will be an instant hit.
This will sound a bit like I'm buying them a fancy cocktail and mugging them at the same time but over the months I've been on the Stamp I've drawn a few conclusions. One, the manufacturing quality is tops. Period. Two (and this is totally self-serving) instead of multiple colour options across three lacing systems, I wish they'd split their SKU count between two sole options. I love the fit, feel, and simple lace-up configuration, and the little tongue pocket of the Stamp shoe but personally, I'd take it with the Michelin sole off my Shimano GR7 shoes.
I'm a fan of flat pedal shoes that require active effort to grip the pedals. I'm not saying the soles of my Shimano GR7 or Leatt 2.0 shoes don't provide solid traction, but I have to stay engaged with my feet weighted for them to work properly. On the other hand, the Stamps are tenacious about staying in position even when my mind is off writing articles while the rest of me is riding a bike.
I was getting a little glass-half-empty about the obvious pockmarks in the soles until I read AJ's take on a similar phenomenon withhis Impact Pro shoes:
"The sole has holes from my pedal pins but they haven't burrowed through completely, yet. I actually kind of like this, as it anchors the pins in place, providing even more stability. If it happened early in use, I'd be gutted but after the length of service these have provided, I'm fine with it."
I have even more hours on the Leatt 2.0, and the soles don't look as beaten but an impartial judge could accuse me of comparing the durability of Lexan to leather. I really like the geometric Leatt 2.0 sole and I've been using the shoes virtually interchangeably, but most folks I ride with would gladly buy the stickier option two-to-one for twice the price if that was the only way to get their preferred interface on the trail.
To explain that more clearly, the Leatt 2.0 is going to present a better long-term value - purchase price and longevity -assuming the owner enjoys riding in them. If they toss them aside after one ride and purchase a pair of sticky-soled shoes like Five Tens or Crankbrothers Stamps - then not so much.
The one place I suspected the Stamp would have an obvious disadvantage over other shoes I like, based on my Five Ten Stealth experiences, was in loose hike-a-bike situations. It's simply a case of the rubber being formed into large smooth shapes; the solid blocks on the Crankbrothers shoes or dots on the Stealth soles for example. They grip excellently against sharp pedal pins but slip and slid on loose gravel.
I recently found myself over my head on a very steep and loose DH trail on my Walt V2. Yes, I'll give you a minute to stop laughing at me. Anyways, I found myself over my head and hiking down with my bike wishing I was wearing a different pair of shoes because the Stamps just don't have the right combination of sharp edges to grip loose media. For loose hike-a-bike sections, the Shimano GR7's Michelin sole is my first choice of while not giving up much in terms of absolute grip compared to the Stamps.
I did find that the Stamps were great for hiking up steep climbs right out of the box. None of the pain and I didn't need a pair of more supportive insoles the same way I do with the Leatt or Shimano shoes. I still did the bulk of my more recent rides with a pair of Esker 'The Approach' wool insoles installed possible because I'm addicted to them. They're comfy in adverse weather and provide more support than the stock insoles, and I picked up a second pair so I don't have to swap them between shoes.
Flat Pedal Life
For the large part, choosing shoes and pedals comes down to a preference for active v. passive grip. If in doubt, find some sharp pins - like OneUp specs on their pedals - and some sticky soles like these Stamps and go ride your bike. Good things will happen.
I'm fast approaching my one-year anniversary of strictly riding flat pedals and I'm even getting halfway competent at it. I ride flats on my commuter bike because it weighs 50-60lbs empty so who gives a hoot. I ride flats on my full suspension bike because I'm genuinely having more fun on the janky technical trails I like to ride at the speeds I maintain. I ride flats on my singlespeed because I'm not that much slower, and I don't make that many fewer climbs, and a simple pedal-shoe interface pairs beautifully with a simple mountain bicycle. As soon as I checked my ego and accepted that I was going to be a few minutes slower on longer climbs and may not clear a few features every time, I never looked back.
I also ride with my kid a few days a week, and flat pedals make that experience better. Whether it's working on my track stands at the most awkward moments, or jumping off to spot the next progression (or to untangle kid & bike) flat pedals are key. When my grom started riding I traded my clip-in pedals for flats, an open bucket lid for a full face, a hip pack for a backpack, and bare legs for kneepads - even when I'm doing some light Shore-XC.
It's always a bit perplexing to finish a review like this. I'm thrilled with the quality of the Stamp shoes, I use them very regularly - and will continue to do so - and of all the shoes I've tested over the last couple of years I think they're the ones that would be most universally loved by the NSMB readership. I'm looking forward to reading more nuanced reviews of Match rubber from folks who live and breathe Stealth rubber and who may offer some performance differentiation.
If you're in the market for a truly sticky sole, excellent shoe construction, and I think a fairly reasonable price at 130 USD for the lace-up model, the Crankbrothers Stamp shoes are absolutely worthy of your consideration.