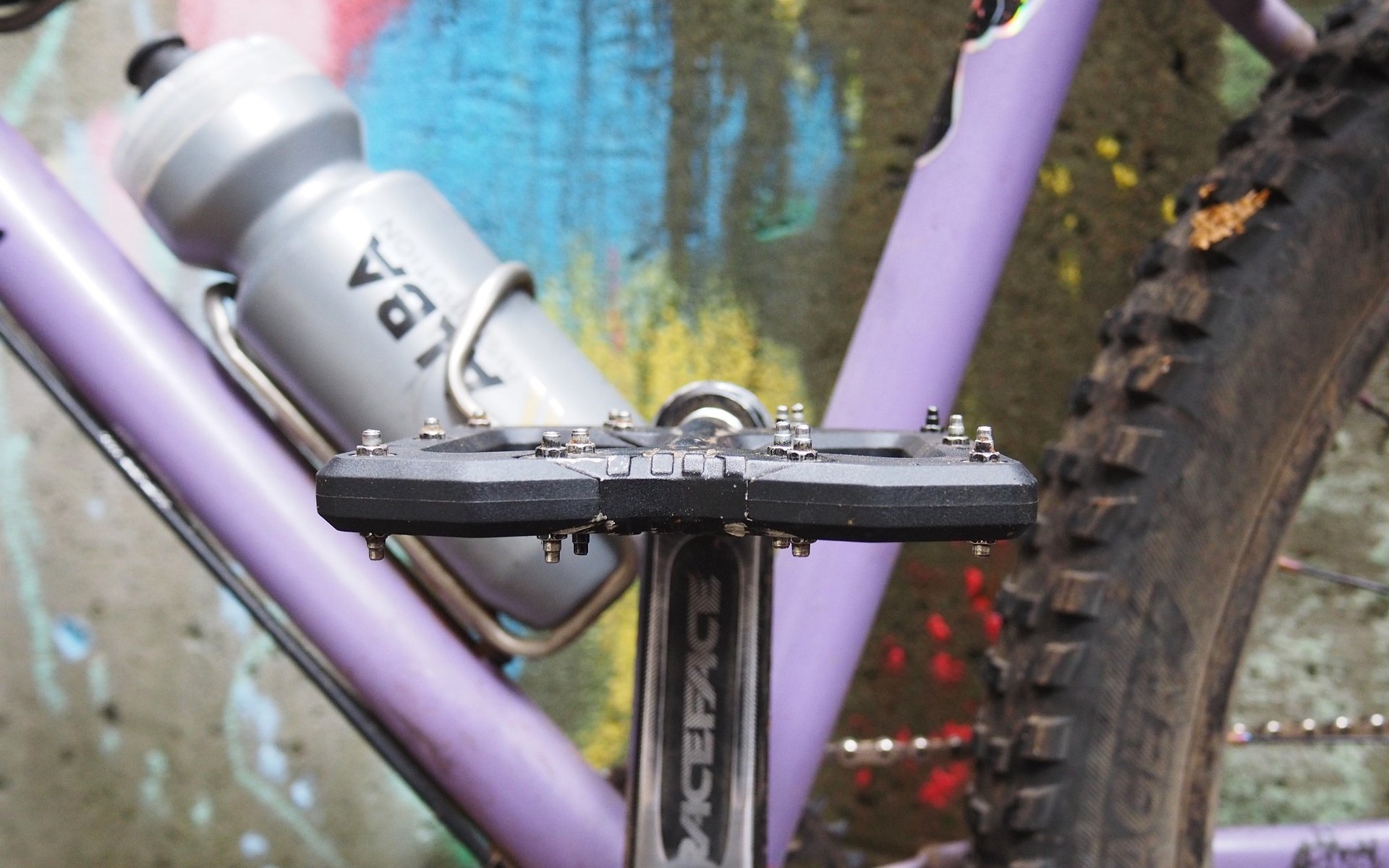 EDITORIAL
Asymmetric Plane Flat Pedals: A Followup
Quotables
Of all the pieces I've written for NSMB, the comment section in Flat Pedals, Foot Position & Reach was one of the most enjoyable. Inspired by Richard from Squidworx, I've had some interesting rides since then, and wanted to address a few points.
First, a couple quotes from smart people:
"To set the record straight, personal preference is reason enough to defend your favorite width. I'm not going to dictate which bar you should ride." - Richard Cunningham (used in Handlebar Width And Staying Gracious)
"If you are a pro, you ride the fastest thing you can get. If you aren't, then you can ride anything that suits you." – Keith Bontrager (used in You Should Ride A Rigid Fork)
In other words: What works for you works for you. Keep an open mind, try different things, think about why you like your bike setup the way you like it. At the end of the day if you have bigger feet than Michael Jordan and after trying a bunch of stuff you're running the smallest concave pedals on the market with an arch-over-axle foot position and that works for you then that's rad.
That said, it's possible to draw a couple of generalizations when it comes to flat pedal profiles and foot position:
Riders who prefer a ball-over-axle position generally prefer a pedal shape like the classic DMR Vault with its 17mm of concavity.
Riders with an arch-over-axle position generally prefer a convex or plane (flat-flat) pedal.
And folks with big feet and thick Five Tens seem to like the Chromag Dagga no matter where their foot sits.
Many readers have gone on to borrow different sizes and shapes of flat pedals from their friends in order to challenge their own preferences. Whether they end up changing their setup or reinforcing their existing preference, this is a free opportunity to maximize their experience through testing touch points.
Plane Pedals
If you're a rider who isn't sure where you want your foot to sit, what pedal profile should you choose? Two clear options come to mind. If you come from a clip-in pedal background, as I did, then you can't go wrong with a concave profile like the DMR Vault or Chromag Scarab. Even if you run your cleats all the way back in your shoes, it's likely your feet will naturally gravitate to a ball-of-foot over axle position.
But if you don't know, or want to keep your options open and let your feet find their happy spot, then a plane profile (as in flat-flat) pedal could be just the ticket. Bear in mind that, confusingly, some pedals in this category are plane, but derive some concavity from their pin profile, like the Crankbrothers Stamp 3.
I discovered a new appreciation for the Stamp 3 since my foot position changed after my ankle injury. Instead of finding myself between sizes, the large's 114mm x 111mm platform is now perfect for my current arch-over-axle position and I've noticed improved grip as well. I should perhaps change the concluding paragraph in my Wah Wah 2 review as I'm now very happy these pedals are flat rather than concave.
Asymmetrical Setups
"Very interesting! Maybe there's a place for wavy pedals: convex behind the axle and concave in the front. :D" - Martn
Right as I finished laughing about Martn's "wavy pedals" comment, I ended up talking to Richard at Squidworx pedals. As with my Crankbrothers experience, my medium sizing preference from the Squidworx review was called into question. The beauty of Squidworx's modular design is that it only costs 5 CAD per plastic cage (or 20 CAD for a set of pedals) to change sizes. In my case that meant jumping from a 97mm wide x 108mm long body to the larger 105mm x 116mm body. That might not sound like a huge change but it made a big difference in terms of how stiff my shoe-pedal interface feels underfoot.
Where this became really interesting to me is pin position. I had been running the plane Squidworx pedals with a concave pin setup - 5.5mm pins on the outside and 4mm pins in the middle - and intended to switch this to a convex setup (4mm pins on the outside and 5.5mm pins in the center) to see how that compared in terms of arch-over-axle landmarking. Richard offered a very different suggestion. He has a very obvious front-foot preference when descending, and in the development of these pedals he found that running longer pins on the rear of his trailing foot's pedal resulted in substantially fewer pedal slips.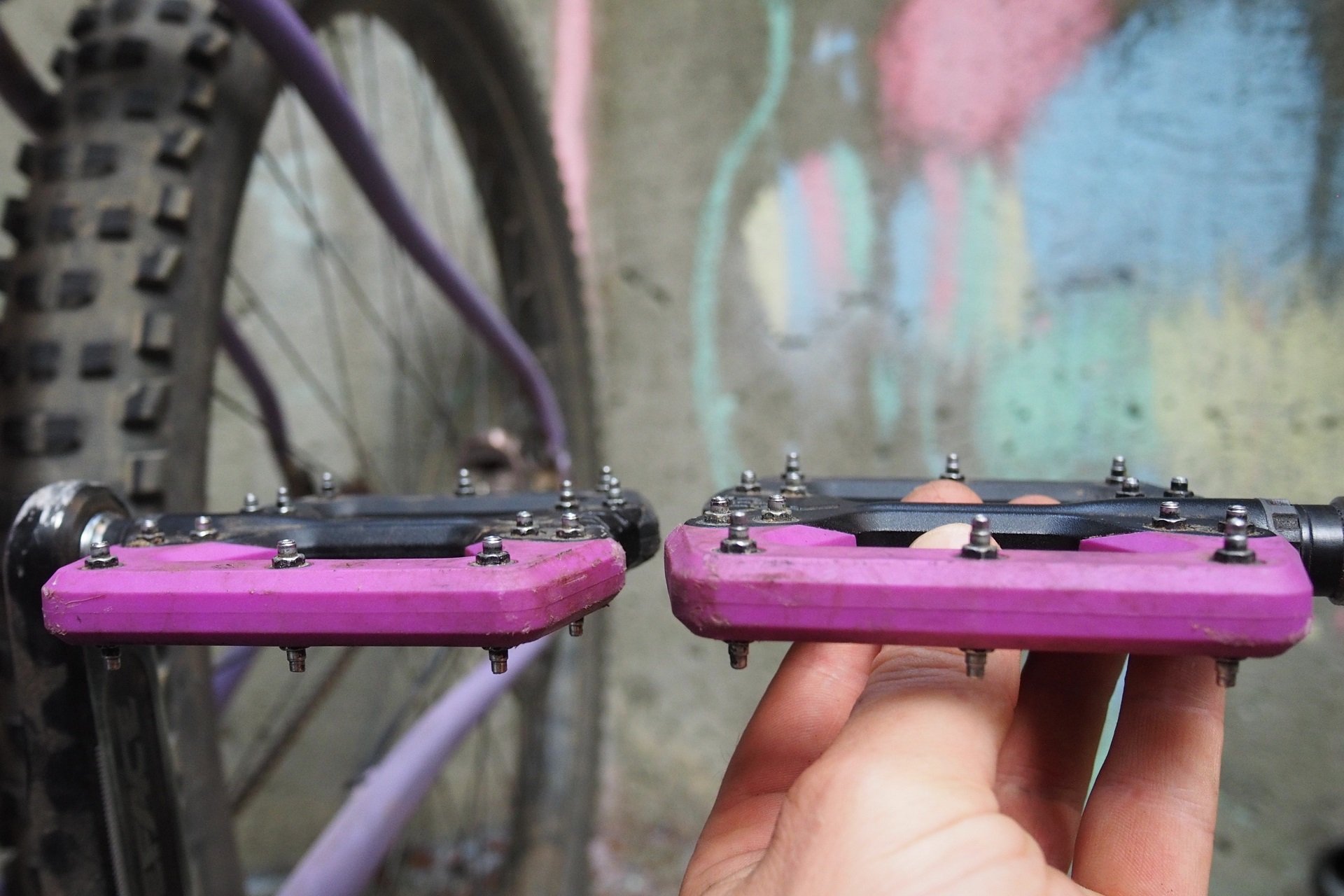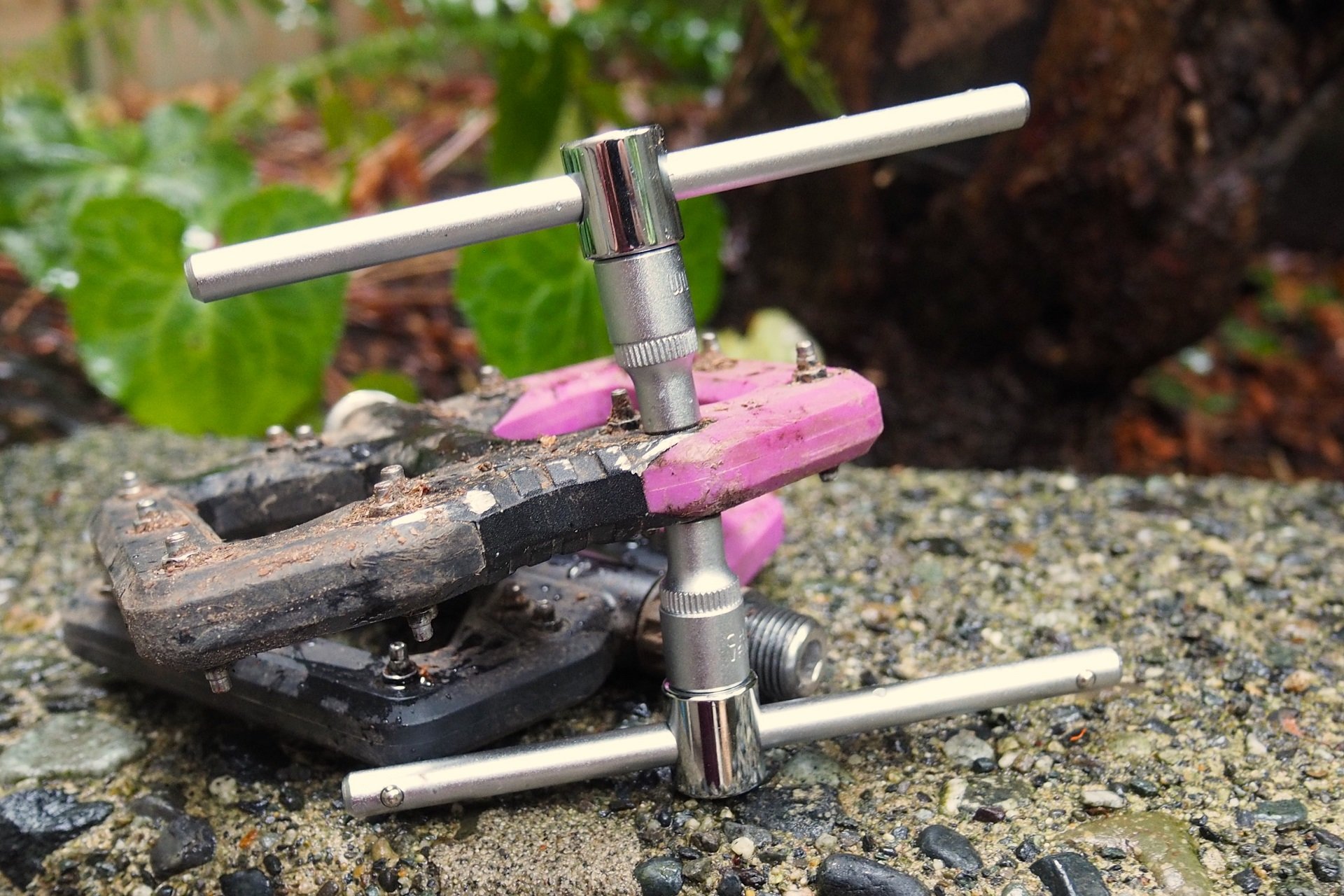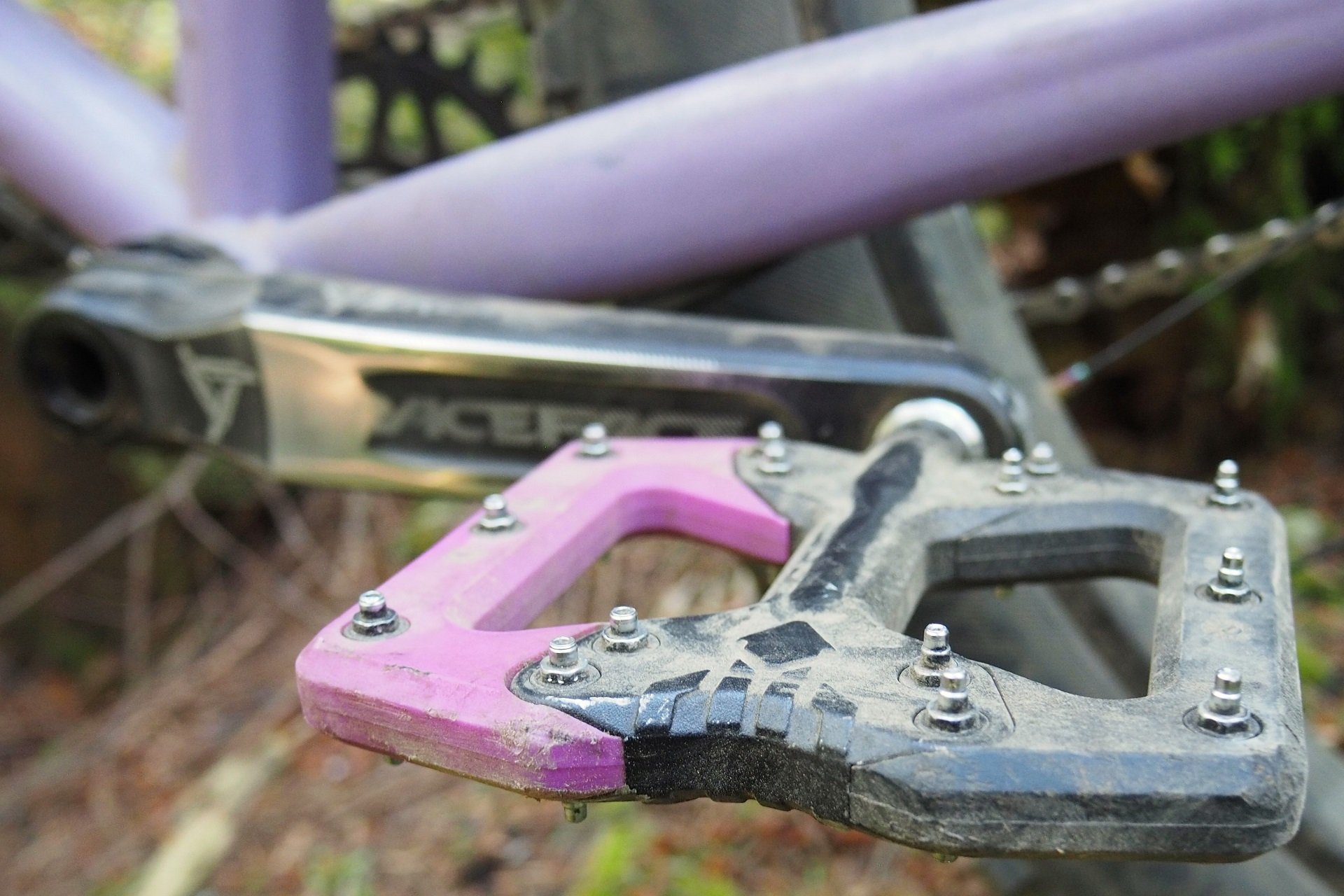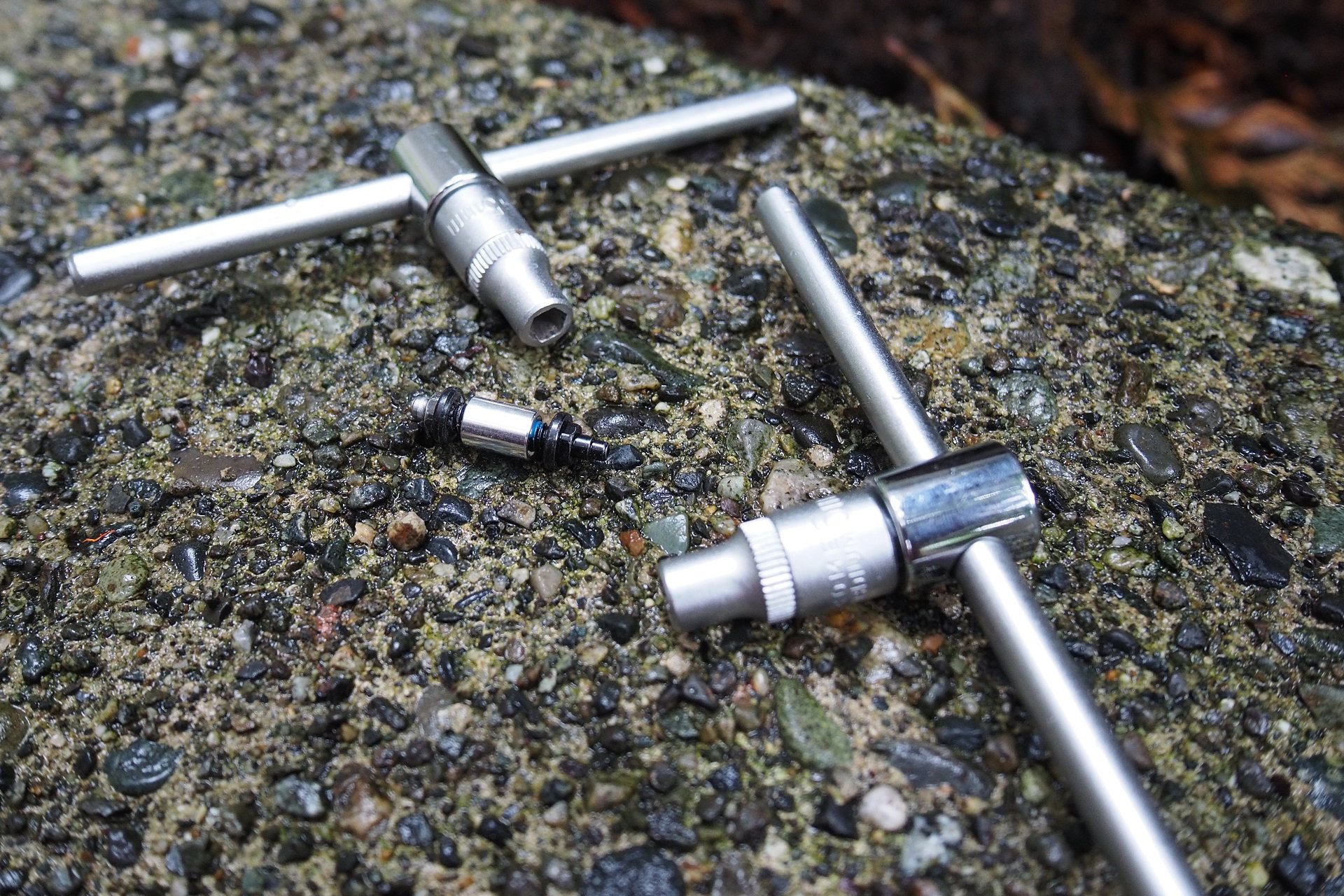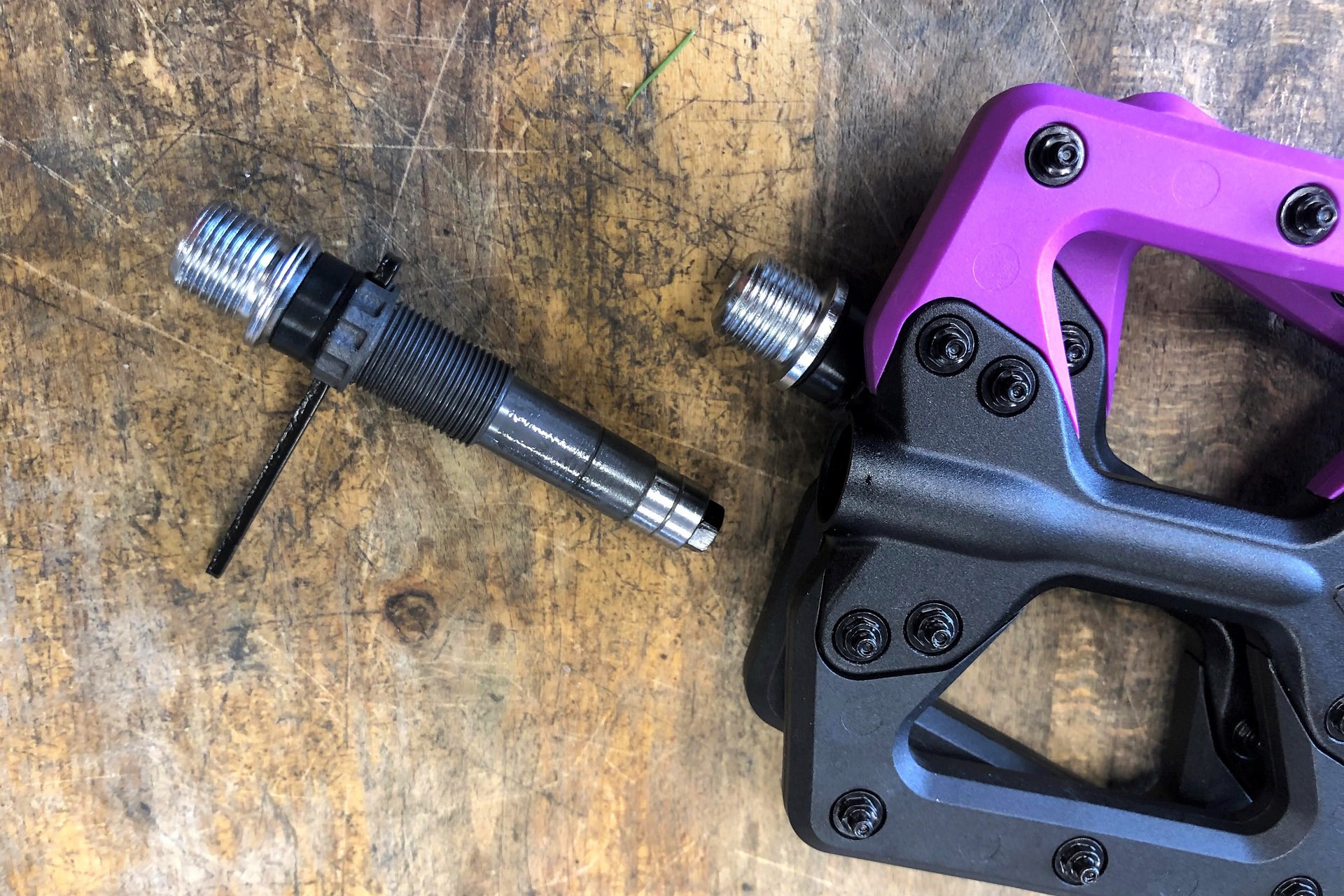 With parts in hand, all it took was a little time and a pair of 5mm sockets to try Richard's setup for myself. I left my right pedal as I'd been running it and only swapped the pins on the left, trailing foot, to start. For the second ride I swapped the right side to a convex pin position with the taller pins in the center as that's how I intended to run the pedals using the larger 'wing' options.
I'm not going to say that everyone should run out and adjust their plane pedals so their trailing foot has taller pins at the back. But damn, it actually works very well in terms of keeping my foot in place as I'm bouncing my hardtail down janky terrain. It worked so well that I'm also planning to adjust the pin heights on my Crankbrothers pedals to determine if this is a Squidworx-specific experience or something more universal.
As far as I could glean, none of the holdout pros racing DH or EWS on flat pedals are running an asymmetric pin setup, and I can appreciate how that influences folks' pedal and shoe decisions. I can also only comment on how this pin setup is working with a mid-foot, arch-over-axle position. Regardless of what the most dynamic flat pedal foot position may be, that's what's available to my legs right now, so that's how I'm pedaling. If you're also an arch-over-axle pedaler don't be too stressed about whether that's optimized or not; I have years and years of experience doing it the other way and this works great too.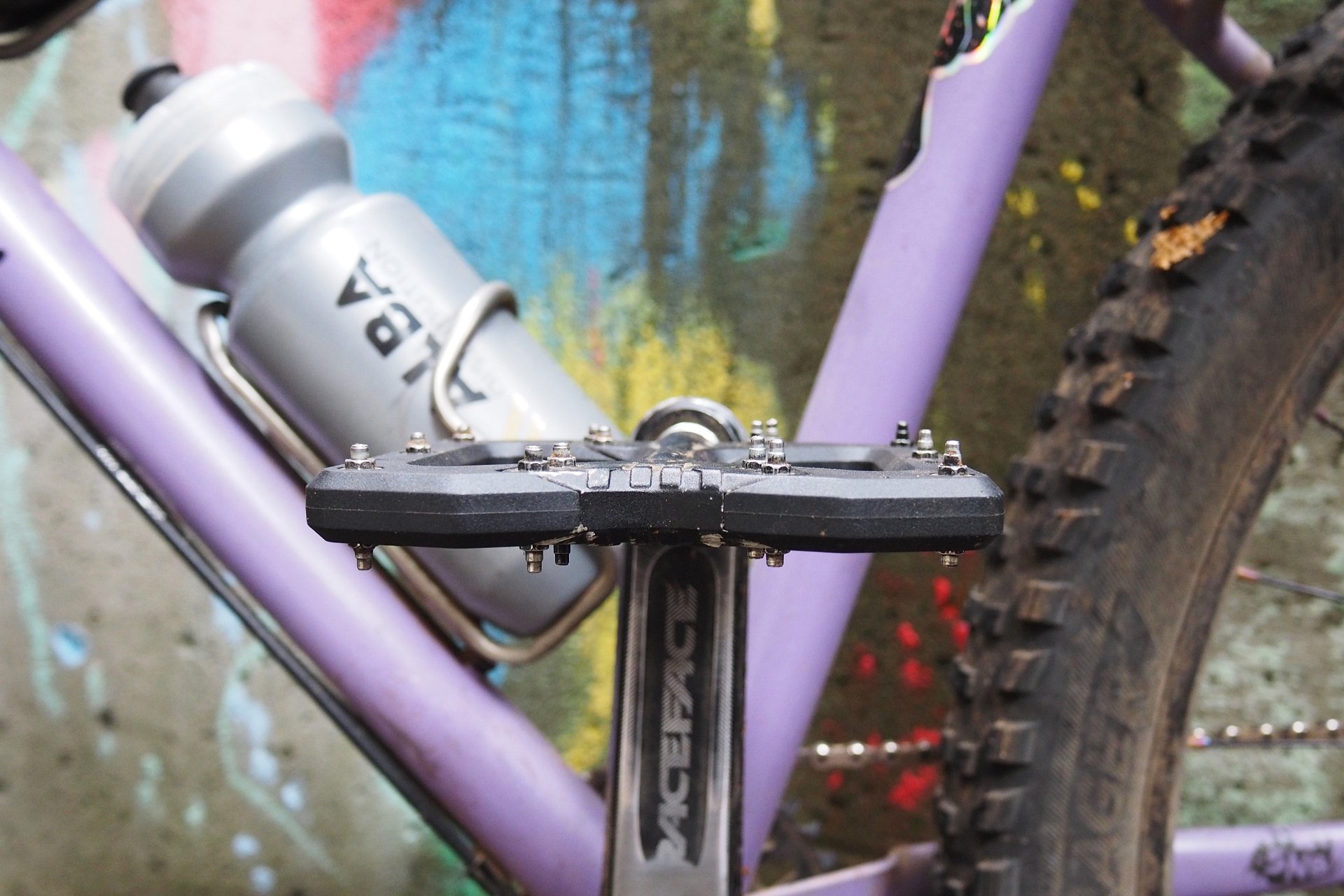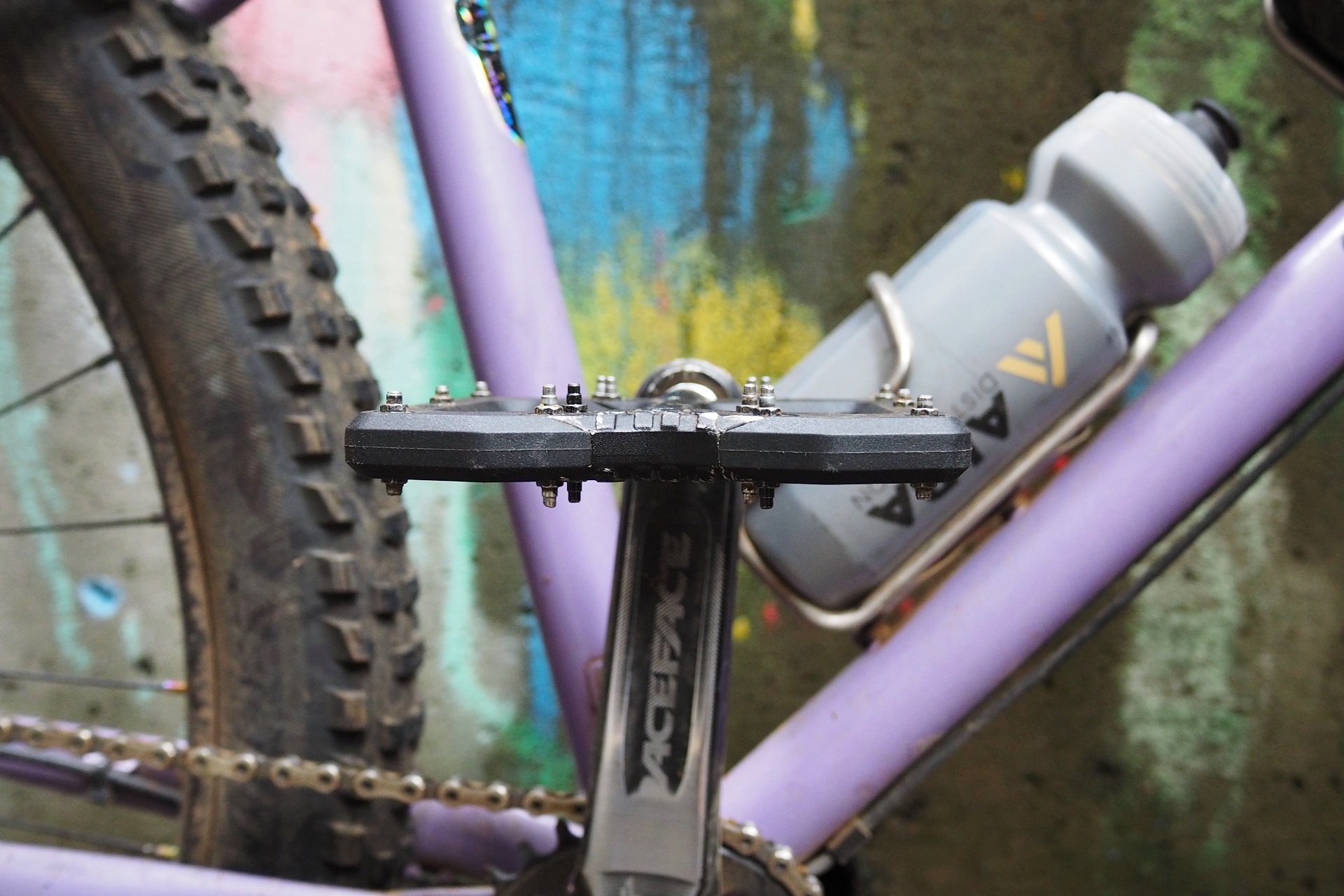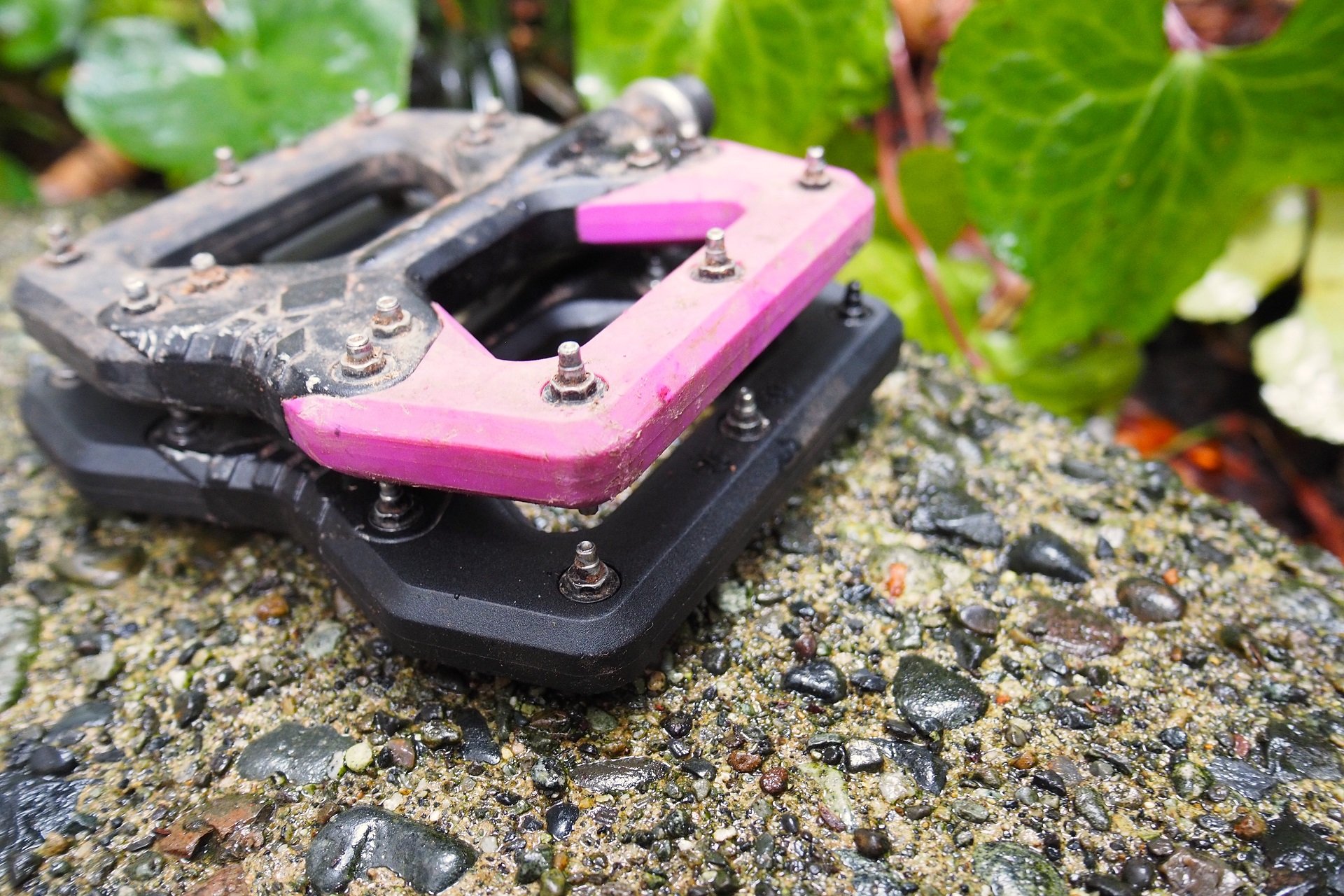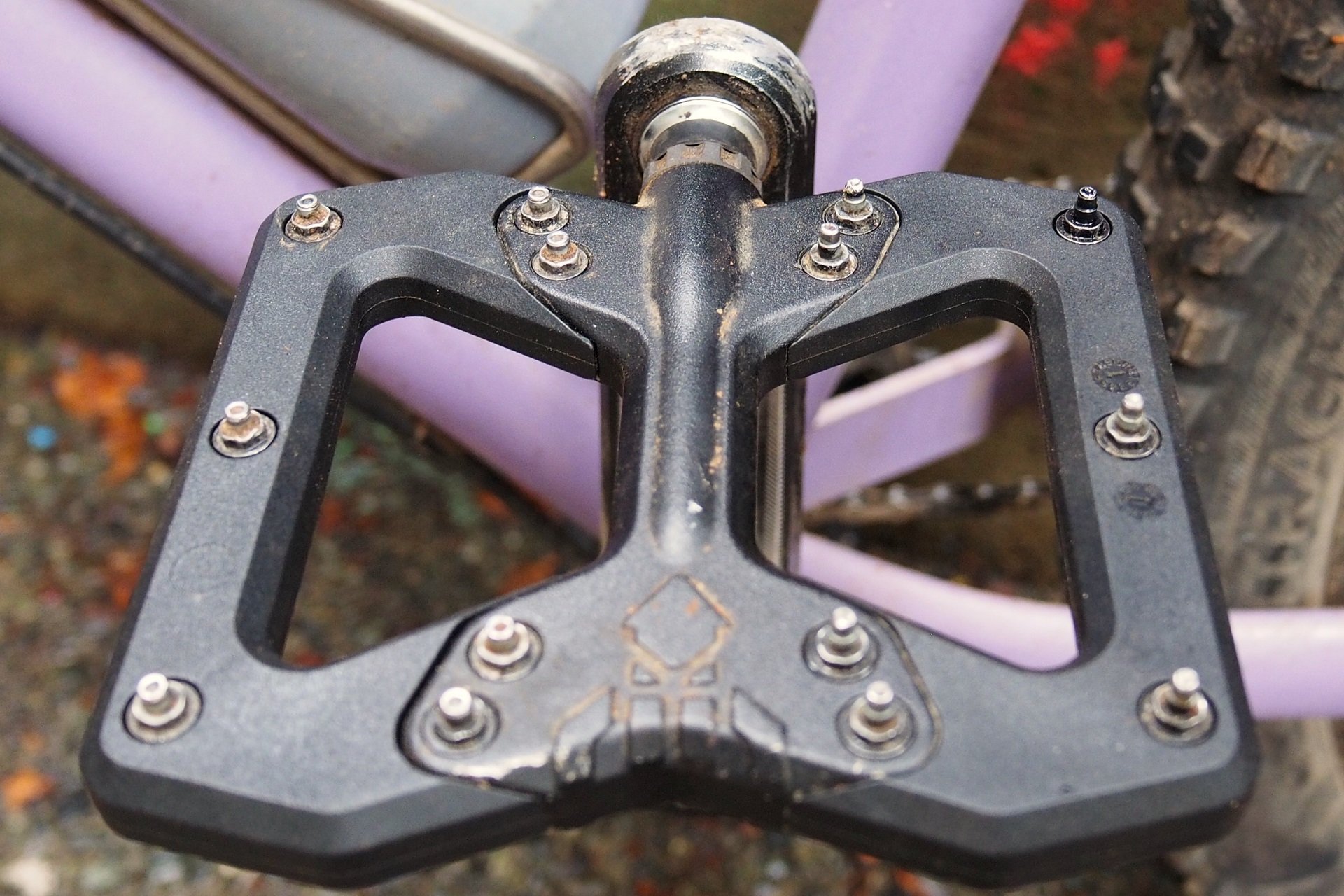 If you're running plane pedal bodies with any kind of thru-pin - studs or screws that thread in from the back side - it's easy to add washers under the pin heads to experiment with different pin heights. The pins I have kicking around are all 0.8mm and came out of a OneUp pedal pin sets. Squidworx currently sells their pedals with flat, convex, and concave pin patterns - all with the same plane body setup. The 'Richard' option for those who want taller pins on the tail half of their trailing pedal is not currently on the menu. But it's neat that, after spending years refining and prototyping his unique pedal design, Richard was willing to put his own 'weird' pin setup out there.
This has me wondering how many other bike and component designers have unique setups that they'd never try to sell to customers but which works really well for them. Whether it's suspension setup, frame sizing, or tire size, it's great that there are folks experimenting away from the norm. I just wish more of them were willing or able to share the unique things that work for them.
Asymmetric plane pedals, a setup worth trying if you're curious.