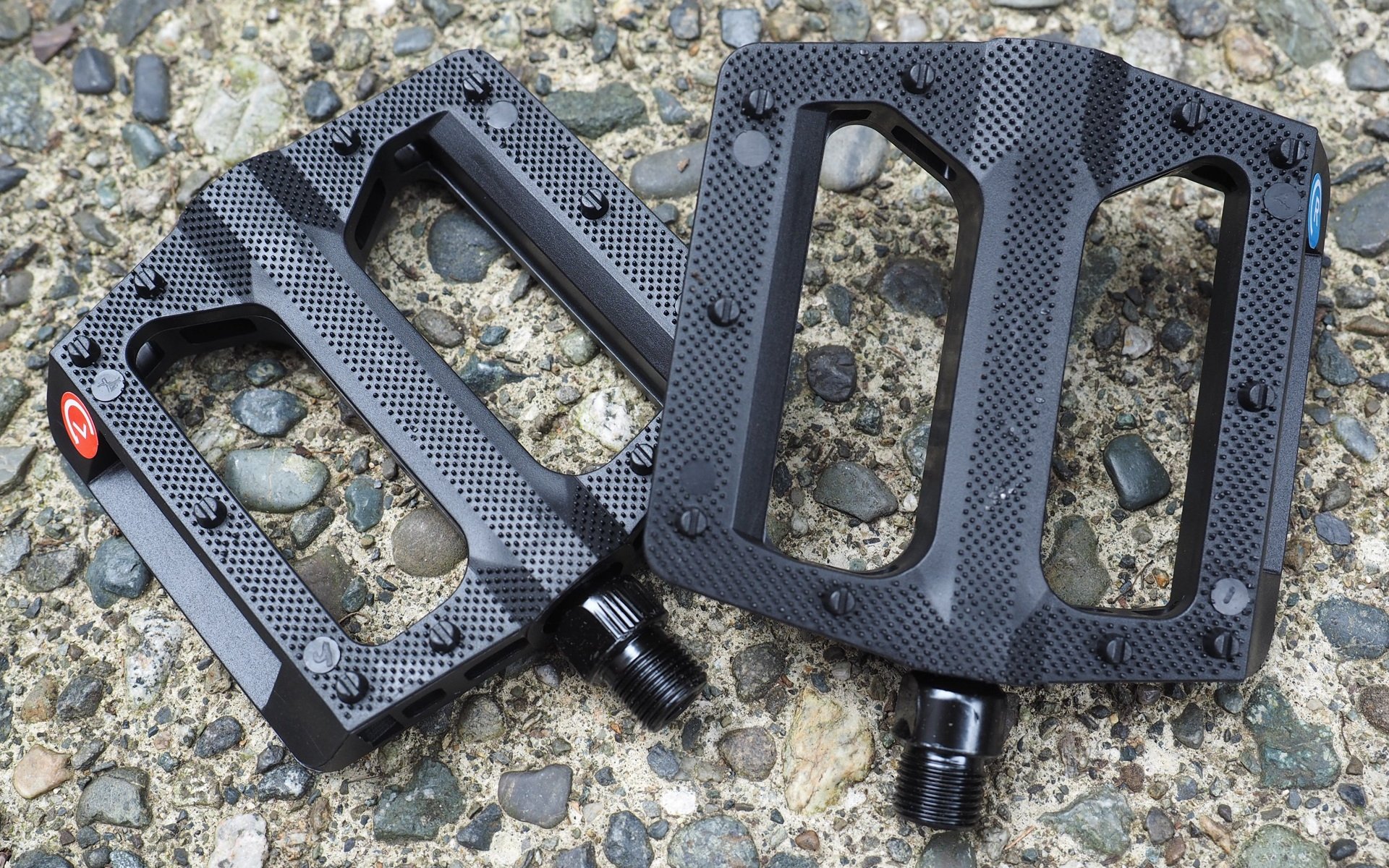 EDITORIAL
'Real' Mountain Bikes Don't Come With Pedals
Waste & Opportunity
If you haven't bought or built a budget hardtail lately, and weren't purchasing performance mountain bikes in the aughts, you're probably wondering what I'm on about now. Let's catch you up. For many years, you could walk into any bike shop on the North Shore and there would be a bucket of flat-and-narrow take-off handlebars. It took the bike industry a long time to figure out that cutting down too-wide bars is easy but making them wider is impossible. Wider bars, and upsizing bikes, also meant plenty of take-off stems. The true godsend of the 31.8mm handlebar standard replacing 25.4mm for mountain bikes and 26.0mm for road bikes is that at least those 100mm+ stems could be rehomed onto road bikes.
Even after stems and bars were largely sorted, every performance mountain bike was still coming with a pair of level-appropriate clip-in pedals. For a while you could pick up a pair of Shimano M520 clip-ins, in silver or black, for the price of a pair of cleats. It wasn't just folks switching to flat pedals that created the boxes of takeoffs either. Many riders used a different clip-in system, from a competing brand like Time or Crankbrothers, or were dedicated Shimanophiles that preferred a different pedal, the floating platform DX clipless being a very popular option.
Eventually, companies realized there was a near infinite number of choices in the world of pedals (still only a fraction of what's available now) and a variety of rider tastes to go with them. There were folks running Straitline pedals on mostly-Deore hardtails with patched up tires they found in a pile behind their local shop. There were folks running cheap loose-ball platforms with the pins molded in on their full XTR super sleds. Every ride group that used flats had that one person who could ride any skinny while clipped in. Every ride group that used clip-in pedals had that one person that could clean every technical climb on flats.
From a product management perspective, these wasted pedal dollars were an opportunity to invest a few bucks elsewhere in the build. But, apparently due to demand from consumers and crappy bike shops, below a certain price point budget mountain bikes still include platforms for your feet. We're talking about the cheapest plastic flat pedals here. No manufacturer is including properly off-road-rideable flat pedals. Essentially wasting your money, yes - just a couple of bucks, by equipping an unrideable component destined for the recycling bin. No decent shop is sending you out on this crap as part of a test ride: contact points matter, a lot. Most shops don't have the real estate to have pedals on bikes on the floor anyways and when they're tightly packed no one wants the inventory attacking itself.
But, it's just a couple of bucks! Hardly worth ranting about? Except, every bike you've checked out with really sh*t stock grips, or a complete ass hatchet of a saddle, was a buck or two away from just needing a pair of pedals instead of pedals, saddle, and grips. And so the vast majority of companies stopped including any sort of pedal with their mountain bikes. That is their 'real' mountain bikes. The ones that are going to be ridden off-road. And I suppose, in my mind, for those companies that don't include any sort of pedal with their premium bikes (the price point where they stop throwing a set in the box, instead of investing that money elsewhere in the spec) are making a declaration about the line between a bicycle and a mountain bicycle.
This isn't meant to call out any specific brand. Most of them do it. My problem is that these same budget-friendly bikes that are coming with pedals are also the ones where every nickel and dime can make a difference. Is the rig getting a decent set of Tektro M275 hydraulic brakes or some sketchy garbage? Will I get a really decent clutched MicroShift drivetrain, or is it sloppy shifting and endless dropped chains? Rubber that I can at least run until my budget allows for a tackier front tire? These are tight decisions. No one riding one of these bikes on trails is going to use the pedals they come with, and anyone buying a bike that isn't going to be used on trails should probably be considering a bicycle with slick tires and fender mounts.
What makes a bicycle a mountain bike - a 'real' mountain bike for riding on trails? And I mean that practically. If you want to wax philosophical about the evolution of the Miyata 1000LT, Cooper would love to discuss it with you over here. At its most basic, a mountain bike is going to be optimized for trail use. Still too wishy-washy? In my mind a modern mountain bike should be fun for the average rider on a true-Blue rated trail.*
*I know, what's an average rider and trail ratings vary greatly from place to place.
Instead of worrying about nuances, let's at least agree that if a bicycle comes with 2.3"+ knobby tires, say Maxxis DHFs or similar, it's intended primarily for off-road use. Where can you properly use a DHF-esque knobby tire with cheap traction-less plastic pedals without pins? Nowhere. So a bike that's coming with proper knobby tires, even if they're firmer rubber, should come with actual mountain bike-worthy pedals or, better yet, none at all. Let the owner decide if they want flats or clip-in pedals. Just in the world of flats they then have to choose aluminum or composite, convex or concave, and even large or small platform.
I'll put it out there that good, resin, flat pedals with solid traction start at about 55-65 USD | 70-80 CAD for a pair of Race Face Chester, Kona Wah Wah 2, or OneUp composite pedals. Except to double that for similar quality bearings and pins on an aluminum body - which may be the right investment for someone that is going to service the internals through multiple sets of bearings. While there is a lot of crap out there, I think a good set of clip-in pedals starts with Shimano's M520* / ME700** depending on your preference for cage size. With cleats included, the M520 runs 50 USD | 65 CAD while the ME700 will set you back 65 USD | 85 CAD.
*In my experience, the upgraded guts of the M540 make it the best value in their lineup for a small-body clip-in pedal.
**ME700, also called simply 'Shimano Trail' is the replacement for the classic M530 trail pedal.
As has been true for higher-priced bikes for years now, I think a manufacturer would be silly to tie up spec dollars on a 1-2K bike with any of these options. Sure, I'm also the person that will argue that from mid-level and up, bikes shouldn't come with saddles or grips either, but I think it's much easier to make more universal choices with both those products than it is with pedals.
And maybe you're thinking that mountain bike for 1-2K should include rideable pedals? It's a lot of extra money - along with a helmet, shoes, etc - to pony up at purchase time. Manufacturers have purchasing power ubt what pedals should they spec? Flats or clip-ins? What size of platform? How many spec dollars should they commit to a quality option and what do they have to downgrade to get there? To reiterate, there are reasons that mid to high level mountain bikes don't include pedals anymore, and I think that should extend to any machine that's meant to be ridden off-road.
Let's take a nominal 1,500 CAD hardtail with proper knobby tires and current mountain bike geometry. Let's take some basic plastic pedals with shitty loose ball bearings that feel seized out of the box and in-moulded pins that wouldn't stick to Gorilla Tape. Let's take a person buying that bike. There is absolutely no scenario where the combination of bike and pedals makes sense. Either the rider has been sold significantly more bike, with significantly more rubber, than they need for whatever their application may be or they're not experiencing even a small percentage of the capabilities of the machine. Either way that sucks for the manufacturer selling the rig, and it sucks for the rider buying it.
I'm passionate about budget mountain bikes, for actual mountain biking. I'd like to see manufacturers skipping the crappy plastic flats, and investing the couple of bucks they spend on them into other parts of the bicycles. Let shops educate customers on the best pedal options for them, the terrain they're riding, their experience level, their expectations, and their shoe size. And, when necessary, why junky OE pedals aren't included.
'Real' mountain bikes, at any price, don't come with pedals.