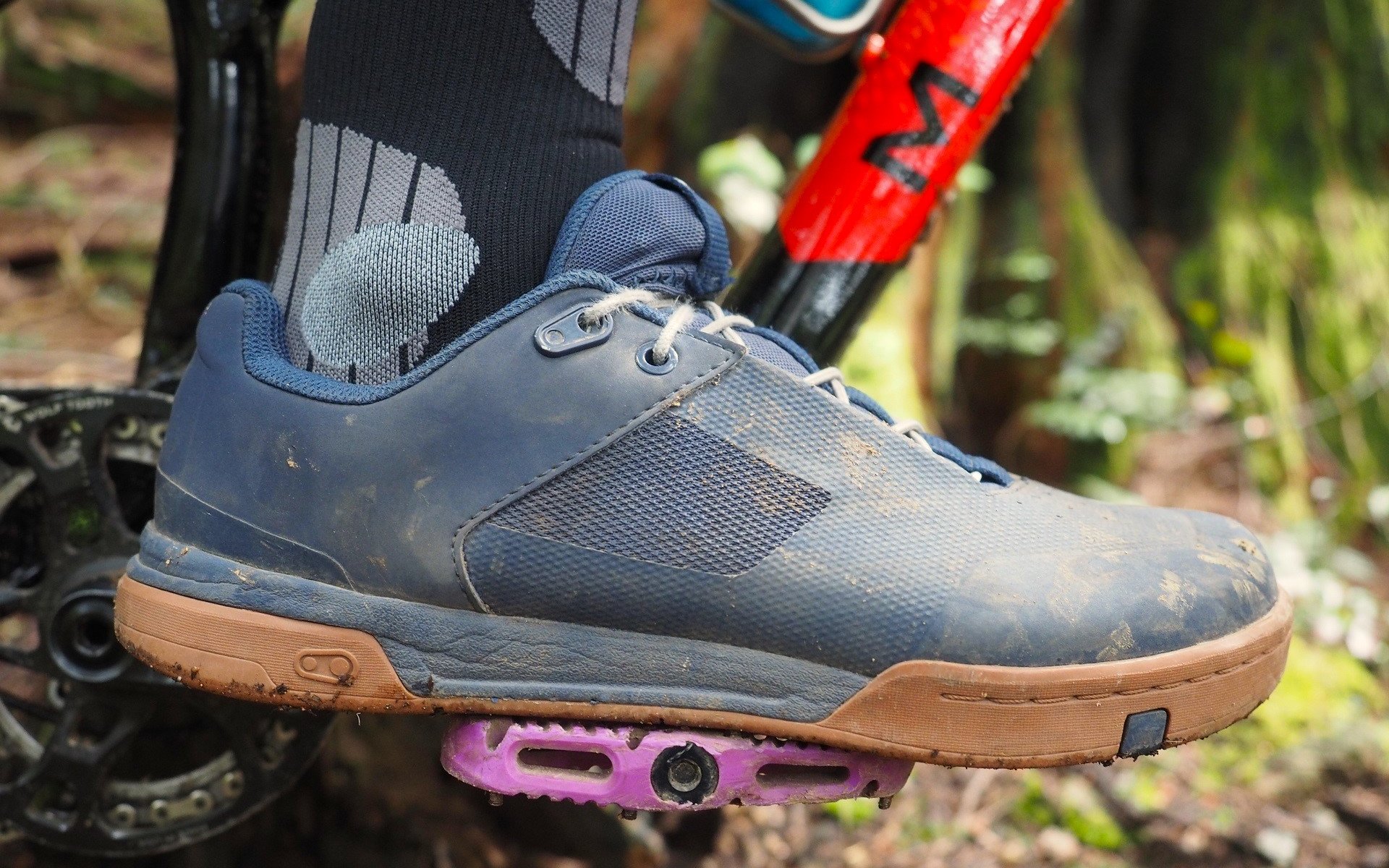 EDITORIAL
Flat Pedals, Foot Position & Reach
Relearned Behaviour
There is a factor that impacts reach that I haven't seen discussed before; specifically how two riders of the same physical proportions on the same bicycle can have very different fit experiences. But before I can get there I need to do a bit of house keeping.
In January this year I ruptured my right Achilles tendon. I wrote something about it at the time. I had excellent care in the emergency room at Lions Gate hospital, excellent advice from friends and my physio, did my exercises, and I'm working on getting my strength and fitness back up into riding shape - mentally and physically. To say the least, I'm grateful. But as I return to the trails I've been struggling to reset the fit of my bikes and to then relearn how to ride them. It's now constantly in the back of my mind when I'm riding.
If you had asked me before my injury about the position of my foot relative the axle of my pedals I would have told you that I ran my foot forward of most riders. I would have been wrong, but in my defence that understanding came from over two decades of riding clip-in pedals. My cleats had been migrating rearward in my shoes year-on-year until I started seeking shoes with the most rearward position, like my all-time favourite the Bontrager Rally, or modifying shoes with longer cleat channels to mimic the Rally's positioning. As it turns out, relative to many of my friends who've been riding flat pedals on mountain bikes for years, my foot position was still very much in the range of the ball of my foot being over the axle of my pedal.
As I returned to pedaling after a wearing out a walking boot getting my kilometers on foot, I managed the epically boring stationary trainer, miles to nowhere, by setting up my bike outside and singing along to music. I was on my beloved V2, unchanged but for the slick rear tire and significantly smaller cog, but I did a lot of my riding sitting bolt upright and even when I was getting my sweat on in a more aggressive position I didn't notice how much my pedaling and positioning had changed until I was back on the trail.
OneUp Vs. OneUp
I want to quickly address a micro-controversy entirely of my own stupid making when it comes to a preference for OneUp Composite or Aluminum flat pedals. Both share a similar convex shape but the aluminum pedals use a much thinner body with a flared inner section housing a larger cartridge bearing, and the plastic (composite, resin, glass fiber, etc.) version using a more standard layout internally with a thicker body and sharper threaded machine screws rather than the smooth pins of the alloy option.
In my experience, having used both types, the composite pedals have better grip and a more consistent platform. I ride with many who prefer a concave or flat pedal shape, but of those who ride OneUp pedals and have tried both, the plastic option is the preference. So, I assumed that was universally the case. In fact, many riders prefer the aluminum option in a blind test, which has nothing to do with the pedal material. After asking a group of people about their preference of one or the other ,I can only say that footwear and foot size don't seem to be relevant. Some prefer the aluminum version and say it offers more grip and some say exactly the same thing about the composite.
For a while it had me rethinking writing this piece. How can I say anything about pedal shape when there's such a difference in experience between pins and materials? I decided it was worth penning regardless but I want to double down on noting that the following material about pedal shape is entirely my experience, though I think the conclusions about bike fit are more universally interesting. In any event, a preference for one OneUp pedal or the other really does circle back to how important it is to try different things for yourself and particularly with contact points; grips, pedals, and saddle.
Concave, Flat, Convex
I've long been in the camp of Chromag, North Shore Billet, and other companies pushing a true-concave pedal shape. That is a concave shape to the pedal body, not one that is created by varying pin-height. I found that with pedals of this shape I was much less reliant on sticky-rubber shoes and wickedly sharp pins for grip. My feet would more naturally landmark a consistent position - something that has been more of a challenge for me with truly flat pedals. Once larger platforms became more popular and I fully converted to riding flats, the support was superior to other shapes. Easily my favourite pair of pedals to ride are my timelessly-raw aluminum North Shore Billet Daemons.
On my first trail ride back I was finding it impossible to get the traction I expected from my Daemons, with the same pair of Crankbrothers Stamp shoes I was riding before my injury. My foot wasn't landmarking properly and when I tried to force it into that familiar high-grip position everything seemed wrong. So, I closed my eyes and let my foot rest where it may, and that position is at least a couple centimeters forward of my old happy place on the pedal.
For my second ride back I went with a pair of truly flat pedals, the Kona Wah Wah 2. This is a pedal I've always been able to adapt to, but just how much of an improvement they were had me revisiting my review in 2018 where I concluded that "if the Wah Wah 2 had a more accentuated concave shape they would be my personal go-to." The same is true with the modular Squidworx pedals, which jumped appreciably in my ranking of pedal choices given their excellent axle system.
Next on my list is a pair of OneUp Composite pedals, which have previously been usable but far from my favourite with any shoe other than Leatt's 2.0 Flat pedals. They work very well with the waffle pattern on Leatts regardless of foot position. Mechanical grip was always fine thanks to the sharp pins but I always felt like I was fighting the shape. Where my concave pedals guided me home to my happy place, and truly-flat pedals were a bit vague but rideable, the convex OneUp pedals always felt like my foot was in the wrong position. Which, well, it was. I had a properly beaten set I bought at the shop I was working at to see what the fuss was about, but they were never more than an on-again off-again choice whenever I was on new shoes. Most of the reason they looked so battered was that they ended up on my very low Yeti SB104 BBR (Before Brunch Ride).
Where truly flat pedals, like the Squidworx and Wah Wah 2, have jumped up in my personal estimation, the difference in riding OneUp's pedals was an absolute night-and-day experience on the trail. Traction, support, and landmarking all remind me of using the Daemons before my injury. This led to a great deal of photo taking, cloud drawing, phoning friends and general ruminating over a whiskey or two with, I think, a fairly appliable conclusion.
My friends who prefer a concave pedal, many of whom rode BMX bikes as kids, tend to have the ball of their foot more over the axle. My friends who prefer convex pedals tend to have the arch of their foot more over the axle. My friends who prefer truly flat pedals fall into both camps - these are the 'Type O' of flat pedals clearly. But ignoring the truly-flat pedals those who much prefer a concave or a convex shape universally use the corresponding foot position I've noted. I'm not bolt enough to claim that's true of everyone but if you do have a strong preference on pedal shape I'd be curious where your foot falls.
I've yet to meet someone who rides with the ball of their foot more over the axle who likes OneUp pedals. I've yet to meet someone who rides with the arch of their foot more over the pedal axle who prefers a concave body.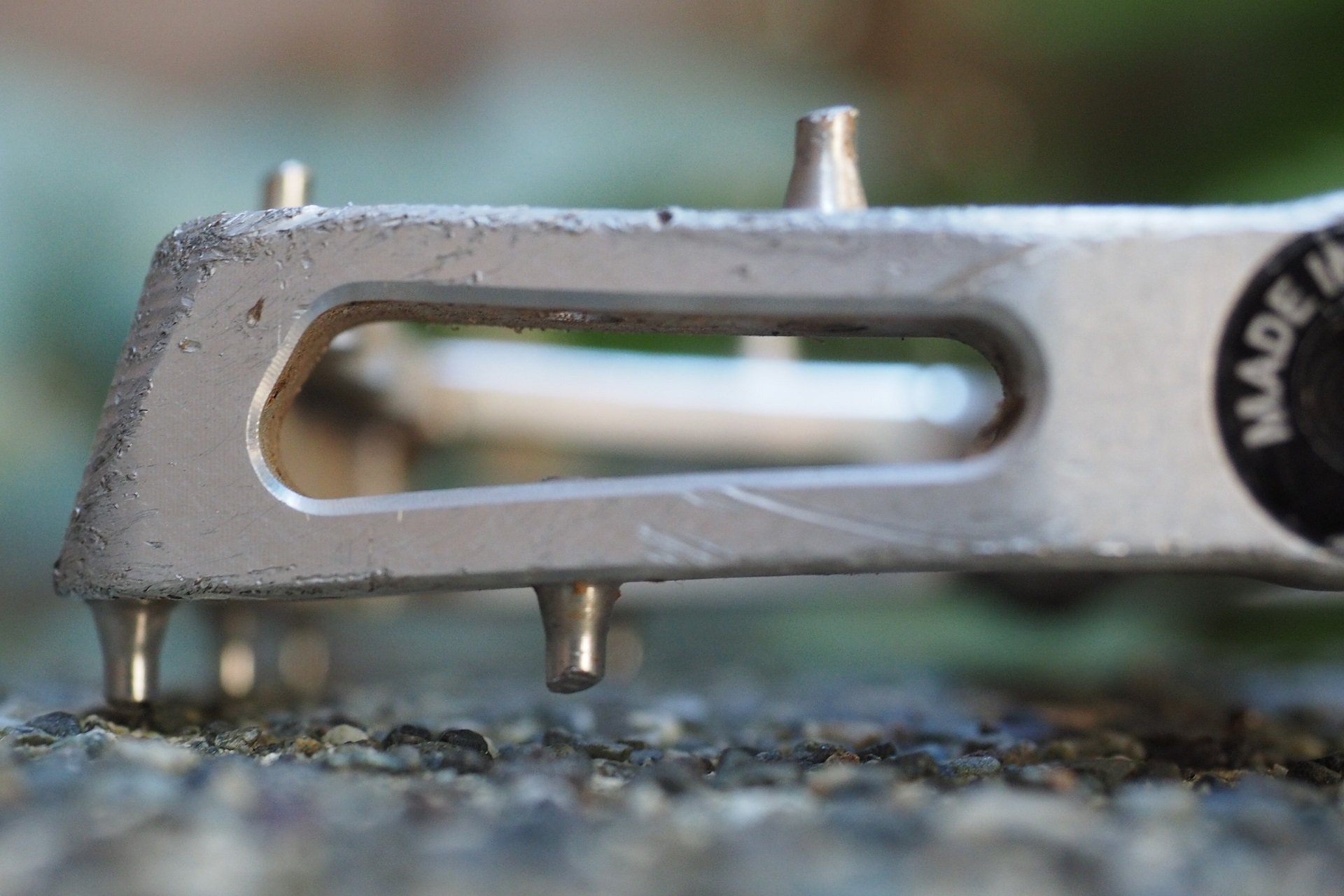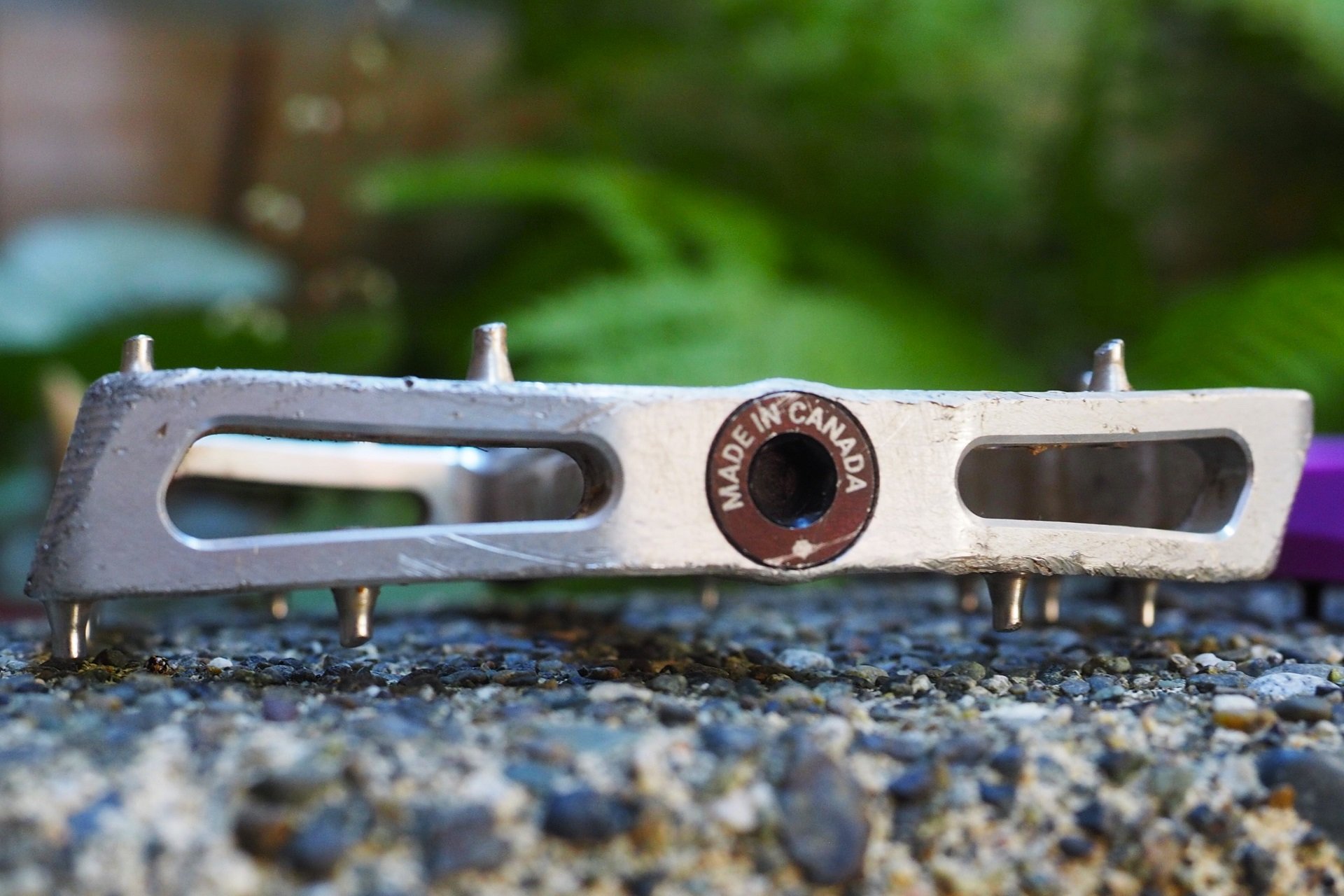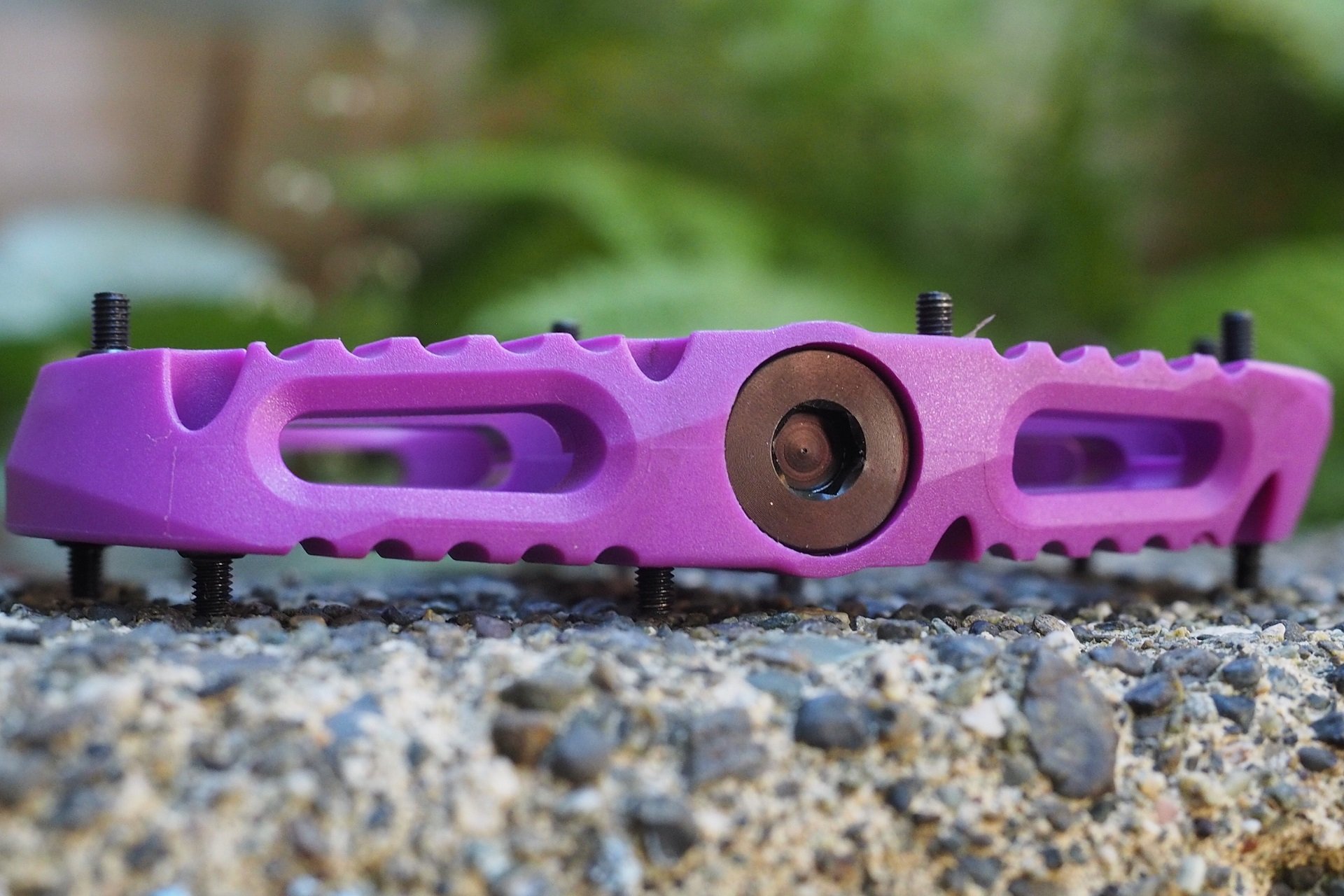 Frame Geometry
Try a few flat pedal shapes, buy the one that works for you, and go for a ride, right? Why does it matter if this Andrew prefers a convex pedal and rides more arch-over-axle and the old Andrew prefers a concave pedal and rides more ball-over-axle? Is this all just setting up a future article where as his leg strength improves he goes back to the position he was used to for over two decades? Is it a rule that articles with any third-person narrative can only go live on Wednesdays?
It seems that with pedals, I have more questions than answers, but not so with bike geometry. I was a few meters into my first proper descent in months and was thinking I must have a grown a couple of inches. Or maybe I no longer have T-Rex's ape index? Something had happened because the Reach on my custom rig felt significantly shorter than I remembered. It's true on my commuter bike too. And suddenly my brother's Guerrilla Gravity feels like it's my size. Bikes where I was previously on the fence between medium and a stretch to large now feel decisively better in the larger size.
It's bike geometry, not rocket philosophy, and there's of course a simple explanation that you can experience with at home. Get on your bike with your feet in your natural position on the pedals, leaning lightly against a wall on flat ground like you were going to check your suspension sag and attune yourself. Now lift one foot and then the other and move them each forward 2cm or so. Sit down. Does your saddle feal like it's moved rearwards? Like someone slackened your seat tube angle. When you stand up, does your bar feel a lot closer to you?
I'm 5'9" tall and my Waltworks has a 480mm Reach, 601mm Stack, and a 665mm effective top tube thanks to a 73.5° actual seat tube angle. Yes, I run a 16° backswept bar which does shorten the overall feel of the bike, but in general it's towards the longer range of a frame for someone my height. With my new stance on the pedals it feels like it's a couple of centimeters shorter and that's because, functionally, it's just that. So much so that I've been playing around with stem length.
Just as returning to riding with my new foot position has made me think about why a rider would prefer one platform pedal shape over another, I also feel I now understand one reason there's such a variation in preference around Reach and yet, two riders with the same approximate body dimensions will make the same claims about very different numbers. Our first Andrew with the ball of his foot more-over his pedal axle preferred a slacker seat tube angle and found a 480mm Reach perfectly long. The second Andrew with the arch of his foot more-over his pedal axle has shifted his saddle rails forward in the clamps about a centimeter and lengthened his stem by the same will next be trying an extra centimeter on each again.
I'm not looking to build a matrix or make any general statements about mountain bike fit, and as always personal preference wins the day. But it's with a new eye to folks' feet that I now listen to people talk about whether they like to upsize or downsize their bicycle relative to a manufacturer's sizing chart, talk about seat tube angles, reach preferences, and, flat pedal shape. I don't know if my new foot-on-pedal position is permanent or just part of a journey back to full capacity, which will likely take another six months, but it's been an interesting and revealing experience.