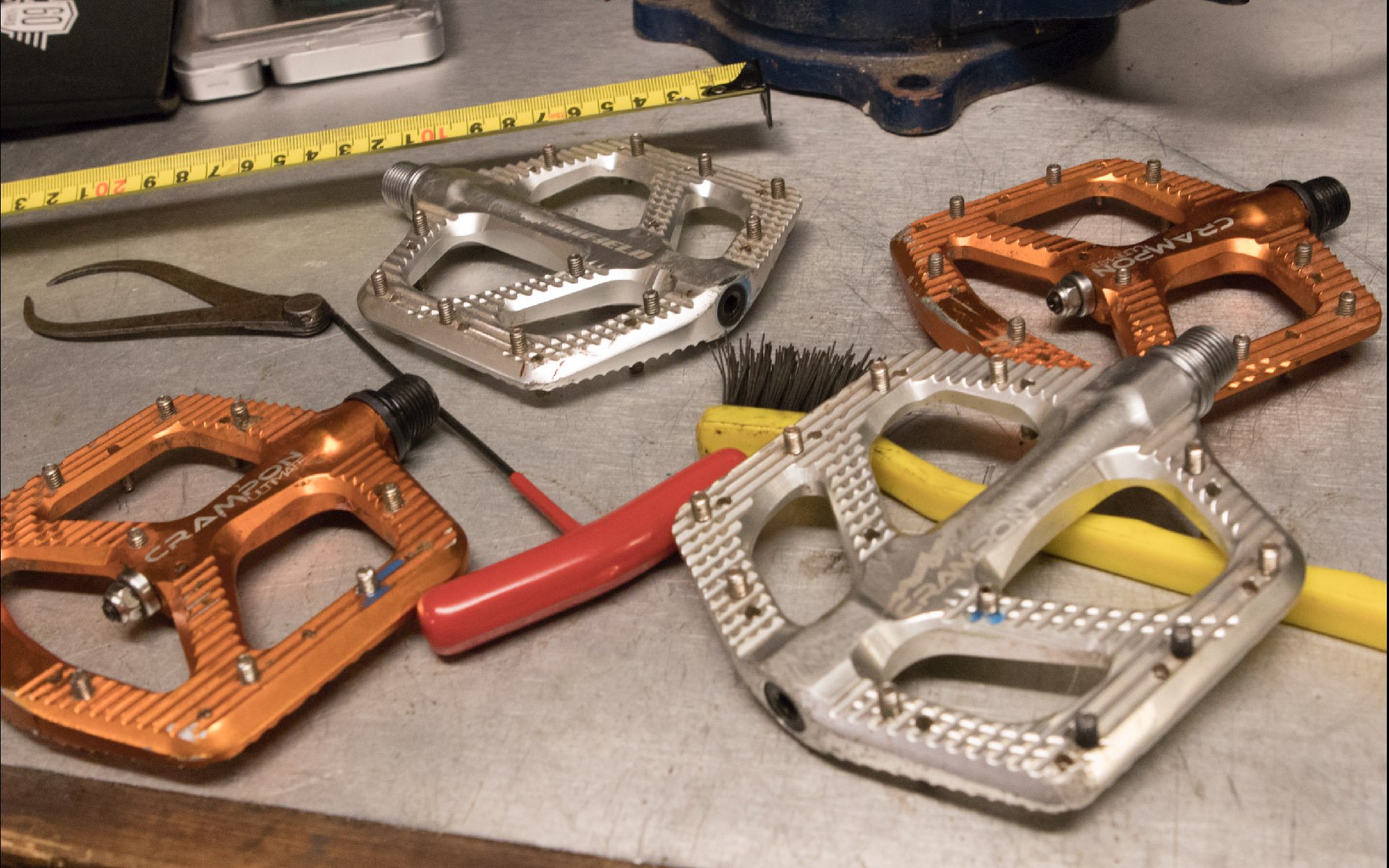 Review and Teardown
Canfield Crampon Ultimate and Mountain Flat Pedals
Slipping a pedal can put you in a spot of bother if you ride challenging trails. Dangling a foot down one of Squamish's infamous rock faces or over a huge A-Line table (unintentionally) will likely leave you a little put out. Flat pedal riders are justifiably fussy about traction, but stuffing a pedal into a rock or root can produce equally calamitous results. Some riders want black hole-level grip while most, by my reckoning, want to be able to re-position a foot when it moves from the sweet spot without sitting down. It's a fine balance.
Finding your sweet spot often takes some trial and error. If your combo of shoe and pedal has too much or too little grip, it can be difficult to correct. Altering the number or height of pins can move the needle some, but you are pretty much stuck with the soles of the shoes you've just bought, so you'd better nail your pedals.
Canfield's Crampons were born of on-track necessity according to Lance Canfield; "Bike geometries were getting lower and lower and my brother and I were racing a ton and having my brother snag his pedal on a race run and launch himself over the bar, it was just like, there's gotta be a better way."
That way was to throw out the conventional wisdom of the flat or concave platform pedal. Lance continued; "I like my foot to stay planted, but not overly. So I like to be able to shuffle my feet occasionally, you know, like you put it out in the corner, you put it back on, but you're not quite there. And I want to be able to shuffle slightly get it where I want."
So the dual goals of a thinner pedal and grip that is solid but manageable led to the unconventional shape; "it gives you a little more float because it's matching the shape of the arch of your foot. And so when it's concave, you're standing on it and that tip and tail, those pins are just stabbing into the arch of your foot, with extra pressure."
This all sounded reasonable and while it made conceptual sense to me even before talking to Lance, I remained a little skeptical of the convex shape. It's pretty clear that when a flexible shoe rests on a pedal during a descent, with the ball of the rider's foot placed on top of or slightly ahead of front edge of the pedal, it's going to arch over the pedal surface rather than conform to any concavity. Many if not most noteworthy pedals have been concave for BMX types, dirt jumpers, and mountain bikers since before 29ers were a glimmer in the eye of either Gary Fisher or Gary Klein, so how could there be nothing to the idea?
I've been testing the Crampons with a number of different shoes, and with pin options that no longer exist, but which allowed me to tweak the grip for the sole of the shoe I was on at the time. It used to be that Canfield put both 8mm and 10mm pins in the box and one pair of pedals I was sent came with both while the other came with 8mm only. Using the somewhat harder rubber of the Ride Concepts Livewire, the grip was decent with short or long pins, but with the softer rubber of their Powerline, I could only manage the grip I wanted with longer pins. I found some extras in my parts cabinet and put long pins in both sets for a long stretch.
Canfield decided to discontinue the longer pins because they compromise clearance and. are more prone to damage, either being bent, cleaved or worse, torn out of their threaded hole. Lately I've been on Specialized's new 2FO shoes and Fiveten's Trailcross models (reviews on both to come) and for these shoes, the shorter pins provide more than adequate grip and and are easier to reposition without the longer fangs. I may continue to mess around with some combination of the two lengths in the future (and see how things are without centre pins at all) to see if I can find an even sweeter spot. To be clear though, Canfield doesn't even sell the longer pins at this time.
On the trail I have really enjoyed both sets of pedals. Despite a small difference in platform size, and the larger max thickness of the Mountains, once I had pins of the same length in both pedals, I didn't have much preference in terms of grip and I didn't notice the slight size difference while riding. I did however notice the convex shape and the way it gripped when I wanted it to and released when I wanted to reposition (with the RD shoes and shorter pins for 5:10 and Specialized) as well. I always feel solidly connected to the bike and subtle inputs from my feet produce the desired result on the dirt.
Breaking into both of the pedals is easy, as long as you have a thin-walled 8mm socket (which Canfield sells), often needed for Shimano pedals, for the Mountains. The Ultimates area a complete breeze however and you'll gain access with either an 8mm spanner or an adjustable wrench in no time at all. If you don't have a vice it might be easiest to leave the axles on the bike when you perform this task. Once the nyloc nuts are removed, you simply pull the pedal body off the axle and surgery can commence.
From here the differences between the two pedals are readily apparent. I pulled open a mountain first and it was obviously clean on the inside and very little moisture had made it in, despite my efforts to breach the seals of every bearing whenever I clean a bike. The grease was still functional but further inspection revealed a small amount of moisture had made it in. Despite this evidence, the pedals were spinning smoothly and silently, thanks to three cartridge bearings outboard and a DU bushing closest to the crank.
According to Lance, there are advantages to the Mountain pedals in terms of ease of maintenance, but the ultimates have advantage beyond lower weight; "Once the Teflon wears off the surface, you're onto that oil impregnated brass and once you're on that brass, they last forever, even dry, they run and run and run but they, they rattle, they'll get little bit of a rattle to them. And, and that's why you'd wanna put that dab of grease in there to shove it back together because it fills the entire void inside of the pedal body and makes it to where there's no open space inside for dirt to go to."
The Ultimates I've been using were close to dry but there wasn't any rattle yet. Before I lubed them, you could feel an absence of lube with your hand, but I couldn't feel it under foot. Once lubed they were nice and smooth. Lance recommended a service interval of 6 months but for a west coast winter I'd put it closer to every 4 if you ride a lot in the monsoons.
If there's something about these pedals that's unworthy of my adoration, it has yet to reveal itself. They've proven t to be be tough, sticky, thin and easy to maintain. The Ultimates weigh only 344g per pair for gram counters and the Mountains (404g) are long wearing and low maintenance. If you are looking for something with a large platform and long sinister pins, you might want be inclined toward something like Chromag's shin destroying Daggas. Otherwise these might scratch your itch nicely.
You can pick these up online normally but right now only the Ultimates are in stock. The current hold up is at the anodizing firm but Lance assured me stock in the Mountains will be replenished shortly.
Check them out at CanfieldBikes.com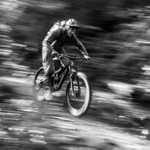 Cam McRae
Height - 6'/183cm (mostly legs)
Weight - 170lbs/77kg
Inseam - 34"/86cm
Ape Index - 0.986
Age - 57
Trail I've been stoked on lately - Boogieman
Bar Width - 760mm
Preferred Reach - 485-500mm (longer with 27.5 wheels than 29)