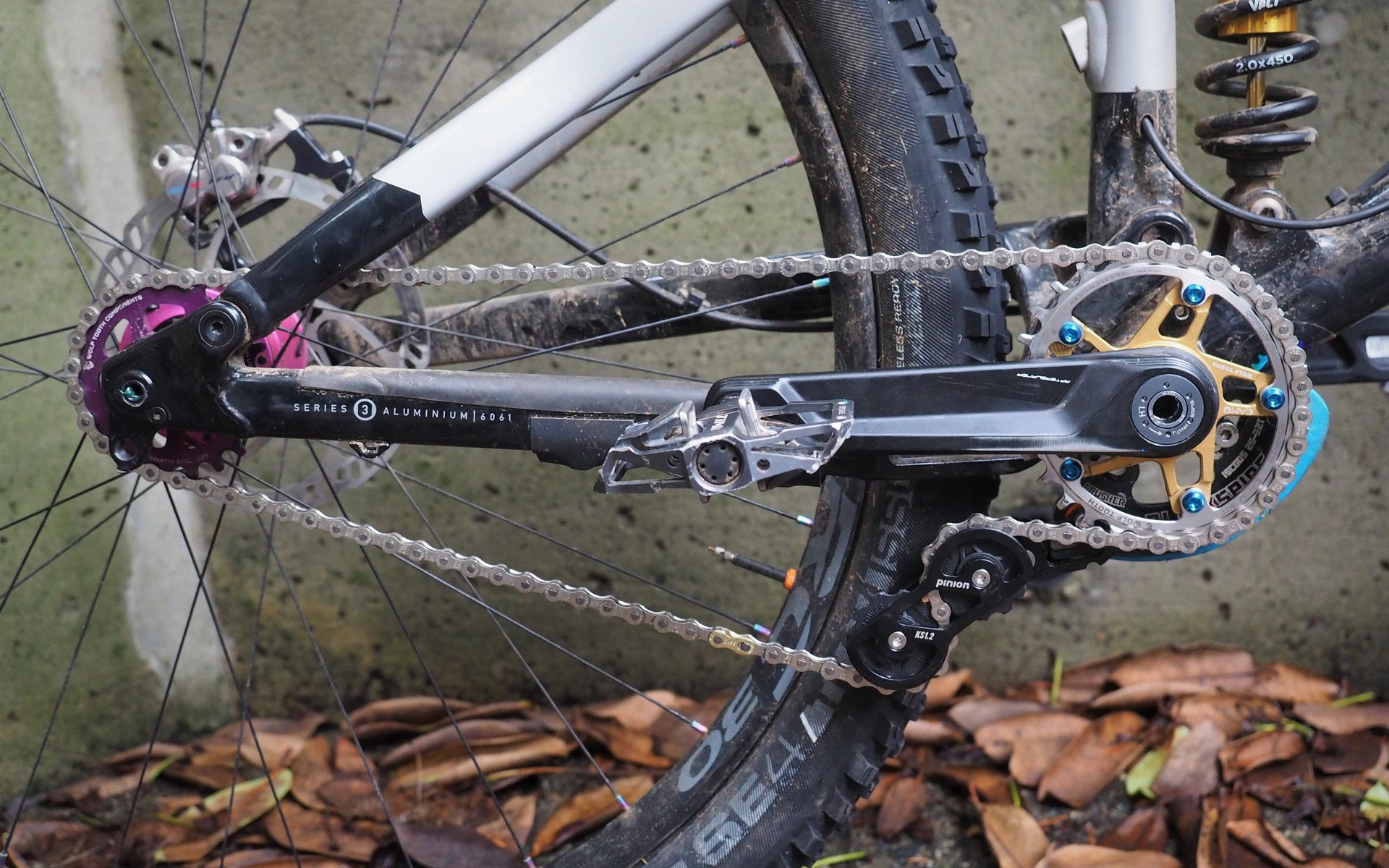 Sometimes little things make all the difference.
Gear Shots: Jan 26, 2022
WPL Wet Chain Lube
There is no shortage of strong opinions out there when it comes to what chain lube you should be using. I myself have gone through phases of using a certain product, then jumping to another, sometimes simply due to the fact that my tried-and-true formula wasn't readily available when I needed it.
I recently started paying a lot more attention to what was actually in the lube I was using. My family's current living arrangement means that our bikes share the same living space as us, and I know we're not the only ones living this reality - not everyone with a nasty bike habit is blessed with a garage. I became concerned about the toxic chemicals and inevitable off-gassing of my petroleum based chain lube. This is not the kind of stuff you want hanging around in your home.
Whistler Performance Lubricants (WPL) specializes in bike lubes and cleaners that are biodegradable, non-toxic and made in Canada. I've been using their Wet Chain Lube for several months, and it's become my go-to chain lube for basically all conditions. Regardless of the lube I'm using, I find I need to wash the drivetrain every 1 to 3 rides. WPL chain lube is formulated to dissolve under high-pressure water, meaning it's easily removed when you wash your bike, with very little gunk buildup. Most importantly, it's 100% biodegradable and non-toxic, with none of the nasty chemicals that make up other lubes. And it's basically odourless.
WPL products can be found at your LBS, or ordered direct from their website:
wplbike.com // 120ml - 12.99 CAD // 1L - 39.99 CAD
Ryan Walters
---
Muc-Off Disc Brake Covers
Ok here is a product that I didn't know would have a place in my life. A piece of plastic and neoprene mixed and curated into a somewhat pricey product. There is no shortage of those in the mountain bike industry. This particular application definitely found a place in my tool chest this winter.
The Muc-Off Disc Brake cover is a 2-piece design the covers most of the chemically vulnerable parts of a brake system.
The backing plate has a slit along the radius to go around the axle between the disc rotor and the spokes. This circle has thick industrial velcro along the circumference for the front piece to attach. The whole idea is advertised as a product you'd use when you are cleaning your bike. As much as I understand the premise, can't say I've used it for that.
I had a different plan for this gadget altogether. Contrary to what you may believe, not everyone on the North Shore owns a Tacoma or a truck of some sort. Some of us actually drive cars and vans. I am one of those people. Our expedition vehicle is a Sprinter camper conversion that safely holds 3 bikes safe and dry in its belly. An absolutely invaluable tool for road trips through riding regions. My personal vehicle is a 2003 Subaru Forester that is an absolute joy to drive but unfavourably holds only 2 bikes on a tray style rack at the back of it. I get flack from riding mates every now and again for bringing a knife to a gun shuttle because the retrievals are a little trickier when I can only fit 2 bikes out back.
The other side effect of 2 bikes sitting outside the turbulence zone of a station wagon is road dirt and grime being slung at the shiny bits by the rear wheels of an AWD hooner. Out come the Muc-Off Disc brake covers for those rainy, slushy drives where the rotors and the pads of the bikes stay perfectly dry and clean for the drive.
I didn't fully agree with the shape of the neoprene cover and cut a slit along the radius to make it fit around the chain/seat stays of the bike a little cleaner.
Muc-Off disc covers 30 USD // 45 CAD
Deniz Merdano
---
Silky Big Boy Folding Saw
I got turned on to Silky Saws by a couple of local trail builders last year. On a few trail maintenance missions they whipped out the saw and cut through fallen trail obstacles within seconds...SECONDS!
I couldn't believe the way this little 14" saw cut. So I got one to try. I settled on the Silky Big Boy 2000 which has a 340mm (approx. 14") long blade. The blade is curved and has a directional cutting profile. What this means is the cut is done on the pull stroke and teeth clear themselves on the push stroke. By making the cutting directional, they managed to make the blade thinner - 1.4mm thin to be exact. The number of teeth per inch is 5.5. This 1-lb folding handsaw is so efficient that for any tree under 10" there is no practical reason to deploy a chainsaw. It is extremely fast to whip the Big boy out and cut through the deadfall in seconds.
There is a secure lock when the blade is engaged but not one when its folded up. I keep a small velcro loop tied around mine to keep it from accidentally opening in my pack. I would recommend this saw in any size to anyone who rides and wishes they had a saw with them to gain some trail karma. After all who doesn't love shiny sharp things?
Silky Saws // 90 CAD // 78 USD
Deniz Merdano
---
Pinion KS1.2 Chain Tensioner
I've had very good luck single speeding a couple of full suspension bikes using Shimano Zee clutch derailleurs. They're reliable, high value, and have a wide limit range - although I sometimes have needed to swap out for a longer low limit screw. I'm not saying I wouldn't love to try an expensive SB One tensioner at some point but another advantage of going with the Zee is you can run any size of cog you like. Finally, with a Zee derailleur, when you figure out for the first, second, third, fourth, or fifth time that single speeds that you want to make go uphill are best created from hardtails and that you don't have the budget for a shuttle-and-park only full suspension bike, you can just reset the limits, install a cassette, cable, shifter, quick-link in a chain, and go ride your geared bike.
I mention the above because I do get asked once in a while from people wanting to single speed a hardtail that has vertical dropouts, or learn about full-suspension single-speed trail bikes first hand, and I think the Zee derailleur, with its excellent and adjustable clutch, is hard to beat, but that doesn't mean I haven't tried other options. One of the setups that worked very well was a Pinion chain tensioner. It doesn't have a clutch but it ran dead silent thanks to plenty of spring tension. Not only did I have no issues dropping chains, one of the cool things about the KS1.2 is that it moves backwards in the direction of impacts. Sure, it dangles a bit but I never caught it one anything in a frightening way or hit it such that I had a concern. It just swings out of the way and comes back for more.
I was going to say that 'unfortunately' Pinion doesn't make an ISCG adapter for this beauty, but then how many would they really sell? As it sits, it uses Pinion's own mounting standard. So, if you do want to try their rear-swing chain tensioner it's going to require a bit of crafting skill. If you have the tools and time it wouldn't be a huge job to make a BB mount or ISCG mount adapter to attach it. I used an ISCG BlackSpire bash-taco and just driller a few holes to position the Pinion tensioner as desired. It did take a couple attempts to get it where I liked even with some adjustability thanks to the ISCG mount.
In the future I'm planning to use the KS1.2 with a vertical-dropout equipped hardtail as well, but I was really happy with its performance on a full suspension bike, though I consider the overall experiment a failure especially compared to how much I love riding rigid and hardtail single speeds.
Pinion Chain Tensioner KS1.2 // 120 CAD // 100 USD
---
Five Ten Freerider Kids
I could write an epic editorial about how I think companies like Crankbrothers, Specialized, and Leatt that make fantastic flat pedal shoes are shooting themselves in the foot by not making kids' models. Instead I'm just going to stomp down a few sentences about Five Ten's Freerider Kids' shoes and walk away. These are okay. They hold up well enough that my kid grows out of them before she wears them out, using them strictly for mountain bike shoes. The Stealth Marathon soles are sticky enough without disintegrating if your kid is planning to use them outside of riding. I don't normally go in for Velcro myself, but they're quick on/off with no parental assistance so I deal with it here.
The crazy (and not so crazy) part? As far as my seven-year-old is concerned there is exactly one name when it comes to mountain bike shoes. She's been able to recognize that '5' logo going back to her first pair and I've heard "they have the same shoes as me" everywhere from Science World to the grocery store for a couple of years now. Now, I'm not accusing Adidas of selling cigarettes to children here. I think it's awesome that they've been focused on the performance kids' mountain bike market as long as they have. And I'm not saying these shoes don't work well, so it's not like I have some deep-seated need for a competitor to jump in. But, every time I get a pair of shoes to review she raises an eyebrow and asks why they aren't Five Tens. Come to think of it, I know a lot of adults that feel the same way despite also having never tried anything else.
I don't understand why other high-end flat pedal shoe brands don't want a taste of that action. Hook 'em young! Anyway, my kid will probably always choose to buy Five Tens when the time comes to make her own purchasing decisions and I'll be able to look back at this and point to why. If you're looking for shoes for your grom, I noticed Adidas is having a pretty wicked sale (SRP 70 USD / Sale 42 USD) on them, so it wouldn't hurt to stock up. If you're in the USA of course, because those jerks don't ship to Canuckistan.
Five Ten Freerider Kids // SRP 90 CAD // 70 USD
---
45NRTH Sturmfist 5 and Nøkken Gloves
Winter cycling gloves for aggressive mountain biking face a big hurdle; they need to provide enough warmth to keep your hands on the bars, but they also need to be thin enough to give you control to… keep your hands on the bars. 
When I was talking to Stephen at 45NRTH I was actually interested in trying some pogies, covers that surround the entire end of your bars, controls and all, to see if I could get by with lighter gloves underneath. The toy train feeding global markets quashed that plan but he proposed I check out these gloves instead. 
From the outside, 45nrth appears to cater to fat bikers and bike packers rather than those of us wanting to ride winter rockfaces and gaps here on the North Shore. Stephen understood my skepticism but suggested I give these two gloves a try to see how they met my criteria. 
Nøkken  65 USD/85 CAD
(named after a shape-shifting Norwegian troll)
Once things started to get cold I began using the Nøkken gloves, billed as a mild winter glove good between 7º and -3º C (45º-25º F) they are also wind and water-resistant. Around here water-resistant tends to be a dirty label; it generally means they leak. These impressed me in that regard however and when they did get a little moist they retained a lot of insulation. Still, they wouldn't be my first choice for truly wet days. The backing material has the feel of neoprene and performs as such. I wore them generally from right around the freezing mark and a few degrees on either side and in that range they did great. 
The fit is excellent and my mediums managed to perfectly thread the needle between big enough to preserve circulation and small enough to avoid bunching that compromises control. I found the palms a little too thick for my liking at first but they soon packed out, to the point where I didn't worry at all about controlling the bike when things got rowdy.
These are a great choice if things don't ever go full deep freeze where you live or for warmer days in chilly places. 
---
Sturmfist 5 110 CAD/85 USD
These veer from the Nøkkens by being aimed at cooler temperatures and for possessing a leather palm and fingers. They also have secondary insulation, rather than that provided by the outer and inner materials. Polartec says Alpha 100g insulation was designed for US special forces for situations where temperatures might change during moments when swapping gloves might be inconvenient, like during a fire fight I suppose. Insulation is a priority as well as airflow for "sustained comfort."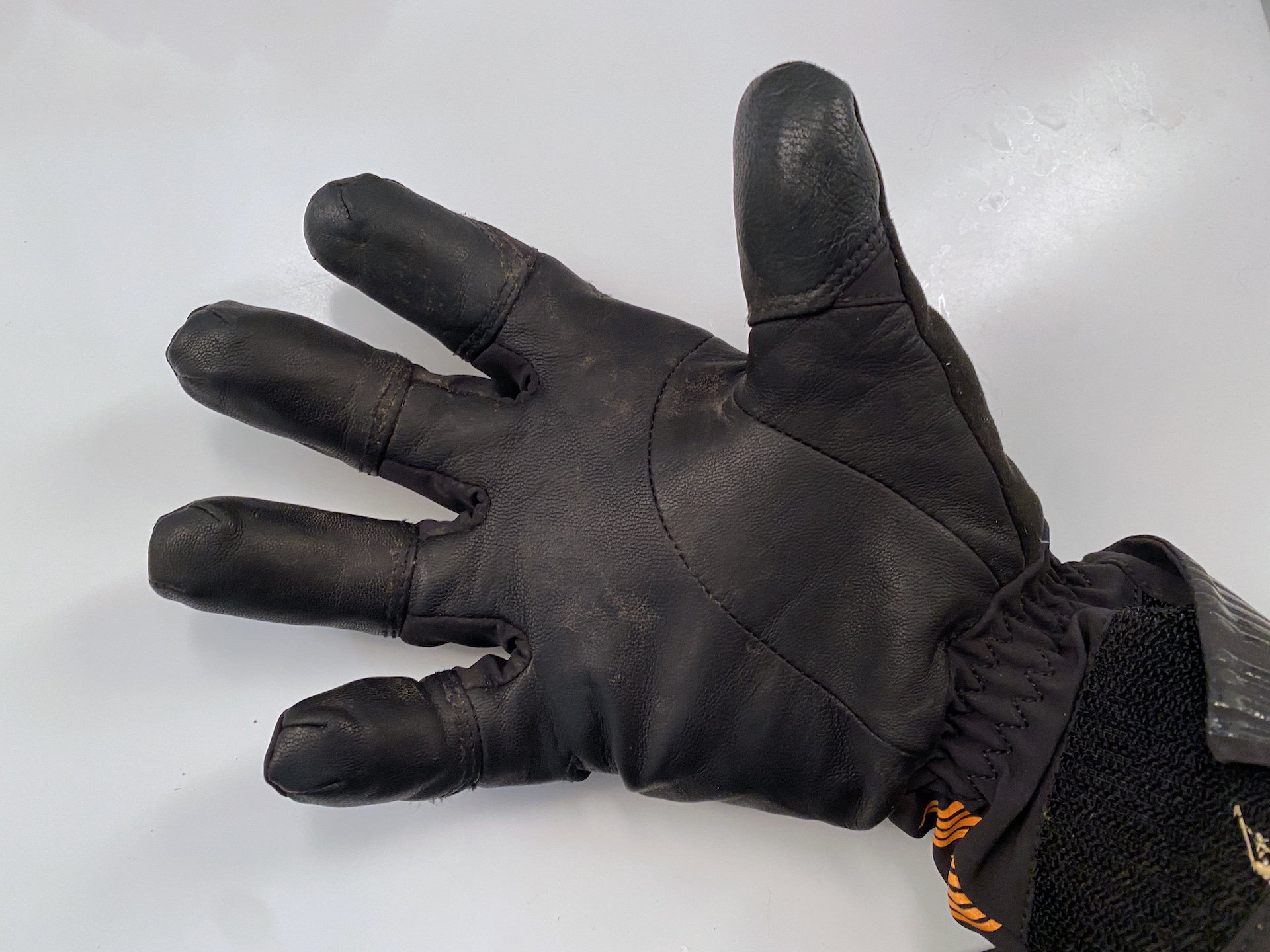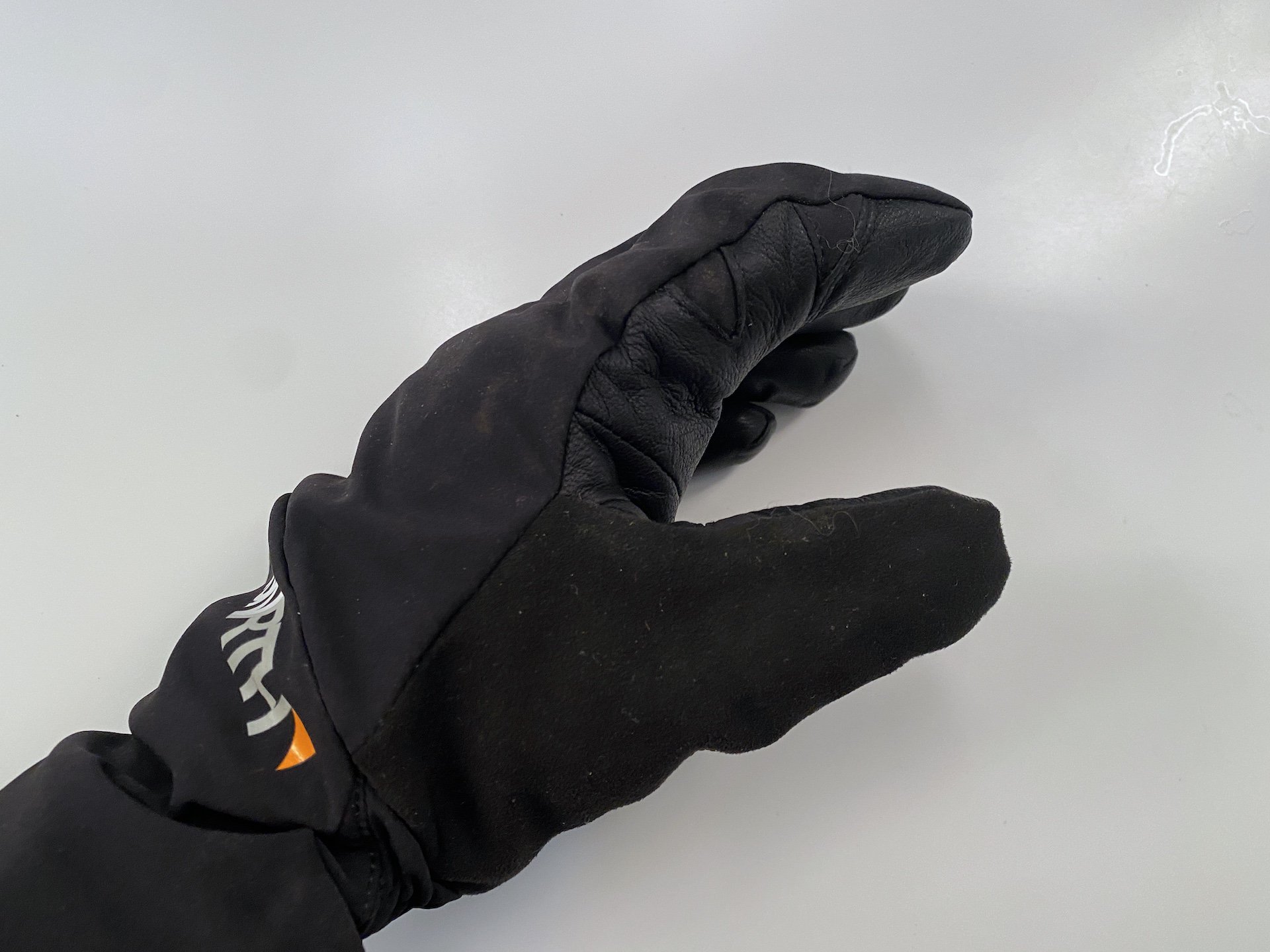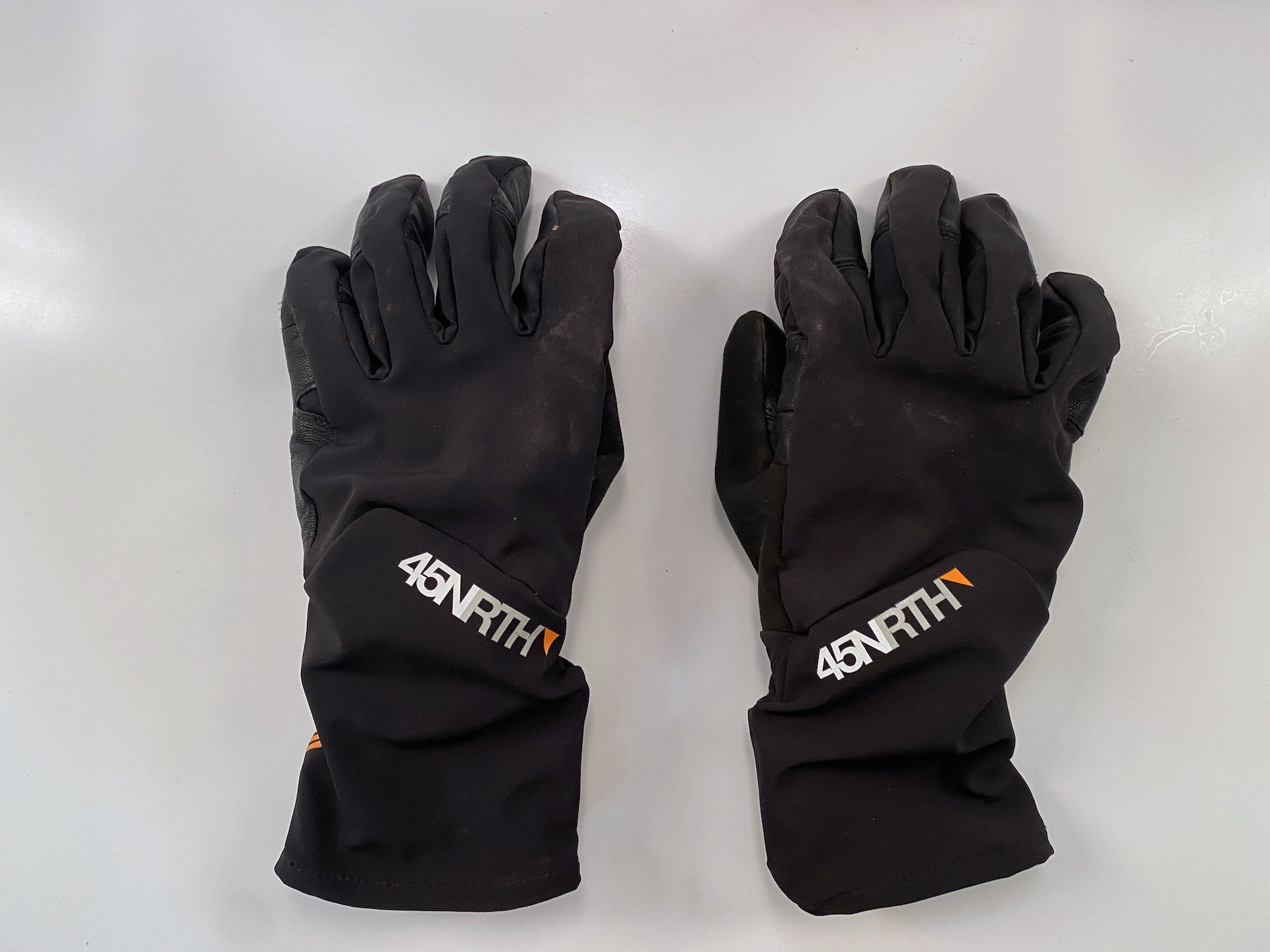 I was out in some truly frigid days during our recent freezpocalypse(!) and to start out with my fingers would sting like a mofo regardless of what gloves I chose. I think I have some mild Reynaud's disease that seems to dissipate once I get rolling. Once that happened I was quite comfortable indeed in these, in temps as low as -12º C (10º F).
Confidence on the bars was even more of a concern for me wearing these gloves but they also broke in nicely like the Nøkkens. The control wasn't quite as good but remarkably close considering how comfortable my hands were. The fit is a little smaller than the Nøkkens as well so it would be worth considering going up a size from normal, but for me they are just fine. 
I've had some winter gloves that are plagued with liners that pull out with your fingers and when that happens it's impossible for cold fingers to get them back into position but this wasn't an issue with either of these gloves. The merino liners managed moisture well and are very comfy. 
- Cam McRae