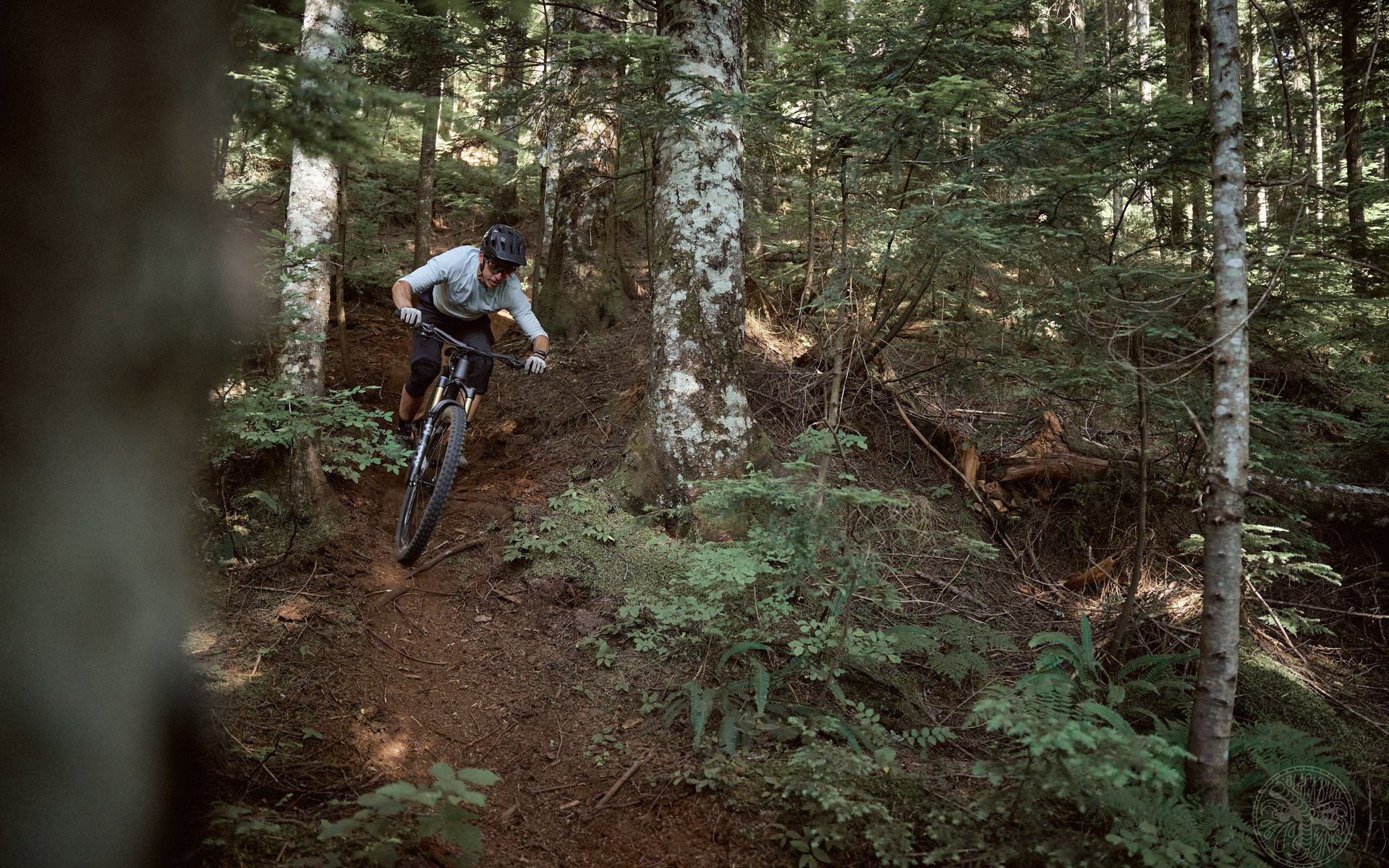 3 TINY REVIEWS
Gear Shots: August 10, 2021
Tifosi* Optics Sledge Lite - Cam McRae
*Tifosi means fans or supporters in Italian
Riding with my eyes covered isn't always possible on the North Shore, particularly. in rainy season, but I'm always happier when I can cover up. In the rainy season. it's tricky but when it's cold a full coverage lens keeps my eyes from watering and prevents debris from dislodging my eyeballs at any temperature. This time of year the enemy is dust and when it's bad, only goggles will do, but most of the time on the south coast of B.C. you can get by with something like the Tifosi Sledge Lite.
Fit is key with eyewear and the Sledge Lite grips well enough to prevent bouncing. The rubber nose piece grabs on nicely as well and can be adjusted by bending into a shape for every proboscis. Changing lenses is a little awkward. Well for me. I often feel like I'm in danger of breaking the lens or the frame or both, but it has always worked out so far. There is not system with folding temples for these; you simply grip the centre of the frame and pull down on the edge of the lens. Putting the lens back in is less fraught and it's less fiddly than some other products I've worn.
Overall these meet all my needs and, considering the three lenses included, they are decent value. I don't think any rimless shield type riding glasses look very good, but these certainly aren't the worst. You. can also check out the regular Sledge (Sledge heavy?) which has a rim,. slightly more coverage, and a little more weight while sharing many features with the Lite. Best of all you'll look less like David Hasselhof wearing a speedo with. the Rimmed version.
Tifosi Optics Sledge Lite - 80 USD
---
SR Suntour EQ Air Shaft - Andrew Major
When I reviewed the latest edition of the SR Suntour Durolux I was forced to admit that their new EQ air system is a step up in performance from the past coil-negative spring forks. It's easier to set up, it's quieter, it's smoother off the top, it has the same excellent chassis, and the price stayed the same.
For most folks this is great. A notably improved fork for the same investment. But I loved the old coil-negative spring system because it was so easy to lower my Durolux as much as I wanted by just clipping on spacers. And if you're thinking the Durolux 29'er is already available at 150mm, 160mm, and 170mm travel lengths, that's true. And if you're wondering how much I want to shorten my 2100-gram Enduro fork. Well, 120mm travel sounds about right.
As it turns out, the beautiful thing about the SR Suntour EQ air systems is all the air shafts are interchangeable. Looking for a truly robust 100mm dirt jump fork? Want a chunky 110mm 29+ fork that can easily eat a 29x2.8" tire? Looking for a 120mm fork with a tall axle-to-crown to preserve frame geometry while limiting travel? Okay.
I have a number of rides on the lowered Durolux EQ and compared back to back with the previous generation fork, my conclusions are exactly the same looking at the two systems at 170mm travel. Support from the air system is excellent and the fork remains very smooth in spite of the fact I've increased my air pressure quite substantially to manage chunky Shore trails with 120mm travel. The process is easily reversible, so I don't have to think twice about swapping back to 170mm travel for a future frame-only review opportunity
It's a bit more work to put a 100mm, 110mm, or 120mm Axon 34 air shaft into a Durolux 36 chassis than just swapping across Durolux EQ airshafts. If you jump into my teardown piece you'll see swapping the air shaft is at most a one beer job, but in this case, the inner diameter of the stanchion is different so the top cap and air seal both have to be swapped as well. To accomplish this you're going to want a proper set of aluminum axle clamps and a bit of heat to melt the Red Loctite. Alternately, any competent shop should be able to perform the swap, or if your Durolux is due for a full overhaul, check out their service centers. In Canada, you can also get service and support for their high-performance products at SuspensionWerx. In addition to listing for the USA, I've heard only great stories about service from the folks at envelo.
The shafts are 60 USD | 75 CAD and installation will be included if you're getting a full teardown done. Between the Axon and Auron EQ options, it opens up the Durolux EQ 29'er platform for a travel range from 100mm to 170mm in 10mm increments.
Race Face Steel SHI-12 Ring - Andrew Major
Race Face produces a few interesting chainrings for their Cinch interface. My favourite example is their aluminum narrow-wide 1x Cinch chainrings coming in small sizes all the way down to 24t.! know 24t probably only really exists to satisfy some fat bike rider trying to winch their 5" rubber through soft snow to go ice fishing, but as the parent of a little mountain biker I like to hope it's actually the precursor to some short lengths - 135mm, 145mm, 155mm - of their 100 USD | 135 CAD Ride Cinch cranks for kids.
Come on Race Face, think of the children!
Another interesting chainring that Race Face makes is their steel narrow-wide model that sells for 20 USD | 27 CAD. The standard narrow-wide model has been available for a couple of years now and the Shimano 12-speed (SHI-12) model shown here has been out in the woods for quite a few months as they came stock on a number of min-maxed machines for 2021.
Price-wise, they come in around 1/3 of the cost of a machined aluminum Cinch ring but that's not surprising as it is significantly less expensive to make a stamped steel chainring. These long-wearing widgets are strong and cheap so you've probably already guessed that they weigh a lot. Do you care? They're around twice the weight of the equivalent tooth-count aluminum Cinch chainring so we aren't just talking about a few gummy bears here.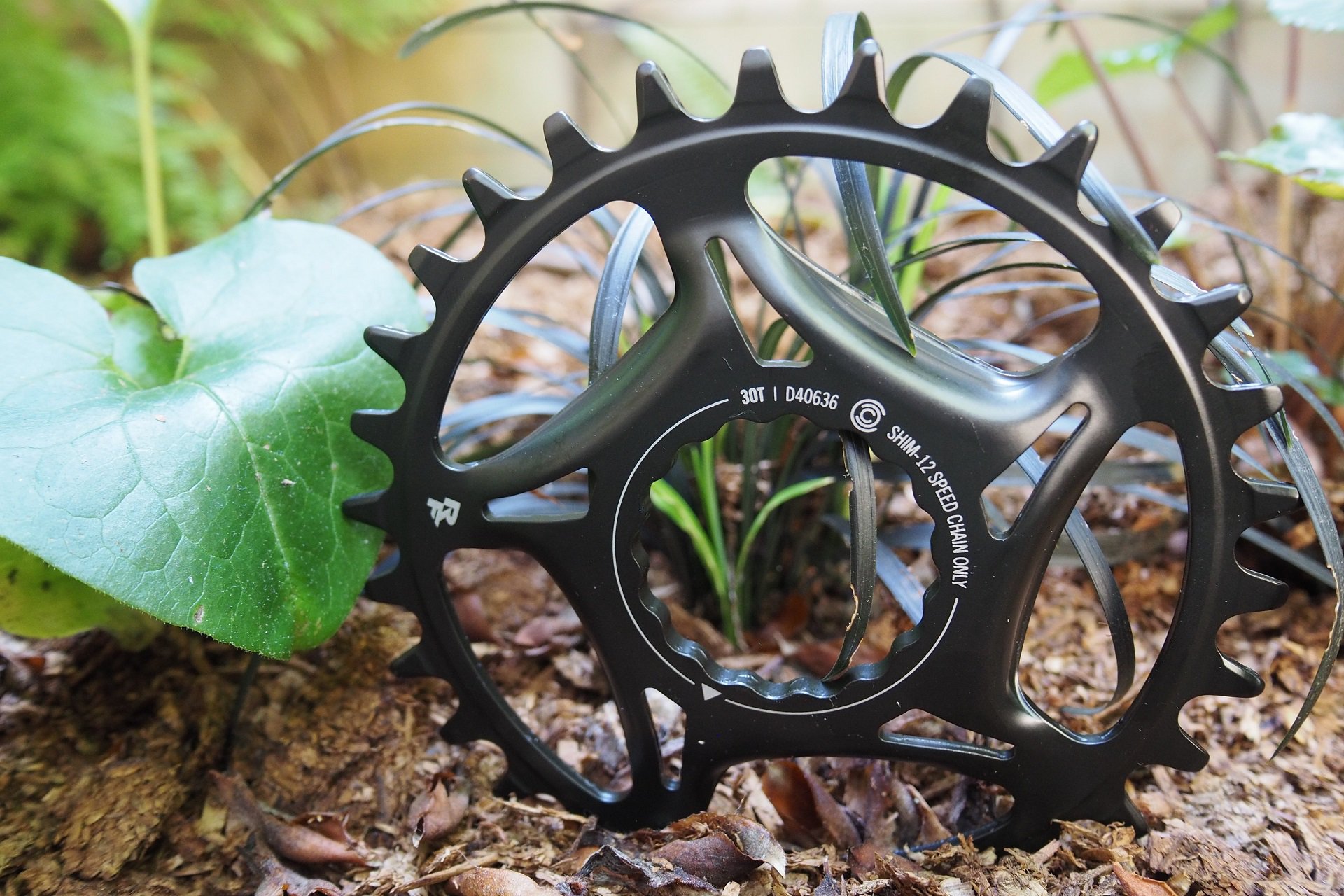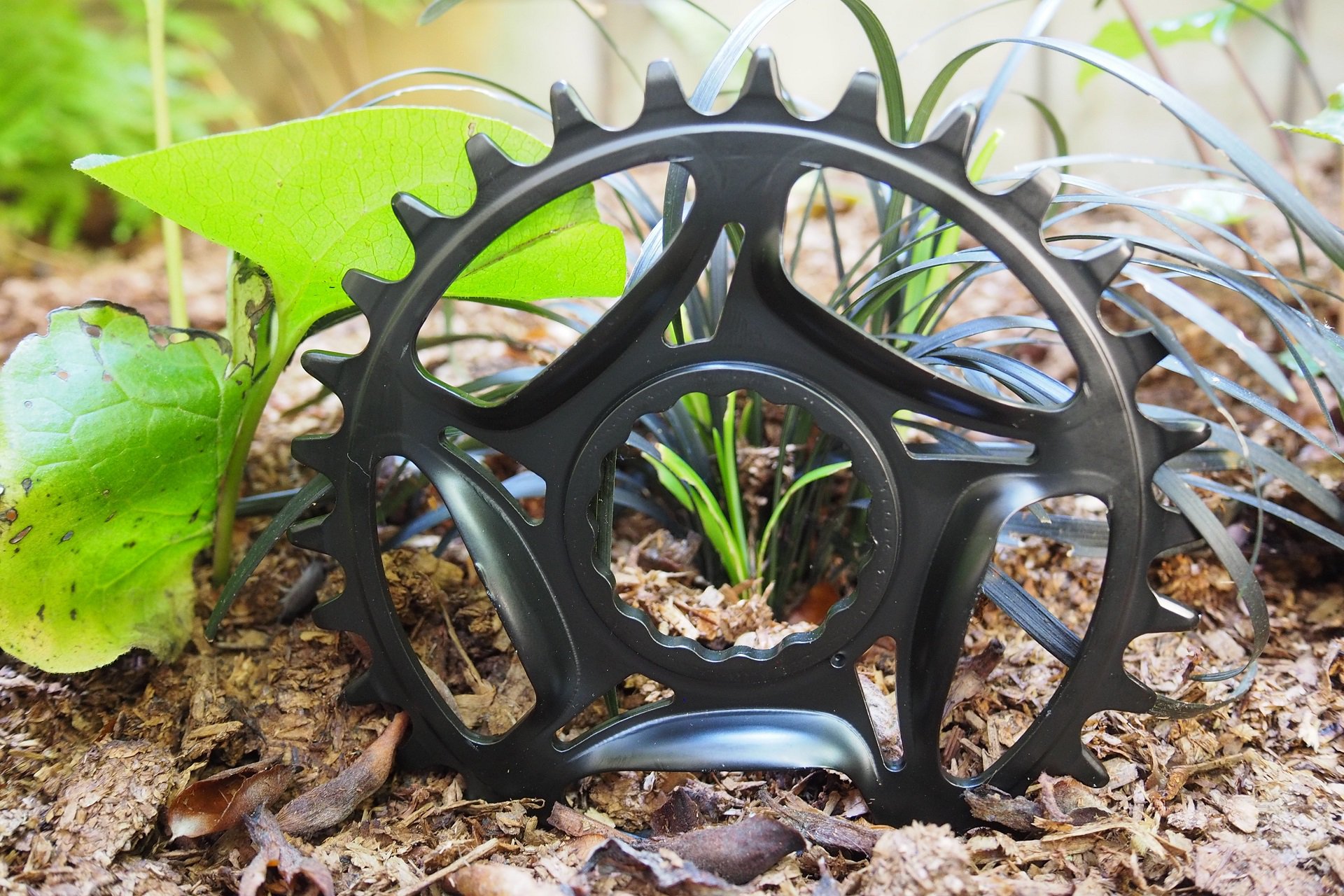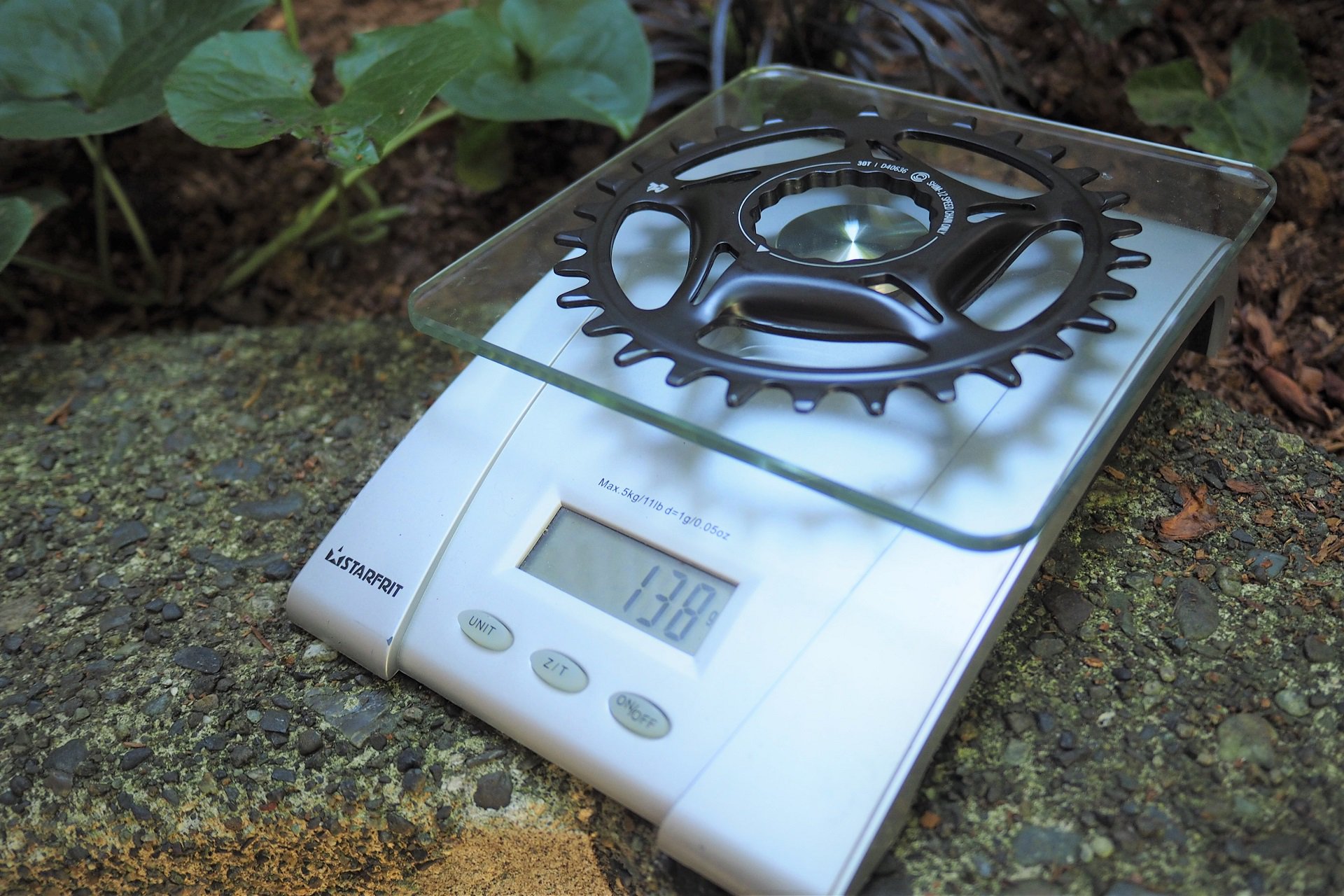 I have plenty of experience with the standard Race Face steel narrow-wide rings and I can't see any reason that the SHI-12 wouldn't hold up equally well. Which is to say, in addition to their lower price they'll give the boots to any aluminum ring I've ridden. I had someone try to tell me that they're harder on chains but that hasn't been my experience and if anything I think worn-out, burred, and finned aluminum teeth would actually cause just as many wear issues as properly shaped, but harder wearing, steel teeth.
I know more than a few riders smashing these rings around the Shore and the only complaints I've heard come down to grams. I'm thinking of voiding the warranty on mine and modifying it so I can mount up a half-bash-guard. Not because I'm worried about the ring breaking, but rather I could do with a bit of chain protection at a lighter weight and lower cost than running a Cinch-spider, 104-BCD chainring, and a bash guard. Need to protect those rare Shimano 12-speed chains! Maybe some food for Race Face designers' thoughts.
The rings are available in 30t, 32t, and 34t currently and my fingers are crossed that 26t and 28t will be available in the future. Oh, and when I say currently I mean that in the theoretical sense. Hopefully, they'll be back in stock at Race Face soon.