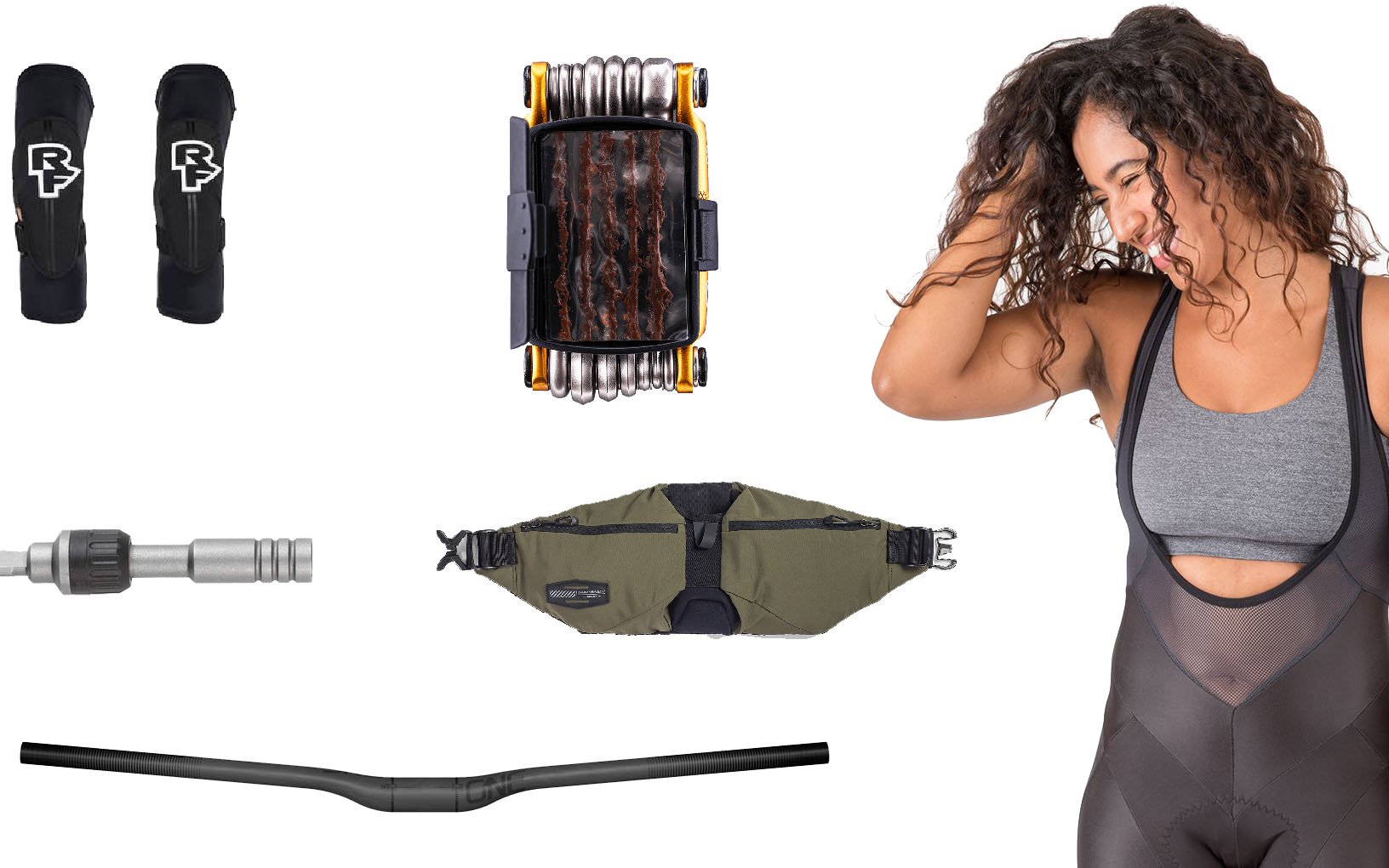 MINI REVIEWS
Gear Shots June 4, 2021
Crankbrothers M20 Multitool - Deniz Merdano
Crankbrothers' M20 is the top dog in the California company's tools category. It's hard to call this one pretty, but it has a fairly comprehensive set of tools built in and a removable box for tire plugs on top, and it holds a couple of spare chain links too.
The chain-braker is the most interesting piece of cast steel in the system, which wears many hats and feels great in the hand while doing so. Apart from breaking chains apart and putting them back together, it also has 3 spoke wrench sizes, a valve core remover, a rotor straightener, a brake pad spreader and an 8mm open ended wrench. The size of the tool is great for getting the torque down on an 8mm pedal spindle.
This tool has been living in one of my riding packs for a while. I don't transfer tools around my packs. For the record, I have four: Evoc pro hippack, Evoc Capture 7 Photo hip pack, Evoc trail 12 backpack, Shimoda Explore 30 Photo backpack. Each one of these packs has a set of tools, tire plugs and emergency blankets permanently stashed. Not all tools are the same or offer the same functionality but the CB M20 is always a treat to reach for when needed. Knowing that it has the tool I need that works is always a bonus and not having to pack a dedicated tire plug along with it is a big time and space saver.
And I love the subtle THC letters that may or may not have been intentionally built into the profile of the chain tool… So I put my hands up 4 this 20..tool
Its 203 gram weight is a little chunky but it feels solid.
CrankBrothers M20: $39USD // $50CAD
---
OneUp Carbon Handlebar - Ryan Walters
I've lately been finding that my riding has benefited a lot from running a stiffer fork setup. My pressures and damper settings seem to keep edging incrementally higher. At the same time, my bones and joints seem to keep getting incrementally older, so while I really love the control and composure of an aggressive front end - my wrists were starting to feel the side-effects of that control.
Enter the OneUp Carbon Handlebar - a bar specifically designed to address hand and arm fatigue. I was skeptical at first, but the potential benefits of a noticeably more comfortable ride were hard to pass up. It's hard to put into words, but there is definitely something special going on in these bars. If I can steal a term from snowboarding, the best way to describe the feeling is "damp". Steering precision feels on par with any other bar I've tried, but the OneUp does a way better job of muting vibrations and softening the harshness of rowdy trails. It doesn't hurt that they look pretty badass as well.
The OneUp bar is available in 20mm or 35mm rise (only comes in 35mm clamp diameter), 800mm width, and weighs a scant 220-225g. It can be ordered directly from the OneUp website, or found at your local bike shop.
OneUp Carbon Handlebar: $139.50 USD // $182.00 CAD
---
Race Face Indy Knee Pad - Veronika Voracek
The Race Face Indy Knee pads come highly recommended by many riders so I was eager to give them a go. Immediately upon putting them on, I knew they were not going anywhere. With a silicone thigh gripper and a second silicone patch on the shin area, as well as a strap around the calf, these pads are locked in. The sleeve itself sits high on the thigh so there's no chance of it rolling or sliding down. They are super comfortable to pedal in and the mesh material of the sleeve is breathable and light. The actual pads are made of D30 foam which hardens on impact but are still soft, pliable and move with you. These are great, low profile knee pads that offer maximum protection when you need it.
Race Face Indy Knee Pad: $100 CAD // $76 USD
---
Machines For Freedom Endurance Bib - Veronika Voracek
Based around comfort and inclusivity, this female founded company has designed a bib short for every body…every female body that is! With sizing ranging from XS-XXXL and two different inseam lengths, they have taken all unique body shapes into account. This bib is built around a high density, Italian chamois that fits all sit bone widths, it is paired with high-compression fabric that ensures the chamois doesn't move around and/or bunch over the course of your ride
I don't wear a chamois all the time, mostly on a gravel bike and perhaps here and there for a longer mountain bike ride but after trying out these bib shorts, I am tempted to live in them. The compression fabric provides amazing comfort while providing a sleek silhouette; think control top pantyhose in the form of performance wear. The chamois itself is top quality and truly designed around a women's body shape. It is larger than other chamois I have but it doesn't feel bulky as all the padding is in all the places you need it to be. The wide elastic leg band prevents the shorts from riding up without pinching or discomfort. I genuinely cannot say enough good things about these bib shorts and the company that created them. I encourage you check out their website and learn more about this fierce female brand.
Machines For Freedom Endurance Bib: $235 USD
---
Bontrager Rapid Pack -Graham Driedger
A 1.64 litre capacity hip pack sounds extremely tiny. Luckily, the layout of the Bontrager Rapid Pack features two reasonably cavernous, stretchy pockets on either side of a neoprene water bottle sleeve. The zippered pockets offer smaller partitions for snacks/tools/, or stuff the whole pocket full with a fresh jersey or lightweight emergency shell jacket. A dedicated padded phone/flask sleeve in the right pocket is thoughtful, keeping your (likely) $1k+ screen safe. Also included is a full sized 769ml water bottle, along with an efficient, yet pint sized multi-tool for minor trailside repairs.
This bum bag allows you to carry short ride essentials, or can extend storage for longer days. I prefer to store my pump/multi tool (OneUp EDC) and water bottle on my bike, with snacks in my pocket - so I'll wear the Rapid Pack for bigger missions which require more water and food.
Bontrager's Rapid Pack is a minimally sized fanny pack for everyday riding, extending your mission a little further than where your pedals would regularly take you. MSRP is $79.99 CAD/$59.99 USD.
---
Leatherman Skeletool with Ratcheting Driver - Cam McRae
Your average multi tool is great for your common repairs and adjustments, but there are tools that can come in hand when things go unexpectedly haywire. They are the sort of tools you'll find on the belt of a cowpoke, a roughneck, or a backcountry guide, and most Leatherman tools do a great job of compiling the most essential tools to MacGyver your way out of all the weird and entirely unexpected things that can happen when you are hurtling down a hill on a 30 pound missile in unfamiliar territory. Maybe someone has ripped their saddle of the rails, or pressed their rear wheel into the shape of a valentines heart, or worse, sustained some sort of grisly wound that requires quick thinking, preparedness and the right tools to ensure things work out without amputation or organ removal.
I've started carrying a keychain-sized Leatherman in my fanny-ass-bumbumpack and despite packing a veritable wollop of tools, it weighs just 56 grams. Recently I became aware of a Leatherman attachment that turns 20 somewhat larger, heavier, and more useful Leatherman tools into ratchet drivers. The lightest of these without compromises that I could see is the Skeletool. It weighs 145 grams (5 oz) but has better everything than my Squirt PS4 tool, although by Leatherman's counting the larger Skeletool has one fewer tool. Leatherman claims 9 tools on the PS4 or 8 on the Skeletool by counting the cable cutters and pliers on both tools as two tools each, as in "needle nose and regular pliers." They are just pliers with multiple grip points, like many pliers, and a similar amplification is applied to the cutters. They are great tools however, despite the marketers' effort to turn one tool into two, twice.
The driver on the Skeletool is a non-standard, fixed, rectangular-shaped driver so you can only use Leatherman bits, unless you pick up their ratchet driver. This add-on fits into the rectangular bit holder but has a standard 1/4" ratcheting receiver so it will accept any small bits you already own, but Leatherman's flat bits fit in as well. The driver is sold without bits but you can buy a large set of 21 double-ended bits for 42 head options. It has everything you'd need for your bike except an 8mm hex and will set you back 31.95 CAD. There are a bunch of tools that would be of no use for your bike but may come in handy during a more adventurous outing.
If all of this seems a bit overly complex for a bicycle tool, I wouldn't say you're wrong. Given the choice between the Skeletool (70 USD) plus ratchet driver (30 USD), plus Leatherman bits (24 USD), you're looking at 124 USD or 156 CAD. It might make more sense to buy a ratcheting multi-tool, like Topeak's excellent Ratchet Rocket Lite DX for 35 USD and add a Leatherman Squirt PS4 (which has the best selection of tools among the keychain-sized models. You'll be ahead in terms of cash (88 USD) and weight; 211g for Ratchet Rocket and Squirt and 225g* for the Skeletool, ratchet, and bit set. If however, you are comfortable in the Leatherman eco-system, you'll be treated to some excellent quality tools capable of getting you out of all sorts of life-threatening scrapes, hopefully without the loss of organs or limbs.
*This is an estimate because the weight of the bit set is not listed on the Leatherman website