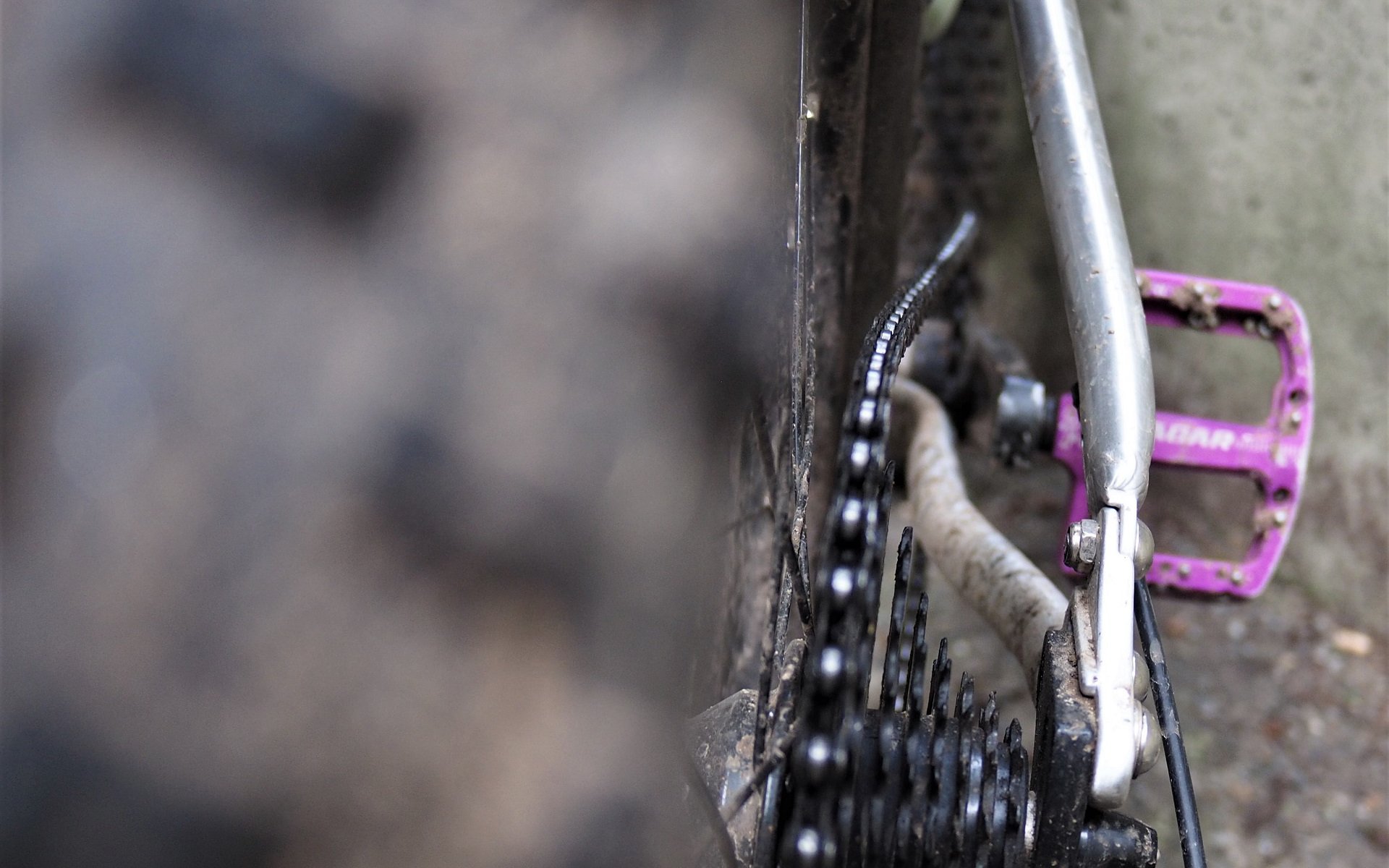 EDITORIAL - DOES THE FUTURE HAVE FEWER GEARS PT VII
Building A Better Kids' Mountain Bike Drivetrain
Bettering BOX 8-spd
I'll say this about the BOX 4 rear derailleur that came on my kid's bike; that thing has taken a right mauling. In seven months it's survived three shifter cables, two derailleur-hanger straightenings, countless direct hits, and more than a few incidences of being used as a combination brake & anchor to instantly arrest my child's forward momentum. Given how much spec this BOX 8-spd-with-clutch drivetrain is getting on grom-friendly rigs, I'm a bit surprised they didn't make the rear derailleur silver (so it doesn't look like crap after the first two real rides) but for the price, it's hard to argue with performance.
The clutch keeps things plenty quiet at 20" wheel speeds, she hasn't dropped a single chain, and the shifting action is light enough for a six-year-old's thumbs to drive the derailleur through most of the gears in the heat of battle. For riding on North Shore single track, the gear my daughter climbs in is the lowest option and in addition to a positively awful chainline, shifting up to the 42t big cog can be hard on the road and often proves impossible on the trail.
Unfortunately, this discourages her from shifting out of the 42t, which all but makes her Early Rider an over-complicated single speed with an awfully-angled chain anytime we're hitting the trails. I also notice that when we're out on the road, my daughter never uses anything close to the combination of her 30t chainring and the 11t small cog. Time to jump on the Sheldon Brown Gear Calculator, crack open my box of outdated spares, and math out a better way to turn 127mm cranks offroad.
It's a long story, but in my box of bits I happen to have a chunk of a Shimano 9-spd M770 cassette. It's six cogs on a single aluminum carrier with a range that jumps nicely from a 17t to 34t cog (17, 20, 23, 26, 30, 34) and with a 12t lock-ring and a couple of featherlight aluminum spacers from a single-speed kit a project is born.
One major goal is to keep the price down, although I will spring for an aluminum narrow-wide ring over a steel one, and that absolutely means sticking with the BOX shifter and derailleur. Luckily the spacing difference between 8-spd and 9-spd, especially the aggregate change over six cogs, is minimal so I'm unconcerned about mixing-and-matching here. Since the BOX 4 derailleur will easily shift bigger cogs than the stock 42t, and since I'm stepping down to a 34t cog, I can move the cassette quite a bit outboard, as with my 14-spd project. Sadly, the chainline isn't going to be as good as I'd hoped because of interference with the low-limit screw at the higher-end of the range, but I'm happy.
One note for anyone with a box of parts and a BOX 4 derailleur following along at home, the derailleur set screws use a fine thread-pitch and a much longer-than-stock screw is required. I ended up using a Magura pad retention bolt, which ships with every set of their individual-four-piston pads, and then cut it to size. Same thread-pitch and easy customization for the win.
But Weight!
Improved chainline and much better shifting in the gears my kid most uses on the trail are my key objectives but the wow factor here is certainly the weight savings. I am saving more than half the weight of the stock chainring and cassette that came on her 20" bike.
To be precise, I'm reducing these two components by 336-grams just for the cassette and ring and that's not looking at the three links of the chain I removed. I would say it works okay with the stock 8-spd chain, but I'll change it out for a much nicer, fairly fresh chain off my wife's old bike which is too short for anything we're riding now. I knew I kept it around for a reason.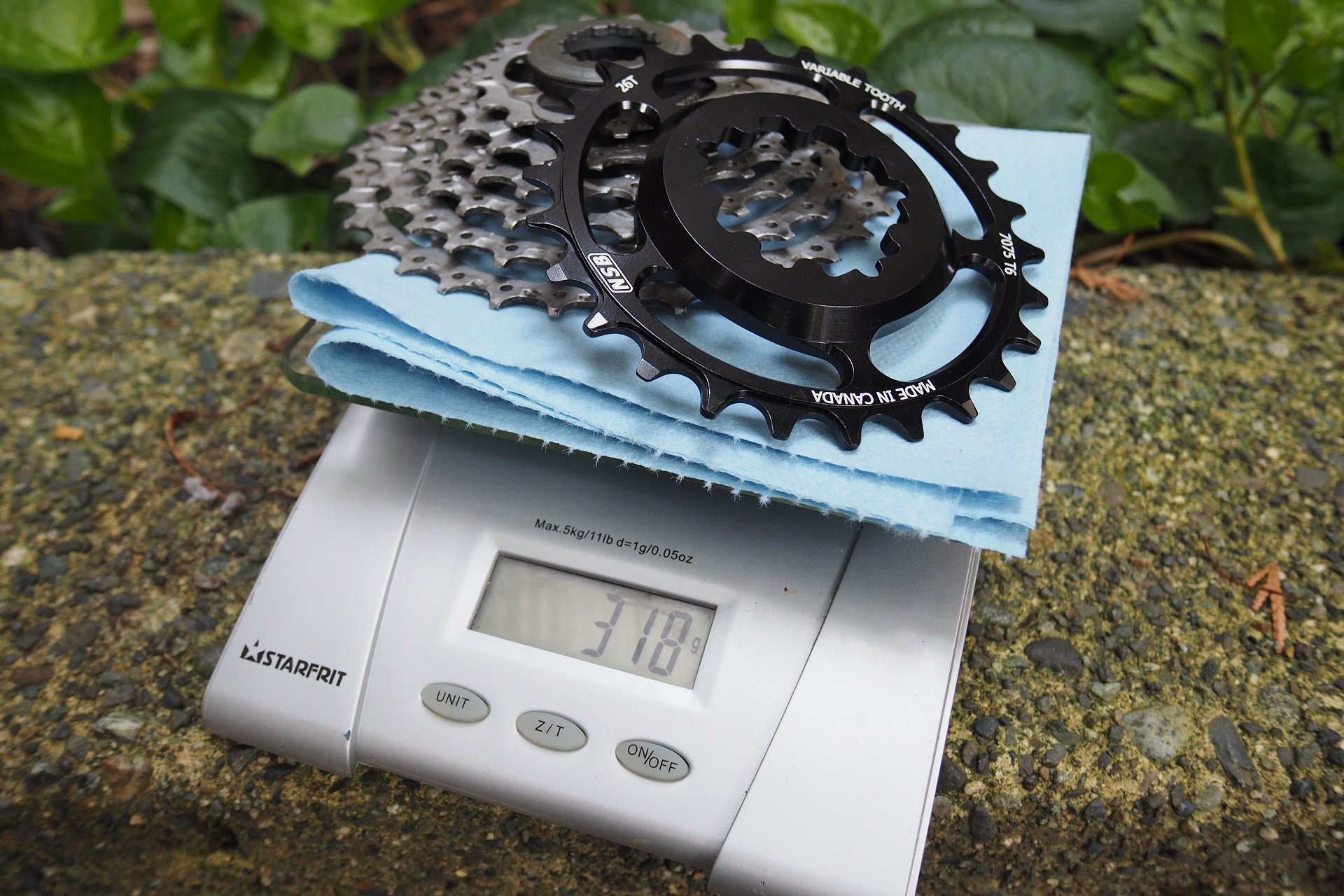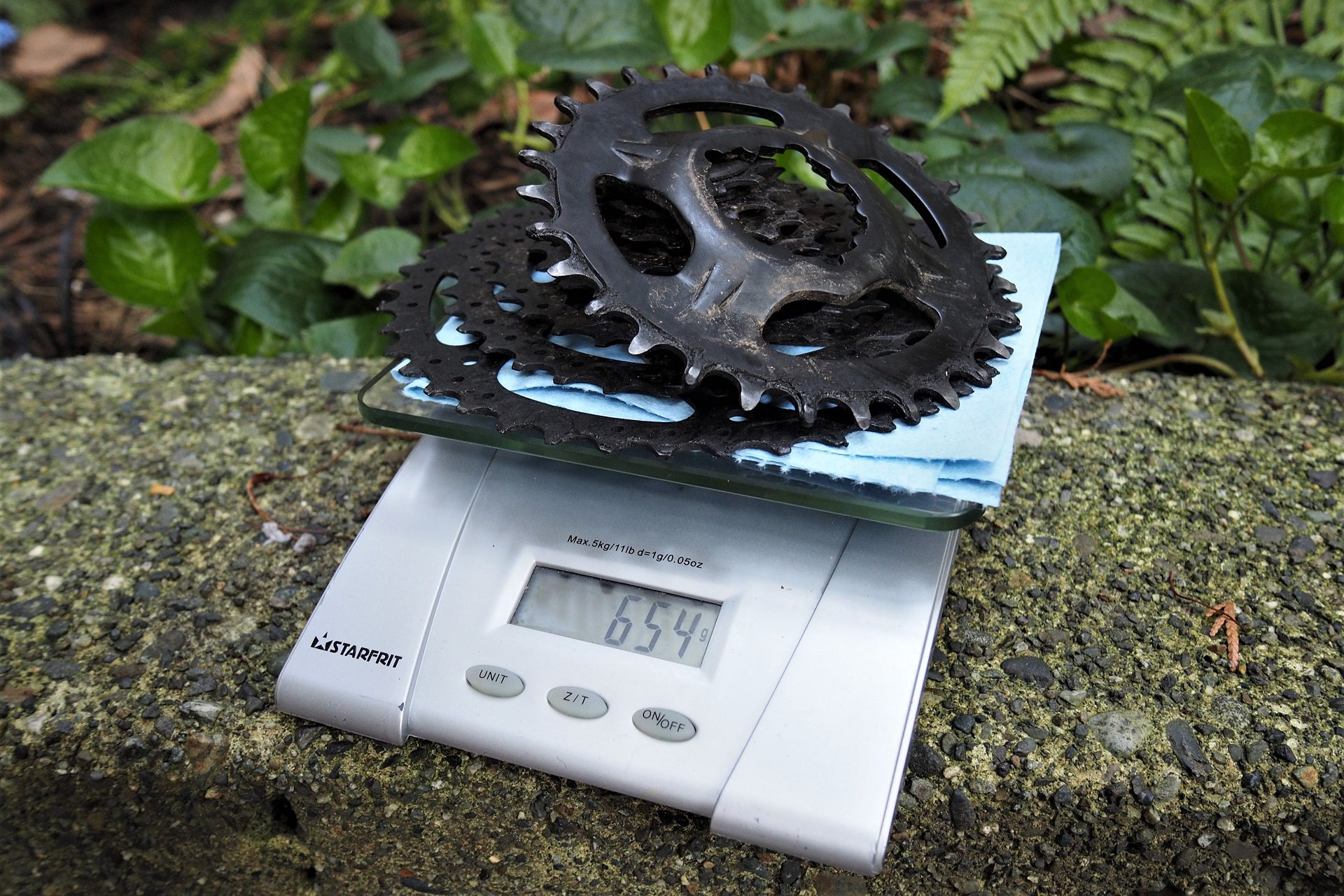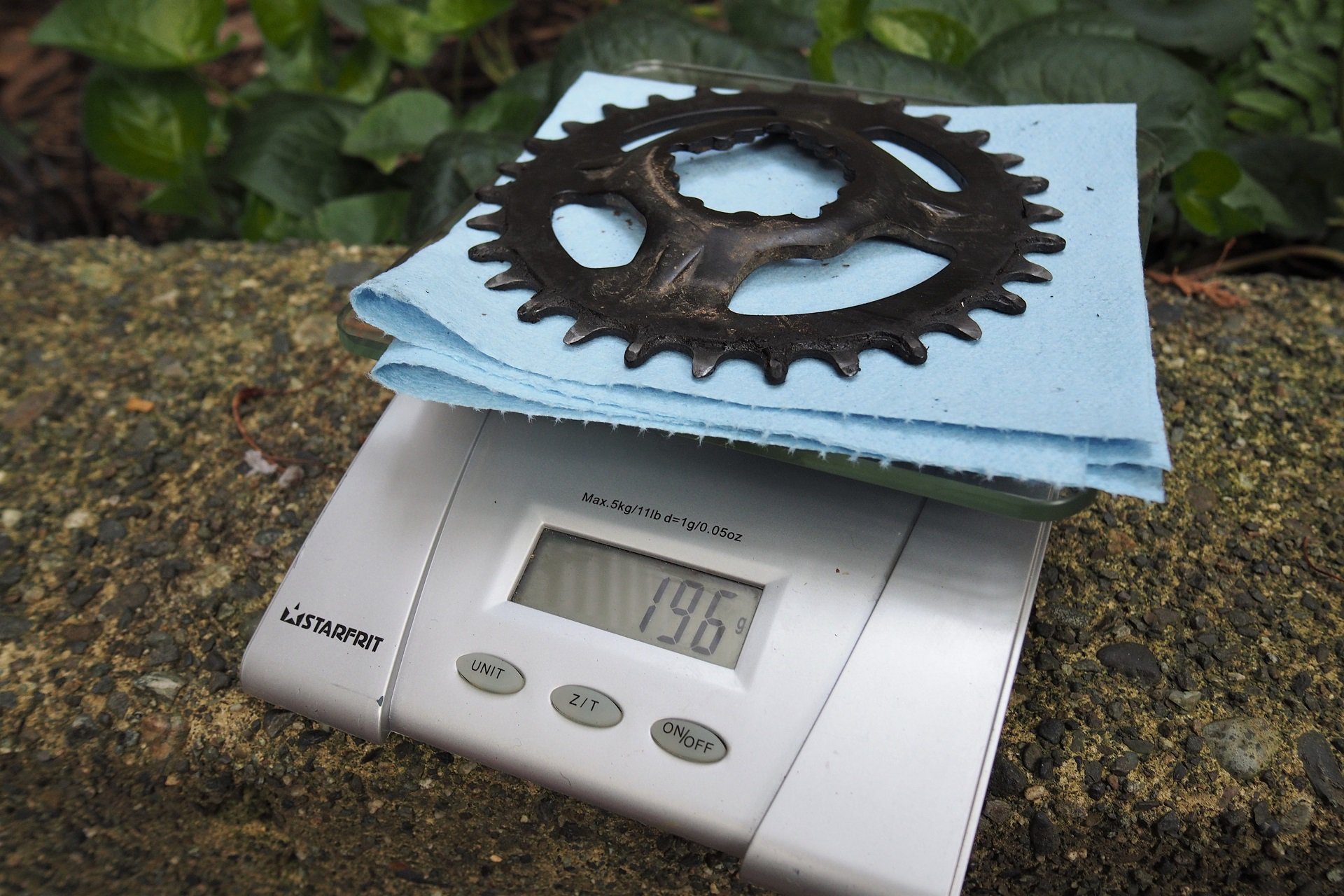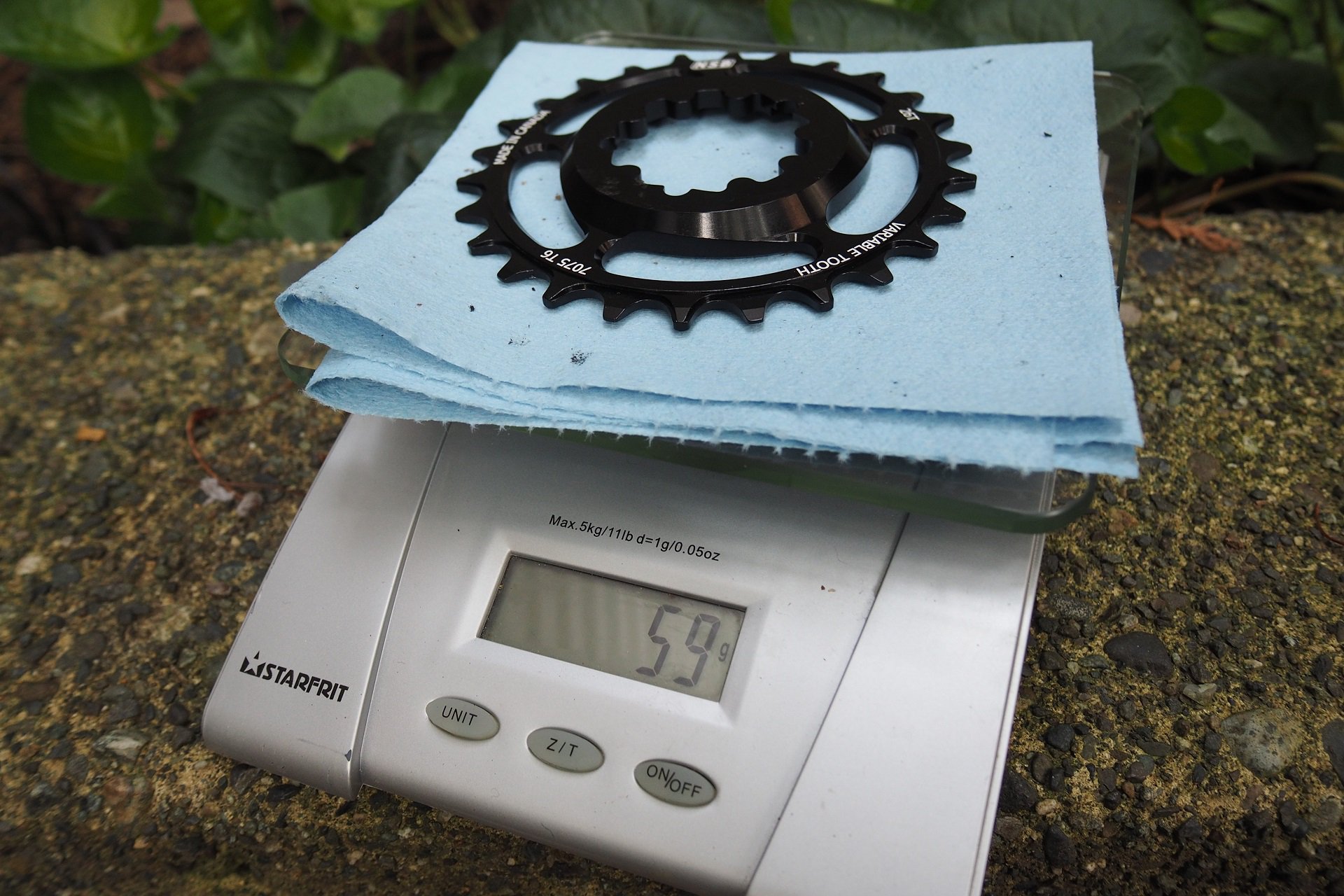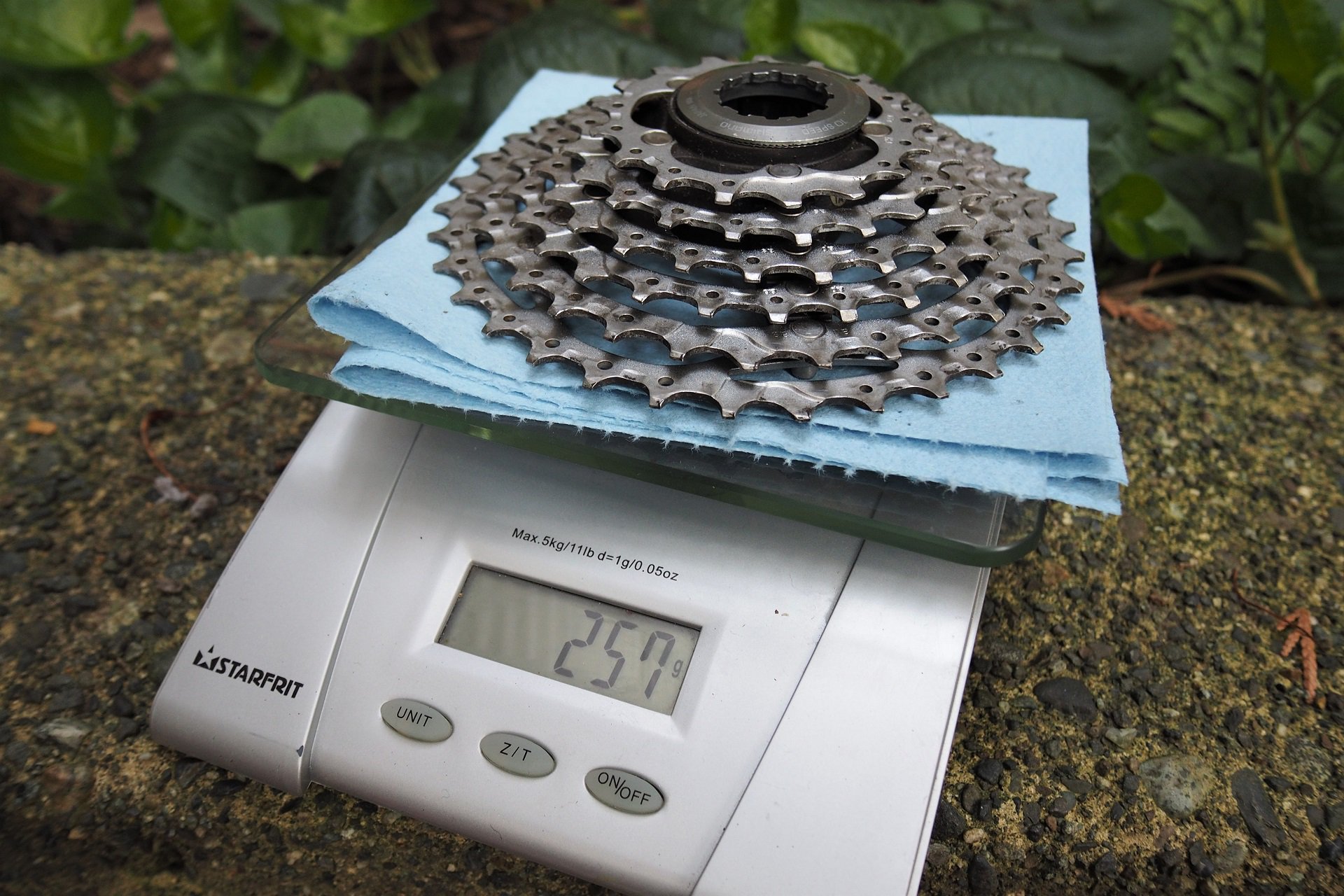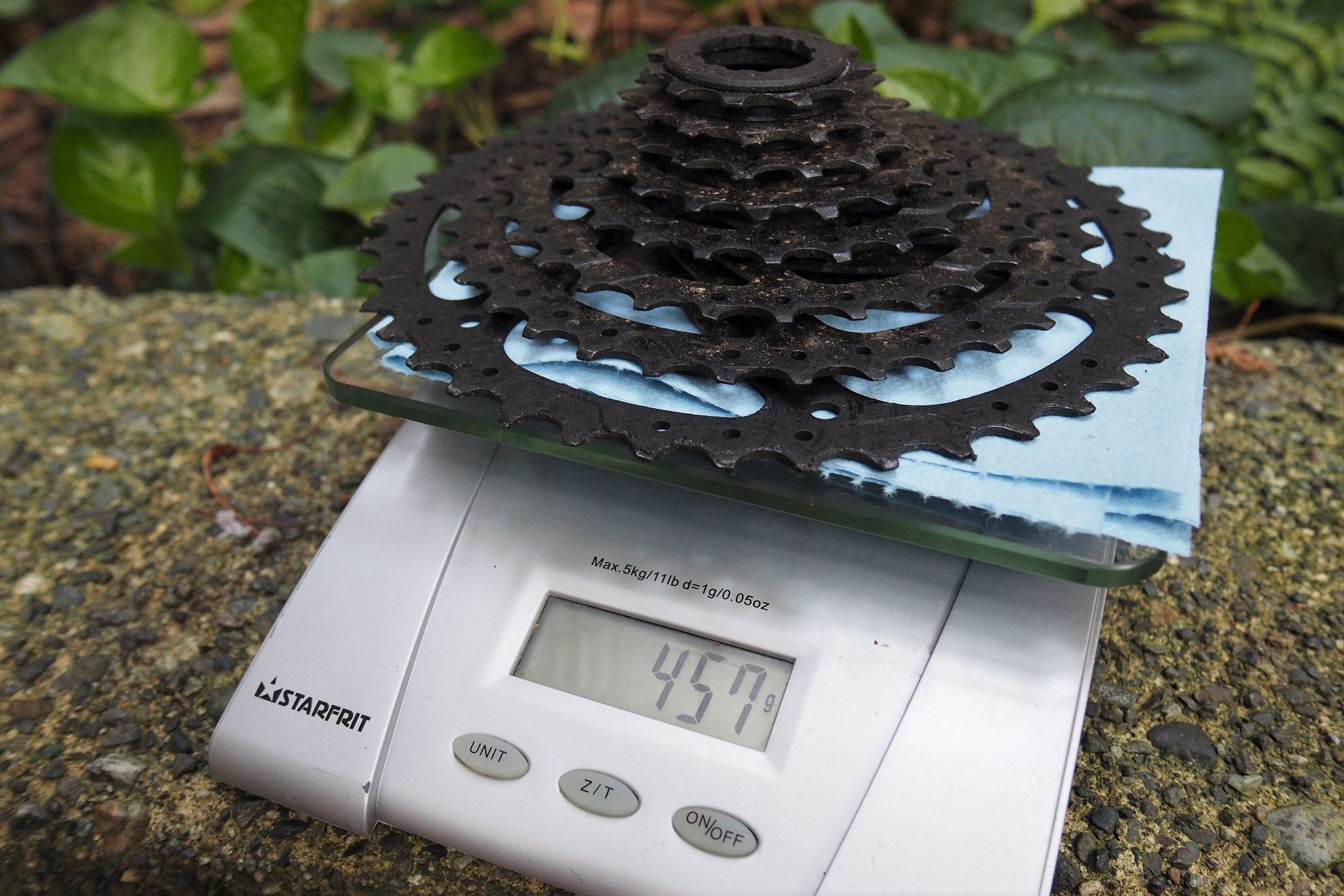 I could go with a much less expensive steel 26t ring - from Race Face for example - and there's also the potential to butcher the stock cassette to drop grams without any cost beyond time, but here I'm reusing some old parts that are a sunk cost and for which I don't have another use. In terms of the chainring, the North Shore Billet (NSB) rings hold up really well, have great chain retention, are made in BC, and yes I am getting sucked in by the weight savings for my tiny person and the fact they look sweet.
The shifting immediately improved as well with the cassette and chain combining to deliver much smoother and crisper jumps from cog to cog.
Universally Improved
The shifting is smoother and lighter between the higher-end chain, XT chainring, and NSB ring and that's with no change to the BOX 4 rear shifter or derailleur. I'm genuinely impressed with how quickly and easily it came together with no customization aside from the low-limit screw on the rear mech.
I occasionally felt a modicum of guilt previously, knowing my kid could shift on the road but was finding it very challenging to pull off the jump to-and-from the 42t cog on the trail. What started as a plan to just drop on a smaller front chainring - and gain some usable ratios - morphed into a custom six-speed transmission delivering the low-gear she wants on climbs and the higher gear she needs to hit the local trails with plenty of options in between.
I also have the option to add in more high gears as needed if the 26t chainring and 17t cog prove too light for pedaling on the pavement. Maybe I could dig up a 12t high cog and a 15t to fill in the gap? For now, I think the current range is going to be perfect.
Some of my home bicycle projects don't turn out this well and I'm excited to see if after a few rides my child starts to shift more. My next projects are a front & rear tubeless tire conversion so we can cheat a bit more on air pressure and I'm also going to make new shims for her brake levers to eliminate some of the play that's resulted from crashing the bike a lot of times.
I'm always curious what projects other parents are undertaking to maximize the performance of their kids' bikes - especially when it comes to min-maxing the investment in something they crash regularly and grow out of right in front of you - so please let us know in the comments below.