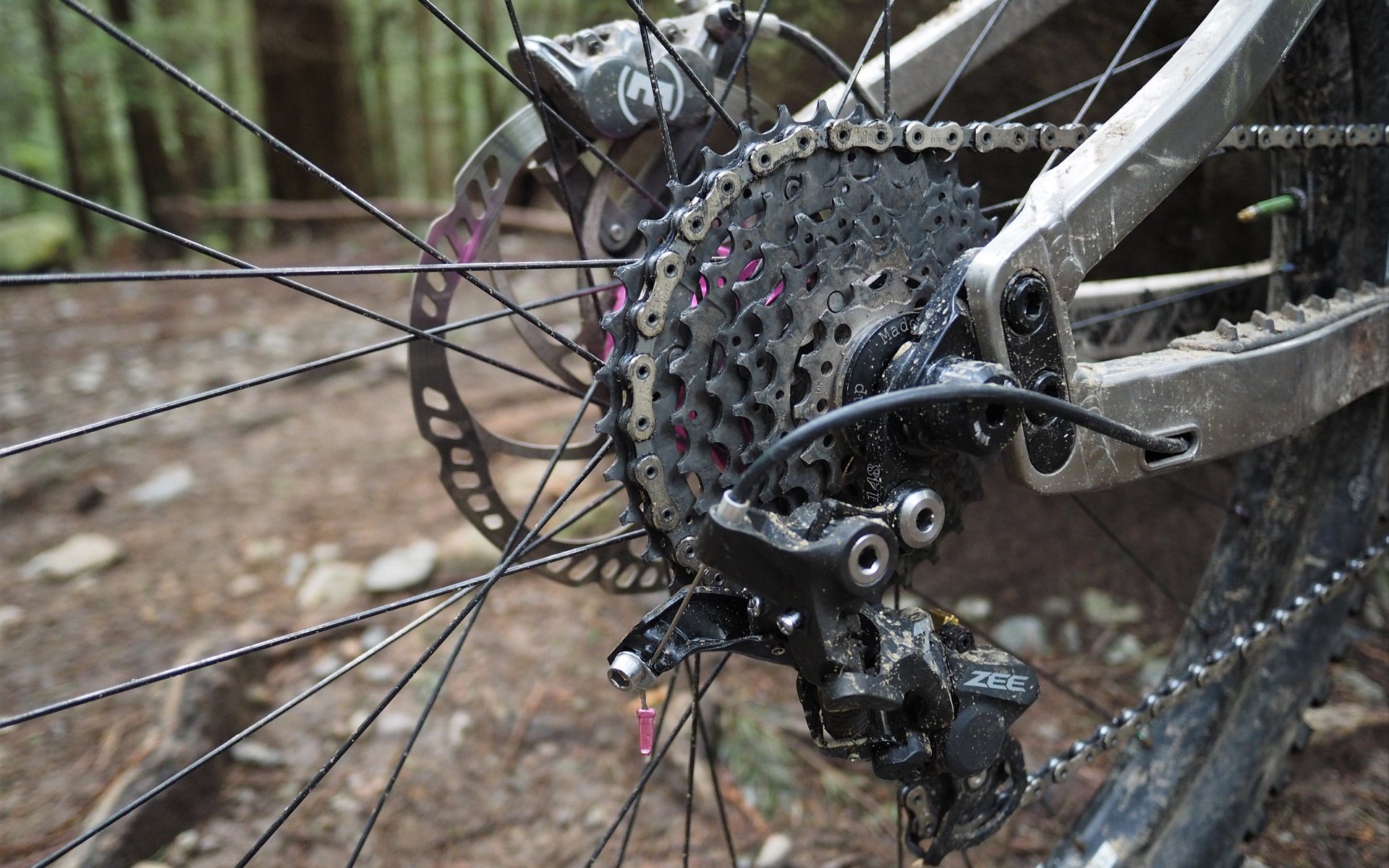 Editorial - Does The Future Have Fewer Gears pt VI
Going To 14 Speed
Coming Back To Bash Rings
It all started with my review of the Wolf Tooth BashSpider. Oh, how I missed having a bash ring! It turns out, that smooth and reassuring bracelet of aluminum between my drivetrain and various toothy trail features matters way more than I remembered. And, in use, I vastly prefer the rotating bash option over a fixed bash taco mounted to my frame's ISCG tabs. The BashSpider however, is expensive. Never mind buying into the CAMO system if you don't already have a ring, and plenty of folks already have a 4/104 bash ring sitting at home in a parts bin. Surely there's a more min-maxed solution?
It's a CINCH really. Well at least if you own a Race Face crank. If you're running SRAM then North Shore Billet has your back - although there is an element of buyer-beware as some of the CINCH cranks do not have the spider's outer faces machined for a bash ring. This one does and as much as it clashes with the rest of my classy build, it meant I could mount up the only 4-bolt, 104-BCD bash guard still in my collection. That would be this decade-old, anodized orange beauty from Straitline Components.
Once the spider was installed to accommodate my bash ring, it didn't take long before my brain simply couldn't ignore the Grannie tabs. Where the Wolf Tooth BashSpider is a dedicated 1x system, the CINCH spider is a throwback to another era, way back before mountain biking completely divorced the front derailleur. For me, this is coming back around to some of my first experiments with 1x drivetrains. For quite a while after I'd ditched the front derailleur, I also had a manual-shift Grannie option mounted for those climbs that were just too brutal for my 32x36t, then 30x36t, then 30x42t.
Now I'm looking at a 32x51t SHI-12 drivetrain and thinking, why not run a lighter-weight, cheaper cassette with the gears I normally need and then have a bailout option for the killer pitches? Particularly the ones where I'm going to stop and catch my breath at the top anyways. If I'm running two narrow-wide chainrings we're talking about a few seconds to swap rings manually. Further advantages of the Grannie ring, even without playing with the cassette, are the much straighter - and, therefore, lower wear - chainline thanks to its inboard position and more even wear since I'll be climbing in a wider range of cogs. Oh, the number of cassettes I've seen with completely worn down aluminum big/low gears while the rest of the steel cogs look great.
Once I'm manually shifting front rings, and ditching the pie-plate-sized gears, I'm opening myself up to a conversation about lower unsprung weight and much shorter, AKA better, rear derailleur cages. Then I start ditching cogs for a significantly better chainline! It's a beautiful rabbit hole to fall down frankly. And it's made that much more beautiful, in these strange times of massive bike parts shortages, by the fact that the two-ring setup opened up my bike re-using a number of half-spent parts, and some better than new parts, sitting in my bin.
Tanpan Math
The XTR shifter in a drawer dilemma has plagued me for some time. A 9-speed M970 XTR shifter is worth close to bupkis on the used market. But, at the same time, this generation of XTR shifter is the one bicycle drivetrain product I feel truly gets better with age. It is the first shifter to use dual-release (a downshift can release one or two gears) and the action is at least as good as the current XTR.
Once I had committed to running fewer cogs mated to a manual 2x system, I knew 9-clicks wouldn't be a barrier, it was just a matter of getting the old 9-speed Shimano shifter to speak nicely to a current clutch rear derailleur. Enter Wolftooth Tanpan ratio convertor. These little beauties are expensive but I did the math and even at 45 USD/60 CAD it was a relatively sound investment into the XTR shifter I already owned.
Originally intended to allow for the use of Shimano's long cage and clutch-equipped mountain bike derailleur with the cable pull of Shimano's road 'brifters,' my Tanpan is the 10spd model. This is designed to allow the use of a 10spd (or 11spd) Shimano mountain bike derailleur with a 10spd road combo brake/shift levers.
Fortunately for me, while the 10spd Shimano mountain changed the cable-pull-ratio from 9spd, the 10spd and 9spd road components pull the same amount of cable per click. Additionally, 9spd is the last time that Shimano's road and mountain bike shifting was fully interchangeable. Ergo, the 10spd Tanpan will allow my 9spd Shimano XTR shifter to deliver up to 9-clicks of 10spd spaced shifting. Now, that may sound like I'm one cog short of a full cassette but I only wanted 5-clicks, and later 7-clicks, anyways.
Why My 2x5 Failed
My original plan was to go with a 2x5 (10spd) drivetrain, ramping my min-maxing by using old drivetrain spares that I already owned. Unfortunately, after my first real mountain bike ride, I had to reconsider. If I had an infinite amount of money, time, or connections I would 'just' make myself a custom 5-speed cassette that covered my 15-36t range with even jumps. But my experiment is based on an old 10-spd XTR cassette with a bit of life left that I managed to scavenge, and that limits options because of the composition of the cassette. The six lowest ratios (biggest cogs) are grouped in pairs and eliminating that middle pair makes for a massive jump both in terms of the ratio I'm trying to pedal and also for the Zee derailleur to make.
The gearing ended up being 15-19-21-32-36 and I was happy with both the high and low gears on my initial foray. The 15t paired with my 32t chainring occasionally proved a touch annoying riding from home, compared to having an 11t or 10t cog, but on the local trails I never need a harder, gear and I ended up staying with this ratio for the second generation.
Climbing single-track, the 32t and 36t cogs proved plenty relaxed mated to the 32t front chainring except when they didn't. For long grinds, it's a few seconds at either end to manually drop the chain into my 26t front ring and for short sections on otherwise less-vertical trails, I am happy to just stand and crank in the 32t ring as needed.
I should note, when talking about these gear ratios, that I am running a 27" rear wheel, having mulleted the Banshee Titan, and I would have preferred smaller chainrings, or larger cogs, with a dual 29'er setup.
Many Rides On 2x7
Even with adding a couple more cogs, my chainline stayed beautiful in all the ratios with both front chainrings. The final system consists of seven cogs, with 10-spd spacing, with the spread being 15-19-21-24-28-32-36. Being an M980 cassette, the 21-36t cogs are titanium. I actually haven't weighed the final product but the complete cassette weight was 272-grams and I swapped out three steel cogs (11t, 13t, 17t) for a series of aluminum spacers so that goes a decent way to offset the addition of the spider, Grannie, and four chainring bolts when compared to even a top-end 12-speed cassette.
Shifting is as crisp as anything I've ridden both up and down the stack. I had no learning curve in terms of ditching the shift-under-any-load feature of Shimano's SHI-12 HG+ systems but I suppose that would be the one complaint that anyone who's happily adopted bad shifting etiquette may have about my setup using it on the trail.
I am happy enough with the chainline, in all gears, with the 7-spd setup that I would probably stick with it even if I had the option to go to a 2x5 using whatever cog sizes I want. Given a custom option, I would actually really like to try a 7-spd system running 12-16-20-24-28-32-36, which I think would remove any complaints I have on the road and still deliver what I'm looking for in the woods.
Chainline may have been the driving raison d'être but another major plus in my books has been ditching the long-long derailleur cage. Even with the Titan's 155mm of rear-wheel travel, the super-short-cage Zee derailleur has no problem accommodating my gear range - all ratios work perfectly with both chainrings - and that's with the spaced-outboard 36t cog requiring quite a bit more b-tension than the derailleur would usually have in the same position relative to the freehub body.
Every time I handle a Zee rear derailleur I have to remind myself that this is actually a budget product. The much-more expensive Saint products are very nice, but this derailleur comes in around the SLX level and I don't think I'm alone in thinking that the quality in materials and manufacturing seems higher than any generation of SLX product.
Mated to that beautiful XTR shifting, pushing-and-pulling the Zee derailleur along my cassette stack is, I think, a better feeling shifting system than any of the Shimano 12-speed clutch setups. Even with their clutch detuned. Whether it's some magic of the Tanpan, or there is the proof behind my opinion that M970 is the best mountain bike shifter that Shimano's made, or I've drunk a six-pack of confirmation bias, I'm completely stoked on riding the system.
I actually use the 26t Grannie ring a lot less than I thought I would, which I attribute in part to the reduced effort required to turnover the smaller, 27", rear wheel. The Titan is by no means a lightweight, but it goes uphill very efficiently, if not quickly. I'm spending more time in the 36t than I would accept if I was still the combination of awful low-gear chainline and aluminum that high-performance 12-speed drivetrains bring to the trail, but with the relatively tight jump from 32t to 36t cogs allowing me to spread the load quite well and that over-mentioned straight chain, and the titanium cogs, it's no concern here.
When the going uphill does get steep, I'm the last person who'd complain about the odd 5-second break for a manual shift. There's still enough gear range running the 26t narrow-wide ring that I don't bother putting the chain back up into the 32t until I'm ready for some proper downhill.
My 2x7 drivetrain actually is a 14-spd system. By that I mean, it has 14 distinct ratios with no exactly overlapping gears between the 26t and 32t narrow-wide front rings and my selected cogs.
Does The Future Have Fewer Gears?
There are lots of locales where it's desirable to have a bigger high-gear than 32x15t. And, 500%+ gear ranges make for really good marketing spiels. And maybe some places where it's both necessary to have a true-Grannie ratio - via a massive 50t or 52t pie plate - and where a rider can't stop for 5-seconds to manually move the chain back up to the 32t at the top of the climb. And some carbon frames have a minimum ring size of 30t or the chain will be sawing through the chainstay. Plus, 1x systems do look cleaner and it seem a bit contradictory to be making claims about reduced unsprung weight while also trumpeting how much I love running CushCore.
All that aside, whether it is for the potentially lower unsprung weight, super-shorty derailleur cage, an opportunity to use old-but-awesome drivetrain parts, or simply a desire to be different, I know this system has some appeal. Surprisingly, it isn't even the kind of deep-bicycle-nerd appeal that makes the more casual observer's eyes fog up when they make the mistake of asking about something they find weird about one of my bikes.
I like the system to such an extent that a full suspension bike's compatibility with two rings up front is suddenly a real purchasing decision consideration . While I don't think front derailleurs are coming back any time soon, (I, for one, wouldn't be willing to give up the chain security of narrow-wide rings) but I can imagine seeing more manually-shifted 2x systems on the trail.