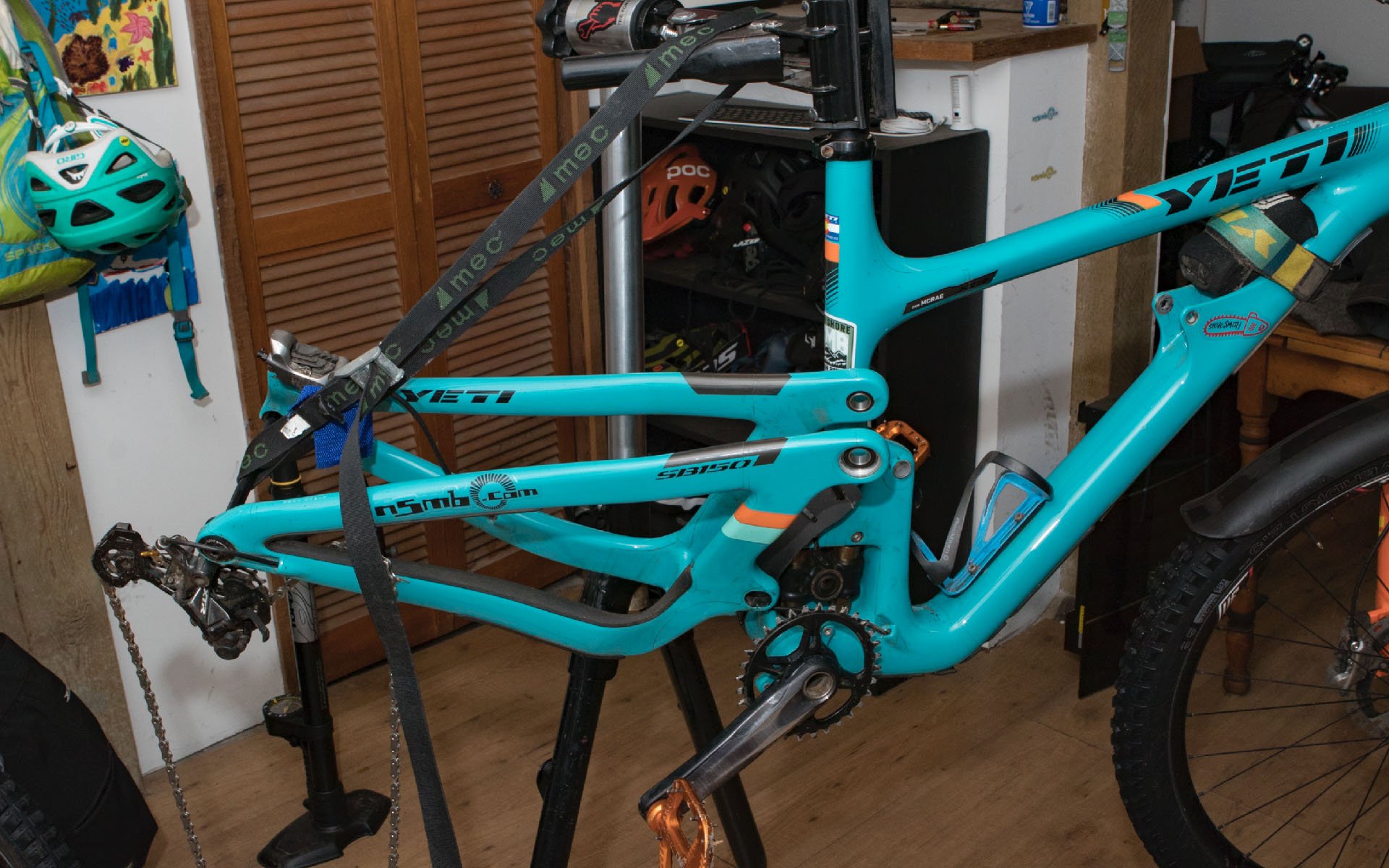 A DIY Tragedy in III Acts
Yeti SB150 Bearing Swap - How To and How Not To
How hard could it be to swap some bearings on a Yeti SB150?
This was going to be an easy job. A quick and tidy task about which I could speak confidently and knowledgeably in an article. That's probably an exaggeration of my mindset, but it turned into something much farther from that than I feared. I assumed there would be a Youtube video (or six) and a guide on Yeti's site, but I failed to find either. Yeti has an assembly guide that is very good, but the bearings are already in the frame for the example. Still, it could be easily reverse engineered to simplify disassembly. Or it could have been, if I had taken the time to do that. Instead I lumbered forward and focussed on the logical starting point.
I've always admired people who effortlessly do everything themselves. An early business partner of mine once raised his house several feet. By himself. I aspire to be one of those people who builds, fixes, renovates, recalibrates, and generally tackles tasks most of us leave to expensive experts, but I've taken only halting steps toward that goal.
When I was younger and dumber, I purchased a British sports car. It was a 1964 Sunbeam Alpine Series IV. She was a red beauty with original paint and only 85,000 miles on the odometer. I'd just sold my previous Alpine, a 1967 that was a bondo buggy, that no longer ran, for $1750 despite picking it up for $1950. It had, after all, only caught fire once. The '64 was a beauty though. The original spare was still bolted in the trunk and the owner's manual was in the glove box. It had a 1592cc motor that belted out 85 bhp, a removal hardtop but no soft top, and no radio. She was fun to drive though, thanks to a four-speed manual with 'electric' overdrive in 3rd and 4th.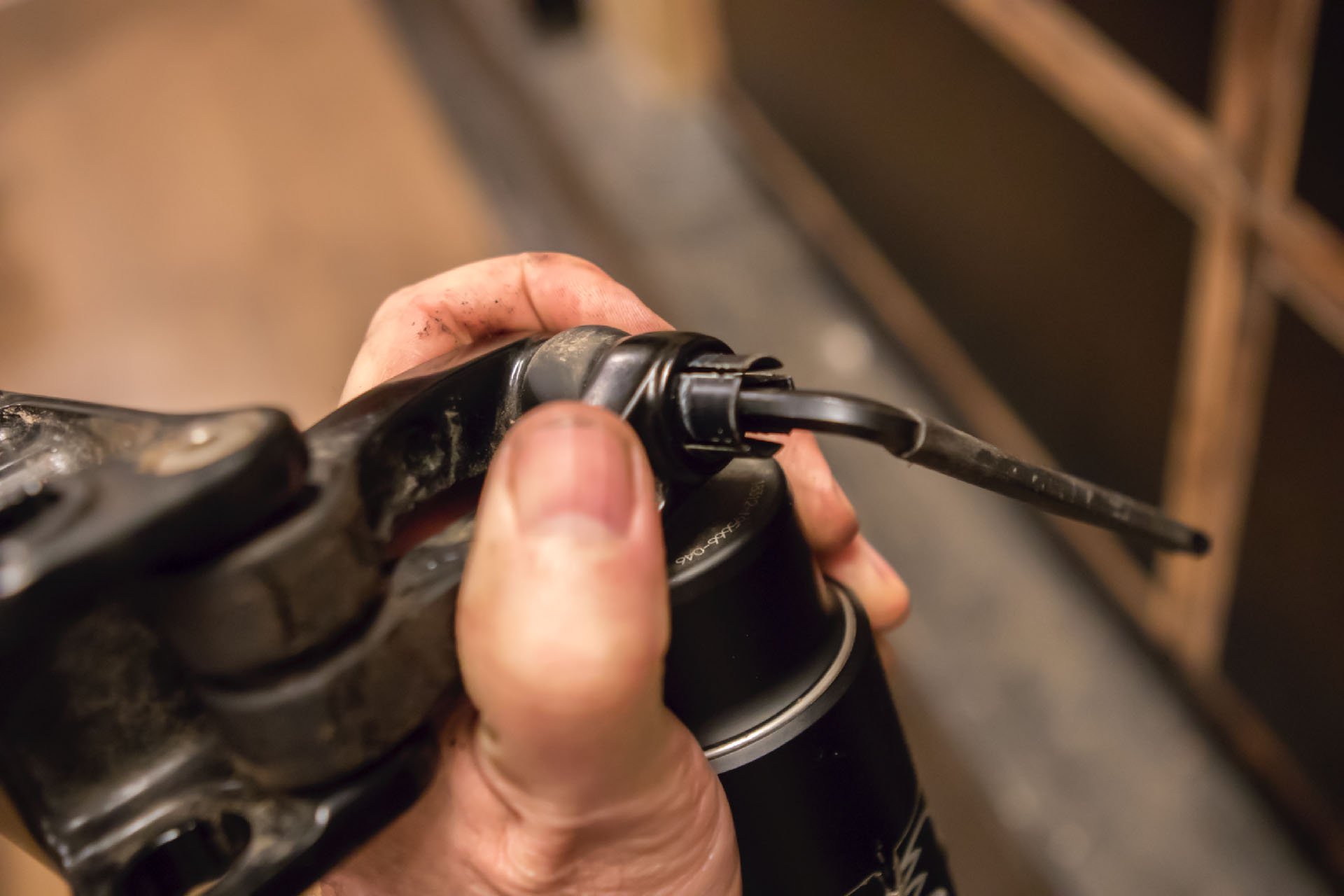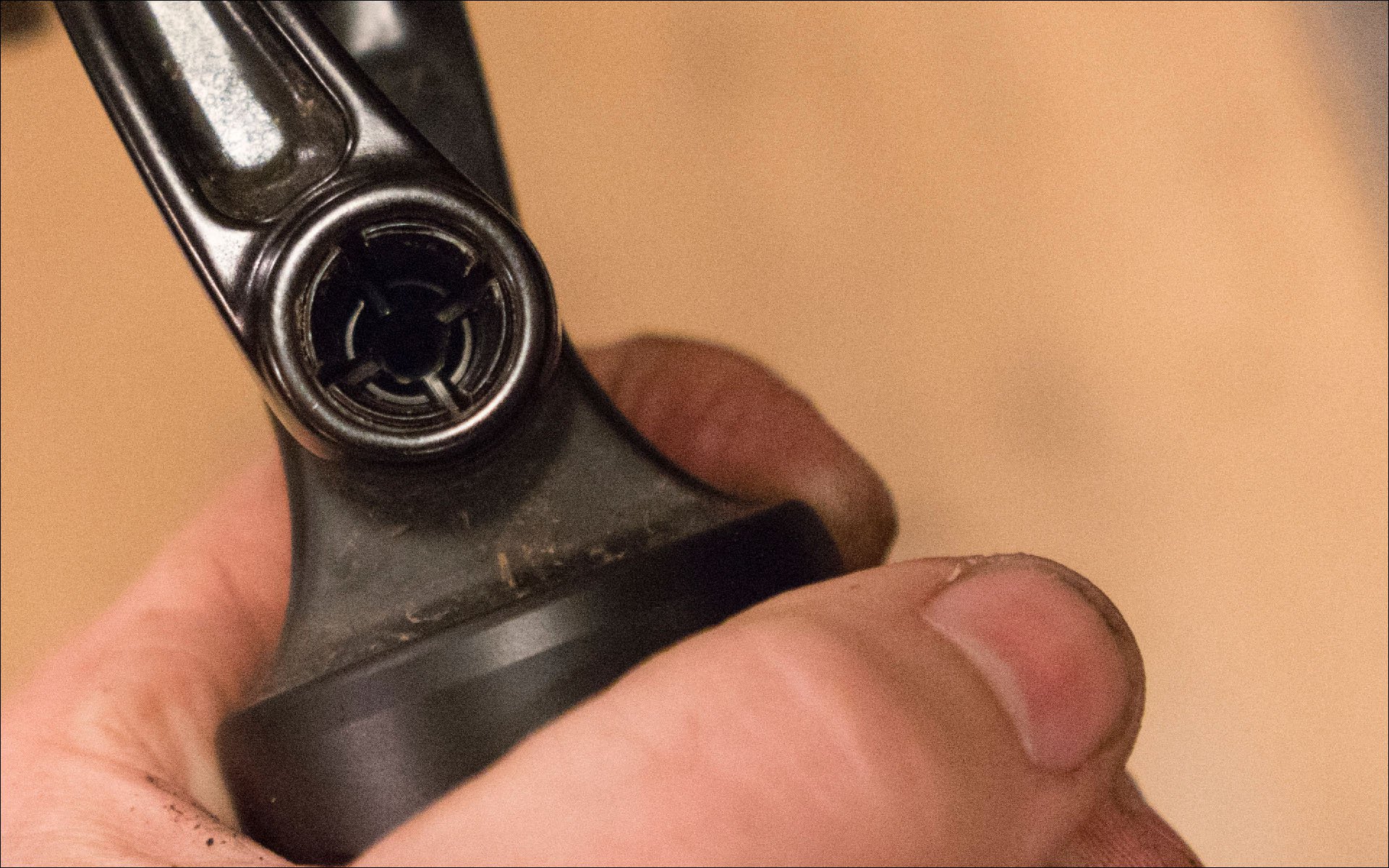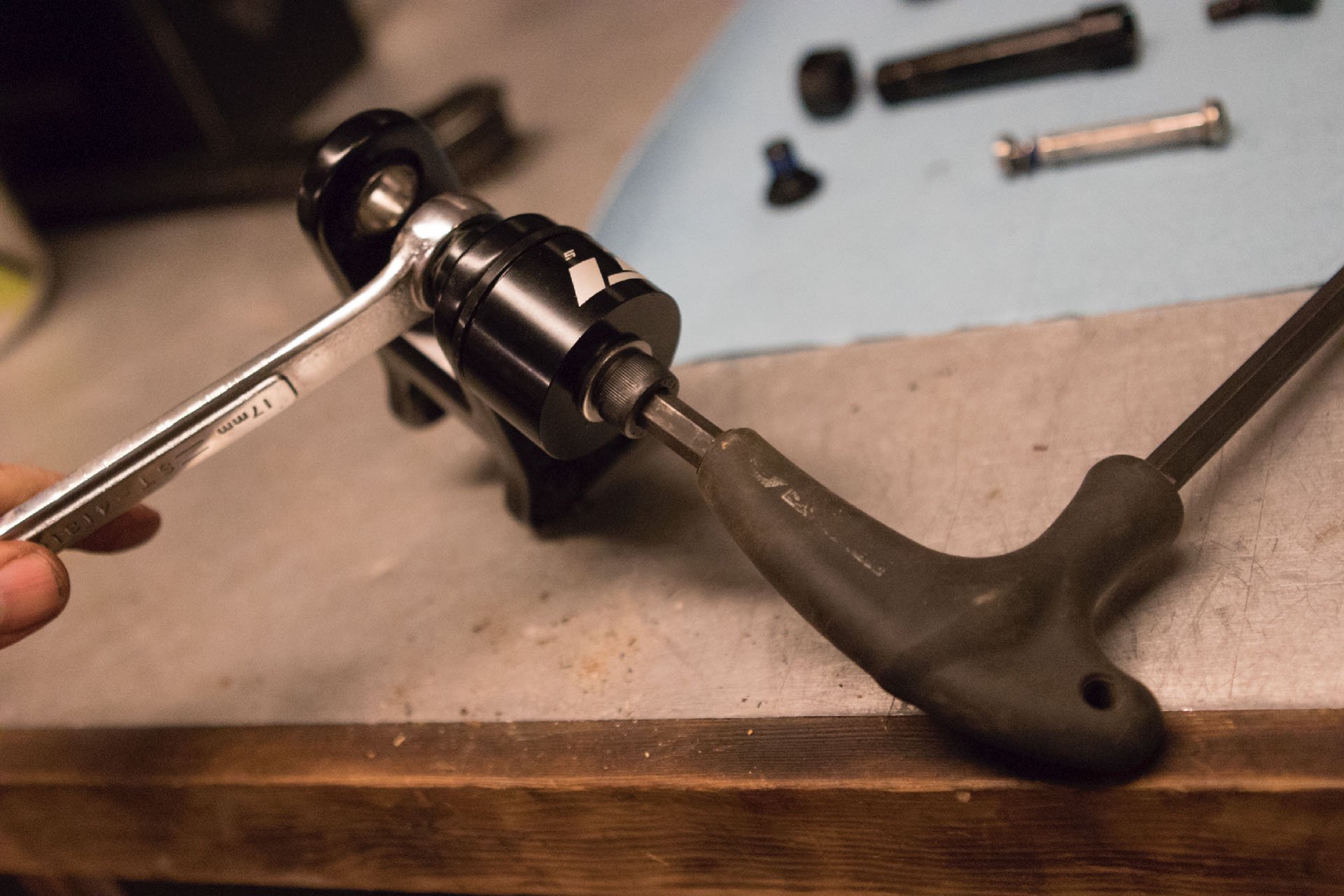 One summer I decided to take her on a longer trip and my girlfriend and I packed up the Alpine and headed east on the Trans Canada highway. Our destination was Shuswap Lake, about 250 km away from Hope, where the Sunbeam's head gasket blew. Luckily there was a transporter that could bring the car back to Vancouver the following week for $50, so we abandoned the the red '64 and rode the Greyhound.
Once the car was back I decided to tackle the head gasket myself. I had a manual and I bought a socket set and some other tools and dug in. It was a long process and I did it in shifts, but eventually the valves were adjusted, head and other gaskets were replaced and bolts were tightened in the proper order. I'd probably spent 20 hours under the hood and underneath the car by the time all was said and done.
Thanks to procrastination, the job took long enough that I had time to fantasize about the moment I turned the key. I imagined the engine roaring to life instantly and then settling into a nice throaty purr, but I feared the worst. I envisioned hearing nothing but a weak click, or worse, everything firing correctly and then some mistake I'd made would blow a piston, causing a fire that would burn down the garage. My confidence was such that I would have given the garage's survival about even odds, but she fired up and by some miracle began to purr.

Inappropriate tools used: vise, hacksaw, file, hammer, drill, crescent wrench, and side cutters.
Last fall, I decided to wrestle our broken Samsung clothes dryer apart. As any 8-year kid with a phillips will tell you, disassembly is surprisingly easy. Mostly thanks to Youtube, that is. Once I reached the bottom I found that one of the metal spring-clips holding the motor in place had lost its sproing. I bent it back into shape, reassembled everything and it too roared to life. Of course the spring clip wasn't miraculously healed as I'd hoped and in a couple of weeks I had to do the whole thing over again with a new spring, but in the end it was even more satisfying than I'd hoped and it cost me all of $8. Those modest tasks are my highlights, but I guess I've done enough smaller stuff to remain delusional about my abilities.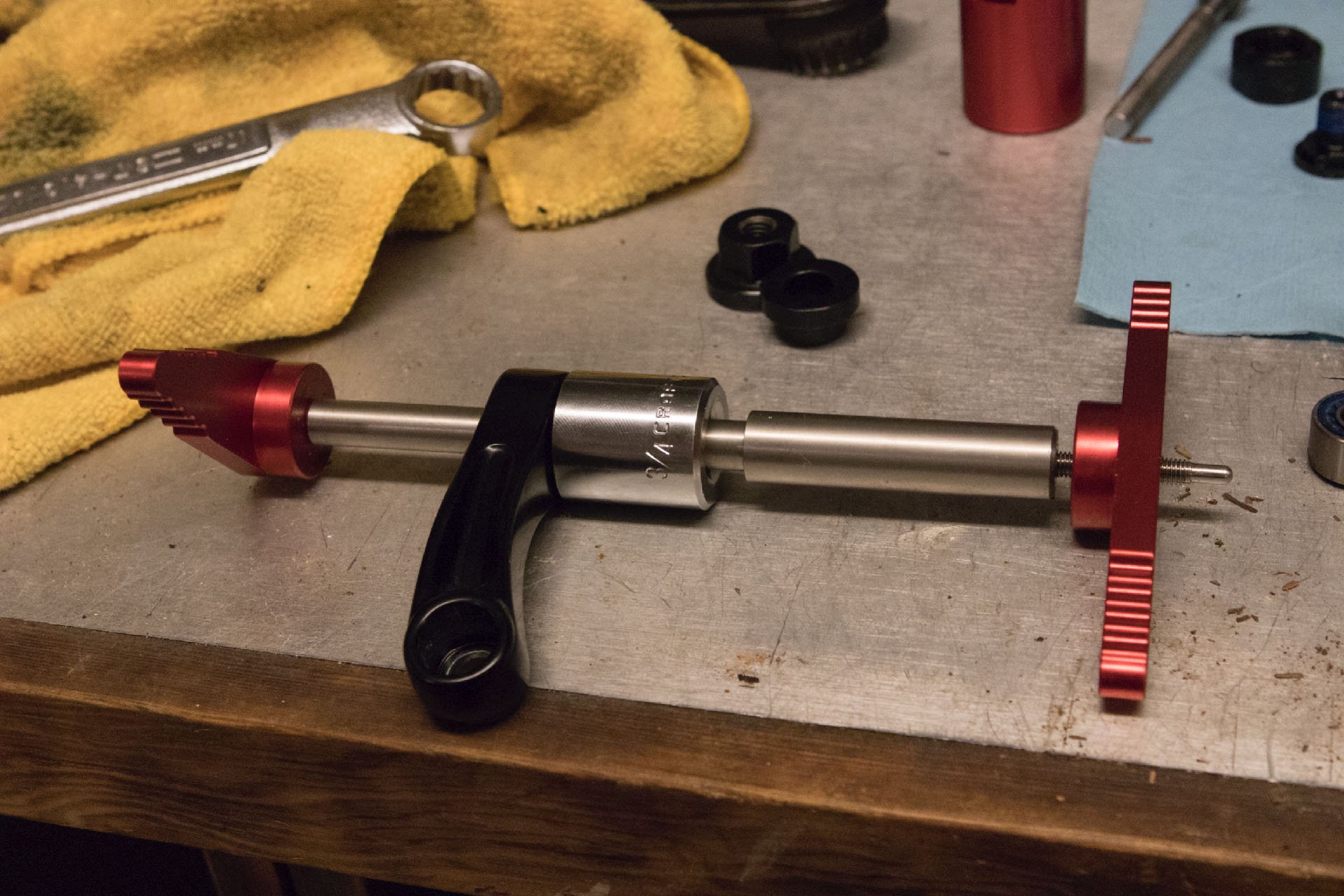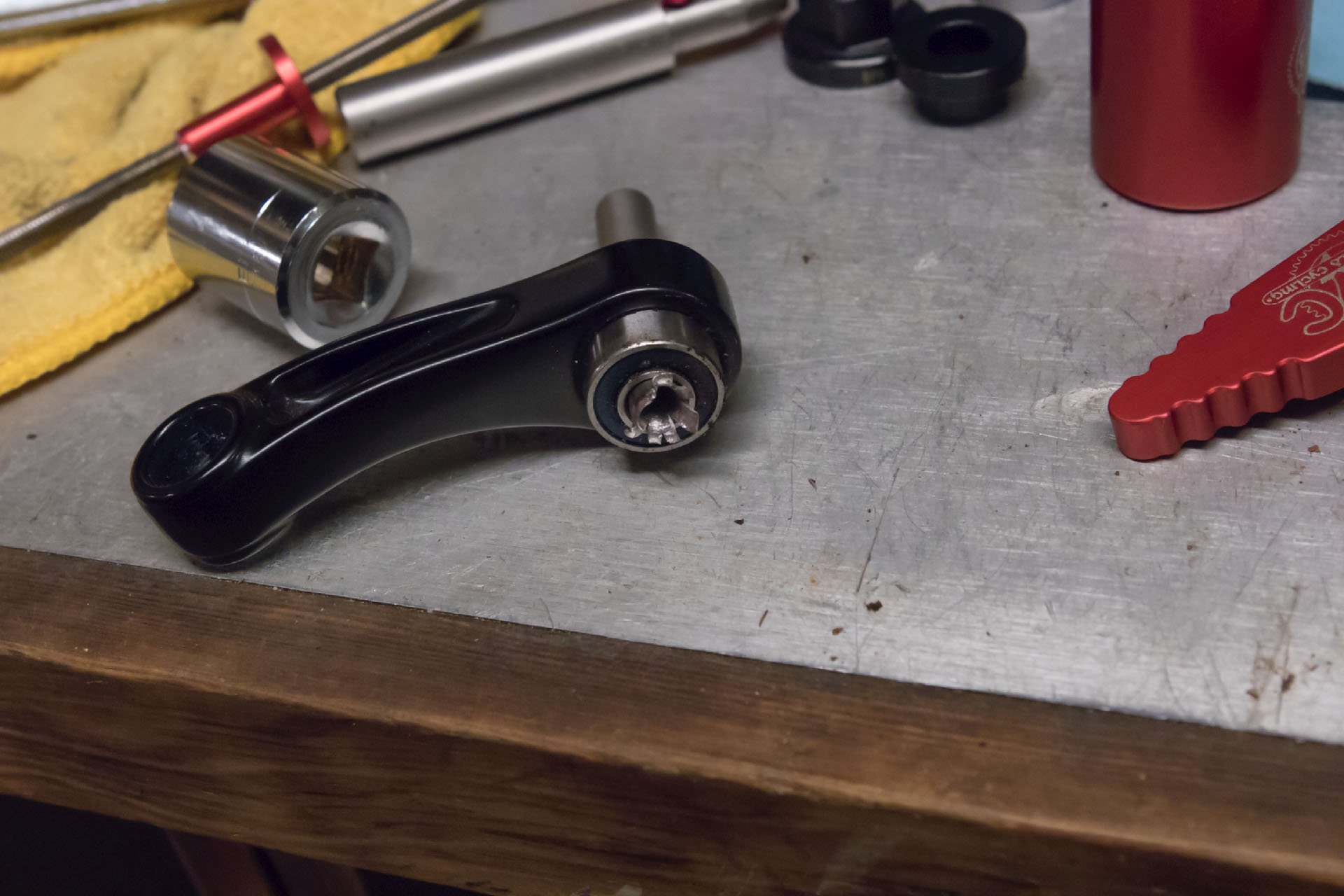 For the task at hand, I already had bearings and a bearing tool, straight from Yeti. I assumed these would be sufficient to complete the job, aside from hardware removal, for which I felt equipped. On the off chance the Yeti tool wasn't compatible with one bearing pair, my selection of presses and punches would pick up the slack. My bike was clean enough, I'd booked off an evening to complete the task, and went to work. In the end, the list of tools I used was long, and it included 7 you never want involved in your bearing removals or pressings. And that was just Act I.
Lately I've begun enjoying bike work more than I have for years and I was actually pretty keen on the task of replacing all the bearings on my Yeti SB150 test platform. And here I was staring at the shock, realizing it was the logical place to start. The rearward shock mount has a 4mm hex head bolt facing downwards, which I removed after the front fittings. But nothing moved. Instead of continuing to figure out the rearward fitting, I skipped forward and started to remove the bolts that secure the upper link to the main frame and swing arm. And then I aborted that part way and skipped forward to the main pivot, because it took me a moment to realize that I had the Shimano cassette tool required to remove the bearings from the swingarm.
Once the swingarm was off, I removed the link and shock extenders from the frame, with the shock still attached. At that point I could see what would have been plain in the manual: the shock attaches to the extenders using a collet axle which was still in place, and I needed the manual to realize that because it's a black fitting that faces downward. It spun out easily with a 5mm hex wrench.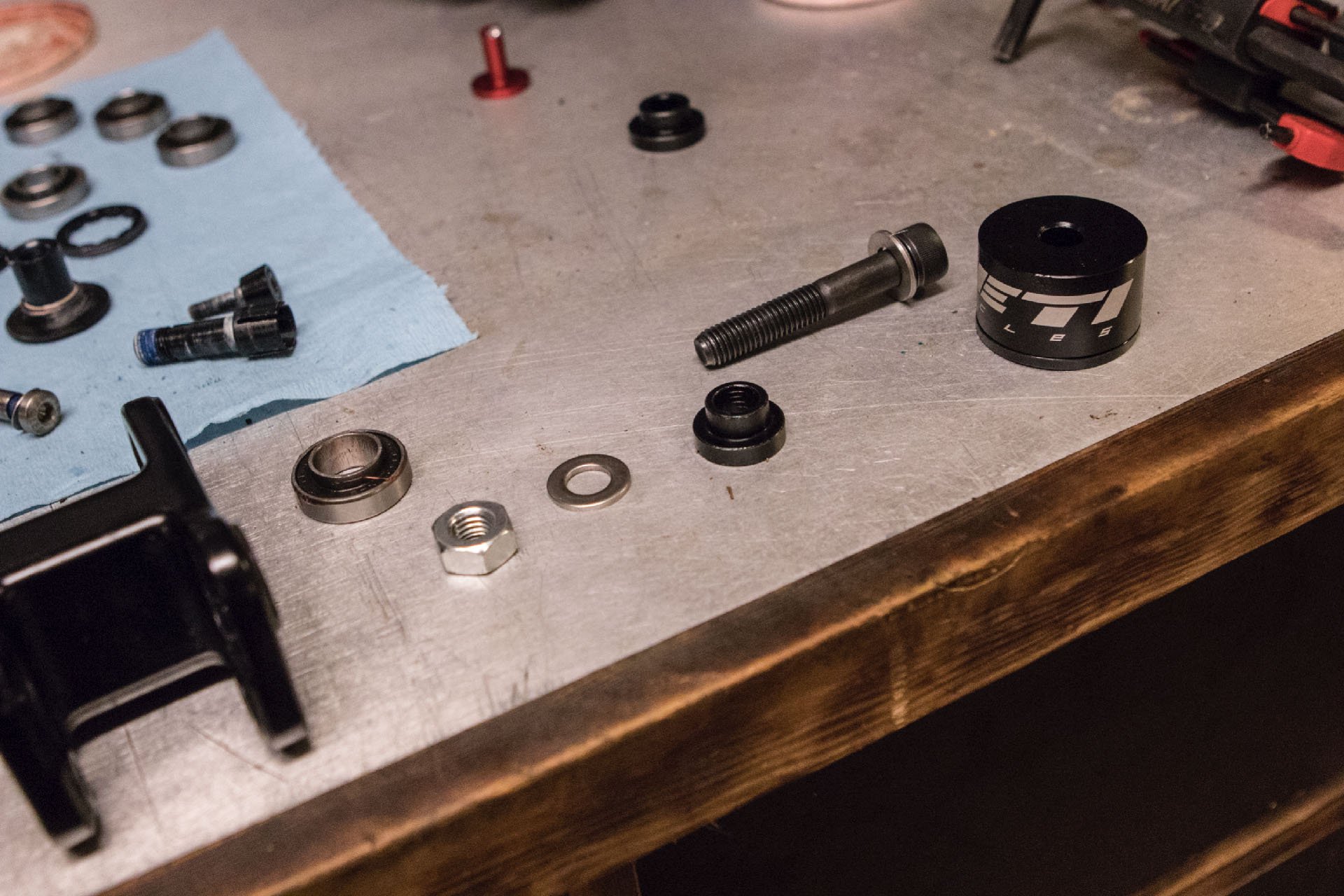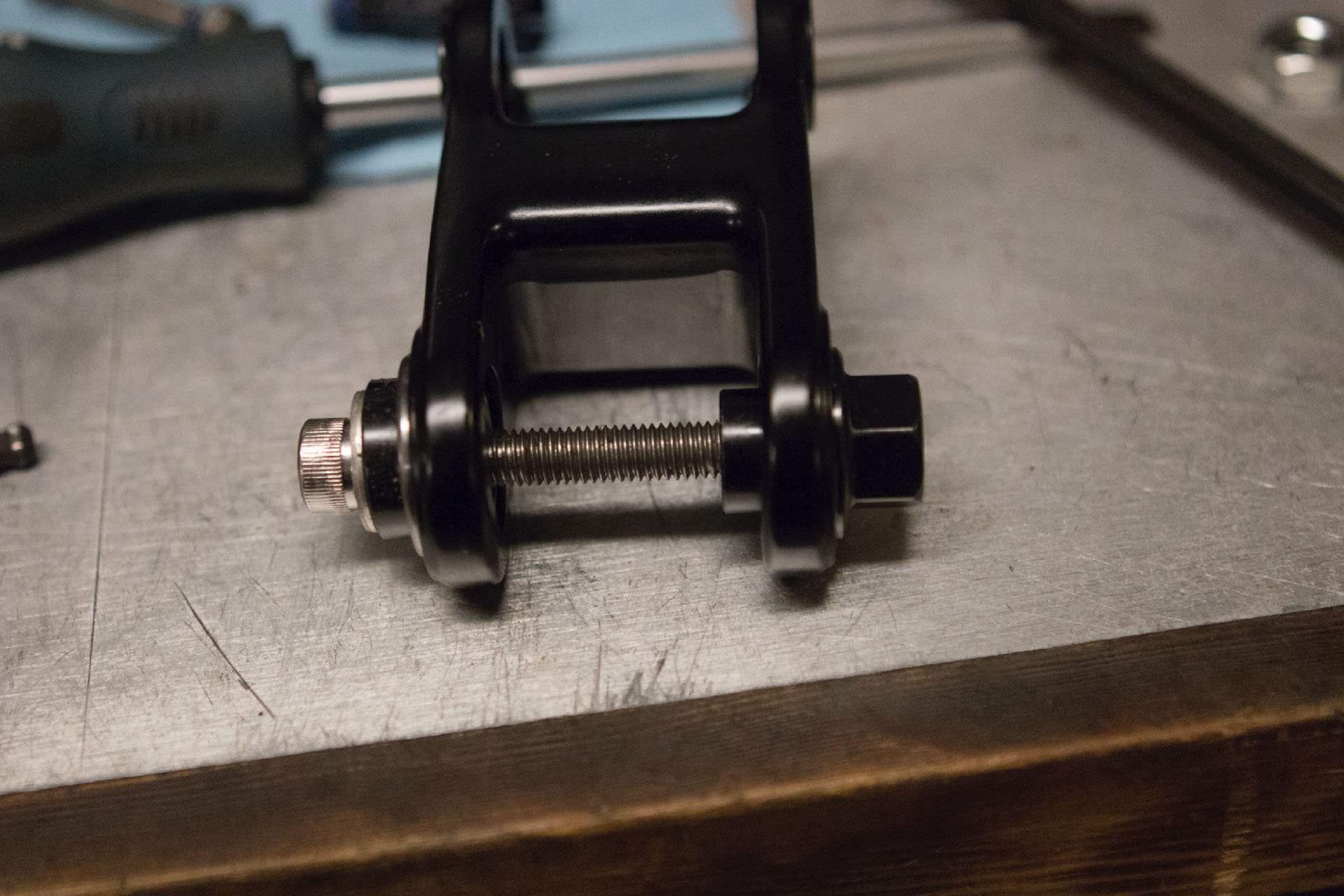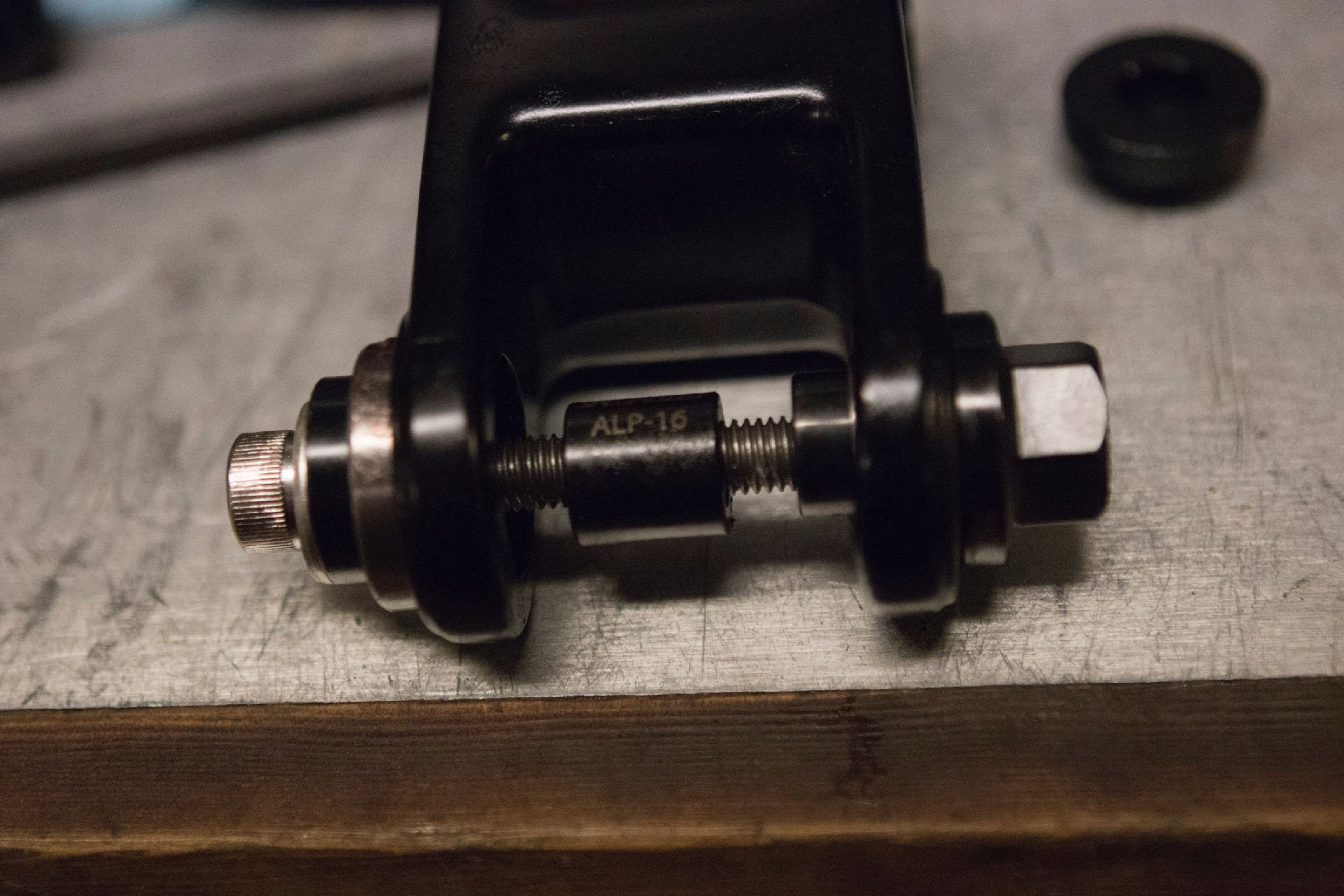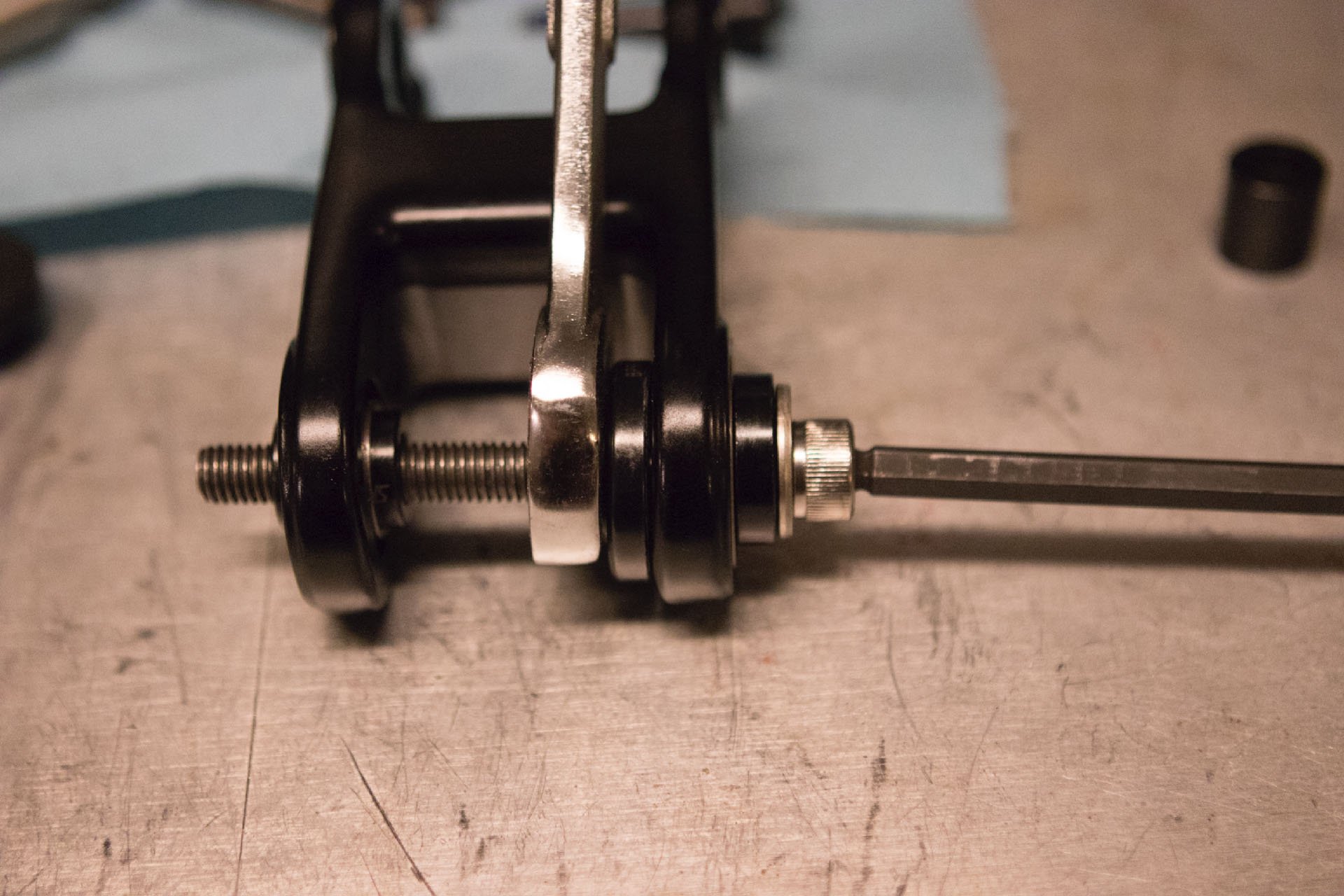 By then I'd botched things so badly I was feeling like turning in my man card, but I pressed forward, thinking it could only get better. And it did. Briefly. I felt like the bearing removal was going to be a snap with the Yeti tool. And for the upper link bearings, it mostly was. The tool acted like a sleeve the bearings could press into, and everything came apart as advertised.
I discovered immediately that the Yeti tool wasn't going to be of any use for the extender bearings. Both the outer and inner diameters were too small for Yeti's press/sleeve/bolt combo, so I used tools from Real World Cycling, a sister brand of Enduro Fork Seals. I think. I'm certain their tools are great, unless your buddy Trevor partially destroys them.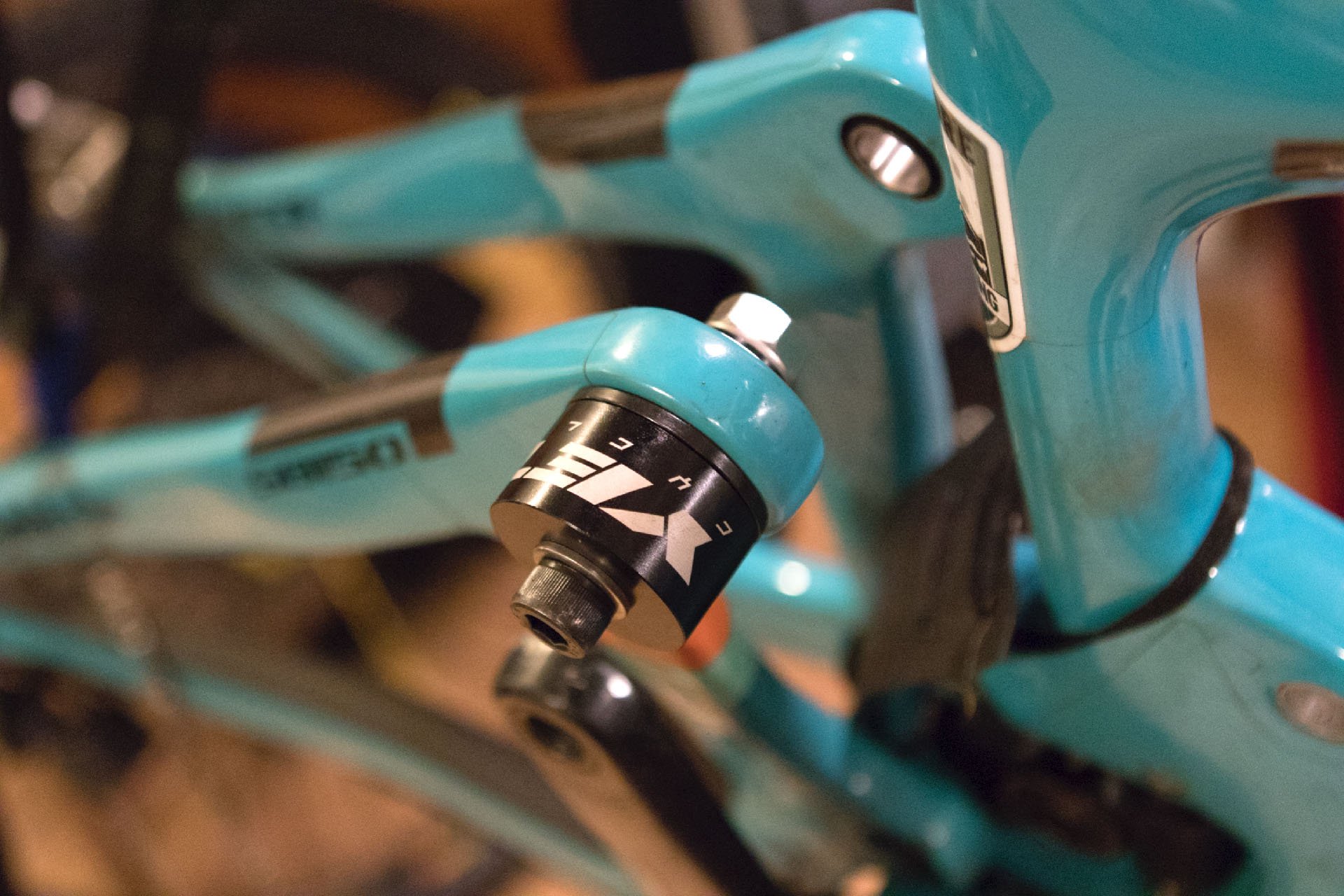 The threads Trevor fouled on the longer bolt made it only somewhat useful. I successfully removed one bearing and then decided to try a different technique. I can't remember why, but instead of using a 3/4" socket, and the punch that comes with the tools from Real World, I opted to use two punches facing each other. This seemed to be going well, but then progress seemed to slow and turning the handle became more difficult. When I pulled the device apart I learned the two punches were attempting to mate. After some hacksaw and file time in the vise for one punch, and some time to remove the other punch from the 1/2" inch receiver end of the socket it had become embedded in, I went back to the original technique and got the bearings out. This effort took far too long and I was done for the night.
At this point I had no idea how or when I'd be able to finish the job, but I wanted to get the bike done before my ride the next day. That did not happen, but luckily I could ride the just-built YT Jeffsy, which was a stellar companion to an afternoon on Seymour without rain.
After almost 48 hours to think about solutions, I dug back into the task. Pressing in the new link bearings was a little tricky because there isn't much space between the bearings and not much to brace the Yeti tool against the link itself. Version 3 was a combination of tools from 3 kits (Yeti, Specialized's big bearing kit and the RWC tools) to finally get this right. To begin with, the tool kept sliding off the rounded edge of the link and pressing in at an angle. I used the vise with a towel for protection, to even up the angled, partially-inserted bearing, and then tried pushing the bearings toward each other from the outside. It became clear that any resistance here could pinch the link arms and compromise the fit. Eventually, and a little late, I came up with a tool combo that worked perfectly.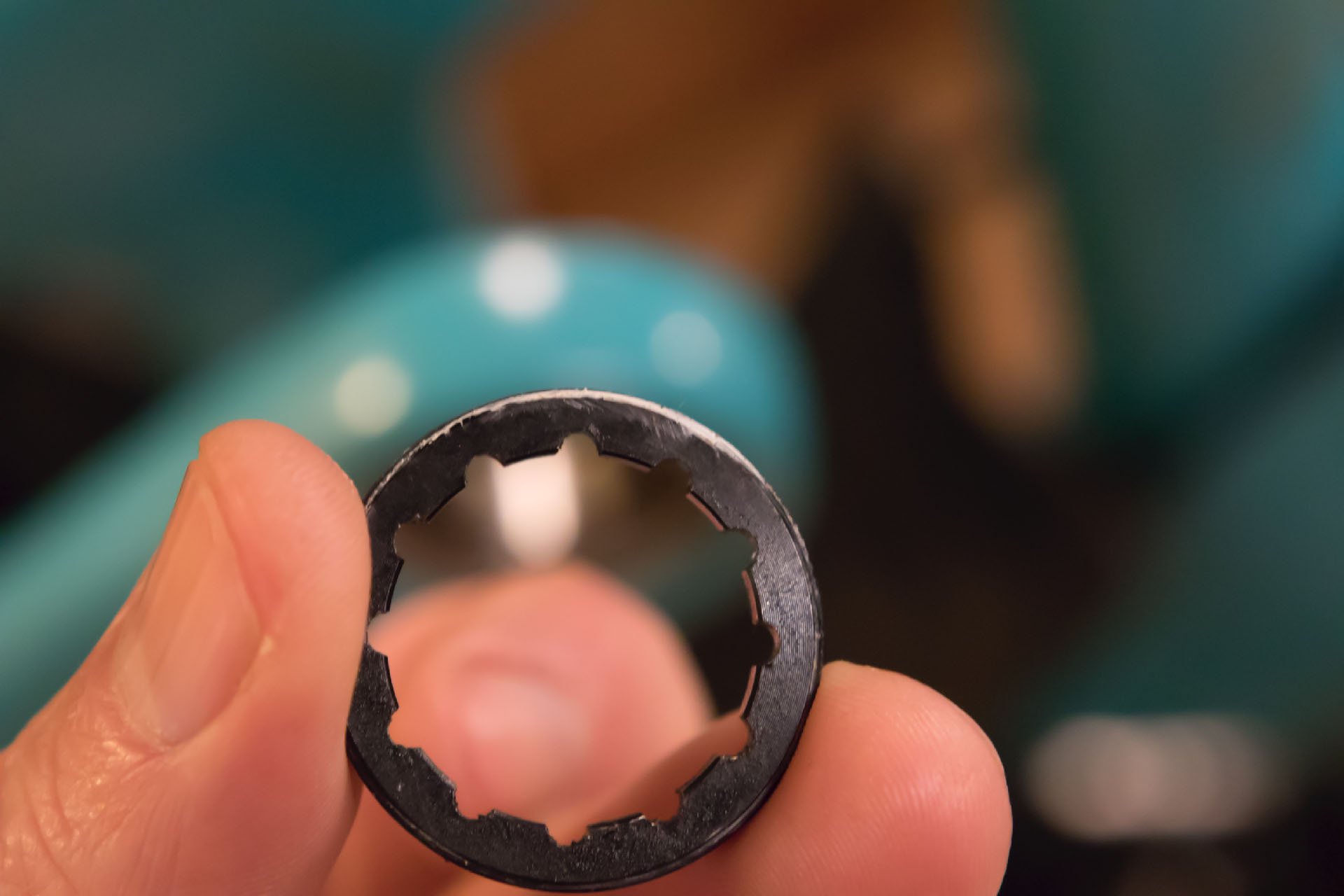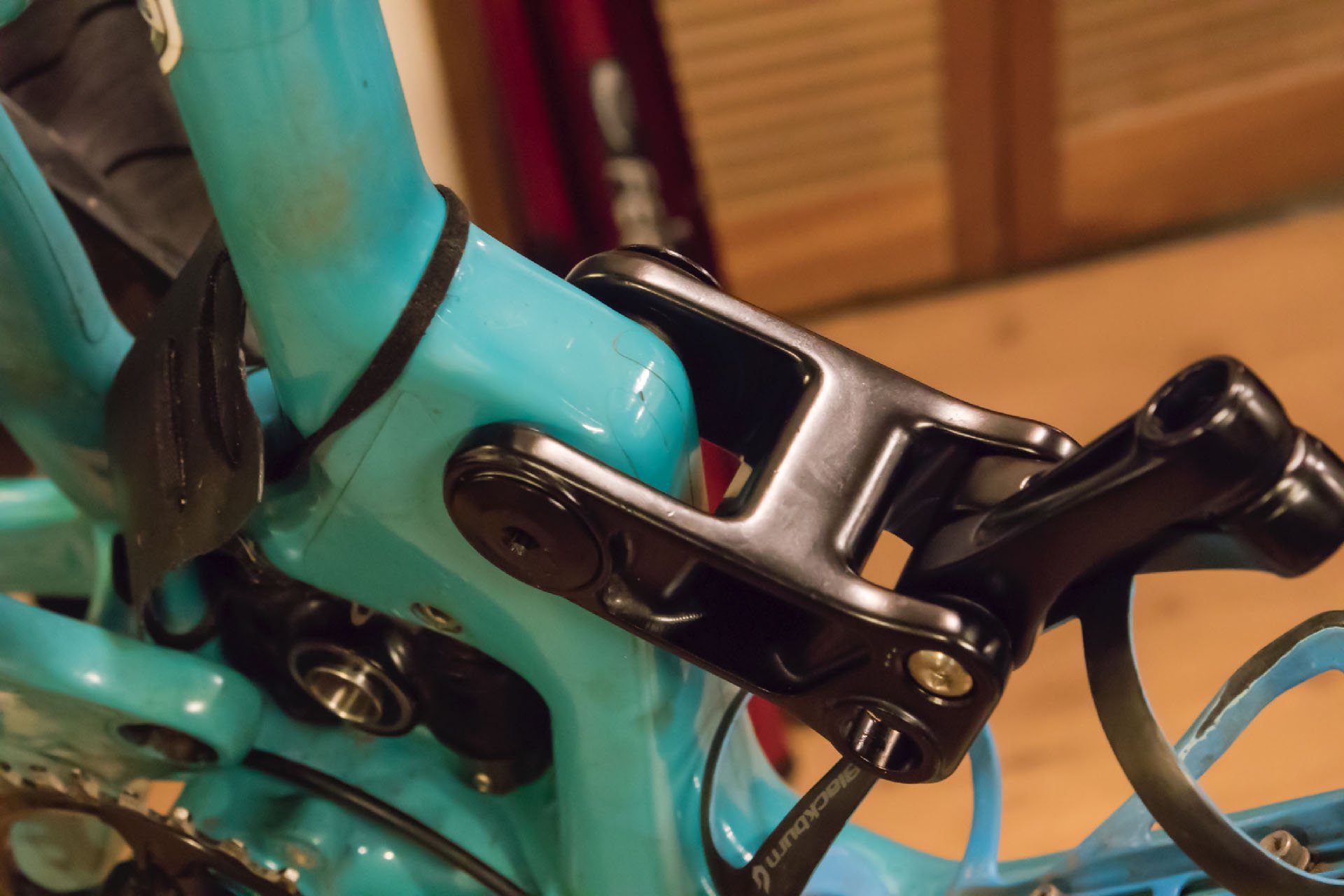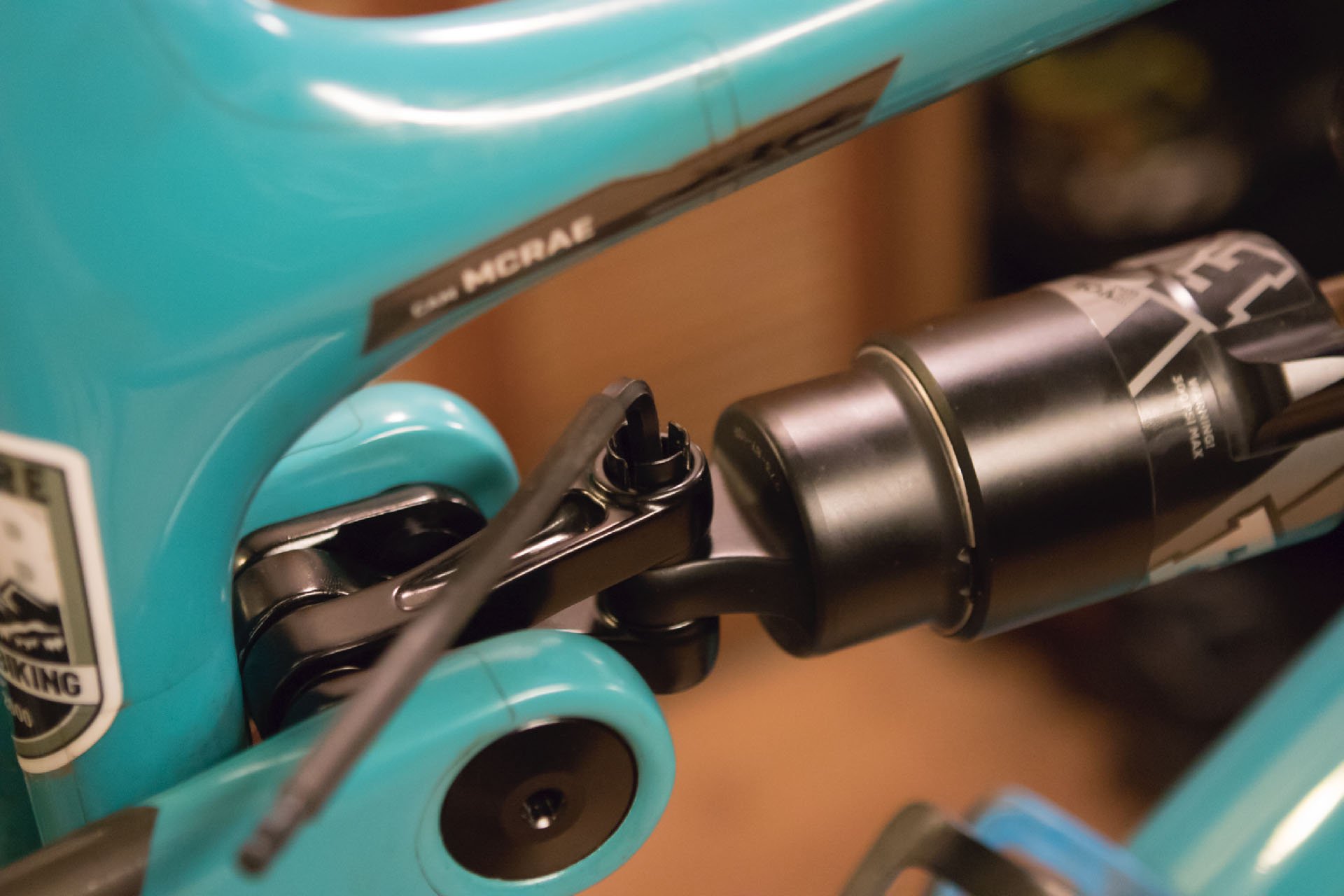 Part way through this task I decided to listen to a podcast. I'd thought I wouldn't be able to concentrate on the process and taking photos if I was distracted, but the opposite turned out to be true and things began to get better. Bill Hader on Conan O'Brien Needs a Friend was the perfect companion and the swingarm bearings pressed out and the new ones back in perfectly - with the Yeti tool. Momentum was building but I had the Switch Infinity bearings to deal with and I assumed they would be the worst. After an early evening break I headed to my workshop after 10pm to try and finish the task.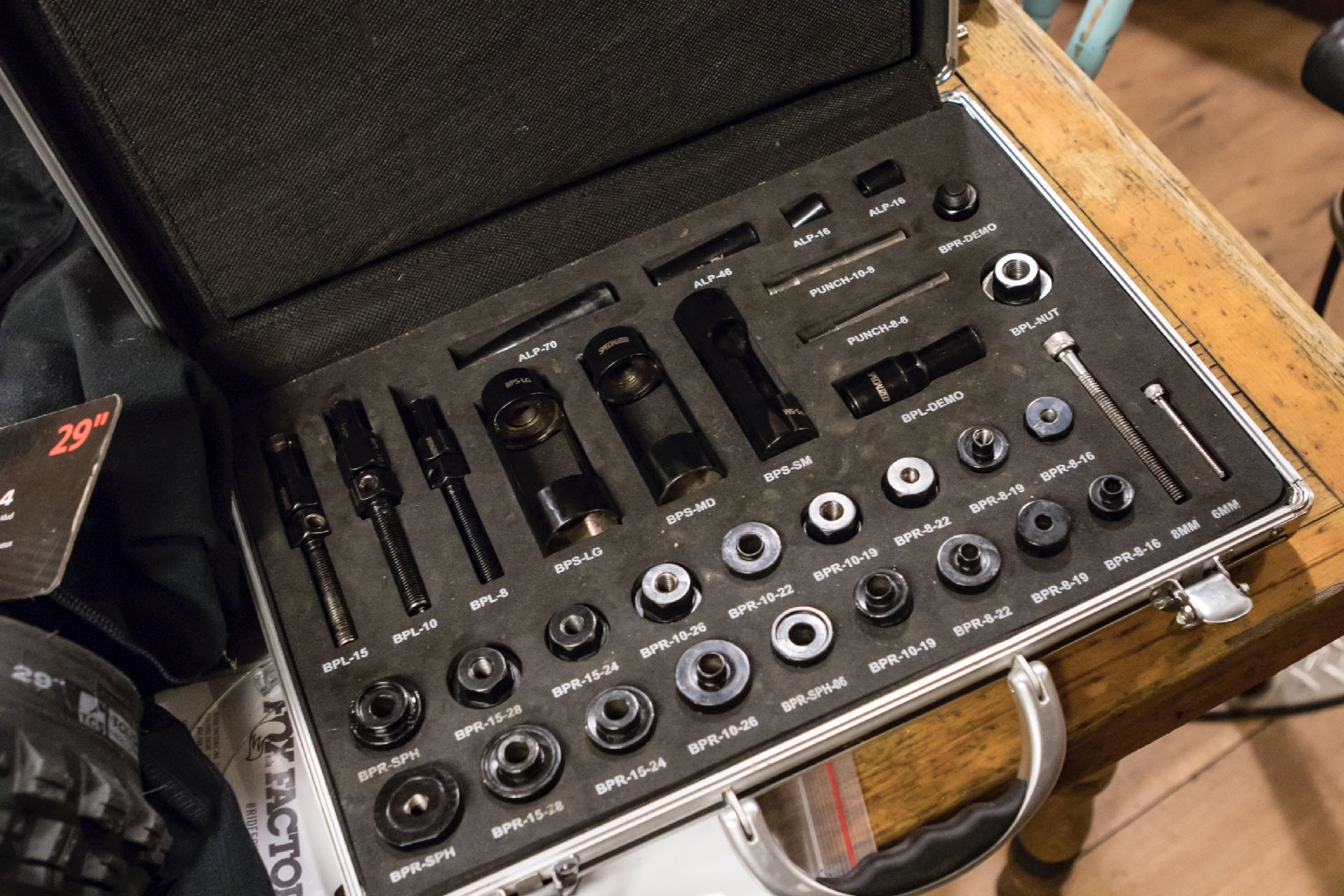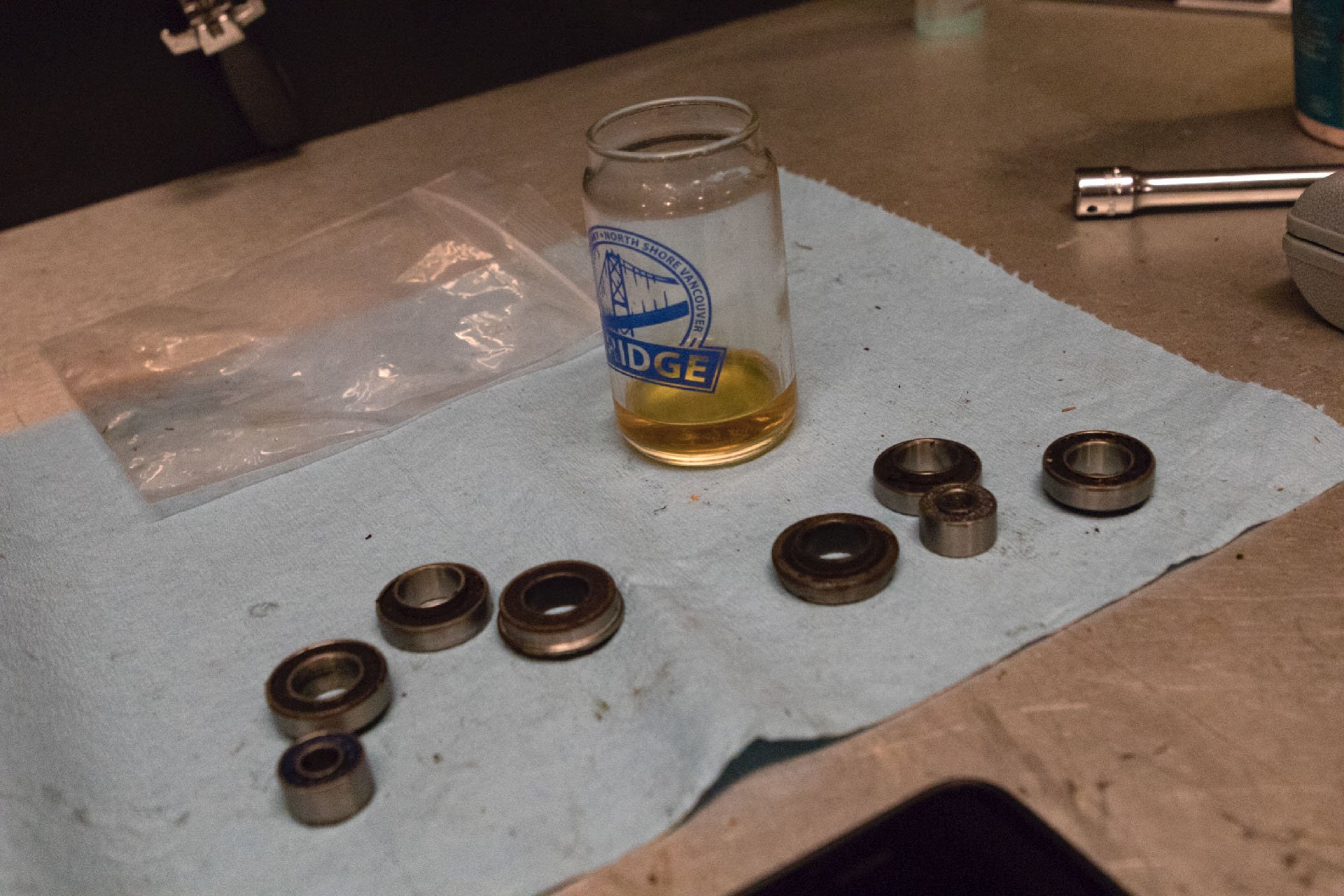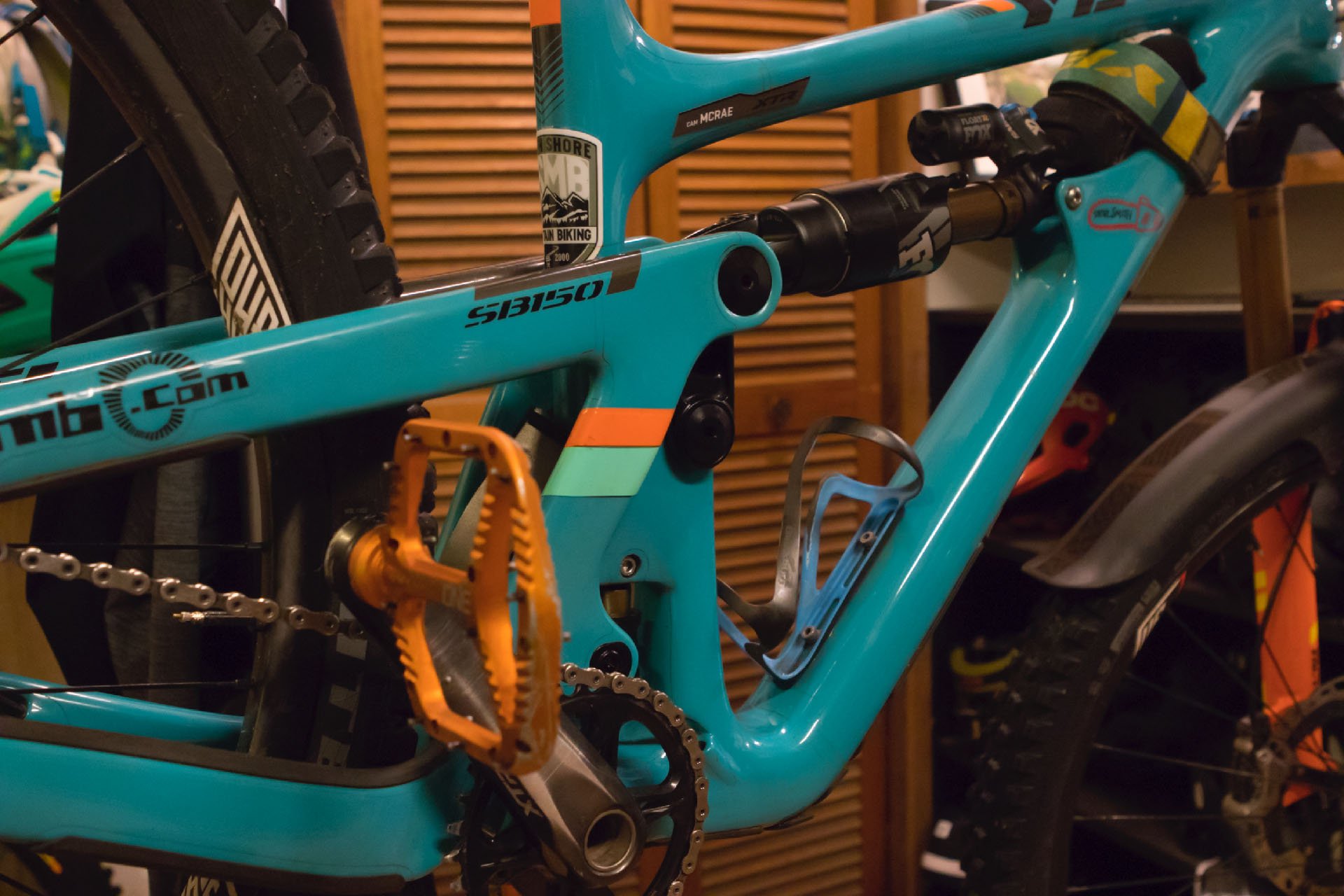 The Specialized kit had a collet punch* with the right ID for the bearings on the Switch Infinity shuttle. The Yeti tool was disqualified for these bearings because they have a shoulder that increases their OD beyond the diameter of Yeti's sleeve. I expanded the collet and banged the bearings out using the 1/2" extender from the socket set I'd bought years before to work on my Sunbeam. It wasn't an elegant solution but the bearings were out.
*I have no idea if this is the correct term for this tool
Pushing the final bearings back in allowed me to use all the ingenuity I'd picked up through my many failures, and I managed to assemble a press that eased both bearings heroically into position at the same time, with the addition of some parts from my buddy's RRP kit. And a little help from Conan and his guests. After that, the reassembly of the links, extenders and shock were relatively straightforward. The minefields I'd traversed to complete this task made the smoothly-pivoting finished product incredibly satisfying, and got me even more excited about the next time I saddle up the SB150.
I plan on continuing my sub par efforts to do stuff myself, because even when it doesn't go smoothly, I'm glad I made the effort.