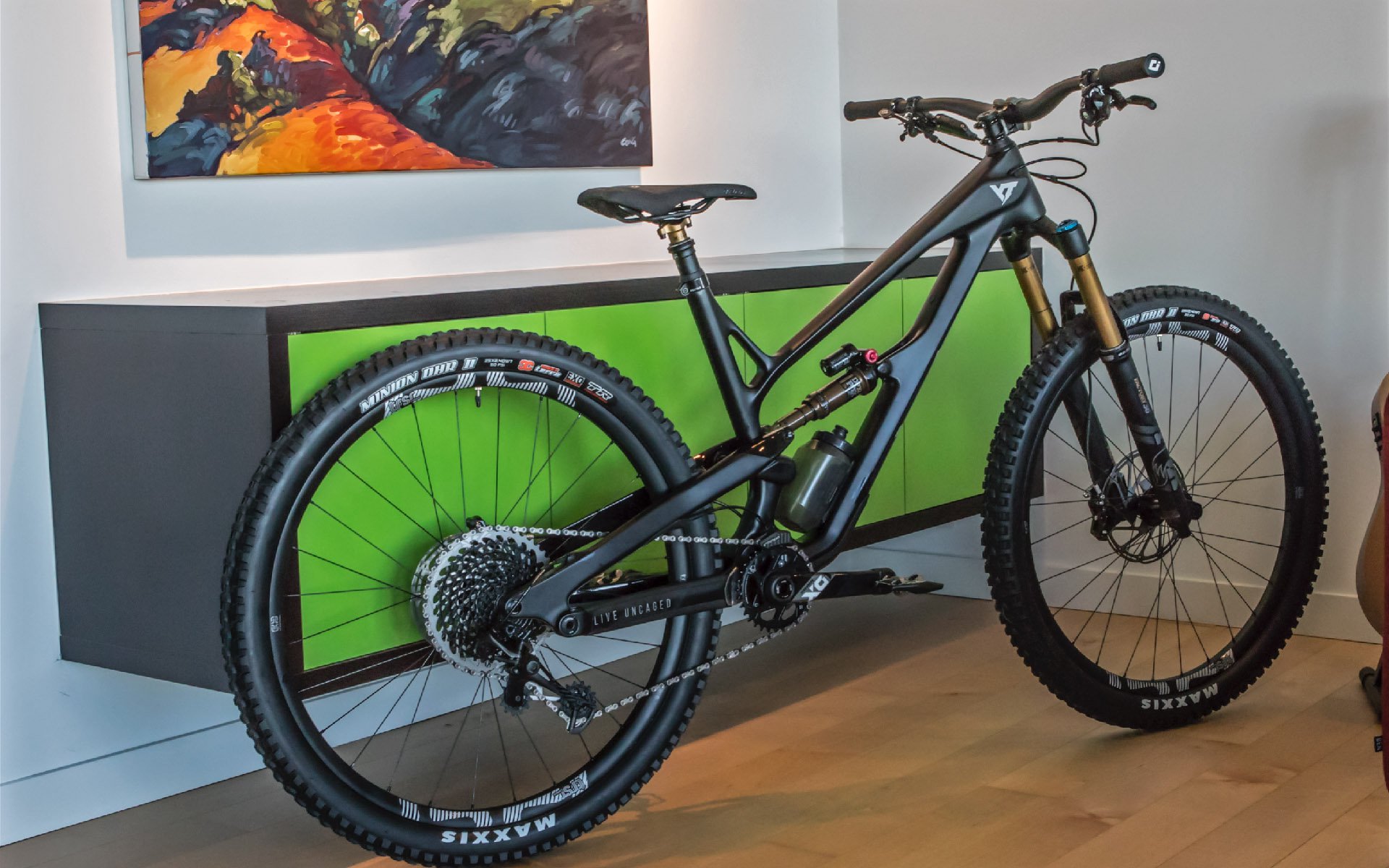 First Impressions
2020 YT Jeffsy 29 Pro Race - Out of the Box
Direct to your Door
Direct to consumer bikes are here to stay and in the age not-quite-top-of-the-line bikes regularly pushing over 5 figures, they make a lot of sense financially. German internet brand, YT has come to the forefront in terms of value and performance for mountain bikes in the trail to gravity categories. The bottom-of-the-line Jeffsy Base, for 3399 CAD (2999 USD), has everything you need to get serious on rowdy trails. It even comes with an Eagle drivetrain and Maxxis Minions. Pushing up to the top model, the Jeffsy Pro Race, makes the value even more apparent.
The 29" Jeffsy we are testing has 150mm of travel front and rear, a full carbon frame, and carbon wheels, at an almost irresistible price – if you are okay with throwing down as much as a good used Honda for a new bicycle. The same model is also available with 27.5" wheels if you are looking for a more playful and nimble ride.
You aren't likely to see carbon wheels on many bikes under 10K Canadian, and certainly not with Fox Factory level suspension (Kashima abounds!), Code RSC brakes and an XO1 Eagle drivetrain, but the Jeffsy serves up all that and more for 7299 CAD or 5299 USD (because of some exchange peculiarity, or maybe Trump's tarriffs, the base model is much better value in Canada while the Pro Race ends up slightly north of the current exchange rate for Canucks). A parallel spec on a Santa Cruz Hightower, (XO1 Reserve model with a carbon CC frame) a direct competitor for the Jeffsy, will set you back 10,949 CAD (or 8399 USD).* Reserve Carbon wheels with DT Swiss hubs are certainly more expensive than E13s, but otherwise the spec on the bikes is comparable.
*I'm not picking on Santa Cruz - many other brands are similarly priced - SC is just particularly transparent about their retail pricing.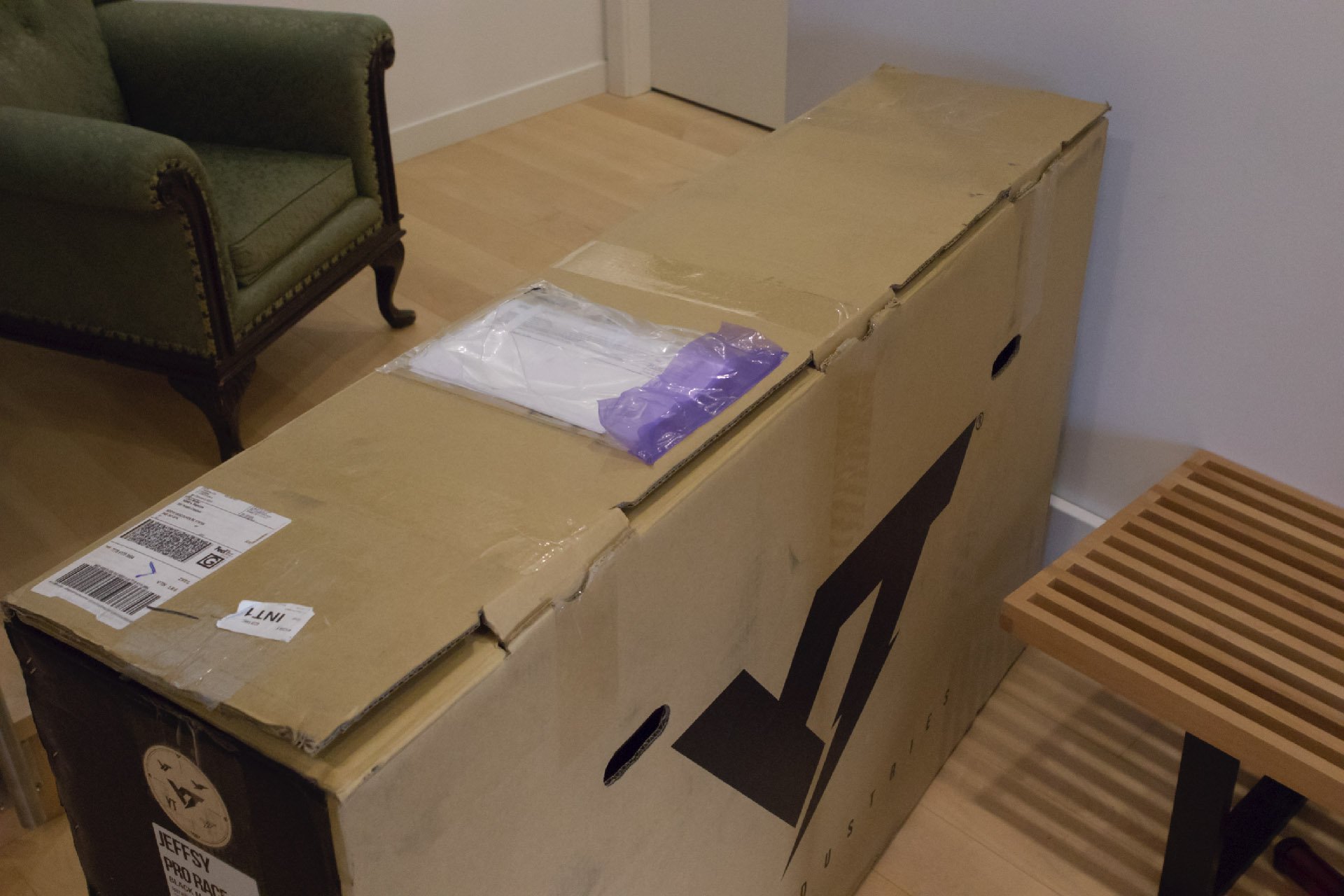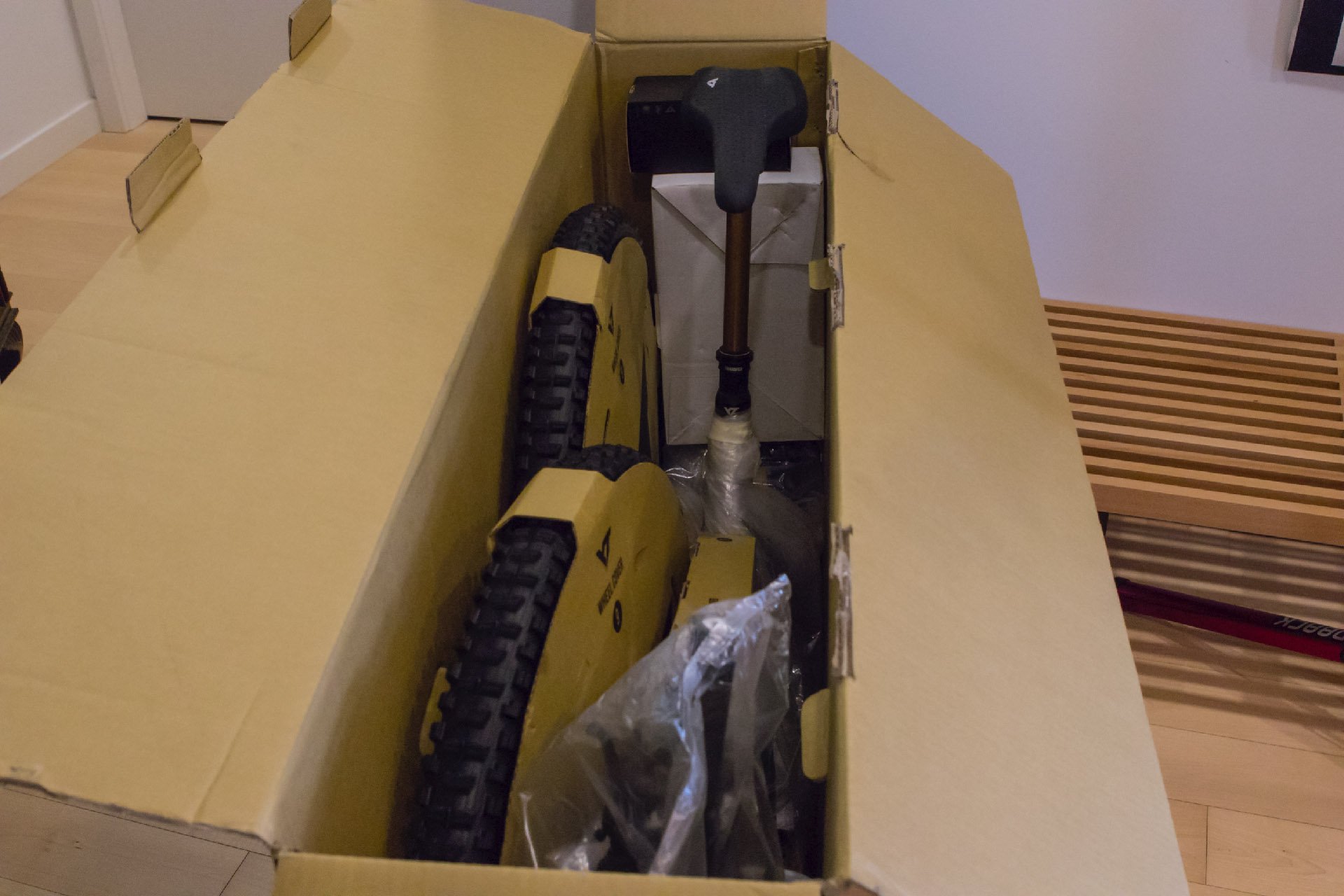 Having a bike show up on your doorstep, in a box, is not for everyone. A large percentage of riders would prefer to have the experts at the bike shop do everything, and to know they will be taken care of by someone they know, if something goes wrong. The logistics of warranty coverage can be daunting when you buy a bike from a German brand with no dealer network. And thus far in Canada I haven't heard many stellar reports from riders who have had to warranty frames or other components. We are a new market however and growing pains are inevitable. For riders who can handle tools and figure things out for themselves, this can be a great way to save some cash, assuming there are no catastrophic failures.
Assembly
If you are considering purchasing a bicycle on the internet, it's probably going to arrive in a box.* This would be a terrifying prospect to some riders, but generally mountain bikers are a capable lot, and the Jeffsy was the quickest and easiest bike assembly I've done, with the exception of a bike that came in an extra long box with both wheels installed as a 'media build'. There are also dealers/repair shops who will do the build and regular service for you, and you can even have it shipped to some. More of these options will likely pop up in the future. Locally Wheelthing will happily perform that service.
*The direct-to-consumer model companies like Trek are using involve the bike being shipped to the dealer of your choice who will handle the build at no cost to you, and take care of warranty and service demands.
I suspect that most of you reading this would tackle the prospect yourselves, so I decided to try and recreate conditions many riders would encounter for their build. The only tool I added to those provided by YT was a pair of side cutters to help with unpacking. I also cheated a little by using a stand, but it wouldn't have been a hardship to do without.
Most boxes that arrive at the NSMB campus have been taped together by a gorilla. They arrive safely, and that's somewhat important I guess, but the tape battle that ensues sometimes goes multiple rounds. Instead, the YT box had three cardboard tongues holding down the lid and each was fastened securely by a single piece of tape. Things were off to a good start. My simulation continued with my failure to read the instructions, although I did consult for bar and stem torque specs.
The first surprise was the pre-installed dropper post. On an XL frame with a 175mm dropper, this takes up a lot of vertical space. As I opened the box, the post extended for an over-eager greeting. I imagine the normal strategy may be to lock the post in the down position, but the cable wasn't tight enough to keep it there. Whatever the intention, I prefer this performance. Usually the aforementioned gorilla could be put to work removing the bike and components from the box, but in this case it was possible to remove either of the wheels or the frame individually. Again no mass of tape or zip ties and a minimum of plastic to dispose of after removal. It's no exaggeration to say that the unpacking portion of some bike builds can take twenty minutes, while in this case it was less than five. To use Andrew Major's measuring protocol, your first beer will still be cold and mostly full.
The Frame and Details
Once assembly was complete, it was time to admire the finish and thoughtful details provided by YT. The "by riders, for riders" cliché was already overdone by the 90s, but it's clear in the cohesive finished build that the product managers, industrial designers and engineers involved in this bike have spent a lot of time doing real riding on real trails. The fine points here have even improved since I first saw and rode the Jeffsy in late 2018.It seems the Germans have cottoned on to the Japanese concept of Kaizen,* which involves continuous small improvements to manufacturing processes that translate into improvements in the finished product, as well as reduced waste and improved efficiency.
*TBF, Kaizen, meaning literally 'change for better,' can be at least partially credited to American manufacturing experts working in Japan after WWII
It's clear YT knows that for many riders, their bikes are treasured possessions. Despite subjecting them to abuses in transport and on rides, many of us care about how our bikes look after months or years of use, and efforts put into protecting the frame's finish, durability and appearance over the long haul add real value. These additions can also improve the ride experience by reducing the noise from chain and debris strikes. Beyond the inside of the drive side stays and the downtube, which are effectively clad, YT has applied frame-coloured protection to the outside of the stays on both sides where heel strikes and rubbing are likely to occur.
The Parts
The build of the first Jeffsy I rode had some creative details that reminded me of when product managers were able to be more imaginative. The drivetrain was a mixture of Shimano XT and E13, with the latter providing the cassette. There are still some E13 bits but the juggernauts of SRAM and FOX are well-represented here. Brakes and drivetrain are SRAM, with Codes and XO1 dividing responsibilities, while suspension and post are FOX Factory level, with the Raceface sub-brand nicely taking care of the lever. These parts perform as well or better than anything else, and function counts for more than originality in these categories, although I don't have enough time on a Fox Transfer to render such a confident verdict.
There are a few slightly exotic details, with the Renthal carbon Fat Bar, a nice short Renthal Apex stem, and wheels by E13's TRS Race Carbon with 28mm internal width rims. The SDG saddle has a beautiful shape and it's begging to be sat upon. Spread your wings where it makes sense I guess. Tires are probably the safest choice, and one of the smartest, with Maxxis Minion DHR II front and rear in the EXO casing. The website suggests Maxx Grip compounds but this bike shipped with Maxx Terra on both ends. I would prefer a Terra in the rear and a Grip up front. Another nice surprise was tires that arrived set up tubeless and fully inflated.
Jeffsy 29 Geometry Questions
When this version of the Jeffsy was released for model year 2019, the geometry looked pretty good for a bike that straddles the gap between trail and enduro/all mountain. Some of the numbers look a little long in the tooth a year later. The 66º (or 66.5º in the high position) head angle is a wee bit steep for a bike to be called cutting edge in the 150/160mm travel category and the reach numbers are a little short. It's 490mm for the XL, which would be a very short for the largest size. Thankfully YT makes an XXL which is 510.
The recently released 2020 Norco Sight 29 has a 63.5 head angle and the 130/120mm Santa Cruz Tallboy, a cross country bike, has a 65.7º head angle, almost identical to the Jeffsy. The reach for the XL Sight is 515 while the large is 485. The Sight however does not have an XXL size meaning the XL on the Norco has to serve a wider range of tall humans.
Numbers don't tell the whole story of how a bike rides however and I was certainly pleased with the way the Jeffsy 29 performed in Portugal. We rode some steeper and nastier sections there, but overall the riding was less challenging than many of the trails here on the west coast, and I'm eager to check out how it rides on the North Shore and elsewhere.
For more on the 2020 Jeffsy - hit this...