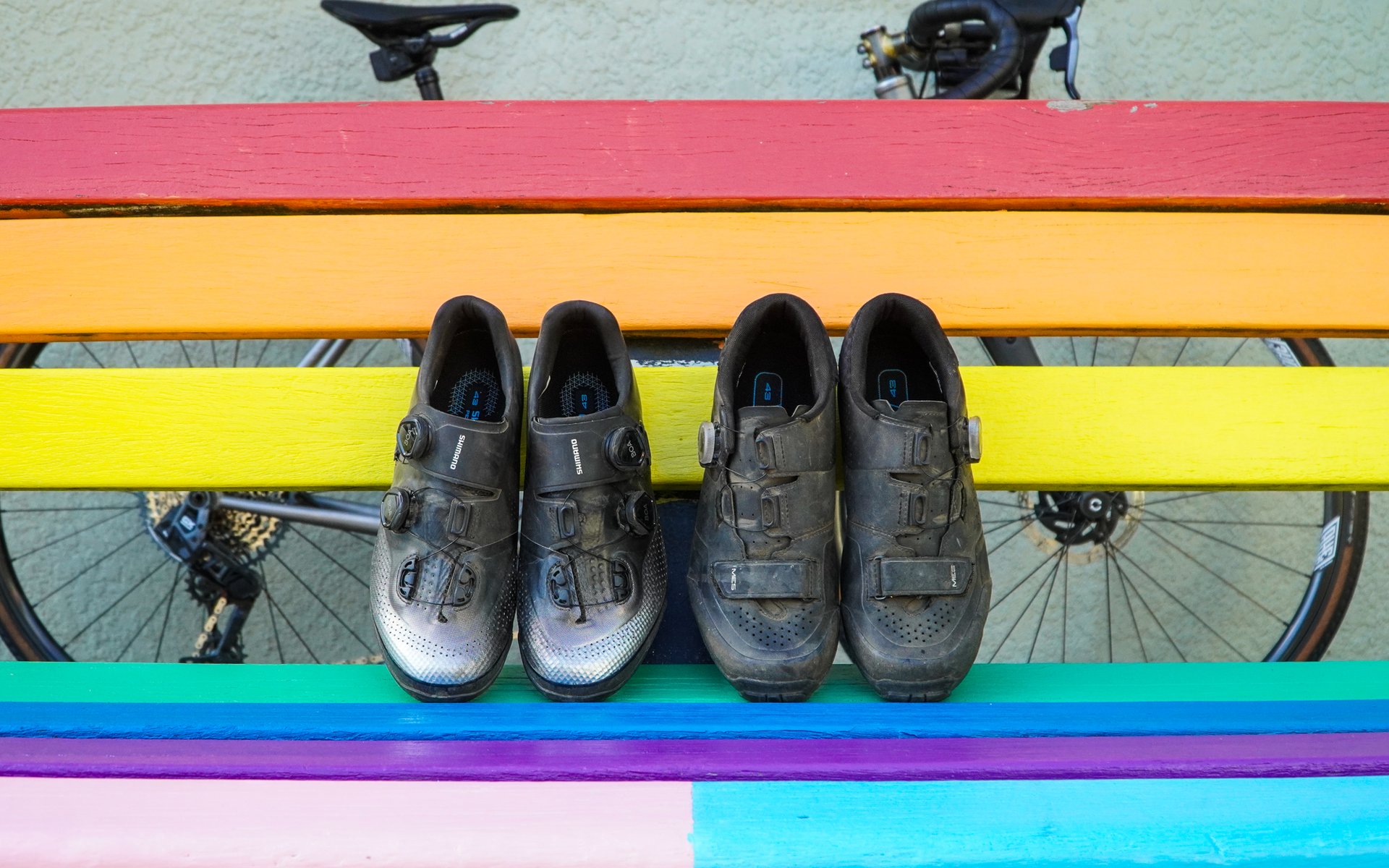 Shimano ME5 and XC7 review
shiMANO a shiMANO (spd shoes)
As a general rule, obituaries paint a rosy picture of the departed; flaws are omitted and only the highlights are recorded in print for posterity. This is for the best when it comes to everyday obituaries, but we do ourselves a disservice to apply this method to royalty. The faults and foibles of kings should be shouted from the rooftops as a warning to successors. With this in mind, I'd like to add a couple notes about the ME7s Mike eulogized here recently: they were heavy, the flap was bad and flappy, despite the flap the shoe still got soaked, if it wasn't raining they had no ventilation, and in either case the shoe dried poorly. And not that it matters, but they were ugly. Also, they were heavy.
But enough about that, lets talk about two other better Shimano shoes; the ME5 and XC7.
In the interest of full disclosure, I like a lighter, stiffer shoe; I feel the need to get my biases out of the way upfront. You won't find me in some big skate-shoe look alike, and something branded for "enduro" or "DH" is unlikely as well. I pick lower weight over impact protection, and the vast majority of my rides are non-motor assisted so better power transfer is important to me as well. The only real exceptions to this are 1) bike park days where I'll swap to flat pedals, and 2) alpine days that will involve unknown (likely lots) of hike-a-bike. I've been accused of wearing tap-dancing shoes, and I'm not surprised or offended by the observation.
After you've put on both shoes, it's clear that the ME5 is geared more for comfort than its race-bred sibling. They share similar construction profiles, venting, and sole stiffness but the ME5 is a much roomier shoe built with thicker, softer materials. It's also heavier with heel and toe protection, as well as a chunkier sole made from softer rubber.
For the past few months, I've been reaching for one or the other of these, depending on which bike I'm grabbing. If I'm reaching for my Rocky Mountain Element for XC (or, god help us, "downcountry") rides I'm likely in the XC7, and if I'm on a big bike like my We Are One 170 Arrival or new Trek Slash I'll slip on the ME5. Both pairs have held up to abuse admirably, and I have no durability or long term wear concerns.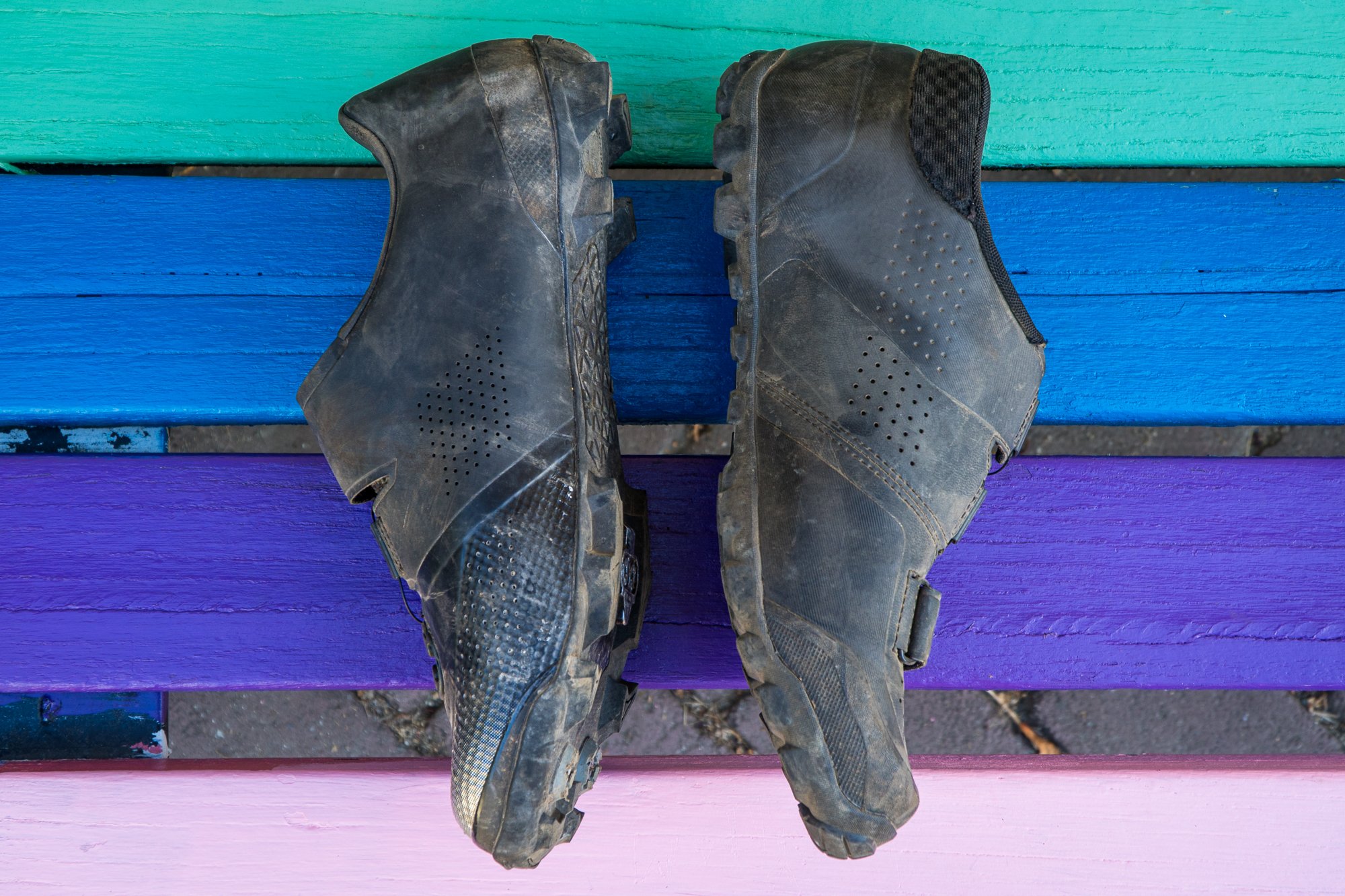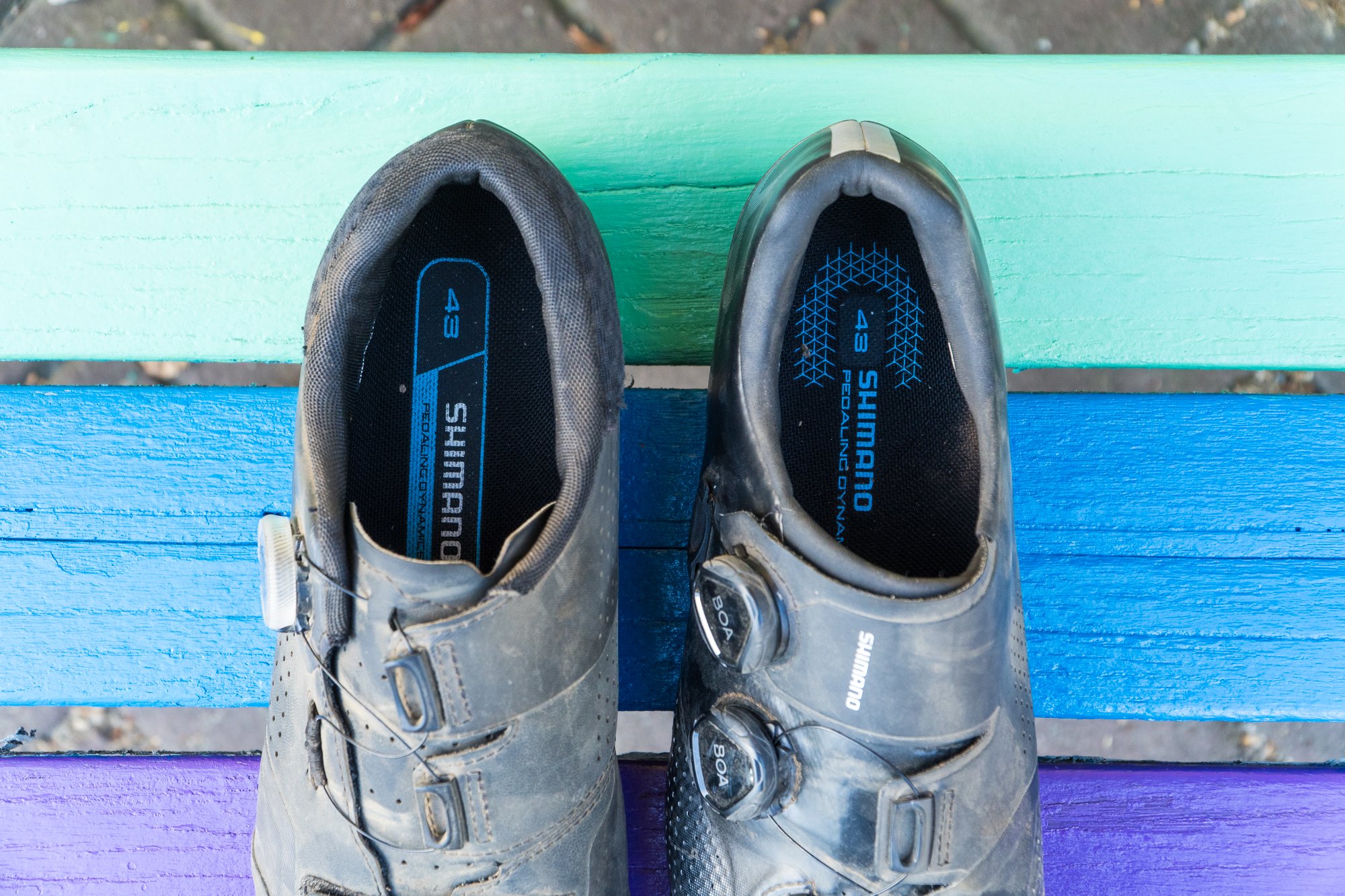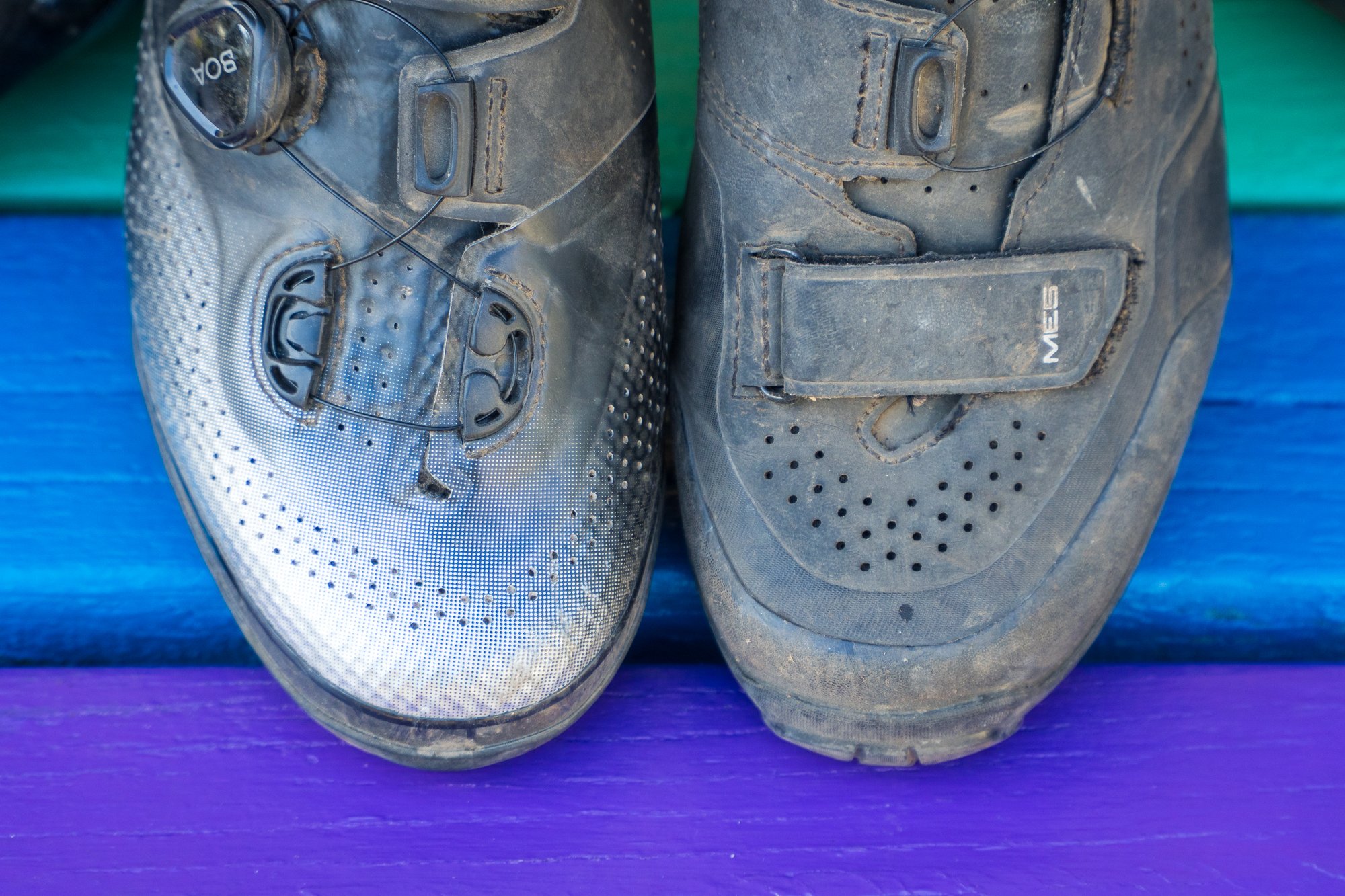 Conclusions
I'm not sure how many people are cross shopping these two shoes - they fall in separate categories; in some ways trying to pick some kind of winner between these two would be akin to trying to pick a winner between the bikes I've been riding each shoe on. It's an exercise in futility, as they're not meant to compete. No one is cross shopping a Rocky Mountain Element and a Trek Slash.

With that in mind, if you're a consumer looking for a stiff, light BOA shoe to cover your pedal-heavy riding, the XC7 should be on your shortlist; just make sure you try them on if you've got wider feet. They look fast, feel fast, dry fast, vent well, and come in red if that's your jam.
But to drag the bike analogy farther, the ME5 is the Kona Process 134 of shoes; its boring. The ME5 isn't incredibly fantastic at any one thing and certainly isn't flashy or sexy, but its solidly capable at a very wide range of riding, and should be suitable to a very wide range of customers. I'd have zero qualms about recommending the ME5 to anyone, assuming their foot shape agrees with the interior. If I were limited to one pair of riding shoes, I'd be hard pressed to name a better, more versatile shoe for my preferences and needs.
All that said, in the span of this review, Shimano launched the GE line of shoes which supersedes the ME; these look like shoes I'm going to like significantly less for a myriad of reasons. The ME5 has been discontinued. The King is dead.