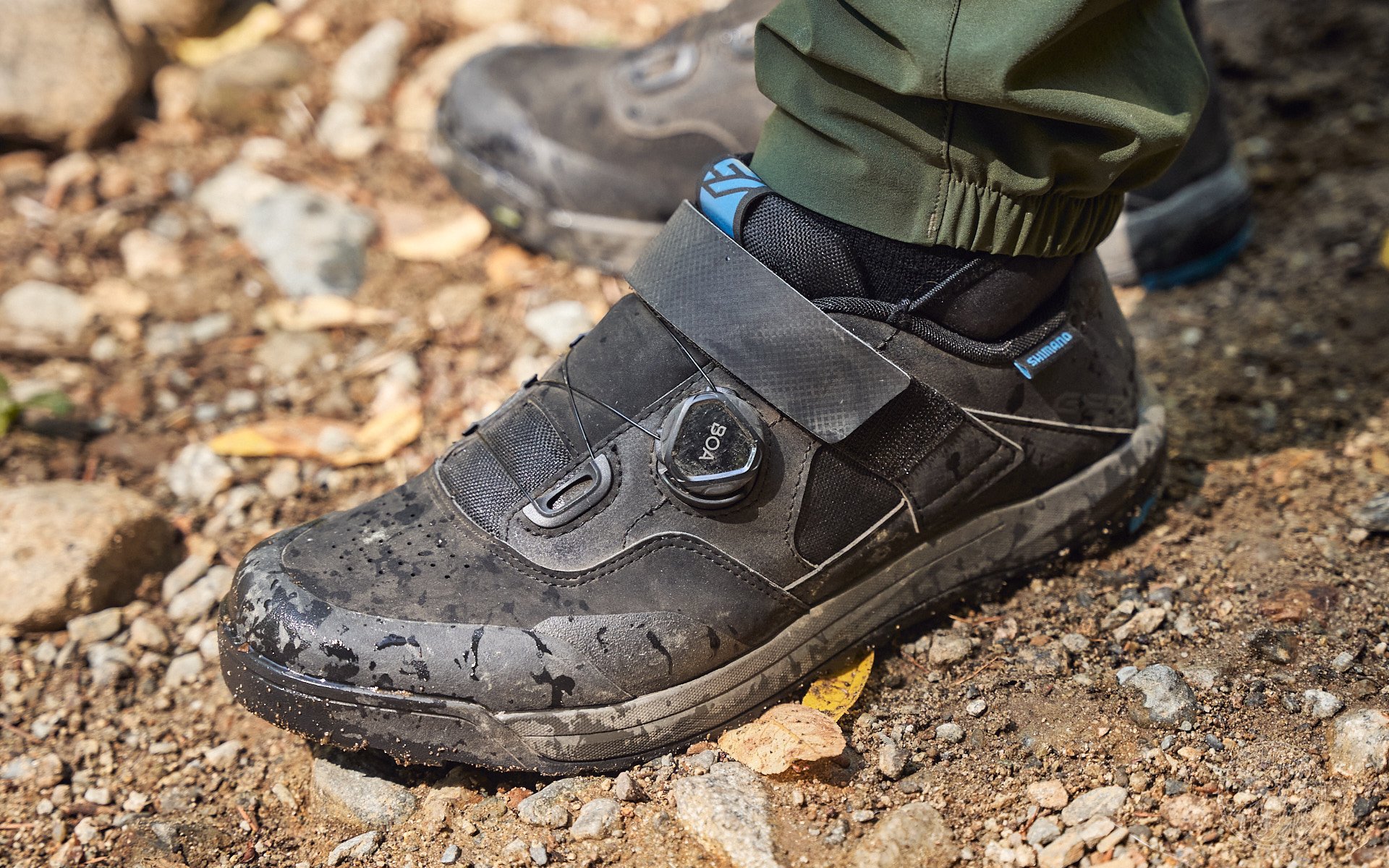 REVIEW
The King is Dead. Long Live the King?
Shimano's ME7 roamed the earth from the late cretaceous period, somehow survived the asteroid strike, and could still be found confusing mountain bikers and menacing small children until this summer, when it was replaced with the new GE9.
Before we get into the new GE9, I need to fully acknowledge the moon-boot mastery that was the ME7. There is a brand new pair of Smurf blue ME7s downstairs with a fresh set of cleats that I have been hoarding for a few years now, my own personal hedge-bet against the inevitable day when it would be dropped from Shimano's line. That day has finally arrived. God I love this shoe. It has the toe and heel protection of a proper mountain boot, that cool grippy Michelin rubber sole, a simple but surprisingly effective quick lace and ratchet buckle closure, and is still narrow enough that I don't feel like I'm pedaling clownshoes. It's the freakish love child of an XC shoe with a sturdy mountain boot; narrow underfoot but rocking a semi-mid, almost ankle height upper, complete with neoprene crud gaiter. If past experiences are anything to go by, this hoarded pair should be sufficient to last me through the rest of the Anthropocene.
Okay, so maybe the sole isn't wide enough or padded enough for the huck-to-flat set, and maybe the ratchet can sometimes get a bit crunchy, and sure, they run a little hot down here in the heat-blasted wastelands, but they otherwise check all the boxes for my particular brand of midlife ride footwear crisis. I'll say it again for the kids in the back. God l love this shoe. Moment of silence, please. (Evidently, Pete loved them too...)
Odes to the departed now taken care of, let's dig into the Shimano GE9. For much of the following, I will reference the ME7 that it is replacing, and will also throw on some comparison to the Specialized 2FO Cliplite BOAs that I have been running for the past year.
This is Shimano's flagship gravity shoe, designed to do the business for both DH racing and Enduro. To all intents and purposes, the GE9 is a more intentionally gravity-focused shoe than the ME7. This isn't too much of a surprise, since the GE9 is also replacing Shimano's AM9 DH shoe. The sole is wider than on the ME7 by about a centimeter, stem to stern, and is also thicker; there's a healthy layer of spongy EVA foam running from heel to toebox. As a nod to the "flagship" moniker, do not expect these shoes to be cheap. $299 of your Canadian Dollars, $225 south of the border where democracy is in flames.
No more Michelin rubber - it has been replaced by something called Ultread. According to Shimano, "Enduro-optimized SHIMANO ULTREAD GE rubber compound and tread pattern deliver reliable pedaling and hiking traction." So there. According to my built-in fingernail Mitutoyo shore hardness tester, the new Ultread rubber is softer than the old Michelin rubber. Wider sole, softer rubber, that all implies that the GE9 will be a better shoe for hiking around on wet rocks, but I haven't put that to the test yet. Because it is September in California.
The sole rubber wraps up around the toe and is bonded to a reinforced toe cap that layers protection all the way up onto the top of the rand at the front of the shoe. Cleat slots are referred to in Shimano-ese as "mid-foot"; essentially the same as the ME7, meaning you can slide the cleats waaaaay back on the shoe to capitalize on stability and senditude at the expense of cadence (cue up rambling old out of touch XC nerd rant about how this is the perfect opportunity to regain lost cadence due to pedal position biodynamics by installing some 150mm cranks...). There is also a channel in the center of the sole aft of the cleat pocket that "catches" an SPD pedal for some added stability during those unclipped drama moments.
Speedlaces are out, BOA closure is in. Ratchet buckle is gone; there's now a Velcro strap in its place. Much as I sometimes cursed the old buckles, I will miss them. The neoprene ankle gaiter remains. It does a wonderful job of keeping crud from sneaking into your socks but, as the desert dwellers attest, can contribute to feeling kinda warm in hotter ride climates. Side by side, GE9 next to ME7, it looks like the crankside ankle padding on the GE9 reaches maybe, just possibly a hair lower, but the padding feels a little bit thicker. The tongue padding on the GE9 is substantially thicker than on the ME7 (again, as it is replacing the AM9, this seems par for the course).
With regard to inevitable cross-brand comparison, the GE9 resembles the Specialized Cliplite BOA very closely in terms of sole shape and durometer, toe protection, stiffness, tongue padding and overall aesthetic. The GE9 has that neoprene gaiter and you can run the cleats noticeably farther astern in the shoe. The Specialized has two BOA closures. They both can be had in a subdued shade of green that appeals to forest dwelling creatures. The GE9 weighs about the same as the outgoing ME7, and about the same as the Cliplite BOA (according to the internet. After Mike Curiak made fun of me a while back for weighing my shoes, I broke my scale and have not personally weighed these); that is to say, about on par for modern "high protection" trail shoes and about 200g heavier per pair than most XC kicks.
Pedaling stiffness is good. The GE9 feels very much like the departed ME7 in terms of striking a nice balance between offering a solid pedaling platform and still being comfortable to scramble around in the woods, and to wear all day. In fact, I'd go so far as to say that the GE9 might be a little bit more comfy all around, thanks to the extra padding. I'd also say that, when new, the GE9 seems to cradle my heel a bit better than the ME7 did. AND it will absolutely offer more toe-room for the Flinstone-footed, so much so that Shimano even recommends sizing down if coming from an ME7.
As of this writing, I haven't been able to assess how that padding will hold up over time. I just unboxed these slippers yesterday. Pete has been getting some miles in, however. So he can update with his thoughts.
I'm looking forward to getting mine good and dirty, but I really am torn as to whether I will want to make these my long-term bffs over the ME7. The ME7 was sort of the gateway shoe for me, the one that weaned me away from carbon soles and toe-spikes, and it retains a stripped down enough fit that I equate to a "good" feel. The modern boxy shoe aesthetic, in spite of a solid year riding those 2FO Cliplites, is still a tough one for me. I am going to attempt to come to terms with this by riding a heavy coil sprung 160mm travel bike all winter, dragging my feet in corners, kicking rocks as hard as I can, and maybe wearing goggles too.
Pete's Thoughts on the GE9
It wasn't clear at the outset that the GE9 replaced the ME7, but the latter is (was...damnit) my favourite ever clipless shoe. So, when a set of GE9s showed up I was keen to try them but they started a couple of pitches behind in the count.
The new shoe had fallen prey to the modern, flat-soled look inspired by skate shoes. Gone was the speed lace and buckle tandem that was quick on and off and let me find that 'just so' tightness every single time. Also gone was the flap that covered the forefoot, which was so good at keeping mud and loam out of the nooks and crannies on top of the shoes.
Part of what I loved about the ME7 was that it was unique - and versatile. For years, it was the shoe I traveled with, and used for XC/Trail riding all the way to DH or shuttling (if I was clipping in). I used them on gravel. I was going to use them for BCBR but ended up in an XC race shoe instead and that was probably smart, but the ME7s would have been perfect, too.
So, when Mike offered to review them, I hesitated because I clearly had this soliloquy all bottled up. But then he more or less recited the same thing to me before I could get it out and, well, why not let Pops have a go, eh? But while his are new, I've had mine for 15 or 20 rides now, so I can muster a few comments. Most MTB shoes these days don't have a break-in period at all, but something felt better - or I just started wearing them tighter - after the first few rides. I bitched to myself about losing the buckle, but I'm a long-time BOA fan, I'd just usually prefer two BOAs to one plus a velcro strap. And the strap works well, but visually I don't love it. It snugs the foot down well, but the old buckle reached down lower and locked my ankle into place even better.
Like the ME7, the GE9's stiffness feels similar, meaning it's just right. Not racing shoe stiff, but it's still a solid platform to push off against. I've put in several 4-5 hour days in them and there is none of that end of the day relief you get after taking them off. Less foot fatigue, total comfort. Lastly, the GE9's soles follow in the ME7's...ah, the GE9's soles are also great off the bike, and I find they direct your foot to the pedal very well when you're setting off and clipping in - always important in steep terrain.
I may not love the new king yet, but it's becoming easier to be happy without the old one. Although, like Mike, I still have a fresh set of ME7s in a box in the closet, just in case.
Shimano GE9 - 299 CAD / 225 USD