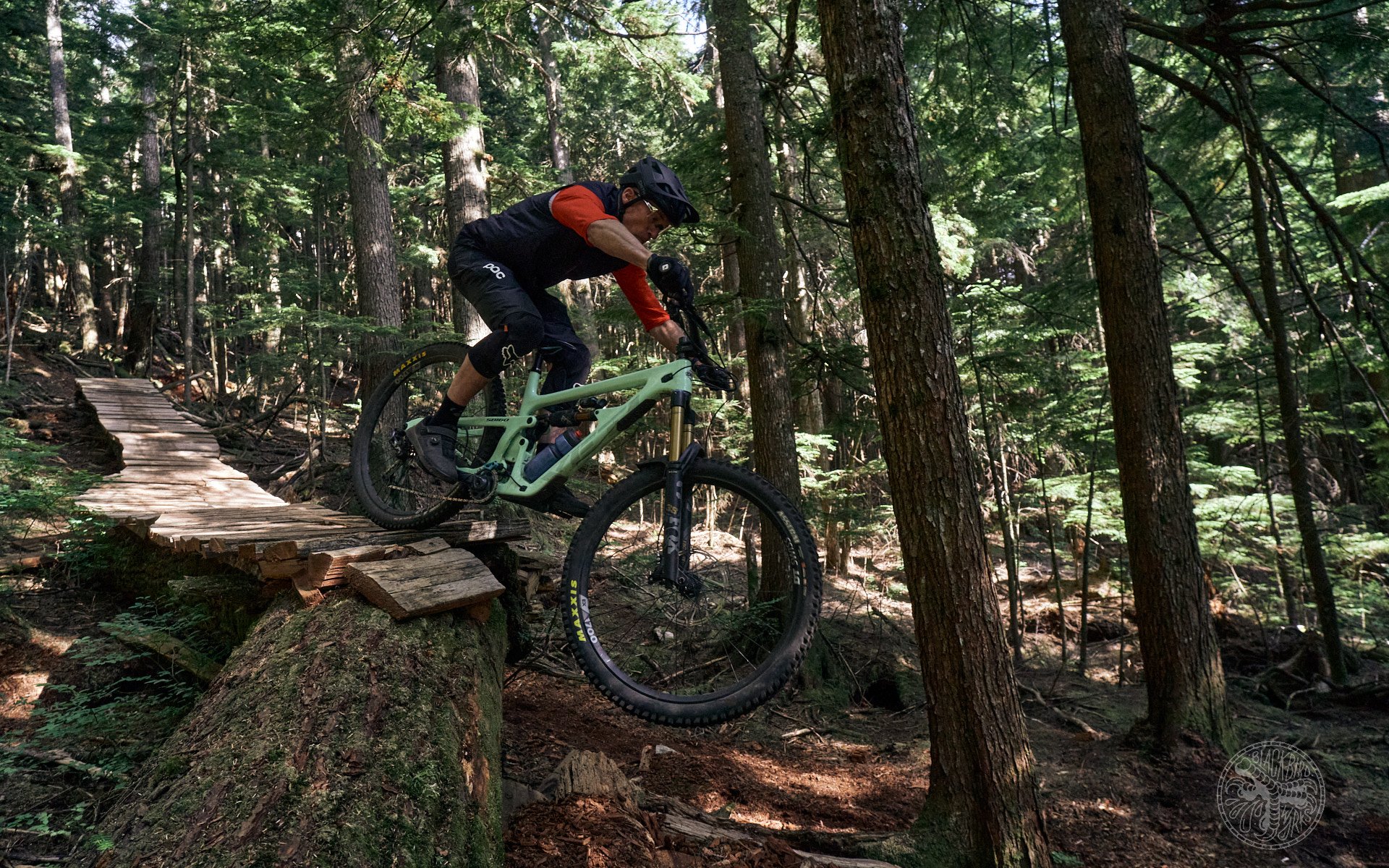 MINI REVIEWS
Gear Shots August 2023
Smith Engage Helmet
When the Smith Forefront arrived in 2013 it seemed like all the cool kids were wearing one. And many have continued, particularly now that the styling has evolved. I wasn't sure what all the fuss was about, actually. I wasn't persuaded by the (original) Tron styling of the first model and while the drinking straw tech of Koroyd had compelling crumple test results, I didn't like what I heard about the airflow. Beyond that, unlike most other products, I rarely choose a helmet. If I happen to need one, and one becomes available to test, I sometimes put my hand up. Despite that seeming indifference, when I start wearing a helmet I can be a fussy bugger.
What I've got here is the 2023 Smith Engage Mips. As far as I can tell, the only differences between this year's Engage and last year's are the colour choices and the price. The 2023 Engage has gone up by 10 bucks to 170 CAD while the virtually identical 2022 version is almost free at the sale price of 80 CAD. This compares to the current price of the Forefront 2 Mips of 290 CAD. To be clear, there is nothing inferior or faulty about the 2022 version.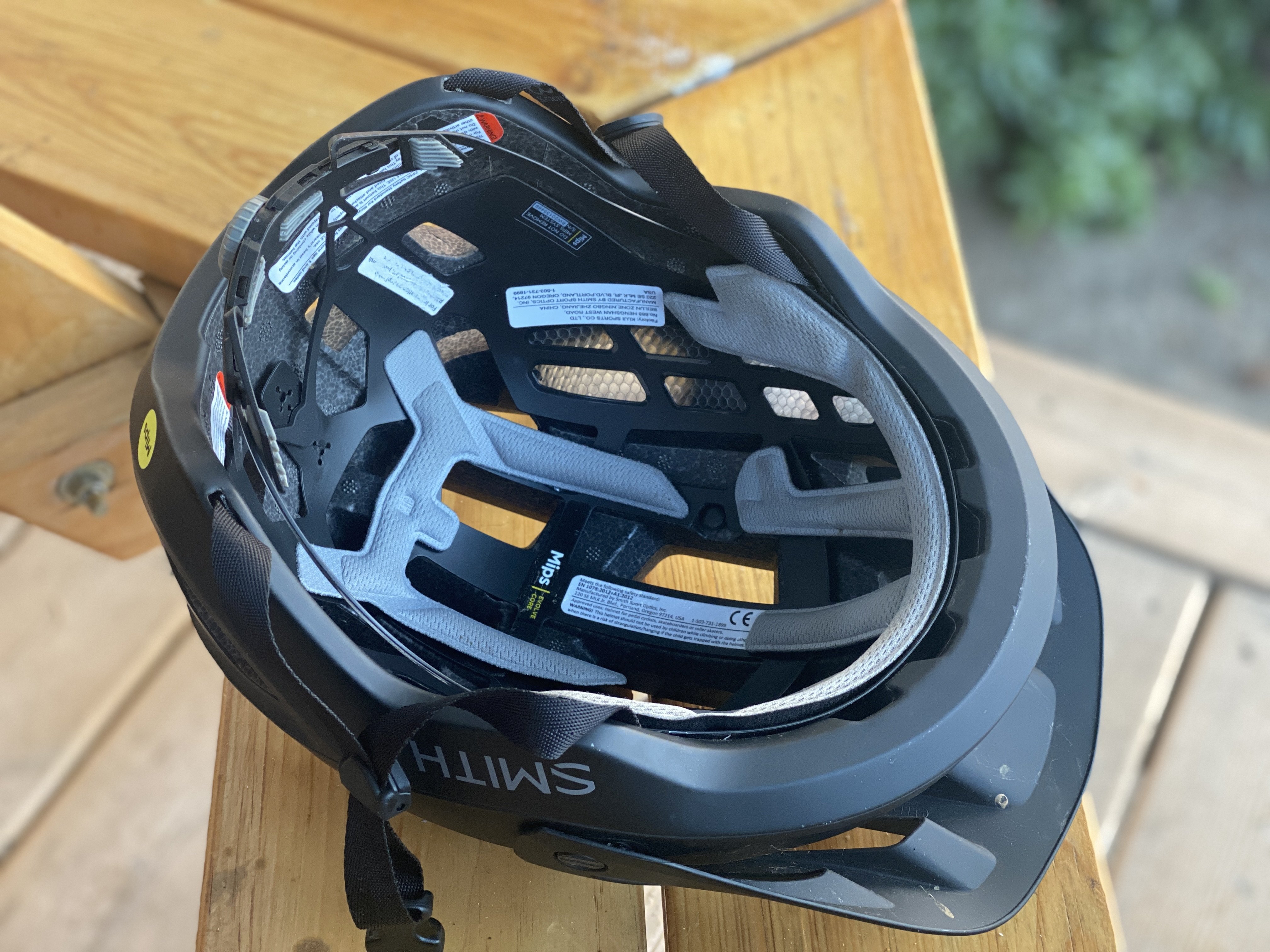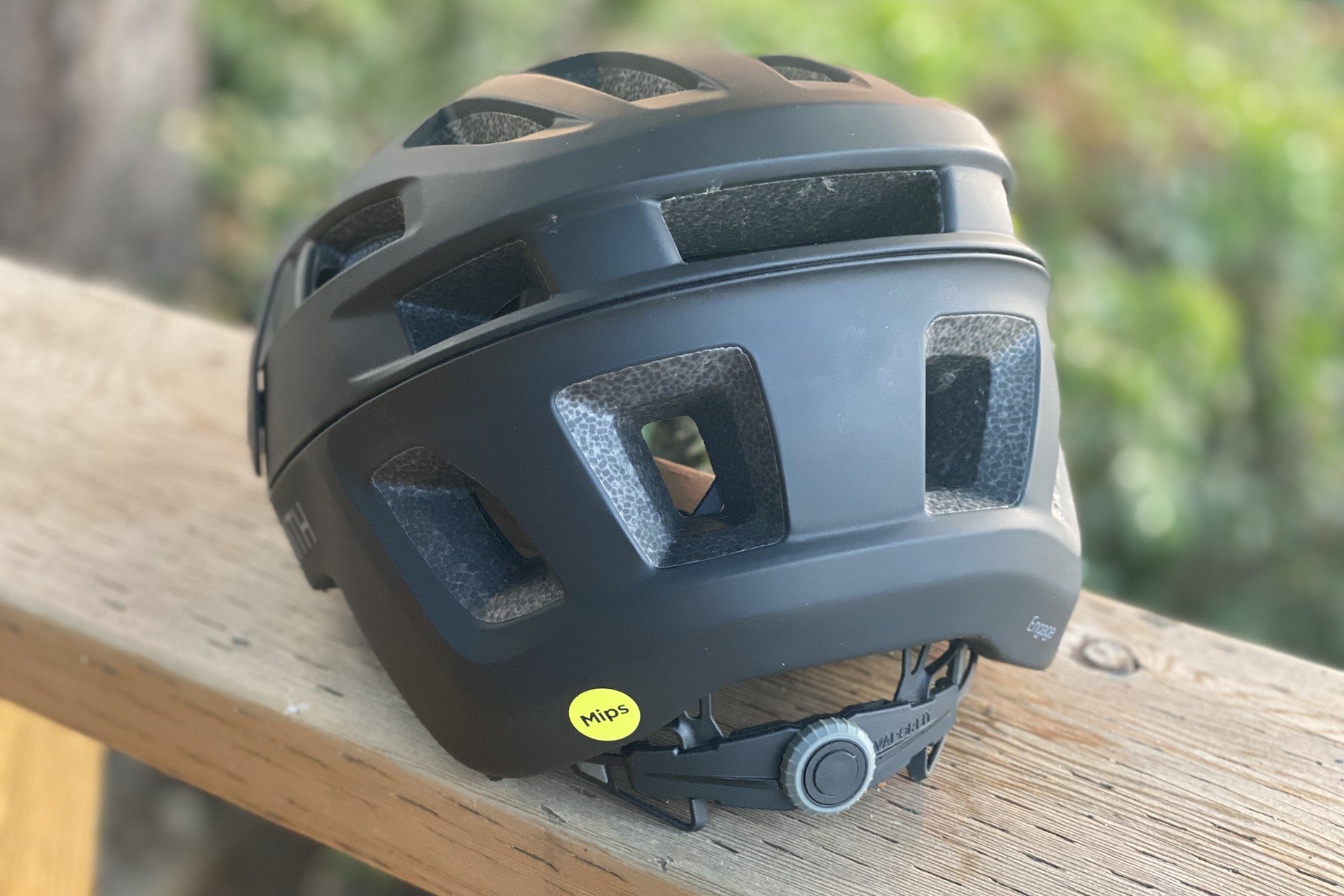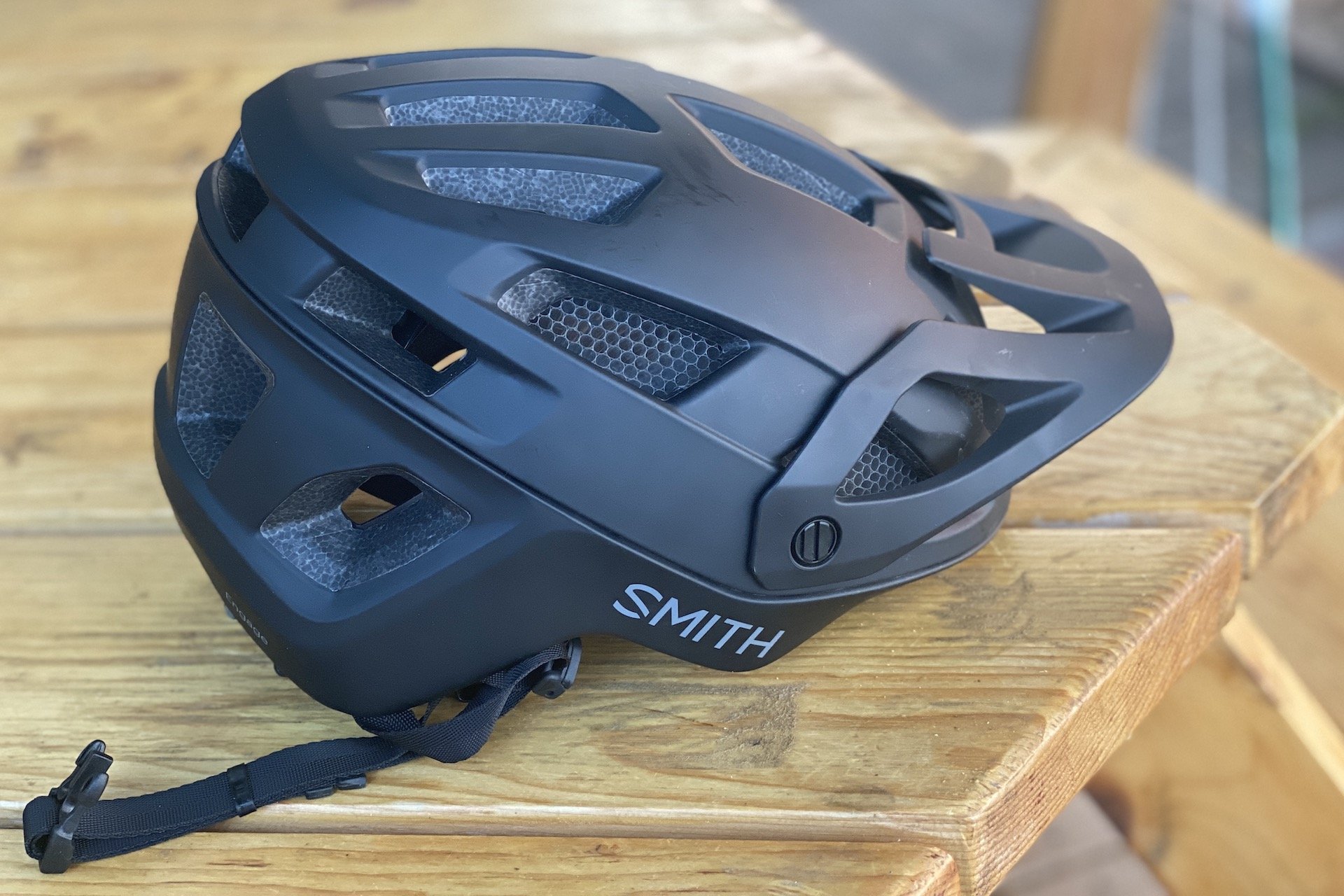 Post-Pandemic Prices
If you've visited your bike shop lately or done any shopping online, you may have noticed some deep discounts, even from brands who haven't slashed prices much at all in the past. While the pandemic led to a massive uptick in demand while simultaneously throwing old derailleurs into the cogs of supply, the post-pandemic period has been marked by overstocked brands and retailers because seemingly nobody in the bike industry suspected this was a classic boom-bust cycle. It turns out seeing the future is difficult when you've got dollar signs in your eyes. If you have some cash, this is a good time to buy. In this case, if you like the colours and can find your size, look for the 2022 version of the Engage, which seems to only differ from the version I'm testing in terms of colour selection but will save you 90 CAD.
Smith Engage (2023) Product Details*
Protection
Lightweight in-mold construction, Zonal KOROYD® coverage for lightweight, energy-absorbing and ventilated impact protection
Mips® Brain Protection System reduces rotational forces caused by angled impacts to the head
CPSC and CE EN 1078 certified
Fit / Integration
Adjustable dial fit system for a customized fit
Designed for ultimate integration with Smith performance eyewear for maximum comfort, venting and storage convenience
AirEvac ventilation system integrates with Smith eyewear for fog-free lenses
Features
21 fixed vents for consistent airflow
Performance comfort lining
Lightweight, low-bulk single layer webbing
Two position adjustable visor
Weight (Size M, Mips®): 12 oz / 350 g
*info provided by Smith
What are Helmets for Again?
I haven't said much about how well this helmet is likely to keep your noggin safe. I do have confidence that most well made safety hats reduce the likelihood of skull fractures, and I'm hoping to avoid those but concussions are the most common outcome when riders crash their bikes and, the truth is I'm not convinced helmets do much to prevent concussions at all. I've yet to see evidence that suggests we know anything about how to prevent concussions using helmets either. MIPS seems like a good idea, but whether it works better than the slip plane of the hair on your head is uncertain. We do know MIPS adds complexity, reduces comfort and ventilation and increases cost however. Smith does extensive internal testing and solicits certification, meeting the CPSC and CE EN 1078 standards, which provides a level of comfort for sure. Obviously I wear a helmet when I'm riding and I feel that I am safer than without it but, like the NFL, I'm hopeful research will continue in this field to keep us safer over the long term.
To Conclude
Despite this helmet being second in line for the throne at Smith, there is nothing about the Engage that feels less than premium. The fit is incredible for me, the venting is excellent, the finish is top notch, it's light and comfortable on my head despite the presence of MIPS and it even handles your eyewear well. And while the styling of Forefront has become less Sci Fi lately, I prefer the look of the Engage.
Smith Engage helmet 130 USD / 170 CAD
-Cam McRae
Yeti Turq Wind Vest
I'm fearlessly treading into Andrew Major territory with this review; it's a vest that Andrew's emergency support jacket label. Aside from the sleeves part that is.
This garment is as simple as they come. It has one pocket, into which the entire vest can be stowed in a pocket-sized morsel, a zipper, a drawstring and that's it. I have a few jackets that are similarly light but the sleeves make them more bulky, and warmer than necessary for some conditions.
KEY FEATURES*
LIGHTWEIGHT 48G/M2 TORAY STRETCH WOVEN FABRIC PROVIDES PROTECTION FROM THE ELEMENTS
DURABLE WATER REPELLENT FINISH SHEDS MOISTURE
PACKS DOWN INTO BUILT IN STUFF SACK FOR EASY TRANSPORT IN POCKET OR HIP PACK
TWO-WAY YKK FRONT ZIPPER
ELASTIC DRAW CORD AT WAIST
RELAXED FIT
100% NYLON
*info provided by Yeti
This garment has proven more useful than I would have expected. Sometimes that use is as a 'just in case' carry when the weather is unsettled and other times it's a starter for days when you want a little something to help you warm up in comfort. The two way front zipper is useful as things start to warm up and you'd like a little venting.
I haven't been rained on while wearing the Windvest but my expectations are low for the DWR coating over the thin nylon fabric. That's all the good news. The price however is a little steep, considering the gossamer fabric and (deliberately) few features. This retails for 125 USD. If it's just what you are looking for and the price doesn't scare you, I'm sure it will serve you well.
Yeti Turq Windvest - 125 USD
Five Ten Kestrel BOA
As a long time Five Ten fan, it's funny that I've never tried a pair of their clipless shoes. Five Tens always meant flats for me, and for clipless I've always been well-served by some of the usual suspects (Shimano, Giro, Specialized). When the Kestrel BOAs arrived, I opened them up and was instantly transported to my 13-year-old self getting excited about brand new soccer boots. Probably not a coincidence, given the cleat-like toe and heel treads that Five Ten calls pillars.
The Kestrel BOA is described as a d*wncountry shoe, which I only noticed today while writing this - otherwise I may have exhibited prejudice against them. Unlike with bikes, however, there's less confusion with this term for shoes as these are clearly modeled after a classic XC 'slipper' style shoe, with plenty of toe protection and the aforementioned pillars on the sole, both useful for riding your damn bike.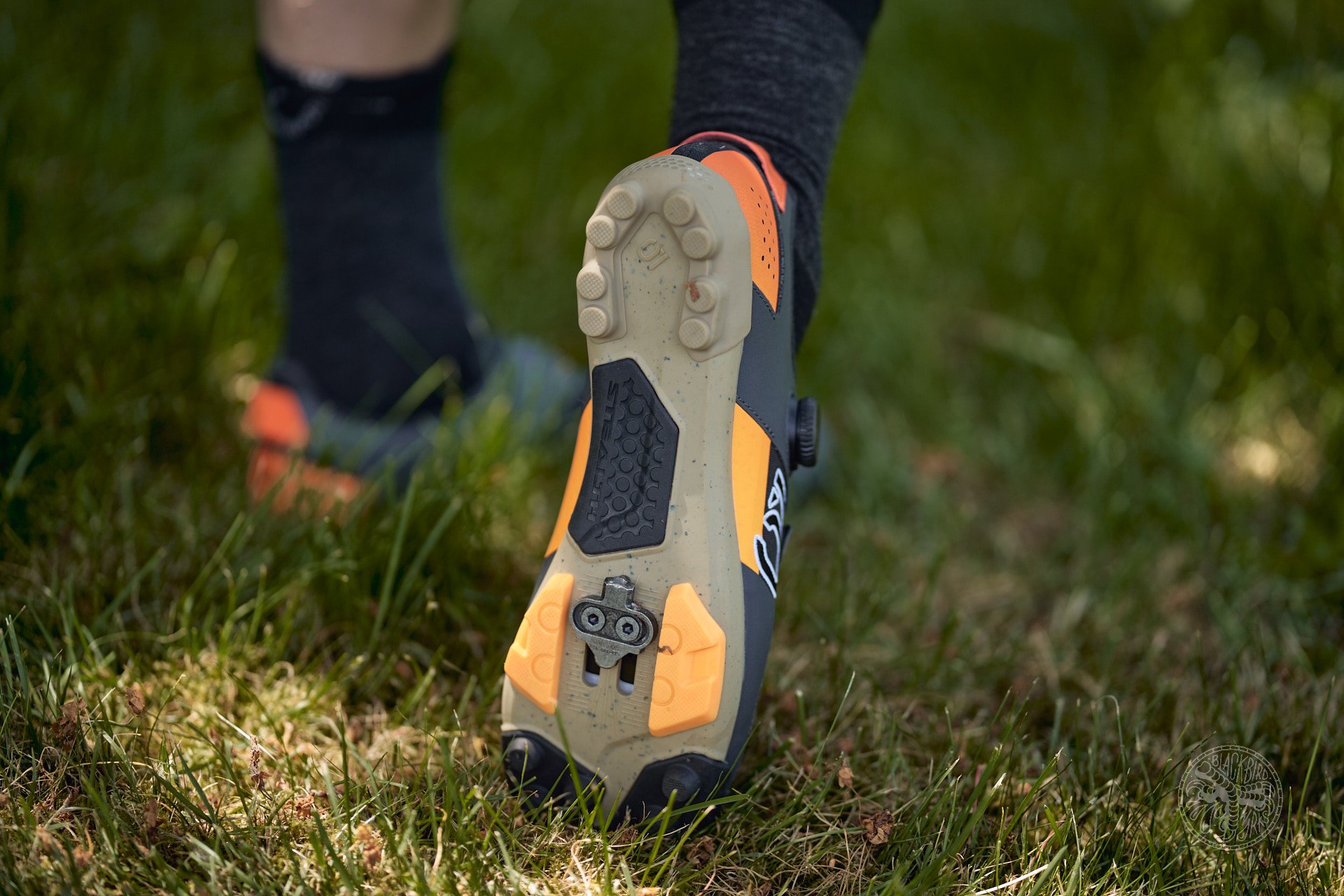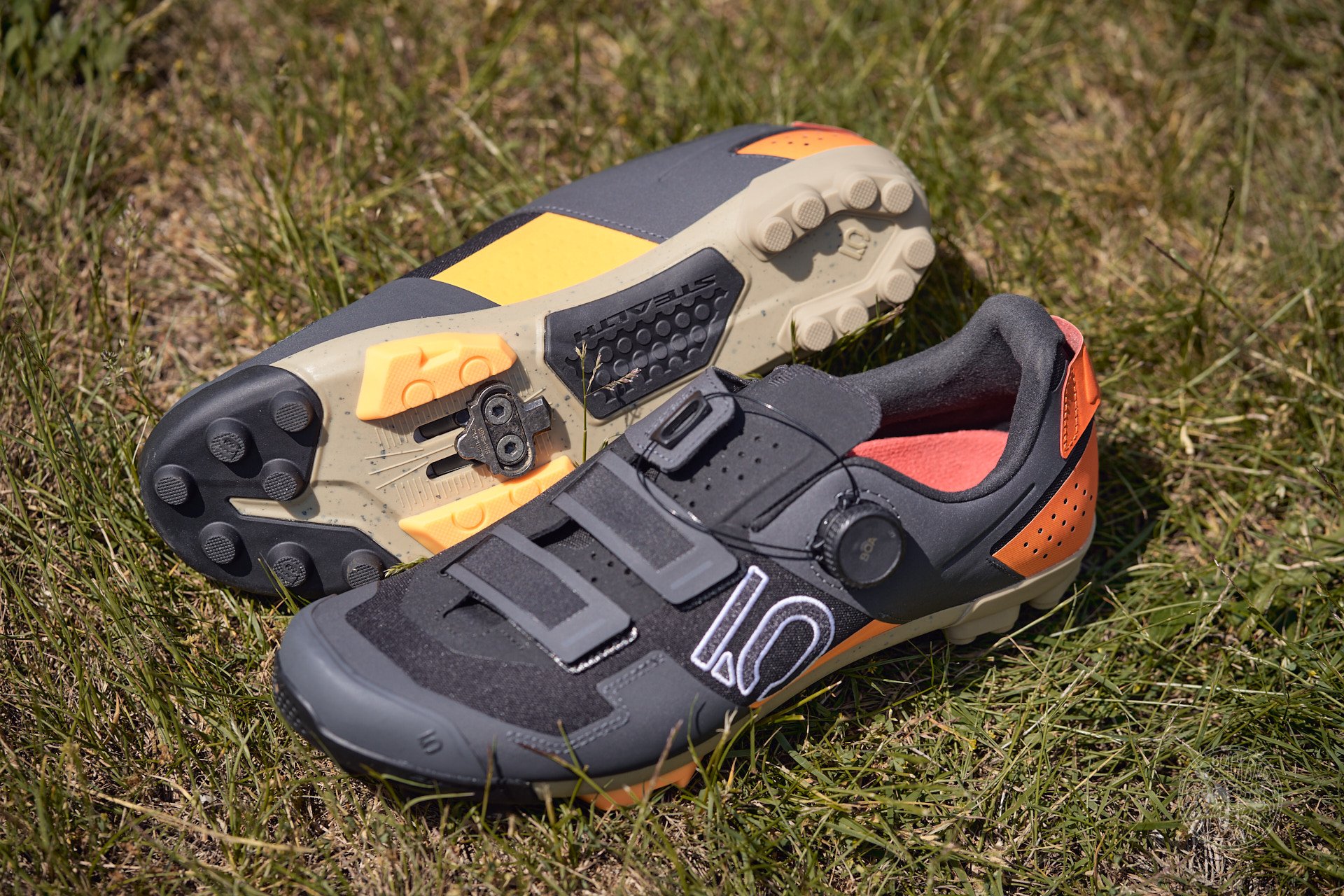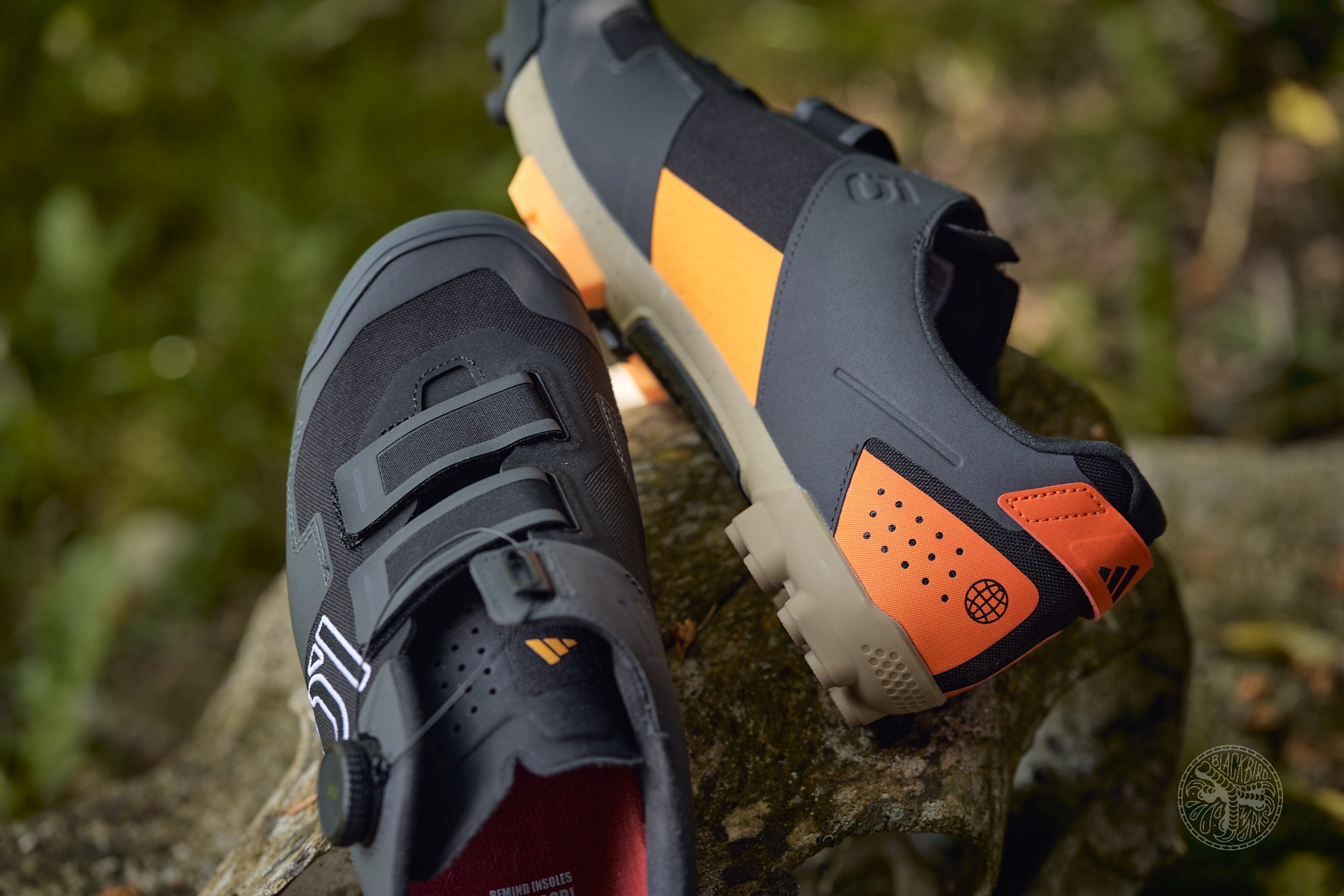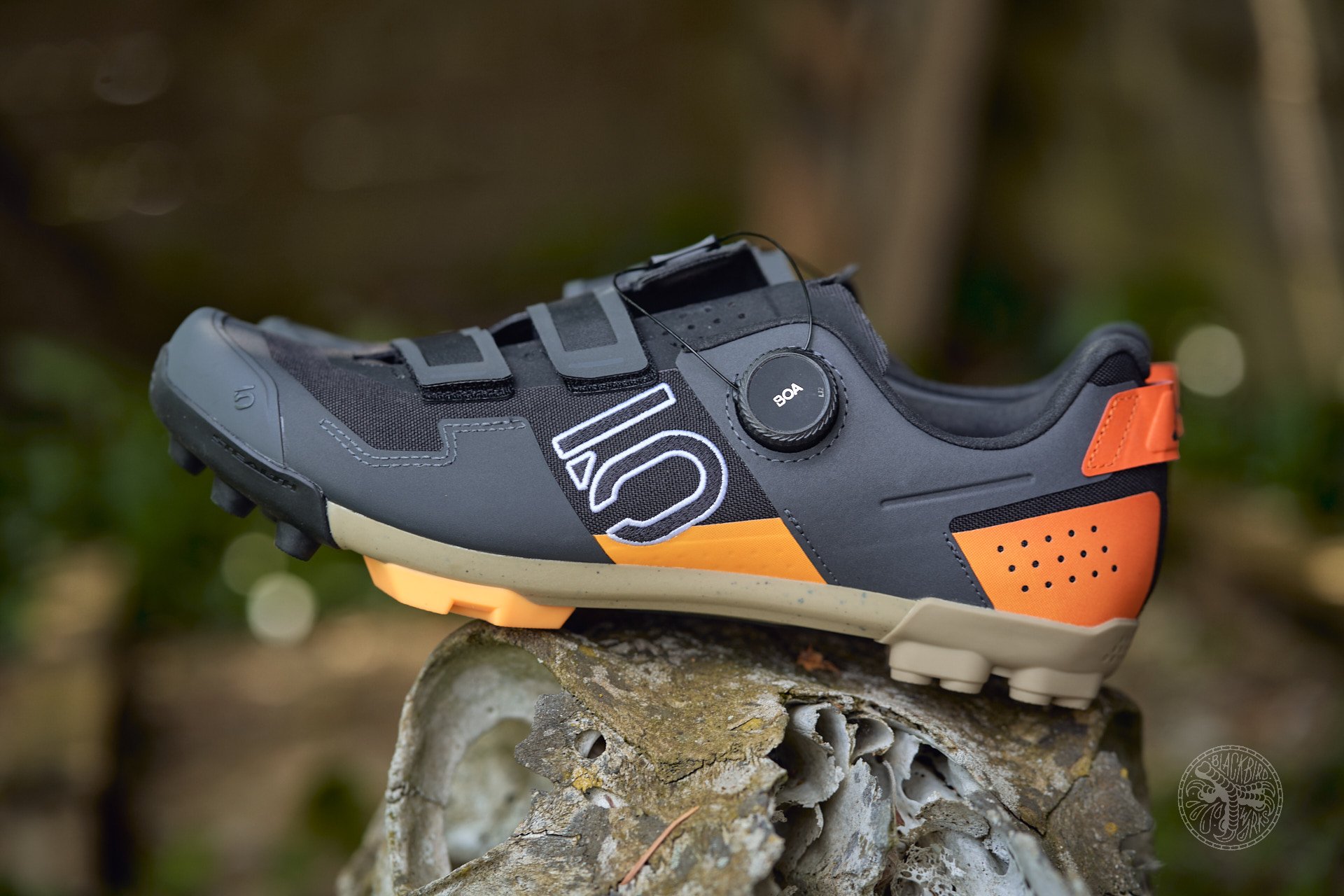 They have a full-length glass fiber plate in the sole to help with power transfer and lateral stability, further indicating intended use by riders who track meters climbed rather than laps in the park.
Unlike many XC slippers, however, the Kestrel BOAs have a STEALTH rubber instep patch (more nostalgia: this took me back to my first pair of similarly-equipped b/c ski boots) which helps with grip in awkward places like crossing logs. Those pillars are also made from Five Ten's famous rubber - they don't hold a candle to hiking around on slabs in a flat-soled shoe, but they do give above average grip for shoes designed for pedaling, rather than hiking or sticking to flat pedals, and the cleats rarely click clack on pavement or hard surfaces, which is nice. As much as I hate DC, I have to admit these shoes fit that bill.
As the name implies, the Five Ten Kestrel BOAs use BOA's Li2 closure system - one per foot - as well as two low-profile hook and loop straps to keep your mid- and forefoot secure. I'm a fan of double-BOA fasteners for MTB shoes, however I have to admit that the single dial-equipped Kestrel BOAs fit very well, go on quickly, and allow for on-the-bike adjustments. Pretty much perfection. I've been using them with the Remind Remedy Insoles I wrote about below, and it's been a happy match for every kind of riding. Plenty of power for efficient pedaling without being so stiff they feel like a race only shoe. As much as I like the new crop of skate-style clipless shoes, these Kestrel BOAs are great for anything that doesn't involve too much hiking or scrambling around on slippery slabs, but even then they'll handle that stuff better than the average shoe in this category. At 300 CAD it's in the premium pricing category, but they seem supremely well-constructed and durable, so I'd expect to get years of hard use out of them.
Five Ten Kestrel BOA 230 USD / 300 CAD / £200 / €230
-Pete Roggeman
Remind Insoles
My introduction to using insoles dates way back to my days of competitive tennis, when 3-4 hours of daily pounding on hard courts meant sore feet, ankles, knees, and back - and even a painful episode of what may have been plantar fasciitis. Insoles added cushioning as well as support and alignment for my high arches, mitigating those issues, and added way better fit and performance when I started adding them to ski boots. However, despite complaining in a few reviews about how MTB shoes come with crappy, thin insoles (like all athletic shoes), I have rarely put aftermarket insoles in my riding shoes.
With stiff-soled clipless shoes, sometimes a tired foot, or one that's holding a lot of my weight in one position while descending can get quite sore. I'd put part of the blame for this down to insufficient arch support and my high arches are probably more susceptible. Softer-soled flat shoes flex more (or allow for a mid-footed pedal position), so when I'm riding flats I'm less likely to notice a lack of arch support, except when I do some hike-a-biking, or carrying rocks around in riding shoes.
A few years ago, Andrew wrote about the Canadian-made Esker insoles, and I bought some last year to help make a pair of winter boots fit better. The insoles both filled in a bit of volume and provided better arch support, instantly making those boots feel better on my feet. I've since switched them back and forth between various shoes and really enjoyed that extra comfort and support. The Eskers cost 80 CAD, which is justifiable given their materials and construction and the fact they're made in Canada. Still a lot to pay but it's a premium product - I highly recommend them but you can get the same benefits for less money if you wish (minus the wool and rubber construction and MiC factor).
Remind insoles come in a variety of options to suit different arch heights, desired amount of cushioning, and even a heat-moldable option. I was sent three different versions to try: the heat moldable Remedy (medium-high arch, high rigidity), the Cush 4mm (medium arch, medium rigidity), and the Medic 5mm (mid-high arch, mid-high rigidity). Remind claims that their insoles create better ankle alignment to relieve joint stress, support your arches, and reduce shock impact by up to 90%. The latter issue isn't one I associate with riding under normal conditions, however the first two are things we can all benefit from.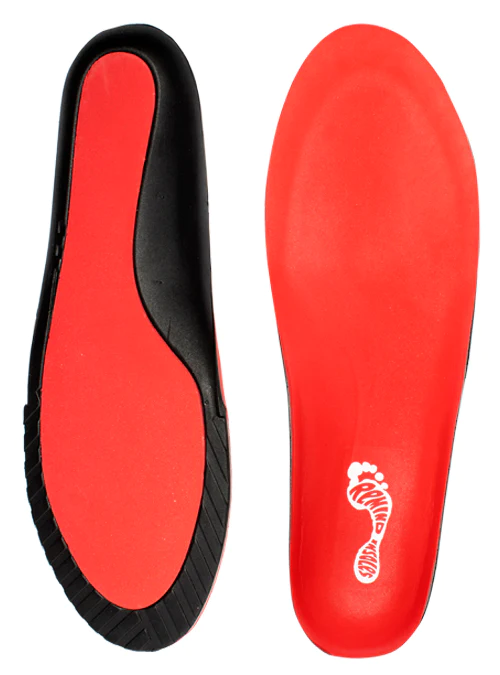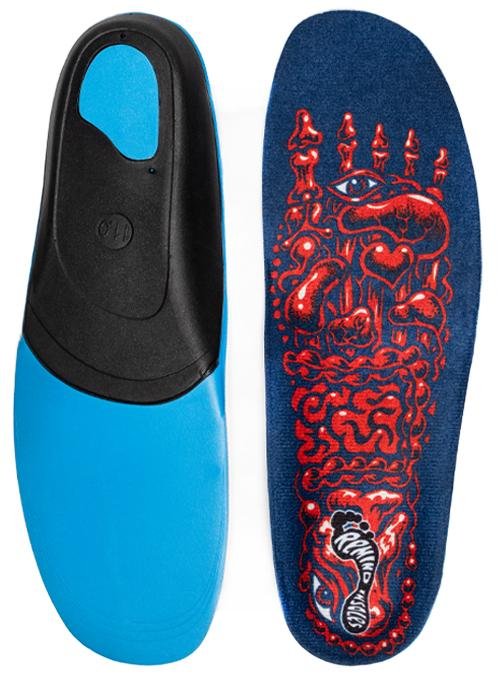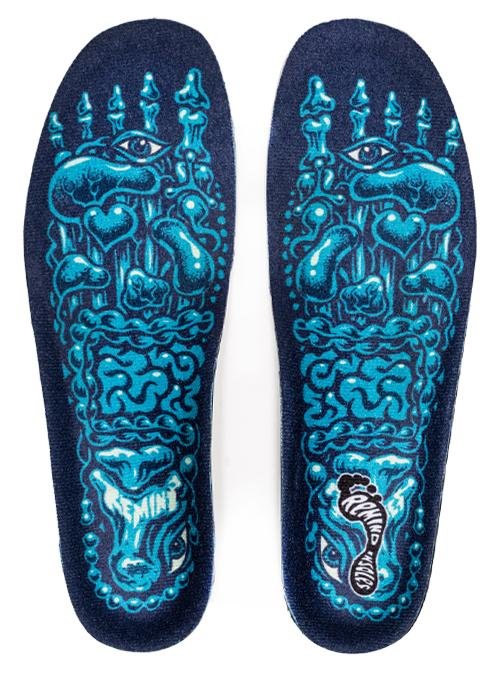 After a lot of mix-and-matching of insoles to footwear (flat shoes, clipless shoes, hiking boots, running shoes, and golf shoes) I'll cut to the chase and say that my favourite of the bunch are the Cush, for the simple reason that they add the most rigidity and arch support, and that's the benefit I notice most after long days on my feet, whether it's pedaling, running, or hiking. In shoes where I thought my feet were well-supported, the Cushes add a feeling of being wrapped from the bottom that is usually more prevalent from the laces and buckles on the top of most shoes. I've used them riding, running, and hiking, and they've made every shoe fit and feel better on my feet. Added bonus is they're the lowest priced of the bunch.
For a slightly thinner, less rigid, lighter option, you could try the Medic - they've also worked very well for me but are slightly less noticeable. And then there is the heat moldable Remedy, which have plenty of arch support but don't feel as rigid as the Medic. The heat molding process is quick and easy, but I didn't find the added cost or procedure made them noticeably better for my needs.
It is easier to feel the difference these insoles provide while walking or running, especially on uneven terrain. However, it's difficult to discern a real difference when pedaling in terms of performance, but I do appreciate the way they support my arches and make all my riding shoes fit better on my feet. After long rides, my feet do feel slightly more relaxed and in situations where I am using my feet a lot on the pedals (this applies more to flats) I find the arch support makes me feel more connected to the pedals.
I don't relish the thought of adding a $45-55 insole to every pair of shoes I buy, however since I usually am using only 3-4 pairs of shoes at a time, it is fairly easy to leave the insoles in the same place as all my athletic shoes and insert or remove them as necessary. My expectation is that each of these pairs of insoles will last longer than the life of the shoes, but I'll report back if they wear out unusually quickly. For my money, the Cush is the best bet, however all three of these insoles were huge improvements in comfort and even if they didn't drastically change pedaling feel, I'll be using them in my riding shoes - as well as ones I use for hiking and other sports - from now on.
Remedy: 60 USD / 70 CAD
Cush Classic: 45 USD / 45 CAD
Medic Classic: 45 USD / 55 CAD
-Pete Roggeman
Titanium Bolts
If your $15,000 super duper carbon bike is not fancy enough, you should look no further. A couple of the nicest, anal retentive guys from a North Vancouver local bike shop basement put their heads together to create a customization product line. The idea was to partly change the weak and prone-to-stripping aluminum bolts to a steel-like-strength alternative that also looks cool.
There are a few colour options of their ti bolts: Royal Gold, Nightmare Black, Penny Copper, Burnt Blue, Oil Slick and Raw.
Now I don't have enough metallurgical knowledge to throw the book at you if Ti bolts are indeed a technical upgrade or not. They are lighter, they do not strip the tool interface as easily and they come in variety of colours. I am personally a big fan of the copper option. The ti bolts are made of Titanium Grade 5 (Ti-6Al-4V). Marine, aerospace and medical fields also seem to choose this grade.
Galvanic corrosion is always an issue where Ti and Al meet so these guys provide a healthy supply of copper paste with every purchase that should combat that problem.
They currently don't have Burgtec stem sized bolts and the North Shore Billet ones on my my Rallon are cool on their own so we decked out the Santa Cruz Hightower with the copper Shimano brake clamp, headset preload, 6-Bolt rotor and brake mount bolts. "The weight savings are totally noticeable and the bike now soars in the air". While that may not be remotely true, the view from behind the bars has improved and so far no real drawbacks to report. What the heat cycle will do to the rotor bolts remains to be seen, but I am not too concerned as there are 6 of them for a reason. I also take a Dremel tool to my crown race to split it so take your risks accordingly.
The question I asked the Ti guys about if they will be offering any frame hardware in the future was left with a soft 'maybe'. I can see the logistical nightmare that would be unless they picked a brand and stuck to it. Seems like these guys like to do it right, so they will take their time engineering the next generation of bolts.
Check them out at thetibolt.com