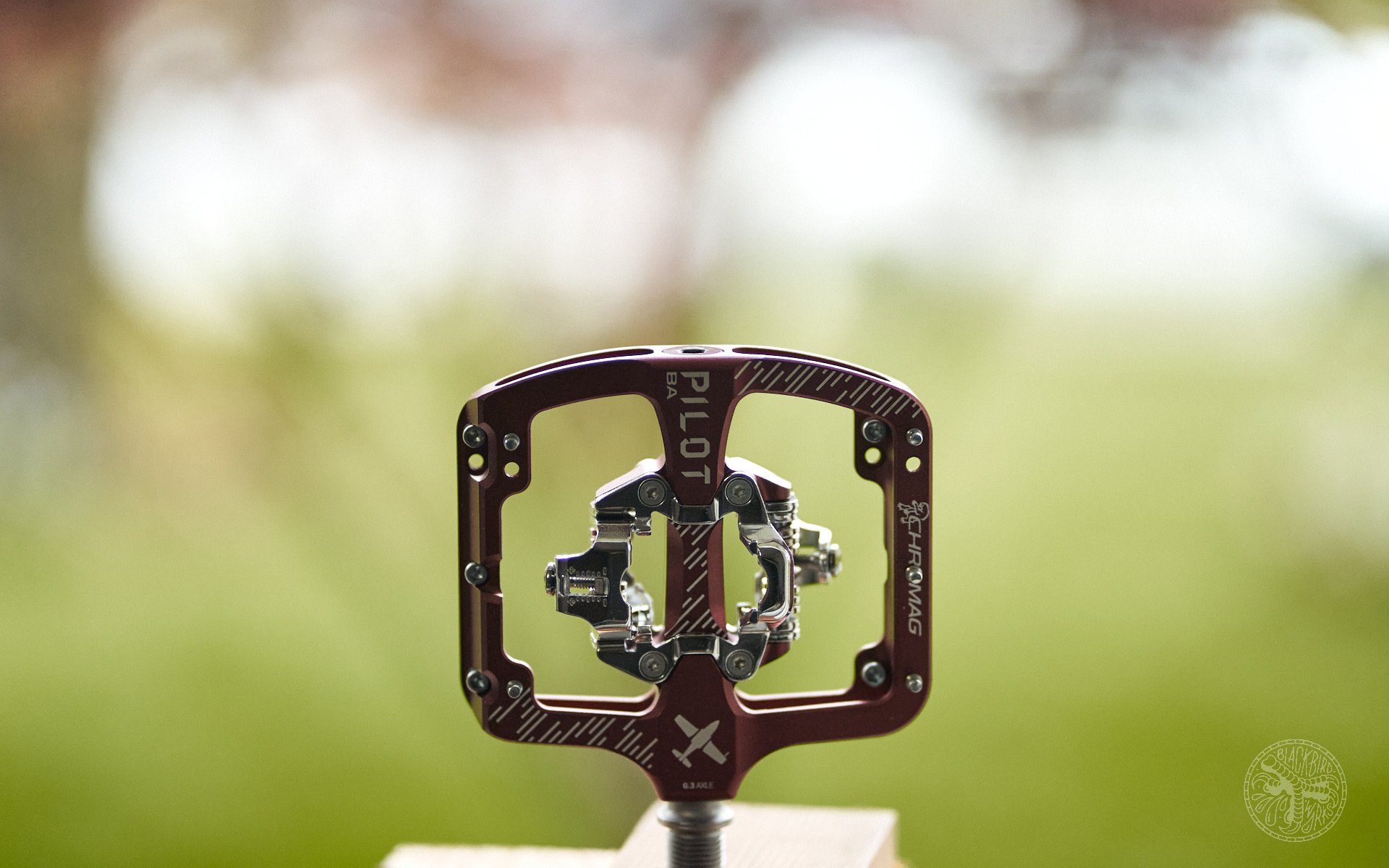 Review
Chromag Pilot Clipless Pedals
Chromag Pilot BA spd Pedals
You can walk into a bike industry party and start a brawl just by uttering "Flats or Clips?" It is a battle of glorious proportions considering there are not only brand loyal fanatics but people who have devoted their entire lives to spreading their own gospel about pedal retention.
-"Clips are cheating, man."
-"Foot out, flat out, braaah."
We like to think that we are evolved primates in the NSMB biosphere. While some of us prefer pedals with deadly pins and some of us like the clip in for extra retention. However we've all been on both sides of the pedal fence at some point to not care if one is actually better than the other, but what works best to enhance the riding experience.
Having played for both teams myself, I will readily adapt to any pedal situation as long as they are made well and come in cool colours, so I sent my arms flailing in the air when the latest test bounty was the new Pilot BA clipless pedal from aluminum and steel specialist Chromag.
Massive, red pedals with a shiny Shimano-licensed SPD mechanism jumped out of the box, and I was ready to wander into uncharted pedal territory.
My pedal of choice is the Time Spéciale 8, an Enduro style platform pedal that provides a certain amount of support when I unclip or can't clip in. The Pilot BA is by far the largest pedal platform I've ever encountered. Chromag says the platform is designed to extend past the cleat pocket of the shoes - the only way to make the pins engage with the current crop of DH-oriented shoes. Stability for your feet is key when we are talking about aggressive downhill riding.
The Pilot (the smaller of the two new pedals from Chromag) has a 57.5mm stance while the Pilot BA has a 60mm stance, making them some of the widest pedals on the market. Stance is measured from the crank to the centre of the cleat mechanism and wider numbers will give you more stability when riding downhill. I was worried this would result in a unfavourable pedaling position for the climbs but my knees seemed to line up quite well with my pedal stroke to avoid any soreness. I do run pedal washers on my Time pedals that result in a similar 58mm stance.
The Pilot BAs come in at 298 grams per pedal which is more or less in the middle of the road for a Downhill oriented pedal.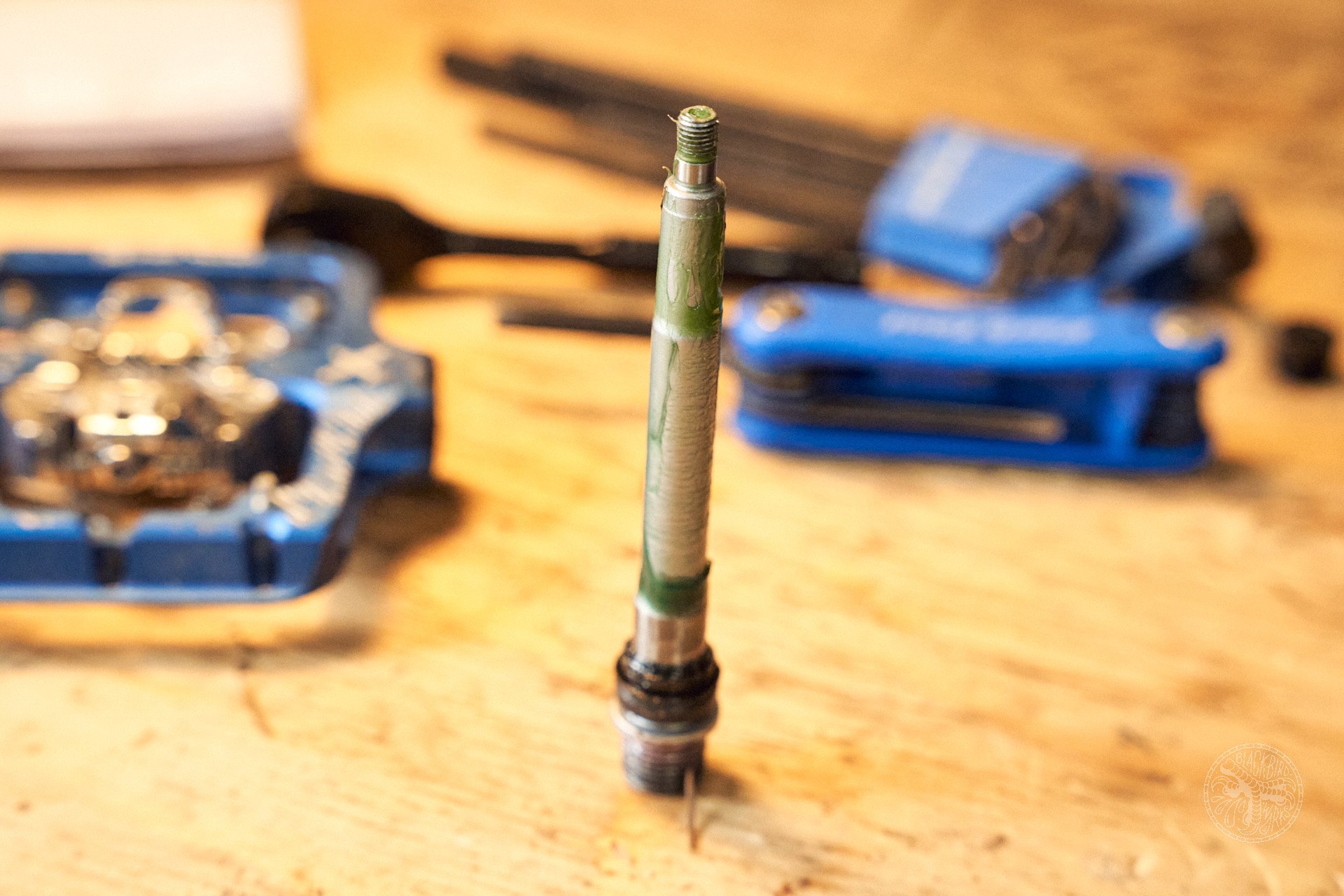 Construction
Chromag is known for their utilitarian bourgeois design with excellent CNC finishing. All their pedals are works of art and the attention to detail is second to none. Ten pins with washers sit proudly on the outer perimeter of the pedal body, accessed by 3mm hex keys. The heads of the hex keys are tucked nicely out of harm's way, allowing you to add and remove pins with ease as your pedals age. The mechanism sits nice and flush in a pocket that is machined away from the centre of the pedal body and is nickel-coated to prevent rust. The springs themselves are coated as well in a shiny package. There is a tension adjustment bolt and a + / - scale to set all 4 adjustments accurately. To be honest, the jewelry like presentation is almost too pretty to put on the bike, knowing what will happen when they find their very first rock on the trail on our contemporarily low bottom bracket steeds.
Opening the pedal up is no issue. You access the 8mm nut that holds the spindle and the pedal body together behind a cap that threads into the pedal body. It is relatively easy to source G3 axle kits from Chromag to perform a service. The bushing end of the pedal body has dual seals to keep the world out and worn bushings can be changed either by getting the Bushing Removal Tool from Chromag or getting creative with whatever tools you have at hand as long as you have fresh ones to install. Be mindful of the surface the DU bushing sits in and do not damage it. New bushings can be pressed in with a DU bushing tool or light taps with the correct size socket or tube.
There is much to love about this kind of simplicity and the double seals work well enough that you will rarely have to bother with bushing replacements.
Riding the Chromag Pilot BA Pedals
An elephant's trunk contains 400,000 neurons. Imagine being able to pick up a needle from the ground with something that weighs close to 400 kilos. My right leg is quite useful in that I can happily pick a 4mm hex tool off the floor with my toes. I refused to wear shoes as a child as I wandered the world with bare feet, however I am not Nina Hoffmann and can not finish a UCI Downhill World Cup race with my shoe hanging on one side of the pedal and my bare foot on the other. The connection between my shoe and the pedal matters.
I generally prefer pedals with generous amounts of float. 13° is what Time pedals give me in stock setting, 17° if I swap them around. I have tried 17 degrees and found it too much for trail riding when a quick dab is needed.
The Chromag cleats went straight on a pair of Shimano AM9 Shoes that are designed for a pedal like this. Stiff and flat-soled, the AM9 begs for some platform and pins to rest its lugs on. After a quick test session in the backyard, I met up with some fast people for a ride. February was dry and cold here on the coast, and the trails were running really fast. There was quite of bit of traction to be found and with dry roots, I didn't hesitate to double up certain trail features. Making such daring moves will occasionally put me in the wrong line and I will quickly pull a foot out and stabilize myself. I found this to be a little trickier with the Pilot BAs. With my cleats positioned all the way back, it can be difficult to find them with my usual pedal setup so I was prepared for that. What I wasn't prepared for was that even if the cleat found the clip mechanism, the force required to actuate the lock was difficult to summon on the trail. With my weight shifting up and down, I was struggling to clip back into the pedal. The mental obstacle of not easily clipping back in was bigger than the physical one. With 5 tall pins and a massive platform, the Pilot BAs ride seriously close to a flat pedal setup, so there was plenty of support and traction whether I was clipped in or not. Moving my cleats forward by half a cm made clipping in and out much smoother. I also experimented with various spring tensions and found the higher settings to be far too possessive of my shoes. I tipped over when failing to unclip 2 or 3 times before I decided I'd had enough and loosened the retention to middle to low.
Overall, I liked my time on the Pilot BAs and am quite happy to see Chromag take on another challenge from their Whistler think-tank, however I think there is still some work required to refine this setup. Perhaps with a proprietary cleat and retention setup to really set them apart from the crowd. I'm sure capturing the loyal Shimano SPD crowd with a familiar cleat is easier but I feel like most of the people who ride DH are either on Crankbrothers or Time cleats. (I have not done a thorough local research to confirm or deny this)
If I was in the market for new SPD pedals to attach myself to, I would put the Pilots to the top of the search list. Pilot BAs would be a close second. I found the platform to be big and supportive, suited very well to DH riding. For the Trails, I would prefer the smaller footprint of the Regular Pilots.
Graham Driedger's Take on the Pilot BA
Deniz asked if I wanted to try a new set of pedals from Chromag. Like, Daggas Mate? Not quite. Turns out, Chromag has been developing an SPD platform for the past while. At first glance, the Pilot BA reminded me of a modernized Shimano 636 - A proper DH pedal, with an SPD mech in the middle. The SPD compatible retention mechanism is familiar looking, but glints with high quality chrome plating, and adds a tension indicator – nice. I can now see the tension at the indicator instead of guessing (and now wonder where I'm at, tension-wise, on my XT Trail Pedals). The blue anodized, 110mm long, full-fat clipless pedal shares many similarities with the Chromag Scarab, and features 5 pins per side. I only ran the Pilot BA with the two pins aft of the clipless mech and zero up front. This was an attempt to keep cleat engagement smooth, but to also allow my foot to dab with ample traction if I wasn't clipped in.
Captain Obvious would tell you the idea of a flat pedal surround is to keep your foot on the damn pedal, whether you're clipped in or not. He's right, but my experience with the Pilot BA wasn't completely intuitive. I'll blame that on my clipless pedal reference being Shimano XT Trails, and my muscle memory telling me exactly where to put my foot for a quick click in. Due to the large platform of the Pilot BA, I had to hunt around a little bit more than usual to engage the cleat. I'd also need some less roached SPD cleats, so new ones were installed, and, click: smooth engagement. The mechanism shed winter mud easily, and when the cleat pocket in my shoe was full of debris, I'd have a grippy flat pedal to ride. Eventually I'd clear the dirt, and clip back in, getting more familiar with the cleat position.
I've been more or less ambidextrous between flats and clipless pedals for the past year, then the Pilot BA came along. Now I'm fully committed to clipless, and I'll eventually switch back to flats when my foot position is getting lazy and I'm not dropping my heels enough in corners. Until then, I'll let the clipless mechanism keep my feet in the pedals, precisely where I want them to be, every time.
Newcomers to clipless pedals, DH racers, and anyone who wants a large platform surrounding their clipless pedal would be wise to consider the Pilot BA. Chromag's quality and attention to detail is top shelf, and sits in a range few other pedals share.  
Chromag Pilot BA: 220 CAD // available in Black, Purple, Red, Gold, and Blue
Chromag Pilot: 215 CAD // available in Black, Purple, Red, Gold, and Blue