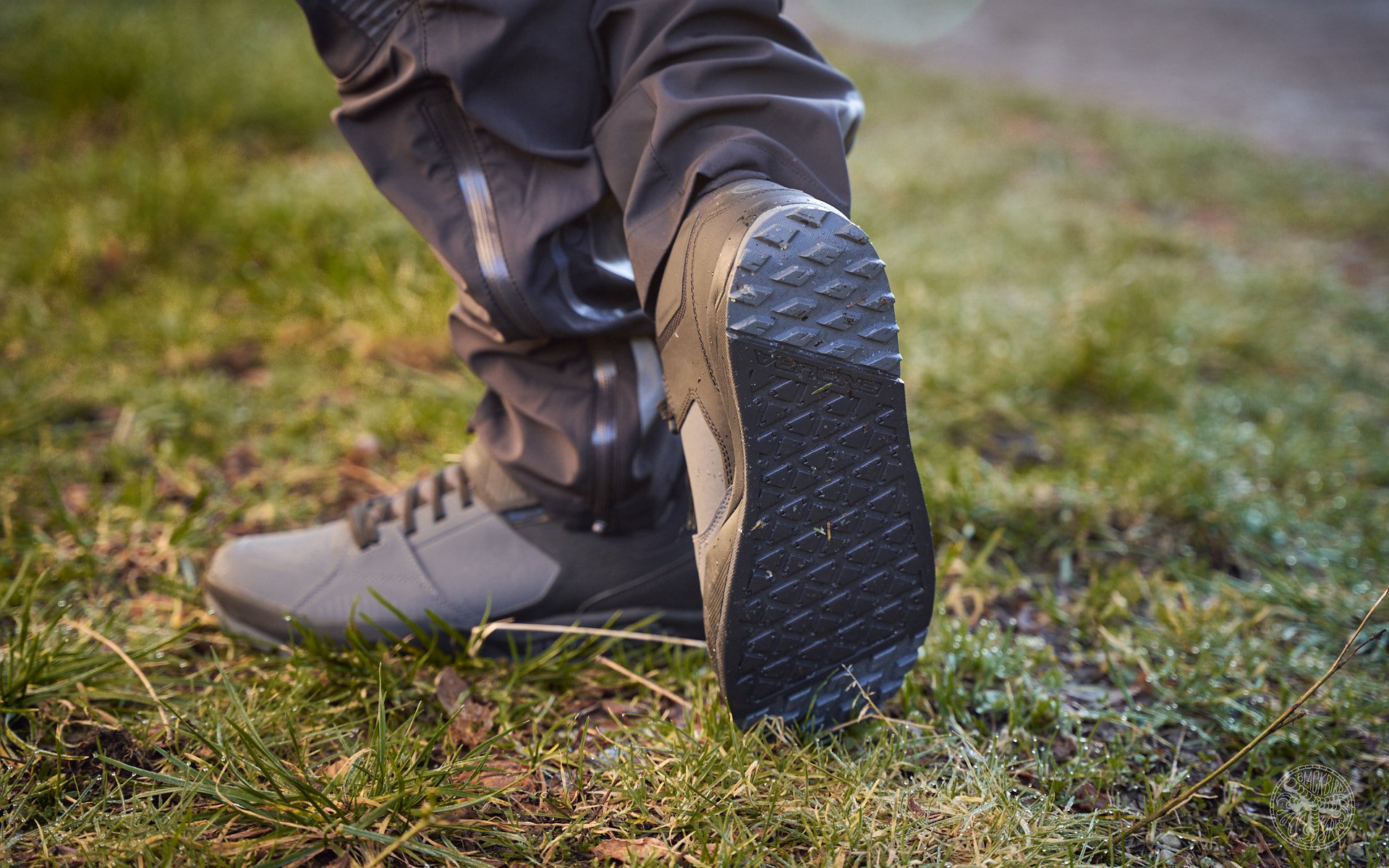 REVIEW
Endura MT500 Burner Flat Shoe
High-Tech shoes for Low-Tech Pedals
For those of you who missed the product launch, Endura recently entered the mountain bike footwear market with a lineup of shoes, all aimed squarely at the gravity-focused crowd. I was lucky enough to get my grubby little feet into a pair of Burners - a technical, flat-pedal shoe that fits into their MT500 line of top-shelf mountain bike gear. I freely admitted in the launch that I liked these shoes after only a few rides in them. But feeling good on the first ride isn't even half the story with a truly great pair of flat pedal shoes. Of all the gear we don when we head out on our bikes, our shoes are likely to see far more wear and tear than any other piece of equipment. A mountain bike shoe endures a harsh, high-impact environment - and that's before any crashes occur. A shoe that feels great, but falls apart after a handful of rides is not a good shoe. Likewise, an indestructible shoe that feels like shit is also not a good shoe. Many years on flat pedals has taught me: If you find a comfortable shoe, with good grip, and a reasonable life expectancy - buy up all the stock you can find, because chances are, your new favourite brand will mess with that winning formula in their next release, and leave you hunting for your next shoe.
If you're the type that prefers to be mechanically bound to your bike - fear not, as Endura has you covered with a clipless version of the Burner. Alongside the Burner models, Endura also offers the skate-inspired Hummvee flat shoe, aimed at the dirt/slope/street crowd. All three shoes come in a variety of colours, so there's a chance you might be able to match your pyjamas.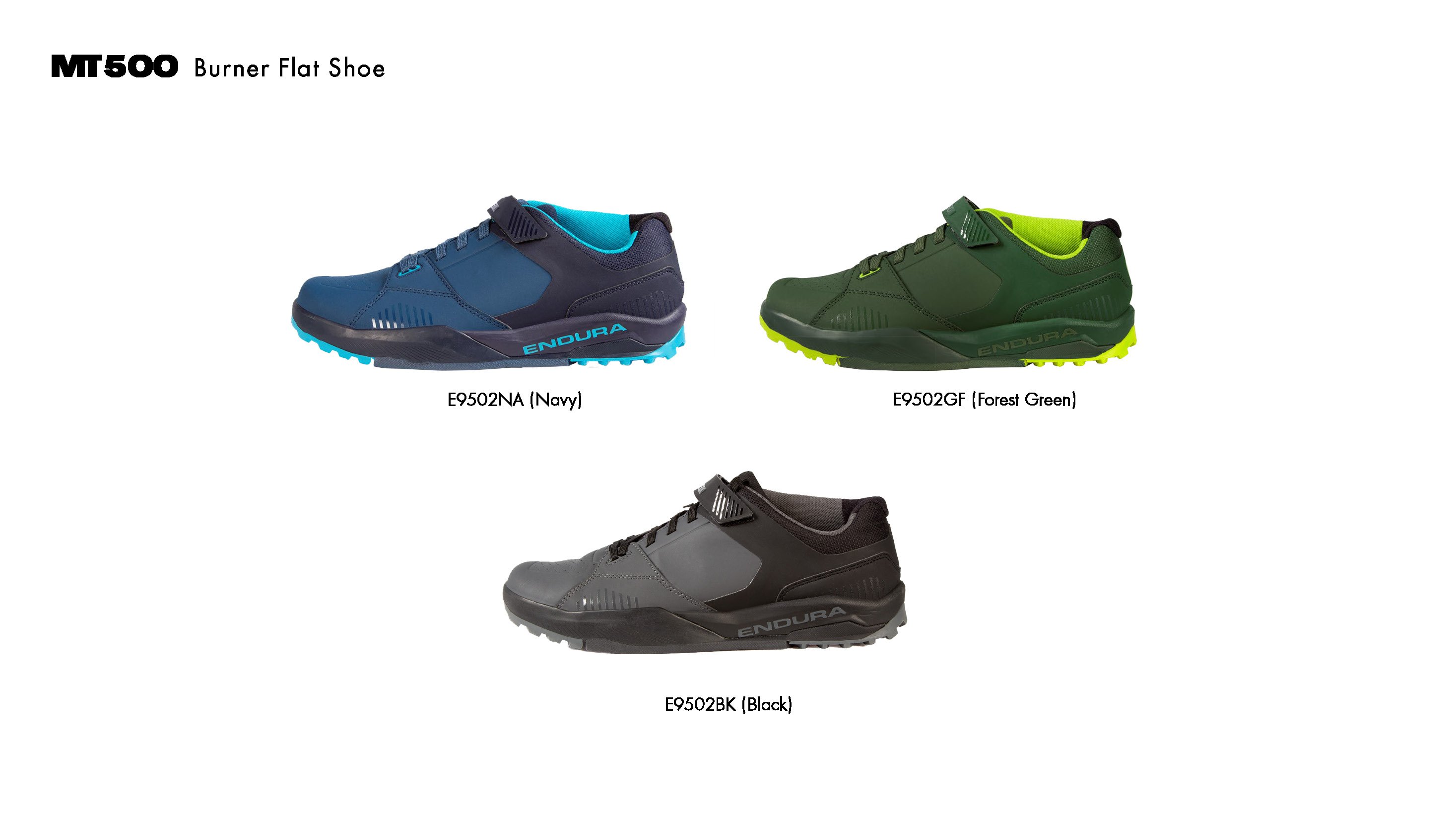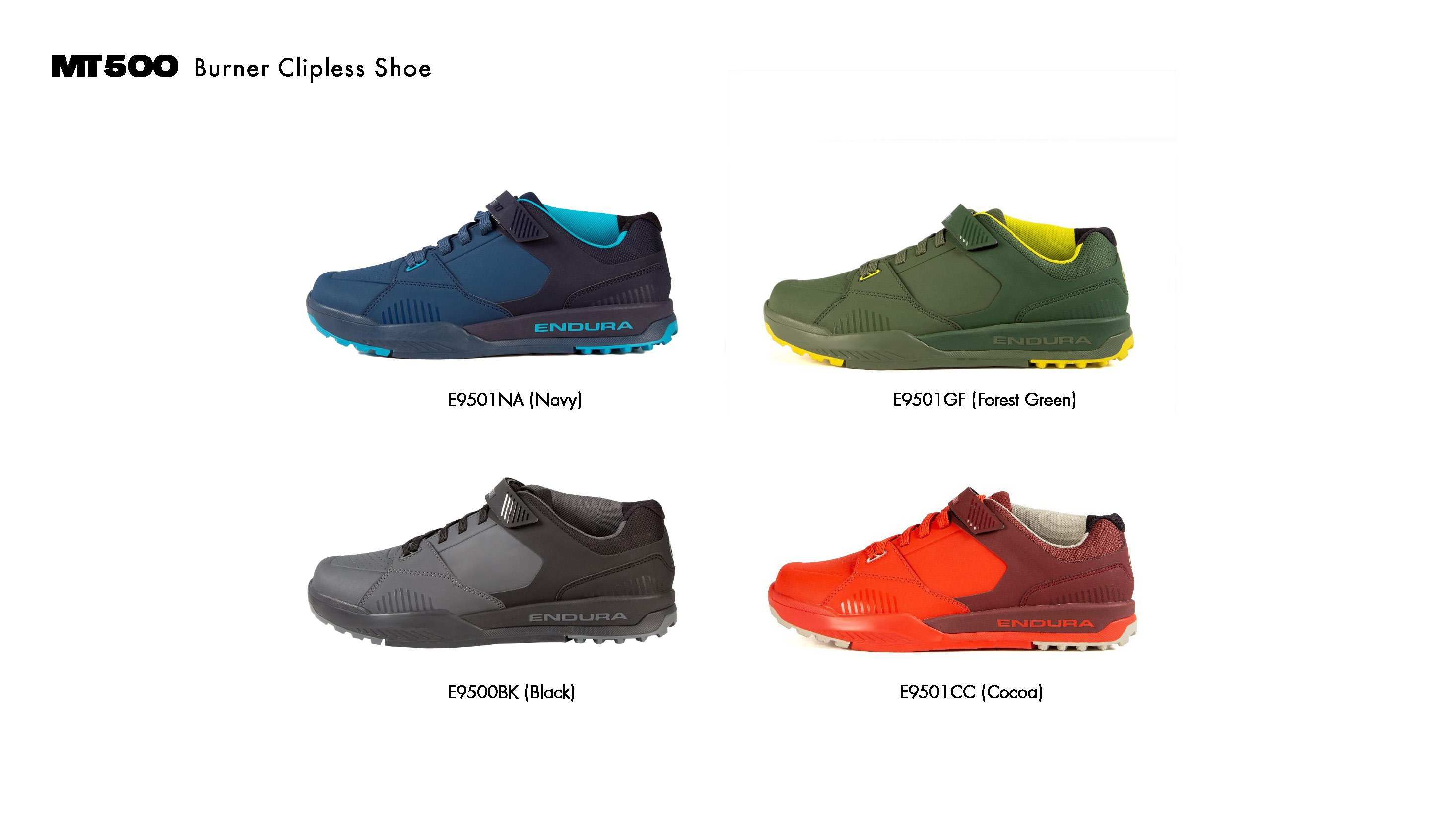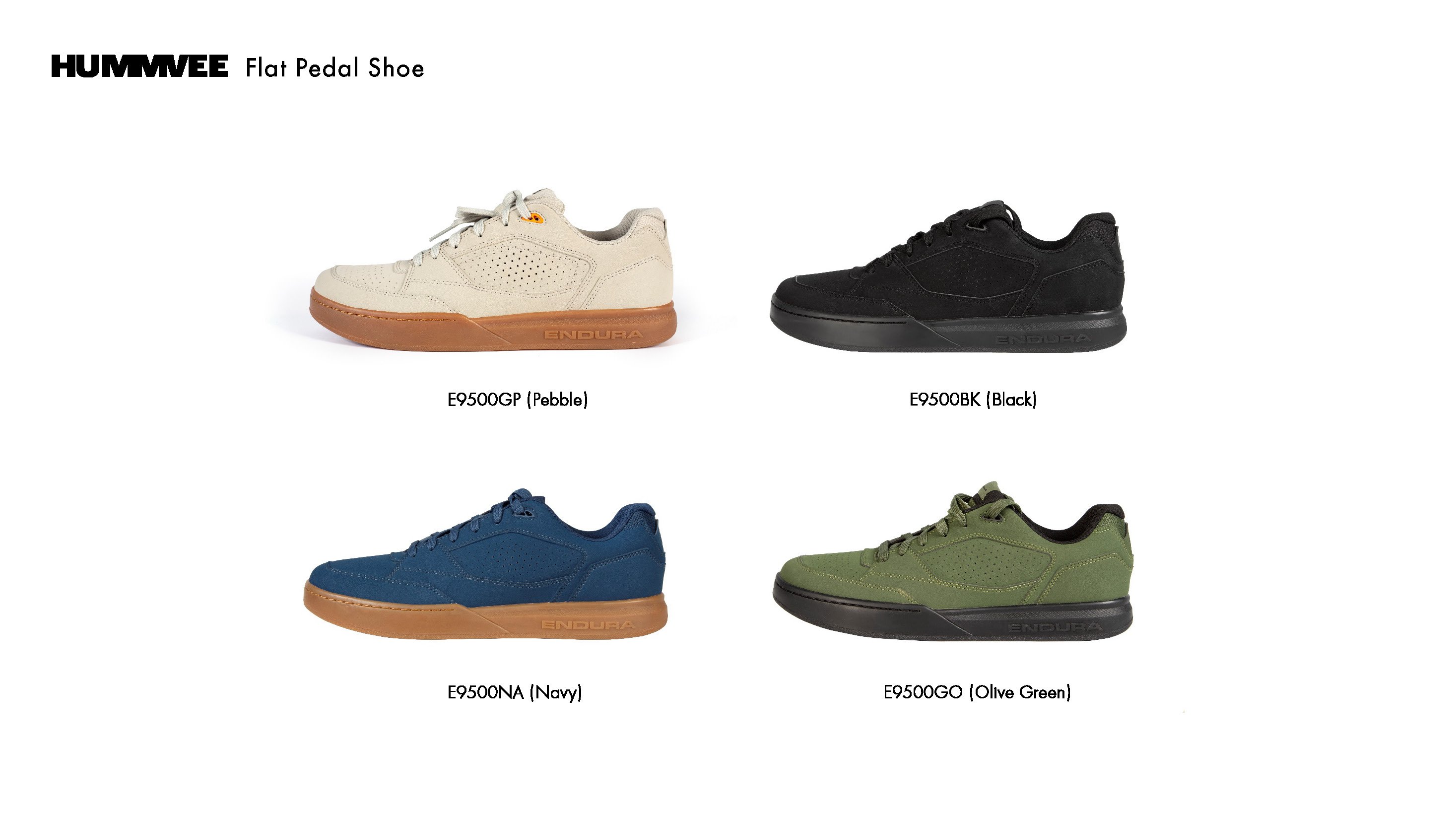 Better living through Ergonomistry?
The Burner is chock-full of impressive features, including some you're unlikely to find on any other flat shoe. You can't help but notice one of these features as soon as you slip the Burners on your feet for the very first time - they're the teeny, weeny, raised dimples that Endura has designed into the footbed. The sensation is a bit odd at first, almost as if there's sand in the shoe (I still check every time). Fortunately, this strange sensation disappears completely when your foot is in and laced up. These tiny bumps are said to aid in proprioception - optimizing muscular contraction and relaxation in the foot. Also found on the footbed (but much harder to notice) is a slight bump, positioned just behind the ball of the foot. This "metatarsal button" is designed to maximize comfort while minimizing toe scrunching and fatigue. These hi-tech features amount to what Endura calls "Ergonomistry", which sounds to me like marketing speak for: "We had a bunch of really smart, well-paid experts come up with this stuff". Does it work? Well, all I can say is that I wasn't consciously aware of the dimples or bumps while wearing the Burners, but they were impressively comfortable throughout the test - so, maybe??
Taking a look at the outside, the Burner sole consists of two types of rubber - a compound that Endura calls StickyFoot™ Grip that engages the pedal, and a slightly harder compound called StickyFoot™ Dura, found at the toe and heel sections. As the name suggests, the Dura compound is more durable, and carries a more aggressive tread shape to aid in safe and comfortable hiking while off the bike. I can vouch for the effectiveness of this hiking tread, as the Burners were great at scrambling up or down all manner of slippery surfaces that make up the rainforest floor. The upper is constructed from a smooth, easy-to-clean synthetic polyurethane, while the toe and heel box are reinforced to protect your feet from such dangerous scenarios as mountain biking. Further protection includes a raised inboard area to prevent your delicate ankles from smashing into your delicate carbon cranks.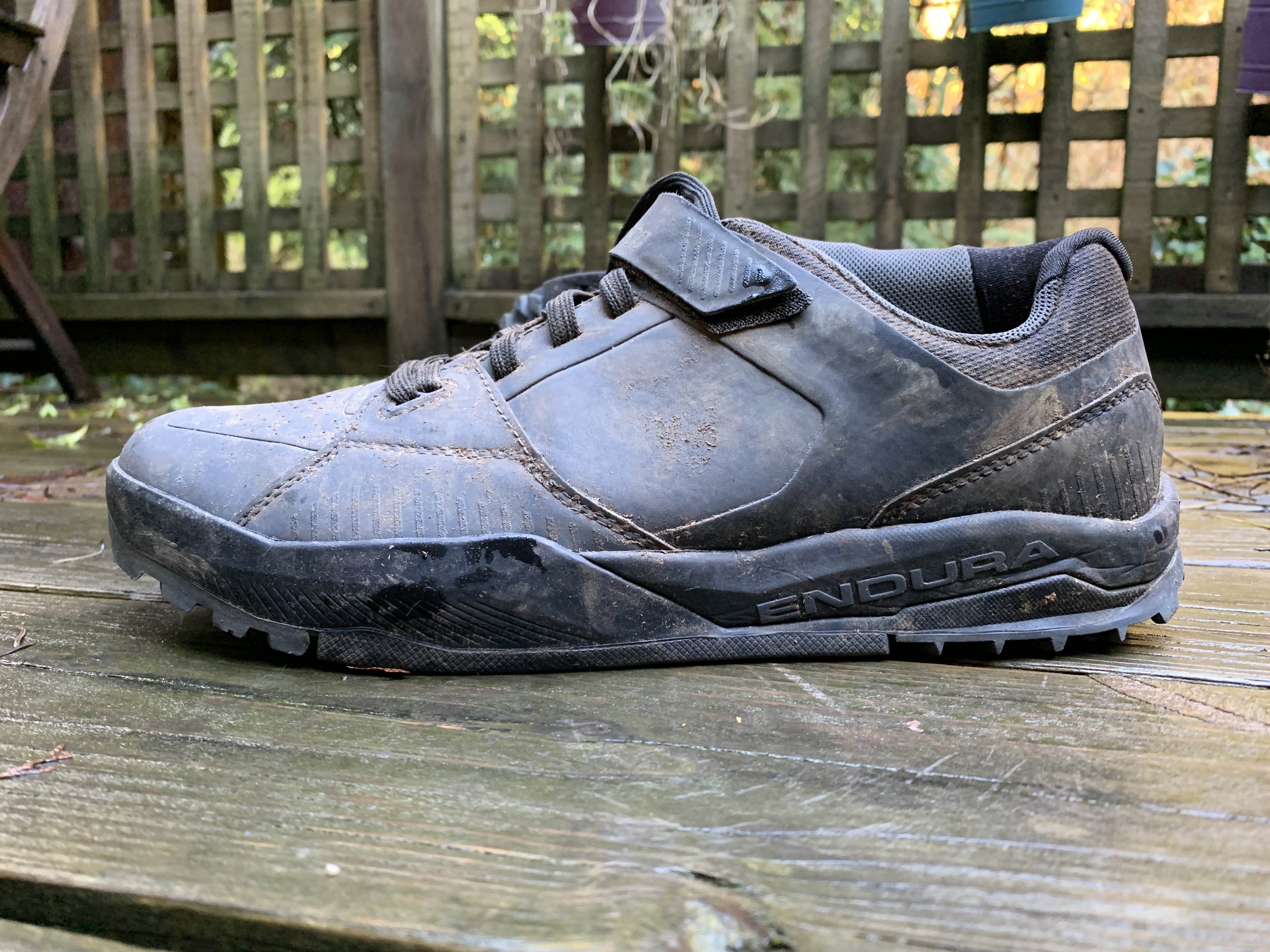 I dig the combination of laces and a velcro strap to really dial in the fit on this shoe. This system is simple and robust, although the strap can be a bit awkward to work around when tying the laces. It might be nice to see a different attachment method for the strap that allows it to fall away from the laces when loose. The heel cup is lined with a material called Sharkskin that is said to help eliminate heel lift, and feels reminiscent to a lint brush - smooth to the touch when you run your finger down into the shoe, but rough like velcro when you rub upwards out of the shoe. I'm not aware of any other shoe employing this kind of tech, but it's brilliant, and it conspires with the lace strap to create one of the most secure fits in a shoe I've ever experienced - with no unwanted wiggle or heel lift. If anything, the fit is a touch narrower than I'm used to - a good thing, as it wasn't uncomfortable in any way, and I prefer a tight fit. While on the topic of fit, it's worth mentioning that I found the Burner to fit smaller than other brands. My FiveTens are both U.S. 10.5, and at that size, the Freerider is just about perfect, whereas I find the toe box of the Impact Pro a touch too roomy. The Burners I'm testing are U.S. 11.0, and as stated earlier, they fit snug, and I definitely could not fit into anything smaller. Keep this in mind when considering this shoe.
While I'm not the type to worry much about how much my shoes weigh, the Enduras do feel noticeably lighter than the FiveTens in my closet. I broke out the scale to confirm, and the Burner comes in at a svelte 905g for the pair, whereas my Impact Pros are considerably more, at 1135g. Even my FiveTen Freeriders, which I consider to be a very minimal shoe, weigh in at 1087g. While all three pairs of shoes basically have the same fit, it's readily apparent that the Impact Pro is physically larger than the Burner; there is just more padding and material used all around on the Impact. Having spent time in all these shoes, I'd definitely peg the Impact Pro as having the most foot protection, especially around the toes. The Burner feels somewhat less protective than the Impact, although it does have the best inboard ankle protection out of the three. I've broken more toes in my Freeriders than I care to admit, and I'm confident that it offers the least protection of the group.
On the bike, I prefer shoes that have higher than average grip, and a medium to soft flex in the sole. The Burner seems to sit in that sweet spot of flex - allowing the foot to conform to the pedal, but it doesn't fold in half when support is called for. Pedal grip is high, but not as "locked-in" as the Impact Pros, which could be considered a win for Endura, as there are certainly times where I find the Impacts to be a bit too difficult to reposition on the pedal without physically lifting my foot off. That said, in those rare situations where you're holding on for dear life, and you find yourself desperately wishing for just a few seconds of clipless salvation, the Burner doesn't offer quite the same level of life-saving control as the Impact. And while the performance of the StickyFoot™ Grip has remained consistent over the last few months, it remains to be seen how the Burner sole will fare over an entire season of use. For the record, I tested the Burner on OneUp alloy pedals, as well as Race Face Atlas pedals, with both yielding very similar results.
All of my testing in this shoe was performed in the winter months, and the Burners stayed comfortable all the way down to freezing temperatures. The synthetic materials do a great job of keeping water out, and are easy to clean after the ride. While I didn't fall into any lakes during the review period, my feet never really got wet while riding in the Burners, aside from the odd splash of snow or water over the ankle cuff. The tongue seems to be the achilles heel in the waterproofing of this shoe, as my instep was quickly soaked when hosing off the evidence of a good ride. And while I can't yet speak specifically about hot weather comfort and breathability, I have no doubt that the Burner will be on par with any shoe in this segment. The toe box features plenty of vent holes to help keep things cool in the summer; not to mention the Burner is far less bulky than its immediate FiveTen competition.
While a couple of months is still early days for judging the reliability of a shoe, I'm confident the Burner will provide many more months of heavy-duty service. I've ridden them hard through mud, slop, snow and ice, and even had a few good (bad?) crashes in them, with no damage done to shoe or foot. The more time I spend in the Burner, the more I feel that Endura is really onto something with this Ergonomistry stuff, as I'm noticing that after spending most of the day in these shoes, I don't have the same urge to get out of them as my other riding shoes. It's hard to quantify this kind of comfort, as it seems the Burner is just really good at going unnoticed on your feet - but then, I can't think of a more important quality in a shoe.

149.99 U.S.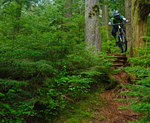 Ryan Walters
Age : 40
Height : 1803mm
Weight : 86kg
Ape Index : 1.03
Inseam : 787mm
Bar Width : 780mm
Preferred Reach : Pretty comfy at 487mm these days.