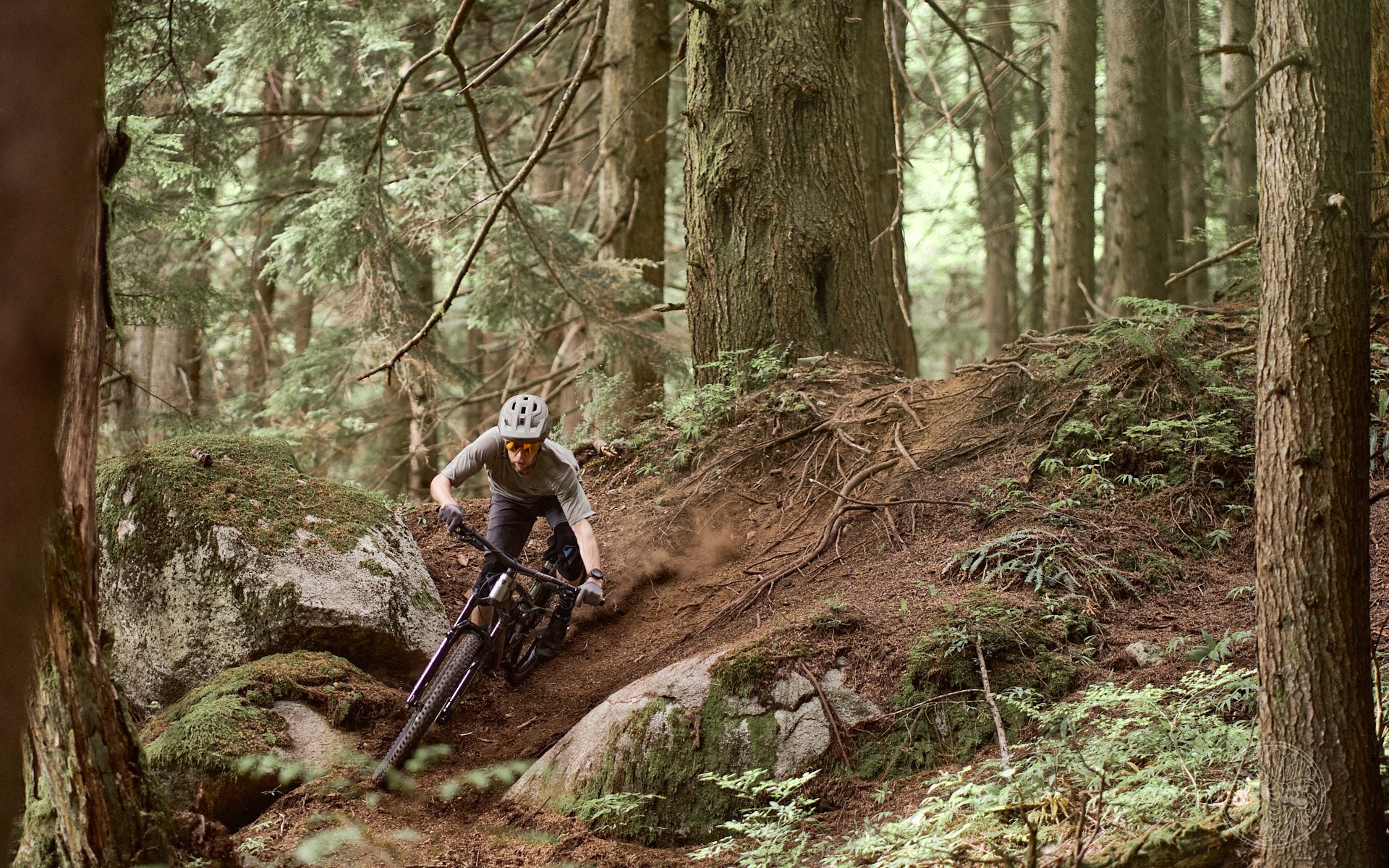 First Ride
Trek Slash: The Next Generation
Regular readers here at nsmb dot com will know a couple things: we typically don't just regurgitate press releases for new bikes, and we do two-part reviews with a 'first look' and a long term follow up. This gets build specs, geometry, and other technical details along with some early riding impressions out in a timely fashion, and then a deep dive into the ride and any long-term issues or livability pros and cons in the full review. Those early ride impressions typically come from a week or three of sneaking around on bikes that don't exist yet, parking away from all the usual hangouts, and never leaving secrets around where prying eyes (and cameras) might spot them. Sometimes this is made easy; brand identity being what it is, often a new bike won't look too different from others in the range and a bike can hide in plain sight. Sometimes, people try and chase you down because your Chromag has rear suspension and is bright gold.
You'd expect the former option to be the case with a new Trek. After all, it just looks like a Session, right? Unfortunately, the problem here – with the Gen 6 Trek Slash 9.9 XO AXS T-Type – is just that. It looks like a Session: high pivot, idler pullies, and all. How the hell was I going to hide this thing? Fortunately this problem was solved for me when a big brown Trek Project One box showed up a mere 36 hours before the bike inside explodes across the internet and into a bike shop near you. That means the ride impressions here will be 'limited'. But let's dive in, have a look, and then we'll circle back later this fall and we'll see if this novelty-sized-idler equipped mullet bruiser has won me over.
Highlights
High pivot, with idler(s)
170mm at both ends
Slacker than previous Slash, with option for +/- 1º with drop-in headset cups
Stock mullet - all sizes come in 29/27.5 F/R except for small, which is 27.5 only
Can be converted to 29/29
Integrated fender, shuttle guards, and downtube protection layer
Fits longer droppers than previous
Adjustable leverage rate, and bottom bracket height
Frame changes and details
Temporarily overlooking the biggest change here - the two enormous idler pulleys and main pivot point several inches above where it used to be - a lot of details on the new frame are worth a mention. The previous iteration was designed as a 29"-wheeled bike with the option for mullet. This is now reversed and everything but size small ships with mixed wheels. There's replaceable downtube protection, along with an integrated fender, and aggressively large chain and seatstay protection (remember that, it comes up later).
Gone is the Mino Link, but for the Geometron-Curious there's the ability to change the shock leverage rate, the head tube angle by a degree in either direction with cups, as well as bottom bracket height with a new lower shock mount. Amusingly to me, it has neither Trunnion mount or knock block. Trek was a big part of why modern Trunnion mount exists, however I'm not a big fan so I see its omission as a plus for customers. Steering angle concerns be dammed, I am a knock block fan. So between the two, it's a wash.
The new frame fits much longer dropper posts across all sizes which many folks will appreciate, but sadly the official word from Trek on dual crown forks is, "They will fit, but we haven't tested them, so we cannot recommend a dual crown fork on Slash at this time." Usually, this means the impact protection where stanchion bumpers would contact the frame is not adequate.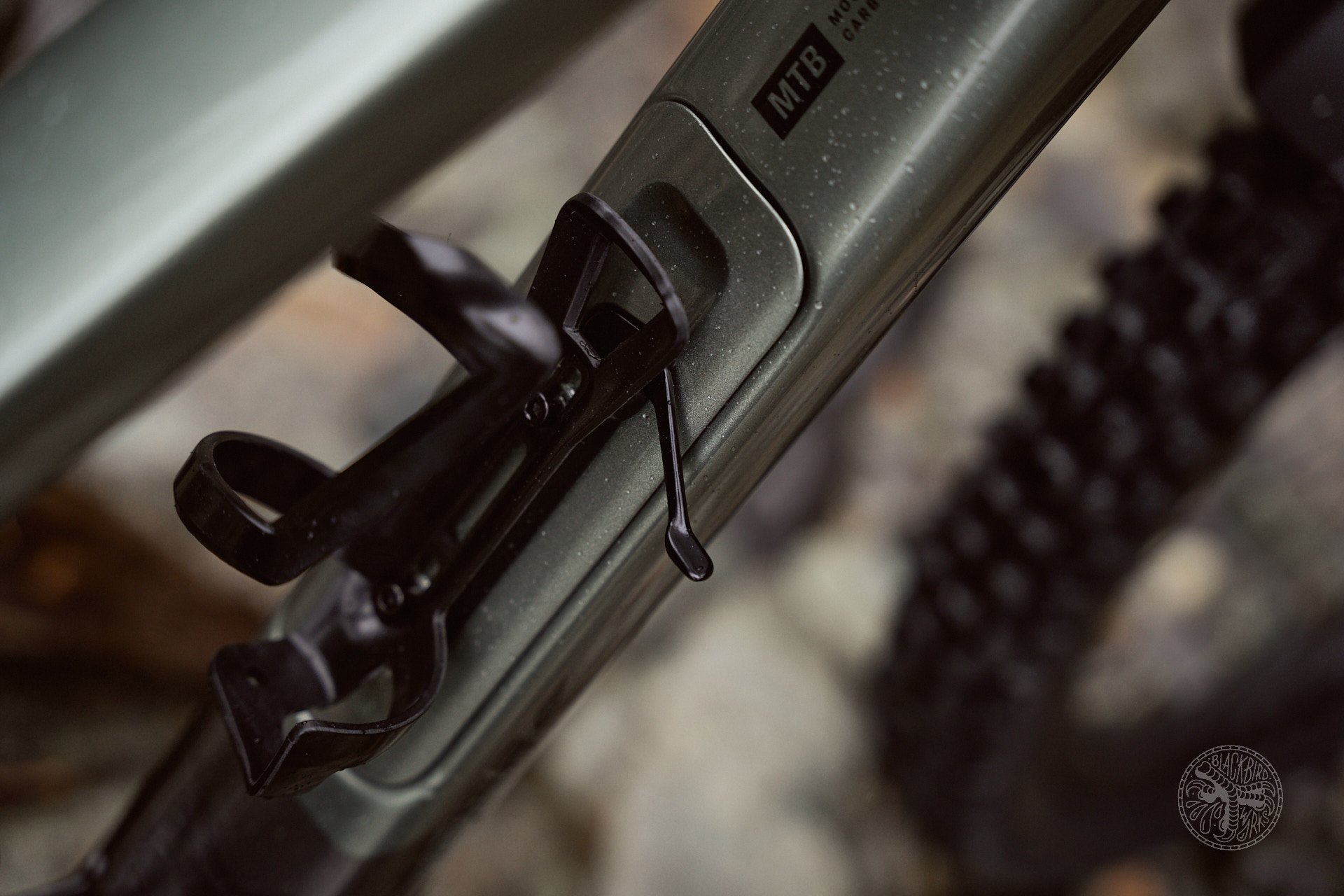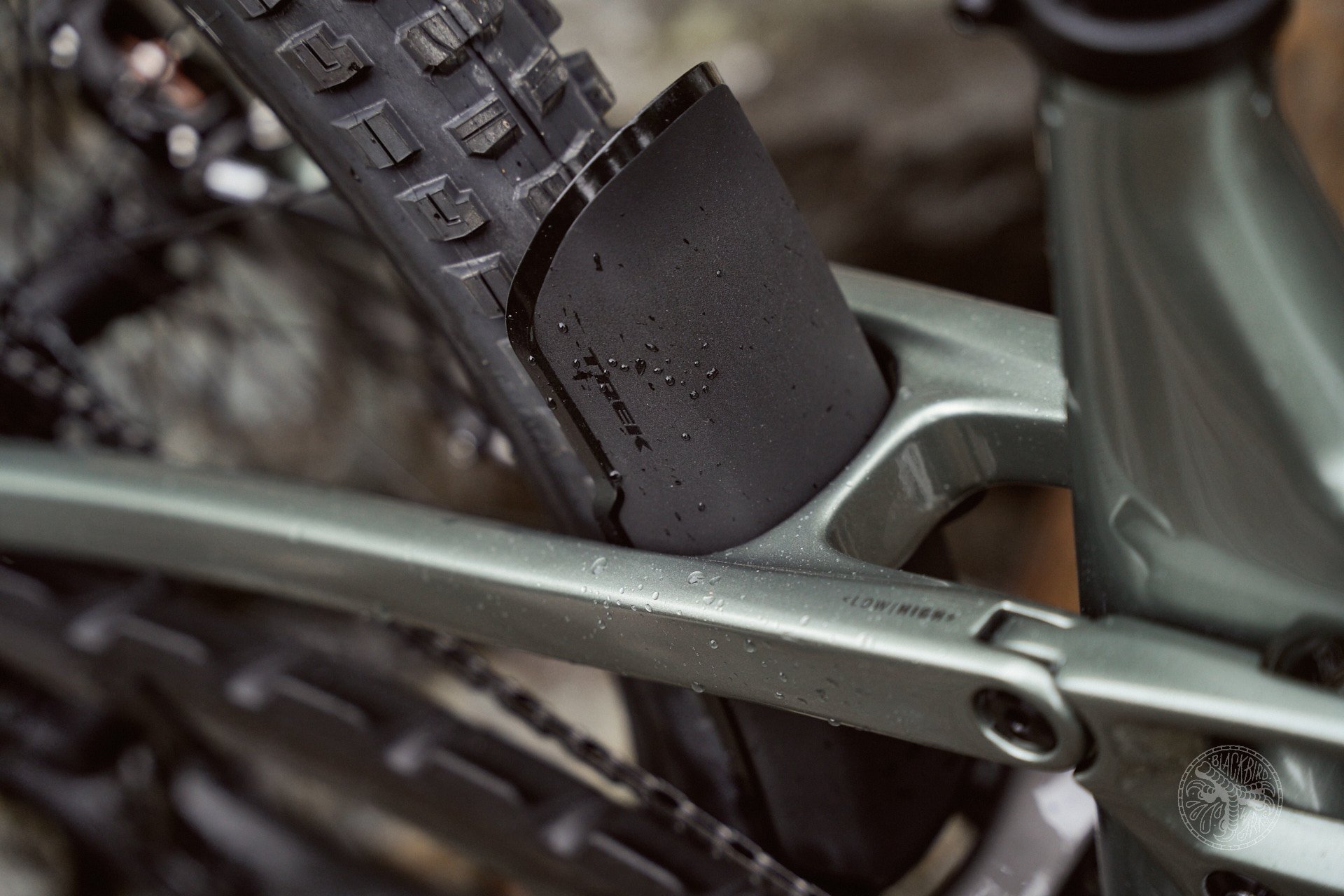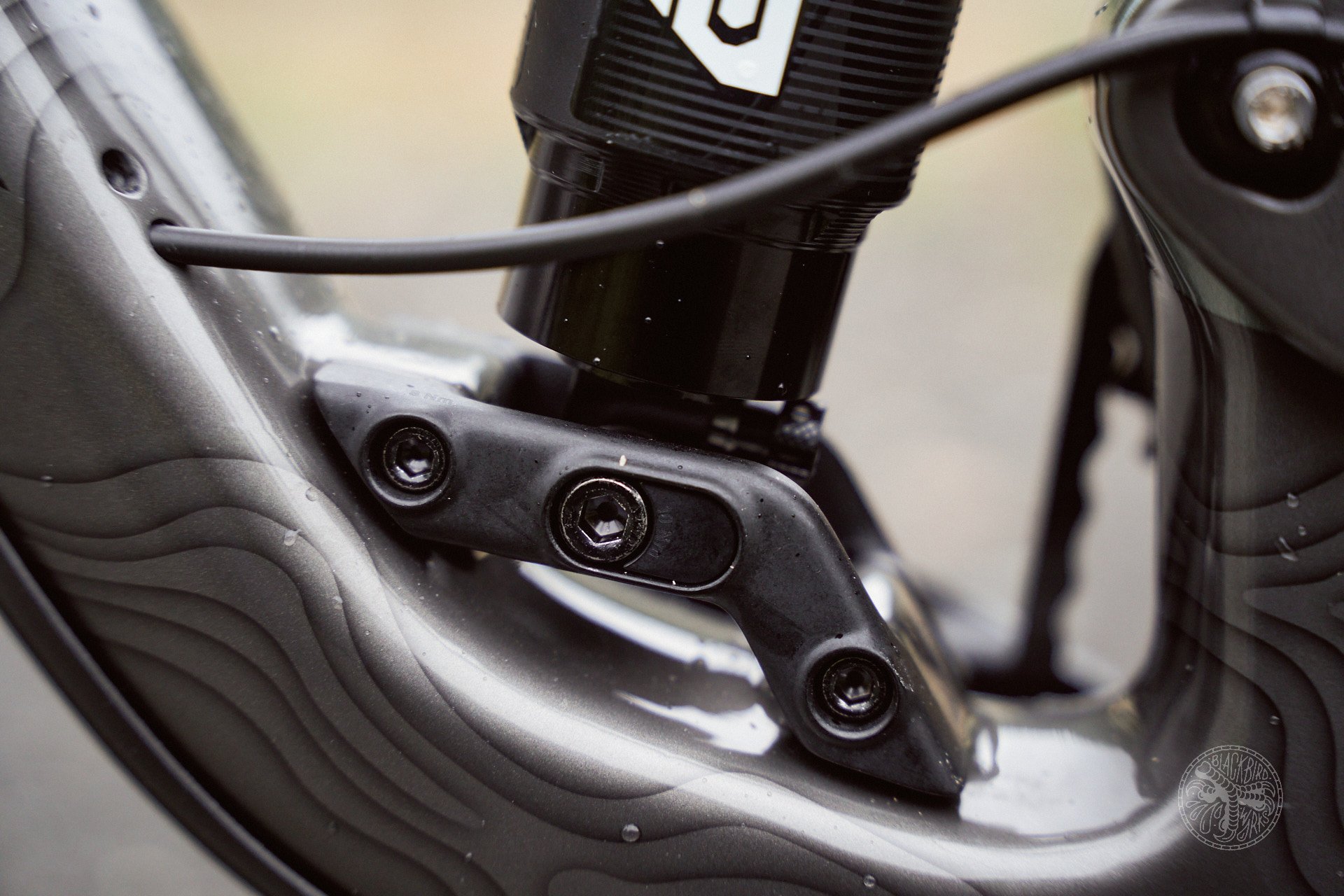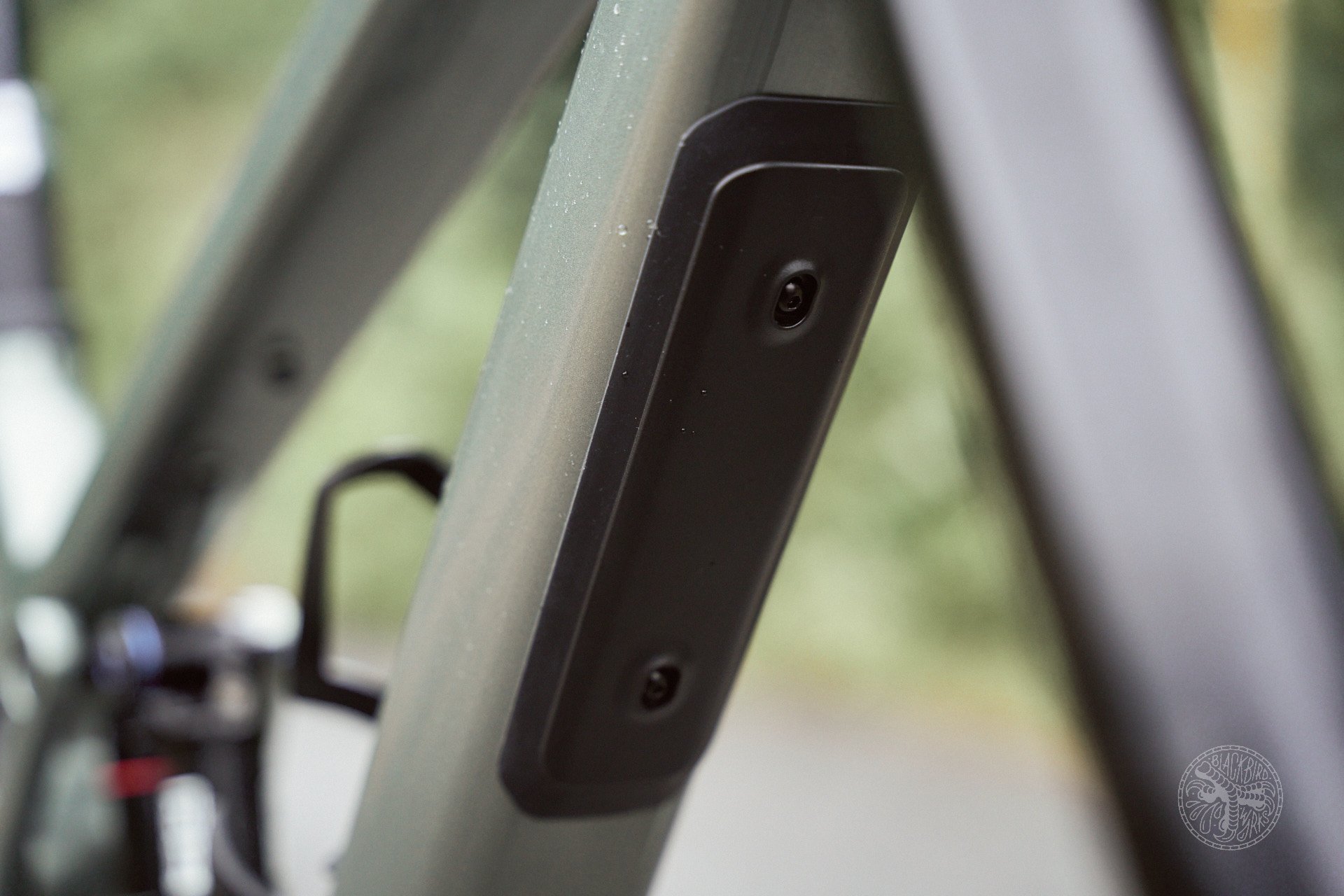 Two Enormous Idlers / Raised Pivot
Clearly the biggest change is the switch to a high pivot idler suspension design like the current Session. On the Slash they're different, more efficient (read: enormous) idlers, but the concept is the same as it's always been; the upper idler reduces kickback and keeps anti-squat values the same through travel, and the lower idler reduces chain length changes and minimizes loads on the derailleur clutch from suspension movement and vice versa. The four-link rear end still uses Trek's split-pivot design where chain and seat stays join at the rear axle in an effort to separate braking forces from suspension, but overall the main pivot is miles from the previous Slash.
Seriously though, these pulleys are both enormous. This is an effort to improve efficiency as wrapping chains around small cogs adds tremendous drag (this is why almost no one makes 9t cogs for real pedaling, why your drivetrain is significantly more efficient towards the big end of your cassette, and why companies like Garbaruk sell huge jockey wheels).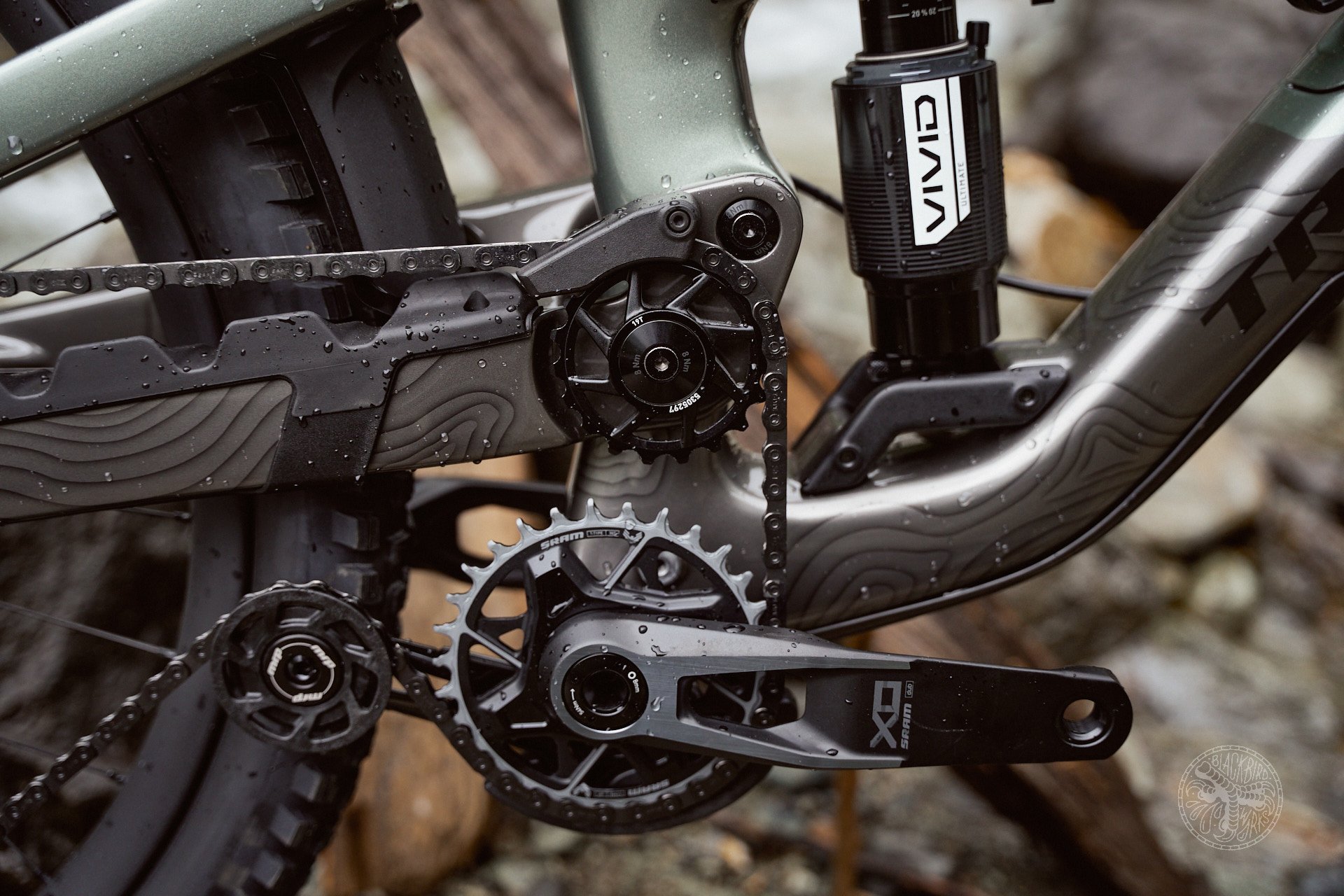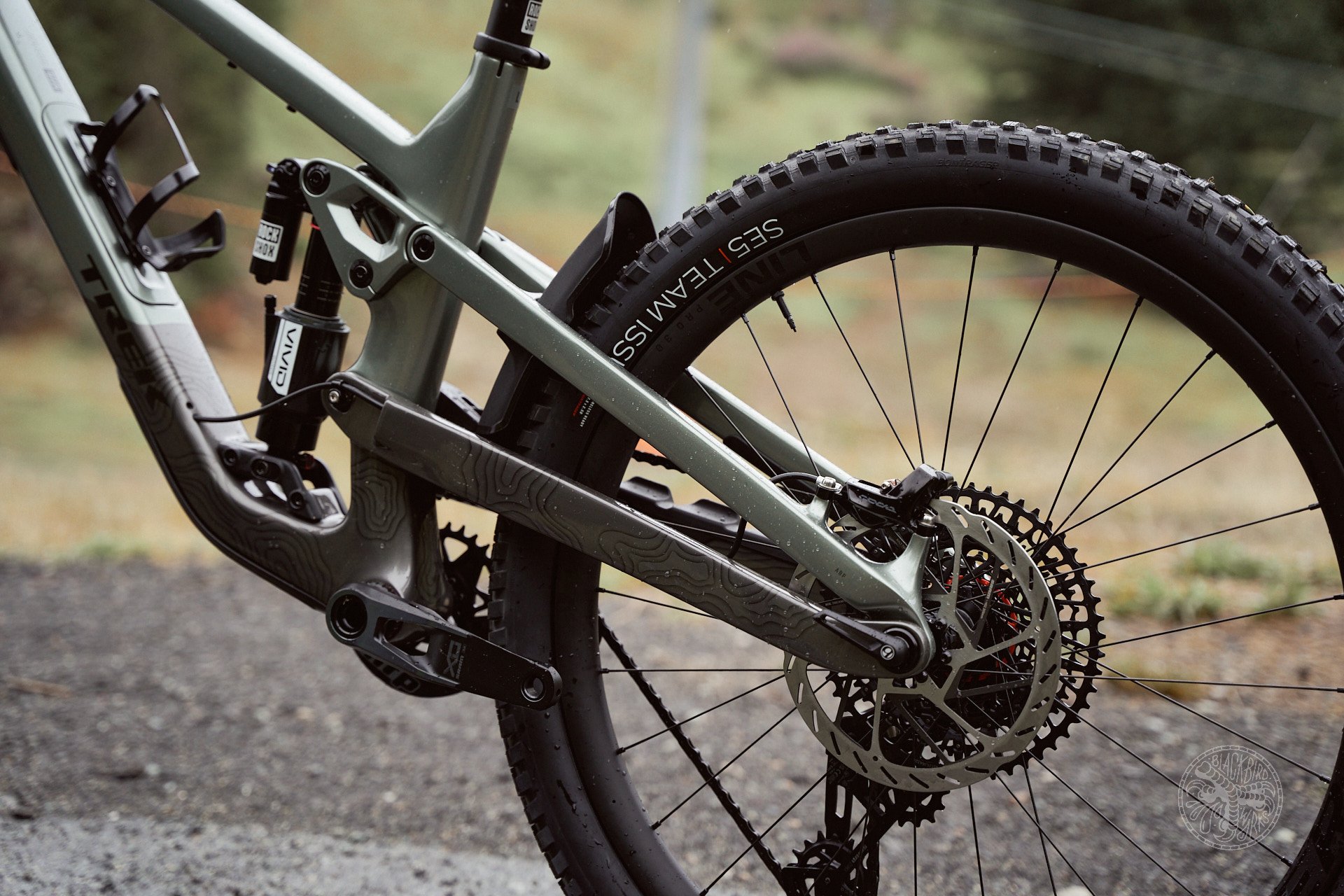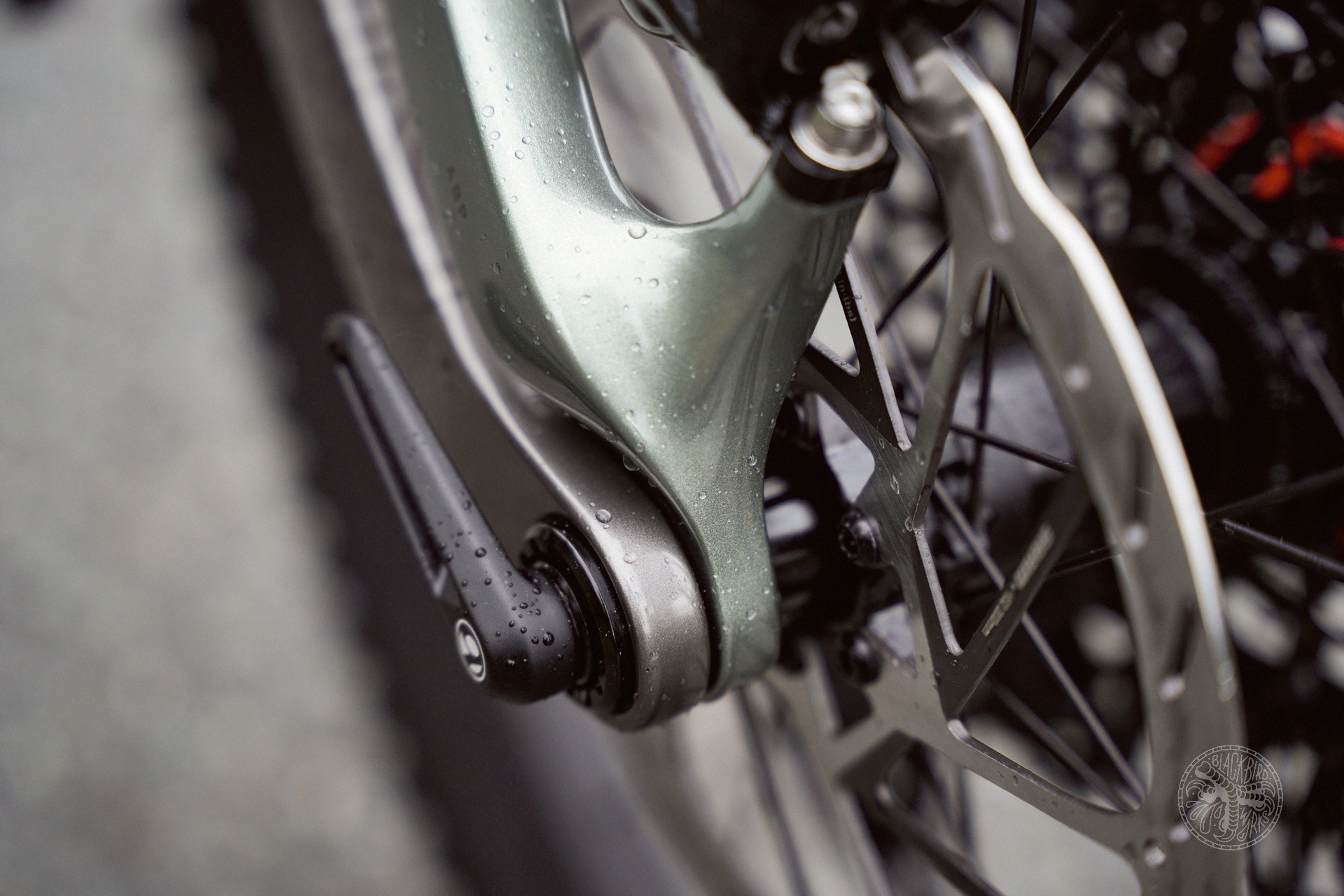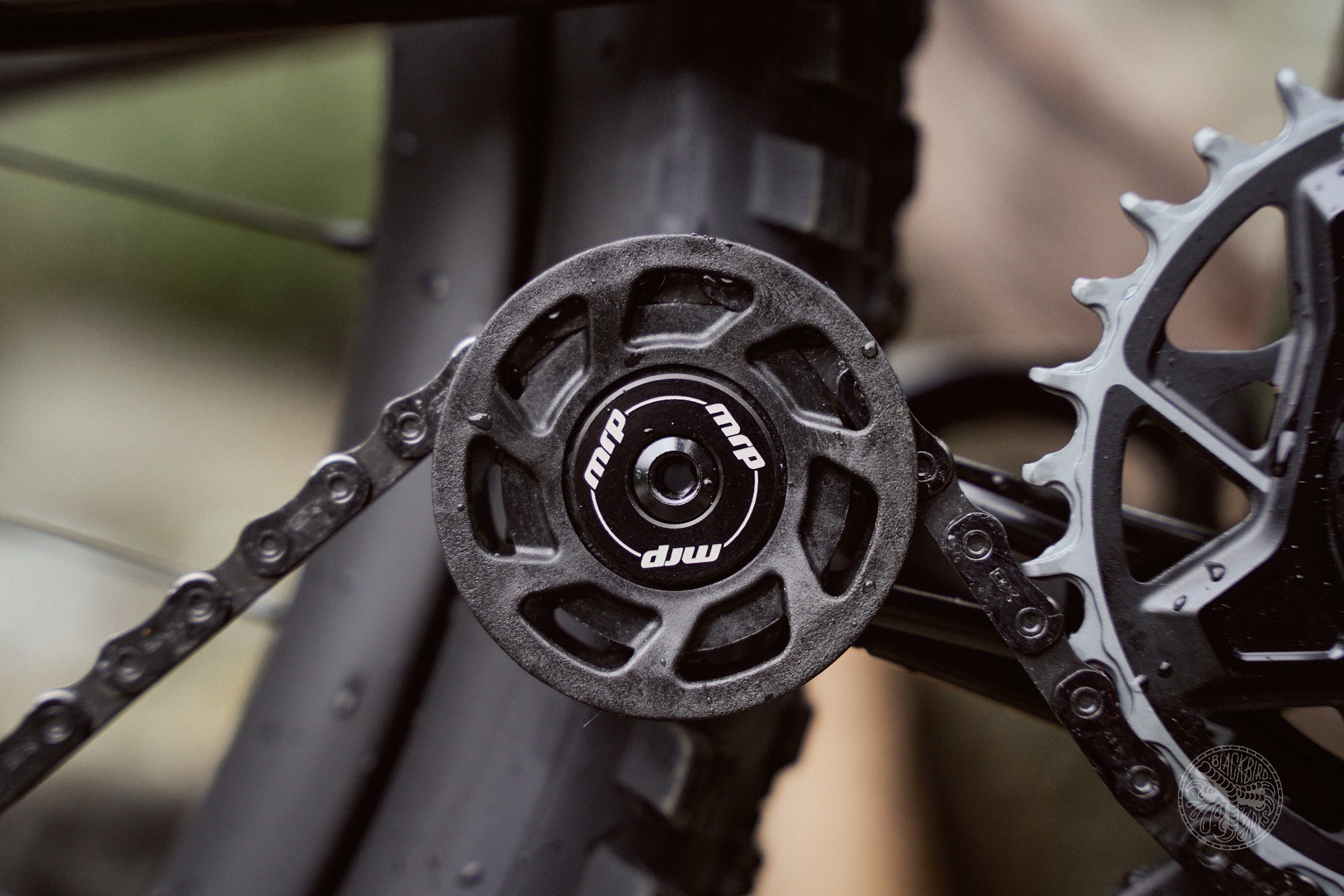 Geometry
| | 15.5 - S | 17.5 - M | 18.5 - ML | 19.5 - L | 21.5 - XL |
| --- | --- | --- | --- | --- | --- |
| Wheelsize (F/R) | 27.5/27.5 | 29/27.5 | 29/27.5 | 29/27.5 | 29/27.5 |
| Reach | 430 | 448 | 468.1 | 488.1 | 513.2 |
| ETT | 547.5 | 577.8 | 605.4 | 627.9 | 658.1 |
| Seattube | 390 | 400 | 420 | 435 | 470 |
| STA | 74 | 73.8 | 73.8 | 73.8 | 73.8 |
| ESTA | 78.1 | 77.8 | 77.3 | 77.1 | 76.7 |
| Stack | 587.7 | 623.1 | 632.1 | 641.1 | 659 |
| Headtube | 100 | 100 | 110 | 120 | 140 |
| HTA | 63.5 | 63.3 | 63.3 | 63.3 | 63.3 |
| BB Height | 351.5 | 351.1 | 351.1 | 351.1 | 351 |
| BB Drop | 10 | 27 | 27 | 27 | 27 |
| Chainstay | 429 | 429.2 | 434.2 | 434.2 | 439.2 |
| Wheelbase | 1195.1 | 1223.8 | 1253.2 | 1277.7 | 1311.6 |
| Standover | 727 | 766 | 766 | 767 | 768 |
The stock geometry isn't crazy for 2023, but it's clearly built to plow. At 5'10" and change, I've gone for the M/L* size as it's closest to my preferred reach number. All of these numbers change a bit once you start adjusting headset cups, changing bottom bracket height with shock mounts, etc, but I'll spare you the pages and pages of charts supplied in the media kit. Pleasantly, the chainstay length changes across the size range; there's only two rear ends (carbon, and aluminum), but each size has the main pivot placed differently to balance fore-aft length around the bottom bracket.
*I kinda love that Trek still lists sizes with seat tube inch measurements like "18.5"
Build kits and spec
Trek sent me a 9,400 US (12,000 CAD) 9.9 XO AXS T-Type build replete with a carbon frame, wheels, and one-piece handlebar, powered by SRAM's latest XO1 Transmission drivetrain, and sprung with things that say "Ultimate." Park rats and those with more reasonable budgets will be pleased to know there are options down to $4,400 (5,650 CAD). For this, you get an alloy... sorry "Alpha Platinum Aluminium" frame and Fox/XT build. You can also have your Alpha Platinum Aluminum frame with Transmission, in a Slash 9 build ringing in at 5,800 US (7,450 CAD) with GX T-Type, Code Brakes, and a Zeb/Vivid Select+ combo. If I were putting down my own money here, I'd be hard pressed to go above this option given the bike's intent, but I wish it came with Ultimate dampers.
The rest of the options are all RockShox-suspended, carbon-framed varieties topping out at $11,500 (14,900 CAD), in either SRAM or Shimano complete gruppos. You can also go frame and shock only, if you're still building bikes from the ground up (and if you are, awesome).
So far my only real spec complaint is the 30t front chainring. Given the 52t cassette and small rear wheel, this is too small for me. I get that the idea here is probably that the bike isn't a climbing machine and it's just there to get you back to the top, but it means I'm routinely in much higher gears than I'd like to be with more chainslap and noise, and anything over 30km/h leads to comical crank RPM.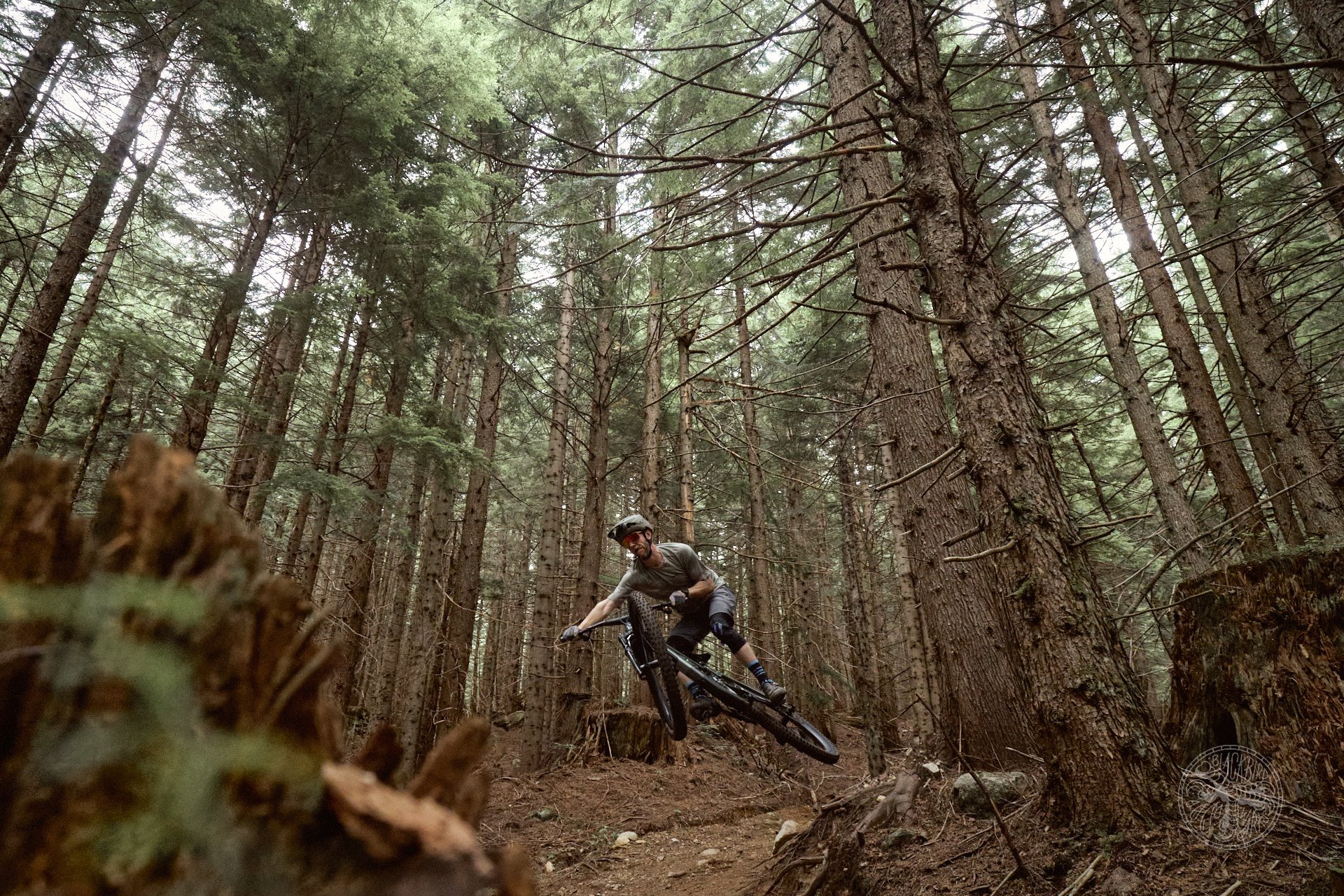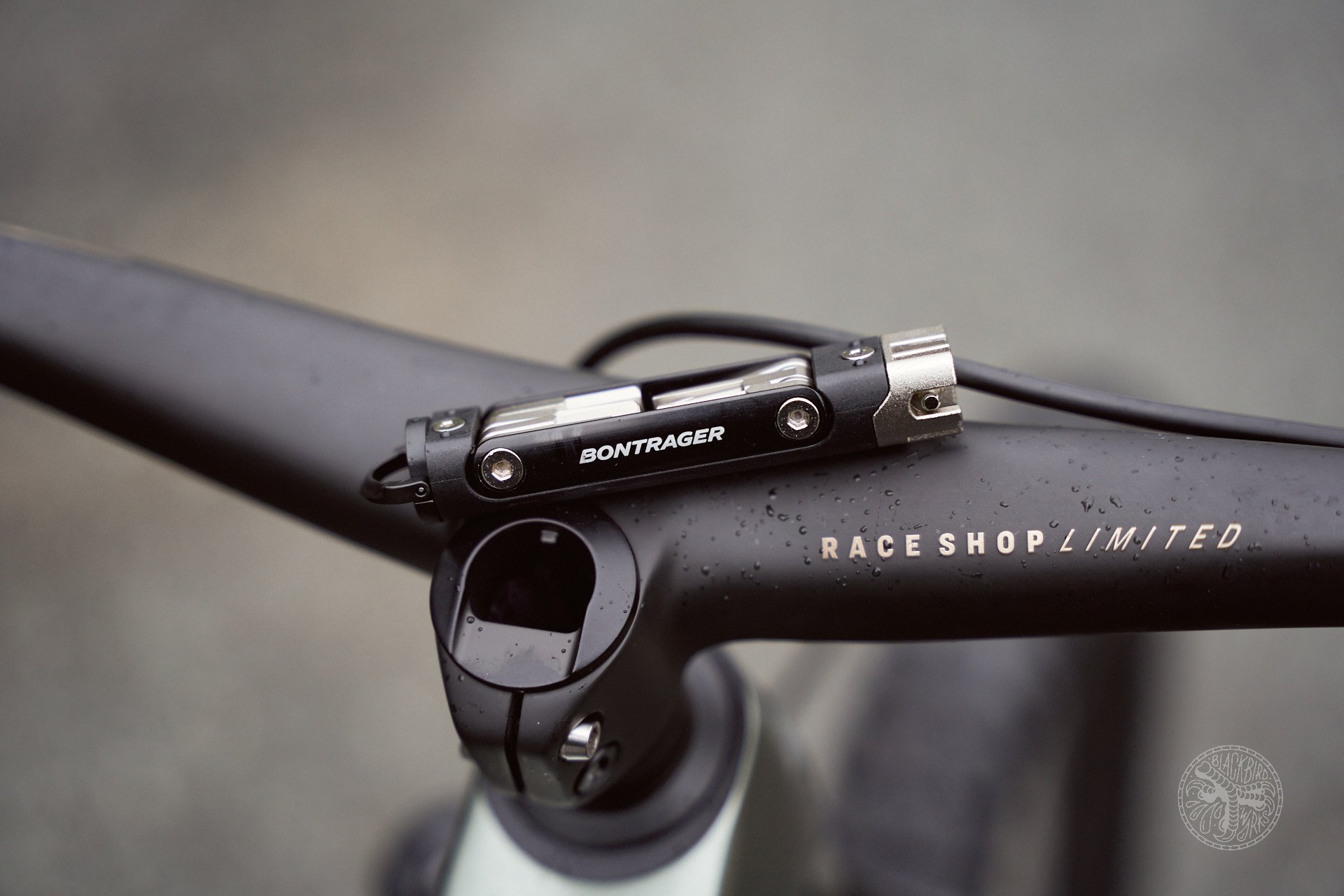 Riding the Slash
As you probably gathered from the intro, I don't have heaps of time on this bike yet. I have one ride which was a mix of shakedown and photos. Despite both requiring a fair bit of faff, one requires you to be on top of your game and one usually means you're at the bottom. I was absolutely at the bottom - trying to get comfortable on something drastically different than my personal We Are One Arrival 170 and without enough ride time recently.
But we learned some things, and there's a lot I'm excited to get dialed in and spend some time on.
It's not a climbing monster, but it seems pretty acceptable. I'm curious to see how everything wears in, how the idlers fare in sh*tty weather, and if it's a bike I actually want to pedal places.
The pulleys do add noise. Also, in the 10t, the chain rubs on the chainstay and seatstay guards and it sounds like you're riding with Alvin and the Chipmunks.
I need to find a balance with the suspension. Currently it's super supple and plush, running around 28% sag out back, but I'm regularly using more travel than I'd like (the HBO does mean there's no harsh bottom outs, though). Moving air volume around between the Vivid and Zeb should help here.
Once I get this suspension tuned, it's definitely a bike that wants to go fast and isn't concerned by rough stuff. Y'know that pull, where the landing is a bit of a minefield? It'll be fine. Give'r a yank.
There's a lot of geometry and kinematics options, I'm not sure if I care.
So who is this bike for? So far, I'd say its someone who can't justify a downhill bike because they do a fair bit of pedaling, but also wants something that'll keep up with the crew shuttling, and isn't afraid of the bike park. It's skewed deeply to the end of gnarly trails and steep lines, and loves to eat up the rough stuff. I'm keen to get comfortable, and see if the bike pushes me. I expect I'm going to spend a fair bit of time riding this thing in a full face helmet. I'll report back.