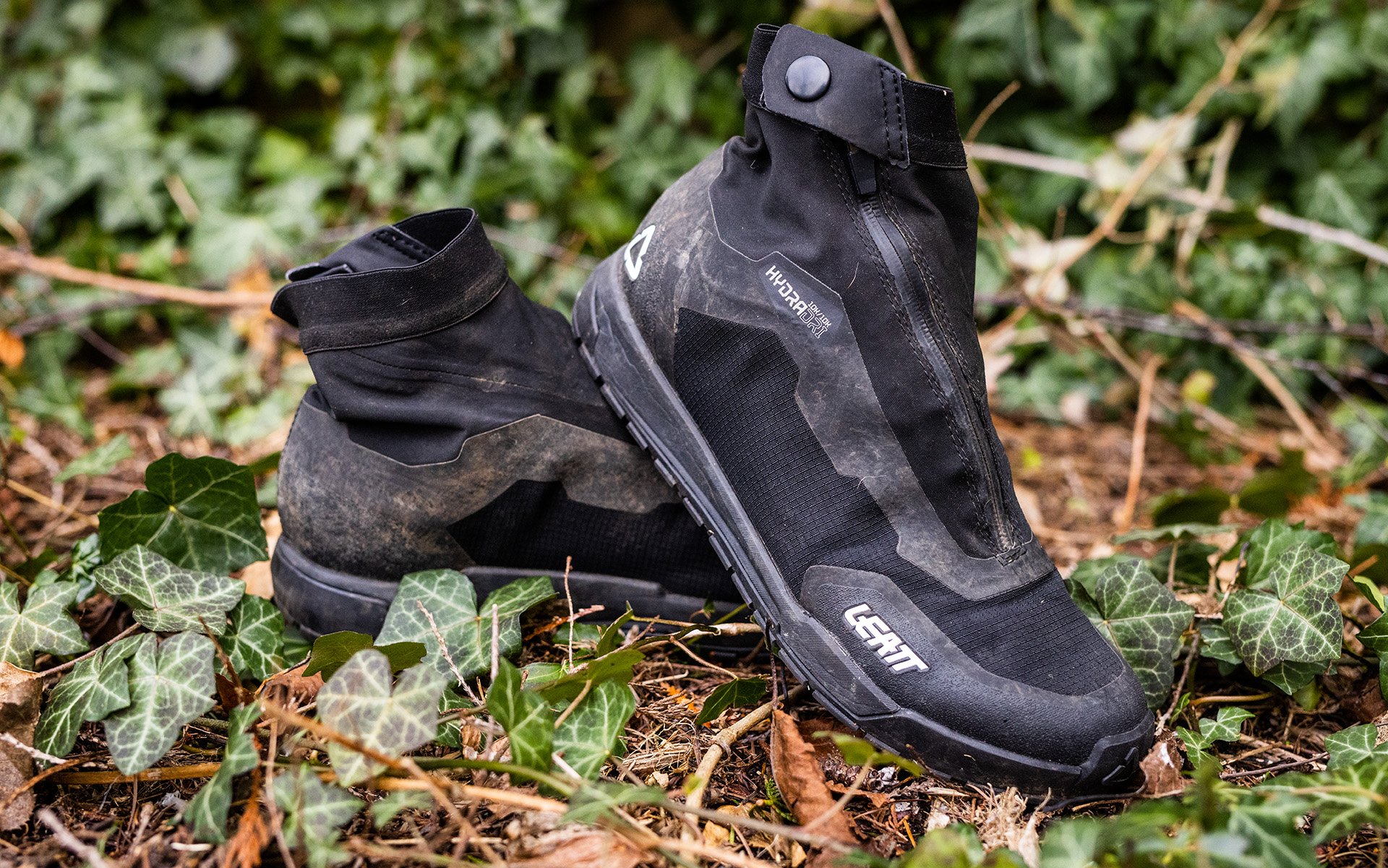 REVIEW
Leatt 7.0 HydraDri Waterproof Flat Pedal Shoes
If you're wondering why you're looking at a waterproof shoe review in May, you're either a) not living in the Southern hemisphere, or b) don't live somewhere that alpine rides are still a month or two away from emerging from underneath snow-covered hibernation (or c) live in the UK where there's always the possibility for it to be the wet season, even in the height of summer).
I wanted this one to be coming to you a month or two ago, however the Leatt 7.0 HydraDri Waterproof Flat Pedal Shoes are not for winter only, so you could consider them now if you like to buy ahead or - if you have some early alpine season rides planned - these might be the ticket for keeping your feet dry if your adventures call for lots of mud or axle-deep creek crossings. They're not insulated and they breathe well, so other than the gaiter around the ankle, they're no warmer to wear than any other high top riding shoe.
Limited options
We've had good flat pedal shoe options for years, but it took until last year's release of the Five Ten TrailCross GTX before we had one that was waterproof. The Leatt 7.0 HydraDri Waterproof Flat Pedal Shoe* is only the second option in this category. Like the Five Tens, they're not perfect, but also like the Five Tens, they are still pretty damn good.
*Product naming is a skill, and sometimes an art. In this case, it's a dog's breakfast.
Leatt's first crack at a waterproof flat pedal shoe is quite well executed. The 7.0 HydraDri is well made and after four months of full time use, show no real signs of wear and tear other than waterproof zippers that are stubborn at the best of times, but now have dirt in them, making them as agreeable as a grouchy donkey. Because these are a low-cut shoe with a waterproof membrane as well as a gaiter that covers your ankle, that zipper is essential, so expect to undertake periodic cleaning to keep it running smoothly. It remains to be seen whether it'll last through multiple seasons of use - I'll update this review if it fails before the end of next year's winter season.
Other waterproof shoes I've reviewed (clipless ones, I'll add) like the Shimano MW5 and Northwave Raptor GTX take a different approach to both waterproofness and warmth, making use of neoprene in the cuffs and insulation in the shoe. Again, those are clipless shoes, so not direct comparisons, but without a neoprene cuff, you need to use something like a gaiter and zipper like Leatt has done here. The lack of insulation in the Leatt 7.0 is not a weakness, if anything that actually elongates the lengh of time in which a rider can use them on the wet coast of BC or the PNW, or the UK, where winters aren't super cold but waterproofness and breathability are highly prized. Buy 'em a half size larger to accommodate thicker socks and you've got a good shoe for use down to about -5 or even -10º C, making them good for either wet or cold weather use around here, but again, not somewhere that it gets genuinely cold.
The Fit
The 7.0 HydraDri shoes are superb once you've got them on, it's just that getting them on is a bit of a challenge. The heel cup does a good job of hugging your heel, but you need to use your fingers as a shoe horn to get them on without collapsing the heel cup. That's made worse by the fact that you are already using both hands to hold the gaiter at bay while you get the shoe on. Then it's a bit of a job to hold both sides of that gaiter together while zipping them up (remember, that zipper is grouchy) followed by the snap, which holds everything in place nicely but requires a bit of deft finger work to hold it all together. I really value bike gear that goes on quickly especially because I'm often trying to fit rides in during a busy day, so this is a bit of a breakdown, and I can tolerate a bit of extra hassle in wet weather gear that works well, but I'd like to see a bit of refinement in this shoe for the next version. The upside, however, is that once you have the Leatt 7.0 HydraDri waterproofs on your feet, they are comfortable, supportive, and - most importantly for wet weather riding - effective at keeping your feet dry and comfortable.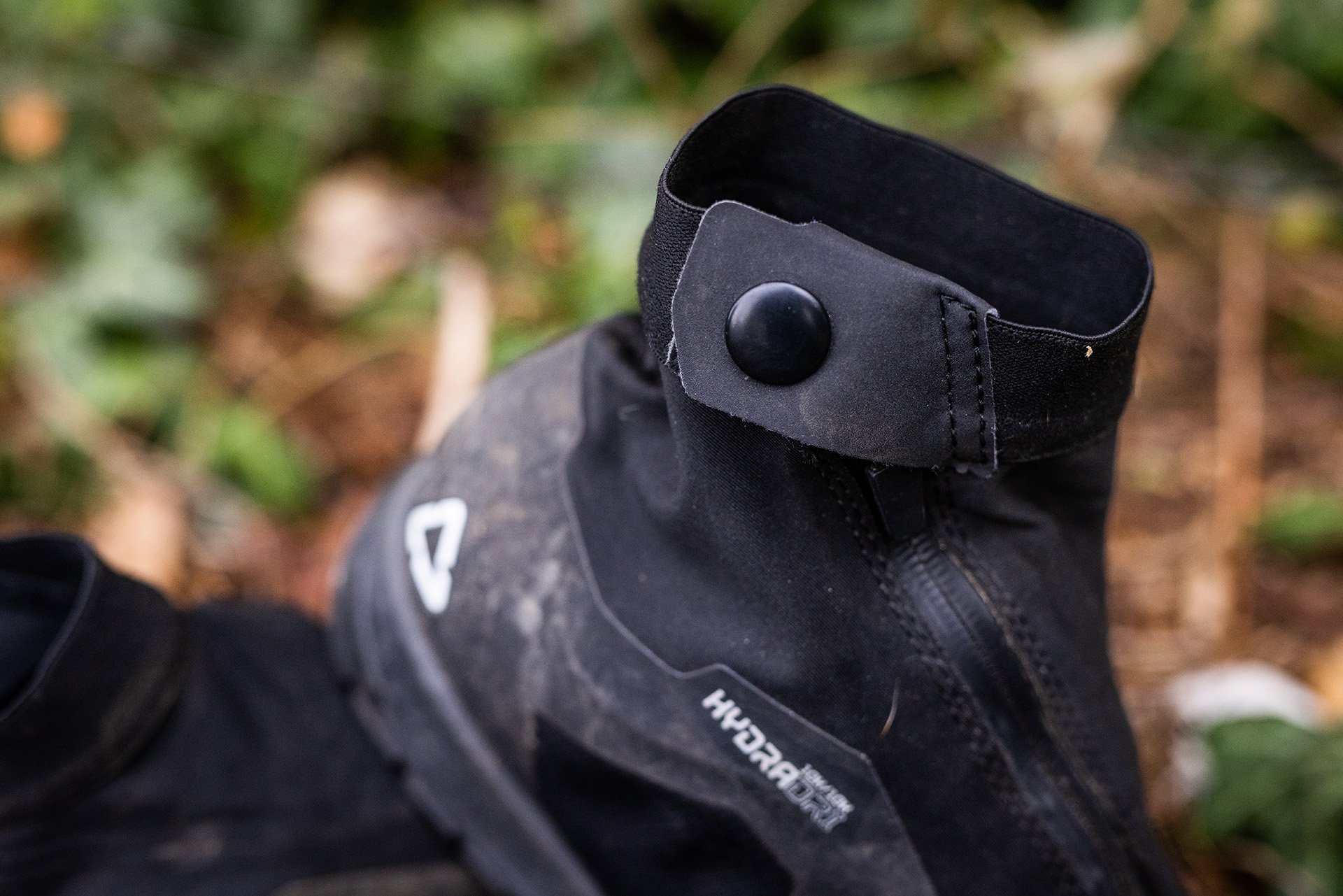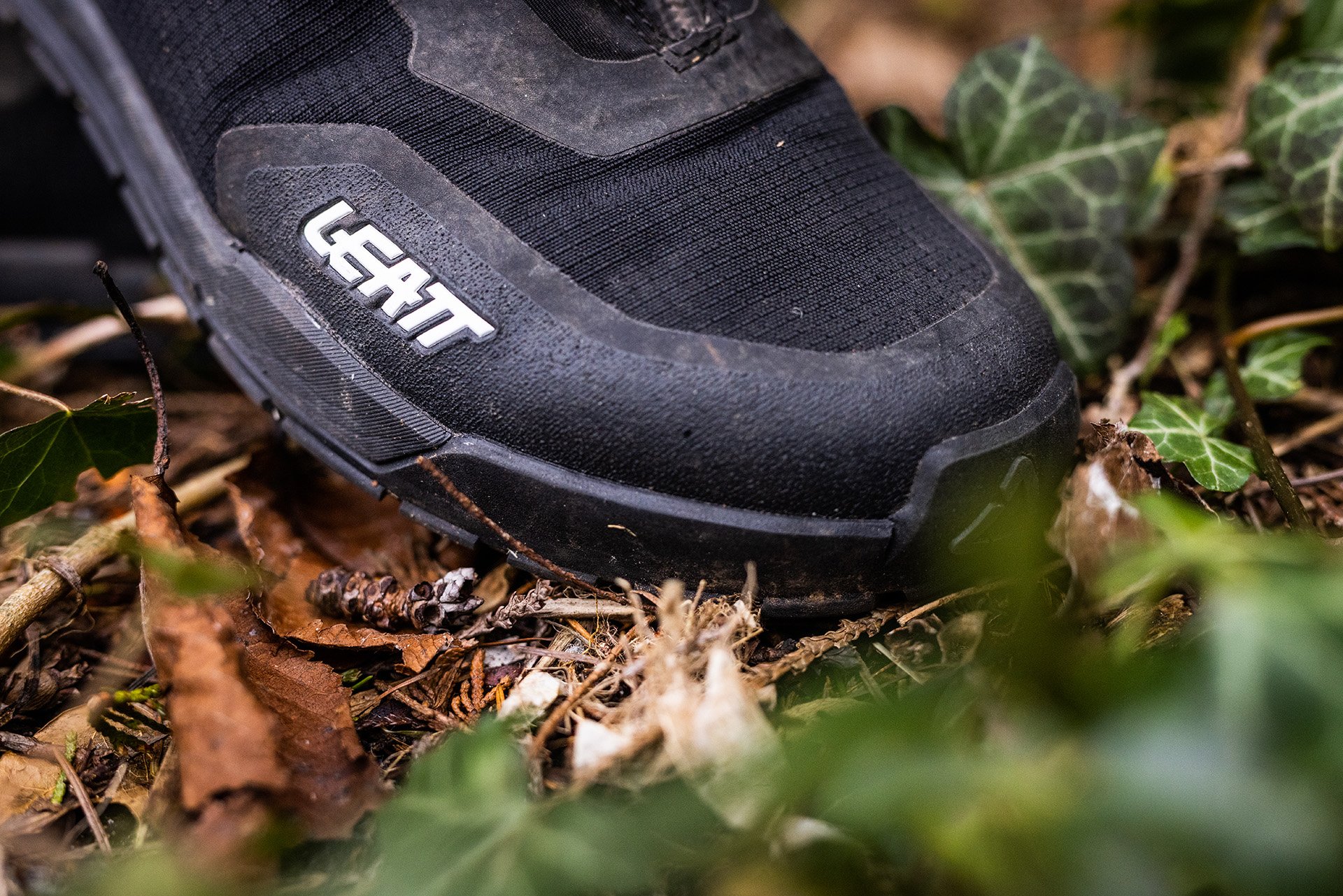 The Sole
Flat pedal shoes rely in large part on sole performance, so that's still the most important element to most flat pedal riders. Leatt has rolled out a new compound here, called RideGrip Pro. Yes, it's stickier than its predecessor. No, it's not as sticky as Five Ten Stealth. However, combined with the WaffleGrip pattern that is designed to interface with shorter pins underfoot, they do a good job of holding on to your pedals, even when wet. I prefer a very grippy shoe/pedal interface, so I'd take Stealth if given the choice, but was happy enough with these that in use with pedals from OneUp and Tenet, there were very few times when my feet got shaken out of position that weren't caused by a combination of wetness and pedal kickback. 8/10 stickiness if Stealth is a 10. For walking and hike-a-biking, the Leatts were great, which came down to the sole but also the secure fit.
Are they really waterproof?
Yes. I stood in puddles, rode through creeks, sprayed them down after rides, and never had wet socks after a ride unless the water line was high enough that a wet foot was deserved. That means they also breathed well, as foot sweat never caused my socks to be wet either. If sole performance is the number one priority for flat shoes overall, waterproofness is number two - or number one - when it's in the name. Top marks to Leatt.
Head to head vs the Five Ten Trailcross GTX
My main complaint with the Traillcross GTX is the lack of good toe armour. Leatt has done better here. The other complaint some may have with the Five Tens are the laces which, in wet conditions, will get wet and muddy, making them unpleasant to take off and harder to clean unless you do like I do and just hose off after every ride. Again: advantage Leatt. They're similar in terms of sole stiffness and both offer a great fit and pedal feel. Five Ten wins in terms of sole grip - of course. Price wise, it's almost a dead heat, with the Five Tens coming in about 10-15 bucks higher.
Leatt 7.0 HydraDri Waterproof Flat Pedal Shoe: available in men's sizes only (don't know why but memo to Leatt: I know plenty of women who ride in nasty weather): US 6-13, UK 5.5-12.5, EU 38.5-48.5, CM 24-31
MSRP: 189 US / 265 CAD
Transcript from the video above follows
---
Waterproof Flat Pedal Shoe Options Double
All right, this is the Leatt 7.0 HydraDri shoe, new this year, and it's Leatt's answer to the waterproof flat shoe, which we've all been asking for for a long time. And I've been wearing them for the last couple of months having a pretty good time with them. They definitely do what is the most important thing, which is keep your feet dry and to a certain extent warm. They've got a light amount of insulation. I wouldn't call them a winter shoe if you live somewhere cold. It uses what they're calling RideGrip Pro on the sole, which is stickier than some of their other flat shoes.
Still does not touch 5.10 stuff for stickiness. But I've had, I've been reasonably happy with that. But if you're someone that doesn't like 5.10 sticky level, then this will be good for you. If you're stuck on 510 You're gonna have to experiment a little bit with maybe a stickier pedal. As far as the shoe itself goes we've got a reasonable amount of toe armor, good reinforcement in the toe and heel sections. So I've been happy with that.
The system to fasten is this sucker here pulls the elastic tight on the forefoot holds you in quite well. One complaint I have with them is back here you can see it's not so much a high cut shoe. In fact, it's not. It's a regular cut that you put on and then essentially what is an ankle gusset so that works great. As long as you run your pants down over the collar to keep you dry, what I don't like is putting them on. It takes too long and sometimes this heel cup can collapse underneath because the pull tab comes from the outside of the shoe. So you're not having to use your finger as a shoehorn, which I find to be a hassle. Once they're on, they're really comfortable and they stay on well and like I said the elastic enclosure does a good job knocking down your forefoot. So that part's fine. So you pull that in, cinch it down, close them up and then you've got a zipper that moves around the foot towards the back a little bit. It's a waterproof zipper so it's stiff and right now because I've been wearing it in the mud, it's a little bit tricky to get that up. So again, on top of the issue with the heel, you have to kind of keep your fingers out of the way while you do up the zipper then you get the snap. So just takes a little longer than I'd like to get them on but once they are on, it's a nice package and I've been really happy with the fit can stand in puddles they will keep you dry. So, that is the Leatt HydraDri Seven.