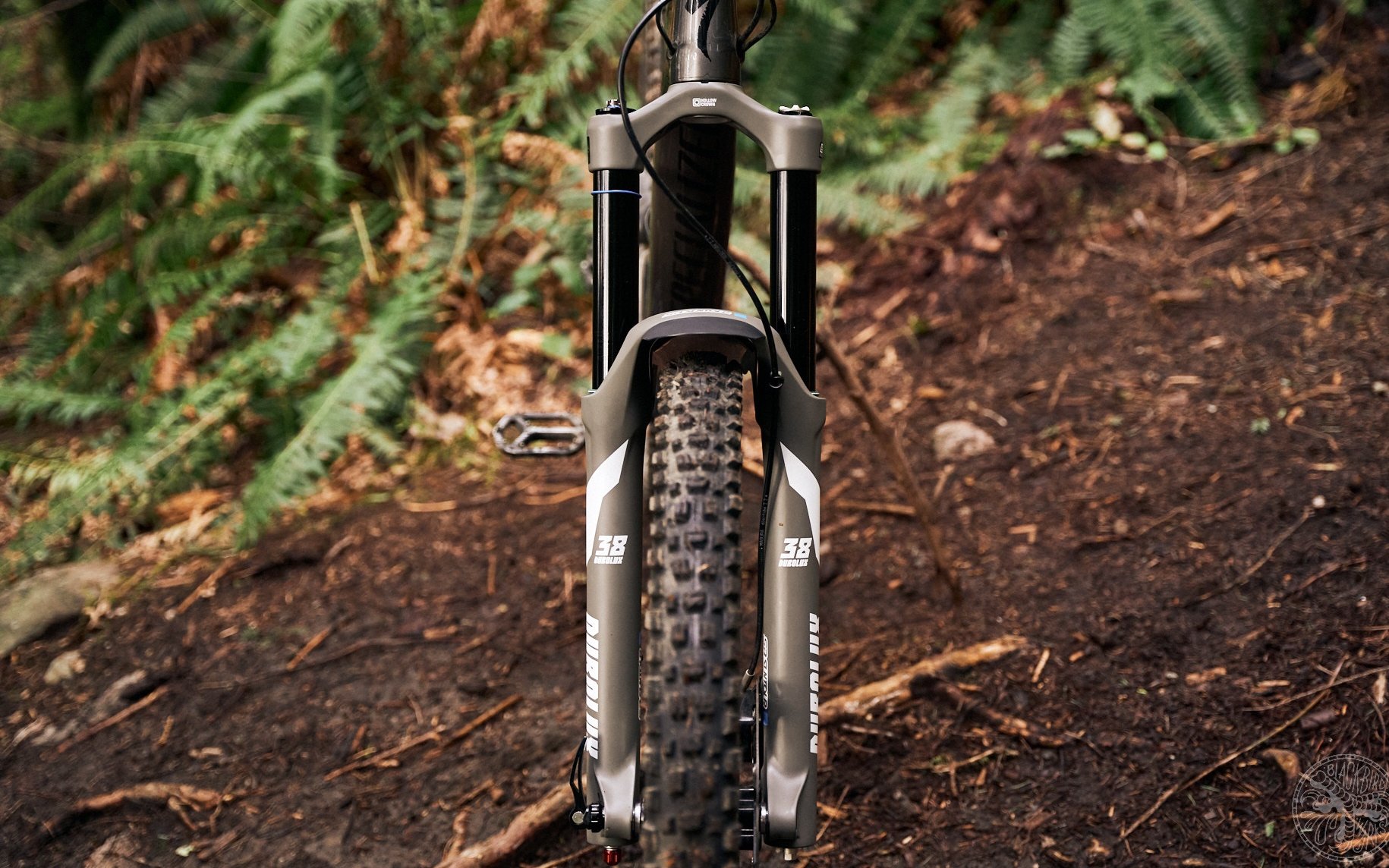 REVIEW
2022 SR Suntour Durolux 38 RC2
Bigger is better.
Fox? Or RockShox? As mountain bikers, we're all expected to pick one, and be assholes about it. Of course, there are several other suspension options, and even among those, SR Suntour might not immediately come to mind. While they may be better known for their low-cost suspension products, that's not to say that SR Suntour hasn't thrown many hats into the high-performance ring over the years. New for 2022 is the Durolux 38 Boost EQ fork, SR Suntour's entry into the 38mm chassis category. Brawler, freeride, enduro, super-enduro, or just plain "compensating for something" - whatever label you want to throw on them, 38mm stanchion, single-crown forks are popping up in many manufacturer's catalogues. Bridging the gap between "trail-rated" single-crowns, and full blown, dual-crown DH forks, the 38mm chassis is meant for whatever heavy-duty application you can throw at it. Additionally, E-mountain bike ridership is growing rapidly, and with the added stress placed on the fork by these heavy machines, the 38mm format makes a whole lot of sense. With that in mind, it's no wonder that companies are scrambling to get their fingers into the big fork pie.
The last time I wrote specifically about a fork, it was around the same time that Fox and Rockshox simultaneously released their first 38mm forks. Like many (most? all?) riders in the PNW, I experienced firsthand the shortcomings of the dainty, single-crown forks of earlier eras. Running a dual-crown fork on my trail bike did solve some of these issues, but I was still keen to see if the 38mm chassis could deliver on its promises of strength, stiffness and reliability. My experiences since then have shown that these bigger forks haven't completely solved the single-crown woes, but they sure have pushed the needle in the right direction - a lot.
When I heard that SR Suntour was coming out with a Durolux 38, I was eager to see how it stacked up against the Zeb and Fox 38 that I've spent so much time on in the last couple years. And while those forks are fantastic in their own right, there are still minor things that irritate me about both. I often catch myself wishing for a fork that combined the best attributes of the Zeb and the Fox 38 - it would be a damn near perfect fork in my opinion. It may be wishful thinking on my part to expect a fork costing several hundred dollars less to even swing in the same ballpark as the premium brands - but I'm happily willing to look past the scores of highly-paid, sponsored athletes, and slick marketing gimmicks to see how SR Suntour might do things a little differently.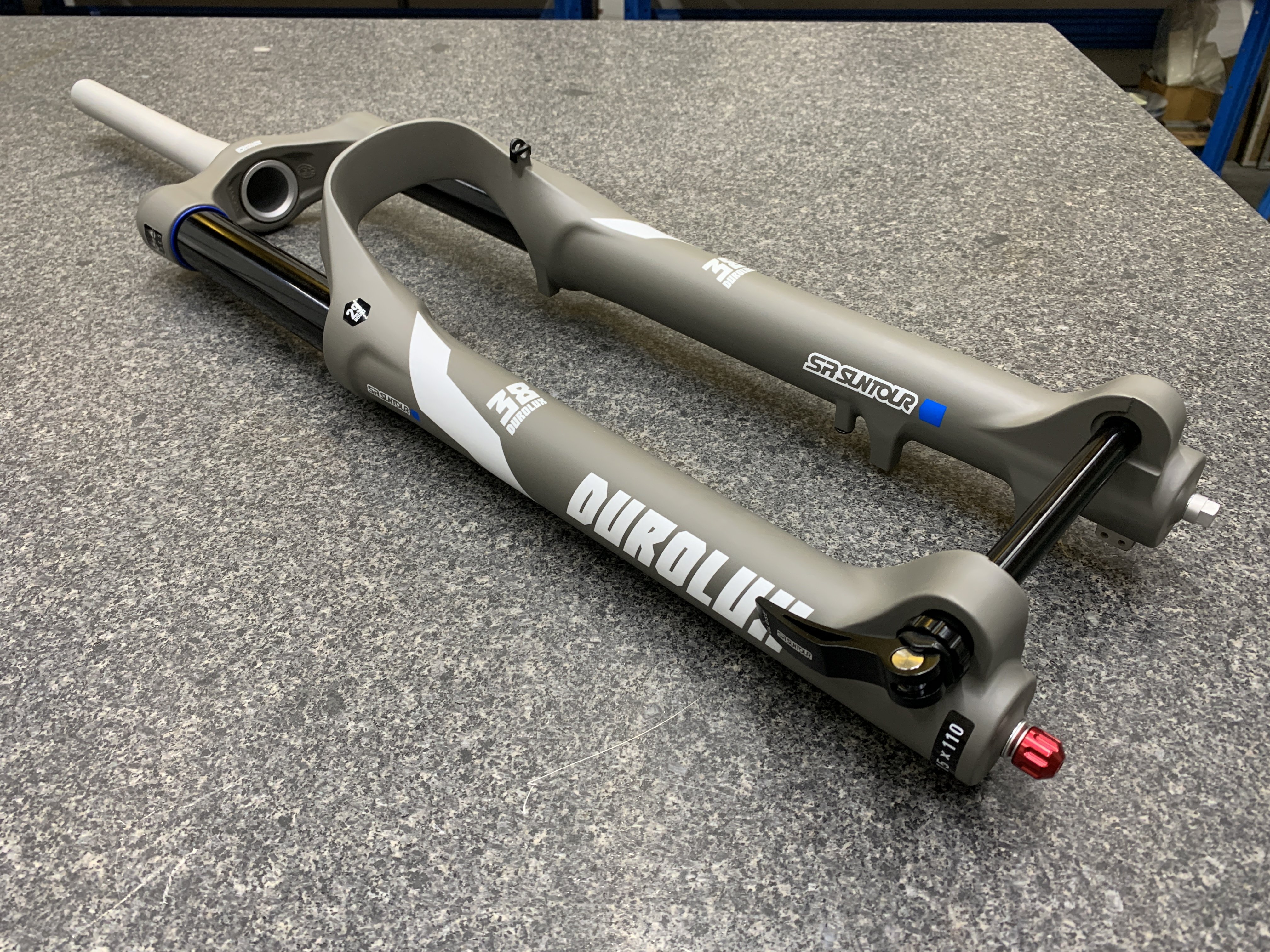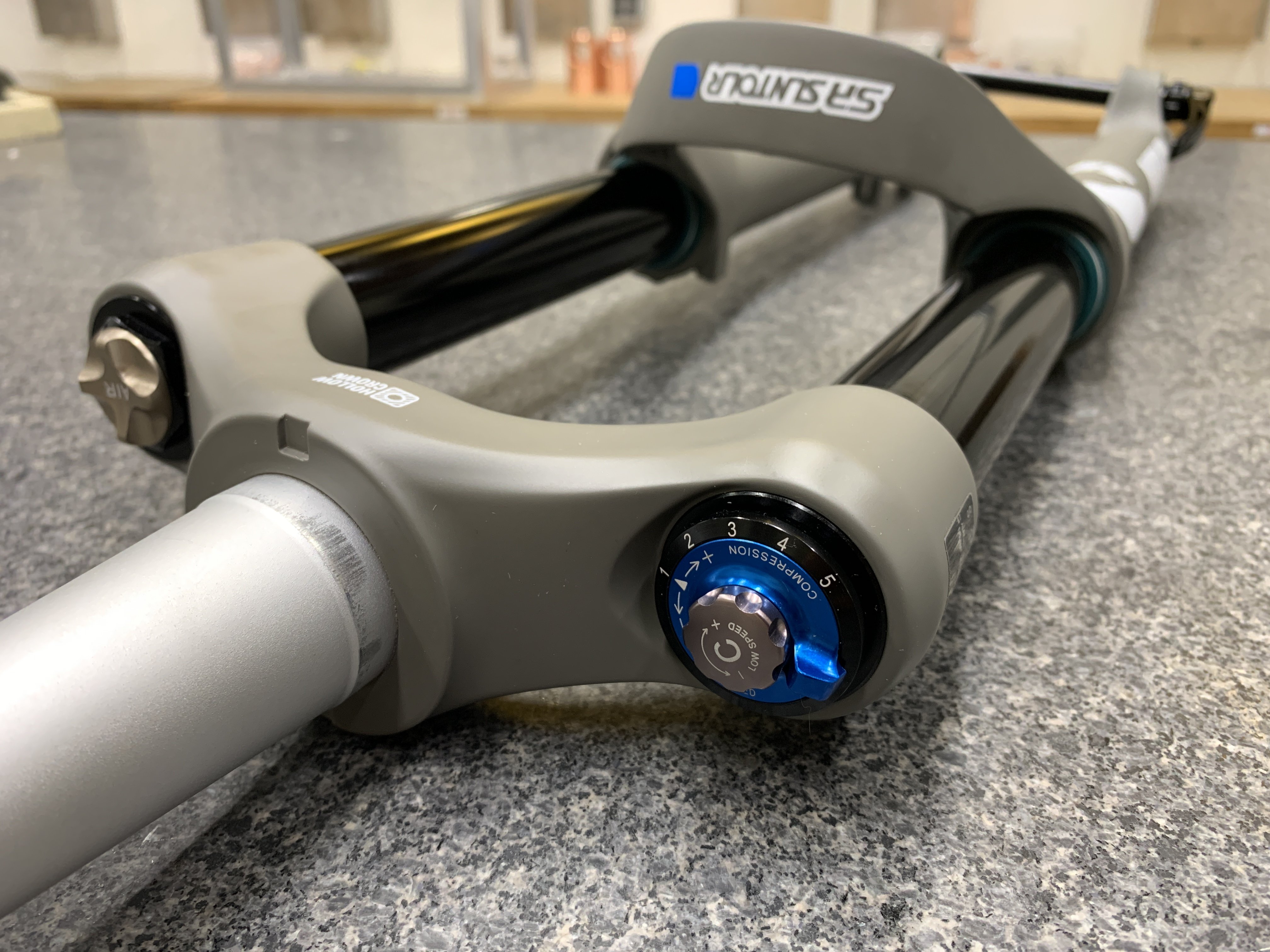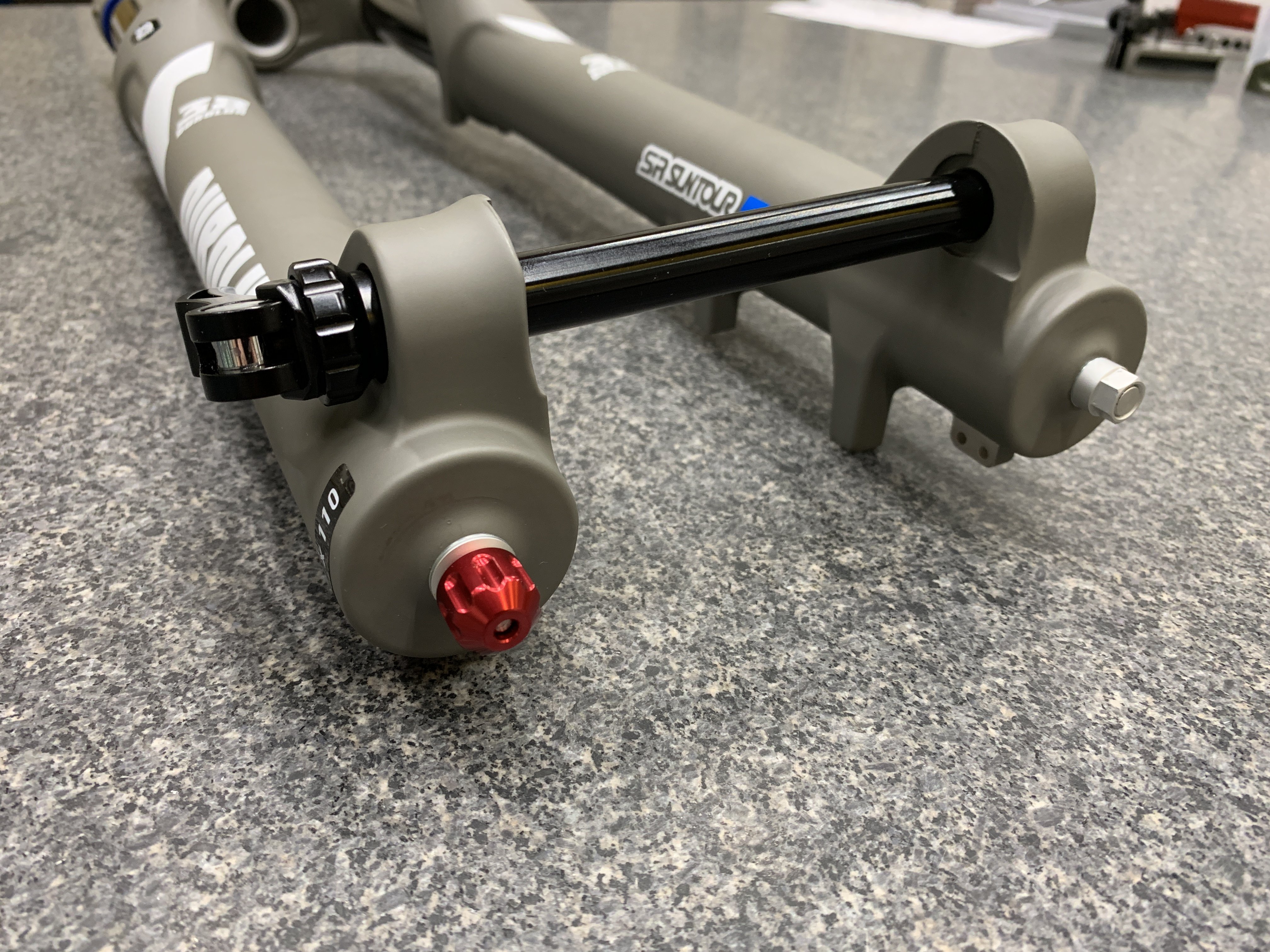 The details.
Currently only available for 29ers, the Durolux 38 sports a standard-ish offset of 44mm, and can be had in 160mm, 170mm and 180mm travel variants. The air spring is SR Suntour's "EQ Equalizer System", which is just their way of saying that the positive and negative air chambers are equalized automatically by way of a transfer port. Earlier models of the Durolux relied on a coil negative spring that came in different weights to tune the top-of-travel characteristics. As it eliminates the coil spring, the EQ System is lighter, and easier to set up in practice. And while it's arguably a step in the right direction, transfer-port-equalization has been done by Fox and Rockshox for ages, so it's not a new idea by any means.
On the damper side, you have the choice of SR Suntour's RC2-PCS, or the R2C2-PCS. As you may have guessed, the RC2 includes one external adjuster for rebound, and two for compression (high speed, and low speed). The R2C2 splits external rebound adjustment into separate high and low speed knobs. If you like how Fox does things, or if you're just predisposed to endlessly faffing with your bike, you might prefer the extra knob to twiddle on the R2C2. For the review, SR Suntour sent me a 180mm travel Durolux 38 with an RC2 damper. MSRP for the Durolux 38 RC2 is downright affordable, at $1079.99 CAD / $800.00 U.S.*

*(Aaaaaand, cue the peanut gallery, lamenting the fact that a thousand dollar bicycle fork is considered "affordable".)
Straight out of the box, the Durolux 38 strikes a formidable presence. This is a beastly fork, whose solid heft and battleship grey paint give the impression that you might just be holding a piece of military hardware, rather than bicycle suspension. With an actual, measured weight of 2648g, the Durolux is definitely on the porkier side of the spectrum - 340g heavier than my Zeb. I'm not a weight-weenie by any means, but strapping an extra ¾ lb to the front of my bike is enough to give even me pause. My 36lb "trail bike" should make it plainly obvious that given the choice between performance and lower weight, I'll always choose performance, so we'll see if the extra grams pay off for the Durolux. The fork comes with SR Suntour's 15LH quick-release axle as standard, and allows for tool-free removal of the wheel. The quick-release is easy enough to adjust and operate, although I personally prefer the simplicity and cleaner look of the optional Allen key thru-bolt. Also in the box is a very slick, removable fender that forgoes the junky zip-tie attachment in favour of three sturdy bolts. Finally! A fork that comes equipped with a proper fender as standard equipment! Fox and Rockshox - are you taking notes?
At the top of each lower tube, you'll find a small set screw on the backside. These ports can be used as air bleeders, similar to what you'll find on other forks, but seeing as you have to fully unthread them with an Allen key (and make sure not to lose them in the process), their usefulness as bleeders while out on the trail is limited. Perhaps SR Suntour will release a push-button bleeder in the near future to replace the set screws - but I'm far more interested in the second reason that these ports exist, and that is the ability to inject lower leg lubricant directly into the fork, without dropping the lowers. The Durolux 38 ships without any lower leg oil at all - the bushings are greased, but otherwise, the lowers are dry. SR Suntour understands that their suspension-savvy customers often add oil to their fork lowers in search of the slipperiest action possible, so they made the process super easy with the addition of the bleeder / injector ports. It's possible to add up to 10mL of oil to each leg, although SR Suntour recommends just 1 or 2mL at a time. Think of it as a mini lower leg service, for lazy people like me. After you've added a cumulative total of 10mL to each leg, you will need to drop the lowers and drain the old oil before adding any more. I'm a sucker for a supple fork, so I added 5mL of 20wt suspension oil to each leg before hitting the trails.
I'm not going to dwell too long on the looks of the Durolux, as I'm definitely more interested in how it performs on the trail. That said, while I wasn't so much a fan at first, the military grade appearance is growing on me. The matte grey paint seems very durable, and the patina that is developing as ride time accumulates is kinda cool too - adding character to its already rough and ready demeanor. It's a shame the graphics are about 20 years too late, because SR Suntour went to the trouble of screening them on permanently, rather than going with flimsy stick-on decals that seem to be the industry standard. The irony of finally having graphics that won't peel off, even though I kinda want to peel them off, is not lost on me. And if the battleship grey doesn't float your boat, the Durolux 38 is also available in matte black. As mentioned earlier, the included fender is beautiful and functional, fitting perfectly into the shape of the fork arch.
The setup.
Being a new platform, initial setting recommendations are hard to come by for the Durolux 38. When setting up a fork, I prefer the spring to do most of the work on the compression stroke, while relying on the damper as little as possible. This might explain why I have an impressive collection of volume spacers in my parts bin. The Durolux 38 uses two types of volume spacers - a hard resin style (3 maximum), and a soft rubber style (6 maximum). Previous experience has taught me that I'll get to my preferred settings quicker by starting off with plenty of spacers in the fork, rather than none. This might seem like putting the cart before the horse - but I'm a chonky boi, with an aversion to bottomed-out forks, so I opted for one less than the maximum number of spacers (3 resin, 5 rubber). Throughout the test, I experimented with varying numbers of spacers, but ultimately settled back at my initial count of 3 and 5. Not too bad for a stab in the dark, eh?
With that baseline of tokens established, I started with an air pressure of 62psi, which got me in the neighbourhood of 20% static sag. Without any recommendations to go from, I initially set both compression knobs pretty close to centered. HSC has a range of 5 clicks, while LSC gives you 16 clicks. The one and only rebound knob gives you 21 clicks, and I was quite astonished at how heavily damped the rebound stroke felt on this fork - I settled on 18 clicks out from fully closed on the rebound adjuster.
Within the first few minutes of riding, it became clear to me that the compression damping on the Durolux 38 is similarly strong as the rebound circuit. The heavily damped nature of this fork shouldn't really come as a surprise, with a healthy representation of big mountain freeriders on their roster, SR Suntour has built this fork to handle hits that mere mortals would never dream of attempting. For the trail conditions at my paygrade, I found I had to run the HSC all the way open to achieve the sensitivity and traction I was looking for. Clydesdales are going to love this fork, whereas lighter riders are going to struggle moving enough oil through the stock damper. Thankfully, both available dampers are fully serviceable, so getting the right tune for your weight and riding style can likely be done at any SR Suntour service centre.
The ride.
Over the first few rides, my initial impressions of this fork were somewhat mixed. While I couldn't quite put my finger on it, the Durolux felt a bit sticky. If I hadn't injected the lower leg oil myself, I'd almost suspect the culprit to be dry and/or tight bushings. This sticky feeling was detrimental to small bump sensitivity, and was most apparent when negotiating off-camber roots or wet, slippery surfaces where keeping traction was of paramount importance. The Durolux just didn't have the supple, slippery feeling of other forks in this segment. In an effort to improve things, I decided to drop the lowers and do a thorough re-greasing and lower leg oil treatment of the fork. After this, and a few more rides, the sensitivity improved quite a bit, but never caught up to the competition. I have to wonder about the fact that I was running the HSC all the way open, with no more clicks to go. Perhaps the sensitivity could have improved further if I was able to open that damper up a little more? The initial stickiness of the fork could also be attributed to tight bushing tolerances, and this would also explain why it seemed to improve over time. Whether it was caused by low lube, tight bushings, the strongman damper, or some combination of the three, the small bump sensitivity continued to improve throughout the review period.
Through some further bracketing, I ended up with slightly higher air pressure, and higher LSC as well. SR Suntour should be applauded for including adjustments on this fork that actually make a discernible difference in ride characteristics. Dialing in a few clicks of LSC resulted in a fork that rode noticeably higher in its travel, without adding any harshness to the compression stroke.
These are the settings that I ultimately stuck to for the majority of the review. I'm about 190lbs fully geared up.

EQ Air Spring Pressure: 65psi.
Volume Spacers: 3 resin, 5 rubber.
HSC: Position 1 (lowest setting out of 5).
LSC: 5 clicks out from fully closed (16 clicks total)
Rebound: 18 clicks out from fully closed (21 clicks total)
With the Durolux dialed in, it was time to set it loose on some rowdy terrain. While off-the-top sensitivity is not this fork's strong suit, plowing through all manner of chunder with reckless abandon certainly is. The freeride DNA in this fork is unmistakable - the Durolux 38 feels most comfortable when you're feeling your least comfortable. The stout chassis holds an impressive line when things get really wild, and with all those tokens, the EQ spring does a great job of resisting bottom-outs on even the biggest hits. While the rebound damping range is too slow for most applications, it can be set quick enough to recover from fast hits at race pace, although it's not quite as refined on the rebound stroke as the Zeb or Fox 38. I found I had to run a touch more rebound damping than I would have liked, to eliminate the barely perceptible top-out rattle experienced at fast rebound speeds. Still, the Durolux is downright incredible on the fastest, roughest trails - even better if they have massive airs to blown-out landings. The heavily damped RC2 is eager to press hard off lips, and is just as happy when it comes time to deploy the landing gear - it's as if SR Suntour set out to make a freeride fork for dirt jumpers. There certainly are forks better at staying glued to the ground, but if jumping into and out of trouble is your idea of a good time, then the Durolux is hard to beat.
When things get steeper and slower, the Durolux has no problem keeping things under control, with the caveat being that slippery and/or off-camber surfaces require a bit more of the rider's attention than with the velvety smooth competition. But when conditions are dryer, and hits are coming fast and furious from straight ahead, the Durolux remains unfazed while gobbling up everything in its way. While I might be more inclined to side-step certain trail obstacles with other forks, the Durolux prefers to go straight down the fall-line, regardless of what's in the way. I'm still processing how this could be possible in a fork at this price point but I think SR Suntour just might barely edge out both RockShox and Fox when it comes to straight-line plowability - no easy feat, considering the more expensive competition are no slouches in this regard.

The freeride DNA in this fork is unmistakable - the Durolux 38 feels most comfortable when you're feeling your least comfortable.
38mm for the masses.
All things considered, it seems that SR Suntour has cooked up a working class winner in the Durolux 38. To be truly competitive in the enduro race scene, where traction is king, and milliseconds matter, SR Suntour will have to improve the sensitivity of the fork, and it might not hurt to put it on a wee diet as well. But for riders who are just looking to ride some gnarly shit, without having to remortgage their home, it's hard to argue that the Durolux 38 isn't a great option.
I walked into this review not expecting too much from this affordable fork, but I can't stress enough how impressed I am with its overall performance. When it comes to bang-for-your-buck, SR Suntour has handily beaten the competition with the Durolux 38.


$1079.99 CAD.
$800.00 U.S.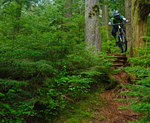 Ryan Walters
Age : 40
Height : 1803mm
Weight : 86kg
Ape Index : 1.03
Inseam : 787mm
Bar Width : 780mm
Preferred Reach : Pretty comfy at 487mm these days.