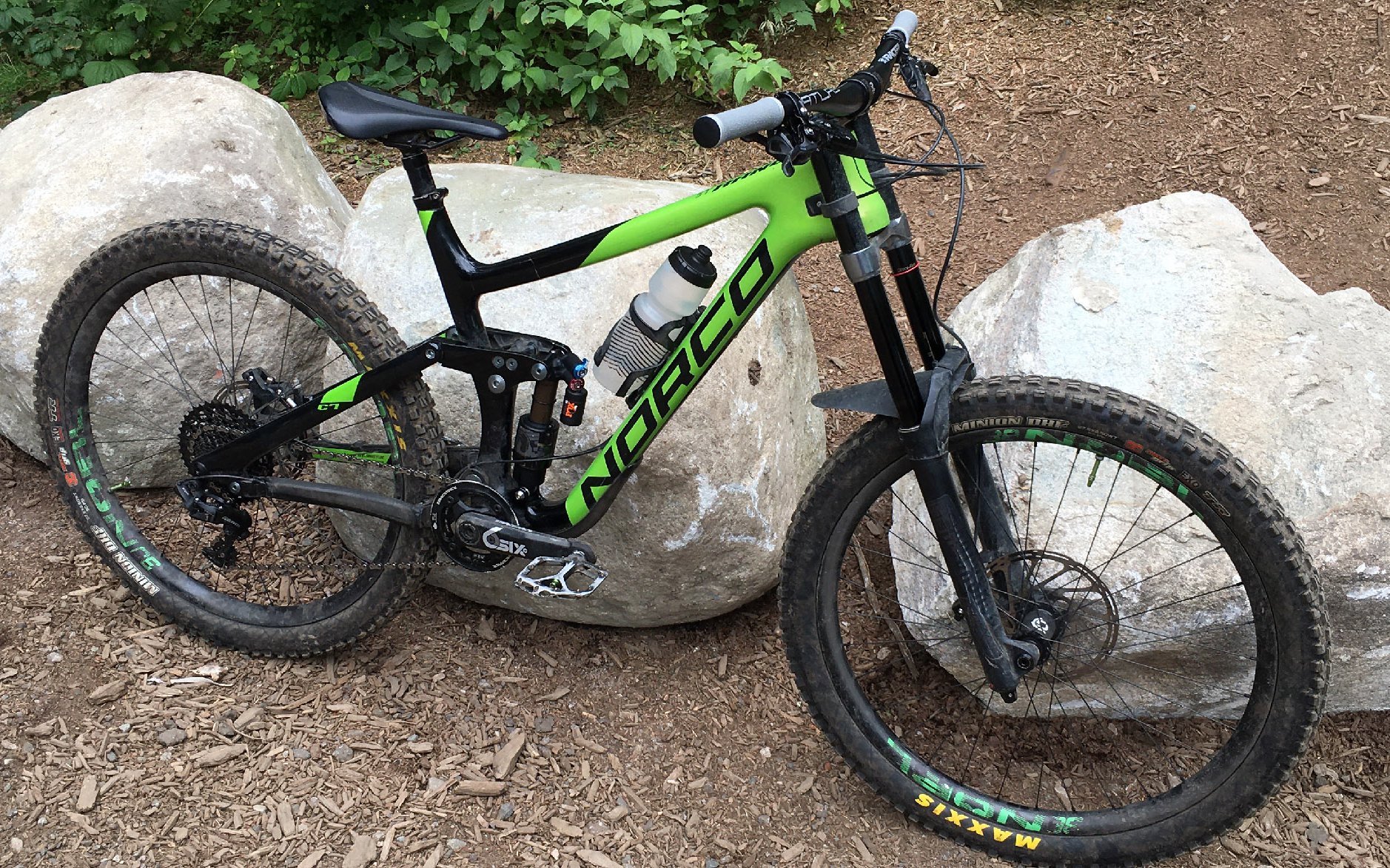 EDITORIAL
My Year as the BoXXer Trail Bike Guy
The Quandary (the Curmudgeon)
All of mountain biking is fun, but I'll be the first to admit it: I live for the downs. I'm a recovering DH-racer-turned-trail-bike-rider, and gravity is my friend. Don't get me wrong - I like the satisfaction of earning my turns just as much as the next guy, but I won't lie to you and say that I have recurring dreams about idyllic 2000m climbs. And I'm willing to bet that most of you reading this right now fall somewhere on the "bikes-are-most-fun-when-coasting-downhill" spectrum.
I've owned considerably more dual crown forks than single crowns in my many years of mountain biking and I've always harboured a deep mistrust of single crown forks, particularly the long-travel variety. My imaginary engineering background has always told me they are the wrong tools for the job. And dentists are expensive. I gave up on barspins and tailwhips long ago, and my days of thinking X-ups are cool are long gone. Hell, even my daughter's first run bike had a dual crown.
I was late to the trail bike party. For so many years, my only mountain bikes were full-blown DH rigs. That changed in 2015 when I picked up my first modern trail bike. I made peace with the single crown. Unfortunately, there was nothing peaceful about that little Pike. Creaking CSUs immediately became the bane of my life. Not to mention the vague, "almost-steering" I experienced from long-legged, glorified XC forks. Validation! I was right all along!
The Solution (Desperation)
Last year, I decided to take a break from single crowns. After some hasty research, I decided that a RockShox Boxxer was going to find its way onto my 650b Norco Range. The Boxxer was the obvious choice for a cheapskate like me, as you could readily find dozens of them being flogged for a song on the buy n' sells. People basically give these forks away because the stanchions are the wrong colour or something. Also important was the fact that BoXXer travel could easily be adjusted down to 180mm with a simple and inexpensive air spring swap. Because a trail bike with a dual crown is pretty neat, but a trail bike with 200mm travel is lunacy.
So, after throwing a bunch of celebratory X-ups, I swapped out my creaking Lyrik (RIP) for a Boxxer RC. That was the day I became the Boxxer-trail-bike-guy.

Rebound was set somewhere between 'very fast turtle' and 'medium speed bunny'
There were zero issues geometry-wise going from a 180mm Lyrik to a 180mm Boxxer. The axle-to-crown lengths were basically identical (with the Boxxer coming in 1mm shorter on paper). Fork offset went from 42mm on the Lyrik to 46mm on the Boxxer. Pushing the front wheel out a bit would give me more stability and confidence on steep, fast and otherwise fun trails. The trade-off of course was less snappy handling on those idyllic 2000m climbs that I never dream about. It was a compromise I was willing to make.
I ran into my first issue before I even had a chance to ride the bike: "Holy smokes, my bike doesn't fit on my NSR rack anymore". My initial research neglected to uncover the fact that even though trail bikes and DH bikes often share the same headset standards - trail bikes tend to have more bulbous lower headtube cross sections. This is generally done by frame manufacturers to reinforce the headtube/crown interface that sees so much stress during heavy-duty riding. DH bikes don't need as much material here, as they distribute the fork forces more evenly across the entire headtube by way of their big, beautiful, dual crowns. The combination of oversized headtube and upper stanchions made for some interference when trying to load the bike on the NSR-4 cradle. After a bit of rack "tweaking" (thanks to the fine folks at North Shore Racks for helping me out with this), it was time to hit the trails.
The first thing I noticed while riding in anger was - you guessed it - the stiffness. I didn't notice the sounds of a flaming dump truck filled with roman candles coming from my fork crowns, mainly because there weren't any. Instead, I was treated to the wheezing of the stock RC damper in the Boxxer. A few weeks in, the RC said adios while negotiating a questionable line choice down a wall of boulders. To be fair, it was a heinous hit and I wasn't too surprised at the blown damper. But it was a good excuse to stick the far superior Charger 2.1 in there.
Back to the stiffness. There was lots of it. With the increased bushing overlap of 180mm travel, along with NOBL TR38 wheels and Race Face Atlas everything - the front end of this bike likely rivalled any DH bike in terms of stiffness. It was a sensation that took some getting used to. When you turned those handlebars - by god, you'd better believe the front wheel was going to follow. And if you made a mistake, there was no flexy noodle up front to temper your bad decisions. It made me realize just how "delayed" the steering of a single crown could be. This became even more apparent in the bike park. Spoiler alert: When riding at DH race speeds, a DH fork is far more confident at picking lines and staying on them. This new sense of hyper-control was addictive, and borderline uncomfortable for a trail bike. This setup isn't for everybody. I don't even know if it's necessarily better. There is such a thing as too stiff, and I was definitely flirting with that realm. But I had a silent front end that went exactly where I told it to. Mission accomplished.
Let's talk about air springs. I like them because they're light and adjustable. The Boxxer is a DH fork, optimally designed around 200mm of travel encountering high speeds and hard impacts. I knew that getting it to feel right for trail bike duty was going to be a challenge. I also happen to like my suspension more progressive than Bernie Sanders on an ayahuasca trip, so after much experimentation, I found my sweet spot at 122psi and a quantity of tokens that was more than zero, but less than ten. The fork was supple enough to handle low intensity trail noise, but ramped up considerably to resist all but the most violent bottom-out events. As far as damper settings go, I was running somewhere in the middle on LSC, and found that 2 clicks of HSC was ideal. Rebound was set somewhere between "very fast turtle" and "medium speed bunny." For the record, I'm in the neighbourhood of 195lbs fully geared up, and would describe my riding style as "fast enough to regularly break bike parts, but slow enough to still pay for all of them."
While out riding, I often got asked why I was pedalling around on an Aurum. After politely pointing out that it was in fact a Range, that's when the real questions came - like: "Oh, how is the turning radius?" This is a fair question, and one that was only to be answered by riding the bike in lots of different situations. After a full year of trail riding with the Boxxer, the only times I encountered the fork stops was while negotiating tight climbing switchbacks. Ironically, the bump stops sometimes aided in getting me around those corners, as I found I could "lean" against them while making the turn. This proved helpful when I was truly gassed - as long as I set up wide for the corner, I could turn the bar, rest on the bump stop for a split second and be on my way. I was happy to have traded in X-ups for that little trick.
I was also frequently asked about the weight. I don't have exact numbers, but at one point I determined that I had gained less than a pound on the bike. SRAM claims a difference of about 560g between the current Lyrik and Boxxer. Keep in mind that comparison is for a 150mm Lyrik, and doesn't account for the lighter (shorter) steerer and lighter DM stem you get to use with the Boxxer.
The About-Face (marketing always wins)
Sadly, my time as the Boxxer-trail-bike-guy recently came to an end quicker than I expected. I'm almost ashamed to admit that I drank the kool-aid and got into the 29er game. It's a wacky game and I'm still trying to figure out the rules. My entry fee included a Zeb that was chosen because I liked the colour. The first rules I learned about the 29er game is that wheelbase is now measured in postal codes, and colour coordination is of paramount importance. I've been on the Zeb for about a month now, and I'm trying to stay cautiously optimistic about losing that upper crown.
How is the Zeb? Perhaps my frame of reference is a bit skewed coming from the Boxxer. As it's an entirely new bike, it's almost comparing apples to oranges anyway. In my experience so far on the steeps and deeps of the Shore, the Zeb feels almost as precise as the Boxxer did. It would be hard to tell them apart in a blindfolded, back-to-back comparison - but I wouldn't recommend riding either of these forks while blindfolded. I'm willing to bet that the difference would be more apparent in the bike park, at truly high speeds. Worth noting is that the 38mm stanchions result in an air spring head with a larger surface area, which translates to much lower pressures in the Zeb. I've found that this makes the fork sensitive to slight variations in pressure - a few PSI in either direction can have a very noticeable impact on fork performance. If you go Zeb, make sure you have a high quality (preferably digital) shock pump. On my 170mm Zeb Ultimate 29, I seem to have settled at 72psi, ALL THE TOKENS*, and 1 click of HSC. And the answer to the zillion dollar question: my Zeb is not creaking. Yet. And I'm still not doing X-ups. Yet.
*(4 tokens - the maximum)
A quick side note about Zeb: Right out of the box, mine felt a bit harsh in the initial stroke. This was a bit surprising considering the "war on friction" marketing schtick that SRAM has heaped on us recently. That said, it does feel like the fork is "breaking in" and getting smoother every ride. Maybe all that increased bushing surface area just needs a bit of action to settle into optimal parameters. I'm curious if other Zeb owners have found this as well…
Quasi-Conclusion (to be continued?)
Would I do the dual crown again? Absolutely. My experience running a dual crown was overwhelmingly positive, and I still suspect that we may see "mini" dual crowns from the big players in the near future. It didn't take long for reports of creaking 38s and Zebs to surface (knocks on all things made of wood), so where else can we go from here? Please, for the love of god don't say 40mm single crown stanchions - in my head, this will always translate directly to: "Hey! Here's a fork with dirt on the inside, and all the oil is on the outside! We call it the Totem!". And you can go straight to hell with your 1.8" steerer tubes. In the meantime, I'm keeping both ears on that new CSU of mine, and both eyes on the 29er Boxxer buy n' sell.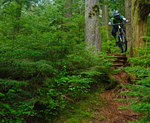 Ryan Walters
Age : 40
Height : 1803mm
Weight : 86kg
Ape Index : 1.03
Inseam : 787mm
Bar Width : 780mm
Preferred Reach : Pretty comfy at 487mm these days.