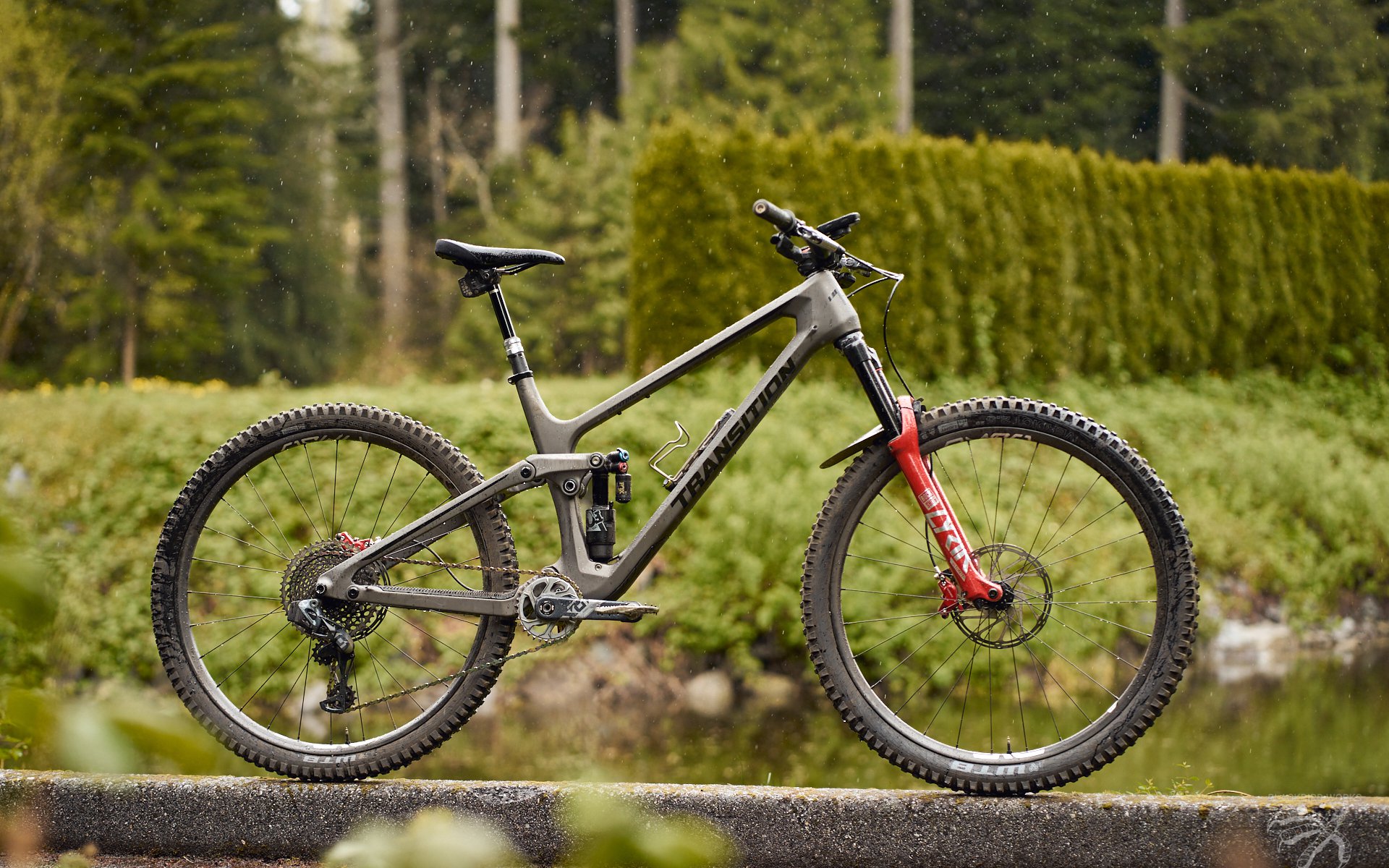 FIRST LOOK and RIDING IMPRESSIONS
2021 Transition Sentinel
Today is the day Transition unveils their new Sentinel. The short version of the changes they made to their mid-travel 29" trail bike reads like this: 10mm more travel, slightly slacker at the head tube, slightly steeper at the seat tube, 5mm longer chain stays, increased tire clearance, and, it won't take you long to notice, a revised visual ID that looks less like the swoopy organic shapes many brands have been favouring, and more angular and stealth-fighterish.
For a full run down of the specs and details of the new bike, see the launch post here.
I've been riding a brand new Sentinel for the past little while, and will share some early observations and comparisons with the prior generation Sentinel, the parts from which I stripped and moved over to the new frame.
Comparing the 2021 Transition Sentinel to the 2019 Sentinel
There's a lot to unpack here, because the Transition Sentinel has also been my SRAM Eagle AXS long term test platform, but for now we'll keep it simple and focus on the new frame here, and come back to AXS a bit later. Two things struck me as soon as I saw the new Sentinel's frame and geometry: first, that even though the numbers changed in the predictable way (slacker, longer, steeper seat tube), they didn't change by that much. This makes it clear that Transition felt like they got their SBG (Speed-Based Geometry) pretty close to the way they wanted it the first time, and that the original iteration was very progressive for its time (this, we all knew). And if one of the progressive brands in terms of geometry is chilling out a bit on the pace of change, we may be seeing things in that department stabilize - Transition just got there earlier than a lot of the competition.
The second thing that's instantly noticeable is the new look of the frame. Stand back and squint and the silhouette may be somewhat familiar if you were plotting it at critical points, but the lines in between are very different. If the last Sentinel's aesthetic was organic and smooth (not unlike the shapes we see from the likes of Santa Cruz and Yeti) the new lines are more aggressive and angular, with a nod towards some BMCs I can recall, except I don't recall loving the look of their mountain bikes (road bikes a different story) whereas this new Sentinel looks awesome. It's a striking change, and some may prefer one over the other, but to me they're both impressive executions of industrial design with different end results.
All right, so we have some geo tweaks and a pretty bold new design ID, but there's more, like a change from 140 to 150mm of rear travel. You can still run the new Sentinel at 140mm if you prefer, by simply choosing a shorter shock stroke, but I don't know why you would. Fork spec remains the same at 160mm (meaning the front to rear travel differential drops from 20 to 10mm) buuuut, because I know you're going to want to know, I asked for you. This is probably a good time to turn the mic over to Transition marketing manager Lars Sternberg (as well as product manager Sam Burkhardt). I thought we'd get some answers straight from them, so let's dive in to that and I'll tell you how this sucker feels on the trail.
7 Questions with Transition marketing manager Lars Sternberg and product manager Sam Burkhardt
NSMB (Pete Roggeman): What were the design goals that Transition had in mind for the new Sentinel?
Lars Sternberg: From an aesthetic perspective it needed to be identifiable as a different bike than the previous generation. See question #4 about how we achieved this. We had some geometry and functionality updates we wanted to implement; Slightly slacker HTA, steeper STA with shorter seat tube, deeper seatpost insertion, internally guided shift cable front to back, longer CS, increased tire clearance and the accessory mount. Also the ability to use a 57.5mm stroke shock as well as a 150mm fork without compromising the ride. The geometry is only affected by .5 degrees with the shorter fork. We also wanted to increase the rear travel, but not so much that it turned into an entirely different bike. The suspension kinematic has been updated, which is addressed in question #6 below.
The jump to 150mm brings the Sentinel into 'long travel' territory but other brands have taken their aggressive 29ers to 160 or even 170mm. What are your thoughts on 150 vs 10 or 20 more mm's? Is something even longer on the horizon, or do you feel like 150 satisfies the market need in your opinions?
I wouldn't say that 150mm rear travel is true LT territory. A 160/170mm travel 29'er is going to have a very different manner than the Sentinel. While the Sentinel has 10mm more travel than the previous generation, and definitely better at smashy smashing, it's also very well rounded. Better pedaling performance and use of travel. We've found this Sentinel to be our go-to bike for most types of riding scenarios.*
*Notice how he just ignored that part of the question about a longer 29er? Yeah, I did, too. Then again, the Patrol is due for a refresh one of these days soon...-PR
The integrated rubber frame protection is really slick, but I noticed nothing near the down tube/head tube junction. Is this just because shuttling sucks or did you just want to leave it to the consumer to figure out protection in that area?
That's a great question, and we've got nothing against some good old shuttling when the time comes. Not all people shuttle, and not all racks secure bikes under the headtube. We've provided protection where everyone needs it, not just where a small percentage of Sentinel customers could use it. If someone shuttles that much, they're likely accustomed to crafting their own version of protection here.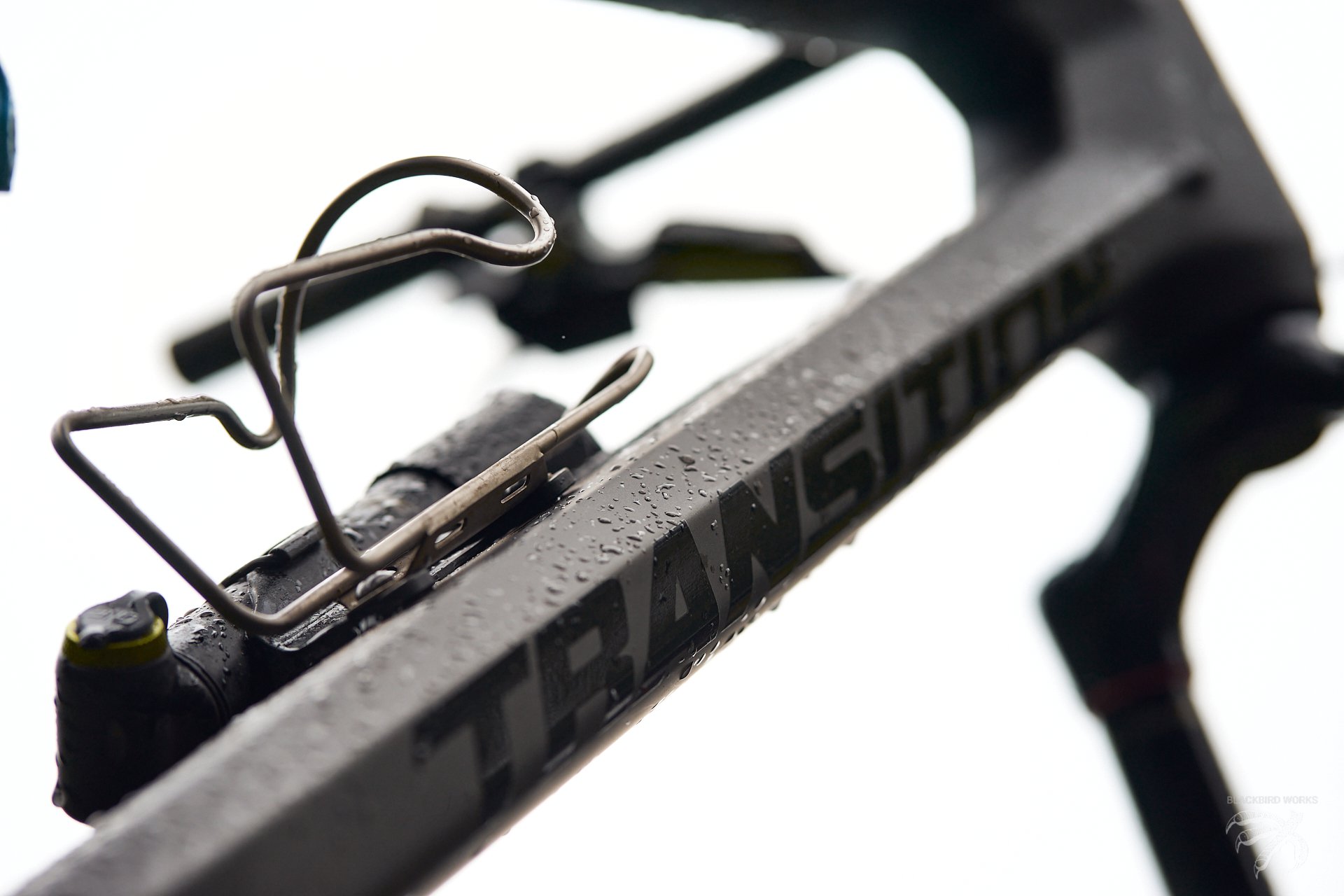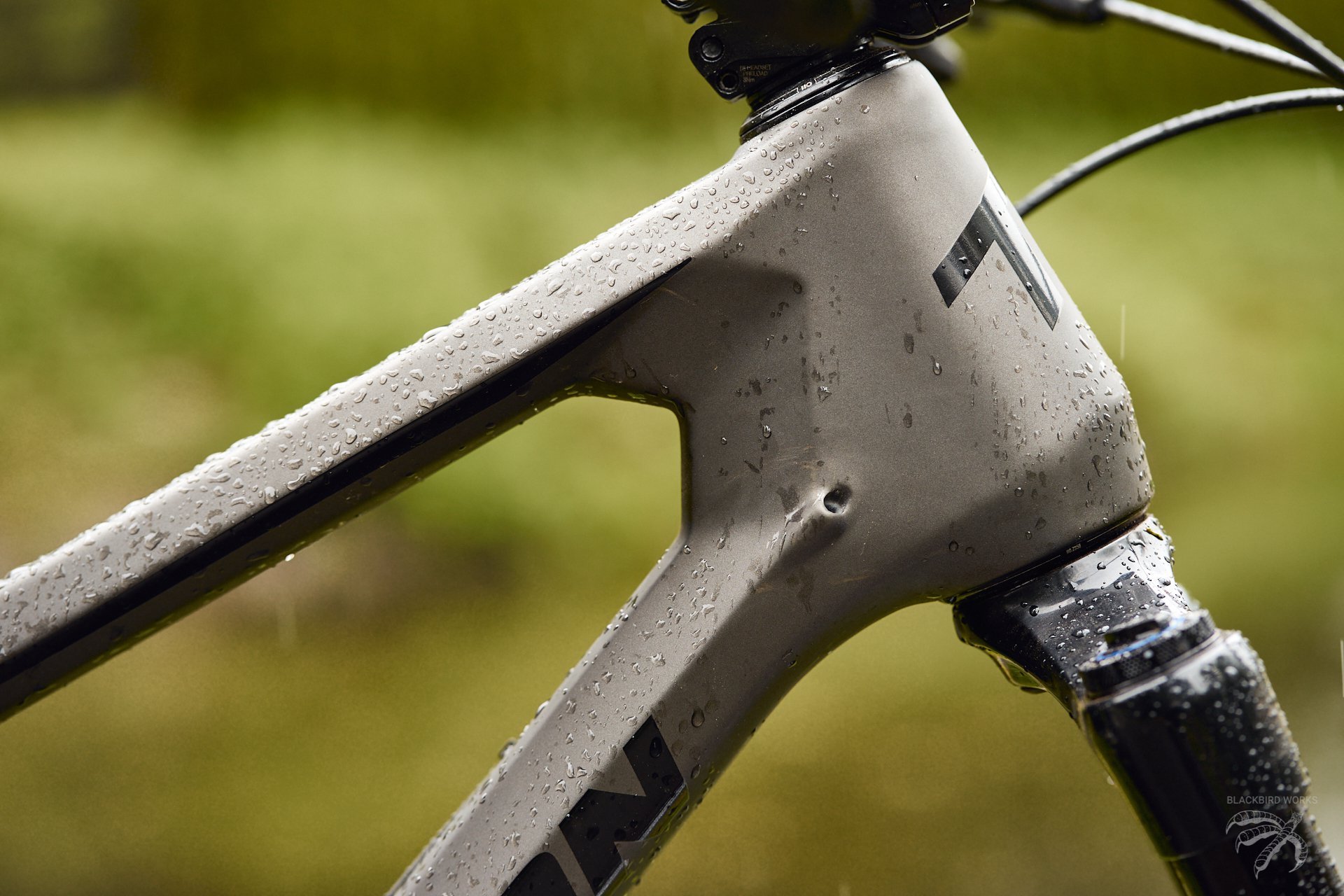 Many frame manufacturers don't get too deep into carbon material spec detail, but you were pretty clear to list it (Japanese Toray Carbon w/ high end Latex EPS Molding). You state you're working with a new factory, too….What other frames does that factory make for you? How long have you worked with them? What do the differences in this new carbon spec do for frame strength/compliance/tuning vs. what you were using before?
We have actually been using this latex molding process with the same factory for a while now on other models, but the Scout and Sentinel are the first time we have developed all new bikes that take full advantage of the aesthetic and functional benefits that were possible. There are a lot of different trademarked names floating around the industry for frames made with an EPS mandrel process. It seems like everyone has their own name for it, and most of our older models were made with the more common EPS molding process. Typically the EPS (expanded polystyrene, or quite literally, styrofoam) mandrel is molded to match the inner wall shape of the frame and a nylon bag is used as a bladder. The carbon material is wrapped tightly around the EPS mandrel and that can be placed in the curing mold as one continuous part. Compared to mandrels that need to be removed before curing, the EPS mandrel allows for more consistent wall thickness, prevents wrinkles or folds in material, and eliminates excess material that would be needed to join opened ended structures before placing them in the curing mold. At this point, I think EPS molding is fairly common on most all higher end carbon frames and I don't think it's really much of a talking point on it's own.
Our latex molding process takes the normal EPS process one step further and allows for a frame with even tighter edge radius control and more efficient use of materials. Rather than using a nylon bag as a bladder, the EPS mandrels are dipped in latex to form the bladder and carbon material is wrapped around that structure before being placed in the curing mold. When compared with a nylon bag, the latex bladder can push the material more tightly against an inside radius, allowing us to use an outside mold with sharper edges and more detailed features. Not only can we make the frame details look more crisp, this also reduces wasted resin around those edges or details and maximizes the strength for a given weight. Out latex molding process has all the benefits of EPS molding and elevates everything one more notch. -Sam Burkhardt, Transition Bikes Product Manager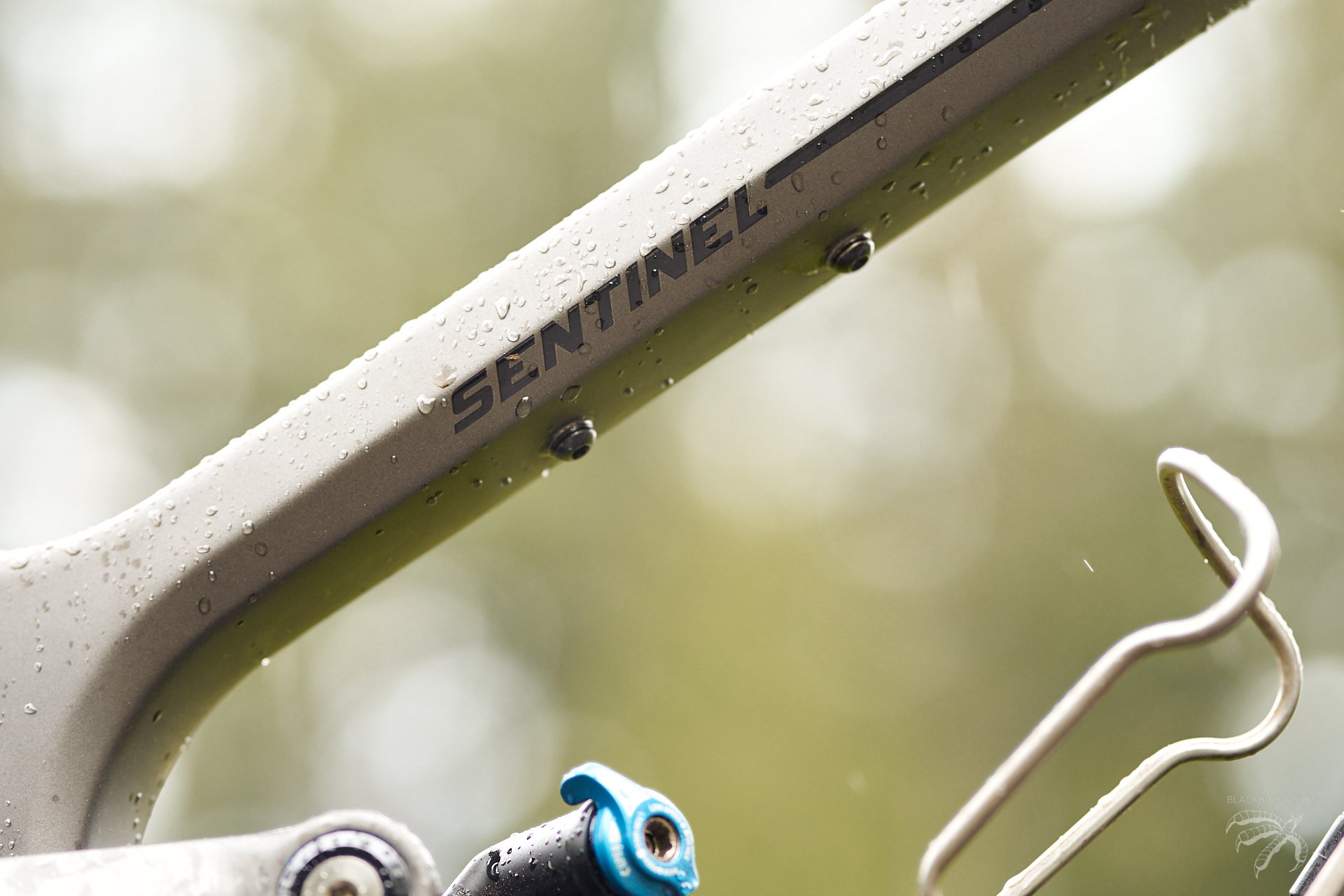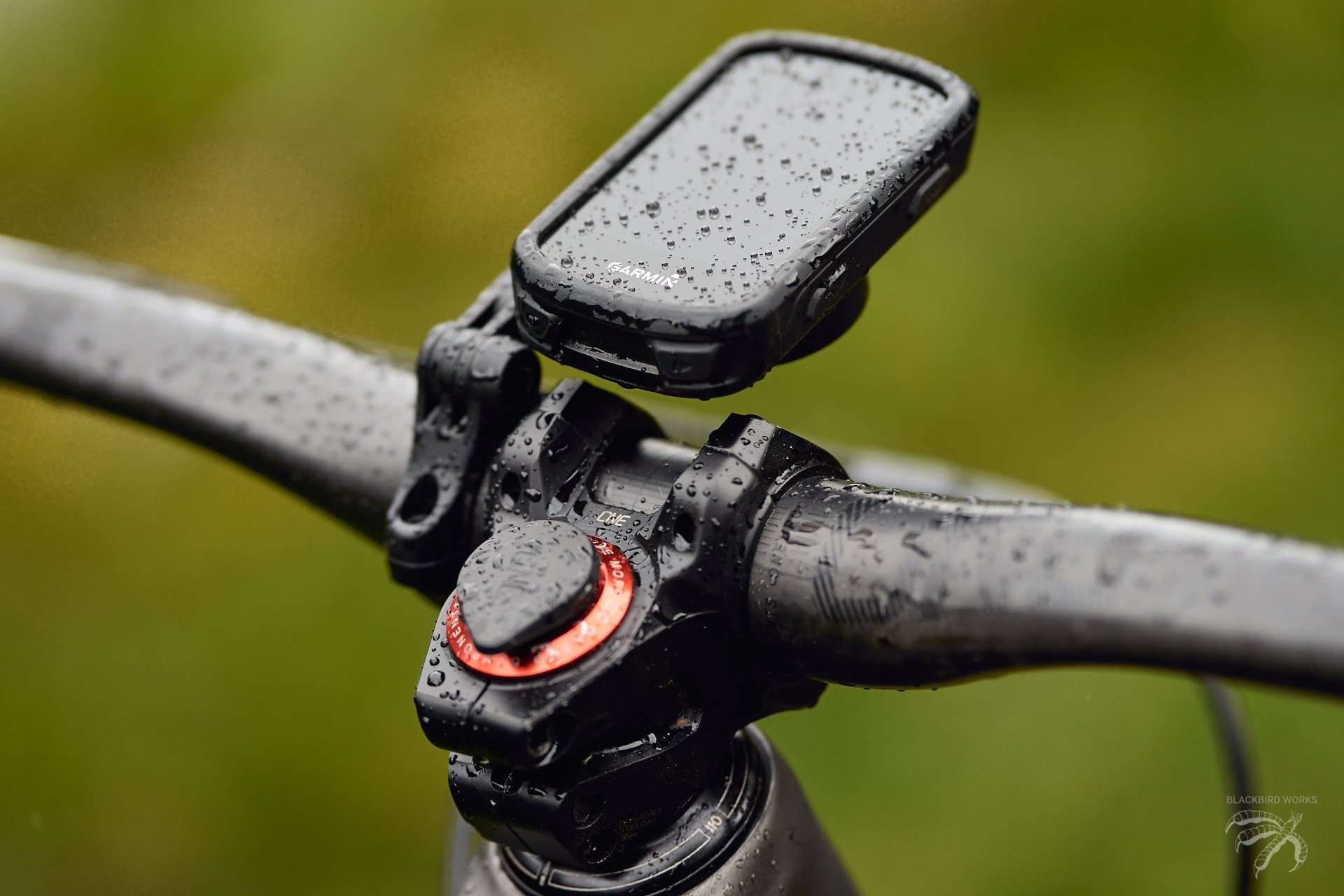 The accessory mounts…how have you/other TR employees and ambassadors been using it? It's a nice touch, I'm just wondering what the popular uses have been.
These mounts are great for securing a tube, a pump and tube, multitool, burrito, avocado. It's a very universal mount. We've been using the Wolf Tooth B-Rad mini accessory mount to secure the aforementioned items.
The new frame is more progressive and coil-friendly. Tell me more.
The leverage ratio has a 23.5% total change (2.81 starting and 2.15 ending) but we focused primarily on the overall shape of the leverage curve and keeping the progression as even and consistent as possible with a goal of around 15% change from sag to full travel. Compared to the original Sentinel, we were looking for more overall progression to prevent bottom out and improve support on repetitive bigger hits, combined with a higher initial leverage ratio for sensitivity off the top and better small bump feel. By matching increased progression with 10mm more travel, the usable travel remains about the same on the trail, but you will find the bottom way less often. The anti squat values are still a little bit above 100% around sag but they drop off a bit more rapidly later in the travel compared to the original Sentinel. -Sam Burkhardt
You said the new Sentinel can absolutely handle a 170mm fork. Can you describe how that has felt/worked out in testing so far and what people can expect that decide to try that?
A 170mm fork definitely works with the Sentinel. However it's a little outside the parameters the geometry was crafted around. You'll experience a slightly higher bb and slacker seat tube angle, which some riders might be willing to sacrifice, and some may not. The longer fork complements the L, XL and XXL sizes better as the geo isn't affected as much as the Med and Small are due to the length of the bike.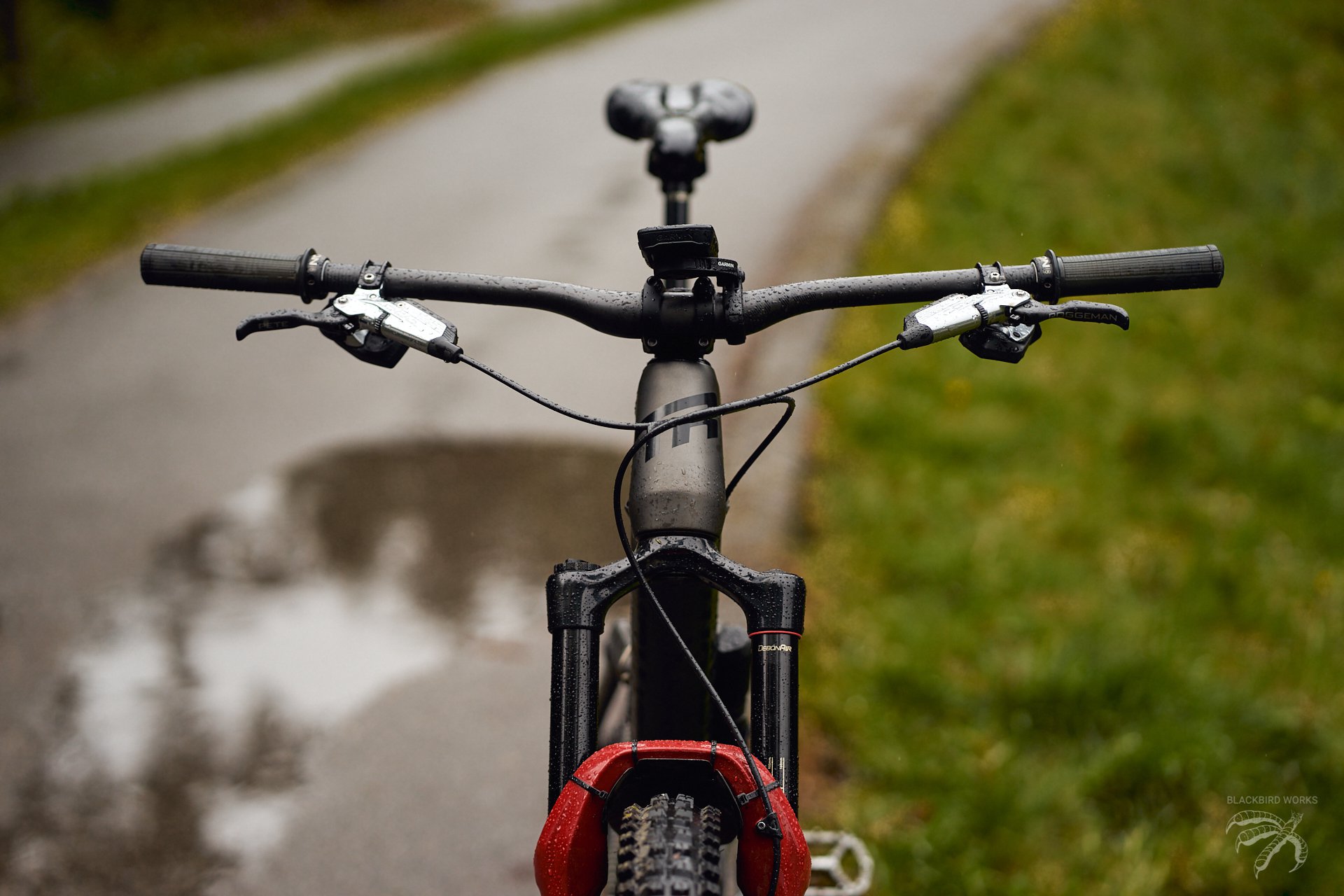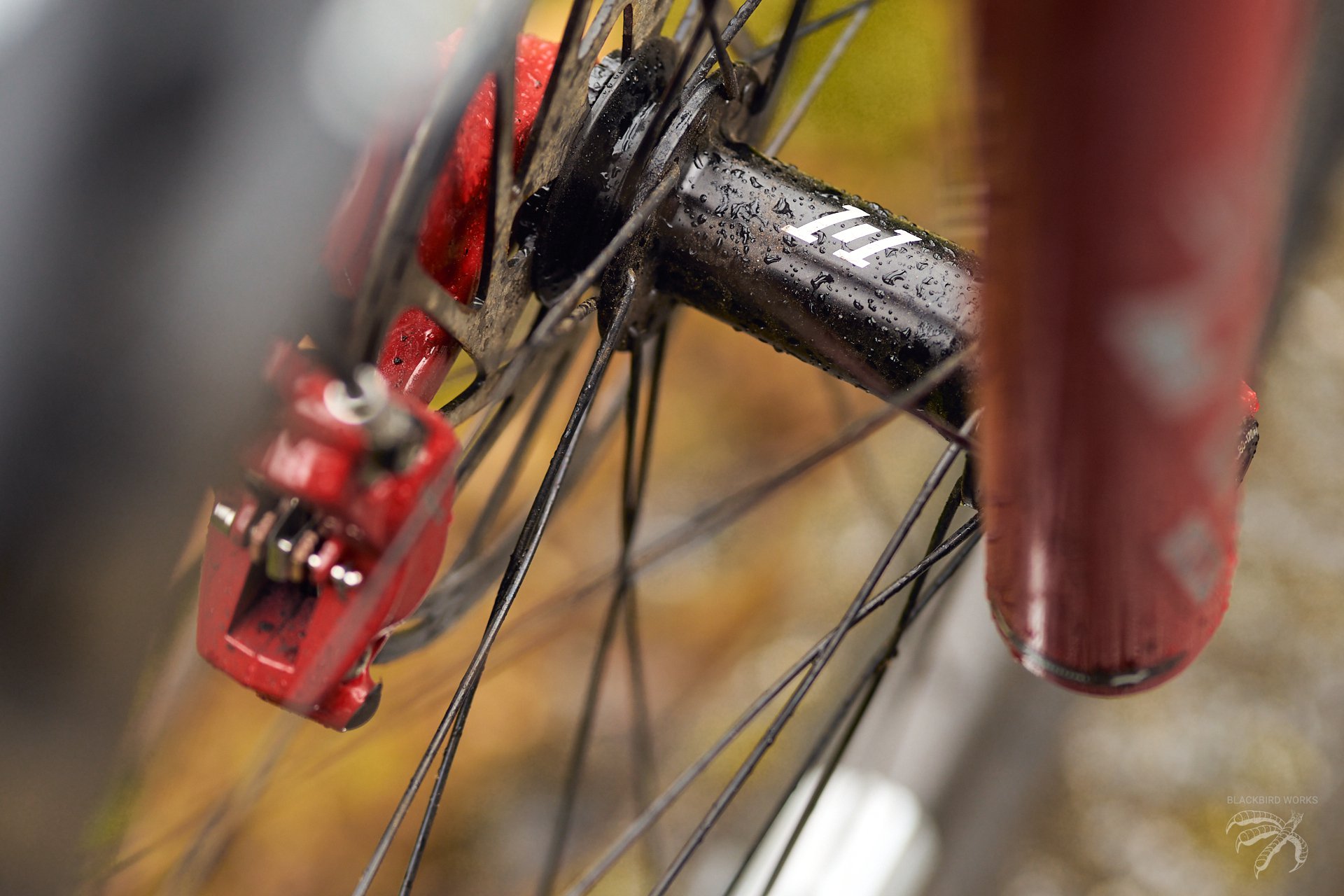 Riding the old (2019/20) Transition Sentinel
One thing we need to get out of the way is that I was on a size Large for the prior generation Sentinel, and switched to an XL for the new one. This wasn't the plan from the outset, but the sequence of events went like this: I contacted Transition last Fall because I thought the Sentinel would be a great long term test frame for the SRAM AXS group I had, wanting to use something in the 140-150mm travel range to test a drivetrain, rather than something bigger. Then, partway through that process, we found out the new Sentinel was coming so I decided I'd move the parts over to the new one when it was available. By then I knew I wanted to go up a size and went to the XL. Spend a minute or two with the new geo chart and you'll see the changes aren't huge between models, but when you go between sizes it does change the landscape.
Some of the riding I do favours the biggest bike I can muscle to the top - the kind of trails the North Shore is known for, and that people both dream about riding and have nightmares about riding. A lot of the riding I do - like on Mount Fromme - still works with a bigger bike but is honestly more fun on a trail bike as long as it has the right geo, tires, and brakes. The Sentinel seemed like it could mostly bridge the gap* between the two, even if 140mm might feel a little under-gunned when I was approaching my skill limit. But as a drivetrain test bed? Take the one you'll be pedaling more.
And the Sentinel pedals well. I wouldn't say it's a class-leader, but it scoots when you ask it to, comfortably handles plodding, technical climbs, and cruises just fine on fire roads and smooth climbs, without the climb switch on, thank you very much.
*when I get into the longer review, I'll go a little more in depth about where the prior Sentinel did bridge the gap, and where it didn't (which mostly came down to my component choices early on)
Based on the numbers, I chose a Large.* After consulting with Lars at Transition, we both felt like an XL would likely work but a Large was a safe bet. When it was finally built, after much anticipation and work chasing down the parts for the build, I jumped on it and it immediately felt a bit short. For a bike with a reach of 475 and a stack of 626mm, that was a bit strange, but I had been spending most of my time on an S4 Specialized Enduro, with a reach and stack of 492 and 629, respectively.** Not drastically different, but that's how it felt. After a few rides, that concern disappeared entirely. For starters, let's be reminded that what the bike feels like when you're sitting on it or climbing, and what happens when you stand up and drop in are totally different animals - like trash panda vs grouchy grizzly. Add to that the fact that a well-proportioned modern trail bike with a long reach and steep seat tube will not feel as long as the numbers suggest until you're standing and cruising in the zoom zone. That short feeling I thought I felt while first sitting on the Sentinel disappeared on the trail. The Large size didn't feel long by any means, but it didn't feel short either. What it was, was a really, really good trail bike. The Enduro, by comparison, is a different animal. I love them both, and have ridden them both on a lot of the same trails. Nothing alike, both a total blast.
*I'm 6'1 but have relatively short legs - and a 32" inseam - so long bikes with short enough seat tubes work really well for me.
**I've even ridden the S5 Enduro which has a monstrous reach of 512mm, and for the most part, it didn't feel too big, at least in the Northstar Bike Park at Lake Tahoe.

The new Sentinel is a souped up version of a trail bike that was already masquerading as a hot rod.
Because I'm keeping this brief - call it a first look with a bonus round - I'll summarize it this way: the prior Sentinel was a 140mm trail bike with very confidence-inspiring geometry and a progressive feel that combined to punch above 140 but would still occasionally remind me that it was a beefy trail bike more so than an all mountain bike. At high speed in rough stuff, or when it got steep and scary with a gaping hole at the bottom, there would be a point when you ran out of tickets realize that, yes, it takes a lot but this thing can still get shaken loose. But there aren't many 140mm bikes in my experience that could keep up to it.
Riding the new (2021) Transition Sentinel
So, new frame, new size. Up we go to 150mm travel, same build, but now with a reach increase from 475 to 501mm, a stack of 626 to 640, and a jump in wheelbase of 1247 to 1292mm on 440mm chain stays. Officially bigger than the S4 Enduro in every dimension except front and rear wheel travel. And again, that's an apples to oranges comparison in terms of a bike's intentions, but it speaks to the feel of the bike when I'm in position. The XL Sentinel, in other words, felt more like home compared to the big beast I've been riding in the scary stuff. And after a few weeks worth of rides, the new Sentinel is a honkin' beast of a trail bike. Yes, it still feels like a trail bike. Despite the numbers, it doesn't suffer from feeling like too much of a plow - it pops when you want to pop, switches from one side of an s-turn to the other, and provides enough length to move about forward and aft to distribute traction as I need it. Like its predecessor, it falls somewhere between trail bike and all-mountain bike. An über trail bike, if you will. If it were a car, it'd be a sleeper wagon, like a de-badged RS4.
Climbing took a bit of time to adjust to - in technical sections with some upward pitch I found the rear wheel slipping, despite the upgrade to a very beefy WTB Judge in the back - but that's mostly been a matter of adjusting to that extra length. It still pedals well - better than its predecessor, I think - and isn't afraid of switchbacks. It is not as nimble as the Large, but I'll give up a bit of that in favour of the raw stability and confidence I'm feeling when I point it down. The added 10mm of travel isn't obvious but the extra progression is, so with a bit of fiddling with that X2 out back I feel like there's more support as the speed and square hits start to stack up, and fewer reminders that I'm on a 'trail' bike. The new Sentinel is a souped up version of a trail bike that was already masquerading as a hot rod.
Over the next couple of months, I'll log more time and come back with a complete review. Plans include running a coil shock as well as a 170mm fork. And, of course, figuring out the perfect thing to affix to that new accessory mount.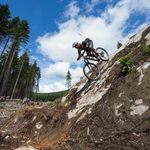 Pete Roggeman
Age: 46
Height: 6'1 // 185 cms
Weight: 195 lbs // 88 kg
Inseam: 32" // 81 cm
Bar width: 780 - 800mm // Reach: 485 - 500mm // Dropper: 180 - 200mm
Flats or clipless: Default clipless, flats for zesty stuff
Trail(s) of choice: VFR and a bunch I can't name