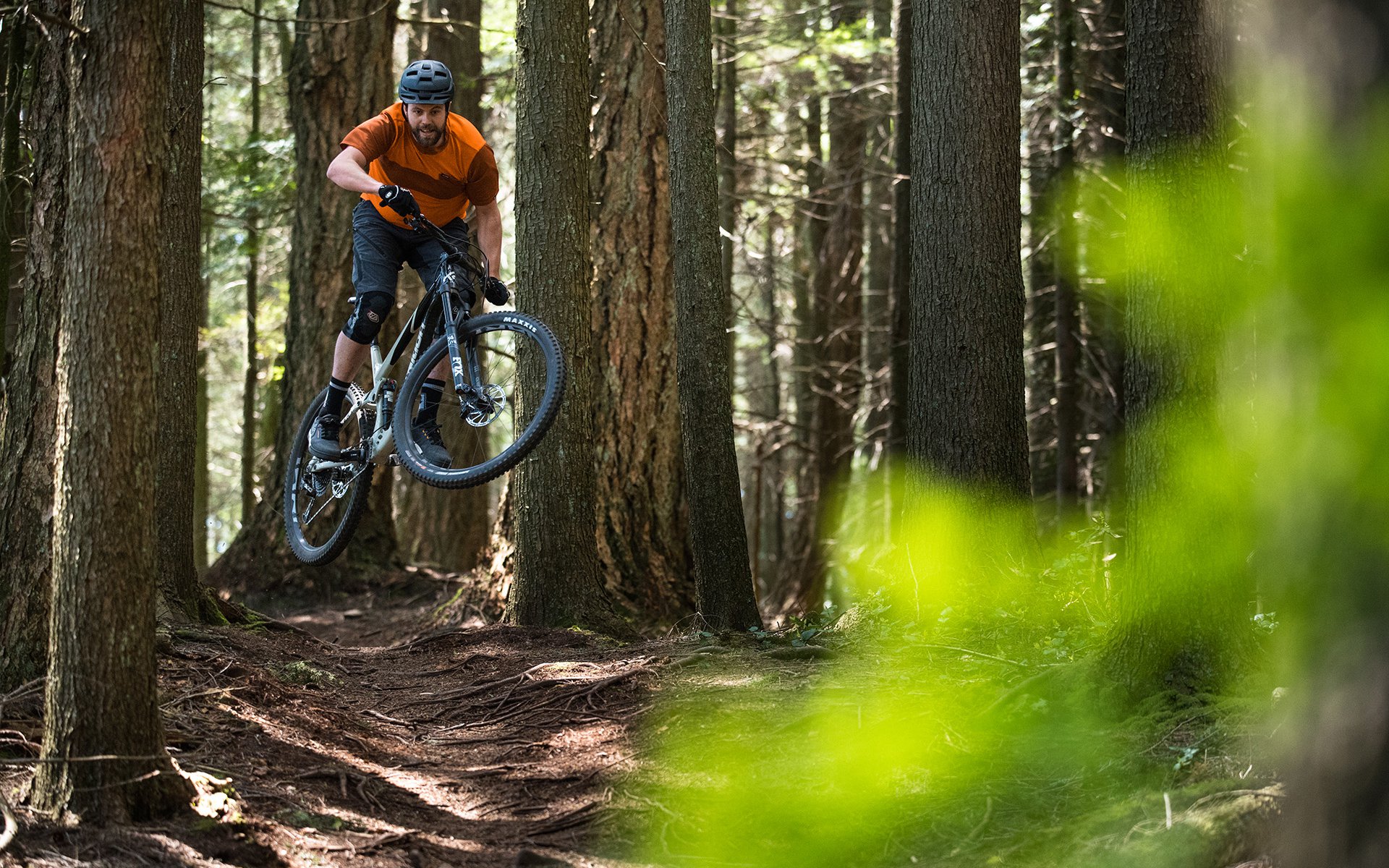 Product Manager Interview
Transition SBG - From The Source
"Some Bullshit Gimmick!" It was a eureka moment for Sam. 
We were sitting having a beer at the place that used to be Hoz's (now Roland's) in Whistler Creekside. We rode some bone shaking Garbo down to the new Creekside trails and, with special permission, we did some ridiculous brown pow turns in a sweet gladed, moss-blanketed forest. Then we skipped over to a slab fest I had never ridden before. So good... Anyway we were a couple of beers deep and Transition's Product Manager, Sam Burkhardt blurts out the aforementioned slogan:, "Some Bullshit Gimmick!" He had been working on the perfect acronym to mock Transition's own acronym. A solid strategy for a company that takes pride in poking fun at itself and every other company. Particularly the biggest ones. 
At that moment I realized that the way to tell the story of SBG (an acronym that may have been carefully selected to poke one of the largest bears in the business) was to interview Sam. If he was shooting this straight with a few media folks around, he may just give us straight goods on Speed Based Geometry. Or at least straighter than most. 
Like many of you I first suspected that SBG was more well-aimed industry mockery from Transition. They are after all the home to  Huck To Flat, T.I.T.S. and P.A.B.S.T acronyms, the Giddy-Up suspension platform and the Woven Tight Fibre carbon layup process. WTF indeed. So let's get that out of the way immediately and then hear WTF is going on with SBG.. 
---
Cam McRae - So to be clear for our audience, this Speed Balanced Geometry isn't a joke. How can we continue to take the company seriously now that you have joined the marketing acronym ranks?
Sam Burkhardt - Maybe a real acronym is a reason to take us more seriously? We had a lot of internal conflict about attaching a TLA (three letter acronym) to the SBG concept. We have always made a point of poking fun at all the marketing fluff and the need to name every tiny feature of a bike with some kind of trademark. It took some soul searching, but ultimately we felt that it was difficult to talk about our geometry direction if we didn't have a name for it. We didn't want customers to have to remember, or necessarily understand, the specific numbers related to fork offset and geo and wanted to give them an easy way to talk about it. It's a lot clearer for everyone if a person can walk in to a bike shop and say "I want to upgrade my fork and I need one with SBG offset for 27.5 wheels." You can't rely on everyone to remember all the hard numbers or trust them to have enough understanding of the tech to know what they are even discussing. Of course we wanted to connect Transition with a recognizable name for an improvement in bicycle geometry, but it was equally important that we make it easy for people to identify and talk about what they are riding.  
Can you give me the chairlift pitch for SBG?
First I'm going to lower this safety bar. Oh, sorry... did I hit you in the head? Hey, don't drop your helmet. Did you see my new Transition? It's sweet and I feel way more confident than I did on my old bike. The steering feels calmer, the bike feels more balanced and easier to ride. It's sick on the downhills, but when I'm at home and have to climb singletrack it still feels rad. It feels like the bike rides better at all speeds. You should totally buy one. 
What was the impetus of this change in direction?

It came directly from testing and our overwhelming belief that the SBG concept was superior to what we had been riding previously. We are always looking for ways to make our bikes better so we can offer tools to help anyone's riding progress. We want to offer bikes that are fun to ride, but also encourage you to ride harder and faster. We feel that SBG is a real improvement in bicycle handling. We wouldn't have coined our first serious acronym, or worked with fork manufacturers to get new things made if we didn't feel the benefits to the overall bike are real. We have a long history of poking fun at acronyms, but what we have really made fun of is gimmicks. SBG is real and noticeable; not an acronym we created for some random widget we added to your bike. 
How much influence did Chris Porter have on this initiative?
Lars was first inspired to test different fork offsets on his own bike after reading an article from the UK that featured Chris Porter and some similar testing. Conceptually we have been well aware of the variables in fork offset with head angle and how they "should" effect handling. I had read Tony Foale's book on motorcycle design and our product team all had years of experience with frame design and bicycle geometry. Designing a frame and fork together has always been normal in traditional steel road bikes. In the moto world, changing triple clamps is a common way of tuning how the motorcycle handles. Bringing it to mountain bikes has always felt like an endeavor when we are purchasing off the shelf parts from a third party. After digging in to those articles, Lars tested extensively on his own bikes and came to his own conclusions about what worked best. Then he brought others in the company up to speed with some abbreviated testing. He had us try some of the setups he liked as well as some of the setups he didn't like. That way we were able to experience the spectrum of different configurations in a similar way that he had. Those Chris Porter articles definitely inspired Lars to start playing with offset, but we went through our on testing to find what we liked best.
Other companies are moving to longer, lower and slacker while keeping the status quo for fork offsets. Transition obviously thinks that's a compromise. What would you have had to give up if you hadn't asked manufacturers to create new offsets for you?

At this point I don't really know what we have had different. We look at the bike geometry as a whole, so if we couldn't get the SBG forks from RockShox and Fox I am not sure what we would be offering you in terms of geometry. I can't say that there is one thing in particular that would be given up... the whole bike would have been different. I would also add that we needed both the major fork manufacturers to support SBG offset forks or we wouldn't have been comfortable bringing the bikes to market. With both RockShox and Fox offering forks we are able to offer a huge range of fork models and different price levels for our SBG bikes. I really don't know what our new lineup would look like if we weren't able to get both of them on board with making the fork configurations we needed. We definitely appreciate that they were willing to make big investments in new tooling to produce what we asked for.  
How did companies get to the current offsets for 27.5 and 29ers (as in not SBG)?
That is a really interesting question actually. That is something that we asked ourselves as well. You go back to the old days of 71 degree head angles, 26 wheels, 120mm stems and skinny bars and there was a certain way your bike was supposed to handle for the trails we had at the time. We had a fork offset range based on those features and trails and it just sort of stayed in that range as other things evolved. Head angles got slacker, stems got shorter, bars got wider, but for some reason that fork offset stayed the same and no one seemed to question it. As you go up in wheel size the current "standard" fork offsets give you roughly equal trail for a given head angle. But it wasn't always that way. In the early days of 29 no one was making longer offset forks for the bigger wheels. Genesis geometry tried to fix the handling with a longer 29 specific offset, but it might not have been the right way to solve the problem. The real problem was the rest of the geo. The early 29ers were too steep and too short and didn't handle as well as they could regardless of what fork offset you put on them. Basically, we got to the fork offsets we have now because of the 90s and I think we can all agree that mountain biking is a lot different now. 
Porter talks about moving things further and further until some negative characteristics begin to be exhibited. Did you reach that point? With length or fork offset or head angle? What did the bike do when you pushed too far?
Of course, but I don't think there is a hard line where you can say something is suddenly too far. Different people might have a different opinion on that based on a lot of different factors. Each bike has to handle a huge variety of terrain, but the type of terrain will vary based on the bike model. Something that works well on a bike like the Patrol in the gnarliest terrain wouldn't be ideal on a shorter travel bike that sees more mellow terrain. Likewise, you can have some setups that seem great on paper, but they just don't work in the real world. You have to balance so many different factors to offer people bikes that are comfortable to ride and suitable for more than one specific riding environment. 
What would you most expect riders to notice with SBG?
With SBG you will notice increased front wheel grip, calmer steering, a bigger window to shift your weight around and an overall more confident safer feeling bike. Tight uphill switchbacks will feel easier with less front wheel push, you will have more control on difficult trail surfaces and off camber sections, more confidence when you start to drift or break traction, you will feel more comfortable on steep lines, and you will feel more stable at high speeds There is more low speed control but more high speed stability as well. The bike benefits from deliberate rider inputs and you don't have to spend as much energy making micro corrections. The handling differences on an SBG bike are very noticeable, but it gets really interesting when you go back to a non SBG bike. The non SBG bike will feel nervous and twitchy at all all speeds and it will feel like you need to make more inputs to keep the bike stable and tracking where you want it to go. The SBG bike is more planted and predictable and allows the rider to push the bike harder with less effort and feel safer doing it.
Are there any traits you might have appreciated in the previous iterations of the bikes that may be lost with SBG? I'm thinking specifically about the fact that I find it harder to get longer bikes up on the rear wheel. 
We honestly don't feel we have lost any of the characteristics of our old models. In fact, it's quite the opposite. We feel that SBG has allowed us to keep the playful agile nature of our previous bikes while simultaneously improving their stability and control. Some of the high speed handling traits and weight balance benefits of an SBG bike could have been achieved with increased chainstay length, however they would have come at the expense of low speed agility and general playfulness. With SBG you get to have a playful bike that is still stable and planted when you need it to be. That is part of where the SBG name comes from. It's balanced at all speeds. 
Do you expect other companies to jump on this bandwagon?
Of course we think people will try and copy what we are doing with SBG; but if they don't commit to actually testing the different options and reaching their own conclusion about what works best for them, they will likely get it wrong. We have ridden some of the setups that are "supposed to" be good, but we can tell you first hand that they don't end up feeling right. Bicycle geometry and steering dynamics are complicated and you can't point to a single number and say that it is the only thing to pay attention to. As they say, imitation is the sincerest form of flattery, so our feelings won't be hurt when other people try and bring out SBG style bikes.
How many SBG bikes are out in the world already? How have riders been reacting?
We started with a small number of mules, but at this point we have a fleet of several dozen different pre-production samples that have all been ridden by a lot of different people. We have had nothing but positive response from everyone, and we have specifically let some more beginner level riders test the bikes with very positive results. It has been interesting to see people with limited riding experience pick up on the benefits and notice it in their riding. Beyond our own fleet of bikes, we have several notable industry friends that have been modifying other bike models to try and get more SBG style handling. I think that says a lot about the benefits of SBG and we are really excited to get out to the demos and see more people ride the SBG bikes for the first time. 
UPDATE:
Other companies have played with geometries like this for some time, but maybe without the change in fork offset. Could you be accused of acting in a way that suggests you have invented something that Mondraker and others are already doing? That may be the part of this (rather than the acronym) that seems counter to your anti-corporate, corporate ethos. 
It feels like every new bike release for the past several years has touted that it's longer and often slacker. While it is true that our new SBG models are longer and slacker than our previous versions; that is only part of the SBG concept. Early on I thought it would have been funny to promote our new bikes as shorter (in reference to the fork offset) and steeper (in reference to the seat tube angle) than our previous models. You know... poking fun at those ubiquitous buzz words by going the other direction. Some of the European brands (Mondraker being especially early and notable) have pushed really extreme reach numbers for years, but what we are doing is different. The fork offset change is the biggest component of SBG and those brands offering huge reach numbers aren't doing that. I think they have a different way of looking at how a bike should handle. I won't say they are wrong, but I think we are achieving something better and more balanced with our direction. In our SBG bikes, the increase in reach is actually pretty modest, but it's necessary to keep the sizing and handling correct. We aren't just trying to make bigger bikes, we are trying to make better bikes. I think it's a lot different than just stretching the bike out with longer and longer reach. 
---
To hear what I throught of SBG during my brief spin down to creekside,click here.