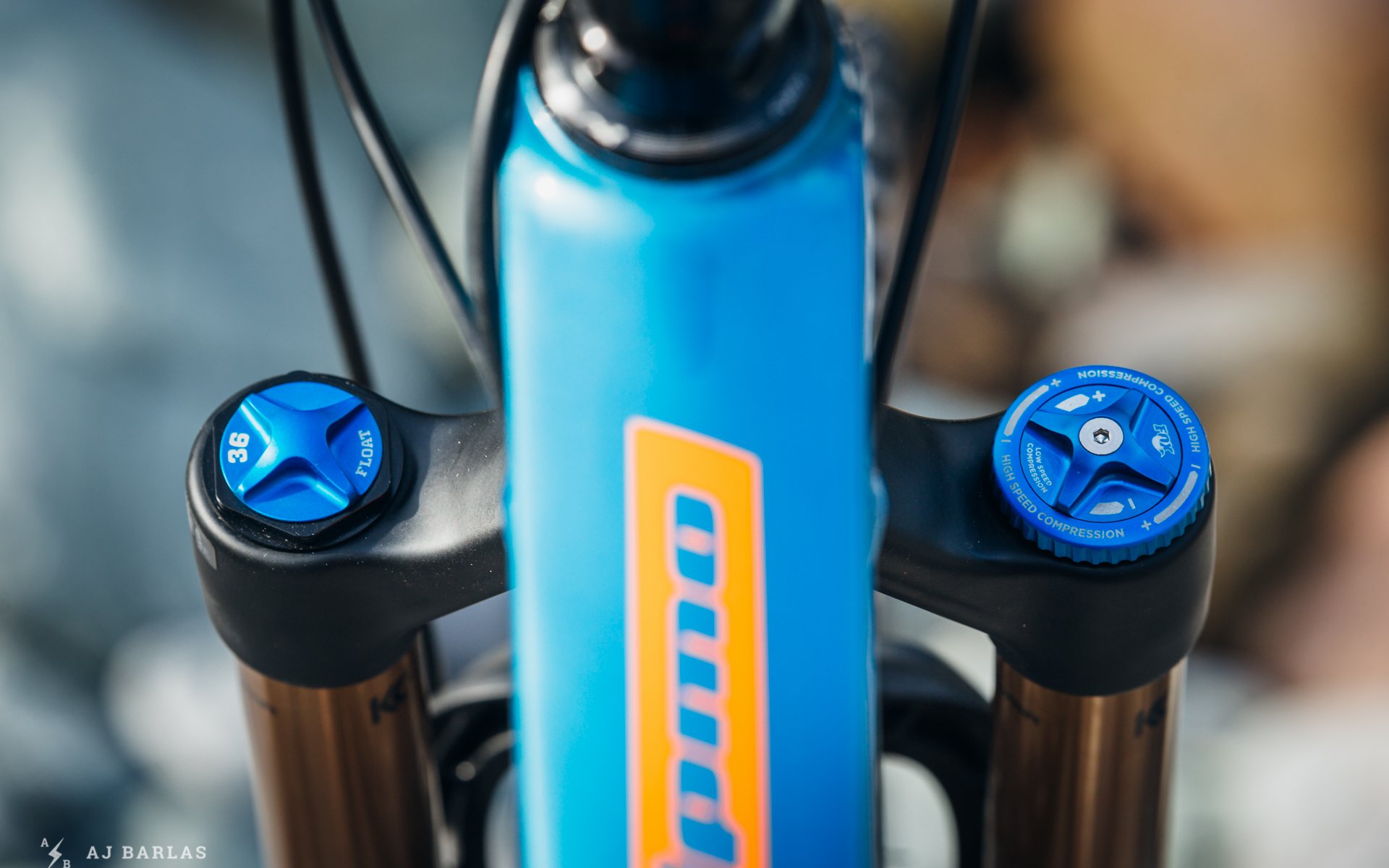 Five Interviews on the Topic
Short Fork Offset - What's It Good For?
Until recently, fork offset was something many riders didn't consider when researching a new bike, fork, or geometry. That all changed in 2017 when Transition launched SBG (Speed Balance Geometry); an acronym that for the first time in the brands' history wasn't a piss-take of the commonly heard marketing jargon; an indication of how serious they were about their bikes updated geometry.
Transition isn't the first brand to experiment outside of common offset and trail numbers. Chris Porter from GeoMetron and Mojo Suspension has been working with the concept for years and Whyte Bikes was also using it on prior models. However, Transition moving a large portion of the range to include the different geometry displays overwhelming confidence in the concept. They even requested suspension manufacturers build forks with the shorter offsets so that they could spec. the bikes accordingly. 


What Does a Shorter Offset Accomplish?
Bikes with a longer front-center and a slacker head angle push the front wheel further away from the mass of the rider. Shorter offset helps balance handling characteristics to enable the bike to be ridden comfortably and quiets steering, helping stabilize the front wheel. When the head angle gets slacker, the trail is lengthened and wheel flop can make handling feel unstable, requiring more input from the rider. The shorter offset also brings the hub toward the rider's mass making it easier to weight the wheel and provide steering stability.
Shortening the offset increases the trail measurement, which is also what a slacker head angle does. As you're about to read, some manufacturers are looking for that increased stability associated with a longer trail measurement, but without making their bikes much slacker. To do this they're shortening the offset and making less drastic changes to other geometry elements. If you are looking for more detail, Uncle Dave wrote a good piece on offset and trail.
Since Transition's SBG was set loose, a number of brands have added a bike that includes a shorter offset. To name a few, Ibis, Specialized, and Orbea have released 29-inch wheeled models with 44mm offsets (a regular 29-inch fork offset is 51mm) and Specialized's 27.5 Stumpy EVO has a 37mm offset as does the Transition Patrol and Scout (a regular 27.5-inch fork has a 44–46mm offset, depending on the brand). But it appears that for each bike released with a shorter offset, there's a different take on its implementation. 


When is a good time to select a fork with a shorter offset? Is it purely preference-based or are there potentially detrimental effects in some situations? I rounded up a number of engineers and product managers that have used the concept, plus a couple that haven't yet to discover their thoughts on what might be considered the latest MTB fad. Each graciously providing their experience and insight by responding to four questions on the topic.
Leo Kokkonen (Pole Bicycles) 
Why do you think there's been a sudden increase in interest for shorter offset forks?

I think that because this is a technical article, we can talk straight. I believe that people are going for shorter offsets because of well-targeted marketing, of course. After all, MTB is a cool hobby and people are after the latest stuff that could make their ride more fun.
How would you determine the best use of a shorter offset fork? What parameters are involved when you consider making a shorter offset benefit the handling of a bike?
Recently I've tested the offsets that are available for 29" wheels. I think that 42mm is not very short compared to 51mm (meaning it doesn't make a large difference –Ed.). On our test rides and timed runs, nobody has been able to identify the shorter fork in a blind test. Everyone kept arriving at the same times on timed stages with both offsets. The fork offset is just a minor thing in the whole system which involves kinematics, suspension, anti-squat, overall geometry and personal setup (handlebar width, height, grips, crank length and pedals). What I think is that the fork offset makes 0.5% of the overall handling if we stay within reasonable values. Theoretically, shorter offset has less leverage from the front wheel to handlebars on tight and steep turns and could make the ride more comfortable there, but I think this is very minimal. If you are riding very steep stuff, I would go shorter offsets.
Have you found there to be any limitations with geometry and the use of shorter offset forks? 
I don't think that there are any limitations within the range that we have access at the moment (37–51mm). I tested a really short offset. I flipped the fork crowns backward and changed the legs forward (reverse the fork so that air spring is on the right and damper is on the left on RS Lyrik) That's maybe too short ;)
Have you found it important to keep trail measurements similar to current bikes?
I think that measuring trail is not very important. More important is the head angle and overall rider weight balance on the bike. What I look at is the wheel flop (I call it the bite; the amount of drop the front gets when you turn the handlebars 90 degrees). More important is to test how the bike rides slow and fast as a system and how the steering handles when you tilt the bike and push it forward – does it fold or go straight. 
Many marketers now refer to books that are written about motorcycles. The basic physics are right in the books but the relevance is hard to point out because bicycles are not the same machines as motorcycles. The mountain bike doesn't have a motor and the masses are different compared to motorcycles. Motorcycles are not ridden fast downhill, and they are not controlled entirely with brakes and body weight. When the motorcycle exits the corner, it usually throttles, where bicycles roll out or are pedalled out. What I think is that people aren't missing out on anything with "longer offsets." More importantly, we need to look at the bikes as a system, and the frame is the heart of the bike. 
Luckily you can change your ride with different options and options are good. I encourage people to test different options. That's how I found my vision on the new school geometry.


---
Lars Sternberg (Transition Bikes)
Why do you think there's been a sudden increase in interest for shorter offset forks? 

I can't speak for anyone else, but if I had to guess, it's because the fork models with shorter than 'normal' offsets became available. Before 2018 these weren't an option as an OE, and I can tell you it was quite the undertaking to bring them to market. The forks are simply being assembled with the CSU (fork crown) from the next wheel size down. So, short offset 29 forks use 27.5" CSU's, and short offset 27.5" forks use 26" CSU's. The 29" forks were relatively easy to produce as it just required the suspension manufactures to open new part numbers to have them assembled with the different parts. The 27.5" forks were more complicated as no one had produced 26" crowns in boost yet. Which meant the manufacturers had to open tooling for boost 26" crowns, which is not a small ask.
When we developed our SBG geometry system, we specifically requested these shorter offset forks with the intention to use them across our SBG bike range. In the early days, we were provided one-off forks to use for testing as they hadn't actually started production on the crowns yet. This allowed us to complete our testing, and gear up our 2018 bikes with the shorter offset forks earlier than most because we knew they were coming. The next reason I feel is that a brand (Transition) started to use these products heavily and this created some buzz, which in turn made other's feel like they needed to use it as well. Even while they might not have had time to test and understand the best application. You can see this industry-wide with the uptake of certain products. As a brand, part of your challenge is to stay relevant.


How would/did you determine the best use of a shorter offset fork? What parameters are involved when you consider making a shorter offset benefit the handling of a bike?
This question goes hand in hand with the next one, so I'll let question 3 take it.
Have you found there to be any limitations with geometry and the use of shorter offset forks?
From my personal experience testing multiple ranges of headtube angles with different offset combinations, yes. I don't have any engineering or lab data to back this up, but I did systematically work through head tube angles of 66–62 degrees on a few 29 and 27.5 wheeled test mules, all paired with 51mm, 42/44mm, and 37mm offsets.
What I found is that if you go shorter on offset on a bike designed around a longer offset, and don't pair it with a slacker headtube angle of 1–2 degrees you tend to get a nervous feeling from the steering. The best way I can describe this is front wheel tuck. When you execute the turn, the sensation is that the front wheel want's to keep turning. A few other factors come into play here; how much you're leaning the bike, your stem length, the size of the frame etc... When you decrease the headtube angle and make it slacker without changing anything else this sensation is eliminated. There is some magic with this combination, and we are going to continue exploring. 
We also experimented with additional changes like frame length, stem length, chainstay length and found what worked right for us. It's important to keep in mind that there is no absolute here, mountain bikes are a very dynamic vehicle and there's a lot more going on than just headtube angle and fork offset. But that is what we found through years of testing.


Have you found it important to keep trail measurements similar to current bikes?
Not necessarily. One of the first things I did to understand trail was based around a 2015 Patrol frame in size large. The Patrol has a 65-degree headtube angle, 160mm fork travel and is based around a 42/44mm fork offset depending on whether you have a RockShox or Fox fork. I had plenty of hours of experience on this bike with the stock setup so it was the perfect candidate. 
The stock bike has trail dims of 116 to 119mm depending on setup. I installed a 1-degree Works angleset in it backwards which provided a 66-degree headtube angle, and installed a 160mm 37mm offset fork which has a trail dim of about 118mm. 
It's important to note there was no gain in stack on the lower cup. 
So right in the trail range of the stock bike and should have provided similar handling given the nearly identical trail figures. The bike rode differently, like, dramatically different. There was mega front wheel tuck, it was hard to lean the bike over, and overall it had a very nervous demeanour. So, if what we as makers of bikes should be focused on is the trail figure why didn't these two setup's ride the same? This was the first step in our exploration. And as I mentioned previously, there are other factors that come into play, but we're talking offset and headtube angle. Wheelsize certainly comes into play, and the larger the wheel diameter the less you need to compensate with headtube angle if you're changing offset the same as you would a smaller wheel size. 
We're starting to see other brands adopt shorter offset's on their bikes and taking different geometry approaches. I'm in no way saying either one is right or wrong. These were simply some of our results which drove our direction, and ultimately what we feel works best.


---
Cesar Rojo (Unno Bikes + Cero Design)
Why do you think there's been a sudden increase in interest for shorter offset forks?
Well, it's easy… With people realizing we need slacker geometries, making the bike too slack has downsides. The most important one is having the front wheel too far from your handlebars and not putting enough weight up front to turn, so reducing offset generates a similar effect without having to slacken the head angle.
How would you determine the best use of a shorter offset fork? What parameters are involved when you consider making a shorter offset benefit the handling of a bike? 
Pretty much any bike right now will benefit from the shorter offset forks. Offset works with head angle and reach. These three things are very related and you can work them together, in duos, or individually, but it will take a pretty long explanation to go into details.
Have you found there to be any limitations with geometry and the use of shorter offset forks?
I haven't experimented that much due to lack of options, we always specified, and we continue to specify, the shortest on the upcoming Unno full builds. Our bikes aren't super extreme slack and will benefit from it. This will definitely start killing a bit of those extreme head angle bikes as it will stop making any sense and require a lot of riding on top of the bars.
Have you found it important to keep trail measurements similar to current bikes?
Our bikes under the enduro category are slacker than the market (more trail), we always had our own testing and thinking, we really don't base decision on what others do. That is why I believe we have been involved in the most important changes in bicycle geometry in the last decade, with the slackened head angles and longer reach.
In the next years all category geometries should be as stable as it is in DH, the Summum appeared in 2010, and except reach, the other numbers are like any modern bike of today. A large Summum from 2010 could be pretty much any size medium bike from main manufacturers of 2019. Not many nine-year-old bikes can say they have an up to date geometry in mtb.


---
Colin Hughes (Ibis Cycles)
Why do you think there's been a sudden increase in interest for shorter offset forks?
As suspension has improved we've started going faster and that means we need more steering force to initiate turns and hold a line. The way to do that is to increase trail, the offset of the tire contact patch from the steering axis. The two ways to increase trail for a given wheel size are making the head angle slacker or reducing offset. By reducing offset instead of making the head angle slacker you keep the wheelbase shorter. Without the short offset, the Ripmo's head angle would have needed to be 64.5 to get the same trail. The downhillers would have been fine with that but it would have reduced the bike's versatility.
How would you determine the best use of a shorter offset fork? What parameters are involved when you consider making a shorter offset benefit the handling of a bike?
A shorter fork (offset) could be used anytime you want to make a bike feel more stable but it is going to add weight to the steering. The way to counteract the handling feeling too heavy is to make the seat angle steeper. That puts more weight on the bars, making them easier to turn.  
Have you found there to be any limitations with geometry and the use of shorter offset forks?
You would not want to put a short offset fork on an XC bike where the wheelbase is already short because it's just going to pull the wheel back further. It's a trick for bikes that already have long wheelbases where you don't want make the head angle any slacker.
Have you found it important to keep trail measurements similar to current bikes?
The Ripmo's trail measurement is actually the same as the HD4's.


---
Chris Porter* (GeoMetron Bikes + Mojo Suspension)
*Note: Chris opted to present his response as a complete piece rather than address the questions individually.
Without wanting to blow my own trumpet (as biologically impossible as that sounds ;-) I think the 'sudden' interest in shorter offset forks is down to what we have been doing at Mojo and GeoMetron. We've been selling shorter offset forks to customers since before we even did the article with Seb Stott on BikeRadar… It's not sudden, it's a process and an evolution in geometry to match the evolution in the way we ride bikes. We ride much tougher trails and we need bikes which are more stable in the steeper, rougher, faster sections…
In fact, I'd say the trails we are riding now on our trail bikes are generally tougher than the DH tracks of 10 years ago… Some of the recent EWS tracks have been OTT in terms of difficulty, they've gone so far they stopped actually even being 'fun'! ;-) 
Now… We did the offset experiments as part of a combination of geometric variables and the shorter offset works well with a slack head angle. Head angle and offset both affect the trail but they both work different when leaned over…
The MTB manufacturers are all scared of head angle! So the 66-degree enduro bike needs a lot of settling down in rough trails. A single crown fork will also flex anywhere from a couple of degrees to 5 degrees under duress! So shorter offset is a way of compensating for that flex… So I think it's the MTB industry's way of getting stability without a slack head angle and without using dual crown forks. 
You can't take one geometry parameter and say it helps with this that or the other handling trait or problem. Every single geometry parameter feeds into the next one. There is no-one in the bicycle industry clever enough to understand all of the ways they affect each other, there are infinite variables…
If HRC Honda and their (expensive) clever guys are still trying to understand why Yamaha can be faster than them at some tracks and slower at others there'll be no-one in the bicycle industry who can say for sure what does what and when! It's way too interlinked.
It is possible to go too far with offset. If you push it too far (increasing offset) it will only turn in a settled manner when on the brakes. If you reduce offset too much it becomes harder to turn on the brakes – too short and it just straightens up under deceleration. This is why head angle is important!
Trail is great and seems like a simple idea on a flat 2D piece of paper but like any other geometry component, it's only a starting point. Lean the 2D paper thing over with a 2.4 tyre with 23psi and knobbles and add a camber or a slope, some suspension sag and a bit of fork flex and we run out of computing power to calculate trail…  It's all about the feel! 
It must be done by rider feel.
However… If you are buying bikes by 'mould' from a 'vendor' who is already busy, how do you experiment with all the geometry components? The simple answer is, you wait for someone else to do it and get praised by the journalists, then you get your marketing men to attempt to convoke your potential customers it was your idea all along!


Observations
I was honestly hoping to discover some magical unicorn that showed everyone was leaning toward one common goal, and "X" was the way to do it… I should have known better. What's clear is that, like life, the use of fork offset isn't black and white. There are two distinct trains of thought, (at least from those included here) leaving riders with options.
One camp focuses on offset to achieve trail dimensions similar to those arrived at with a slacker head angle. They seek the same benefits — increased stability — but don't want to decrease their bikes' head angles, in turn lengthening the wheelbase. The other camp believes that to benefit the rider, a shorter offset is best used in conjunction with longer reach numbers and slacker head angles, plus other amends like seat tube angle, stem length etc.
Is decreased headangle such a bad thing? On its own, perhaps. In my experience, it's not bad when considering the entire package, even on the slow janky trails easily found in my local area. Is shorter trail with a less extreme take on reach and headangle a solution for those concerned with longer wheelbases and slacker bikes? Sure, maybe. 
Which leads us back to the individual. Riders have options like never before. Get out there and test as many different bikes as possible. Swap with your friend riding that "wild" looking beast. Do whatever it takes but don't discount one philosophy without having given it a fair go first. 
---