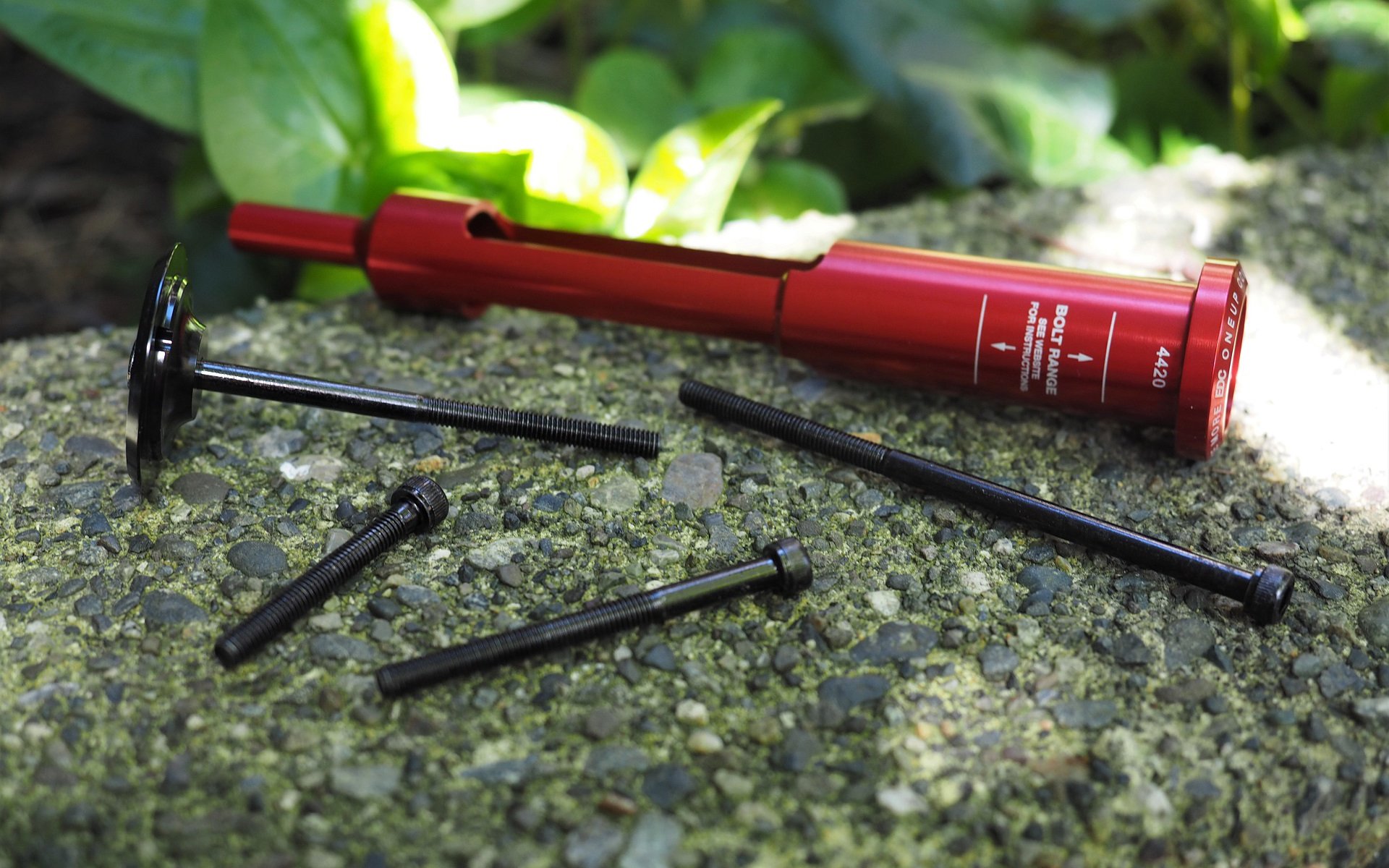 REVIEW | PRODUCT LAUNCH
OneUp EDC Threadless Carrier
OneUp EDC Threadless Carrier
As much of a "WOW!' NEAT!" moment as the first OneUp EDC steerer tool was, I've never owned one. Just couldn't get over threading my steerer tube. Now, that's funny - to me - because I've threaded a few steerer tubes for other folks, and it really isn't a bit deal; but my desire to go packless or to never have to remember if my multi-tool was in my bag or not never overwhelmed my desire to not thread my steerer.
I'm very much not alone in this, and still, I know more folks that take OneUp's EDC tool into the woods than any other. It's not quite as ubiquitous as the Topeak Alien in the '90s, but I'd guess it's at least 2:1 amongst riders I know. Most of them don't have threads cut in their fork steerer. OneUp makes a fantastic mini-pump that can store their EDC multi-tool, including the chain breaker, in its handle. It is, apparently, a magical combination that they carry into the woods.
Enter a lot of competition for in-the-steerer tools systems, including OneUp's own EDC Lite tool, that don't require cutting any threads, and it suddenly came time for the people who really popularized* carrying tools in bicycles' void spaces to release their slick take on an update. Enter the EDC Threadless Carrier.
*Yes, they were not the first to ever stick something up, or down, a steerer.
Right off the line, the EDC Threadless Carrier has two significant advantages over the original EDC system. First, because the tool is housed within the carrier, OneUp has complete control over those dimensions, meaning the tool is dead silent no matter what fork you put it in. Secondly, my headset can be easily preloaded using the 4mm hex key from the EDC tool itself. As long as you select the right bolt length to begin with the system is as idiot-proof as using a star nut with no tools needed for installation (that is, of course, unless your fork already has a star nut in which case you're going to have to whack that little guy out of there).
At first glance, the obvious advantage of not having to cut threads only applies to the original EDC tool but I do have to say that the EDC Threadless Carrier is by far the most straightforward and faff-free of these in-the-bike tools that I've installed. That includes Trek's BITS, Giant's Clutch, OneUp's EDC Lite, Specialized's SWAT, and my Wolf Tooth EnCase. It's no exaggeration. I didn't even open a beer for the installation process. I had my bike ready to go in a few minutes.
Assuming a rider is starting fresh, the V2 EDC tool and insert will run 60 USD | 78 CAD and the EDC Threadless Carriers are 40 USD | 52 CAD. That's a combined price of 100 USD | 130 CAD.
The anodized aluminum carriers are available in eight colours, including Oil Slick because apparently it just won't die even now that roadies think it's cool. The other seven colours are Black, Red, Blue, Green, Orange, Purple, and Gold.
OneUp EDC vs Bontrager BITS
In my mind, the most obvious competing product to the new OneUp EDC Tool + EDC Threadless Carrier combo is the Bontrager Integrated Tool System. The BITS is 10 USD less expensive and 17 grams lighter than the OneUp with both systems set up for my Banshee. On paper, the clear trade-offs are the BITS' lack of a tire lever and storage capsule (handy for storing tire bacons!) but for the sake of my usage, that's a wash.
For me, where the EDC and EDC Lite tools are both obviously better choices than BITS is the insert top cap. Where the OneUp EDC tool sits proud of the top headset spacer it also both plugs (with the help of a rubber washer) and covers the top of my fork. I've had no issues at all with rusted tools with my EDC Lite tools, nor have I noticed it on friends' EDC tools.
In contrast, the interface of the BITS system sits flush and looks very clean but the metal channels allow water, and in my case probably sweat as well, to enter the steerer and my tool looks a bit crappy. It still works great on the trail but tools are one place I really feel cosmetics count.
The other place that the rubber-fitting EDC wins over BITS is noise. The little metal removal handle on the BITS would rattle about when the terrain gets really janky until I lightly modified it with a pair of Knipex pliers. Now it's just a bit more effort to get it to pop up.
Once the BITS tool broke in from use, it became a lot easier to remove, however I still give the leg up to OneUp here. On the other hand, re-installing the BITS is just a case of dropping it in and hitting the trail whereas the EDC requires a bit more effort.
I'm scoring this contest for OneUp unless the BITS is included in the price of your new Trek, where it's a great tool and the value there is obviously to stick with it. I'm also thinking there will continue to be new entries that look very, very similar to these two systems. I enjoy that companies are still putting a lot of energy into this category (even though yes, you can just throw a tool in your pack for a fraction of the cost) and I will be interested to see what Bontrager comes back with.
OneUp EDC Threadless vs EDC Lite & EnCase
Alright, I agree that anodized aluminum looks way better than plastic every day of the week. But I love my plastic - sorry 'composite' - flat pedals and I love my EDC Lite tool. There simply isn't a faster and easier access multi-tool option out there and it uses the exact same tool as the EDC minus the chain breaker, tire lever, and storage, for a whopping 40 USD | 52 CAD which, I'll note, is the same amount of money as just buying the anodized aluminum EDC Threadless Carrier without a tool.
My own favourite combo is to take the EDC Lite and then add a bike-mounted chain breaker and tire bacons by way of a bar-mounted Wolf Tooth EnCase tool. The EnCase chain breaker is much nicer to use, sure, but the major advantage of the separate tool is I'm not pulling the whole assembly out every time I want to make a minor adjustment.
This tool setup sounds like it is going to be a bit more of an investment since the EnCase chain breaker/bacon setup is 50 USD | 65 CAD and then the single storage sleeve adds 20 USD | 26 CAD. That makes my OneUp EDC Lite + Wolf Tooth EnCase combo a combined 110 USD | 143 CAD.
Compared to buying the EDC Tool + EDC Threadless Carrier, that's an additional 10 USD | 13 CAD and frankly, once you're investing in on-the-bike tools vs just throwing your preferred multi-tool in your pack this isn't a huge additional investment to get exactly the right setup.
On the negative front, I do know a ham-fisted degenerate who managed to rip the bolt through his EDC Lite carrier by preloading the very soul out of his headset. I'm certain the bearings of their Works Angleset sang out in joy when they were suddenly relieved of their tension. If that's a concern then an aluminum-bodied EDC Threadless Carrier is going to be a much better choice for you, but probably not your headset bearings.
OneUp EDC Threadless - conclusion
For folks who already have an EDC setup that are looking to move it to a fresh bike or share it between their existing rig and a second steed I think the EDC Threadless Carrier makes more sense than threading another steerer tube. That's as long as the tool they're currently using is a V2 that's compatible of course. Yes, the system gives up some storage and the potential to pack around a CO2 cartridge, but it's just so clean and as a bonus it's simpler to preload and keep preloaded.
I can definitely see this system outselling any other on the market, including my preferred EDC Lite, simply because it combines good tools, including a chain breaker, in a very sleek, well-sealed package that anyone can install easily. Yes (since it always comes up in the comments) it's an investment compared to stand-along multi-tools and I can fully appreciate the perspective of riders who choose not to buy into on-the-bike tool storage. But, for those in the market for this type of tool system I think this setup fills the steerer tube void very nicely.
It's easy to know this tool system is going to be a hit, regardless of which of the nine anodized colour options one chooses, just based on the components. The EDC tool insert (V2) is a proven product that's enjoyed by a ton of riders whether they're pushing it into a pump or running it in their steerer tubes and this new Threadless Carrier is a beautiful example of a keep-it-simple design that delivers.
Just to reiterate, starting fresh, the V2 EDC tool and insert will run 60 USD | 78 CAD and the EDC Threadless Carriers are 40 USD | 52 CAD. That's a combined price of 100 USD | 130 CAD. There are eight colours for the carriers, Black, Red, Blue, Green, Orange, Purple, Gold, and Oil Slick. More information, and availability, available at OneUp.