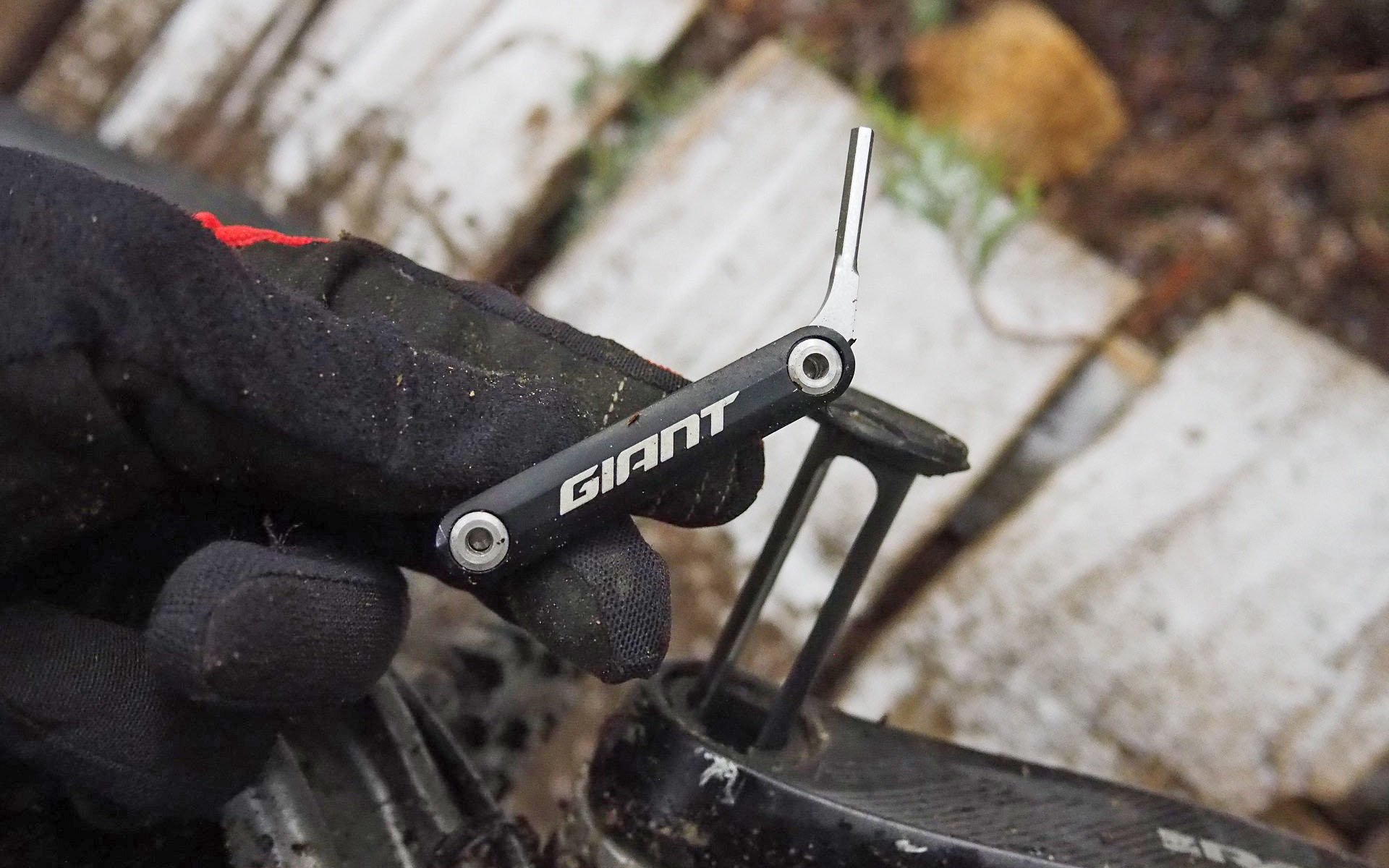 REVIEW
Giant Clutch Hidden Bike Tools
Potential
Giant's Clutch trailside tool systems, which mount in the bottom of the steerer tube, in the crank axle and inside the handlebar, surprised me at Crankworx 2019. There isn't a company out there that isn't looking at Specialized's SWAT frame storage compartment or OneUp's EDC tool and trying to think of new ways to store tools. What surprised me is that Giant is generally a very conservative company.
With a few exceptions, they've never been a company driving the bus when it comes to innovating the mountain bicycle. They have a solid sober seventh look and then move the needle a bit whether it's modernizing frame geometry or trying to accommodate a longer travel dropper post.
I hope whoever at Giant green-lighted the Clutch kits has a budget and long leash because I really like what they did here. The quality is solid, the designs are simple, and the usability is high. What else do you have cooking?
Clutch Fork
Giant's Clutch headtube storage has a lot of potential. A tapered collet taps in easily with a rubber mallet and stays put. The magnetic system holds the CO2 cartridge and applicator silently and it can truly be forgotten about until needed.
I used the cartridge once, to seat a tire after straightening a dent in my rim (totally what Pack Pliers are for!?) when I couldn't get things mounted with my mini-pump, but outside of seeing how the mounting system holds up, I don't normally carry a CO2.
Aside for the rare case of a big enough dent to unbead my tire, the only flats I get with heavy-duty tire casings and big knobs tend to be repairable with tire plugs and there are plenty of tales about CO2 shooting the plugs out. Are they true? I'd rather pump than find out.
If you like to carry a CO2, the system works quite brilliantly. I'd like to see Giant expand the Clutch Fork to include a version that contains a multitool. An inverted EDC if you will. Some combination of a custom shaped multi-tool with a real 8mm-hex and quick link pliers would be amazing.
Clutch Fork for sells for 40 USD including a CO2 cartridge, but I'd happily pay double that, or more, and recommend it if it included my above-mentioned multi-tools instead. As it sits, it's a great option for folks looking to never forget their CO2 inflator on a ride.
Clutch Crank
The Clutch Crank puts a multi tool in the unused space in the hollow centre of your crank axle. The challenge is that whether 24mm steel or 30mm aluminum, the inner diameter of a crank axle is tight quarters and the tool ends up being quite small.
It makes a lot of sense considering this is unused space and it's sprung weight carried low. One way Giant could improve the Clutch Crank is by ditching the chain tool, freeing up space for a longer tool with more leverage when needed.
The tool can be tricky to remove with cold hands or thick gloves but in all fairness, the Aeffect R cranks I tested it with are not listed on the compatibility chart. The challenge is that Giant has to achieve a balance between grip and a low profile when it's stored. It could be a bit more solid with a longer handle for more torque, but then, as noted, space is beyond a premium inside the axle.
The chain tool doubles as a valve core remover, which I find hilarious because it seems like everything on my bike these days doubles as a valve core remover, but it may be worth noting for anyone who doesn't carry pliers when they ride.
I used the 80 USD Clutch Crank a lot on the trail, particularly when I was dialing in the settings on my CCDB coil shock and I also shared it with a huge number of riders. What's with all the folks with loose pedal cleats and no tools these days? It's sort of cool when a fellow traveler asks "hey, do you have a multi-tool?" and you can just reach down and pull it out of your crank spindle.
Ironically, it doesn't have an 8mm hex key so one job the Clutch multi-tool isn't good for is tightening loose crank spindles. But then, you should be checking crank bolts at home, my friend.
Clutch Bar
Of these pieces, the Clutch Bar is the one item I'm 'meh' on, but it delivered the biggest save during my test period. I'll start with the bad stuff. My two favourite pairs of lock-on grips aren't compatible with bar-end plugs without modifications. I prefer to run glue-on grips but I still think it's a relevant concern for riders who have a go-to lock-on with a solid end.
My other gripe is that bacon-style tubeless plugs are so last decade. As mentioned, I only get punctures lately and Dynaplug's inserts are glorious to use compared to strips. My Micro Pro wasn't cheap but it's worth every penny when it comes time to repair a tire - always in the pissing rain it seems.
Finally, I don't see any reason the bacons and prong couldn't have been included in the Clutch Fork tool for an extra fiver and made even better use of that dead air in my steerer.
The one time I've actually needed a tire plug in the last few months, I went to reach for my Dynaplug kit and found it was in my other fanny pack. Oops. I don't carry a tube anymore, and this was a test bike without CushCore, so I started walking. I'm almost ashamed to admit I was halfway down the mountain when I remembered the bar-end bacons.
Install isn't as clean as I like using the prong and strip but it sealed up my tire to ride home. I've left Dynaplug inserts in for ages but in this case I immediately pulled and patched the tire when I was home. That said, the 35 USD Clutch Bar kit saved me a long walk and a bus ride so I'd say it paid for its presence.
Lately I've been playing around with a way to silently use the Clutch Fork system to carry a multi-tool in my steerer tube. I think there's massive potential here given the universality of a system that doesn't require me to modify my fork by threading the steerer tube or ditch my time-proven headset starnut. Giant, you're really on to something here.
As the Clutch system is now, anyone trying to go fully packless, or prone to forgetting their multi-tool, is well served to check out both the Clutch Fork and Clutch Crank systems. Just tape your tire plugs to the CO2 cartridge and you're golden. I'd still carry a pump, on the bike, but CO2 can certainly come in handy if you have to seat a tire in the middle of nowhere.
Giant, I hope that Clutch is a sign of things to come. Smart, non-proprietary, innovative products are always welcome.