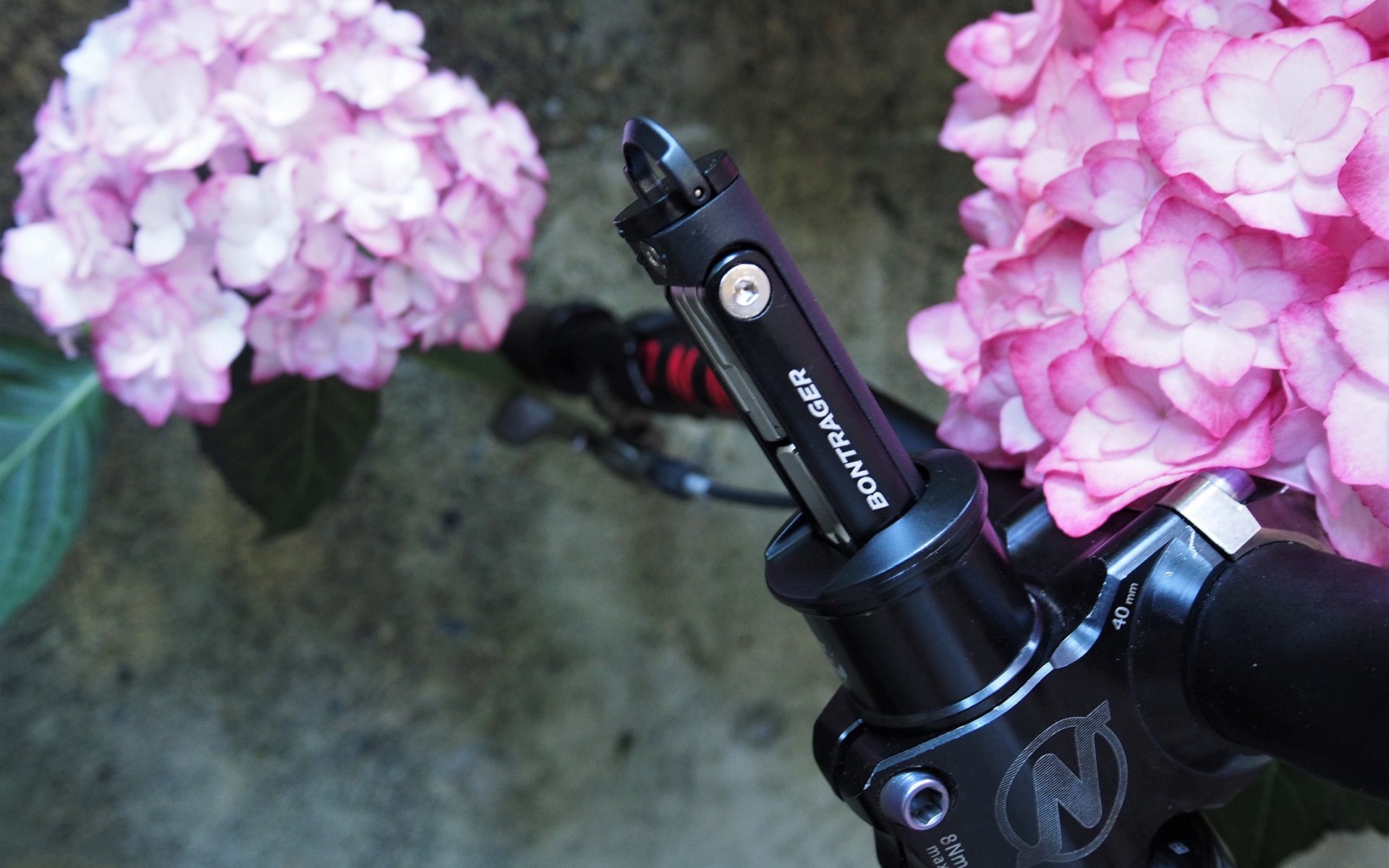 FIRST IMPRESSIONS
Bontrager's Steerer Tube Mounted BITS
Bontrager BITS Integrated Tool
Bontrager's BITS system is a multitool and chain breaker combo that fits into the steerer tube of a fork and tensions the headset via a classic headlock configuration. It fits steerer tube lengths from 165mm to 250mm which should cover most mountain bikes out there.
The 164-gram system includes a 9-piece multitool, chainlink storage, and chain breaker. The tool is fully equipped to handle the majority of trailside adjustments and even includes a half-contact 8mm hex head for folks who are prone to forgetting to check the tension on their crank bolts once in a while.
The headlock system includes two bolts and a variety of spacers and weights will vary depending on the combination required to fit a specific bicycle. I needed the longer bolt and most of the spacers to fit the steerer tube on my Durolux, which was left long for future swap-ability.
I tried the base plate with a few forks and the interface seems universal for tapered steerer forks. With the proper spacers and length of the bolt, it's a simple matter of tightening up the headlock using a long 5mm hex key. Please note it's not necessary to use a leverage multiplier on the short end of the hex key here as it's just tensioning the bearings of the headset.
The tool carrier is keyed to the headlock system and everything fits together snug and entirely noise-free. Out of the box, it may actually be a bit too snug as removing the tool with the little flip-up ring on top of the carrier requires a bit of force. It would be very easier to tune how much force is required - with a file - but I'm going to see how it breaks in after a bunch more cycles.
The system is certainly discrete and built in such a way as to meet water out at the top and allow it to drain through the steerer tube. The true test of this kind of tool v. corrosion is really a full winter of rainy rides but between Juneuary and Julyuary it's been a wet summer so far. I'll update readers down the road once I have a few rainy months of using the Bontrager BITS tool.
The hex bits are all high quality and even the half-an-8mm bit interfaces fairly solidly with bolts, but this short-handled tool is not one I'm at all stoked to use. I think its true purpose, like Giant's Clutch Tool, is to provide backup for the pack-less, or pack-light, rider with a well-maintained bike who isn't planning to have to make repairs or adjustments on the trail. It's a totally serviceable multitool and chain breaker to get me out of a pinch, but it doesn't cover every eventuality the way my usual include-the-kitchen-sink setup goes.
That said, I don't want to take away from how cool it would be to see the BITS system coming spec on every Trek mountain, road, and commuter bike. For a lot of riders, maybe even the majority of riders, this is all the tool they would ever need when out and about on their bikes. With it mounted in the steerer tube it's impossible to forget it.
Also, with enough of these tools being spec'd and produced, it would be nice to see Bontrager able to bring the price down. These tools present value to riders ditching their packs but, recycling directly from my Wolf Tooth EnCase review: "...a Park IB-2 is a really nice multi-tool for 17 USD and the SKS Tool Box Race has been my German-made favourite for years at around 30 USD." I think for closer to 50 USD it becomes a piece that even riders married to riding with a back- or hip pack would consider for their bikes.
I'll be using the BITS system for all my trailside tuning on my Marin for the new few months which legitimately means that combined with the B-Rad frame-bag that I can truly ride without a pack. I very rarely have mechanicals so I'll be sure to incorporate some adjusting for adjustments' sake.
I do enjoy having the tool on hand ready to go and, as other companies have proven, the steerer tube is a great place to stash the tools a rider most often needs on the trail, and significantly more universal than using crank axles or handlebars. For me, it comes down to whether the tool is nice enough in use - in rare situations when I do need one - that the true convenience overcomes the price and increased functions of a tool carried with a pack.
For more information on Bontrager's 90 USD BITS system check out Trek's tool selection.