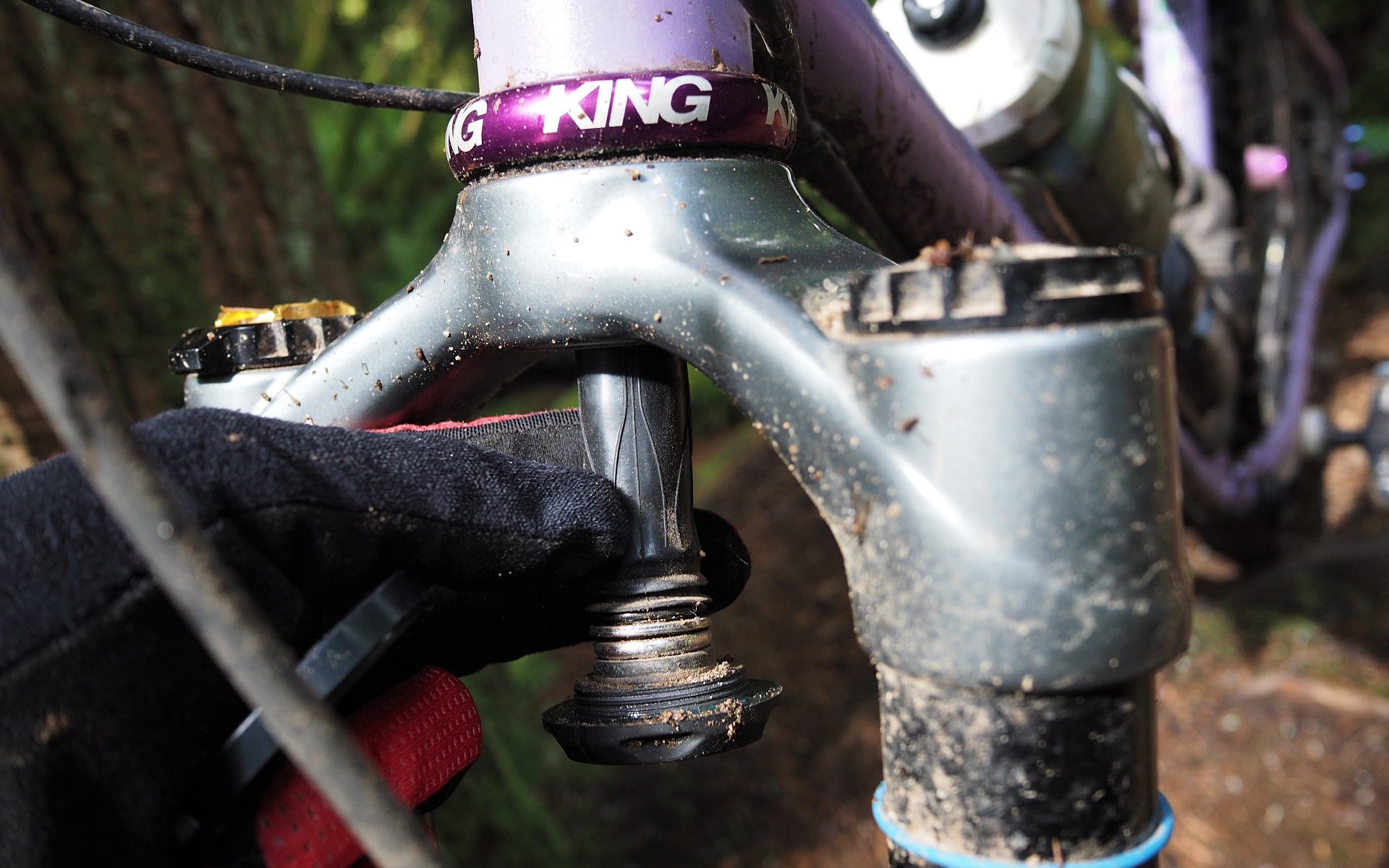 EDITORIAL
Hidden Colabs
Bike Industry X Collaborations
To avoid the risk of having some folks in jacked-up Ford F150s parked outside my apartment tonight blaring 103.1 New Country FM and crushing Budweisers. I'm going to start by throwing out an honourable mention to We Are One's Da Package colab with 77 Designz. Which I think would be really, really interesting in a 12° and 16° backsweep (hint, hint). Whether the 375 CAD Kamloops-made carbon bar and aluminum stem are in your wheelhouse or not, they're a great example of what collaborations can, and should, result in. Unique products combining both firms' talents and technology.
The bike industry, of course, has a long history of marketing collaborations. 99% of the time that's paying Troy Lee to design graphics for your frame, handlebar, cranks, or underpants. There's also the occasional combination of some brand's logo printed on a limited edition colour of some other brand's existing product with results that look cool. For the most part though, these aren't creating anything new or innovative.
But, some collaborations are not marketed at all, my favourite one appears to have happened entirely by accident, and occasionally I have a daydream I'm capable of merging myself. Here are two existing colabs that I think are awesome, and un(der)-reported, and one I had to made happen myself.
Wolf Tooth x Giant
I'm going to start off with my DIY effort as I'm still a bit giddy about this one. I've been truly enjoying the Wolf Tooth EnCase multi-tool and the 12° Fasst Flexx bars I've been using with the one issue that they are not compatible with each other. EnCase will not fit into bars with a narrower ID than 17.5mm and that includes the Flexx bar along with a fair number of other carbon options.
At the same time, I noted in February that Giant's magnetic Clutch Fork system would be a great place to house an inverted-EDC tool but as someone who never uses a CO2 inflator on the trail, I didn't feel it was living up to its potential.
It would be easy enough for Wolf Tooth to manufacture a beautiful beveled insert with a magnet that would interface with the Clutch cap but for my quick and dirty duo, the missing link ended up being an old ISIS-spline crank bolt that was exactly the right OD and length to thread into the EnCase rubber sleeve.
Starting from scratch, all the pieces are available to build this exact setup piecemeal. It isn't cheap but it works really well if carrying a great tool in your steerer tube is a life goal.
Giant sells the whole Clutch Fork tool for 40 USD | 55 CAD but it's also possible to buy the fork inserts and the threaded cap separately. From your local Giant dealer, it's 23 CAD for the steerer insert and 20 CAD for the cap. Whatever bike shop you regularly deal with will be happy to toss you a random crank bolt if they haven't recycled them all so I'm calling that a $0 add-on.
From Wolf Tooth the EnCase multi-tool on its own is 71 CAD and just buying rubber sleeves, without the end caps, is 29 CAD for a pair.
That's 143 CAD, or about 105 USD, to assemble the tool as seen. That sounds like a lot but it's comparable to buying a OneUp EDC once you add up the tool, top-cap and steerer plug, and tap kit.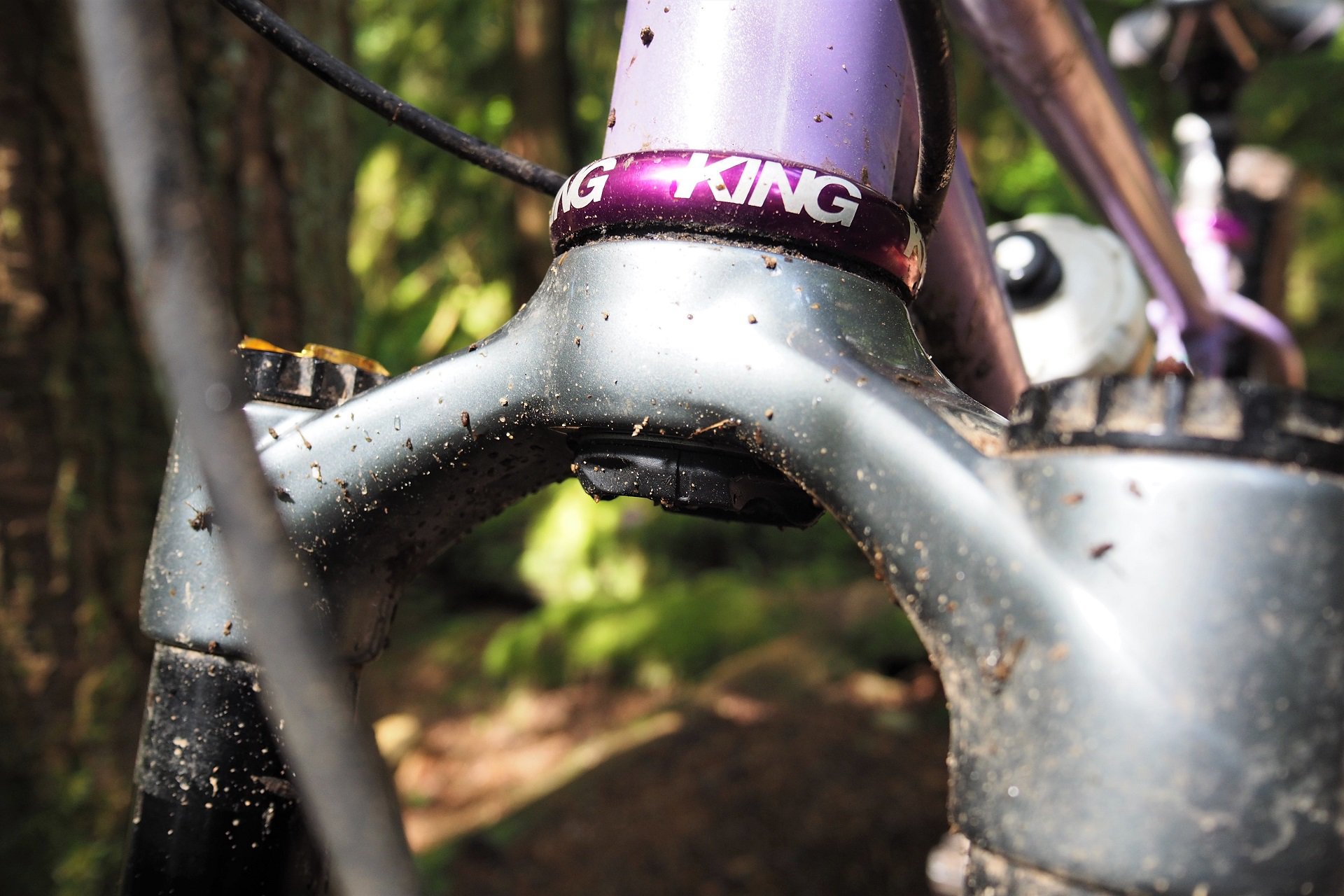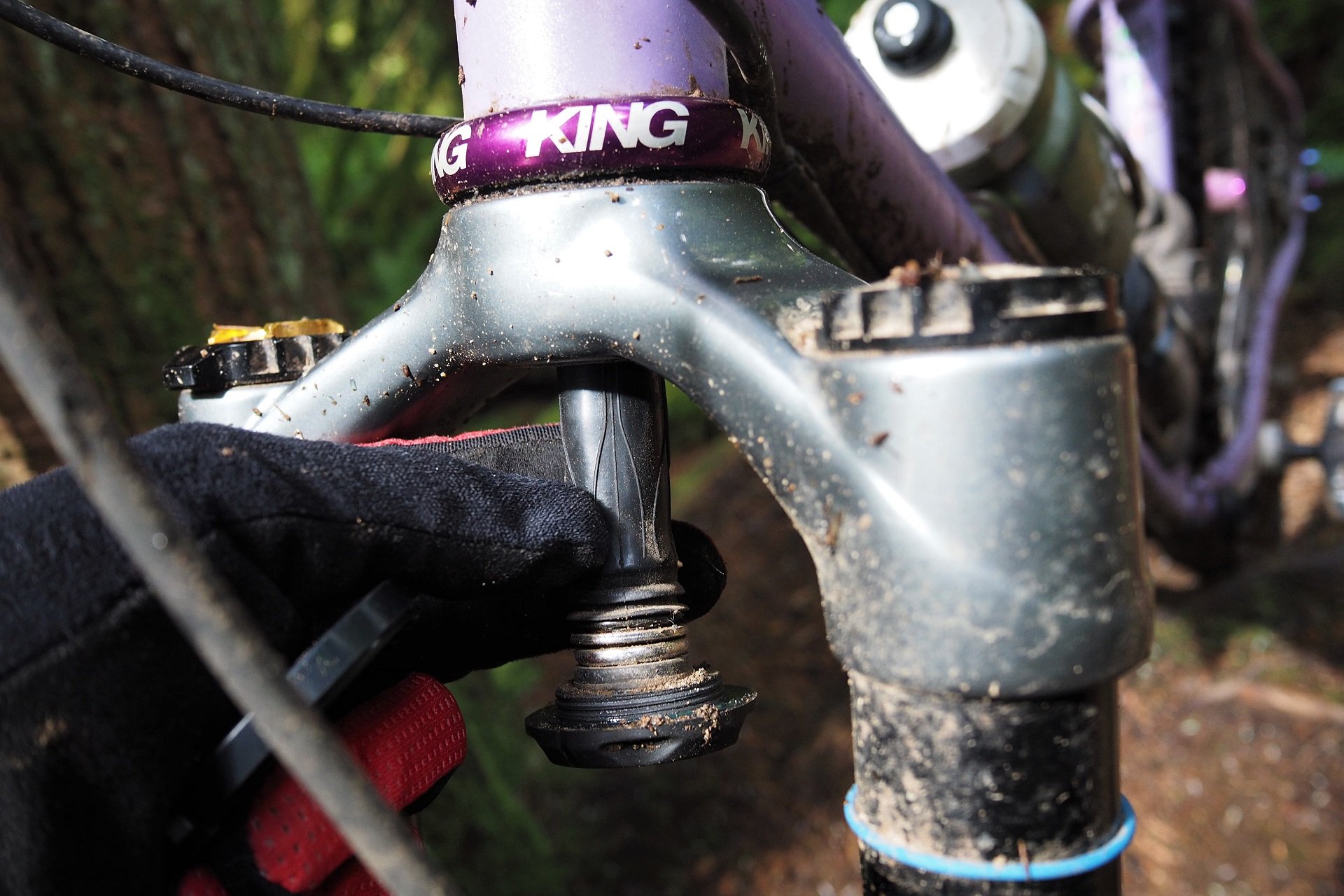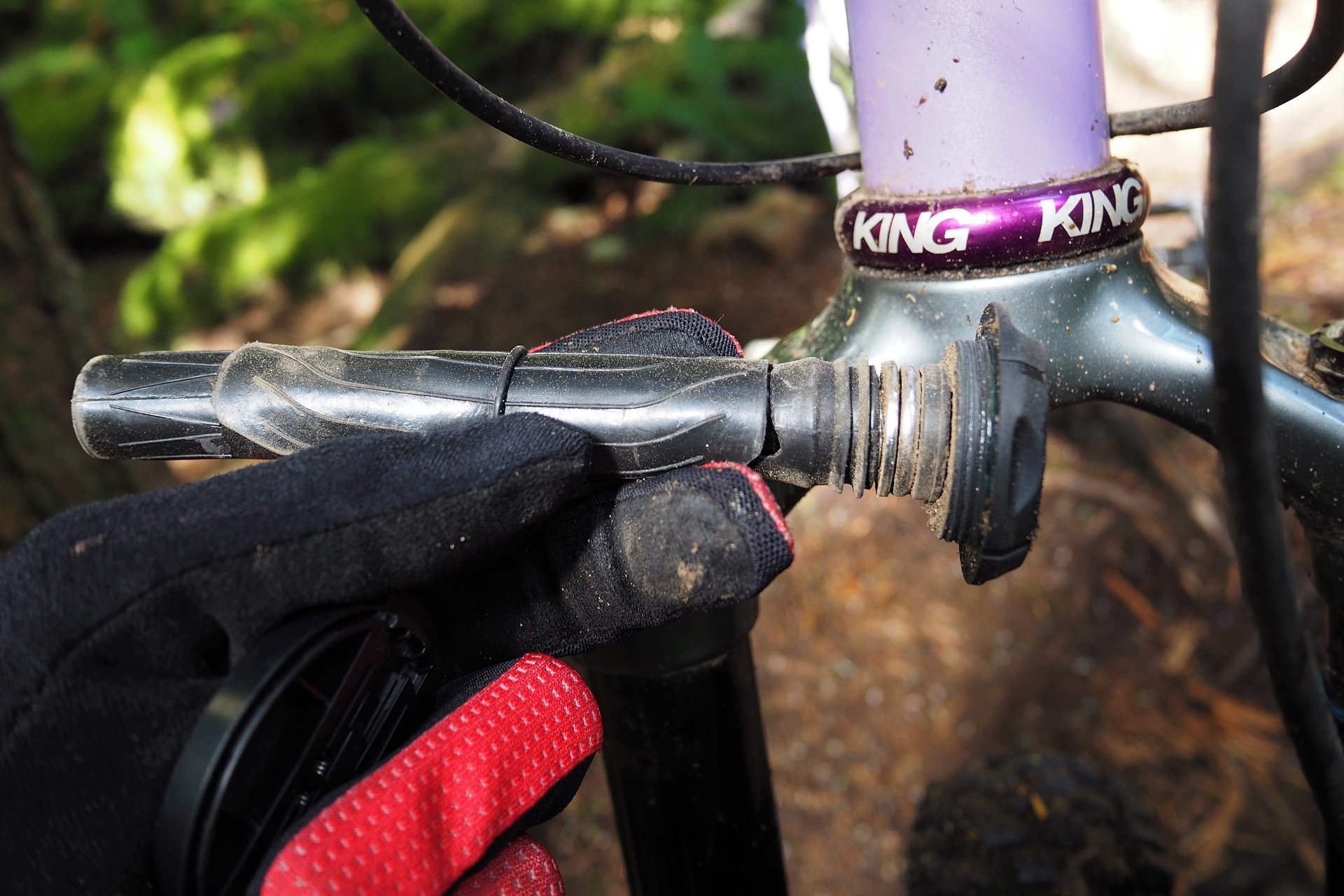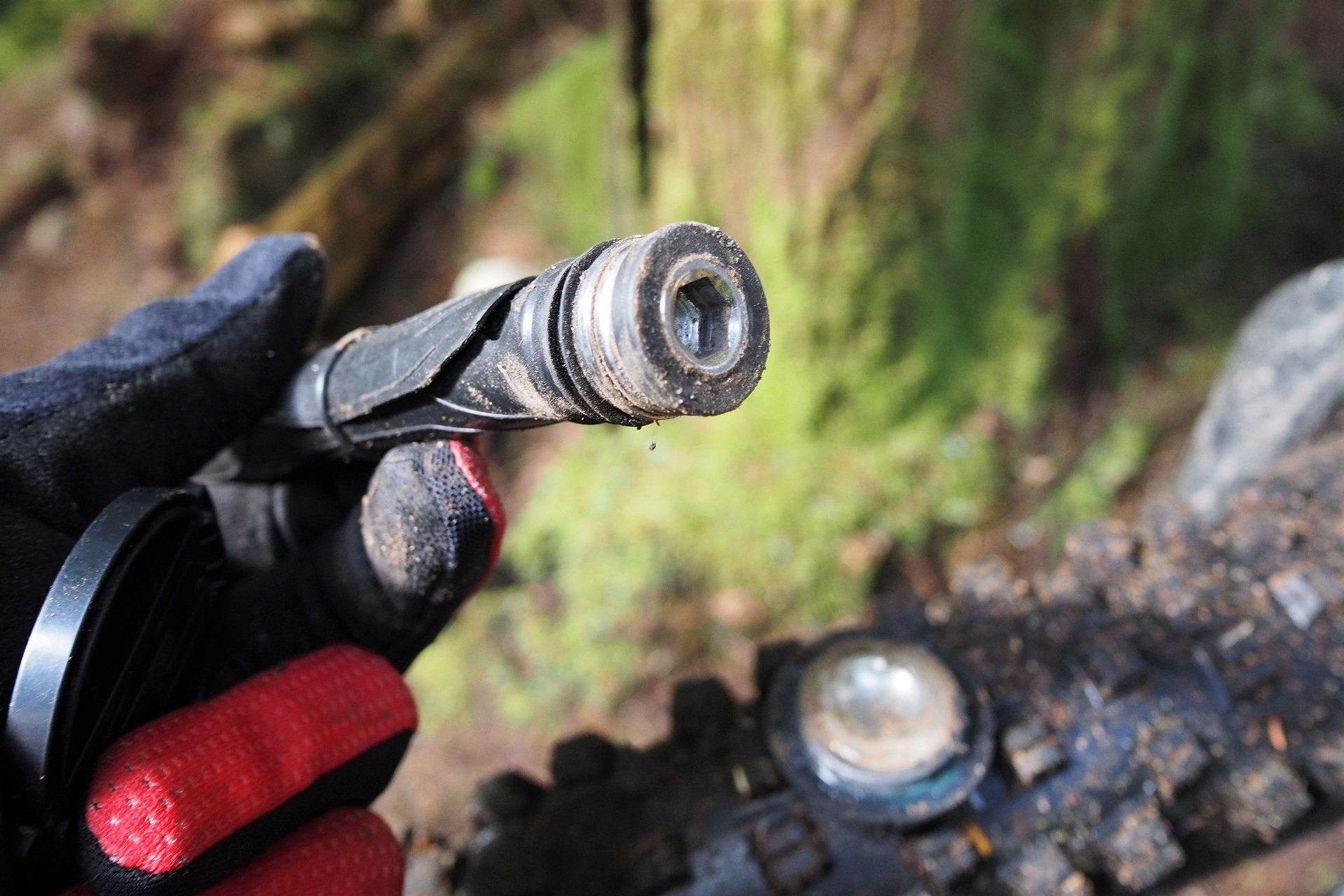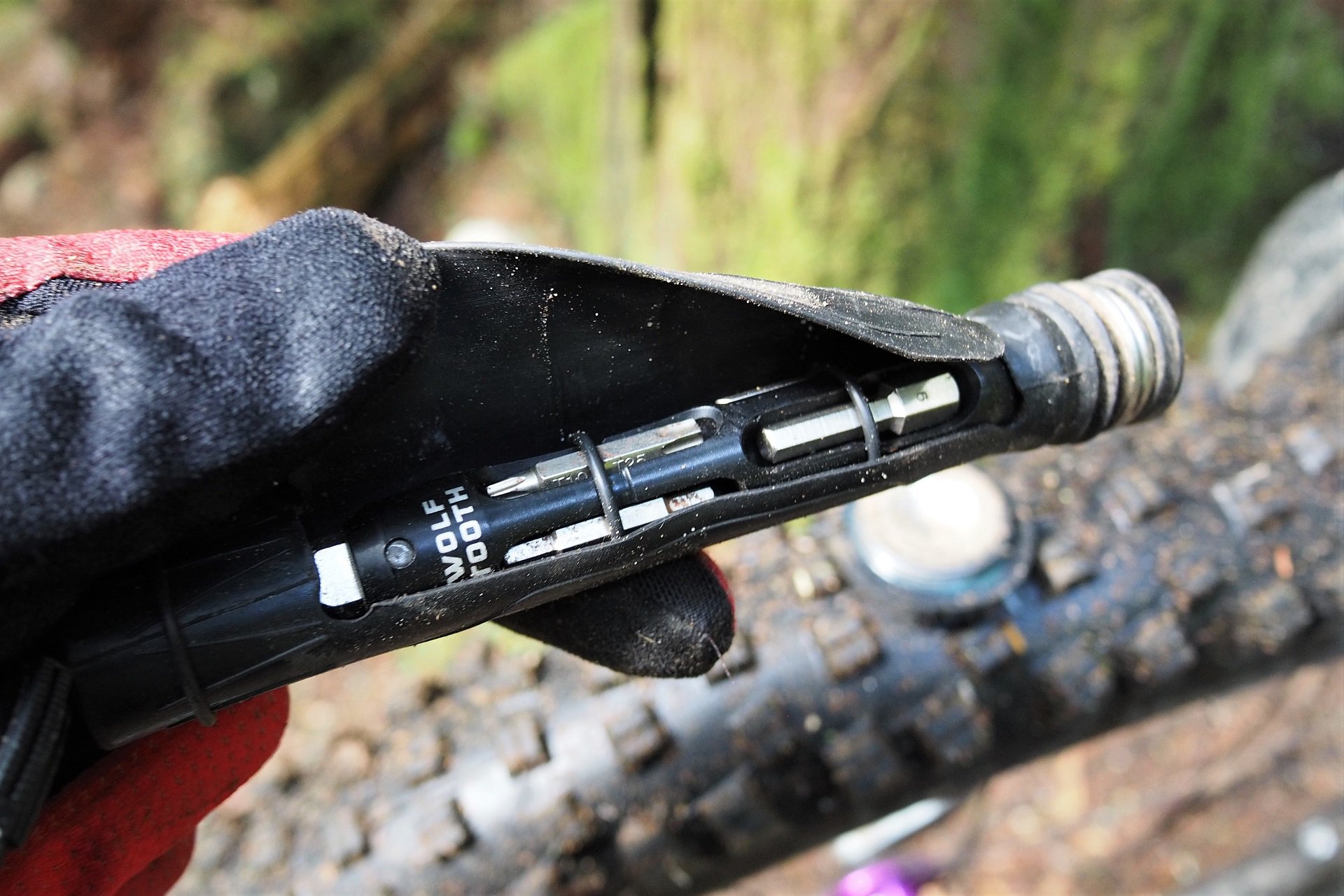 This system is dead silent in both the Manitou Mezzer and Cane Creek Helm forks I've been using it with. Thanks to magnets, the tool sits to the side of the Clutch cap and being wrapped in rubber it doesn't make a peep. It adds a bit of time to remove the tool compared to running it in my handlebar but I don't mind taking an extra thirty seconds when I need a tool on the trail.
Inclusive to Fox*, RockShox, Manitou, and Cane Creek I have yet to come across a fork that Giant's Clutch Fork system won't easily install into and I've had no issues with their insert coming loose or popping out on the trail even having pulled it and reused it multiple times. I haven't used a nicer multi-tool trailside than the EnCase so this combo seems like a no-brainer production colab between the folks at Giant and Wolf Tooth.
*It likely does not fit the new Fox 38 due to the oval steerer
Crankbrothers Mallet DH x Shoes
Shimano has been pushing the benefits of using their shoes and pedals together as a system for a while now with the latest iterations of their trail and DH pedals offering a maximized interface. On paper, this adds confidence and watts through increased support without having any negative effect on clipping out.
I've used plenty of different shoes with Shimano pedals over the years and I think there's a solid argument that most companies closely match up with Shimano's lug heights in order to ensure SPD compatibility with their pedals. For those that aren't perfect, it's easy enough to add a cleat shim to find the sweet spot.
What strikes me as strange is that with other companies making shoes or pedals, but not both, that no one is combining with HT, Time*, Look, or Crankbrothers to offer a colab shoe & pedal setup designed to work as a perfect pairing.
*Mavic offered re-branded Time pedals but there was nothing special about using the shoes or pedals in concert.
I both loveriding flat pedals and suck at it, especially on my single speed, but I have discovered my ultimate clipped-in compromise. I combine the float & feel of Crankbrothers winged eggbeater clip-in system (the wide stance and big body of the Mallet DH specifically) with a flexible shoe that lets me load into the platform of the pedal like riding flats. It works amazingly. I shim the cleats out just enough so my rear-mounted cleats disengage effortlessly when unloaded but I get as much support when pedaling as any combination of carbon soled XC-shoe and pedal I've tried.
The best shoe-pedal combination I've found could actually be called a colab. After all, Crankbrothers sponsors Trek's Enduro race team and that's who worked with Bontrager's design team to develop these shoes. Presumably, Bontrager doesn't push that point for fear of discouraging sales to the majority of clip-in riders who run Shimano pedals.
Crankbrothers doesn't make shoes. With the Big-S exception, companies making skate-style clip-in shoes don't make pedals. Not everyone wants that rigid standing-on-a-pedal clipped in feeling but it's nice to have carbon-esque support when pushing down on the pedals. This seems like such a great opportunity for someone to run with.
Magura x Formula x Hope
Either no one can explain how my favourite colab came about, or possibly no one wants to. Either way, most folks I talk to have no idea that there's actually, practically, a handlebar clamp standard in the bike industry that makes multiple brands clutter-reducing accessories interchangeable.
Magura, Formula, and Hope all share, at least in a close-enough-is-good-enough approximation, the same two-bolt brake lever clamp dimensions and I've taken advantage of this multiple ways. First, by buying Hope clamps to run Shimano I-Spec shifters with Magura brakes before they made their own system and most often by swapping my Wolf Tooth ReMote clamp between Formula and Magura brakes.
Currently in the immediate bikes I routinely service, mine, my wife's, and my brother CTK's, have a Magura ShiftMix clamp on a Formula Cura Brake, two Formula Cura MixMaster clamps on Magura MT brakes, and a lone Magura ShiftMix clamp actually holding a Shimano I-Spec shifter to a Magura brake.
The different clamps produce different angles and positions and it's quite lovely being able to optimize de-cluttering hardware for lever position. For example, I run my brake levers much more French than CTK does and that has a large effect on our dropper post remote positions v. having a dropper post remote clamped separately.
Lately, I've discovered dropper post lever nirvana with the inboard-but-forward position delivered by a Magura ShiftMix MatchMaker clamp, mounted to a Formula Cura 4 lever, with the new e13 three-position dropper remote that comes with their Vario dropper.
Given the rampant incompatibility, I'm surprised that these companies aren't advertising the interchangeability of their accessories, and that more aftermarket brands aren't offering their takes on accessory mounts using this two-bolt standard.
The big takeaways for me are that quite often a company's decluttering mounts won't provide enough adjustment range - angle or side-to-side - to work as well as keeping separate clamps but mountain bikers are absolutely drawn to the clean appearance of combining brakes, shifter, and dropper levers into a single pair of clamps. By thinking outside a specific brand it's easy to optimize for the angle and position of your brake levers relative to your grips.
No vaporware here! All these hidden collaborations are readily available or a crank-bolt away from a DIY package. From modifying frames to run stealth dropper routing to lowering forks for freeride-stiff, XC-travel packages, to cutting tires, to friction shifters that can run any drivetrain, and beyond, I think a huge part of mountain biking is about riders innovating using what they already have.
What have you drilled holes in lately?