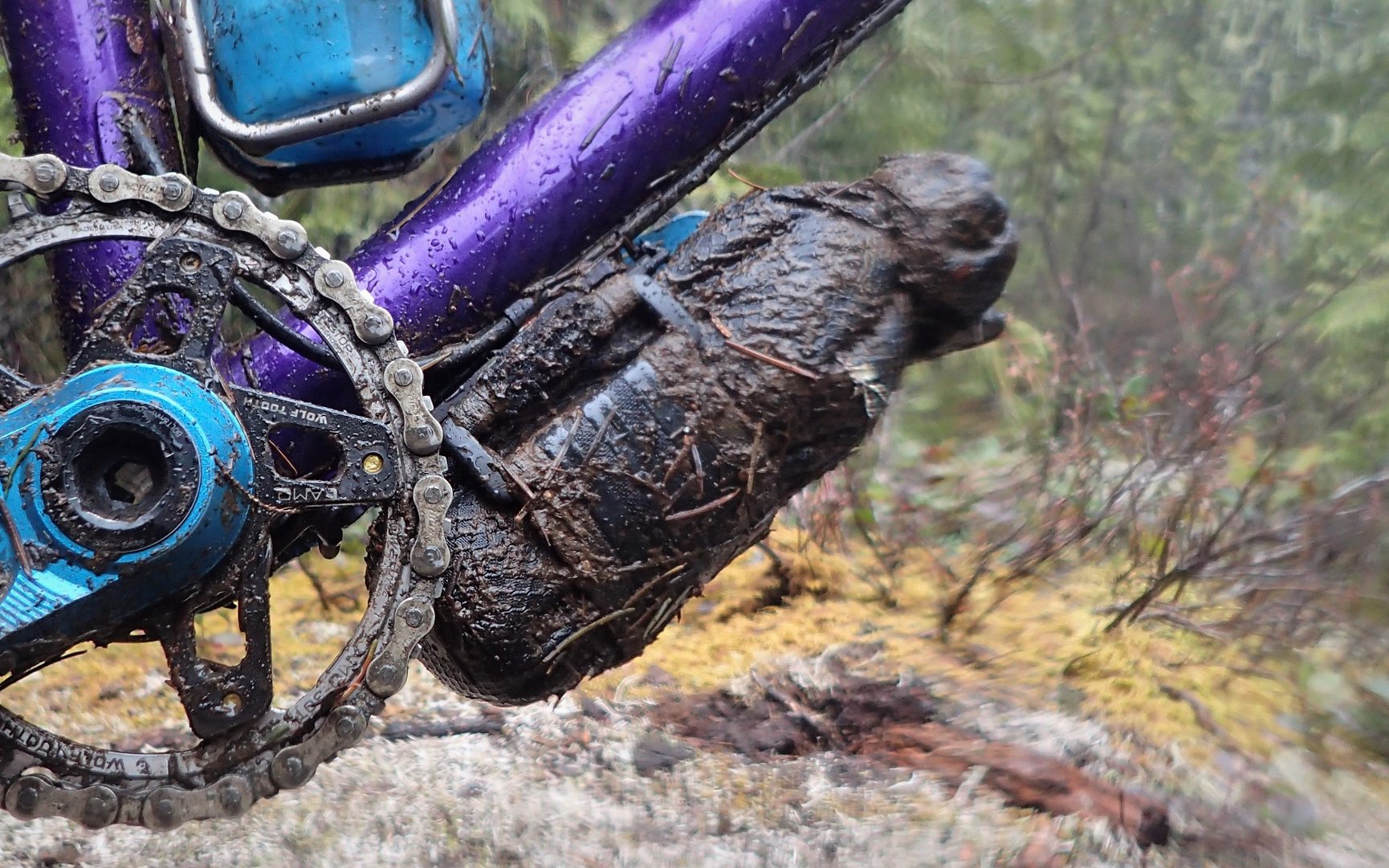 TWO-MINUTE REVIEW
Wolf Tooth B-RAD Mini Roll Top Bag
Bagged On
When it comes to on-bike storage there are two things that surprise me. First, that no company has managed to find a legal way to rip off Specialized's built-in SWAT storage system. And second, that Specialized hasn't found a way to migrate their hinged SWAT box concept (only available on carbon frames) to their aluminum bikes.
Beyond that, mountain bikers have been trying to balance our culture of do-it-yourself-sufficiency with removing weight from our backs since we first took rubber to trail. Hey, who carried the coffee beans, Juan Valdez or his donkey?
To that end, this 0.6L Wolf Tooth Roll Top Bag has performed exactly as advertised. It's kept my sh*t dry through pissing rainy days and a couple of exciting stream crossings, and allowed me to move a lot of weight from my pack to my bike.
It's also been a heck of an icebreaker. Looking to meet some new riding friends or just to strike up an easy conversation with some fellow two-wheeled trail travelers? Strap on Wolf Tooth's B-RAD Roll Top Bag and be prepared to be inundated with friendly banter such as:
"Shouldn't you have a coffee cup dangling from your saddle?"
"Who do you think you are, Morgan Taylor?"
"Dude, you should check out Bicycle Pubes!"
"Is that an inflatable life raft?"
"Where do you keep the kitchen sink?"
"Does Cam know you're lameing-up NSMB.com?"
"Have you been reading The Radavist?"
"Hey, I just met you - and this is crazy - do you have whisky? - share it maybe?"
"Wow, that bag really suits your bike" (Genuine)
"Wow, that bag REALLY suits your bike" (Facetious)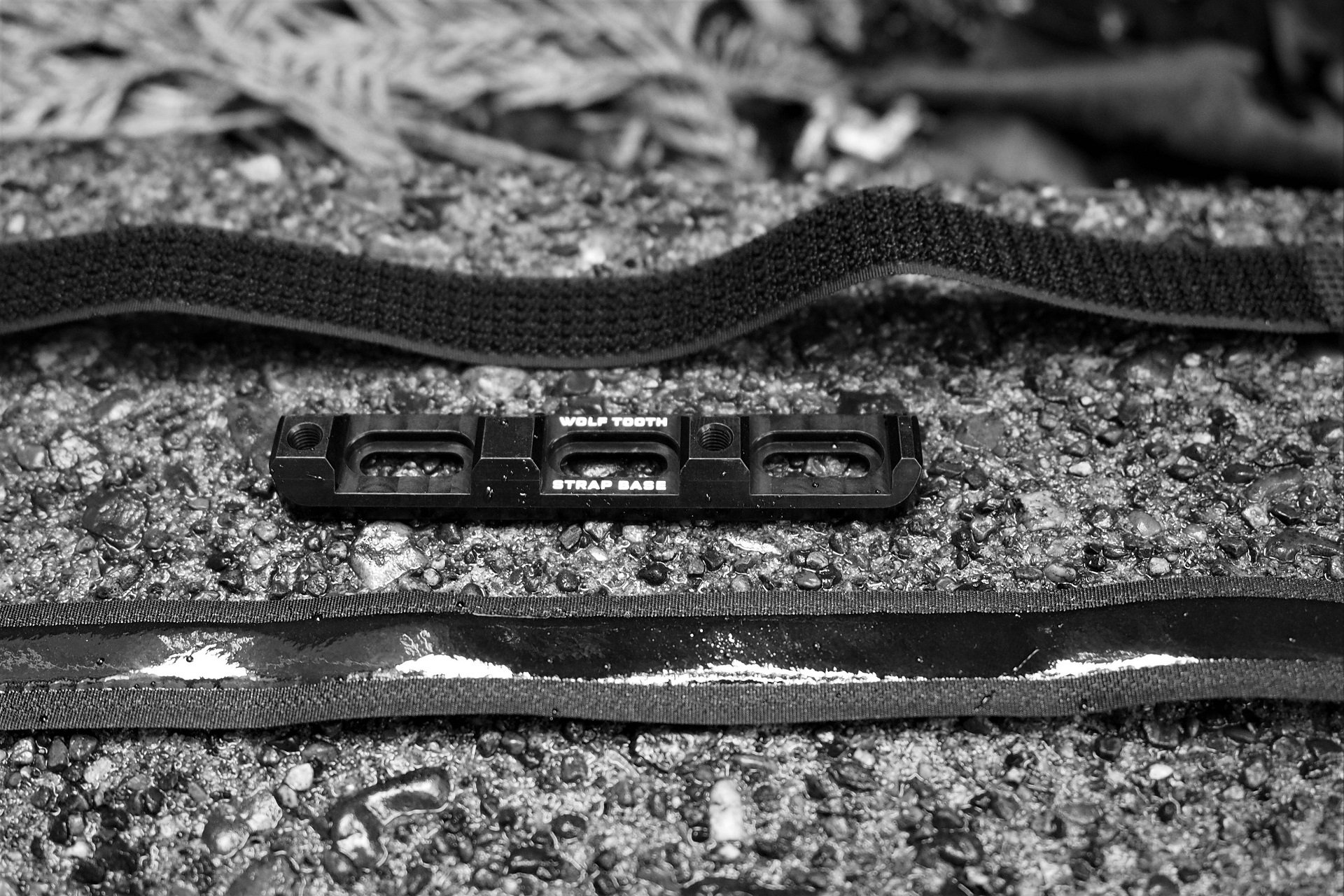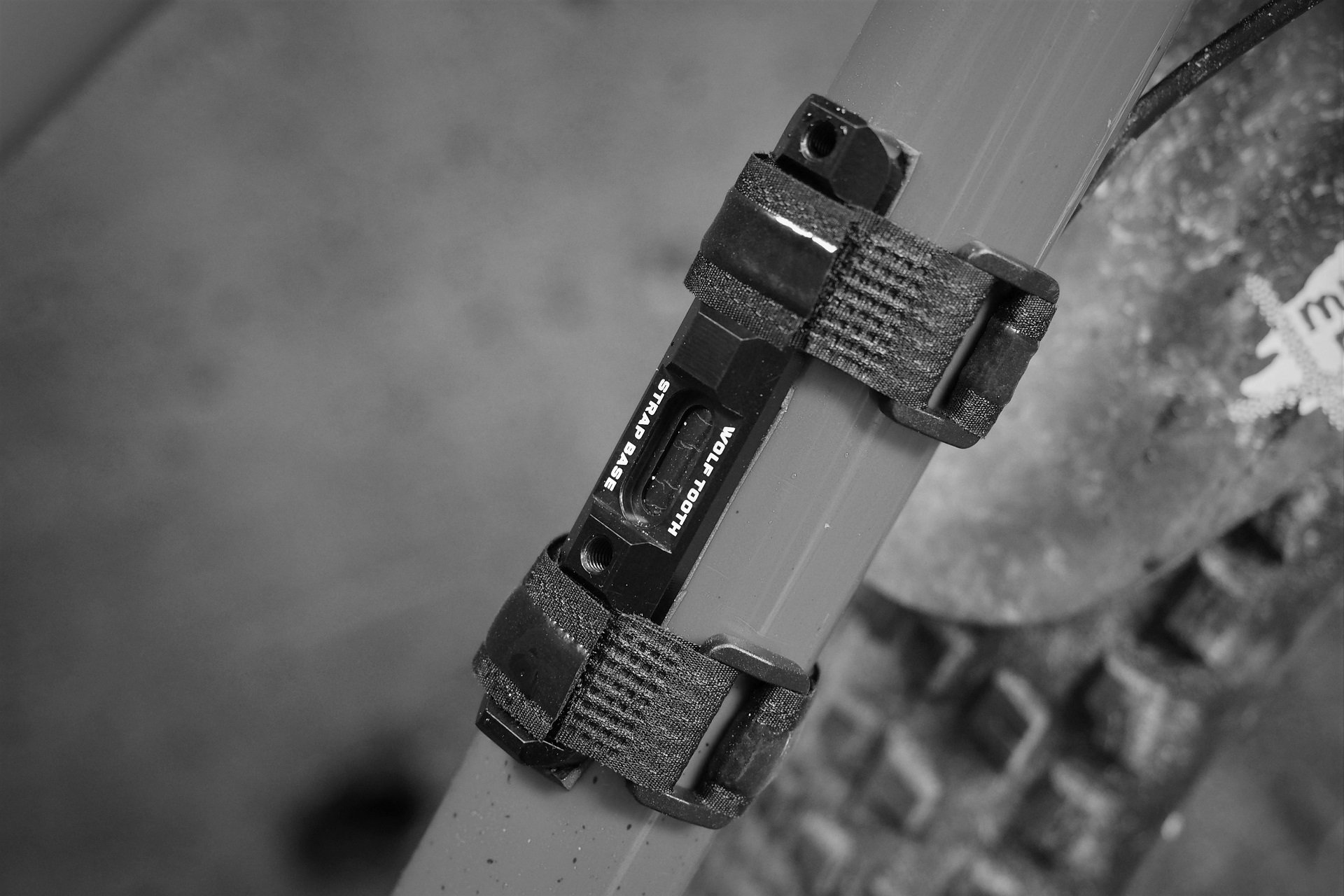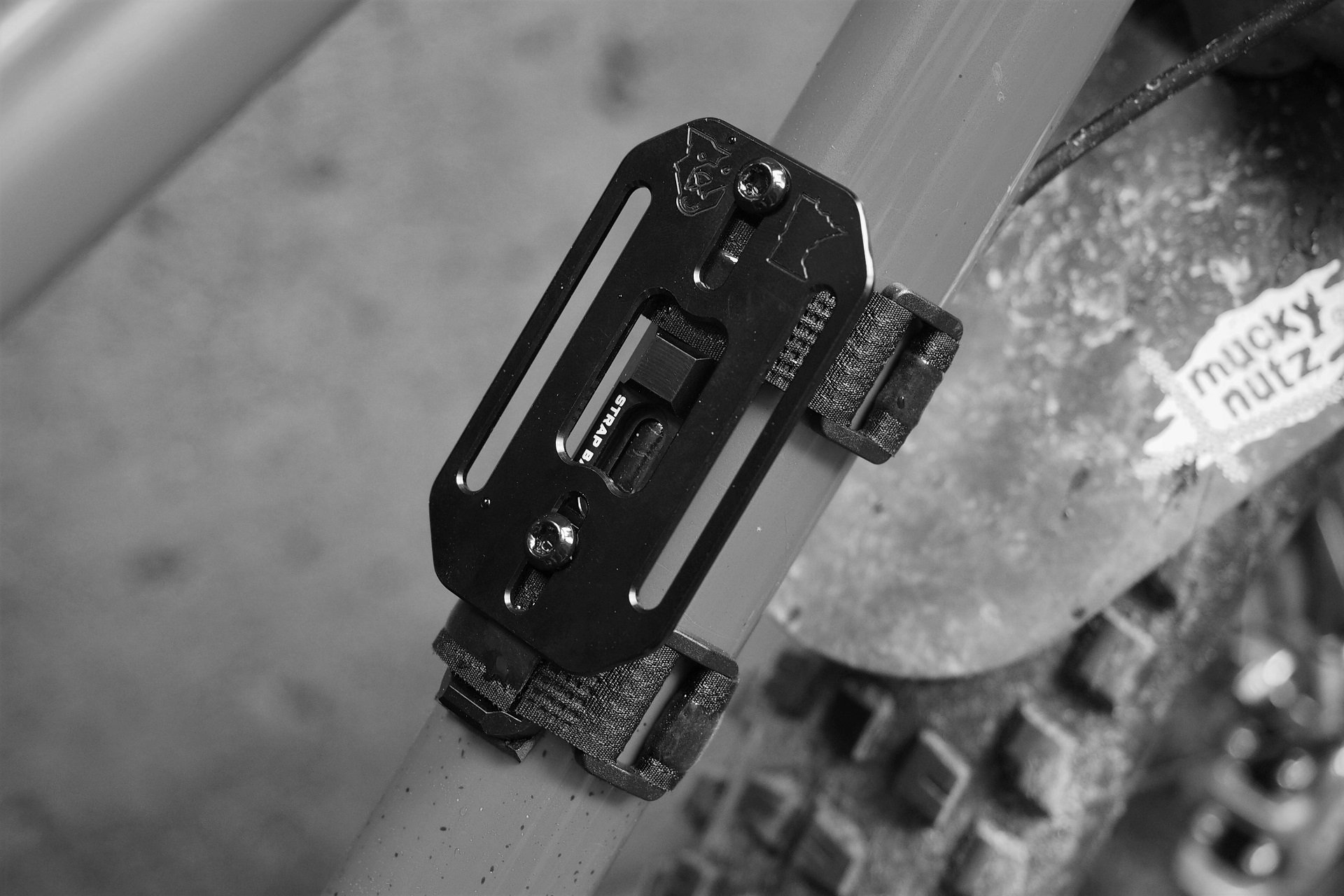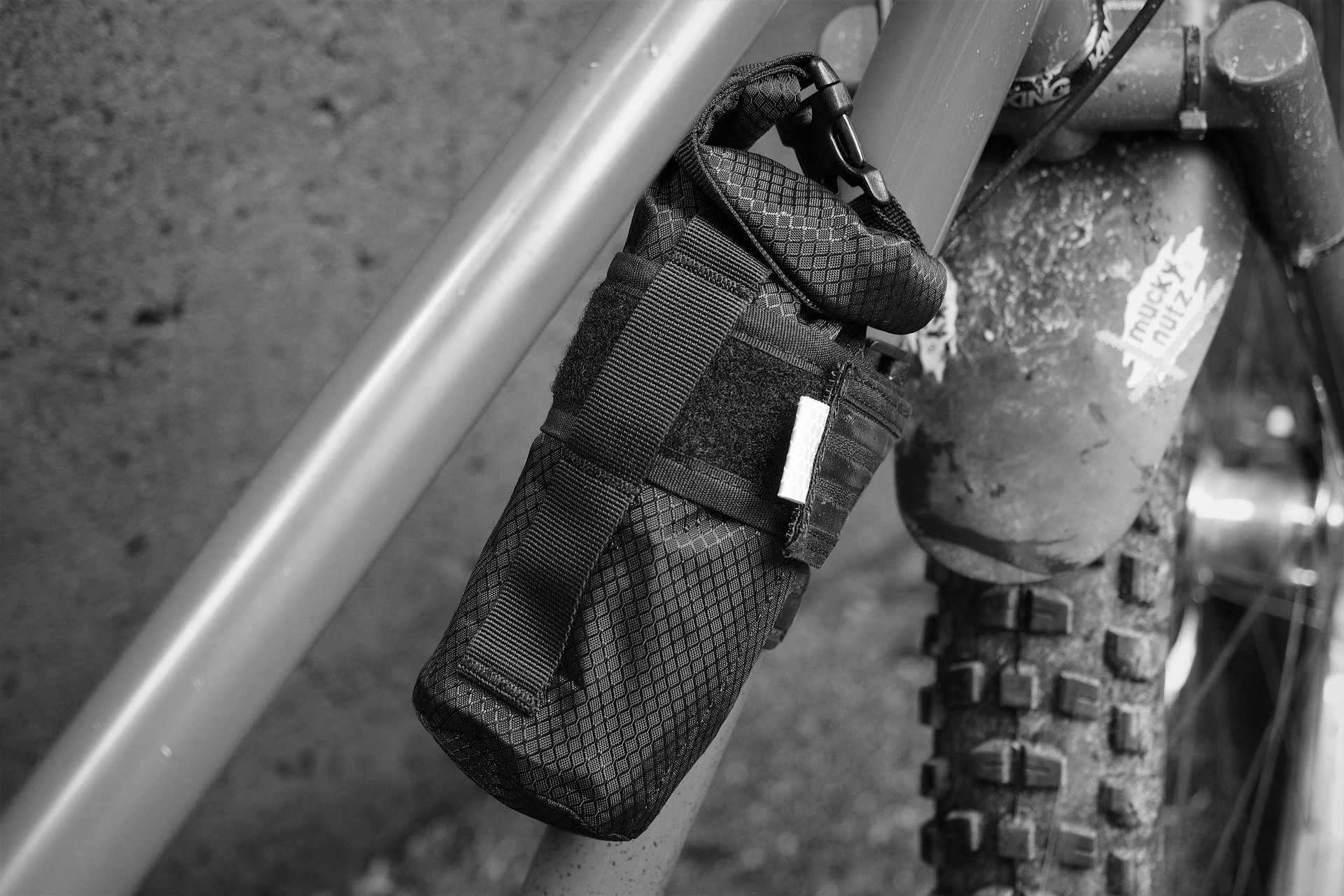 I ran the Roll Top five different ways:
Strapped behind the seat (meh)
strapped directly to the Carbon Chameleon (great)
mounted to my steel frame using a 20 USD Wolf Tooth mounting base (great)
bolted to the below-down-tube bosses on my frame using the mounting base (great)
and bolted to said bosses just using the included mounting plate (great)
The silicone-backed strap does a great job of keeping the bag in place but I also packed it in such a way that the hard tools were separated from the frame by more than the thin PVC-backed 420D ripstop nylon material. For example, my emergency space blanket sat closest to the frame when strapping the bag straight to the Chameleon.
Being full of tools, I liked running the bag as low on the bike as possible. The B-Rad Roll Top doesn't hang down any farther than running a below-the-down-tube water bottle and even riding old school Shore trails with lots of log-overs I never had an issue with contact. However, I did not try to run the bag on the bottom of a full suspension bike with a low BB so check that clearance before hitting Bookwus with the B-Rad hanging below your Process 111.
Beyond that, I still generally ride with a pack but it's much lighter now that my tools are all in a frame bag. The frame bag is quick & easy to move between bikes and it's a great visual reminder not to forget my tools. It's up to the individual rider to deal with the bikepacking look and prepare for some teasing and banter from riding friends, but otherwise this is a great product.
Lots of ways to B-Rad, and a larger 1L version of the .6L bag at Wolf Tooth Components.