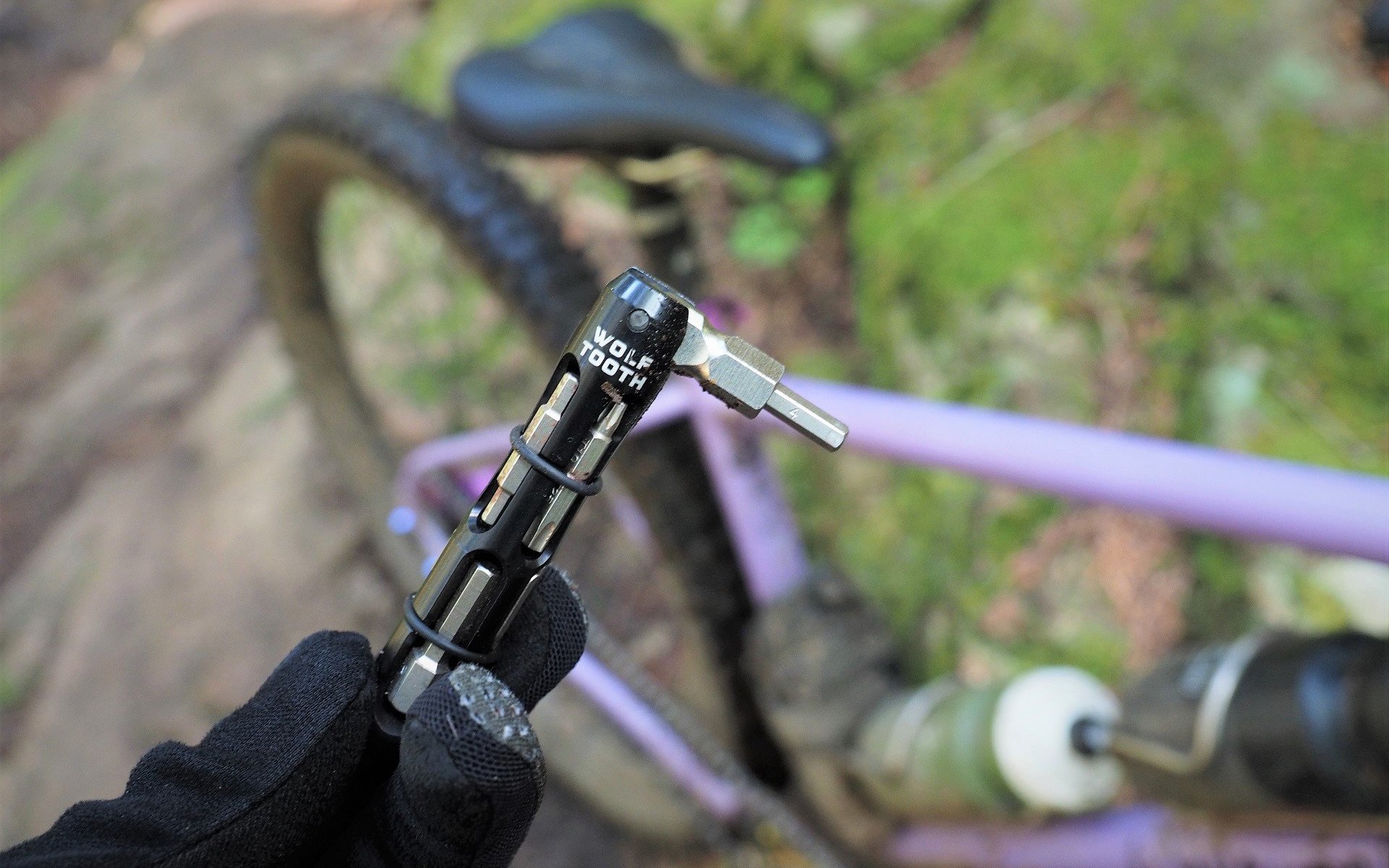 REVIEW | EDITORIAL
Going Pack Free With The Wolf Tooth EnCase Tool
Fabulously Fanny Free
I remember the first time I ditched my pack completely. It was long before hip packs had made their comeback and dropper posts were still rarified crap. My frame held a large water bottle with plenty of room to tape a tube into the front triangle. My wallet, keys, and a snack were tucked into my jersey pockets (or the jersey-style pockets of my CoreRat vest) and all my tools hung from my saddle in a seat bag.
I have always carried quite a few tools, including a chain breaker, multi-tool, knife, pump, lighter, a few links of a chain, tire levers, and I am probably missing a few things. All tucked away in my recycled-rubber Pedro's 'Blow Out Bag' and then, one day, after I told all my friends how great riding without a pack was, that f***ing bag did just that. Bouncing down the trail, the zipper tore open and I ended up completing the rest of my ride with all my collected hoardings bouncing around in my jersey pockets. I went to packs and never looked back.
I resisted hip packs long after they became socially acceptable again just because I couldn't find one that worked for me. Then, in short order, between the Shower's Pass, Stealth, and my Porcelain Rocket, I found some great options, even for carrying my camera with a pancake lens. Goodbye backpack on most rides. Of course, by the time I had, almost, fully adopted hip packs, the rage became getting rid of them altogether.
And then the Wolf Tooth EnCase tool entered my life. It has enough leverage to tighten the dropouts on my single speed and all the bits I could need equals not having to carry any other multi-tool. My Wolf Tooth B-Rad Mini Frame Bag has enough space for the tools I don't need regularly; pumps, knife, pliers, lighter, quick-links, as well as spare gloves, and my buff necker-toque. Wallet, phone, and keys in a jersey pocket and it's ride time!
Carrying all the tools I never almost never use in a weatherproof frame bag has been awesome and has given me a new appreciation for a product I reviewed very positively in the past. My multi-tool is the only thing I use every ride and the only time I've opened the B-Rad on the trail in the last month was because I wanted my spare, spare, spare gloves on a wet ride.
Full disclosure; I still usually carry my hip pack. It houses my emotional support jacket, phone, wallet, gloves, camera, and snacks. But, when I don't need the camera and I'm positive the ESJ won't be necessary, I still own a few three-pocket jersey options that are great for spare gloves and my essentials. I am absolutely a fan of pack-free riding.
With that out of the way, I should probably talk about the tools that make it possible. My favourite part of using the EnCase multi-tool is the 8cm lever. Not necessary for adjusting controls or saddle tilt but it is so nice when straightening a stem or tensioning my chain. I've even torqued up a buddy's Race Face crankset, as the tool is itself an 8mm, with a satisfactory amount of force.
There are handlebars that the EnCase tools don't fit as they have a minimum inner bar diameter of 17.5mm. They fit in every bar I tried except for the Fasst Flexx suspension bar and it's so close that I almost want to believe that with some modification to the rubber housing I could make the magic happen. That rubber part is available separately from Wolf Tooth if I mess it up so I may give it a shot.
The various aluminum, and one carbon, bars I used the system with required a bit of modification to get the end caps to fit tight enough. I've highlighted the different setups I used in the photos below and I did a more in-depth look at installing their reducer kits in my first look. As the popularity of the EnCase tool grows, Wolf Tooth may offer more sizes of end caps just to clean it up.
The narrow profile and swivel head of the hex-bit wrench (multi-tool) help me get into all the tight spots on my bikes that have been difficult with tools that bring much less leverage to the game. The head itself is both an 8mm hex head and a magnetic receiver for the bits. The handle is 8cm long and has a great feel when tightening torque-sensitive hardware like stem bolts.
The bits, held into their cut-outs by magnets and o-rings, can occasionally be a bit of a PITA to remove. Especially when sporting gloves. And absolutely always when in a hurry. I get around this by leaving my most commonly used bit in the tool when it's stored in the handlebar. For a long time that's been my 4mm hex but lately, 5mm hex has been riding shotgun.
The total list of tool options are the hex swivel head in the 8mm receiver, a spoke wrench, valve core tool, flathead & Phillips screwdrivers, all the hexes (2mm, 2.5mm, 3mm, 4mm, 5mm, & 6mm) and three Torx options (T10, T25, & T30). It is a very healthy collection of usable tools. I can't decide which, but either the EnCase or Wolf Tooth's Pack Pliers needs a knife blade so I can ditch another tool from my kit.
The fly in my mug full of awesome here is the price. A Park IB-2 is a really nice multi-tool for 17 USD and the SKS Tool Box Race has been my German-made favourite for years at around 30 USD. Just grabbing the EnCase Hex-Bit Wrench is 50 USD and a single bar plug & sleeve adds 20 USD for a 70 USD multi-tool. Another option is to buy the full system with two sets of sleeves, the chain tool, and the multi-tool for 120 USD.
The EnCase is nicer to use than any multi-tool I've experienced but at home, I'm still pulling out my individual hex & Torx keys so that's in the context of something I'm only using trailside. It's the only tool that's getting me to the point of doing rides pack-free, but now that I'm carrying the vast majority of my tools in the B-Rad my hip pack is really light and throwing a multi-tool in it doesn't seem like a big deal.
To wrap up that thought, I use the EnCase system on every ride on every bicycle that it fits and I happily swap it between multiple rigs. It's a tool I love to use on the trail and combined with a mini frame bag, I'm very satisfied with my current setup. You can either justify the price or you can't and the value proposition is going to be different for everyone. If you are curious there's a bunch more information, various options, and a well-supported selection of replacement EnCase parts available at Wolf Tooth.