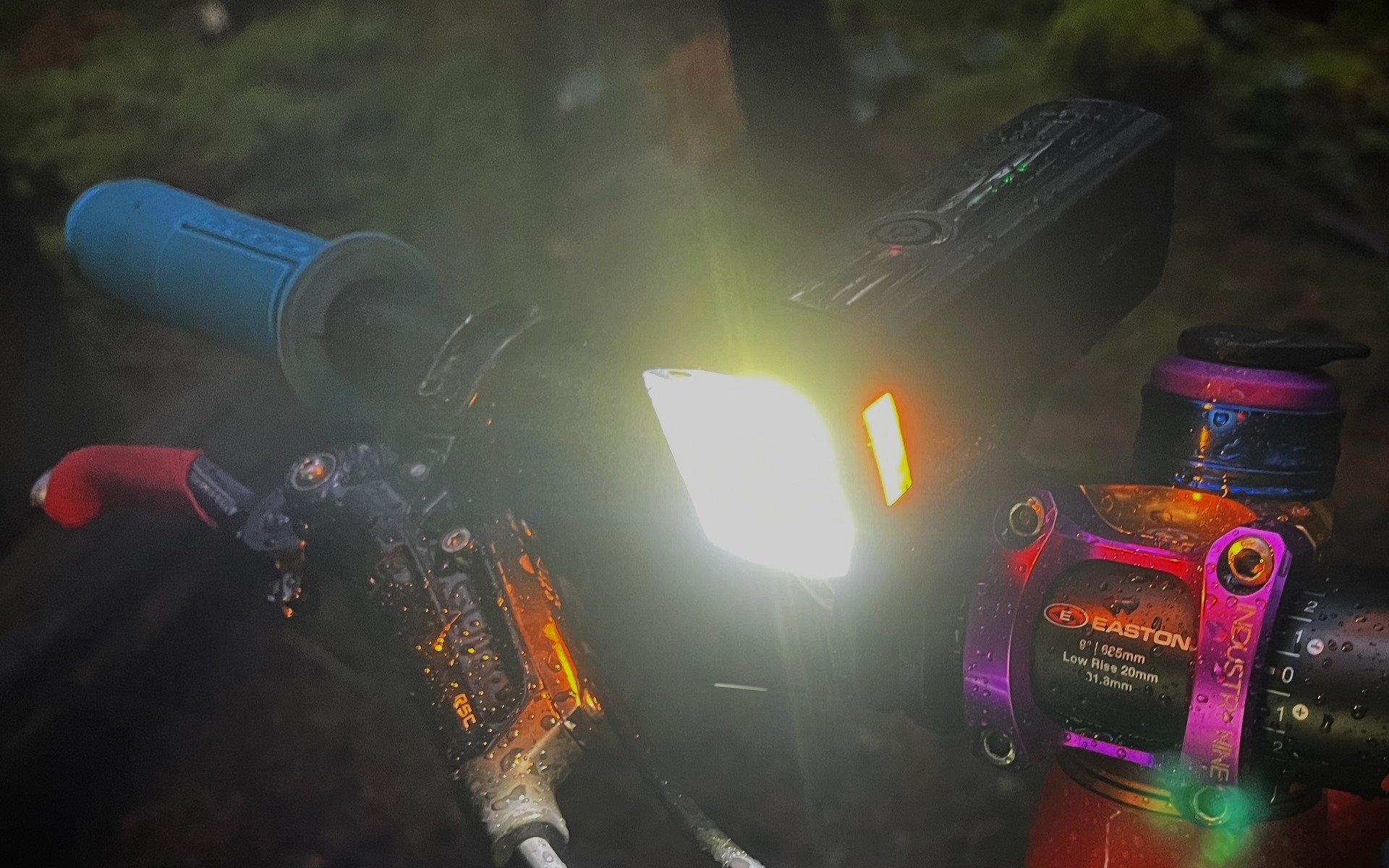 REVIEW
From Streets To Trails - Trek's Commuter Pro RT Front Light
Motivational Trifecta
I was most stoked to get my hands on Trek's newest integrated light system because of a feature that deals with an issue that's come up in reader comments under articles about lights and night riding. Trek calls it Kindbeam and it's a setting that keeps light on the path ahead of you but won't blind oncoming riders or drivers.
It works and it's immediately noticeable. Kindbeam throws plenty of light for pedaling up single-track, unlit gravel or paved paths, and anywhere I ride my commuter, other than the darkest alleyways or fastest descents where I cycle up to 'high.' Trek says it pumps out 500 lumens - and that holds up when I've compared it to other systems. In Kindbeam setting, it'll run for three honest hours.
For trail use, the light pumps out 1000 lumens for an hour and a half. It uses the same mounting system as the Bontrager lights I've been running for years.
I was also motivated by the excellent track record of the Bontrager Ion Pro RT lights I've been riding since 2018. I have a pair of them that have been used and abused off-road in every kind of weather. Recently I started noticing the run time on the older unit is starting to get closer to an hour than the original hour-and-a-half.
It's a magical time in the world of night riding. If you're chasing the daylight experience, check out NiteRider's line of Pro Systems or Light And Motion's SECA for examples. For the less ambitious, there is a plethora of mainstream options between 1000 and 1500 lumens of output that don't require a massive investment.
Having ridden all sorts of systems, I'm an advocate for going into the woods with a pair of self-contained light-and-battery units with at least that much output. I can see the whole trail, even on very technical lines, and on the dankest nights, but it remains a slower than daytime riding.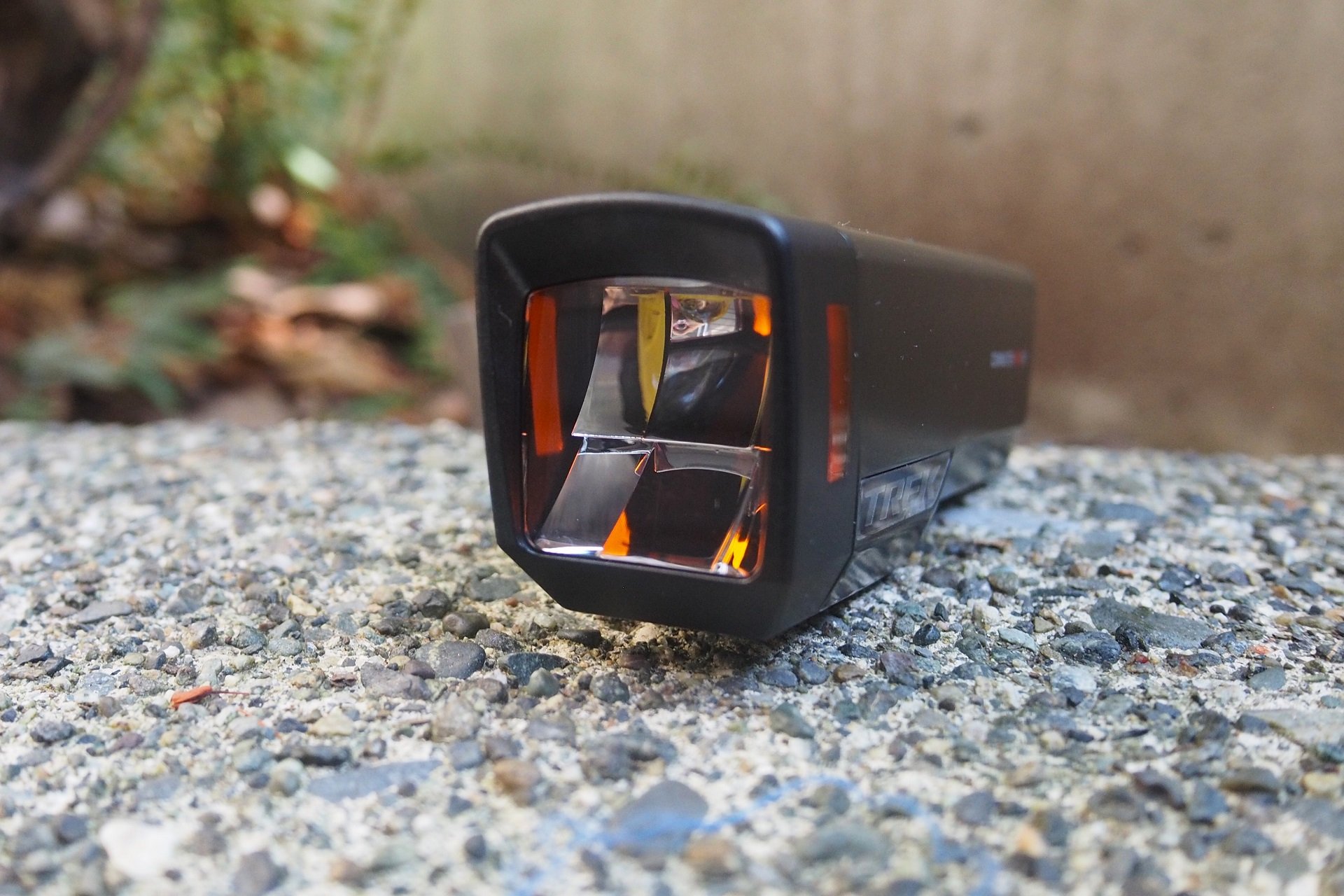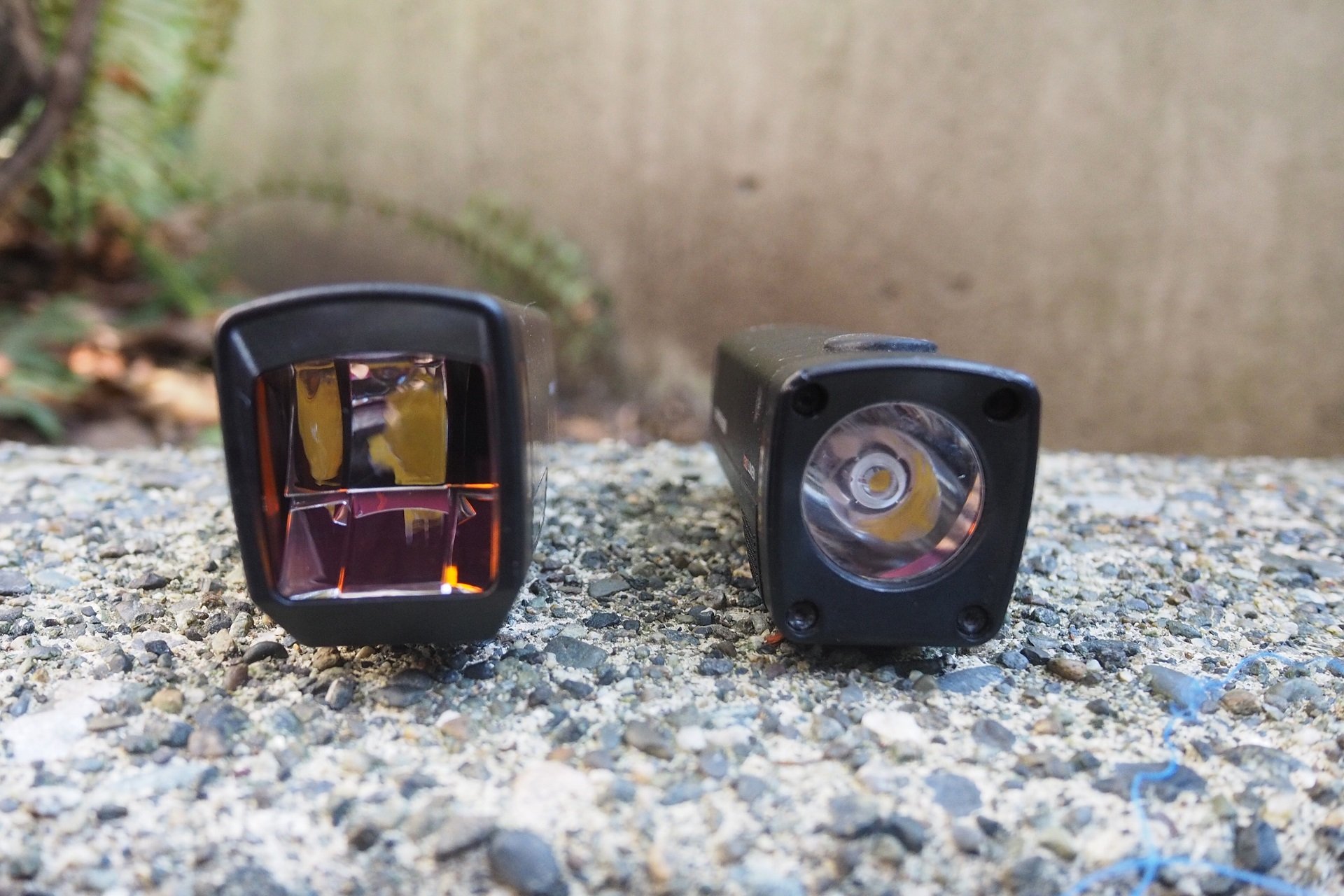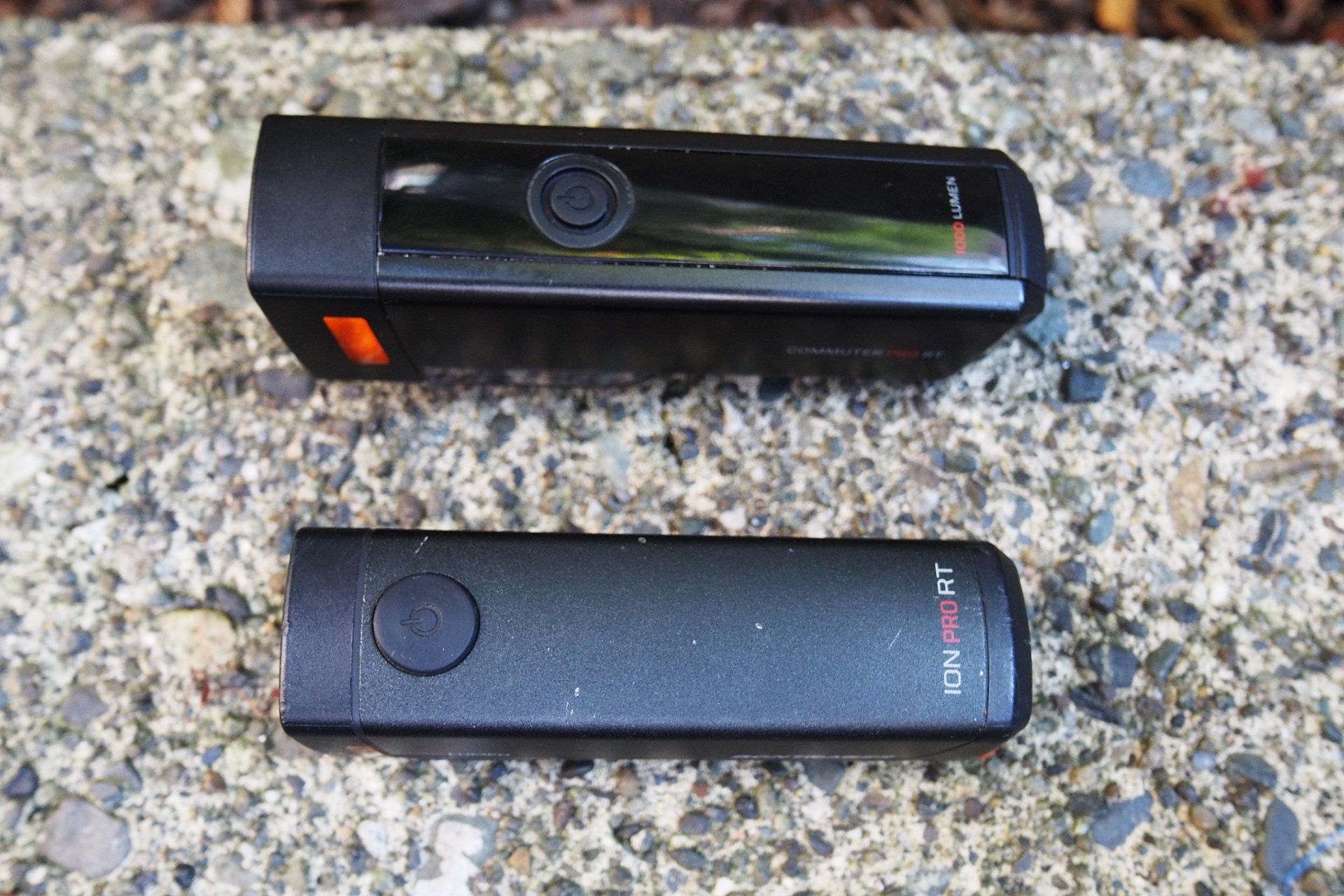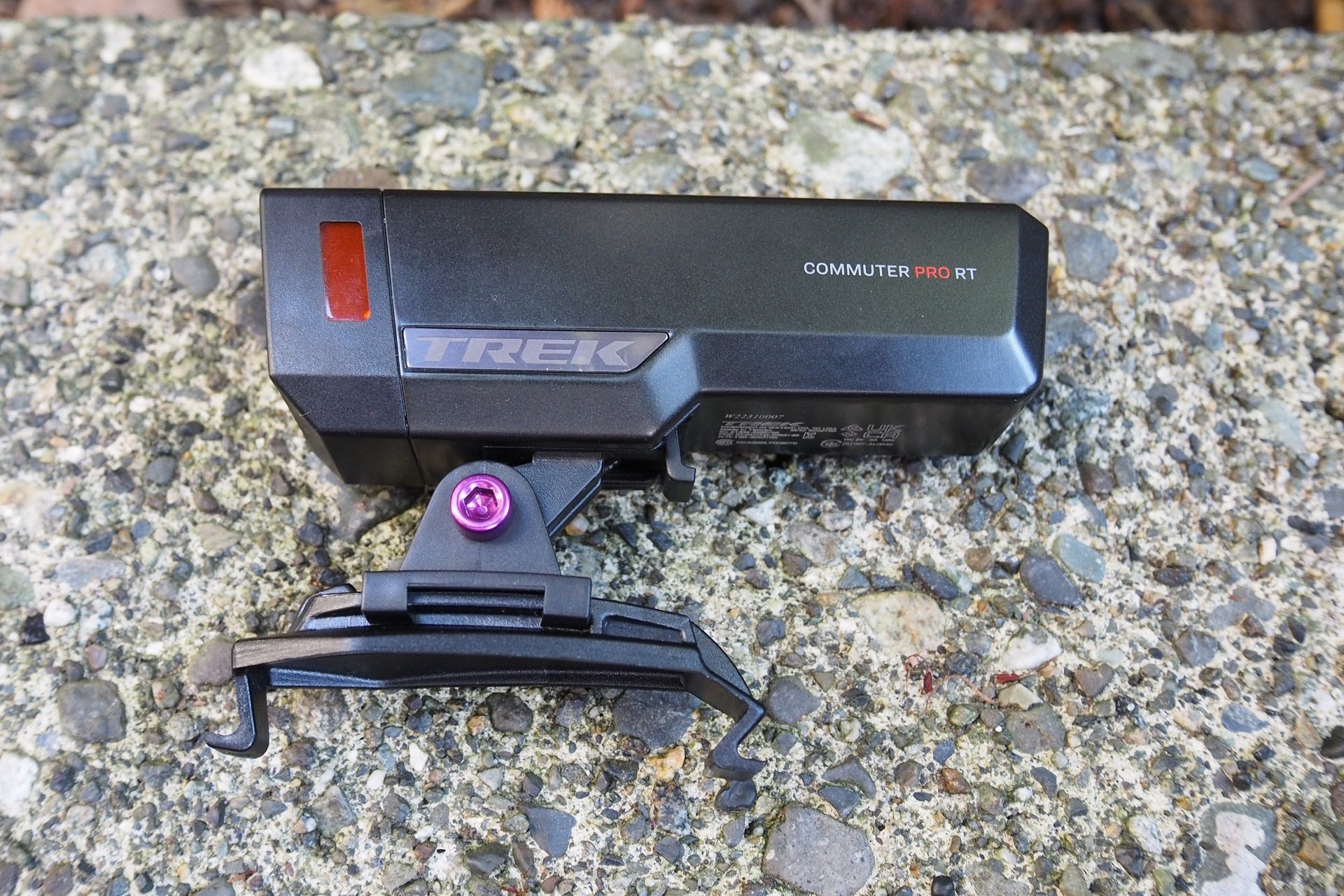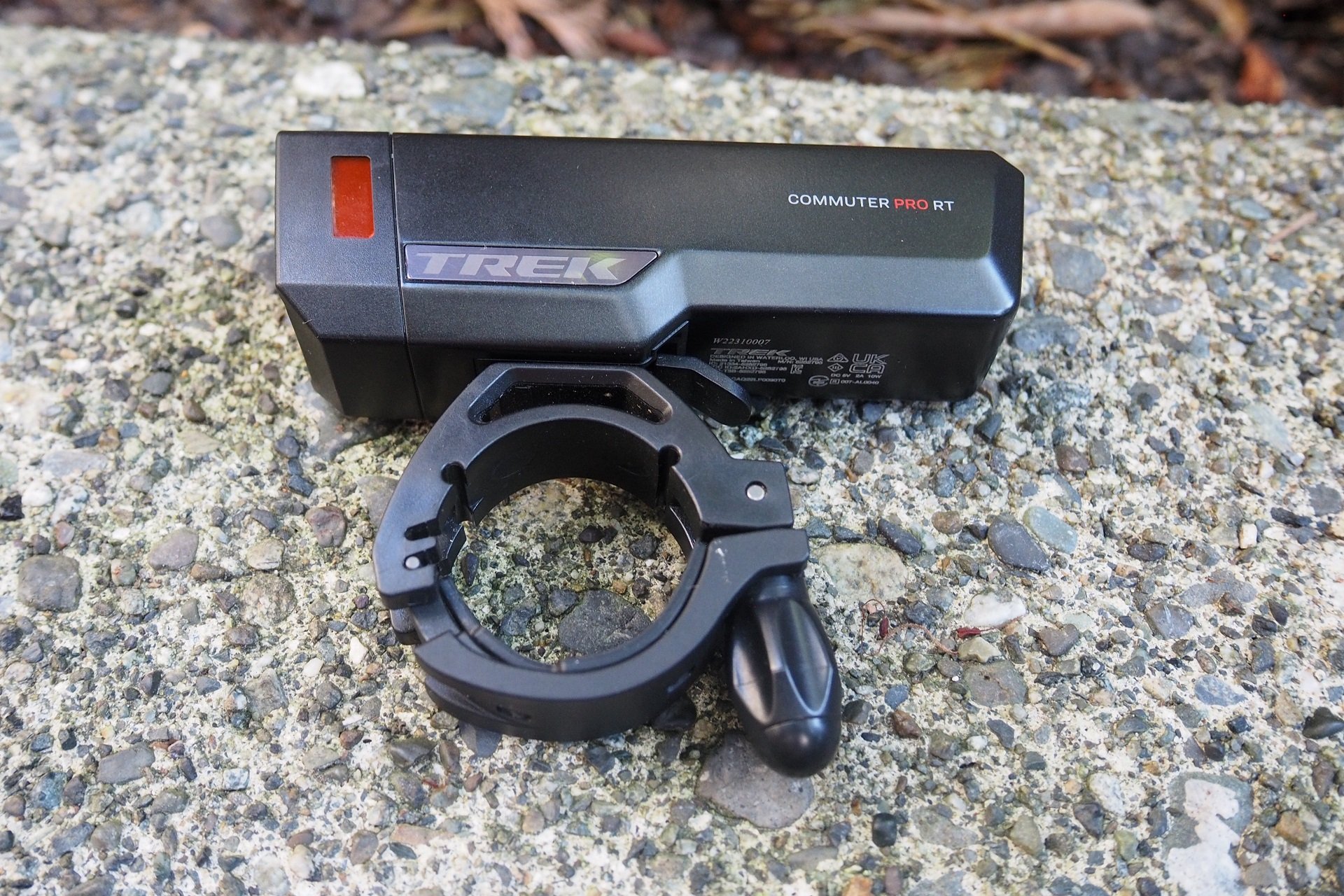 Trail Riding
In addition to commuting, I've used the Commuter Pro extensively in the forest. I've worn it as both a helmet and bar light, but mainly on my handlebar with a lighter unit on my helmet.
It has survived some biblical rain and even a dunking. My daughter managed to submerge the light, crashing into a decently deep, and I'm told "very cold," puddle. The IPX4 waterproof rating doesn't cover submersion, but the light was dry inside the charging port and I'm already very cautious with charging lights (only when I'm home, etc.) and I've continued using it without concern.
Earlier in our review period, my daughter snapped two handlebar mounts in the same ride. The light however, was fine. We hadn't broken a Bontrager mount going back to 2018, despite plenty of crashes. I wondered if this was a reflection of leverage from the visibly larger Commuter Pro body, or maybe a running change in mount material, but as it turns out it was just a fluke. Trek covered the mounts and we've had no issues since, so I've written the episode off to, "that's mountain biking."
The LED fuel gauge is the winning feature of this light. It really helps with light management as a visual cue to remember to cycle down modes for longer climbs and to turn it off when stopped.
Bontrager Ion Pro RT
I think Kindbeam is nifty, and I'm quite enamoured with the LED fuel gauge. I'd love to have the fuel gauge on the Pro RT. But there's also a story here about how little light technology has progressed over the last five years.
Compared to the Trek Commuter RT, the Ion Pro RT is less expensive by 30 CAD and lighter by 25 grams, which matters on my head, or at least in my head. In a side-to-side test, on a nice night or in a shop, I would have boldly declared the 1000-lumen Commuter RT to be just as bright, or brighter than the Ion Pro RT 1300-lumen on high settings.
Out in the forest, I much prefer the warmer colour of the Pro RT when it comes to navigating dark greasy roots and distinguishing between the shine of ice, water and minerals in the rock-armoured trails that are good for riding in winter. For local year-round mountain biking, the Pro RT is better and cheaper.
Riding home from work I want to be the type of better person who would always choose Kindbeam. If you're the sort, I appreciate you. But I'm over it with cars; four ways flashers on, parked in bike lanes, or turning right too close in front of me, cutting me off in roundabouts, stopping half their wheelbase forward of any stop sign - if they stop at all. This happens every time I ride to or from work lately, and the majority of my commute isn't even on the street.
I very rarely see other folks on bikes on my route home at night so I'll choose the better offroad capabilities of the less expensive, and lighter-weight Pro RT light system for my own uses. I can charge my system at the shop, so on proper dank nights I'm running it on high the whole way; getting-doored-prevention mode.
Options
In addition to core lighting brands and big bike and accessory companies, there are neat little concerns creating interesting lights, including the cool stuff happening at brands like Lynx OTG and Outbound. There are also some great customer service stories.
Lighting choices are almost overwhelming these days, whether you're leaning into best-on-a-budget or brightest daylight systems. I often end up recommending the Bontrager to friends as the lights are well-supported and readily available, and it's what I've mainly used personally for many years.
Trek Commuter Pro RT
If you're looking for an excellent commuting light with a proven track record for reliability, you can't go wrong with Trek's Commuter Pro RT. It'll happily do double-duty as your bar-mounted light in addition to a good beam from your helmet .
Kindbeam is a feature that plenty of folks are looking for, and it works as advertised. The 500-lumen fellow-traveler mode is plenty bright for commuting and runs for 3hrs. The lights should be in stock at pretty much every Trek Bicycles dealer and they're worth checking out in person.
The Commuter Pro RT system will set you back 215 CAD | 160 USD, pumps out 1000 lumens on high, takes 4hrs to charge, has an IPX4 Waterproof rating, and you can even use it to power your phone. There's plenty more information at Trek.