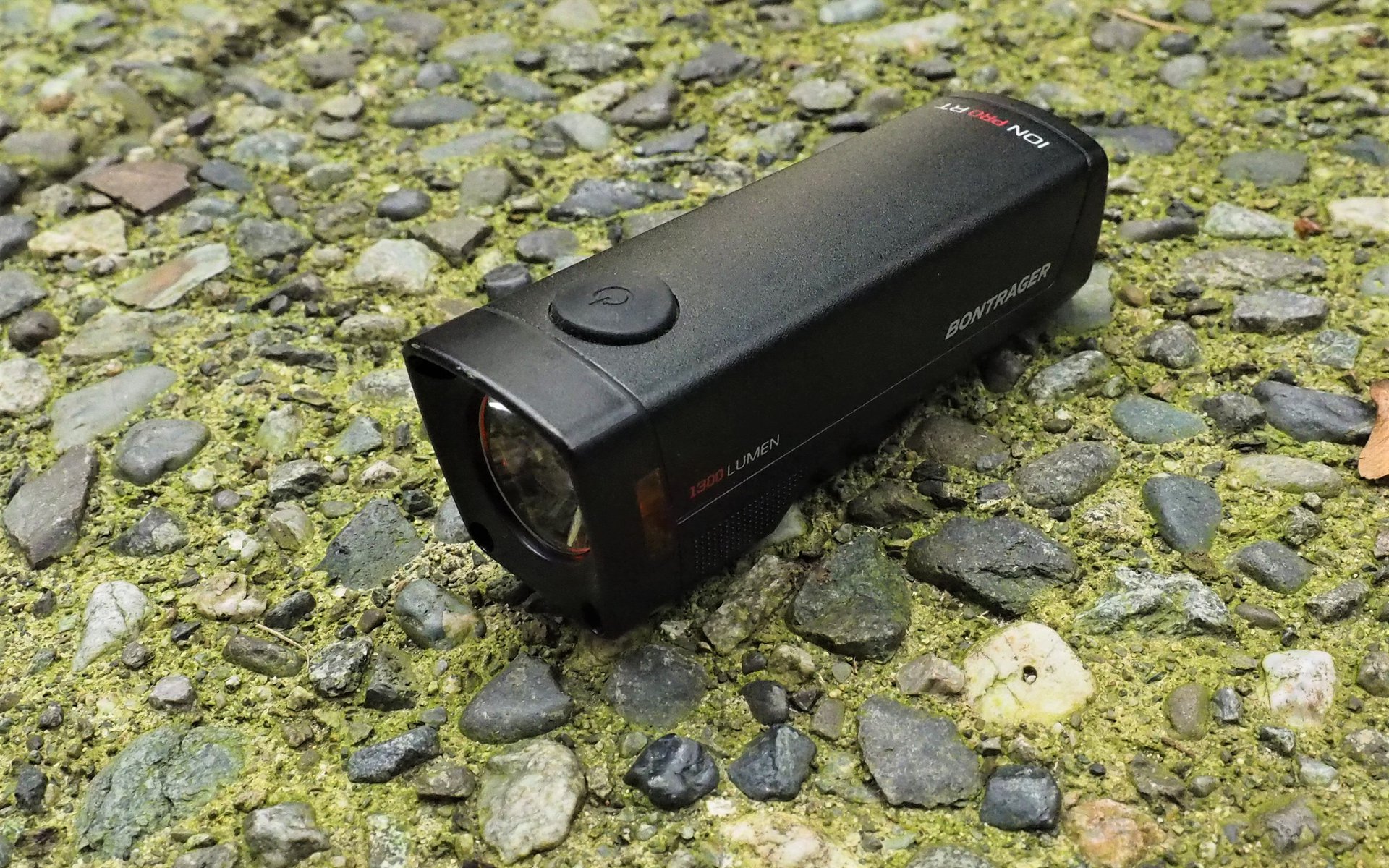 TWO-MINUTE REVIEWS
The Bontrager Ion Pro Light
Pro Deal
When I double-tap the Ion Pro's on-button and the reward isn't merely a shining shaft of light cutting through a dank North Shore night. The little package kicks out a bright beam that Bontrager guarantees to rate at 1300-Lumens but the real story is the excellent trail definition the warm colour of said beam delivers. 
Even more impressive, is that the clean self-contained Ion Pro puts out trail-bright illumination for 1.5hrs on the high setting and only costs 100 USD | 140 CAD. 
A lower 800-Lumen setting burns steady for 3hrs so with good light management - turning it off for breaks and down for climbs - most riders will find it last for a 2-3+ hour ride depending on the amount of stops and the trail difficulty. From empty to a full tank the charge time is 7-hours with the included micro-USB cable. The handlebar mount will fit anything from full-retro (25.4mm) to full-enduro (35mm) but you BMX and Klunker punks will need a lot of beer-can-shims to take up that extra 3.4mm. 
Superfluous Features
In my perfect world, there would be an Ion Pro Trail model to complement this Ion Pro RT. It would have just three settings - High, Low, and Off - as I'd prefer not to cycle through the two flasher settings and the lowest 400-Lumen* setting in toggling between the 1300-Lumen and 800-Lumen settings. 
The trail model would also ditch the little side mounted LEDs but they use virtually no juice and they are a nice safety feature when I'm riding to the trails. 
*I find the 400-Lumen setting useful as a flashlight for digging through my pack or looking for a friend's lost contact lens (is it just me or does everyone have a couple rides a year when they're rooting about because someone's lost the power of sight?).
Regular Usage
As I noted in this fall's welcome to night riding, I'm an extension-cord killer so I've been riding the self-contained Bontrager Ion Pro as my helmet mount exclusively since it arrived. I'm not going back to a corded headlamp & battery system. Ever. And I always night ride with a pack, so I can only imagine the additional benefit if I didn't. 
Whether new to night riding or trying to upgrade some ancient systems if I were without lights I'd buy a pair of Ion Pro RTs and happily ride any of the trails I'm hitting on The Shore. For riders like me, that already have a couple systems and are looking to upgrade I retired the oldy-moldy and moved my NiteRider to my handlebar. 
The colour of the light is awesome on the trail. The spread of the beam is impressive for the brightness delivered from such a tiny package. The price at 100 USD per system, plus 20 USD for the Blendr GoPro adapter, is excellent. 
More information at Bontrager or your prefered local Trek Bicycles dealer.