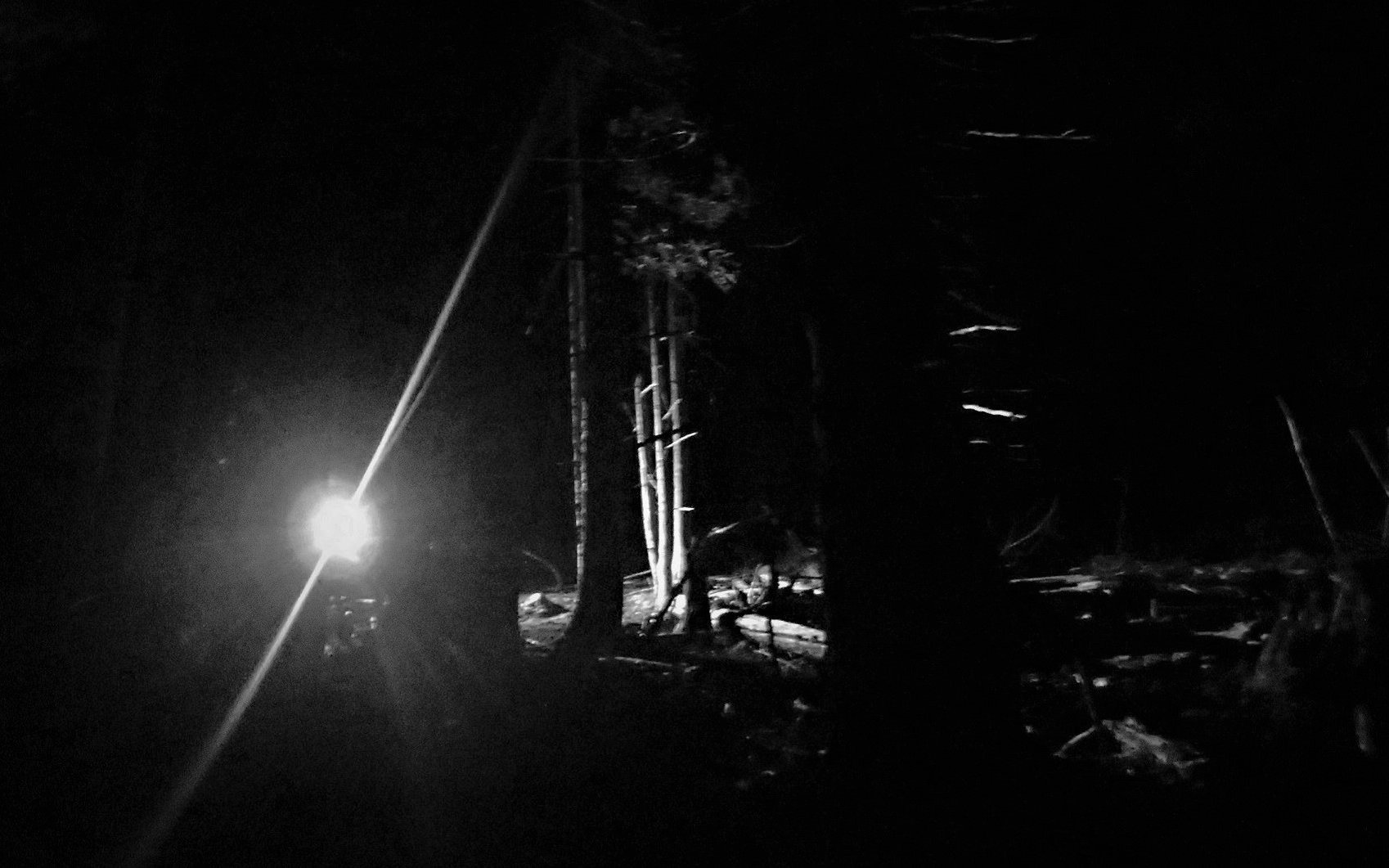 EDITORIAL
Alone. In The Dark (A Welcome To Night Riding)
Exit, Pursued By A Bear*

*Shakespeare, The Winter's Tale, Act III, Scene III

I yell, louder than I mean to, into the enveloping darkness, "Come On Foot!" I load my ankle. Ouch. Good stuff. Let's try full pressure. Ouch. Nice. Alright, I'm just banged up a bit. The pain's dying down. Nothing some tequila won't fix. Problem one solved.

Now for problem two. Somewhere in that crash my headlamp unplugged. It's an easy trail so I had my bar light turned off to conserve battery. I'm not sure where my bike is. Having the bar light on would be really helpful. Maybe if I fumble with the cable...
Light Turns On
Sweet!
Light Turns Off
Shit!
It's a short in the extension cable. "Sigh." I'm up and moving and can now see the lights from houses in the distance. I fumble in my pack, find my Petzl, turn it on, and take stock of the situation. It was a dumb, hard, crash but I'm not really that hurt. My helmet light is fine but for an extension cable. I'm out a few bucks but that's mountain biking.
My bike went over the side of the trail but it's loamy down there so barring a direct blow from a buried rock I can slide down on my ass and continue on my way. The trail straightens around the next bend and my bar light is plenty bright to ride out.
We're good. And by 'we' I mean me. It's 10 pm and I'm riding solo on Fromme. What could go wrong? Wait, what's that noise?
Nevermind. Night riding is Totally Awesome. You should try it!
(Maybe) You Should Night Ride
I'm an unabashed night riding evangelist, but I understand those who won't ride solo. For one, misery-loves-company and if you're chasing some winter fitness and amortizing the cost of lights that means getting after it on some less than pleasant evenings. No one will motivate you to get out on a cold and wet November evening like the unforgiving jerks you call friends. They think they're so funny.
Also. It's dark, shit happens, and stories don't live on without a witness or two.
Make old trails new again. Maintain some fitness. Drag out your riding friends for a beer on a weeknight. It's awesome.
And the good news is we're long past days of plodding through the woods packing ten pounds of mood lighting that barely illuminates the knobs on my tire or having to forego a new fork to pay for a light system that is effective.
I have the bad luck with extension cables, so, while it saves a lot of weight to ride with a battery in my pack and just a lamp on my head, I now prefer an all-in-one light for the lid. I never go into the woods with just one light, so my top-end-a-few-years-back Niterider does handlebar duty.
There are some really good all-in-one light systems for very reasonable money currently. NiteRider has the Lumina 1200 Boost, Light & Motion has the Trail 1000, and there is a tonne of other options. Personally I'm picky about light systems with great support because I crash more at night and it's usually raining.

I'm currently a half-dozen rides in on a test of Bontrager's new Ion Pro and compared to single-unit light options in a similar output range, 1300 lumens claimed in this case, the colour of the Ion Pro is much warmer. The warmth works really well, helping my eyes map trail definition on dank evenings. At 140 CAD | 100 USD and compatible with any GoPro helmet mount, it may be the perfect option for trying out night riding for the first time. It runs 1.5hrs on high, which is a solid ride assuming good light management*.
*Turn it down for climbs and off when stopped.
As mentioned earlier, I'd recommend running two trail-worthy lights (bar & helmet) for challenging trails. And while in some ways more light is always better, a 1000+ Lumen light mounted on a helmet, along with some kind of hike-out light source in a pack*, is a totally acceptable starting point, especially on slower trails.
*For example a Petzl. In other words, not a cellphone.
Product Testing
The nature of family, work, and everything else means a lot of my riding happens at night. There hasn't been a month in the last few years - including July and August when the days are longest - that I haven't been on a night ride. That means a lot of my product testing happens after dark, when the only noises I hear are me and my bike.
Things that are meant click, like loud hubs or shifters, are so loud that trees vibrate. Some tires are incredibly loud while others are surprisingly quiet; sometimes both when the trail surface changes.When parts like bottom brackets or chains start to speak it's impossible to ignore them.
Solo ride product failures have occasionally made for a long walk out and that's pushed my preference toward reliable and, when possible, field-serviceable gear. I'll happily roll up on a few hundred extra grams of tires and pack plenty of tools, water, and food when the sun goes down.
I dabbled in the cult of weight-weenie-ism for a couple of years, and hell yes I can still justify titanium hardware, but one too many failures under obscured moonlight and sheets of rain cured me.
Making Time To Ride
I've been night riding going back to my locally made BLT's with upgraded 'Retina Burner' bulbs. Back then I rode mainly with friends but occasionally I'd bang off a solo lap, but before my 4-year-old daughter was born I could count my yearly night solos on one hand.
A week after her birth I was dropping into one of my favourite trails at 4:30 in the morning. No surprise I was alone. I just had to ride bikes. I was up anyway and dark is dark whether it's 10pm or 3am. A little bit of me-time, whenever I could get it, kept me sane for those first weeks. Early, early mornings and night rides have kept me, relatively, sane ever since.
Everyone seems to get busier year after year and a few friends have quit their years-long passion because they couldn't keep up with maintenance. Mountain biking is maintenance intensive. There are incidentals like chains and rotors, and brake pads evaporate at a much higher rate in the winter, as do tires. But, in this case, I'm not even talking about the bike. There is a level of fitness and form that's required to enjoy mountain biking on technical trails. It's hard to dig deep for the motivation to ride when the technical skills are rusty and the climbs are stressfully long. Welcome to the feedback loop.
Night riding is a perfect opportunity to keep riding year round. It takes some effort, but once it's part of the routine it means a happier me during the week and fitter me when spring hits.
If you like the sound of that, it's time to start (or re-start) adventuring after dark. As much as I'm used to riding alone I always feel a little lighter when I see another light cutting through the trees.
Maybe I'll see you out there!