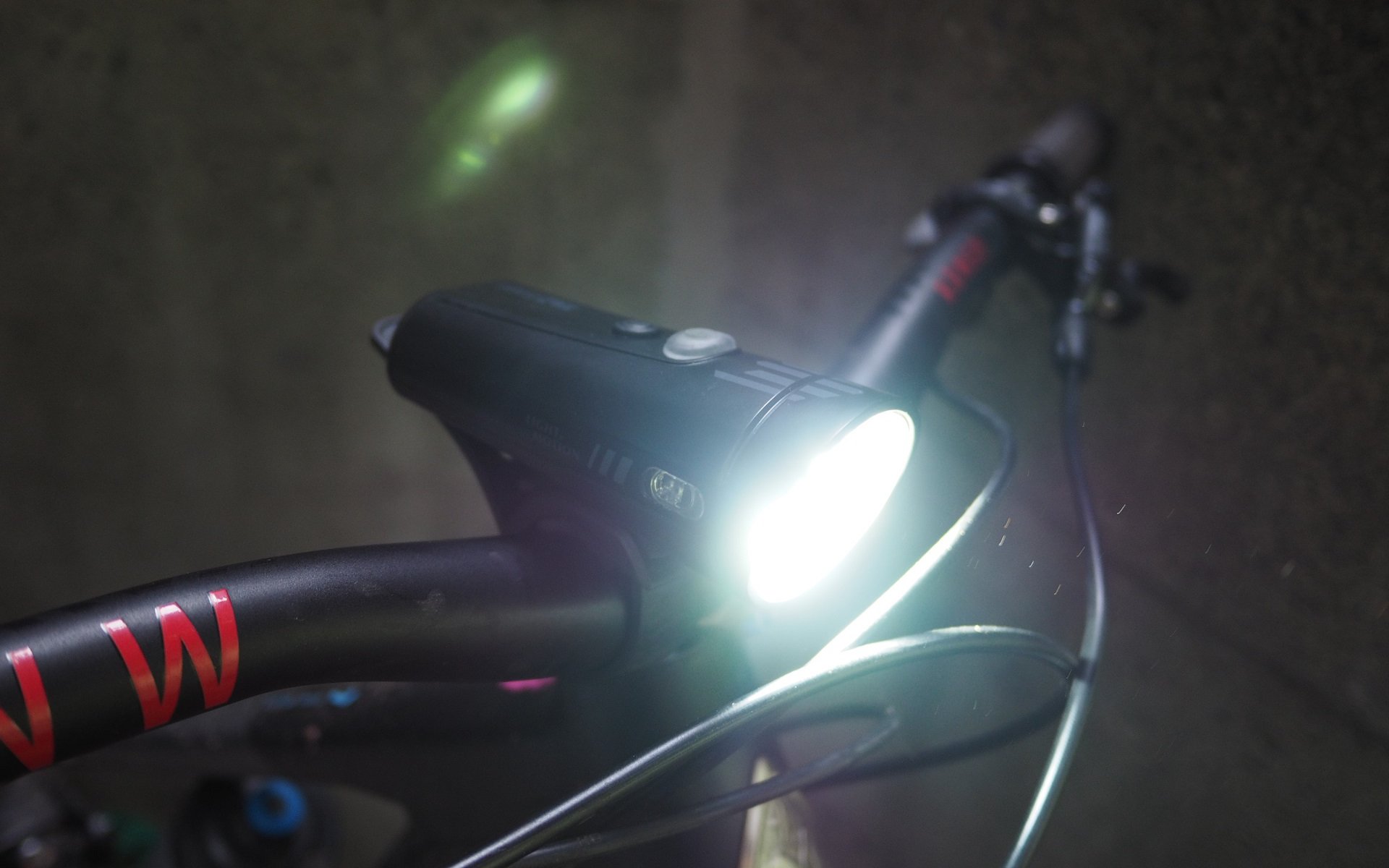 EDITORIAL | FIRST IMPRESSIONS
Alone. In The Dark: Min-Maxing your Night Rides
And. It. Rains.
It rains, and it rains, and it rains, and I crash. There's always a cheaper light system somewhere but there are a lot of reasons, including consistent performance and aftersale support, that I've stuck with established brands for years. I night ride as much as anyone I know, I do it a lot in the pissing rain of the 'off-season' on janky armoured trails and I'm generally good to break a few mounts and drown at least one light every season.
I have plenty of friends who've tried their luck with cheaper systems that were initially good - except the ones that were only okay, and the ones that were awful - but dropped off quickly in terms of performance with only a fraction of the hours I've put on my systems.
Value in a light setup comes down to a combination of factors. It has to be able to handle torrential November evenings and the hottest August mid-night rides. It has to run long enough that, with good light management, I can get home with plenty of juice to spare. It has to have enough resiliency that I can take a hit and know that when I get up enough of my systems are running that I don't have to spend a night in the woods.
A lot of things changed for me in 2018 when I both managed to trash three helmet light extension cables (battery in my pack) and I tested Bontrager's self-contained Ion Pro light-system (claimed 1300 lumens). On its own, the Ion Pro is fine for chill single track rides. Combined with a more powerful handlebar light, it's perfect for some decently high-speed night rips on technical trails. It fits a standard GoPro mount - which all the lights in this class now do - and it's held up to biblical showers, a thorough smashing into asphalt that resulted in a broken bar mount (commuting home at night via the local pump track), and getting knocked off my head by a low hanging branch (broken helmet mount). Once I ditched my extension cable I was never going back!
The Ion Pro also delivered 1.5 hrs of run time, on high, out of a battery-on-board package for only 100 USD. It's fully fun to ride aggressive trails with one on my helmet and one on my bar for a combined investment of less than half of what my last top-end system cost. Now, I'm not saying that when STRAVA introduces their King & Queen Of The Night category you won't need to spend five times that amount to be competitive, but here I'm talking about having fun and gaining fitness, on the level of trails you normally ride in the day time.
To that end, I've been comparing a couple of excellent self-contained lighting packages that min-max the night riding experience with a lighter weight helmet mount option and more robust, and heavier, bar mount option.
Setup #1: from Light & Motion (L&M): the Seca Comp 2000 (formerly TAZ 2000) on my bar and the Vis Pro Trail 1000 up top.
Setup #2: from Blackburn: the Countdown 1600 on my bike and the Dayblazer 1100 on my lid.
Bonus Interlude Rant
My fellow mountain bikers. Where the f*** are your tail lights? If it's a life goal to get smoked by a car on your way home, or back to your car, then I have to commend you for jumping in with both feet to chase your dreams. A basic tail light could save your life, a brighter one will alert drivers to you and your companions' presence from kilometres away. And they cost very little and basically weigh nothing.
There are plenty of better-than-nothing options available for a few bucks but I think the distracted breed of night-blind drivers we have here on the North Shore necessitate investing in a lot more oompf. I've been clipping a NiteRider Sentinel - on long strobe mode - to my hip pack for a couple of years now and I'm very impressed with the Light & Motion VYA Smart that I'm currently testing. Having drivers roll down their windows to tell me that my rear flasher is obnoxious remains an amazing confirmation that I'm being seen on the roads on my way home.
I haven't had a close call at night since I started running really bright tail lights, and I've started using the VYA during the day as well. Anything to improve my odds of not getting written off by someone checking the 'gram while driving their F150 at 70km/hr through residential side streets.
Light & Motion vs. Blackburn
One is a long-established player in the high quality night riding game with a history of building underwater lights. Did I mention it rains a lot on the shore? The other is a newcomer to the offroad at night game with a well-established track record for value and customer support. In both cases, I've been riding these lights on the same trails where only a few years ago I'd be on a pair of systems worth more than all four lamps put together.
Whether it's new parents, folks with inflexible work schedules, or just riders I know trying to do it all, I've been a long time advocate for night riding. In the summer it's an opportunity to beat the heat and in the winter when days get shorter it's the best way to ensure I'm still getting out on the trails multiple times a week. I haven't had any of these lights out on a truly obsidian night with sideways rain, so these are first impressions in the strictest sense. It's always amazing how wet rock work and October rain will swallow lights that seem amazingly bright on a dry and cloudless July evening.
My first impressions are just those. Whether on the L & M lights, Blackburn lights, or a mix of both, I've had nothing but good night rides since I started running these self-contained systems. The Light & Motion Seca Comp 2000 is the obvious winner on output and I really like the Lo-fi, high-grip, rubber strap mount. It's brighter than many significantly more expensive and complex systems from just a couple of years ago.
Even compared to Light & Motion's 100 USD more expensive Seca Race system, I can see the Seca Comp absolutely eating its lunch in terms of sales. The only reason I can see spending more on a more complex, more expensive system with the same run time and lumen output, is for a weight reduction on my helmet. But, then I'd be back to extension cables and carrying a battery, in its own separate housing, in a pack or pocket. Yuck. Ditching the separate battery and light housings and extension cable has other benefits than just cost, too. The Seca Comp 2000 weighs more than 100 grams less than the Seca Race despite bringing to bear the same brightness and max run time.
The number of riders I know who have fully ditched any sort of pack - back or fanny - and their efforts to carry water and tools onboard their bikes reinforces my belief that all the lights that matter in the future will have built-in batteries.
For under a C-note in USD, the Blackburn Dayblazer 1100 has industrial good looks, a rubber-strap bar mount, and is compatible with GoPro helmet mounts. I can completely envision riders picking up a pair of these to cover all their night riding needs - one on the bar and one on the lid - and never looking back. Unless they want to blind a friend trying to roll something steep and janky. Which is a total night riding foul, unless they first did it to you?
I don't have a means of quantifying the accuracy of any company's lumen ratings, but the Dayblazer 1100 is very similar in usable output to the Light & Motion Vis Pro 1000 and I know that Light & Motion put in a lot of effort certifying their lumen claims, so I'm confident that the Blackburn rating is fairly accurate.
The Vis Pro 1000 certainly has a nicer fit-and-finish, weighs much less, and it runs for an additional 30 minutes on full-high (90 minutes 'High' vs. 60 minutes 'Blitz' for the Dayblazer 1100) but with good light management I think Blackburn can make a strong argument for their 40 USD cheaper system.

The number of riders I know who have fully ditched any sort of pack - back or fanny - and their efforts to carry water and tools onboard their bikes reinforces my belief that all the lights that matter in the future will have built-in batteries.
I'll be back in the fall with run-time measurements and more in-depth experiences featuring pissing rain, hack-level, and dark, dank, nights. I'll also be taking advantage of testing two systems in tandem to drag some of my friends who don't night ride into the woods after dark which will hopefully result in some hilarious and/or introspective tales of riding the Shore after sundown.
For a twin-light set up and an investment between 200 USD and 365 USD, the financial barrier to opening up socially-distanced Shore-level trail riding in the other half of the day has never been smaller. Some of my friends seem to still have excuses, most commonly "I have to get up early for work tomorrow," but if you need to ride and are pressed for time when the sun's out, check out Light & Motion and Blackburn as two options to keep you rolling under the stars on a budget.