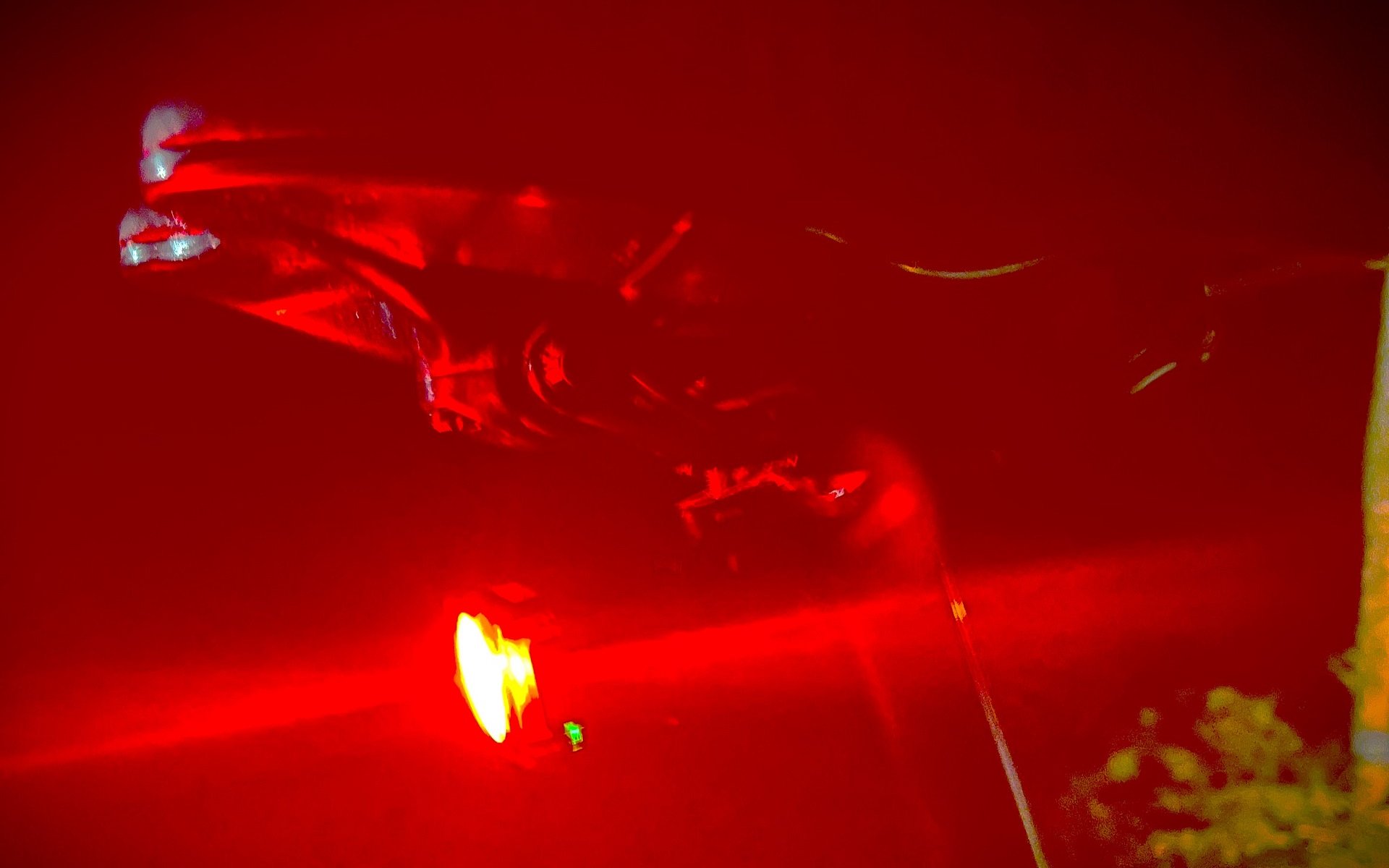 EDITORIAL
Riding Near Night? Please Take A Blinky Light.
Tail Lights
I can't tell you about the driver of the big RAM hurtling down the barely lit road at an easy 20km/h over the speed limit. Nor can I explain what was going through the mind of the rider who chose to wear all-black-everything. But, f*** me if it didn't seem like the shiny full-sized S-Works downtube logo, reflecting back the truck's headlights, was the saving flash that allowed the rider to live another day.
What's incredible is not that near miss but rather if you retell that story to anyone who ever finishes, or in my case starts, their ride near dusk they'll shrug and pull up a similar tale from their own experiences. The craziest stories are the mountain biker on mountain biker near misses as a truck-load of riders retiring from a day in the trails nearly knocks off a rider they didn't expect to be exiting the trailhead twenty minutes after sunset.
Imagine making your own flow down the jankiest trail you can ride, only to find yourself out of the trees and targeted by the latest pedestrian awareness software in a multi-tonne four-wheeled cruise missile. Ah! Evasive Maneuvers! Thankfully there are countermeasures available wherever bicycle accessories are sold. Like so much red-blinking chaff, a decent rear flasher like a NiteRider Cherry Bomb is about twenty bucks and they go up in blinding-level, ignore-proofing, and price, from there. They'll clip onto your pack or the collar of your jacket, or if you can handle the fashion faux pas you could even put a mount on your bike.
Folks who pedal to their rides or ride year round are all thinking 'duh' but I'd guess more close calls are just folks riding back to their cars to go home. With the popularity of mountain biking, especially concentrated around the most popular trails when folks are trying to grab a quick ride before dark, it can often be a few blocks back to where they've parked. At dusk and after dark those few blocks likely present infinitely more risk of serious injury than the trails they've just been riding.
My Mounting Bracket
I try to never leave home without an ultra-bright blinky light in my pack, and to be sure it's charged and ready to fend off incoming vehicles. Even in the summer, there have been more than a few times that I've gone for another lap, then a beer, then ridden some place for food, then maybe had another beer, and the next thing I know it's dusking and I'm pulling my blinky and emotional support jacket out of my pack for the ride home. I usually have a light that I can clip onto my pack but for those XC nights when I leave my pack at home and go for a quick burn - the beauty of stashed tools, a lightweight fixed-bar full-face, and pockets - it's good to have something that attaches to my bike. The smaller and brighter the better.
Whether you've regularly commuted by bike, you night ride on trails, or you've just been out on a bicycle later than you expected, you've probably experienced that moment when you realized you didn't have a rear light. This happened to me recently when I thought I had the rubber strap-mounted, Bontrager Flare RT rear light in my pocket only to find that wasn't the case. Life's busy and aside from having some sort of Cy-style checklist, I need visual cues to help me remember the essentials.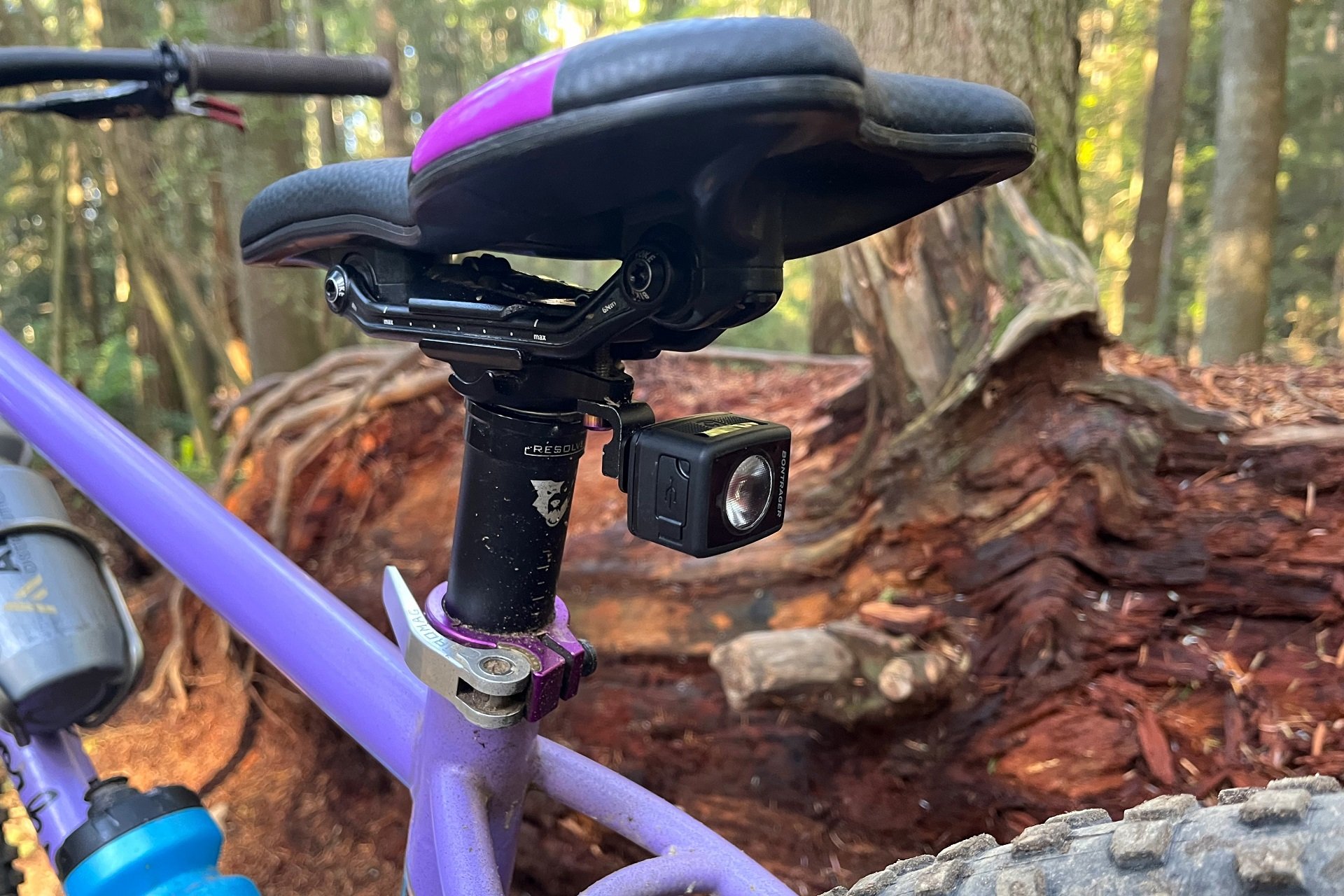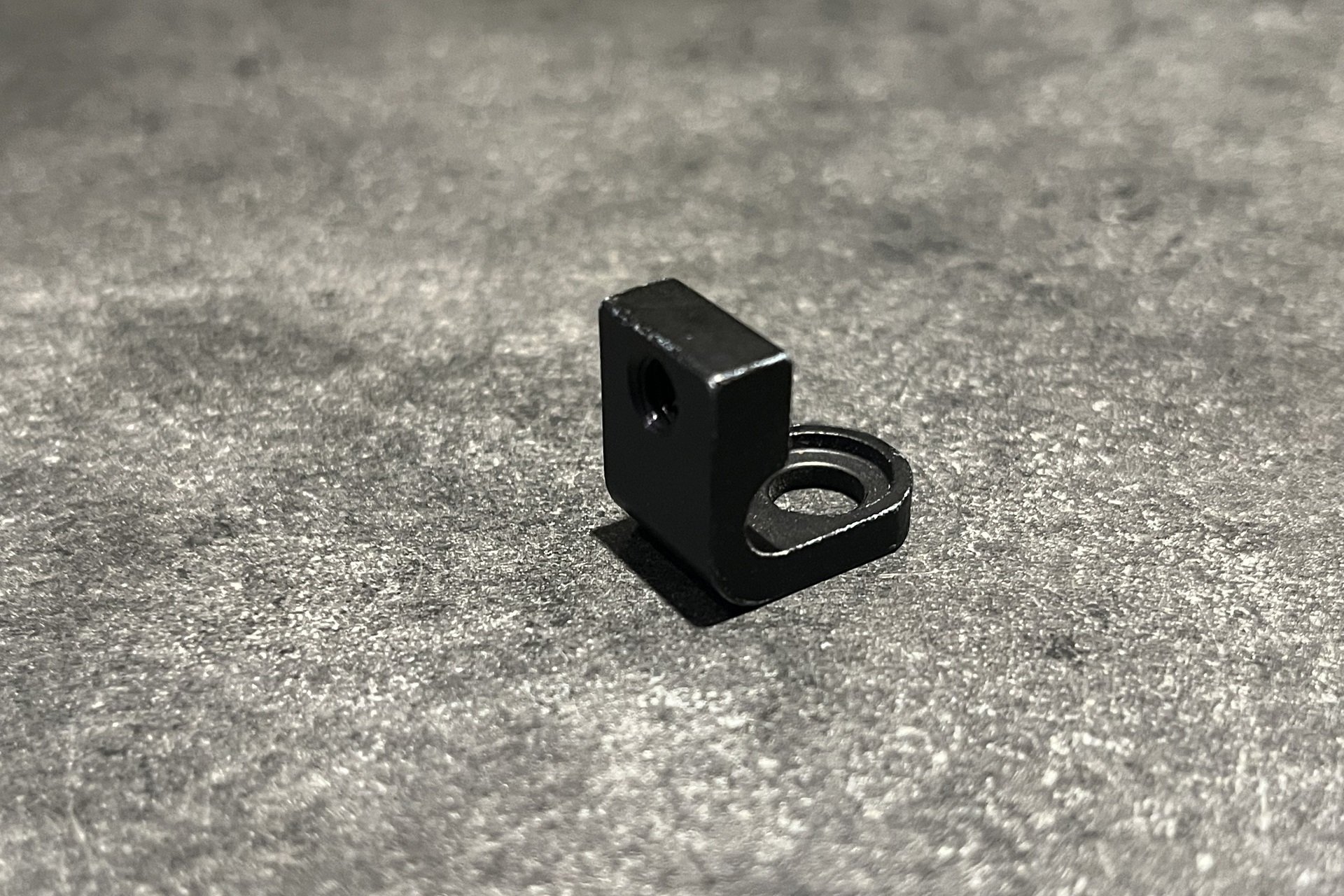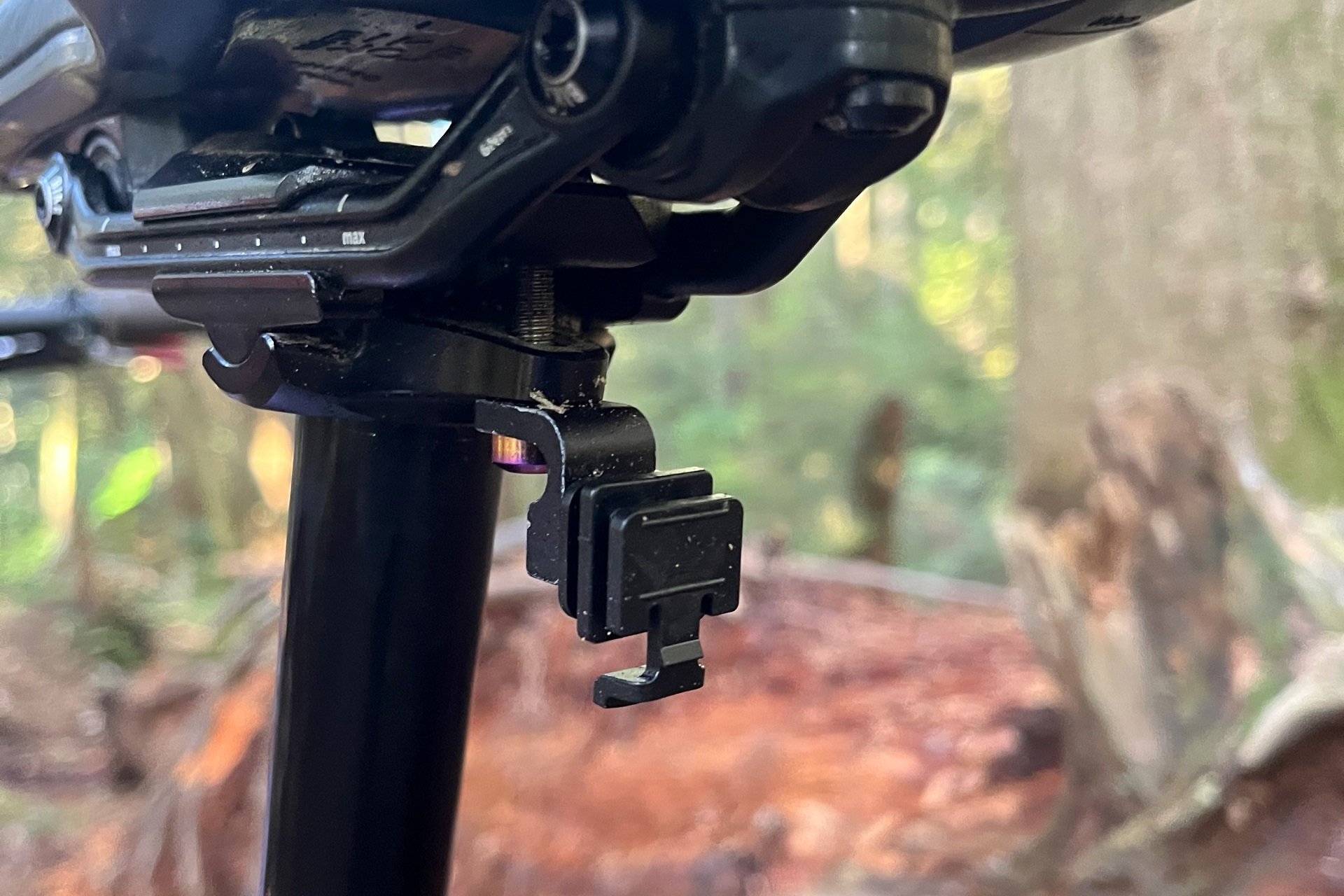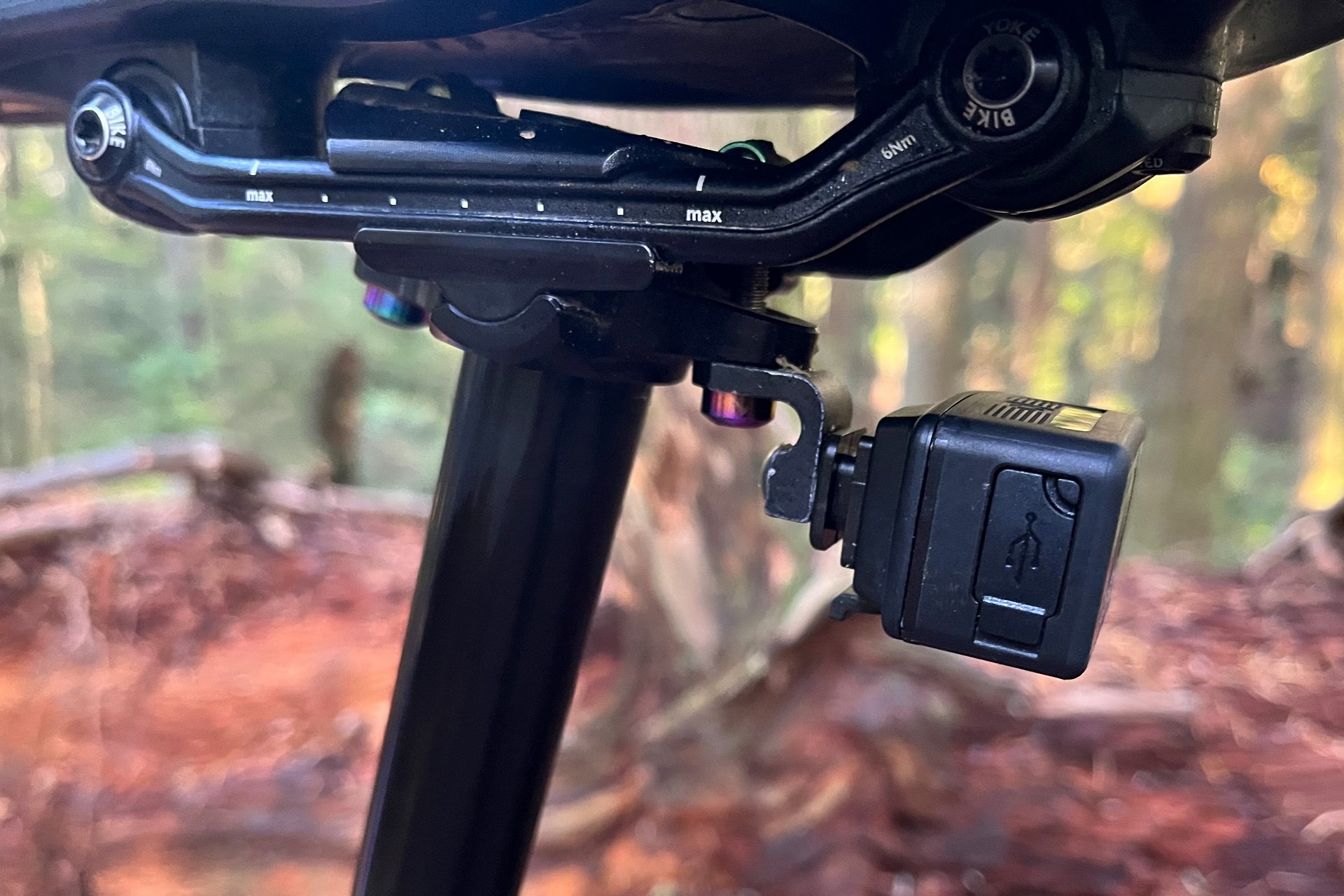 I've started adding clips to the rear saddle clamp bolt of my bikes using fender L-brackets. It isn't pretty but it's tucked up out of the way enough to avoid my rear tire - even on my dual suspension bike at full bottom-out with the saddle down - and it doesn't affect post travel at all, like an elastic attached rubber mount, will while sitting up high when my post is at extension and I'm pedaling on the road. If I'm leaving the house and I know I'll be riding at dark I clip my light on and leave. It's rated as weatherproof for commuting so whatever my tire kicks up should be okay. But even if it's midday and I'm going for a quick burn the little L-bracket reminds me to make certain that the blinky light is in my pack or pocket as opposed to sitting on a charger.
Many companies, including Trek/Bontrager make hard mount solutions that attach to saddles, which gets the light up high without compromising dropper performance. I prefer my solution, while perhaps less elegant, is almost universal and free. To add a mount to a second bike all I needed in addition to an L-bracket and spare rotor bolt was a Flare rack mount for 6.50 CAD.
Consider charging up a blinky light and throwing it in your pack. It could be something fancy like my Flare that weighs nothing and runs forever (4.5hrs on the brightest solid mode | 9hrs on the brightest flashing mode) and is currently on sale for 65 CAD | 50 USD at Trek.com or your local Trek dealer or it could be something the min-maxes brightness vs. bucks. Just make certain it's properly blinding on the darkest dankest evenings and, better yet, rated as daytime visible.
Everyone wins when riders can be seen at night.
Tailpiece
After I submitted this piece to the editors I was hit by a car while riding my bike home from work in the dark at 5:45 on a Saturday night. I had two properly bright rear lights, one on my bike and one on my pack. The Flare RT rear light shown in these photos pumps out 90 lumens and is "daytime visible from up to 2km away." My NiteRider Solas, hung high and to the left on my pack, is even brighter and has a flashing mode that more than one driver has rolled down their window to tell me is obnoxious. I always reply "Thank You."
I was stopped at a red light, at a well-lit intersection, only a minute or two from home, when a Subaru drove into the back of me. From our brief interaction, it was obviously not the driver's first rodeo. The car was sporting license plate covers from a local collision-repair outfit and after exchanging information, the driver just narrowly missed a pedestrian in the crosswalk while leaving the scene, only thanks to the pedestrian's fancy dance moves. I'm due for a follow-up with the police but we all know that nothing is happening to that driver until they kill someone. At that point, they may get fined a couple of grand and lose their license for a year. Maybe. Your death isn't a crime if you're killed on a bicycle.
We're talking about flashing red lights, not a car-proof laser array. Putting one on your bike is not a guarantee of safety when half the cars on the road today have bigger console screens than the laptop I'm typing this on and no level of fine exists such that the threat will get people to put their fucking phones away while operating multiple tons of rolling responsibility. And yet it's still vastly better to have a tail light rather than going full-stealth.
Since I know you're wondering - and I do truly appreciate your concern - my Waltworks V2 seems to be okay. The backend is straight, the welds look good, and my body broke our fall to earth so there aren't even any scratches that I'm sure are fresh. My rear rim, the point of contact, is hopping side-to-side like it's trying to dodge something but it didn't even drop any tire pressure. This may sound silly, but with the mass that ran me down, I'm thinking that the Plus-sized CushCore insert I'm running played a role in saving my beloved bicycle. I mean, I rode it home before I went to the hospital.
A few days later I was too sore to consider riding a bicycle but still feeling beyond lucky. All my body parts are where they're supposed to be and I didn't hit my head. It's like losing to Canada's Women's Hockey Team at the IIHF World Cup by only a couple of goals. Yes, I was beaten by the 3900lb car but it was a way closer game than anyone would have expected. I think I heard the bumper crack on my way down and my CT scan came back all clear - practically a draw!
A hundred bucks worth of please-don't-hit-me flashing in their faces from kilometres away may not save you from the worst drivers around but it will help all the motorists, including your fellow mountain bikers, actively trying not to ruin anyone's evening, to notice you on your way back from the trails. Please, if you're going to be riding from the trails back to your car anywhere near dusk, do everyone a favour and take a blinky light.