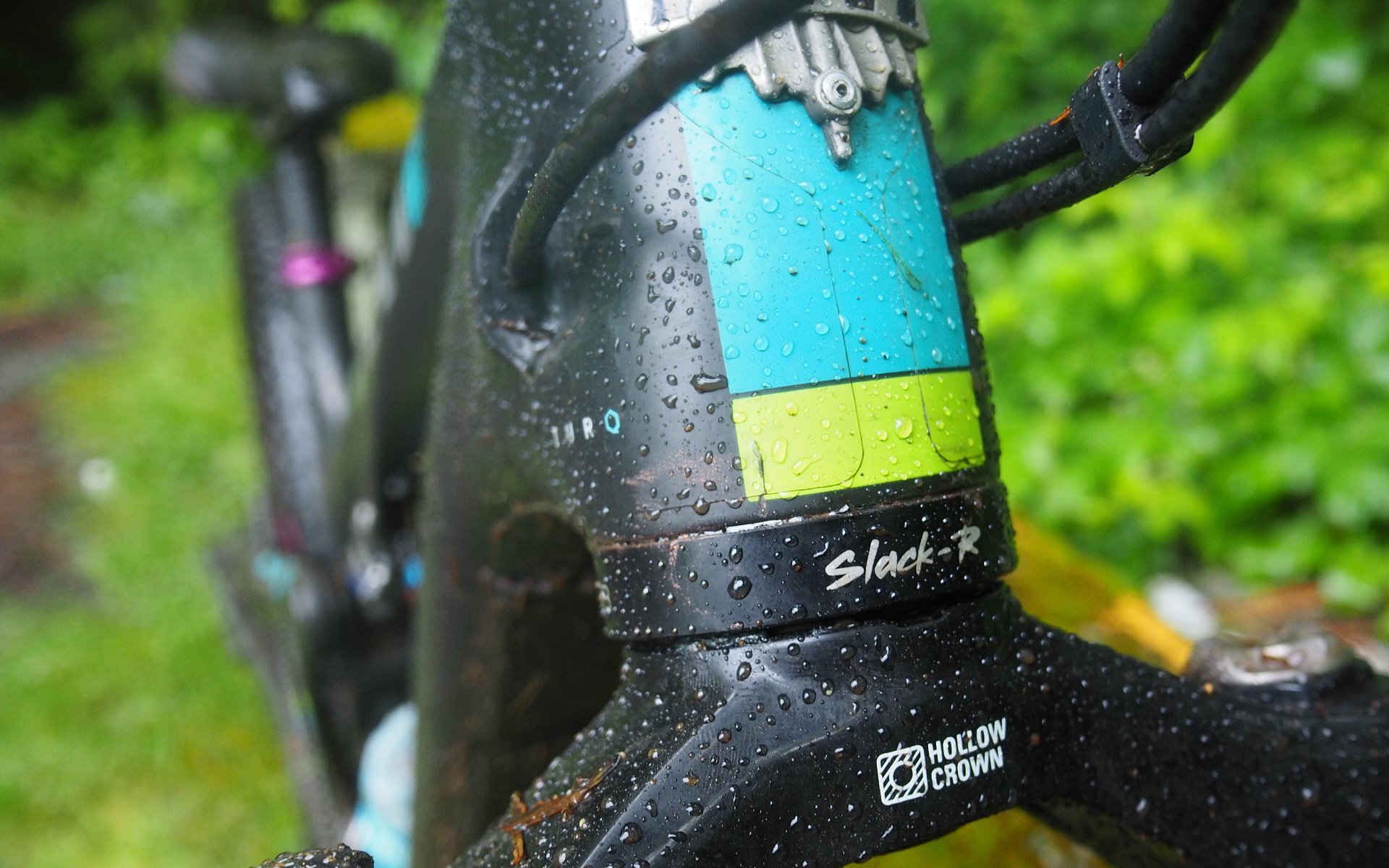 REVIEW | EDITORIAL
9point8 SLACK-R IS-Standard Angleset
The Best (and only) IS Angleset
I'm not often inspired to risk riding the bike industry's broken-runged tangents of consumerism and green-washing but every so often lightning strikes. Maybe there's a positive reduction in packaging worth noting or a product that's repaired instead of replaced, and I certainly do enjoy highlighting those efforts.
Anglesets, headsets that slacken* the head tube angle (HTA) of a bicycle are a story unto themselves. I love anglesets and, frankly, anyone who's a proponent of maintaining a bicycle over the long term versus routinely replacing it should love them too. We've written about it a fair amount here at NSMB, whether it's AJ's Love The Bike You Already Have, or my own Buy The Bike You Already Own or Revenge Of The Nerd Brands. Adjustments, they're the key to maintaining a fresh experience for bike nerds and keeping a bike (more) current for everyone else.
A lot of the time bikes get replaced not because they aren't perfectly capable for their rider's use case but because the rider is bored with them. Or, a rider chooses not to invest in updating them just to end up with the same 'outdated' geometry. The angleset presents both a psychological and physical solution.
*or, technically, steepen - hahahaha
Until the recent release of the Slack-R, owners of some of the most popular bikes on the market - Trek, Giant, Santa Cruz, and Specialized among them - have been unable to benefit from the easy refresh and added stability of subtracting 1-to-1.5° from their head tube angle.
Sure, these products aren't cheap. But even in the pandemic-driven pinnacle of used bike pricing, the gap between what a few-year-old machine sells for and a new ride will cost is substantial, if you can even find a bike you want. So substantial in fact that buying an angleset, some fresh super-stopper brakes, commissioning a suspension service and frame-bearing overhaul, and even picking up a fresh set of wheels with rubber can leave a surprising amount of cash left in the bank.
The Slack-R IS headtube insert isn't perfect. That's a weird sentence to write because I honestly can't think of a single way to make it better. It's just that the simple fact that I'm trying to thread three floating pieces together with two hands in the confines of a standard IS41/IS52 tapered headtube has me scratching my head and opening a second beer.
The instructions are straightforward, plainly illustrated, and easily understood. The installation tool is a confidence-inspiring hunk of machined steel. The design is brilliant and the manufacturing quality is top notch. But unlike the dozens of head tube angle (HTA) and reach adjusting headsets I've pressed into frames to date, the Integrated Standard headtube (designed to accommodate drop-in bearings) adds a whole other level of bemusement.
As I write this, the Slack-R is available only for bicycles using the IS41/52 headset standard. The most notable bikes that can't be helped by 9point8's current effort are Specialized's entire catalogue. That said, the Ontario brand has both IS42 and IS42-Specialized versions on the way, so maybe do hold onto that last-gen Stumpy-EVO or Enduro just a bit longer?
This headset assembly also offers a delicious option for the riders deciding between two bikes who are trapped in the travel v. geometry vortex. Hightower v. Megatower, SB130 v. SB150, Fuel EX v. Slash. A lot of the bikes to own these days use one Integrated Standard or another (yes, it's okay to laugh) and there may be just as many Slack-R headsets going to the owners of brand new bikes as those attempting to fully phoenix their older rig.
Configuration & Installation
In general, before installing any Angleset or reach adjust headset there are two things to check:
Does my headtube have sufficient insertion depth for the skirts of the headset cups?
Is my fork's steerer tube long enough to accommodate the increase in headtube length?
Now, in many cases the headsets do not add much to the total headtube length, for example, a -1° Angleset in a ZS44/ZS56 headtube. And in most cases with a press-in headset, the headtube will have ample room even if the new headset requires a deeper insertion than the current one. But having come across a number of folks disappointed to be unable to use their new geometry changer, I recommend doing the math before making the purchase.
With the Slack-R, as long as you've confirmed that the upper bearing of your headset is an IS41 and you've ordered a correct configuration for your headtube length, the only deciding measurement will be whether your steerer tube can handle the additional 20mm of length. It's 'a correct configuration' because there is overlap within the 16 different configurations.
It's worth taking a bit of a dive into their spec graphics to get a handle on exactly what option would be best for your application. For example, if you had a 100mm headtube then Slack-R Bravo (100mm-108mm) would slack it out -1.4° and Slack-R Echo (97mm-105mm) would slack it out -1.7°.
Due to availability, I installed a Slack-R India kit (110m-118mm / -1.5°) in the 110mm headtube of this Yeti SB104 BBR. Normally, the best option would be to install Slack-R Foxtrot (107mm-115mm / -1.6°). No, not because I would notice the -0.1° difference in HTA but rather because it's better to be in the middle of the adjustment range rather than one of the extremes for products you're trying to cinch tight.
From there I followed the instructions since this was my first Slack-R experience. Even with carbon friction paste between the cups and my frame, I did have some issues with the headset walking off its alignment when I applied the final oompf to torque it down. It wasn't a big deal to reset and go again and I think that another pair of hands would have made all the difference.
I think that with the Slack-R Foxtrot kit this wouldn't have been an issue thanks to the extra range of adjustment to play with but either way, it only took a couple of minutes to reset and I hit perfect alignment on my third attempt. Now that I've installed quite a few different angle & reach adjusting headsets I usually get them aligned on the first go, but compared to my first experiences with other units, the Slack-R required zero blue language and it only ended up being a one beer job.
Once the Slack-R is tightened up snug it's just a matter of dropping in the IS bearings and installing the fork just like normal. I didn't have to re-tighten the Slack'R assembly and there have been zero squeaks or creakings, which is something I'll keep an ear out for going forward. I don't anticipate any issues as everything is well greased and snugged tight, but at the end of the day, it would be quick and easy enough to pull the Slack-R out, clean it, and reinstall if it came to that. Bearing life is going to depend on the grade of IS headset that you purchase, which I should note is not included with the Slack-R kits. I generally find the Cane Creek 40 is a good min-max purchase for IS.
The Angleset will be easy enough to transfer to another frame - with no headset press or punch required - and in that way, I can come around to the thinking that the Integrated Standard is more friendly for the home mechanic friendly, or at least more economical. The issue with transferring, of course, is whether the headtube length on a new frame will be the same as the current one. 9point8 does also sell all the parts to the Slack-R individually so there's the potential there to reconfigure for another application.
The 9point8 Slack-R is my favourite bicycle hop-up I've played with so far in 2021. It's easy enough to install, beautifully imagined, nicely executed, and, frankly, as upgrades go that will make a notable change to performance, it's cheap. Actually, if the boost in stability and front center from a -1.5° HTA change freshens a bike up to ride it for a couple more seasons, and this goes for all anglesets, it may be the best mountain bike bargain going.
If you're looking at your current IS41/IS52-headtubed rig and doing the hard math on whether to refit to sell it, how can you not try the 100 USD | 130 CAD investment in a refresh?