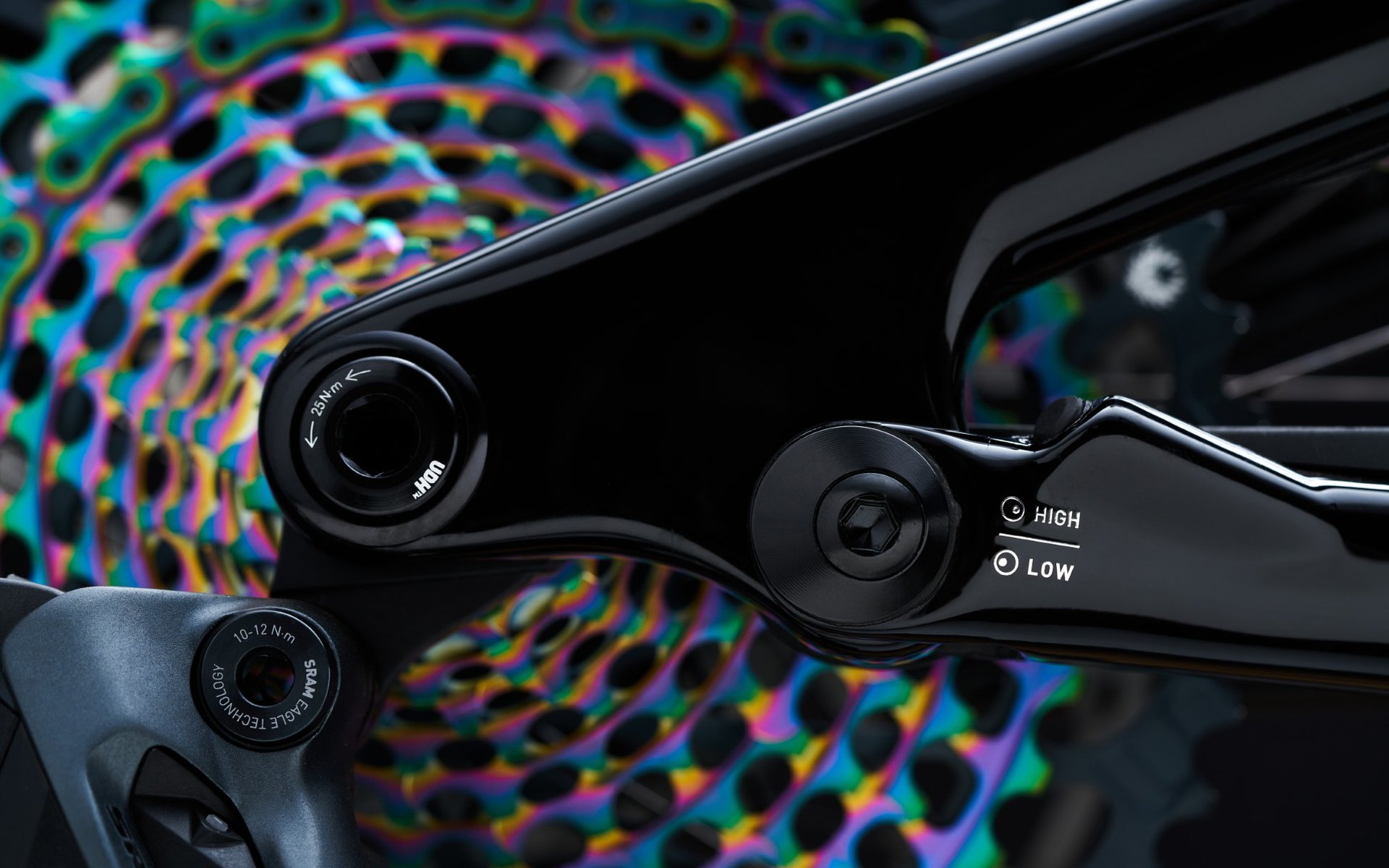 EDITORIAL
(Will There Be) Revenge Of The Nerd Brands?
Stumped
As far back as I can remember, when it comes to the high-performance mountain bikes, there have been mainstream brands making something for everyone and smaller nerd-brands more comfortable occupying a niche. I'm not saying there isn't a big grey area – but as a general rule I think it's safe to say many mainstream brands have marketing departments that outnumber the entire staff of their counterparts.
My go-to example is Balfa v. Trek, two brands we sold at the first bike shop I worked at. Have a quick gander at a 2003 Trek Liquid. It's basically a Kona rip-off with a really fancy TALAS shock, and that same year's Balfa 2Step, (AKA 2008+ Niner CVA). I can dig out an endless pile of examples, but anyone who's researched buying a bike probably has their own. I know a couple of folks currently mulling over the weight and price of a custom Starling and Geometron frame-up build versus lighter complete bikes in carbon with higher spec. but significantly more vanilla choices.
Ignoring custom one-offs, there are plenty of interesting factory-built options from smaller brands on the market in 2020; Cotic, Banshee, Knolly, Orange, Foes, Forbidden, the aforementioned Starling, and Geometron, are good examples. If I was half the nerd I aspire to be I could name another thirty in rapid succession.
While some brands* occupy a niche that is currently quite safe from big brand incursions, for many of these companies, the mainstream is striking back, like big breweries making 'craft' beers.
Geometron and Banshee come to mind*
I'm both excited and embittered about some of the hottest new rigs for '20/'21. Adjustable chainstay length is suddenly such a thing that even the company that basically invented the sub-17" 29'er rear center, Kona, has models with an adjustable wheelbase. The inclusion or exclusion of a wheelbase flip-chip is the only way I can easily tell one Santa Cruz bike from another. It feels like we're a couple of years out from every Trek full suspension bike coming with an eccentric bottom bracket to adjust BB-height and seat angle, their Stranglehold dropouts to adjust wheelbase, and a +1°/-1° angleset version of KnockBlock that can be adjusted in 30-seconds using your BITS.
The new Specialized Stumpjumper EVO comes stock in six sizes, has three settings for the head tube angle (HTA) between 63 and 65.5 degrees using eccentric headset cups, and 7mm adjustable ride height thanks to flip-chips in the dropouts. There's even an aftermarket linkage for folks that want to mullet the thing. How they missed on including the adjustable wheelbase system from their Fuse hardtails we'll never know. Rocky Mountain's Altitude is just as out there between Ride-9 geometry adjustment which allows for 1 cm of rear adjustments, and the ability to run a 1° or 2° angleset. It wouldn't take much to ramp up their in-house capabilities to make 'Team Edition' captious-chips for folks that want a wheelbase exactly 83mm longer than full-short.
Now don't get me wrong, I'd happily put in a few hundred hours on any of those bikes and by most accounts, they are all awesome packages. What's raised my ire, as a lover of the little guy, is that this feels like a pending extinction event for the small-to-mid-sized bike companies, both existing and unrealized. The easy argument is that I can get a lighter, better supported, more adjustable, readily available, fully up-to-date mainstream bike that will ride as well, if not better, for less money than the equivalent nerd-cycle with custom spec.
When they go low, we go lower, when they go long, we go longer, when they go slack, we go slacker. Well, until we don't. It's readily apparent that the bike industry is coming up against the extremes of what actually works for geometry. I've even heard riders talking about buying an angleset to steepen a bike's head-tube angle by a degree.
And therein lies the rub that, while I've been saying "wheelbase is the new head angle, or the new Reach," in terms of riders' chasing a single number on a geometry chart, it's quickly becoming adjustment that reigns supreme for the curious bicycle buyer. Ask your preferred local bike shop, even riders who lead with "I'll probably never adjust it" are suddenly curious what options the bicycle frame they're courting can deliver.
In the name of cutting production and design costs, there are mainstream brands poised to offer the kind of multiple-model-with-one-main-frame swap-ability that Guerrilla Gravity brings to the scene, as opposed to the standard and 'long travel' options many brands deliver via changing shock stroke. Thanks to the amount of geometry adjustment available in their platforms, they should even be able to do it for significantly less than buying a whole rear triangle a la GG.
The path forwards for the smaller brands seems simple to me. Out-nerd the big guys. If they have 1cm of chainstay adjustment then deliver 2cm. If they have 1° of HTA adjustment then have 3°. If their bike weighs X... Well, sorry you're not going to win on gram counting. Specialized and Trek together have more staff focussed on sneaking grams out of carbon layups than I have opinions about bikes. The thing is, all these bigger companies, no matter what level of adjustment they're bringing to the trail, are selling complete packages. A tiny exception is, maybe, warranted for Specialized's EVO 'mullet-link' but that's just likely foreshadowing a stock mullet-Stumpy EVO for 2022 - when every other brand will also be fully hot for mullet.
I believe the key to nerd brands thriving is to follow the Geometron model. No, you don't have to make the wheelbase on your size small frame longer than the box on an F250 or change your ride philosophy in any big way, just add in a massive degree of adjustability. And then, sell any number of aftermarket mods to take that adjustability up to the nth degree. Heck, release a new mod every month and offer a yearly subscription for folks that want to try them all!
As I'm writing this, I'm playing with the dropout assemblies from the Banshee Titan I'll be testing. It's an awesome system. It's a simple system. The alignment is beyond impressive for the bike industry as the axle just slides straight into place when I bolt every up. I have both the short and the long dropout options and either can be run in a high or a low position. I'm looking forward to experimenting but I'm perplexed by the unrealized potential of the system. Where are the XL and XXL length dropouts to start? Why not deliver a greater range of geometry adjustment with dropouts that change the axle position, each of which will still have both a high and a low position? Is there the potential to sell more, or less, progressive linkages? If riders are buying a-la-carte why not include a factory Works Components headset option?
When I look at all the frames out there from smaller manufacturers, I wonder why they don't R&D their own version of the Banshee dropout assembly. Weight? Covered that. Expense? A rider is already paying a premium for your product over an off-the-shelf aluminum frame from the big guys; this is about adding value. Most riders won't want to sign up for the yearly subscription to receive every new drop-out and linkage option you produce, but the ones who are keen on riding a nerd-brand-bike are going to appreciate that the options exist.
Some folks may ask why companies doing small batch metal frames don't just offer custom geo, but I think modular systems will better serve the brands and their customers. It's easy to buy into trends that work for some riders – like ultra-steep seat tube angles – but I believe being able to bracket bike fit, just like suspension settings, is a feature worthy of extra expense. I know a decent number of bike nerds who agree.
I'd like to see the smaller-batch brands owning their space. So much of the progress on the gear end of mountain biking has been derived from their interesting, often locally-optimized designs, distinctive appearance, and the characters behind them. Between very creative marketing - like Trek's 'Tattoo It On Your Face' campaign - and bringing a significant level of adjustment to bikes, the more mainstream brands seem to be striking at the smaller outfits' dynamic advantage.
Here's hoping for a bit of imaginative, highly tweakable, push-back from the nerds. For the nerds!