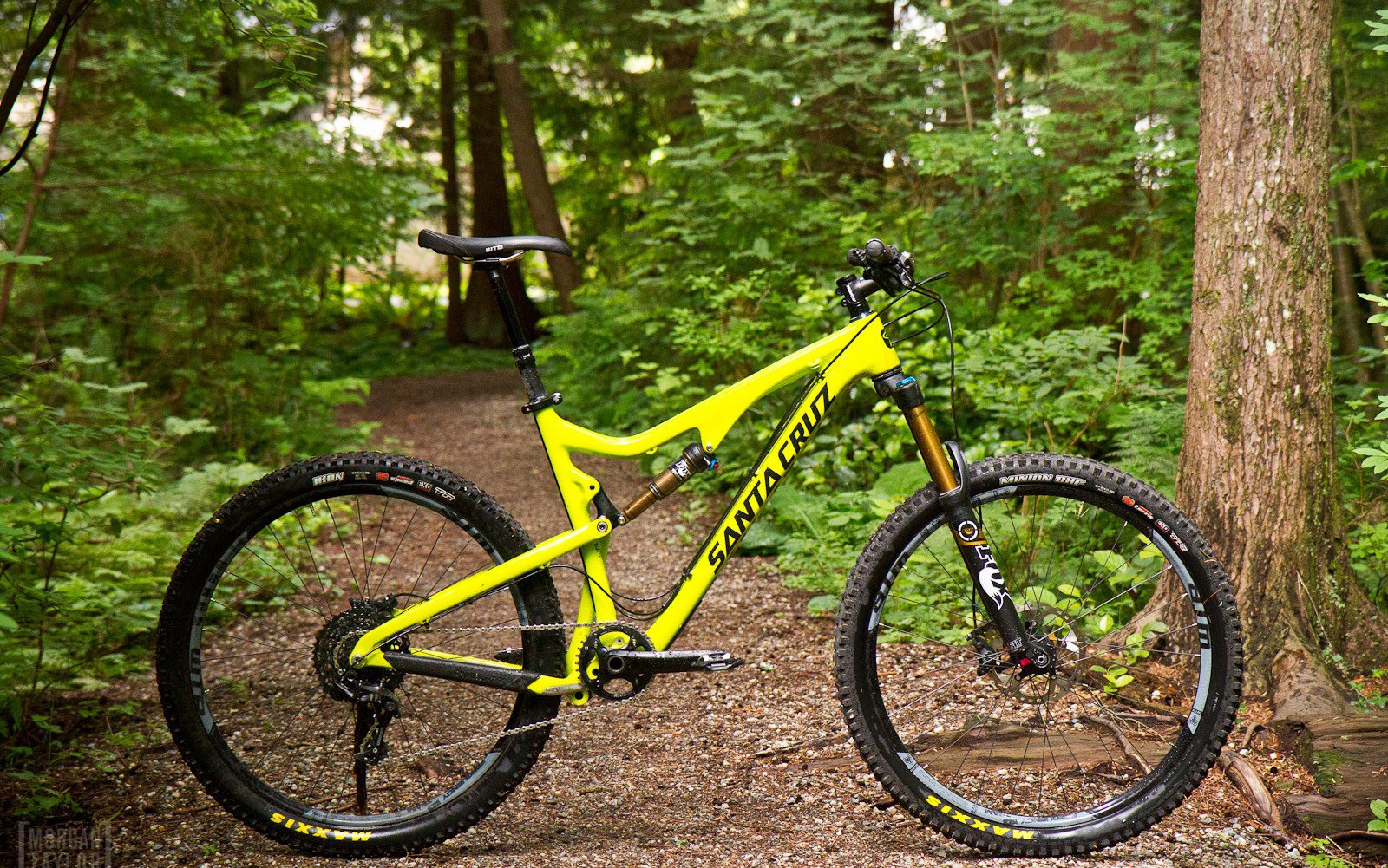 EDITORIAL
Buy The Bike You Already Own - A Spring Service Story
The Basic Concept
The math is simple: The cash you can get for your old bike (X) versus the cost of the new rig you're lusting for (Y) equals a pallet of cash ($$$$). The concept is basic: Can a percentage of that cash make your haggard old bike as great, or even greater than the fresh new rig you've been flirting with?
I'm going to present the argument, for your consideration, that it absolutely can. The examples I've put together below are bikes that friends have owned or currently own, and that I've ridden, but this piece could have easily been twenty bikes long without a single dud.
*Cover shot: Morgan Taylor
My premise assumes the frames in question have plenty of life in them. The hardest part was picking the trim to compare, so to make it easy I went with bikes that NSMB has tested.
I've gone deep on my examples right down to the spec choices I'd make to get these older bikes running better than their modern counterparts for less money and I fully appreciate that these may not be the choices you would make. Please don't overlook the concept just because you'd choose a Super Deluxe over a Cane Creek Inline or Guide R brakes over Magura MT Trail Sports. Just sub in your performance-per-dollar favourites.
Pre-Ramble
Our Beaver-Bucks are worth around 3/4 of a Green Back, skilled wages in Taiwan have increased, marketing costs are rising as mountain bike geometry has matured and the tech has plateaued to the point that throwing batteries at bike components seems to be all that's left. I hear riders complaining about bike prices all the time.
You may say that's nothing new, but it's no longer just folks complaining that they can't afford a limited production Ferrari. There is an increasing number of 8k and 9k bicycles featuring mid-level drivetrains, so-so suspension products, and under-gunned brake systems and, to be specific for a moment, I'm shocked by the idea that some folks are paying over 6k for a bike with SRAM's budget NX Eagle drivetrain, throw-away wheels, and Fox's lackluster Rhythm suspension. It's a lot of money for a bike that's not ready to shred out of the box.
Another side of the argument is that mountain bikes are better than ever and the price is the price and folks are going to pay what the market will bear. As we tell my five-year-old, "you get what you get, and you don't get upset." Mountain bikers are used to having to spring extra down the line for key upgrades like rear hubs that don't implode, tires with real sidewall support, and big brakes for steep janky trails.
With all that out of the way, let's talk about the bike you already own.
There are plenty of reasons to buck up for a new rig. Maybe you'd like a different wheel size. Or the current bike doesn't fit you properly. Or, it's totally roached in which case please consider karma before flipping it to some trusting new rider who doesn't know better and/or thinks your chainring tattoo is sweet. It could be that it doesn't suit the type of riding you're doing anymore, or it was a starter rig you've progressed beyond, or you hate the colour. Perhaps it's boring and you're switching to a hardtail, or it's harsh so you're switching to a full suspension bike. God forbid it has some proprietary part that's no longer supported and can't be replaced.
For argument's sake, let's say that none of those caveats apply but the new bike bug is going around and your old rig is running a bit dumpy these days. Hopefully, it's paid for itself a hundred times over in terms of memorable experiences, but either way when you post it on the buy-and-sell there's a good chance it's worth more to you than it is to someone else. The used market is a buyer's market.
Drilling Down
Some of the bike examples I've listed below have an exit hole for a Stealth dropper post cable and some do not. On a frame that doesn't, drilling a hole will void any warranty left to the original owner, even if the failure is nowhere near the hole. There are some decent, fixed routing, non-Stealth dropper posts these days; however, if it's me the Dremel or drill is coming out every time. Especially on a carbon frame where I know repair is an option if it breaks elsewhere.
Just don't be 'that guy' who finds a crack on the head tube of their bike while in the middle of drilling a hole in the seat tube and is then pissed off at that guy from NSMB.com for giving them the idea. Sympathy forthcoming will be zero.
2014 Trek Remedy 29
Being six model years old now, the Remedy 29 predates Boost, Knockblock, and Trek's move to internal headsets which means that a -2° Works Components Angleset was absolutely meant for this bike. Let the record show that it will kick the head tube angle from a reasonable 67° out to a fully modern 65° and as long as the owner stays around the axle-to-crown height (AC) of the stock 140mm fork that will actually steepen up the seat tube angle a touch and lengthen the Reach a bit at the same time.
There is a legion of possible replacements for the Trek's DRCV trunnion mount system and best of all, the swap to a regular high volume air shock makes these machines come alive. Stick with an inline option though or measure VERY, VERY, VERY carefully because shock reservoir to downtube clearance has been paper-thin on some customs I've seen.
Like most bikes built around a 2x drivetrain, the Remedy is fairly active pedaling once the double is swapped out for a 28-32t narrow-wide ring up front. I'm putting myself way out here for a minute, but in a couple of years when there's a massive industry-wide blowback against bikes with tonnes of anti-squat because, and I'm pre-quoting, "what's the big deal about having to engage my climb switch, I want my bike to feel awesome on the way down," the rider with their slacked-out 2014 Remedy 29'er is going to look a full decade ahead of the curve.
A fresh DVO Topaz 3 Trunnion mount rear shock and the Angleset are going to cost around 600 USD together. Add a 10-spd SunRace 11-42t cassette that will work with what's left of the XT drivetrain after replacing the front ring with a 28t Narrow-Wide ring. Some fresh rubber is also required, a 150mm or 170mm X-Fusion Manic dropper post, and a set of four-piston brakes, a wider bar, and most likely a bearing kit for the frame. That's a fair amount of money but even paying someone else's labour to install the brakes and bearing kit it's under 1500 USD.
Assuming the bike's in rideable condition, without putting a dime into it, let's say it's worth 1500 USD on the used market. The closest bike in Trek's lineup is the 66.5° HTA 140/130 Fuel EX 8 29 Aluminum which will set you back 3500 USD with a GX Eagle build, Deore brakes, and a totally blah Fox Rhythm fork.
With 500 USD left in the bank (Y-X=$$$), I'm awarding a strong win to the rebuilt 2014 with better brakes and suspension and arguably better geometry to boot.
2013 Specialized Enduro
A 2011 or 2012 Enduro in good condition makes this math even easier, but I specifically chose the 2013 Enduro because it's one of the best examples of the breed. It's the last of their 26" wheeled bikes in a year when 650b started to flood the market and it blew away the 2014 model except for its untrendy wheel size.
With new bearings and a fresh shock rebuild, the pre-anti-squat-obsession Enduro is still one of the nicest feeling 160mm bikes you can ride down a hill on. This bike ushered in the SRAM 1x drivetrain era a full seven model years ago and it's still ready to party.
Speaking of drivetrains... The 11-42t XX1 cassettes seem to last forever except for the aluminum big cog but you'll spin a bit easier with a 44t replacement from Wolf Tooth. It's still not Eagle, but along with a 28t BlackSpire 76mm BCD N/W ring in the front you won't need to skip any climbs.
Finding enough data to come up with a price was tricky but these sold for 9000 USD in 2013 so even with the 26" wheels let's say that one in good condition could fetch 3000 USD. That's probably too generous? I had a heck of a time choosing a comparable as the Enduro has gone full 29" wheels and SRAM's top-end drivetrain now has batteries but for the sake of putting something out there I have the 150mm travel (vs. 165mm Enduro) Stumpjumper Pemberton Edition 27", with SRAM GX and Fox Performance suspension, Magura MT7 brakes, and DT 350 rear hub guts for 7520 USD. The difference (Y-X=$$$$) is, conservatively, 4520 USD.
The air can, body, and seal head of my Cane Creek CCDB Air shock are probably cooked but the actual guts will still be good so for half the price of a new shock you can convert it to a CCDB Coil. Grab a BikeYoke yoke so you can use a regular eyelet and all told we're at around 500 USD. Some careful measurements will yield the best choice in a 150-170mm dropper post in terms of insertion depth and overall length, and some gold Cura4 brakes are going to be great for around 500 USD including rotors.
My big expense with the Enduro, in terms of giving it a fighting chance with the new Stumpy, is a fresh 27" fork and a 27" rim laced to the front hub so I have access to the newest and best rubber up front. Let's say I grab a Cane Creek Helm Coil at 900 USD to match things up and replace both tires. I'll do a bearing kit all around, service the hubs, and buy a fresh handlebar and grips because mine have been around awhile, and spring for a new chain to go with the ring and cog. Depending on the trim there will still be a couple of grand in the bank, better suspension products, and on XX1 shifting rather than GX.
Santa Cruz Bronson V.1
Introduced in 2013, the Bronson I was Santa Cruz's first 27" wheeled bike. I wish there was a dropper post with forward-offset, or better yet reversible offset, that I could recommend for this build but at least it's pre-drop-in headset so the Works -2° headset has the HTA sitting at 65° and is pumping up that wheelbase at the same time.
Most folks I know who bought the gen-1, 2013-2015, Bronson chose to upsize so the Reach isn't terrible. The one thing that's going to hold things back a bit here is that the suspension works best with a 34-36t chainring which has me looking at Garbaruk XD cassette options if the 11-spd XO1 drivetrain is still running, and any other number of options including an HG freehub and SunRace cassette if more work is needed.
What to do with the rear shock will depend on what's currently mounted on the Bronson. If it's a FOX CTD shock in good shape then a re-tune and an EVOL air can upgrade is the way to go. If it's a the CCDB Air that came on a lot of the Bronsons at the time, the coil conversion is again a possibility.
It's probably also due for a fork and rubber. Personally I'd be very tempted towards a fork that can clear 2.8" rubber along with a wider rim and a 27x2.8" Vigilante on the front of the bike. And some brakes.
Street price on a carbon Bronson I in good shape is maybe 2200 USD, and that's based off of various used models I tracked down and offers that friends have had for theirs. Compare that to the freshest 27" carbon Bronson 3 with an XO1 drivetrain that will run north of 7000 USD. Basically, I have 5800 USD to play with between the two machines and so far I've bought a shock service and upgrade, an Angleset, fresh rubber, and a fork and front rim and any way I slice it, I've got plenty of cash on hand.
Bonus Round: Knolly Podium
You don't care about racing your friends up the hills but you still want to be able to hit all the climbs on the North Shore? You're down for some shuttle runs, various bike park trips, and you're wondering what the best bike is for the money? We've all seen the question in various forms & forums and I'm going to close out this adventure with perhaps an example you've never considered; the Knolly Podium.
With its full-length seat tube, it's a single hole away from being able to run a Stealth dropper post, and the bike climbs surprisingly well with a little help from the climb switch. It's another example of a bike where a lot of them came equipped with the CCDB Air. As with the others, I'd look at having it converted to coil if the guts are worn out, but unlike a lot of used shocks, I'm not worried about having to toss this one away and buy a new one.
It has a Super Boost, 157mm rear end, and a 63.5° HTA. You may choose to make it a little more trail-friendly with a 180mm 650b fork and a rim and tire up front to keep in current rubber for the front wheel. Basically, it's where a lot of long-travel Enduro bikes are going but it doesn't have a water bottle mount in the front triangle.
The used market has positively collapsed for 26" DH bikes and it's possible to find any Podium in really good condition for around 1500-to-2000 USD.
---
Is Resistance Futile?
I understand the pain. The church of rotating mass has long demanded that we riders crusade to find the Best Bike In The World and short of taking a vow of poverty or answering to a higher power on the home front, it can be nigh impossible to resist the quest for shiny, new, and better.
Please share your up-cycling ideas or experiences below.