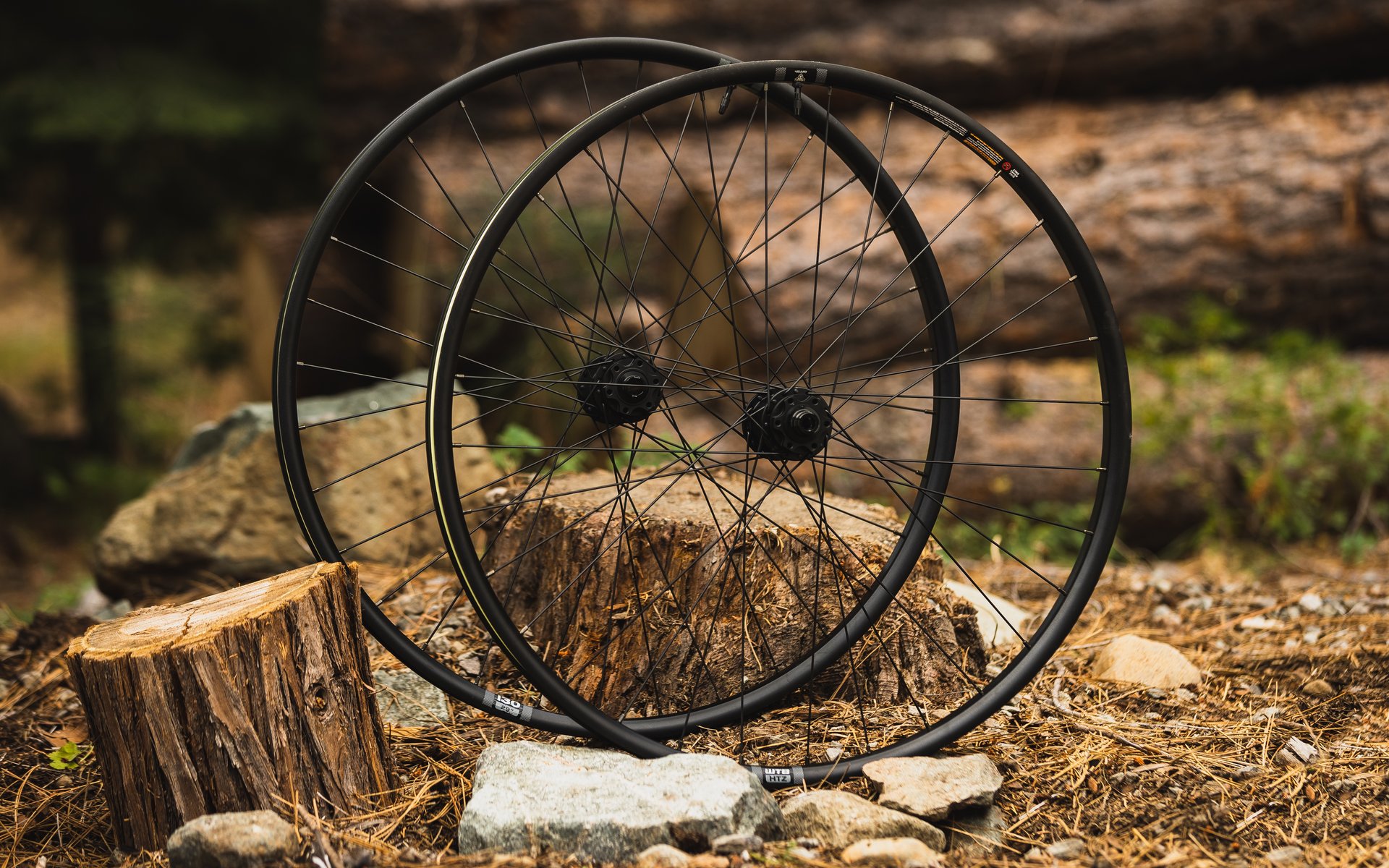 First Impressions
WTB HTZ i30 eMTB wheels
Hefty alloys for the E's
WTB has introduced a new alloy wheelset - HTZ i30 - aimed at eMTB riders looking for a strong and beefy set of wheels (mountain bikers can enjoy them too, just check the weight first though). l I received the wheels a few days ago and then mounted them onto my Norco Range VLT. I proceeded to pedal up the road to meet my shuttling friends for a top to bottom lap and again up the road for another top to bottom lap. After 20 km of road climbs the wheels went through high speed loam, fast chunder, fireroad descents, a flow trail, a janky OG trail and one we call 100 pushups for its massive number of high speed bumpy hits. Did I notice the wheels? Honestly, no. Do I feel more confident on these wheels than my current very used DT Swiss E 1700s that could use some spoke tightening to true my aim and hold my edge in corners? I think so. The first impressions can also be called first and only ride impressions as that was my only ride. To me, how a wheel performs is all about longevity. Can I avoid denting and breaking them and walking out of the trail and then having to buy/warranty a new one and source spokes then build it with my weak building skills? My other thoughts are all about what these wheels are made of and why.
When I look at what parts are the important for my ride, I focus on brakes and suspension but what I am drawn to most is a nice set of wheels. I don't think they are as important as brakes and suspension or even a good dropper, saddle and pedals but boy do they look good when they are new and shiny.
Deniz posed this question about wheels in his Reserve 30 review:
Where do wheels fall when it comes to the importance hierarchy on the bike? Are they the legs of the bike? The Feet? Maybe the brain? Because it doesn't matter how good they are as long as you have some?
Deniz had some good wisdom saying that wheels are the cerebellum of the bike. Getting things done instinctively in a lightning fast manner without the need for constant attention. That will have to be tested over the long term. In the meantime, here's some info about the wheels and some nice photos.
The first thing I noticed when I got the wheels was the stylish square, wide look to them. Then I picked them up and wow - they are portly. Claimed combined weight is 2662 grams. That's a french fry away from 5 pounds. My test set came with a set of Verdicts at 1257g per tire; all in, tires and wheels are about 11.5 pounds. But I guess when it comes to E bikes extra weight is just another log on the fire. Actually, I did notice that I sweat 7 drops of sweat instead of 4 on the climb with the extra weight.
The HTZ130s are made of aluminum which means saves cash compared to carbon. At about a thousand CAD for the WTBs versus a comparable carbon set like We Are One Strife DH at 1675 CAD, that is a significant difference in price. I will leave the alloy vs carbon value argument to the commenters because there are so many alloy owners with no breaks and dents and so many carbon owners with broken wheels it is hard to win that fight.
Features
30mm inner rim width
6069 aluminum alloy
heat-treated steel freehub body
6-pawl ratchet system with simultaneous engagement to evenly distribute torsional forces while pedaling with a high-torque motor
42 points of contact for 8.5° of engagement
heat sink behind rotor mount improves heat dissipation up to 10% on long descents
outer diameter of the rear axle sleeve was increased from 15mm to 17mm for better durability while remaining compatible with 12mm thru-axles. The 17mm size eliminates axle flex, which improves ride quality and increases bearing longevity by reducing angular load while cornering or pedaling.
13-gauge butted (2.3/2.0mm) spokes are oversized at the hub
TCS Tubeless-Ready with Solid Strip integration
29" and 29/27.5" mullet configurations
XD / HG / MS driver body options
HTZ i30
Combined weight 29" with 148 x 12 Sram XD and 110 x 15 front is 2662 grams
FRONT WHEELS: 330 USD, 455 CAD • REAR WHEELS: 440 USD, 610 CAD • WHEELSETS: 769.90 USD, 1064 CAD
Details
Everything about this wheelset is apparently designed to withstand the extra demands associated with E-biking in the woods. The WTB copy writers put it like this: extra laps, extra miles, extra stoke. All this extra introduces more wear and tear into the already unforgiving riding equation. I put it like this: massive extra E bike weight, extra torque, extra speed and extra trail time means more chance for part failures. The rims, the spokes and the hubs are all designed to account for these extras we are told. By the looks and specs it does seem like they could improve longevity.
Hubs
The hub has a heat-treated steel freehub body. According to WTB this eliminates gouging and prevents pawl socket failure under load. The hubs use a 6-pawl ratchet system with simultaneous engagement of all pawls. This design is aimed at spreading out pedaling force. The outer diameter of the rear axle sleeve is 17mm compared to a traditional 15mm sleeve. WTB claims that this "increases performance and durability while remaining compatible with traditional 12mm thru-axles. This reduces axle flex while cornering and pedaling, which results in improved ride quality and bearing longevity."
In addition, Enduro bearings are double-stacked at the inboard end of the driver body. The goal here is to improve durability and extend bearing life. Also, there are 42 points of contact for 8.5° of engagement. Finally, the HTZ hubs have a heat sink behind the 6-bolt rotor mount. Again, WTB claims that this is to "improve heat dissipation by up to 10% on long descents, allowing you to descend with confidence despite the extra weight of an e-bike."
I asked the nerds on our NSMB chat about the sink. Gravel Gawd, Cooper Quinn, said this, "All brakes do is turn kinetic energy into thermal energy (heat). You need to put that heat somewhere and you can only transfer it to the air so fast by radiation. Conduction is much faster - hence why your calipers and shit get hot. You're generating more heat than they can dissipate by radiation. So build a heatsink." And then the other nerds, super smart, way faster riders than me, chimed in and I glazed out and moved on with the rest of the article. The heat sink debate can rage in the comments section below.
Spokes
The 32 spokes are laced into an asymmetric rim design. This offset is meant to allow for stiffer and stronger wheels by equalizing spoke tension between the drive and non-drive sides of the wheels. 13-gauge butted (2.3/2.0mm) spokes are oversized at the hub. WTB says this is to counteract the higher braking forces and increased motor torque of an e-bike. Each wheel is hand-built in either California or Italy.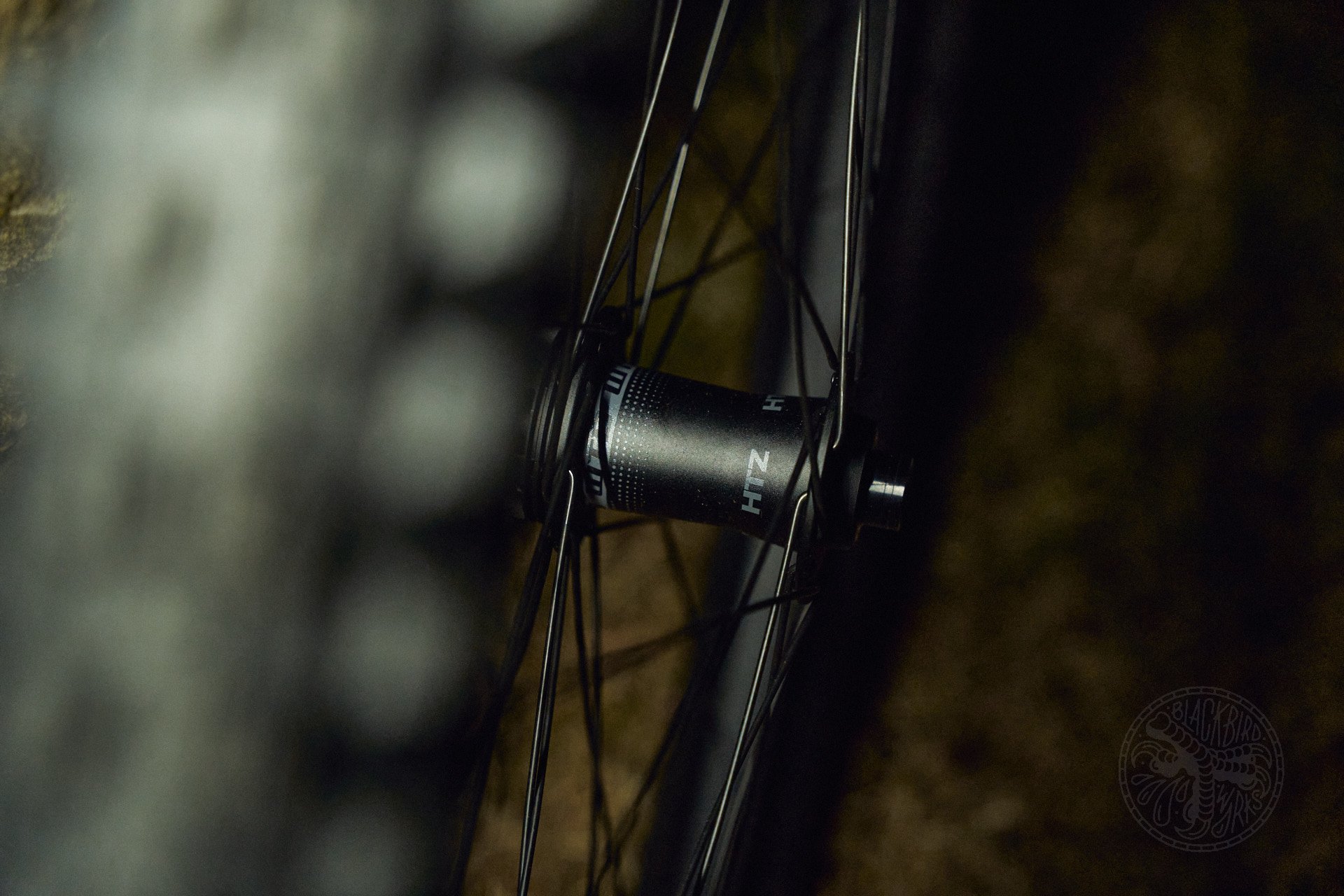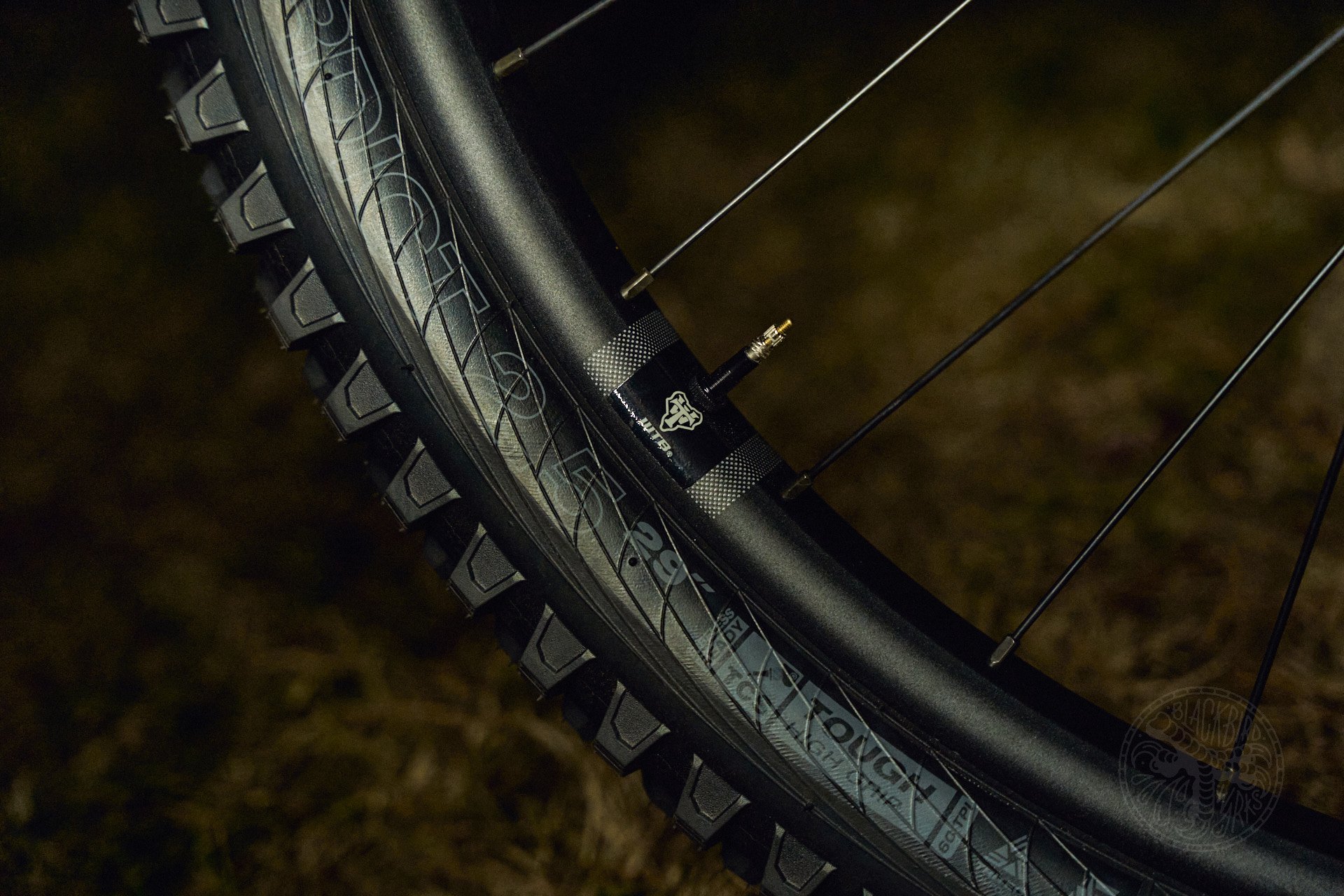 Rims
Yes these are not carbon but in a weird way they are still sexy. The wide square profile looks great to my carbon-lusting eyes. I don't own carbon wheels though I am currently reviewing the Santa Cruz Nomad 6 that has carbon Reserve 30s. The Reserves track well, hold a line better than my current alloys in tight corners but man do they let me know how bumpy the trail is. As much as I lust for all things carbon I am starting to think I like the smoother more damped ride of the lowly alloy wheel.
WTB has made the HTZs 20% thicker than their already beefy KOM rim. The 30 mm inner rim width and 6069 aluminum alloy are aimed at increasing strength and possibly, longevity. WTB uses a nylon strip called Solid Strip that lies between the rim and tape. This strip helps to prevent tubeless tape from pushing into the spoke holes and to create a smooth interface between the tire and rim. In addition, WTB claims, "The smooth surface makes it easier to mount a tire by preventing air from escaping around the bead at each spoke hole indentation during inflation. Solid Strip also protects the airtight system from puncture in the case of a broken spoke."
And Now What?
Well I guess now I ride them. It is easy to do back to back runs on an E bike. I can leave a set of wheels in the car, ride up and down, swap wheels then repeat and record. I'll give these HTZs a thorough thrashing this fall and winter then report back with my findings. Until then here is a pretty good promo vid with some good slow mo shots of Mark Weir hitting the rims at all angles. Finally, since I did not get a chance to get an action shot, the last photo of Mark is about how good I would have looked on these wheels (in my mind).
WTB HTZi30 wheels are 769.90 USD/1064 CAD, 330 USD/ 455 CAD front wheel & 440 USD/ 610 CAD rear wheel
Trevor Hansen
Age - 57
Height - 5'9"
Weight - 175lbs
Ape Index - 0.992
Inseam - 31"
Trail I've been stoked on lately - Bukwus
Bar Width - 780mm
Preferred Reach - 465-480mm